Kevin Owens References AEW Star On SmackDown
Kevin Owens was thinking about his friend in AEW while doing a WWE interview.
A lot of wrestling fans might only know Kevin Owens for his nearly decade-long run in WWE, but he did have a very good career as Kevin Steen (his real name) as well.
Prior to WWE, Owens wrestled as Kevin Steen all around the world while making friends with guys who didn't take the same path as him in WWE. We know his best friend Sami Zayn did and they have been friends/rivals throughout the last decade.
One of those good friends is former WWE NXT Champion Adam Cole, who signed with AEW two years ago when his WWE deal ended. Back in 2016 when Owens won the WWE Universal Title, he posted a photo hanging out with his title while Cole had the Ring of Honor World Title. This was obviously before Cole signed with the WWE NXT brand.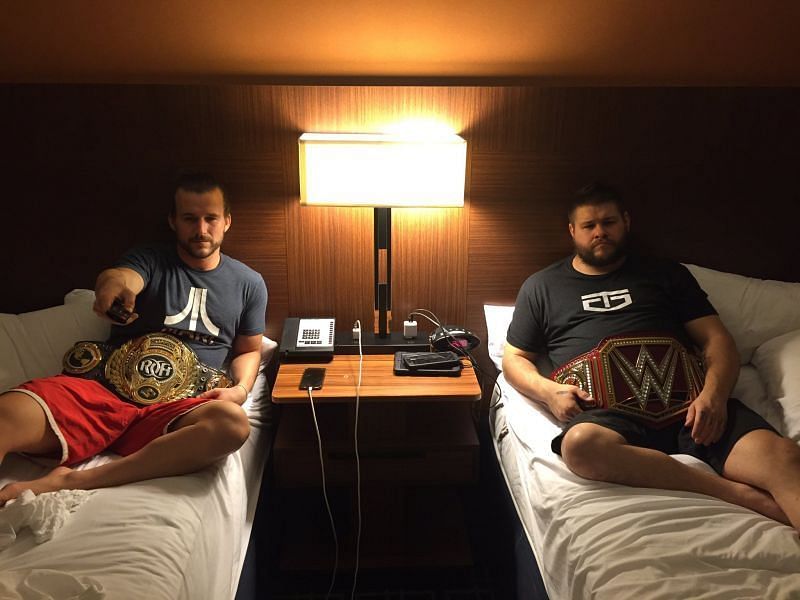 Adam Cole suffered a broken ankle on AEW Dynamite on September 20th due to running down the ramp and jumping down to the ringside area. When he landed, he hurt his ankle so much that it was broken. Cole has commented that he will need two surgeries to fix the ankle injury, so he'll likely be out of action for several months.
The two men have remained good friends, which led to Owens giving Cole a shoutout during a WWE Digital Exclusive video after Smackdown. That's because Cole had ankle surgery on Friday. That's why Owens felt the need to give his friend Adam a shoutout.
"I just want to say I have a friend named Adam who had a very serious surgery today. He's at the hospital now recovering. I just want to say Adam, we love you, we're with you and take care of yourself, buddy."
Kevin Owens with a shoutout to Adam Cole who had the ankle surgery. ❤️❤️ pic.twitter.com/ccH9CPsobt

— 👑𝔸𝕕𝕒𝕞 𝔾𝕠𝕝𝕕𝕓𝕖𝕣𝕘👑  (@AdamGoldberg28) October 14, 2023
We don't know if Roderick Strong was there during the surgery yelling "ADAM." Fans of AEW will understand that one. We also send best wishes to Adam Cole following his surgery.
Kevin Owens was traded to Smackdown as announced by new GM Nick Aldis
It was announced on last night's Smackdown in Tulsa that Kevin Owens was traded from Raw to Smackdown due to Jey Uso being traded from Smackdown to Raw last month.
This means that KO's tag team with best friend Sami Zayn is essentially finished for now since Zayn will remain a part of Raw while Owens is on Smackdown. It also likely means that Owens and Zayn will go back to being singles wrestlers after being in a tag team for most of this year.
Kevin Owens & Sami Zayn accomplished something special at WrestleMania 39 this year by headlining WrestleMania Saturday with The Usos. Owens & Zayn ended the record-long Tag Team Title reign of The Usos and it was also the first time a Tag Team Title match headlined WrestleMania.
As a singles wrestler, Owens is a former WWE Universal Champion, Intercontinental Champion and United States Champion, so he's done very well for himself. Owens will look to pick up more gold in the future.