John Cena Wearing Skirt And Heels On Movie Set (PHOTO)
John Cena has been photographed wearing some interesting attire on the set of the movie he is currently filming.
During his WWE career, John Cena was known for wearing jorts in the ring, sneakers and he often had different colored shirts that were huge merchandise sellers due to his popularity with WWE fans.
Now that he is away from WWE on a regular basis doing movies, TV shows, commercials and hosting roles, he is often seen in different attire.
Cena is currently filming a comedy movie called "Ricky Stanicky" in Australia. The description of the film is as follows:
"Ricky Stanicky is a fictional character used by a group of married friends to blame their misbehavior when making excuses to their wives. When the wives become suspicious of never meeting this person, the husbands then find someone to play the fictional character."
There have been some interesting photos where Cena is playing a character that wears a skirt, pantyhose and heels. These photos were shared by TMZ today.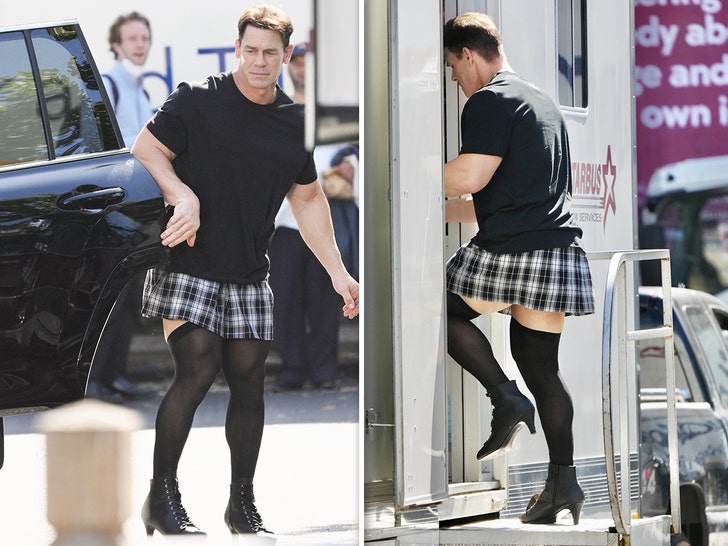 While John Cena is away filming the "Ricky Stanicky" Film in Australia, he is expected to wrestle at WWE WrestleMania 39 on April 1st and 2nd at SoFi Stadium in Los Angeles. Cena's last match in WWE was on the December 30th edition of Smackdown when he teamed up with Kevin Owens to beat Roman Reigns & Sami Zayn.
Cena's opponent is likely going to be Austin Theory, who is the current US Champion. Theory will be defending the US Title against Seth Rollins, Johnny Gargano, Bronson Reed, Montez Ford and Damian Priest at WWE Elimination Chamber on February 18th.
A matchup between the 45-year-old Cena, who is a 16-time WWE World Champion, and the 25-year-old Theory would be a dream match of sorts for Theory since he grew up idolizing Cena.
Cena has famously dressed as a woman in the past for comedic such as when he did so with Jimmy Fallon in the past.