Antonio Inoki Has Passed Away At Age 79
Japanese wrestling legend Antonio Inoki has passed away at the age of 79.
It was reported by Yahoo Japan on Friday evening that former professional wrestler, MMA fighter and politician Antonio Inoki passed away.
His real name was Kanji Inoki and was the founder of New Japan Pro Wrestling with many people saying there would be no NJPW 50 years later without him. Many people within wrestling consider Inoki one of the biggest names in the history of the business due to his impact in the ring and out of the ring.
Inoki famously fought legendary Heavyweight Boxing Champion Muhammad Ali on June 26, 1976 in Tokyo, Japan. Their 15-round fight ended in a draw 3-3 with stories being told about Inoki causing damage to Ali's legs due to Inoki's repeated kicks during the fight.
Here is a photo of Inoki and the late, great Ali together in 1998.
The news of Inoki's death happened on the evening of September 30th during the WWE Smackdown live broadcast. That led to the commentary team of Michael Cole and Corey Graves talking briefly about Inoki's impact on pro wrestling as well as WWE showing this graphic in memory of Inoki.
Antonio Inoki was inducted into the WWE Hall of Fame in Phoenix in 2010.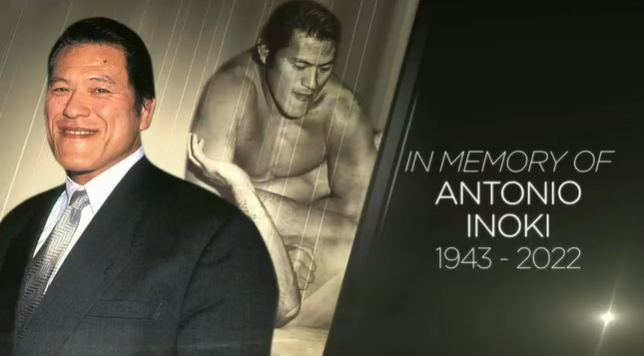 Here's part of what WWE posted on their website in their tribute to Antonio Inoki:
Born in Yokohama, Japan in 1943, Inoki grew into a natural in-ring competitor. The incredible squared circle figure found his greatest success in New Japan Pro Wrestling, a promotion he founded in 1972. Over the course of the next two decades, Inoki built NJPW into the most successful wrestling company in Asia. Utilizing talented Japanese competitors like Tatsumi Fujinami and Riki Choshu, innovative high-flyers like Tiger Mask and Dynamite Kid and American Superstars like Bob Backlund and Vader, the young promoter created a product that was unique, influential and far ahead of its time. In addition to running the company, Inoki himself was one of the top stars in NJPW, carrying the championship and battling the likes of Stan Hansen, Tiger Jeet Singh and Hulk Hogan.

In his most-famous match, Inoki fought boxing legend Muhammad Ali in a rare wrestler vs. boxer match in June 26, 1976 – a contest that paved the way for the advent of Mixed Martial Arts, which would explode in popularity decades later. The bout also exemplified Inoki's undying love and respect for professional wrestling. This passion for competition earned him the nickname "Moeru Toukon" amongst his peers, which translates to "The fighting spirit that burns."
As expected, the tributes have been pouring in for Inoki on social media. These are some of the tweets honoring Inoki from New Japan Pro Wrestling, NWA, WWE's Triple H, AEW's Tony Khan and Dave Meltzer of the Wrestling Observer.
New Japan Pro-Wrestling is deeply saddened at the passing of our founder, Antonio Inoki.

His achievements, both in professional wrestling and the global community are without parallel and will never be forgotten.

Our thoughts are with Inoki's family, friends and fans. pic.twitter.com/n8zA9hj78e

— NJPW Global (@njpwglobal) October 1, 2022
The National Wrestling Alliance sends its condolences to the friends and family of pro wrestling pioneer Antonio Inoki.

An NWA Tag Team and United National Champion and most importantly, a legend that will forever be remembered in our business and beyond. pic.twitter.com/sqyG8Y26QC

— NWA (@nwa) October 1, 2022
One of the most important figures in the history of our business, and a man who embodied the term "fighting spirit." The legacy of WWE Hall of Famer Antonio Inoki will live on forever.

— Triple H (@TripleH) October 1, 2022
RIP Antonio Inoki, a pioneer in the pro wrestling industry. Inoki's influence and his achievements will live on forever in the wrestling world; he's an inspiration to all of the dreamers. Thank you sir.

— Tony Khan (@TonyKhan) October 1, 2022
Antonio Inoki was one of the biggest stars in wrestling history, certainly No. 2 in Japan and biggest of the last 55 years, as well as incredibly influential in both the wrestling and MMA businesses. One of the most charismatic humans I've ever met.

— Dave Meltzer (@davemeltzerWON) October 1, 2022
All of us at TJRWrestling offer our heartfelt condolences to the family, friends, and fans of Antonio Inoki, who had a huge impact in the world of pro wrestling, especially in Japan. Antonio Inoki's legacy will live on forever.