The John Report: WWE Smackdown 09/30/22 Review
This week's edition of WWE Smackdown featured Sami Zayn & Solo Sikoa teaming up against Madcap Moss & Ricochet while Bayley faced Shotzi and more action on the road to Extreme Rules.
From the Canada Life Center in Winnipeg, Manitoba, Canada this is Smackdown for episode #1206. Follow me on Twitter @johnreport. Let's get to it.
The Smackdown intro video played to start the show. They don't play that every week. The commentary team of Michael Cole and Corey Graves welcomed us to the show.
Sami Zayn made his entrance first wearing his "Honorary Uce" shirt and he was joined by tag team partner Solo Sikoa. Sami was in his (and my) home country of Canada. They showed a clip from last week's Smackdown when Roman Reigns gave Zayn that Honorary Uce shirt that Zayn loves so much. Ricochet and Madcap Moss were next for this match that was set up last week in a backstage segment.
Ricochet & Madcap Moss vs. Sami Zayn & Solo Sikoa
Ricochet started with Zayn with some quick offense leading a dropkick as Cole mentioned Zayn tweeting Rikishi about how he has four sons now (instead of just The Usos and Solo). Moss tagged in with strikes, but Zayn sent Moss into the middle rope. Solo tagged in with a headbutt for Moss, then some strikes and Zayn was back in with a kick to the gut. Moss sent a charging Zayn out of the ring and a knee by Moss sent Solo out of the ring as well. Ricochet ran the ropes, so Moss launched him over the top onto Zayn and Solo on the floor.
(Commercial)
Next Friday on the Season Premiere of Smackdown: Logan Paul and Roman Reigns come face to face in the ring. Plus, GUNTHER defends the Intercontinental Title against Sheamus.
Solo was in control squeezing Ricochet's neck. Ricochet broke free, but Solo sent him into the turnbuckle followed by a Samoan Drop. Solo with a leg drop. Ricochet got a kick to the head followed by a dropkick off the middle rope. Moss got the hot tag against Zayn with Moss running over Zayn with a forearm smash followed by a fallaway slam. Moss hit two shoulder tackles in the corner and Moss hit a shoulder tackle that sent Solo out of the ring. Solo got a chair, Ricochet stopped that and Zayn hit a rollup on Moss for two. Zayn hit a Blue Thunder Bomb for a two count, which is what he usually gets for that move. The fans were behind Sami the Canadian. Zayn went up top, he jumped off with a crossbody block and Moss caught him. Moss hit a Jackhammer slam for a two count with Solo making the save. Ricochet hit a knee to knock Solo out of the ring. Zayn tripped up Ricochet, then Moss sent Zayn into the barricade. The referee was looking at that, so Solo threw a chair at Ricochet, who was doing a suicide dive. Solo tossed Ricochet over the barricade at ringside. Moss charged at Zayn with two shoulder tackles again, Solo tagged in and hit a spin kick to the head on Moss. Solo hit the Spinning Solo uranage slam for the pinfall win after 12 minutes.
Winners by pinfall: Solo Sikoa & Sami Zayn
Analysis: ***1/4 A pretty good match with Solo looking strong again. The fans definitely wanted Zayn to be in the ring more and to have a bigger role in the match, but the booking was done to put over Solo to further establish him as a threat. That spot where Solo hit Ricochet with the chair after the suicide dive (when the referee wasn't looking) was a good idea to put over Solo again because it showed he was smart at that moment. I'm glad that Zayn & Solo got the win.
Post match, Zayn was trash talking Moss and Moss grabbed him, so Solo made the save. Solo sent Moss into the turnbuckle followed by Solo hitting the running hip attack on Moss in the corner two times. Zayn got Solo to stop as they celebrated the win.
Analysis: The story there was that Solo was really aggressive and a bit out of control, so the veteran Zayn had to calm him down.
They mentioned Ronda Rousey vs. Natalya coming up later.
(Commercial)
It was mentioned that tickets for the Royal Rumble are on sale with Cole saying they set a record for the first day where Rumble tickets were on sale. I know they had pre-sale codes for sale earlier in the week.
Sami Zayn and Solo Sikoa were shown walking backstage. They went to The Bloodline's locker room, Jey Uso walked out of the room and congratulated his brother Solo on the win. Solo went in the room. Jey said that he sees right through Sami. Jey told Sami this is a warning shot, so if Sami puts the family in jeopardy, Jey will get him. Sami showed his Honorary Uce shirt and told Jey to take it up with Roman. Zayn went into the locker room while Jey was not happy.
Analysis: The story between Sami and Jey has been one of the best things going on in WWE. While others in The Bloodline have embraced Sami, Jey has been hesitant to accept him in the group. No sign of Jimmy, who may not be allowed to get into Canada due to multiple DUI offenses on his record.
A video aired featuring Karrion Kross and his lovely wife Scarlett. Kross talked about how he can't just waltz back into WWE and get a title shot. Kross said that he's going to take Drew McIntyre to a point of no return where no man leaves unscarred. Kross said that they want the same thing while saying that once the world sees what he's been shown in the card and Drew is out of the way, Kross will make history to become the new Undisputed WWE Universal Champion. Kross said that when they strap that leather to Drew's wrist, he'll take Drew to the deepest parts of hell and he will leave Drew there to burn away forever. Kross ended it with "tick tock" as usual. The QR Code appeared at the end of it.
Analysis: The Strap Match between Drew and Kross will be interesting in terms of who wins. I feel like Kross should win since it's his biggest match in WWE and they want to make him strong in his first PPV match. However, Drew rarely loses clean so it's going to be interesting how they book it. I'll pick Kross to win, but I don't know how they'll book it.
The QR Code takes you this link on WWE's website (it'll open in a new window).
Austin Theory was interviewed by Kayla Braxton. Theory said that he has learned from the past when Brock Lesnar attacked him at SummerSlam and Tyson Fury punched him at Clash at the Castle. Theory mocked Winnipeg for some cheap heat. Theory ripped on Drew McIntyre, who appeared behind Theory and Drew showed up for a staredown. Drew: "You. Me. In the ring. Now." Drew left and Theory looked a bit scared.
Analysis: That was a simple way to set up a match.
(Commercial)
Drew McIntyre made his entrance with Angela the sword in his hands. Drew had a leather strap in his hand as well since he's in the Strap Match next weekend at Extreme Rules. Austin Theory from Raw was next with the Money in the Bank briefcase. Theory was joined by his buddies Chad Gable and Otis of the Alpha Academy group.
Austin Theory (Chad Gable & Otis) vs. Drew McIntyre
Theory with chops that had no effect, so Drew hit him with a hard chop. Drew with a vertical suplex into a slam across the ring. Theory to the floor, Drew grabbed him, so Theory did a neck snap across the top rope followed by a rolling dropkick. Drew caught Theory leading to a Future Shock DDT. Drew tossed Gable into the ring from the apron. Otis grabbed Drew's leg, so that led to a DQ. Otis sent Drew into the steel steps. This only went two minutes.
Winner by disqualification: Drew McIntyre
Analysis: *1/4 They never got going due to the cheap attack. The match was only done just to set up the post match save after it was over.
The trio of Theory, Gable and Otis were attacking Drew in the ring, so Johnny Gargano made the save. Gargano wasn't able to make the save on his own because he was overwhelmed by the trio of heels. Here comes Kevin Owens to a huge pop from the crowd. Owens unloaded on the heels with punches and he tossed Theory out of the ring while Gargano knocked Gable out of the ring. Gargano and Owens hit superkicks on Otis followed by Drew hitting a headbutt that knocked Otis out of the ring.
Analysis: That should set up a six-man tag team match. We found out later it was the main event.
Max Dupri was shown walking backstage where he went up to Mace and Mansoor backstage with Maxxine Dupri standing by. Maxxine talked about how the boys would break a Canadian record for the longest pose, so the guys posed and Max left. Hit Row walked up to the Models, laughed at them and left.
A commercial aired for Extreme Rules hyping the Seth Rollins-Matt Riddle Fight Pit Match.
(Commercial)
Shotzi did a quick promo talking about how she's going to roll to the ring and stomp all over Bayley later in the show.
Los Lotharios made their entrance. No more "kiss cam" gimmick on the way to the ring. Hit Row was up next as the opponents. This was set up on last week's show.
Hit Row – Top Dolla & Ashante "Thee" Adonis (w/B-Fab) vs. Los Lotharios (Angel & Humberto)
Angel and Humberto were in control against Adonis early on with some basic offense, but Adonis broke free with a neckbreaker. Dolla tagged in with a shoulder tackle on Humberto, then a running knee and a running splash. Dolla hit a sidewalk slam, then he flipped back up with Cole laughing at it and Dolla hit an elbow drop. Angel broke up a pin, Dolla picked up Angel and held Humberto in his hands. Adonis tagged in as Dolla slammed both opponents. Dolla picked up Humberto leading to Adonis hitting a dropkick into a belly-to-back suplex called the Heavy Hitter for the pinfall win after three minutes.
Winners by pinfall: Hit Row
Analysis: * Just a squash match to put over Hit Row. I don't know if Hit Row will get a substantial push any time soon, but Los Lotharios rarely win, so it was an easy team for them to beat. The crowd was quiet for most of it.
A guy with a sign appeared behind Cole and Graves that said: "Revel In What You Are." The announcers were facing forward, so they didn't see it or address it.
There was a Progressive Match Flo replay from last week showing Liv Morgan beating Lacey Evans in a match followed by a post match attack with a kendo stick and Liv putting Evans through a table.
Ronda Rousey was interviewed by Kayla Braxton. Rousey called Liv "Hooters Barbie" as she has done in the past. Rousey talked about how she was the most dangerous unarmed woman on the planet, so what does she become when wielding a baseball bat? Kayla left as Rousey warmed up for her match.
(Commercial)
They announced a main event six-man tag team match for later in the show: Drew McIntyre, Kevin Owens & Johnny Gargano vs. Austin Theory, Chad Gable & Otis. That's fine with me.
Natalya made her entrance to a good pop from her fellow Canadian fans. Natalya put some sunglasses on a fan at ringside like her uncle Bret Hart used to do. Ronda Rousey was up next as Natalya's opponent with Ronda wearing an orange shirt that says "Every Child Matters" since Canada has The National Day for Truth and Reconciliation for indigenous people today (September 30).
Ronda Rousey vs. Natalya
Rousey with a punch that sent Natalya into the middle rope followed by a knee to the head. Rousey tried a submission, Natalya fought out of it and Rousey hit a knee to the ribs. Rousey went for a step up knee, but Natalya slammed Rousey down almost like a Powerbomb out of the corner. Natalya went for a clothesline, Rousey with a hiptoss and Natalya tried for a Sharpshooter, but Rousey grabbed the foot for a submission, and Natalya sat on top for two. Natalya hit a discus clothesline for two. Rousey managed to get a hold of Natalya's ankle leading to Ankle Lock into a heel hook on the mat and Natalya tapped out to give Rousey the win after about five minutes.
Winner by submission: Ronda Rousey
Analysis: **1/2 A solid technical wrestling match that wasn't given a lot of time, but that's fine because Rousey should win in a convincing fashion. Of course, Natalya is one of my favorites. I just think it's the right booking move to keep Rousey strong going into her title match next week.
After the match, the Smackdown Women's Champion Liv Morgan made her entrance with a baseball bat in her hand. Morgan charged at Rousey, but Rousey kicked her in the ribs. Morgan hit Rousey gently with the bat. Rousey ducked a bat shot (Liv wasn't close to hitting her) and Rousey hit a Piper's Pit slam on the mat outside the ring. They fought over the bat at ringside with Rousey bumping into the barricade. Rousey blocked a bat attempt and Rousey tossed Morgan over the barricade at ringside. Security was at ringside, Rousey teased attacking them and then Rousey left. Morgan tackled Rousey from behind, so security and WWE Official Ken Doane were there trying to break it up. Rousey and Morgan kept going at eachother as security tried to keep them apart. Rousey broke free with punches. The women were eventually separated enough to end the segment.
Analysis: That was good. Triple H loves booking pull-apart brawls, so I'm not surprised to see it. They are doing a nice job of trying to make Morgan look credible against Rousey. I don't know if the match will be great, but at least the build has been pretty good.
Drew McIntyre, Kevin Owens and Johnny Gargano were shown backstage. Drew said that he didn't always see things eye to eye, but they agreed that Theory should have his ass kicked. Owens walked away, bumping into the Models at ringside. Owens went up to his best friend Zayn, who stood up to face KO and KO told Sami he needs a new shirt. Owens left.
There's a "Top 10 Most WWE Extreme Moments" special airing on Fox this Sunday. Check local listings. I might review it, but I don't know yet.
(Commercial)
The Maximum Male Models were shown backstage still doing their pose. Shinsuke Nakamura and Sonya Deville were standing by. They left. The posing continued.
Let's Hear From Imperium
The Imperium trio of Intercontinental Champion GUNTHER (all caps now), Ludwig Kaiser and Giovanni Vinci made their entrance. They caused the Brawling Brutes to fail in their Tag Team Title match last week. It's Imperium vs. Brawling Brutes at Extreme Rules and next week on Smackdown it's Gunther defending the IC Title against Sheamus.
Ludwig Kaiser started a promo complaining about the Brawling Brutes. Vinci said that GUNTHER is what a champion looks like. GUNTHER said that next week he's going to beat Sheamus and grind him down for the final time and enjoy when he breaks Sheamus' spirit once and for all. GUNTHER said Imperium will destroy the Brawling Brutes the next night and here come those Brutes.
Sheamus was all alone saying that Ridge & Butch are stuck in Florida (blame Hurricane Ian), but that's already because the King of Bangers (that would be Sheamus) is here in Winnipeg. Sheamus said he's more than happy to kick their heads off their shoulders. Sheamus had a shillelagh with him, so he knocked down Vinci and Kaiser in the aisle.
Sheamus went into the ring to confront Gunther so Sheamus dropped the shillelagh and they got into a brawl. They exchanged strikes, Sheamus hit a rising knee to the face and he wanted more, but Vinci/Kaiser held onto Sheamus in the corner. Gunther unloaded on Sheamus with hard chops along with a boot to the face. Gunther trash-talked Sheamus with the IC Title in his hands. Gunther with another chop. Gunther hit Sheamus with a Powerbomb with the fans booing the Imperium group. Imperium left. Sheamus grabbed the microphone in the ring. Sheamus: "Is that all you got?" Sheamus told him he has to do better than that. The fans were cheering for Sheamus. Vinci and Kaiser went into the ring to beat up Sheamus some more. Sheamus was held by Vinci/Kaiser, so Gunther hit Sheamus with the shillelagh to the head. The fans booed loudly as Imperium left again.
Analysis: That was a great angle showing how dominant GUNTHER can be with his buddies while Sheamus was cheered because he showed heart by fighting on his own as well as wanting more after he was already attacked. They have done a nice job with this storyline following Clash at the Castle because Sheamus and the Brawling Brutes have become faces while GUNTHER is more of a heel with both members of Imperium by his side. I'm excited about GUNTHER vs. Sheamus next Friday on Smackdown. I think there might be a title change. I have a family thing on Friday next week so I won't see it live, but I'll try to get it done later in the night.
Bayley did a promo talking about how Shotzi likes to run her mouth, but Bayley was the one that beat Bianca Belair. Bayley mentioned IYO SKY and Dakota Kai were stuck in Florida. Bayley talked about how she was going to beat Bianca
The announcers were shown with Michael Cole mentioning that WWE Hall of Famer Antonio Inoki passed away at 79 years old. That news was breaking during Smackdown. They mentioned his career as a wrestler, MMA fighter and a politician. They showed a graphic for Inoki as well.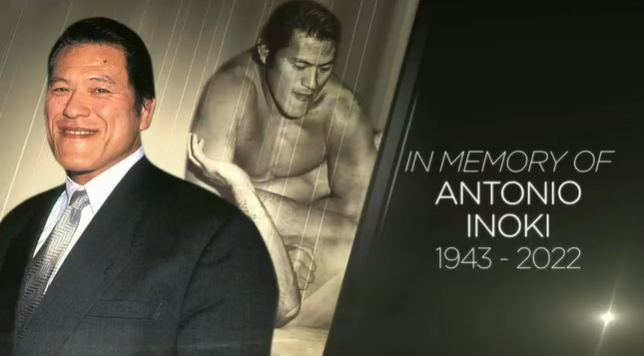 Analysis: Antonio Inoki is one of the biggest names in Japanese wrestling history and probably sports history in Japan. He was so well known and did a lot to popularize this business that we love.
(Commercial)
Bayley made her entrance on her own without her Damage CTRL teammates Dakota Kai and IYO SKY because they were stuck in Florida as Bayley mentioned. Blame Hurricane Ian for that one. Bayley challenges Bianca Belair in a Ladder Match for the Raw Women's Title – it's the first one-on-one women's Ladder Match on WWE's main roster. Shotzi made her entrance with her tank, so it's good to see the tank back.
Analysis: It's cool that Shotzi got the tank back. It never should have been gone. Blame the now retired former head of creative for that.
Bayley vs. Shotzi
Shotzi with an enziguri kick to the head, then she got a rollup pin and got a two count. Bayley with an armdrag followed by a kick to the face. Shotzi tripped Bayley into the middle rope, Bayley avoided a dive and Shotzi sent Bayley into the ropes again. Shotzi hit a splash on Bayley's back. Shotzi went up top, Bayley was back up, Shotzi with a kick and Shotzi hit a modified DDT style move against the ropes leading to Bayley bumping to the floor. That led to a break.
(Commercial)
Bayley charged, Shotzi avoided it and Shotzi hit a dropkick sending Bayley into the ropes. Shotzi with a bulldog into the mat, then a knee, a forearm and a kick to the head. Shotzi suplexed Bayley into the turnbuckle. Shotzi was on the turnbuckle, Bayley sent her down and Bayley hit the Roseplant into the mat for the pinfall win after about six minutes.
Winner by pinfall: Bayley
Analysis: ** A basic match to give Bayley the win. Shotzi got about 80% of the offense, then Bayley knocked her off the turnbuckle and hit her finisher for the win.
Post match, Bayley hit Shotzi with the Roseplant again. That didn't look that great, but Shotzi sold it anyway. Bayley brought in a ladder from under the ring. Bayley placed Shotzi in between the ladder, but Bianca Belair's music hit and she ran out to the ring. Bayley ran away. Belair saved Shotzi from the ladder attack, but Bayley knocked Belair down from behind. Belair picked up Bayley on her shoulders, Bayley managed to escape and left the ring. Belair's music played to end it.
Analysis: It was okay for a post match angle. It wasn't as good as what Morgan-Rousey did, but at least it furthers their story a bit.
The Maximum Male Models were backstage with Maxxine Dupri counting down the record. Max Dupri showed up to punch Mansoor. Max said this isn't for him and it never was as he tossed down his belt. Max said "yeah" to end it.
Analysis: I think we'll be seeing the return of LA Knight very soon. That's fine with me. If the Maximum Male Models gimmick ends as well then that's a good thing too.
The trio of Austin Theory and Alpha Academy made their entrance.
This Monday on Raw: Bianca Belair-Bayley have a contract signing, Matt Riddle-Seth Rollins go face to face, AJ Styles & Rey Mysterio vs. The Judgment Day and Braun Strowman is there.
(Commercial)
They showed some images of the damage caused by Hurricane Ian in Florida. Text IAN to 90999 to donate $10 to the American Red Cross.
Next week on Smackdown: GUNTHER defends the Intercontinental Title vs. Sheamus, Ricochet vs. Solo Sikoa and Roman Reigns will be in the ring with Logan Paul at the same time to hype their Crown Jewel match.
The babyface trio of Johnny Gargano, Kevin Owens and Drew McIntyre made their entrance. Cole even mentioned Johnny and Drew were Evolve Tag Team Champions together. If you like predictions, I don't like the chances of the heels in this match.
Austin Theory, Chad Gable & Otis vs. Drew McIntyre, Kevin Owens & Johnny Gargano
Gable knocked down Gargano early after Gargano was distracted by Theory on the apron. Theory tagged in, but Gargano hit him with a slingshot Spear coming in from the ring apron. The heels were on the floor, so Owens hit a somersault dive off the apron to knock them down. That led to a break about one minute into the match.
(Commercial)
The heels were in control as they tried isolated Gargano in their corner with Gable catching Gargano leading to an overhead suplex for two. Gable applied an armbar on the left arm. Theory tripped up Drew on the apron and sent Drew into the apron to prevent a tag. Gable did a "SHOOSH" to Owns as well. Gable caught Gargano in an Ankle Lock submission, but Gargano rolled through with a pin attempt for two. Owens hit Gable with a clothesline, then a senton splash and a DDT on Theory. Owens with a fisherman's buster on Gargano onto the knee. Owens punched Otis off the apron and Owens hit a cannonball splash on Gable. Owens went up top and jumped off with a Swanton Bomb for two, but Otis broke up the pin. Gable was able to come back with a German Suplex with KO having a rough landing on his head/neck. Drew tagged in with a clothesline, overhead suplex on Theory and a belly-to-belly on Theory across the ring. Drew with a neckbreaker on legal man Theory, but Theory bailed to the floor. Theory tried to run away, Drew sent Theory back into the ring and Otis ran over Drew at ringside. Otis sent Drew into the steel steps. Gargano jumped on Otis, Owens with a superkick on Otis, Gargano with a superkick and a double superkick by Owens/Gargano. They put Otis on the table, but Gable saved his partner leading to Gable suplexing Owens on the floor. Gable was on the table with Owens while Gargano hit Otis with a DDT on the floor. Owens with a Stunner on Otis on the table. Drew hit a Claymore Kick on Theory for the pinfall win. The director missed it, but they showed a replay with Theory going for an attack and Drew hit a jumping Theory with a Claymore Kick. It went about 10 minutes.
Winners by pinfall: Drew McIntyre, Kevin Owens & Johnny Gargano
Analysis: ***1/4 A predictable win for the babyface team of McIntyre, Owens and Gargano. I think we all saw that coming. The only thing that surprised me is that I thought it would be Gable who would be pinned, but that really didn't matter much. Drew is the only guy in this match in a match at Extreme Rules, so of course he was going to look strong. I liked the spots on the floor with Owens/Gargano taking out Otis/Gable leading right into the finish for Drew.
Post match, Drew hit Theory with the leather strap in the back. Theory bailed to the floor. Drew celebrated to end the show.
Three Stars of the Show
Drew McIntyre
Sami Zayn & Solo Sikoa
Ronda Rousey
The Scoreboard
7 out of 10
Last week: 7.25
Final Thoughts
I think it was mostly a good episode with some solid in-ring action although not at the level as the better episodes of Smackdown. Next week's show should be better with GUNTHER vs. Sheamus in an IC Title match. I did like their interaction as GUNTHER's Imperium group beat Sheamus, who didn't have the Brawling Brutes with him due to being stuck in Florida because of Hurricane Ian. Sheamus showed a lot of heart, but he couldn't fight them on his own.
The consistent theme throughout the show is that the people in Extreme Rules matches were booked strong in the matches they had while there were also several segments intended to build those matches. I thought Rousey-Morgan did a really nice job during their fight. The Belair-Bayley post match interaction wasn't as interesting. Drew McIntyre and Karrion Kross didn't have a brawl or anything, but strong promos from both while Drew won the six-man tag team main event.
I also enjoyed the Sami Zayn/Solo Sikoa tag team match win over Ricochet/Madcap Moss as they continue to book Solo strong. We also got to see Jey Uso threaten Sami to continue the story that Jey doesn't like Sami hanging out with The Bloodline guys. Next week Roman Reigns is back on the "Season Premiere" to face off with Logan Paul to continue their build to Crown Jewel on a Smackdown show that takes place one night before Extreme Rules.
The next WWE Premium Live Event is Extreme Rules from Philadelphia on Saturday, October 8. Here's the lineup.
Strap Match: Drew McIntyre vs. Karrion Kross
Fight Pit Match: Matt Riddle vs. Seth Rollins
Extreme Rules Match for the Smackdown Women's Championship: Liv Morgan (c) vs. Ronda Rousey
Ladder Match for the Raw Women's Championship: Bianca Belair (c) vs. Bayley
"I Quit" Match: Edge vs. Finn Balor
Six-Man Tag Team Good Old Fashioned Donnybrook Match: The Brawling Brutes (Sheamus, Butch & Ridge Holland) vs. Imperium (GUNTHER, Ludwig Kaiser & Giovanni Vinci)
You can watch WWE Extreme Rules on Saturday, Oct. 8, at 8 p.m. ET/5 p.m. PT, streaming live on Peacock in the United States and on WWE Network everywhere else.
===
Thanks for reading. Please check out my reviews of every WWE PPV ever listed in order. Go Toronto Blue Jays and Los Angeles Rams. My contact info is below.
John Canton
Email mrjohncanton@gmail.com
Twitter @johnreport