Strange Things in Wrestling (The Sad December Edition)
Welcome to the return of Strange Things In Wrestling. As a refresher, this column intends to highlight anything from the world of wrestling with odd, unique, quirky, or possibly bizarre qualities because that's what makes them stand out.
We'll dive deep into a handful of different things, stories whose strange nature is something that should be featured. Keep in mind – strange much like anything open for discussion, is subjective. Remember, one person's odd is another person's completely acceptable. And I'm not saying they can't be both; I'm just saying I really should stop talking because it's a whole new edition full of tears, sadness, and criticism. Unlike previous editions, the majority of the items being covered this month have a general theme of sadness tied to them. Typically, December is a time to smile because the holidays are here! This month, however, fans said goodbye. They said goodbye (albeit temporarily) to a promotion, a commentator/former wrestler, and two wrestlers from a promotion they have been a part of from either 4-6 years. So sit back, pull up a box of kleenex, flip to your best crying MJ meme and think about the sheer sadness that will come from this month's edition.
'The Last Time My Son wasn't an A**hole."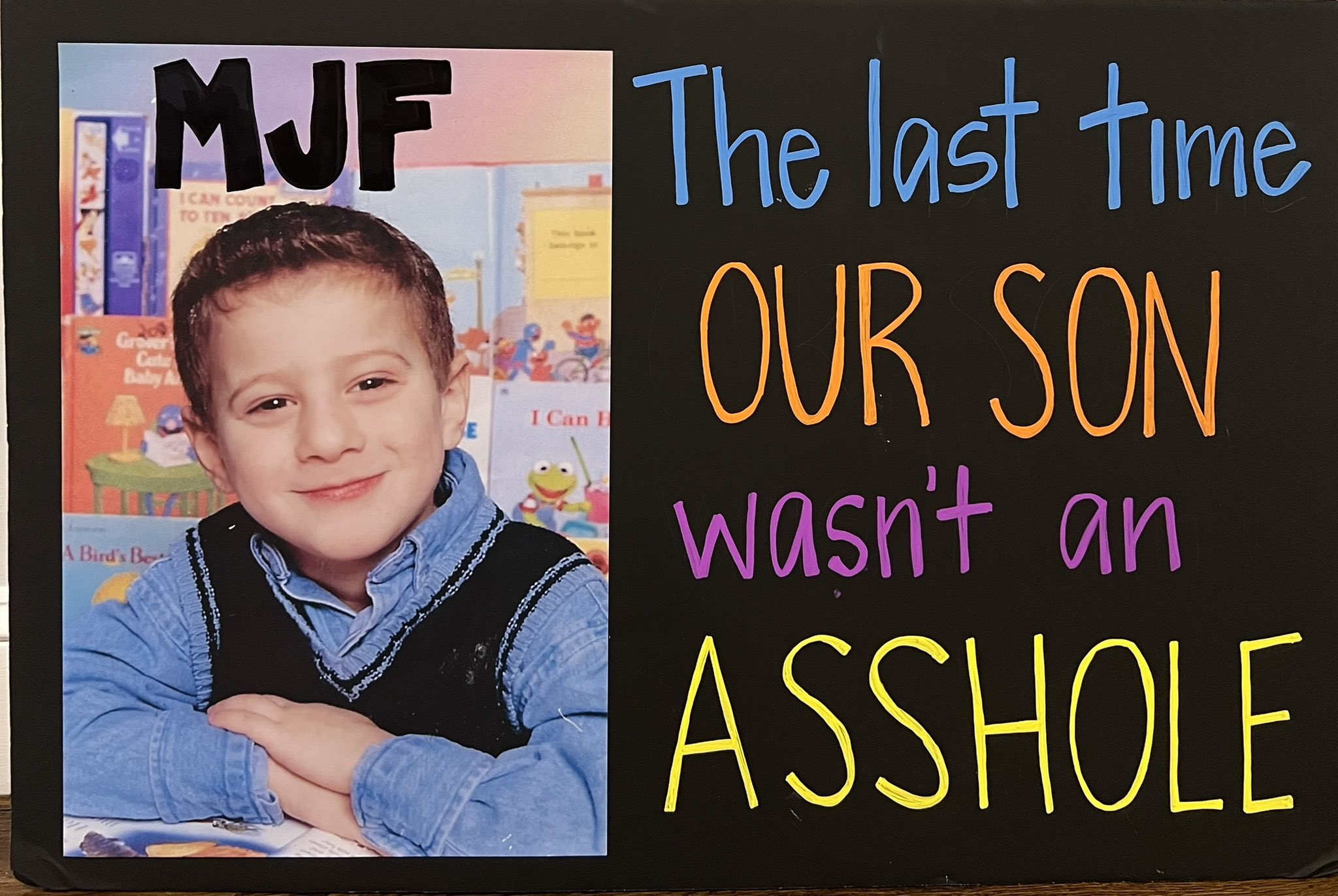 [Photo: Nina Friedman]
Fans of All Elite Wrestling will never hold back their feelings about a particular individual. Maxwell Jacob Friedman has become an individual that manages to hit his mark on the microphone time and time again. In fact, up until the return of CM Punk, there hasn't been a single person that has put MJF in his place. That is until the person, or people that could put him in his place are the ones that put him on earth, period. On social media, Nina Friedman, the mother of MJF, has been quite vocal about her son's…err…behavior. Typically, parents will stand by their children and at times justify their behavior either rightly or wrongly. That is, unless you're the parents of MJF. Mrs. Friedman has been equally vocal about how her son is behaving like a piece of sh*t. She has time and time again shared how poorly he treats others and how not only is he a bad person but, in fact, an a**hole.
The reaction by Mrs. Friedman, in fact, has gone viral. With a tweet consisting of nothing more than a picture of a young MJF with a sign stating 'The last time that our son wasn't an a**hole". The image was an example of a young and innocent MJF that didn't necessarily think he was better than us, and we know it. But if the Friedman's have anything to do with it, they will be sure to say they don't support his actions towards others. If we ever thought a mother's love has no bounds, then they likely weren't the parents of MJF. How long will these amusing posts by the Friedmans continue? It could be until he changes his attitude. This means not likely anytime soon.
Goodbye Ring Of Honor
It really is the end of an era. After 19 years in operation, the promotion that was the breeding ground to Bryan Danielson, Samoa Joe, CM Punk, and Adam Cole will be going on hiatus. The company has publicly stated that they are going on hiatus and will resume operations come April 2022. What will the promotion look like when they return could be anyone's guess. This past October, it was announced that all the talent will be released from their contracts effective December 31st, 2021. Fans have already seen Ring of Honor stalwart Jay Lethal debut for All Elite Wrestling recently in the first step of talent departing the company. While I can't speak for many when it comes to Ring of Honor, my earliest memories were exchanging a tape of Ring of Honor where the featured match involved a guy named 'Spanky' and two brothers named Mark and Jay Briscoe.
To think of what became of their careers since that tape, I watched back in 2003 is pretty incredible. And even though the promotion was notable for those mentioned earlier, it's even having world-class competitors such as KENTA and Kenta Kobashi step into a Ring of Honor ring. It will be strange to see the code of honor not adhered to. Final Battle 2021 took place earlier in this month with some surprises in the arena and in videos like the one above. Thanks for the memories, Ring of Honor.
Goodbye Beth Phoenix, Kyle O'Reilly, Johnny Gargano & Jeff Hardy
December has been a pretty busy month with saying goodbye to those parts of the WWE. Within the WWE's NXT brand, three key members of the on-screen team left the company within a course of 48 hours. On Sunday, December 5th, Beth Phoenix took part in her final time commentating for the brand. Whether it was on NXT or NXT 2.0, Phoenix's contributions both on and off-screen were so influential on those on the roster. Phoenix recently put out an album that showcases her singing skills as well. This, coupled with having young children at home that she often leaves weekly for days at a time, was very hard on her. However, her decision to walk away from NXT doesn't necessarily mean she is walking away from the WWE. So what does this mean, and where will fans be able to see her on-screen again? There are rumors as to where she will be and in what facet, but then again, we think we know her…right?
In the case of Kyle O'Reilly and Johnny Gargano, both men's contracts expired this month. Kyle O'Reilly is already in AEW and wrestled in the main event last night. The majority of the Undisputed Era are in the same promotion now. Now the storyline is that Adam Cole is being pulled between supporting the Young Bucks and supporting reDRagon. As for Gargano, he is about to be a father and waiting to make the right decision for him. No question, though, his departure from NXT was a sad one just like it was for O'Reilly.
Finally, the release of Jeff Hardy has bothered a number of wrestling fans. Whether they are or aren't surprised by his release is irrelevant. Jeff's departure comes at a time when fans were once again showing their support for him and the chance that another title run could be in the cards for him. From reports that he was offered support and denied any aid to his wife and brother, saying that he is doing well could very mean that he may need time away and have other options professionally out there for him.
Why Didn't Tony Khan save wrestling in 2005?
Where was I in 2005? I was 22 years old and still in school. I think that's a strange question to ask me.

— Tony Khan (@TonyKhan) December 7, 2021
Wrestling is an unusual thing at times. Whether that means the outrageousness of claims that tend to be said, done, or even attempted, we would be hard-pressed to find an answer to some things that are asked by fans. AEW's Tony Khan is outspoken in support of All Elite Wrestling. He will defend the promotion and has continued to show his passion and support for all things tied to the promotion. However, Khan is human, and while he can provide a detailed answer almost at any time, there are some things that even Tony can't seem to answer.
One fan reached out to Khan on Twitter, asking him why he didn't save professional wrestling sixteen years ago. Now, Tony has been criticized for many things, but to ask why he didn't do something when he was 22 years old was odd. Even Tony himself answered, "Where was I in 2005? I was 22 years old and still in school. I think that's a strange question to ask me." He'll likely be criticized for being in school and for being 22 years old! Seriously Tony, where do you get off being human, pursuing an education, and… I've got nothing.
________________
Follow me on Twitter @TheMarcMadison or @ProWrestlingPST
Follow our site on Instagram @prowrestlingpost
Feel free to like our Facebook page Pro Wrestling Post
Lots of interesting information is on our site ProWrestlingPost.com including interviews with IMPACT Wrestling's Tenille Dashwood, Sami Callihan, and Madman Fulton, AEW's The Blade (Formerly Braxton Sutter of IMPACT Wrestling), Chris Sabin, and our podcast, ProWrestlingPost Podcast.