Merry Christmas, my friends. For those not celebrating, happy Monday. I find it weird when people say "Merry Christmas, everyone" without realizing that some people don't have Christmas. Respect others and what they celebrate, I say. Here's a tweet from Neil deGrasse Tyson that sums it up well.
Merry Christmas to the world's 2.5 billion Christians. And to the remaining 5 billion people, including Muslims Atheists Hindus Buddhists Animists & Jews, Happy Monday.

— Neil deGrasse Tyson (@neiltyson) December 24, 2017
Anyway, I have Christmas and will be feasting on turkey as well as a bunch of Greek delicatessens while drinking whiskey to drown out the stories of some family members I only see a handful of times per year, but that is later in the afternoon. I am spending my Monday morning doing what I normally do…writing about grown men and women pretending to fight in their underpants. What a life.
Also, Happy Rusev Day because that's every day and it's also his 33rd birthday today. He's got a lot of momentum in his career and I hope it leads to a lot of success in the new year.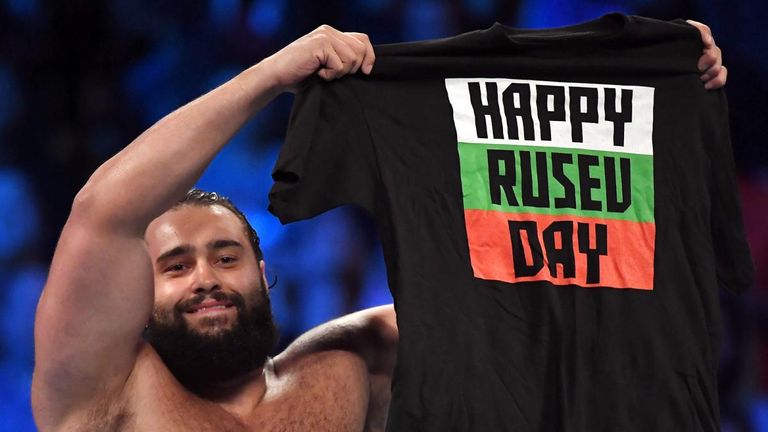 Tonight is a live episode of WWE Monday Night Raw from Chicago. When it was announced a few months ago, a lot of people were mad about it because most of us think that the WWE talent should get to spend Christmas at home with their families instead of having to do a live Raw. If they taped Raw on Friday or Saturday last week, would it have really hurt the show much? Nope, not at all. If it was me, that's what I would have done and I know WWE has done it that way in the past too.
In 2017, WWE is so keen on doing live TV shows that they decided to make Raw live tonight. I'm sure a lot of the talent made arrangements to celebrate Christmas on Saturday or Sunday because most of them are probably jumping on flights to Chicago early today or maybe they did last night. It must be really hard for the wrestlers that have kids at home, but the good thing is most of them have been off for the past four days and could have had an early Christmas with their families.
There's not a lot advertised for tonight's show at this point other than John Cena's return, which they announced last week. Here are the five points from WWE.com about tonight's show.
John Cena returns
The Women's division prepares to make history
Who will gain momentum en route to a battle with The Beast?
How will Roman Reigns and Seth Rollins get payback for Dean Ambrose?
Who else will declare for the Men's Royal Rumble Match?
Tonight's Raw will also feature no commercials in the first hour and Smackdown will be the same.
If I had to guess, Cena will probably be in a tag match with Reigns and Rollins against Joe, Cesaro, and Sheamus. Not saying I know that's coming. Just saying WWE loves to book tag matches and put the faces over in main events, so I can see it happening.
I'm so looking forward to every women's promo talking about "making history" like they are forced to do all the time. Please WWE, cut back on making them all sound the same.  We know it's historic. You don't have to say it all the time.
Following tonight's Raw, the Raw crew has live events through the end of the year: Tuesday in New York City (Reigns vs. Cena advertised as the main event), Wednesday in Uniondale (NY), Thursday in Hartford, Friday in Albany, Saturday in Toronto, Sunday is a day off and next Monday they are in Miami for a live Raw on New Year's Day. It's usually a very profitable week for WWE with higher than usual attendance due to it being the holiday season, so while it is grueling, the more people at the shows is a great thing for WWE. That's how they do it every year.
Smackdown also takes place in Chicago tomorrow. I'll have more on that show in the Tuesday update.
My WWE Raw Deal review will be up likely on Tuesday morning or maybe the afternoon.
THE MIZ TALKS ABOUT HIS CAREER ON WWE PHOTO SHOOT
Normally I would put something like this in the video section of the news update, but this one is better than the typical WWE video. It's called "WWE Photo Shoot" and it features The Miz sitting on a chair while photos were shown of various stages in his career. He responds to the photos by giving us some behind the scenes stuff in terms of what we may not know as well as his feelings going into it. The video runs about 18 minutes.
If you're too busy to click on the video, here's what Miz had to say about his famous August 2016 rant on Talking Smack that was one of the best promos of his career. Thanks to For The Win for transcribing the quotes.
"There was a lot of emotions going on here. This wasn't just to Daniel, this was to everyone. I unleashed a lot, because what we didn't see before this was creative had nothing for me that day. And I went 'what?' They're like 'yeah, you're not on the show tonight.'

What do you mean I'm not on the show tonight? I'm the Intercontinental Champion. And they're like 'yeah but we're introducing new titles. We're introducing the new tag title and the new SmackDown women's title, so we don't have room for the Intercontinental Championship.'

I'm like 'wait a second. You're introducing new titles, but what about the rich history of this title? The title you guys just keep throwing back and throwing back and burying it and burying it, and I'm sick of it.' And I was so aggravated, I was so sick of it, I was like 'put me on Talking Smack tonight, I am going to unleash havoc on everything and everyone.'

And Daniel Bryan called me a coward, and it set off everything.

I didn't know if Daniel Bryan was going to hit me, I didn't know if he was going to punch me, or what was going to happen. But sometimes my mouth just keeps going, and I don't even know what I'm saying. I'm just going off everything I'm feeling at the time.

Daniel got up and left, and I almost didn't know what to do. I don't know if you noticed, but you see me kind of get lost like 'wait, he's leaving?' I was getting ready for him to hit me.

I wanted to make that Intercontinental Championship relevant again. I really did want to make it prestigious. So many times in WWE you have a moment like this, and then the next week [the excitement level] goes down, and then the next week it goes down, and it goes down, and then people just forget. I didn't want people to forget."
The video covers a lot of great moments like that, so please check it out.
IN OTHER NEWS
– There was a really good interview with The Usos posted on WWE.com this weekend. In the interview, the Smackdown Tag Team Champions talked about their careers with a focus on how 2017 was a breakout year for them. One of the interesting parts was when they unleashed on being a part of the Kickoff Show at SummerSlam, which was absolutely ridiculous. Their match with New Day at that show was one of the best of the night too.
JIMMY USO: Hell yeah, we felt slighted. You grind to get on these shows. One of the biggest pay-per-views of the year is SummerSlam. We had one of the hottest rivalries of the year with New Day going into SummerSlam. So to be put on the Kickoff was a slap to all our faces. Me, my brother and The New Day. We did our thing.

JEY USO: All year we been doin' our thing, like my brother said. Hottest rivalry in the game. A tag team rivalry. The Usos and The New Day. We done killed Battleground. What else we kill, Uce?

JIMMY: Money in the Bank.

JEY: Money in the Bank. The next one was Hell in a Cell, but to put us on the Kickoff show? The Usos and The New Day on the Kickoff show, especially The Usos, when you know we deliver every single night, man. We delivered. And, all of a sudden, we got half a house full, Uce.

JIMMY: To be on a Kickoff at 5 [p.m.], and the fans aren't even in their seat? Our mindset is, we're gonna make sure this will be the hardest match to follow. And yeah, they messed up by putting us on first, but we ain't got no choice but to do it. But to make this match a hell of a tag team match, to make this match a hell of a title match, to make this match a hell of a match period … we almost hurt the show, you know what I'm saying?
Another thing they mentioned was not being on the main card of a WrestleMania or SummerSlam. It's pretty ridiculous that they were left off those shows every year. Hopefully not next year.
JIMMY: There's two major shows The Usos ain't never, ever, ever been on. The two biggest shows in WWE. One, SummerSlam. The other one?

BOTH: WrestleMania.

JEY: Always Kickoff. Always get there, always get right there but never on there. I feel like we're doing everything we're supposed to do and then some. There's gonna be a time when you can't hold us back no more. There's gonna come a time people are gonna want The Usos. Put us on the big stage man, the main card, the WrestleMania card we deserve to be on. You know what hurt me most? I'm sitting back last year watching WrestleMania. I see three, four other tag teams in the match. Me and my brother been here the longest. Been putting in work for the longest. All of a sudden I see a tag team that ain't even a real tag team. This other tag team just got here. What's the deal with that? I don't know, and I really don't care. Why? Because I know they can't stop us. The cream rises to the top, Uce. And me and my brother? We're the cream.
They should be on and in a major two on two tag team match that can steal the show. The problem is WWE books WrestleMania in such a lazy way where they do multi-person and multi-team matches that just aren't as interesting.
I'm posting my WWE Johnny Awards on Thursday and I can assure you that The Usos will be featured heavily. They had an amazing 2017.
– Bray Wyatt got himself a replica WWE Title. I don't think that's going to be on TV with him, but it's a cool photo.
— Bray Wyatt (@WWEBrayWyatt) December 24, 2017
Respect, @topropebelts

Enter

The title of The Immortals @MATTHARDYBRAND……

Follow the Buzzards pic.twitter.com/Dtc2RQjKwu

— Bray Wyatt (@WWEBrayWyatt) December 24, 2017
I like Bray a lot as a talent, but this year has been a bit of a rollercoaster for him. Early in the year he was pushed strong and won the WWE Title. As the year went on, he had to deal with a real-life divorce, he had an awful feud with Randy Orton, his feud with Finn Balor wasn't good for either guy and he was sick enough that he was off the road for nearly a month in October. Hopefully, his new feud with Matt Hardy will help him and Matt. Bray is a wrestling lifer that is 30 years old and has many good years ahead of him.
– Here's former WWE/World Champ Batista and Cesaro helping out Titus O'Neil in Tampa to give out toys to kids as part of the Joy of Giving event in Tampa.
Sami Zayn is doing something great for Christmas that you can see in this tweet.
To celebrate the generous spirit of Christmas, I am matching every dollar donated to https://t.co/gvJde51MvN today, up to 5k. Every dollar goes to funding our mobile clinic in Syria.

Please share, retweet & spread the love today! A Merry Christmas & Happy Holidays to all!

— Sami Zayn (@SamiZayn) December 25, 2017
Good job by Sami and everybody else helping those in need this holiday season as well as all year round.
THE VIDEO SECTION
Here's a video of WWE superstars meeting Santa Claus. I think Santa Claus is the greatest worker in the biz, pal. Works one day per year, gets others to appear at malls for him and he can be as fat as he wants. Always working the marks into believing. Sells merch. True babyface. What a gig.
WWE put together a lost of their top 10 most shocking moments of 2017. I don't think they did a good job, really, but number one is good.
Here's another top ten showing some WWE Christmas clips.
These are NXT superstars talking about moves they would like to do in the ring.
THE PLUG ZONE
Here's Mike Sanchez looking at his favorite WWE moments of 2017. Good choices there and some that I don't agree with, but it's his list, so I'm glad he had fun with it.
Brandon Lasher celebrated the Seinfeld holiday Festivus with his list of 2017 WWE grievances. The parts about 205 Live and WWE's UK Division are very good points.
IN CLOSING
Let's go with another Christmas theme today. Here's Stone Cold Santa giving a stunner to Vince McMahon while they were at a Tribute to the Troops show several years ago.
I'll be back tomorrow with the Raw Deal review that may be abbreviated a bit and also a WWE news update. Also a reminder that my 9th annual WWE Johnny Awards column will be posted this Thursday, December 28. It's my favorite column of the year. Should be good.
Merry Christmas again to everybody celebrating today. Beer me. Go Rams.