This is one of those days where there's a lot going on and I have multiple things to go with as the lead story, so let's begin with the announcement of the big names scheduled for the Raw 25 show. There were originally a few names announced for the event, but on this week's Raw they aired a video mentioning others. The show is called Raw 25 because it's 25 years since WWE started Raw (actually day is January 11). The show will air on January 22 and it will take place at the Barclays Center in Brooklyn and the Manhattan Center in Manhattan.
"Stone Cold" Steve Austin
The Undertaker
D-Generation X (Shawn Michaels & Triple H)
Jim Ross
Jerry Lawler
The Dudley Boyz (Bubba Ray & D-Von)
Ric Flair
Scott Hall and Kevin Nash
The Bella Twins (Nikki & Brie)
The New Age Outlaws (Road Dogg & Billy Gunn)
The APA (Ron Simmons & JBL)
It was reported by PWInsider that Sean "X-Pac" Waltman and Ted Dibiase are scheduled for it as well.
There will be probably more names announced for it in the next two weeks. Legends like Bret Hart, Edge, Mick Foley, Trish Stratus, Lita, Christian and many others come to mind.
I think it's a smart move to bring back all of those legends to give the show a bit of nostalgia feel to it and bring some excitement to Raw for a night.
Samoa Joe is dealing with a foot injury
Samoa Joe was injured during his match with Rhyno on Raw this week. As a result of the injury, Joe is out of the Mixed Match Challenge next week (he would have been Bayley's partner) and will probably miss some in-ring time. The injury is legit and not part of a storyline. Here's what WWE.com had to say about Joe's injury with the following comments from Dr. Chris Amann.
"During his match, [Samoa Joe] felt a pop at the bottom of his [right] foot. We took a look and believe he has a plantar fascia rupture, which is a thick tissue rupture under the foot. We will get an MRI to confirm. Treatment includes a period of immobilization in a boot with crutches and platelet rich plasma injections."
I've had a plantar fascia injury before and it sucks. It's the bottom of the foot. Every time you walk it hurts. That's why they are going to put him in a boot to minimize the foot pain. It's the kind of thing that may keep him out for a few weeks, but I don't know how long he'll be out. Maybe he misses the Royal Rumble. We don't know yet. I'm sure that by putting his foot in a boot and giving him injections it will speed up the recovery process for him. Joe hasn't commented on the injury, but there is a MRI scheduled for today. I should have an update tomorrow.
Joe mentioned on Twitter he's going to be a part of the Transformers animated series.
Very happy to announce I am joining the cast of the new Transformers animated series. #PredaKingLives #transformers https://t.co/HCP5yxoQkk

— Samoa Joe (@SamoaJoe) January 9, 2018
Good for him. It's voiceover work and he's got a good voice for that sort of thing.
The Miz and Maryse Get a New Six-Week Reality Show
The Miz mentioned his new unscripted show on Raw last night. More details have come out today about the show called "Miz & Mrs" although that's not a great name for a show. Here's the scoop from Deadline:
The six-episode, half-hour series will feature the titular duo who are both known for being larger than life both in and out of the ring, as they start a family.

"As the exclusive television home for WWE®s flagship programming, USA Network is excited to give this passionate fanbase even more of two of WWE's most colorful Superstars, The Miz and Maryse," said Heather Olander, SVP of Alternative Development and Production. "Miz & Mrs. (WT) is an intimate, behind-the-scenes glimpse at this iconic couple as they face one of their most exciting challenges yet – becoming parents."

"Miz & Mrs. (WT) will undoubtedly be the most must-see show on television," said WWE Superstars The Miz and Maryse. "We can't wait to share this next chapter of our lives with our fans as we get ready to welcome our daughter into this world."

WWE and Bunim/Murray Productions will produce the series and it is expected to air in 2018. It will be added to USA's WWE programming, which includes Monday Night Raw and Smackdown Live.
I don't watch those kinds of shows, but congrats to them. Any time somebody wants to pay you money to film your child being born I guess you gotta take it. Right? I don't know. Money is good, though.
IN OTHER NEWS
– There are two matches announced for Smackdown as of this writing.
Becky Lynch vs. Ruby Riott

Zack Ryder vs. Mojo Rawley in the US Title tournament
The other things being advertised on WWE.com is the follow up to the AJ Styles vs. Kevin Owens & Sami Zayn match at the Royal Rumble and the team of Chad Gable & Shelton Benjamin demanding justice after they lost their Tag Team Title match last week in controversial fashion.
No matches announced yet for 205 Live, which airs tonight at 10pmET on WWE Network.
– John Cena is being advertised for every Raw from after the Royal Rumble through to WrestleMania according to PWInsider.
– Here's the listing of all the teams in the Mixed Match Challenge so far.
Braun Strowman and Alexa Bliss (Raw)
Bobby Roode and Charlotte Flair (Smackdown)
Finn Balor and Sasha Banks (Raw)
Jimmy Uso and Naomi (Smackdown)
Apollo Crews and Nia Jax (Raw)
Rusev and Lana (Smackdown)
The Miz and Asuka (Raw)
Elias and Bayley (Raw)
Shinsuke Nakamura and Natalya (Smackdown) – This was just announced as I was posting this update. They are by far my favorite team in this tournament.
More teams will be added and I will update that as we go through the week.
– Over 100 episodes of Mid-Atlantic Wrestling from 1981-83 added to WWE Network on Monday for those interested. It was before my time as a fan. I was born in 1980, but started watching WWF/E around 1986 as my earliest memories. If I ever get free time it's something I'll check out once in a while. Here's a clip that WWE posted of Roddy Piper and Ric Flair grappling on a Mid-Atlantic show in 1982.
– Serena Deeb is likely returning to WWE according to PWInsider, who reported that she underwent medical testing in Pittsburgh. Serena's a really good worker that was in WWE when she was in her early 20s, got released about seven years ago and at 31 years of age, still has a lot of good years left. Serena was in the Mae Young Classic tournament last summer too.
– Congrats to former WWE superstar Christy Hemme and her husband for welcoming quadruplets to the world on Saturday. That's amazing. They already have a daughter too.
Surgery went extremely well! Christy and all 4 babies are safe! pic.twitter.com/OI11LPwNAp

— Christy (@hemmepowered) January 7, 2018
THE VIDEO SECTION
The most recent WWE Top 10 video focuses on the funniest moments in Raw history. Some very good choices on here.
Enzo Amore was interviewed by Corey Graves for a show on WWE Network. Here's a preview clip. Full interview is on WWE Network now.
THE PLUG ZONE
Check out my Raw review for this week. I'll go back to making Raw a live review next week.
IN CLOSING
That's all for now. I'll leave you with this image that is apparently the official Royal Rumble poster. It looks good, but I don't know if I believe it because it's the internet. No idea yet if it's legit although I believe it is.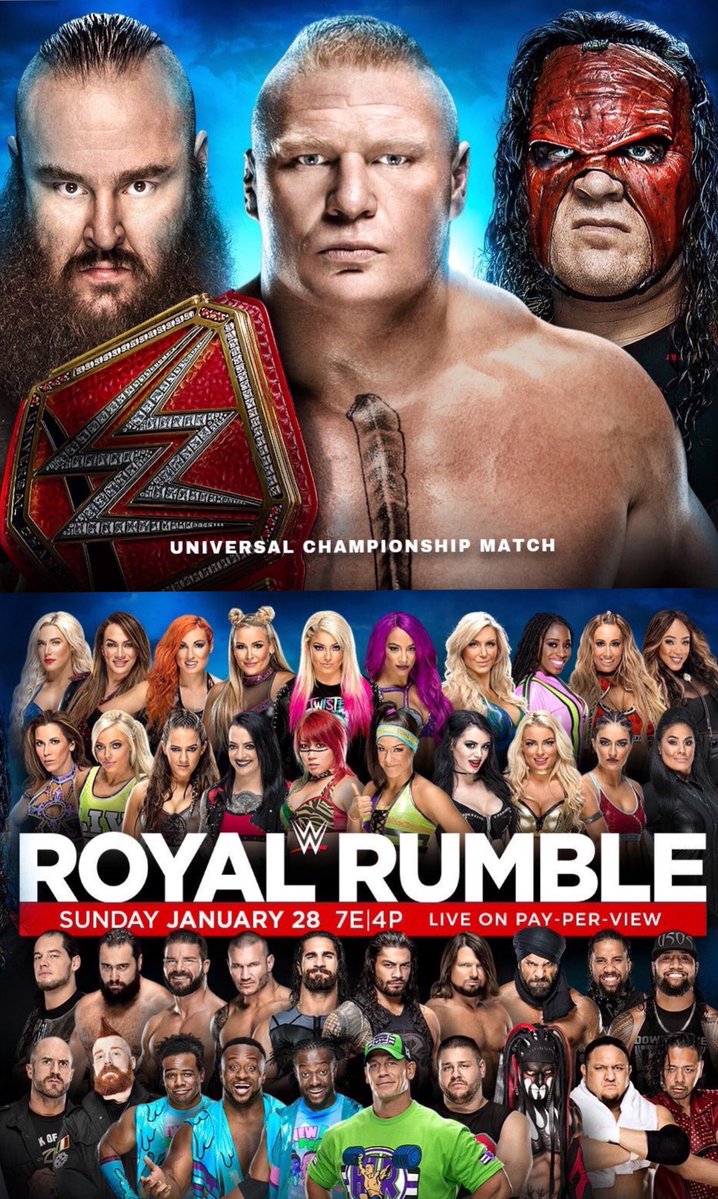 I'm not sure if I'm doing a live Smackdown review tonight. It most likely won't be, but may be up tonight. I'll be back tomorrow with more.