This is the end of the Royal Rumble match reviews. I wrote all of these as they happened, so there's not much to add to them.  There were three Rumble matches in 2018.
In case you missed any of the previous reviews, check out the Royal Rumble Match archive here. Let's get to it.
That was the actual DVD cover? Apparently yes.
WWE Royal Rumble
Orlando, Florida
January 24, 2016
Royal Rumble WWE World Heavyweight Championship
The #1 entrant for the Royal Rumble is WWE World Heavyweight Champion Roman Reigns. He was booed by the majority of the crowd. It's Rusev at #2 and Lana was with him before she left. Rusev nailed a spin kick on Reigns. Rusev sent Reigns out of the ring through the middle rope. Reigns came back with a Drive By kick and then tossed Rusev out. It's AJ Styles as #3. Wow. Awesome moment to see him in WWE. The announcers called him by his name, mentioned all the hype and the crowd was very supportive of him. Styles hit the Pele Kick on Reigns, but Reigns came back with a Samoan Drop. It's Tyler Breeze at #4. He nailed some kicks on both guys and then he went after Reigns. Crowd was chanting for Styles big time. Styles nailed some kicks on Breeze. Reigns nailed a punch while Styles had Breeze in the air and Breeze was eliminated. Curtis Axel is #5. His Social Outcast buddies were with him at ringside. He went after Styles. Reigns knocked Slater off the apron, Styles knocked Rose off the apron, Reigns knocked Dallas off the apron and Styles eliminated Axel with a clothesline.
Chris Jericho is #6. Good reaction for him. He went after Reigns and Jericho sent him shoulder first into the ring post. Leaping clothesline by Styles. Jericho went for the Walls of Jericho, but Reigns nailed him with a punch. Kane is in at #7 in his Demon Kane gear as Cole noted it's his record 17th Rumble with a record 42 eliminations. Kane with a boot for Styles, a punch for Jericho and side slam on Reigns. Goldust is in at #8 with Cole noting it is his 11th Rumble match. Goldust hit a bulldog with Kane. Jericho with a suplex on Styles. More "AJ Styles" chants from the crowd as Goldust hit a snap slam on him. Ryback is #9 as he got in there knocking everybody down with punches and knees. Ryback with a spinebuster on Kane. Some fans supported him, but some were booing. Kofi Kingston is #10 – he's a master of avoiding elimination, so let's see what he can do this year.
Ryback nailed a huge back body drop on Styles. Then Styles nailed a springboard clothesline on Jericho. Goldust almost eliminated Styles, but he was able to hang on. Titus O'Neil is #11 as he cleaned house on everybody including a back breaker to Jericho. Backbreaker by O'Neil to Styles. O'Neil with a back body drop on Goldust, then Goldust stayed on the apron and O'Neil eliminated him with a running body attack. Reigns was nearly eliminated and Cole was yelling loudly about it. R-Truth is #12 and he pulled out a ladder from under the ring. He set up the ladder in the ring while everybody just stopped to look at him. He set up the ladder, climbed up and reached for a title that wasn't there. Everybody laughed. Kane tossed out R-Truth and then tossed out the ladder. Kane sent Kingston out of the ring, but Kingston landed on Big E's shoulders (Big E & Woods are at ringside), so Kingston avoided elimination by landing on the shoulders of his buddy. The crowd was cheering the creativity. Luke Harper is #13 while Kingston is still on E's shoulders outside the ring. Vince McMahon was at ringside with the League of Nations trio of Sheamus, Rusev and Alberto Del Rio. They yanked Reigns out of the ring. They tossed Reigns into the barricade at ringside and then tossed Reigns into the steel steps. Rusev nailed a kick on Reigns and Del Rio nailed a kick on Reigns as well. They barely showed any action in the ring because they just focused on Reigns on the floor. He was not eliminated. Stardust is #14. The League of Nations set up Reigns on a table outside the ring. Rusev ran across the two tables and hit a huge splash that put Reigns through the table. The League of Nations were celebrating with McMahon. They left. Big Show is #15 with Cole noting that it is his 11th Rumble match while mentioning that Show has been the runner up twice (that was 2000 and 2004, but not like they can say 2004 since Benoit won).
Show nailed some huge chops on Stardust and Jericho. Show tossed O'Neil out of the ring. Reigns was helped to the back. Show eliminated Ryback from the match as well. Neville is #16 as the second half of the match begins. Missile dropkick from Neville as they show Reigns being placed on the stretcher. Neville with a headscissors on Harper. They keep cutting back to Reigns and missing action in the ring, but Reigns made it to the back. A replay showed that Jericho nailed a dropkick to knock Kingston off of Big E's shoulders so that eliminated Kingston. Braun Strowman is #17 and he dumped Kane over the top pretty easily. That wasn't a very impressive showing for Kane. May be time to retire soon. Strowman faced off with Show. Strowman choked out Show and dumped him out. That's a big way of putting over Strowman. My favorite healthy wrestler on the main roster Kevin Owens is #18. Owens limped to the ring while selling the match he had earlier. He brawled with Styles in the ring as the crowd went wild. Styles wanted Styles Clash on Neville, but Owens nailed a superkick. Owens tossed out Styles. The crowd was pissed. They chanted "AJ Styles" as he went to the back. I was hoping he would last longer, but if it leads to a feud with Owens I don't mind one bit. Dean Ambrose is #19 and Owens was waiting for him. They brawled around. It was disappointing because they kept showing Roman Reigns highlights as if the other people in the ring didn't matter. Sami Zayn is #20. Oh hell yeah. My favorite wrestler in the company (since Daniel Bryan is hurt). The crowd was on fire for him. He went right after Owens. They threw punches. Zayn got the advantage and tossed Owens. Awesome moment!
Analysis: I think Owens has a feud with everybody and I love him for it! Seriously, he's the best heel in the company. I hope Zayn is on the main roster from this point forward although I know he's got NXT stuff going on too.
It's Erick Rowan at #21, so three Wyatt Family guys are in there. Rowan sent Neville over the top and Harper eliminated. Rowan sent Stardust on the apron and Harper kicked him out. Strowman choked out Jericho. Mark Henry is #22. He was met by a body slam from Strowman and then Harper/Rowan helped Strowman send Henry out of the match. It is probably Henry's last Royal Rumble and he was in there for about 30 seconds. Zayn was beat on by the three Wyatt Family guys and he was tossed out by Harper. Brock Lesnar is #23. Huge ovation for him. He has suplexes for Rowan and Harper. Lesnar nailed a huge clothesline on Strowman that looked stiff as hell. Lesnar with a clothesline sent Rowan out of the ring. German Suplex by Lesnar on Harper. Clothesline for Strowman. Jack Swagger is #24. He went after Lesnar, was met with a F5 and then Lesnar tossed Swagger over the top to the floor. Swagger was in there for about 15 seconds. Lesnar nailed Strowman with three running knees to the side of Strowman. The Miz is #25 to almost no reaction from the crowd. He walked around the ring and put on a headset. He didn't go in the ring. Lesnar gave Harper a belly to belly suplex and a German Suplex. Lesnar with a German Suplex on Ambrose. Lesnar nailed a clothesline to eliminate Harper. Miz was still on commentary.
Alberto Del Rio is #26 with Lesnar going after him right away. Lesnar went after Strowman again and Lesnar nailed a clothesline to eliminate him. The Miz celebrated it. The story is that Lesnar eliminated the three Wyatt Family guys that were in the ring. Here's Bray Wyatt at #27. I thought they would have done it where he would have his Wyatt Family guys in the match, but they are gone. Wyatt held his arms up, though, so the Wyatt Family guys went after Lesnar. Lesnar ended up dumping the three guys out the ring. Lesnar nailed a suplex to Wyatt. He wanted the F5, but Harper hit a superkick on Lesnar. Wyatt nailed Sister Abigail on Lesnar. The three Wyatt Family guys tossed Lesnar out even though they were eliminated. Dolph Ziggler is #28. He was on fire. The Miz finally went into the ring because Lesnar was gone.
Analysis: There's the big angle to set up Lesnar vs. Wyatt at WrestleMania. They cost him the WWE Title, so Lesnar gets his revenge there. Wyatt feuds with the top guys and loses to them like he will lose to Lesnar.
Sheamus is #29. Here comes Roman Reigns and he nails a Superman Punch on Sheamus in the aisle. Reigns tossed out Del Rio and Miz. Wyat went after Reigns. The crowd is booing Reigns as he hit a Superman Punch. The #30 entrant is Triple H. Long staredown with Reigns.
Triple H was in the ring facing off with Reigns. Hunter hit a Pedigree on Ziggler. Reigns hit a Spear on Wyatt. The six guys in the match are Reigns, Hunter, Wyatt, Ambrose, Ziggler & Jericho. Oh wait there's Sheamus so that's seven guys. They did this big sequence where everybody was hitting their finishing moves. It was hard to cover it all. Ziggler almost eliminated Triple H with a superkick, but Hunter was able to hang on. Then Ziggler ran at him like a dumbass, so Hunter dumped him out. JBL said "we're down to five" even though there were six guys.
Wyatt had a staredown with Triple H. Sheamus nailed a Brogue Kick on Wyatt to save Triple H form a Sister Abigail. Then Sheamus/Hunter tossed out Wyatt together. Reigns couldn't toss out Sheamus and Hunter. Ambrose with a neckbreaker on Sheamus. Jericho with a cross body block on Ambrose. Jericho with a Codebreaker on Hunter, but then Ambrose tossed Jericho out.
Final four: Reigns, Sheamus, Ambrose and Triple H. Ambrose with a dropkick on Sheamus against the ropes, but then Sheamus nailed a huge Brogue Kick on Ambrose. Sheamus missed another Brogue Kick. He was on the apron, so Reigns dumped him out. Triple H eliminated Reigns meaning we have a new WWE Champion. People cheered Reigns being eliminated.
Ambrose was on fire against Triple H as he hit his clothesline off the ropes. Triple H booted Ambrose. Hunter was on the apron. Ambrose with a shoulder tackle. He went for another attack, but Triple H blocked it with his knee. Triple H dumped Ambrose out with a back body drop to win the match and the WWE Title. The match went 61:42.
Winner of the Royal Rumble and the new WWE World Heavyweight Champion: Triple H
Post match, Triple H celebrated with the WWE Title while his wife Stephanie and father-in-law Vince McMahon celebrated with him. There was some pyro going off as the WrestleMania logo was shown in the background. The show ended right at 11pmET.
Analysis: ***1/2 It was a pretty good Rumble that was better than the last couple of years, so that's a positive at least. It was entertaining at times, but the ending didn't excite me much at all. I know a lot of people predicted it. I figured it was a very possible choice too. I just didn't want it to happen because to me putting the title on Triple H again is a step backwards. He's 46 years old. What's he gonna do, put over Roman for the WWE Title at WrestleMania? That's nice, but Roman is already a two-time champion and a match like that feels predictable. Reigns got screwed at Survivor Series and then he lost clean here. If Triple H was going to win, it should have been a lot cheaper than this. In WWE's defense, injuries forced their hand with this booking. They weren't left with that many options. Doesn't mean this was the best choice. I just kinda shrug my shoulders and move on. I look forward to other feuds.
Other thoughts on the Rumble match as well as plans going forward:
– The match was well booked. I thought there were some fun moments and I wasn't bored while watching it.
– The AJ Styles debut was well done. Putting him in at #3 is a great spot because he was in there for a good amount of time and got some nice spots in although he didn't connect on the Styles Clash on anybody. Getting eliminated by Owens excites me. I'm looking forward to that as a feud.
– Speaking of Owens, he seems to have a lot of feuds going on and I loved seeing Sami Zayn in there attacking him. I'm not sure if this means Zayn is full time on the main roster or not. I know he's got some NXT storylines going on too. Zayn's my favorite guy in the company right now with Daniel Bryan out, so I hope he's in there more.
– Lesnar looked awesome. That's why he should have won. He's the best guy they have and they should have put the title on him again. I think having him against Wyatt at WrestleMania is going to be good for Wyatt in terms of making him look like a bigger star. The problem is that nobody is going to believe that Lesnar will lose.
– I'm not a huge fan of having Reigns out of the ring for 30 minutes to avoid putting him in there while Lesnar was there. It's lame booking to write a guy out of a match. Reminded me of 1999 when they did it and I hated it then. At least this match was much better.
– Braun Strowman eliminated the most guys with five eliminations. I picked Lesnar to hold that honor, but I wasn't surprised that they put over Strowman that much. He's their big guy of the future, which is why they had him eliminate the older big guys like Big Show and Kane.
– Then there's The Miz coming out there and not going in the ring. If there are no rules, why does anybody ever go in the ring in the first place? Just hang out there. They can use weapons too, yet nobody does.
– At least R-Truth made me laugh. Comedy works in a match like that when it's so repetitive for an hour.
– I didn't expect Ambrose to be in there at the end with Triple H. That would have been a nice surprise to have Ambrose go over, but of course that didn't happen.
– What this match showed more than anything is what's wrong with the main event picture right now. The guy they want to be top face isn't cheered that much and the top heel is a part timer who wrestled one match in the last year. This is supposed to get people to tune into WrestleMania? It doesn't excite me much. I'm fine with a Reigns vs. Triple H match. I get why they are doing it based on this storyline where Roman is screwed by the bosses. I just don't think it's very exciting especially when they do all these things to make Reigns sympathetic, yet a lot of the crowd is booing the guy.
– I don't consider myself a Triple H hater. I just don't think that he should be main eventing another WrestleMania. The problem is that ego gets in the way and when you run the show with your father in law you can do what you want. With that said, their original plans were Triple H vs. Rock (not happening due to Rock likely not wrestling due to movie commitments) and Triple H vs. Rollins (not happening due to Rollins knee injury), so this is really Plan C. I just find it weird that a guy in charge of Talent Relations that is supposed to be looking out for the future of the company is putting himself in another main event of WrestleMania when he stopped wrestling full time over five years ago. Putting him in a match at WrestleMania is fine. If Reigns beats him, so what? This is not the Daniel Bryan story from two years ago. Bryan was beloved. Reigns gets booed. Part of it is the booking, yet they don't seem to understand it. What a shame.
– The end game needs to be the end of The Authority at WrestleMania. If Reigns wins then he gets the WWE Title and The Authority angle ends. It's that stale storyline that is hurting WWE as much as anything right now. That doesn't mean that Triple H and Stephanie are bad characters. It just means that the angle is dead. Here's hoping it ends for good at WrestleMania.
– The story with Triple H and Roman Reigns really isn't much different than the Daniel Bryan story in terms of the way it's been booked. Bryan won the title, got screwed over by Money in the Bank guy – it was just a few months before Reigns did. Other things happened to make things difficult. Then Triple H realizes "okay I have to put this guy over" because he's pushed so much as a heel so he did that for Bryan at WM30 and he'll do it for Reigns at WM32 this time with the title. Bryan beating Orton/Batista in same night added to it, but is essentially the same idea. The difference is that Bryan was the most universally loved babyface in a very long time while Reigns is booed by a portion of the fans. The problem also is that they just did the same f'n thing two years ago with a better wrestler. That's why I'm not going to sit here and say this is great. It's repetitive.
Person That Lasted The Longest: Roman Reigns at 59:48.
Most Eliminations: Roman Reigns and Braun Strowman with 5.
===
WWE Royal Rumble
Alamodome in San Antonio, Texas
January 29, 2017
Royal Rumble Match with 30 Competitors
The #1 entrant is Big Cass, so he had Enzo Amore with him and they did their usual promo. Crowd was on fire for them. Enzo talked about how Cass was going to win like HBK in 1995 in his prime. Chris Jericho is in the #2 spot.
The match started at 9:34pmET with Big Cass at #1 and Chris Jericho at #2 as noted. Cass nailed a fallaway slam followed by a corner splash. Jericho avoided an elbow drop. Cass nearly eliminated Jericho, but Jericho held on. Cass hit a boot. Kalisto was #3 and he ran down to the ring leading to a springboard dropkick on Cass. Enziguri kick by Kalisto on Jericho. Cass nearly dumped Kalisto, but Kalisto nailed a kick to his head. Kalisto ran the ropes right into a big boot by Cass. It's Mojo Rawley at #4. It doesn't seem like they are sticking to the two-minute timing between entrants. It feels quicker although I'm not going to time it. Rawley was aggressive early, but Cass slowed him down. Not a lot happening. Jack Gallagher is #5, so there's a 205 Live wrestler. Kalisto is a cruiserweight too, but he's not in the division. Gallagher used the umbrella to knock down the four guys in the ring. Jericho decked Gallagher with a punch to the back.
Jericho with a slam on Gallagher. Gallagher came back with a low blow to Jericho using the umbrella. Not a lot happening again. Mark Henry is at #6. He took a long time to get to the ring as Graves did the usual announcer shtick of calling him a favorite. Henry launched Gallagher out of the ring, but he went under the top rope. Fans cheered Henry as he knocked them down. Henry did a "Hook Em Horns" sign for Texas. Gallagher had his umbrella open, he jumped off the top, Henry caught him and tossed him over the top. Gallagher is the first man out of the match. Braun Strowman is #7 with five guys in the ring. Jericho bailed to the floor. Rawley nailed a splash in the corner on Strowman, but Strowman crushed him with a one armed slam. Strowman dumped Rawley over the top to the floor. Cass hit a big boot on Strowman, then he missed another big boot and Strowman knocked him out of the ring to eliminate Cass. Strowman grabbed Kalisto by the arm and launched him over the top onto Cass and Rawley on the floor. That was impressive. Strowman had a staredown with Henry. Strowman punched him a few times, dumped him over the top and Henry was on the apron with Strowman kicked him out. Sami Zayn is #8 as we learned earlier. Big punch to the chest by Strowman. Zayn tried to fight back. Jericho was on the floor again. Zayn nailed a clothesline, but Strowman came back with a running body attack to knock down Zayn. Corner splash by Strowman on Zayn. The obvious #9 is here and it's the Big Show. He took his time getting down to the ring. The crowd cheered as Show had the staredown with Strowman. Show sent him into the ropes and Strowman nailed a clothesline to knock down Show. Big Show came back with a Chokeslam. Jericho went for a Codebreaker on Show, but Show caught him and nailed him with a KO Punch to knock down Jericho. Show and Strowman took turns picking eachother up. Strowman dumped out Show for his fifth elimination. Tye Dillinger is #10 in the match, much to the delight of the crowd as they chanted "ten" for him hoping it would be him. That was a great reaction for Dillinger, who has been a NXT guy for a couple of years.
The duo of Dillinger and Zayn worked together to try to knock down Strowman. Jericho was still out of the ring. Strowman with a double suplex on Dillinger and Zayn. James Ellsworth is in the #11 spot with Carmella joining him at ringside. Strowman told Ellsworth to get in the ring to face him. Zayn and Dillinger nearly dumped Strowman out, but Strowman hung on. Strowman decked them with clotheslines followed by splashes in the corner. Ellsworth didn't go in the ring yet while Jericho was still out of the ring. Dean Ambrose, the Intercontinental Champion, was #12 to a good ovation from the crowd. Ambrose encouraged Ellsworth to get in together, so Ambrose stopped and Ellsworth ran in by himself. Strowman picked up Ellsworth in a Chokeslam like hold and slammed Ellsworth over the mat onto the floor. That's six eliminations by Strowman. Ambrose got in there with some offense on Strowman to stun him a bit. The three faces went after Strowman together, but Strowman knocked them all down. Baron Corbin is at #13 with Strowman waiting for him. Ambrose jumped on Strowman while three guys punched at Strowman until Strowman powered out. Strowman dumped out Dillinger as his 7th elimination. The other three guys all took shots at Strowman to stun him with Zayn hitting a Helluva Kick in the corner and Corbin hitting a clothesline that knocked Strowman out of the ring. Impressive showing for Strowman with seven eliminations. Kofi Kingston of The New Day is #14 to a good ovation. Nice "Who? Who? Who?" tights for Kingston. Corbin left the ring under the bottom rope and came back with a clothesline on Ambrose. The Miz is #15 with Maryse, but she went to the back. That's a shame.
Analysis: We are halfway through the match. A lot of big names left.
Miz went into the ring with a Skull Crushing Finale to Zayn. Ambrose with a clothesline on Kingston. Miz went after Ambrose, but couldn't eliminate him. Corbin dominated the action by knocking everybody down. Kingston was on the top rope. Corbin punched him, so Kingston held onto the ring post to avoid elimination. That was a unique spot like Kingston does every year. Kingston hit Trouble in Paradise on Corbin. Sheamus is #16 with forearm shots, back suplex, backbreaker and a body slam. Jericho is back in the ring after spending most of the match on the floor. Sheamus with the ten forearm shots to the chest of Miz. Brogue Kick by Sheamus on Jericho. Back to the floor for Jericho again as the other guys in the ring just stood around. Big E is #17 as the second New Day guy in the match. Big E did an abdominal stretch on Miz right away with some booty slapping as the crowd chanted "New Day Rocks" for that. Double team clothesline by New Day on Miz. Not much happened that was interesting. Rusev is #18 with a mask on his face because he had a broken nose. Lana was with him, she told him to crush and she left. What a great wife. Rusev with running splashes in the corner for everybody and a spin kick on Sheamus. Rusev pounded on Ambrose in the corner with punches. Cesaro is #19 with a swing on Miz followed by a swing on Zayn. Swing by Cesaro on Ambrose as well. There are 10 guys in the match although only nine of them are in the ring because Jericho is on the floor. Cesaro couldn't do the swing to Big E because he was tired of swinging. He even did a swing to Corbin. Cesaro tripped up Sheamus for a swing, but he paused and thought about it. Crowd wanted it. Rusev decked Cesaro with a superkick before Cesaro could do it. Xavier Woods is #20 so he's the third New Day guy in the match.
There wasn't a lot happening other than a few teases of eliminations that didn't look like they would eliminate anybody. The New Day trio did a triple team move on Miz. Bray Wyatt is #21 as the arena went dark for his entrance with the crowd lighting up with cell phone light. The guys in the ring were just throwing punches. Wyatt with a uranage slam on Miz, running body attack on Ambrose and punches on a few other days. Wyatt had a staredown with Woods since Woods was scared of him last year. Wyatt crushed him with a clothesline. The ring was piling up with guys. There were 12 of them in the match, but Jericho was still on the floor. Apollo Crews is #22 for his first Royal Rumble. Crews delivered several kicks followed by a dropkick on Miz and standing moonsault by Crews on Miz as well. That's 13 men in the match as the crowd chanted for Goldberg. Sheamus and Cesaro did a double clothesline spot to eliminate all three New Day guys. Sheamus went to eliminate Cesaro. Jericho snuck up behind them and dumped both guys out. That was a good spot. Long staredown by Sheamus and Cesaro outside the ring. Randy Orton is #23 – he's a big favorite to win. He walked out to his "Voices" song instead of the Wyatt song. Orton with a powerslam on Miz, RKO on Corbin and RKO on Wyatt. Zayn jumped off the top rope and Orton dropped him with a RKO as well. Orton helped up Wyatt as they posed together. Dolph Ziggler was on fire as #24 with several superkicks. There was about five of them. Double DDT by Ziggler on Miz and Crews. Ambrose nearly eliminated Ziggler as the crowd chanted for Goldberg. Luke Harper is at #25. He eliminated Crews shortly after he entered.
Analysis: That means Goldberg, Lesnar and Undertaker all get spots in the final five.
Harper nailed Wyatt with a lariat and a boot to Orton. That drew a good response. Harper teased the Sister Abigail neckbreaker on Wyatt, but Orton was there to drop Harper with a RKO. Brock Lesnar is #26 with Paul Heyman accompanying him. Huge ovation for him. He got some fireworks on his entrance as well. Lesnar crushed Ambrose with a clothesline and dumped him out easily. Lesnar picked up Ziggler and eliminated him. Lesnar with German Suplexes for Rusev, Jericho and Corbin. Lesnar with a F5 on Miz. Lesnar with a F5 on Orton. Lesnar was on fire as he destroyed everybody in the ring. The crowd chanted "Goldberg" as Lesnar looked around. Enzo Amore is #27 as Graves got excited because it means Enzo would get destroyed by Lesnar. The other guys in the ring all stayed down while Enzo fired up against Lesnar. Enzo ran at him and Lesnar crushed him with a clothesline. Lesnar dumped Enzo out of the ring to eliminate him. Lesnar vertical suplex on Zayn and a vertical suplex for Jericho as well. Jericho grabbed his leg and bailed to the floor again. Lesnar with a vertical suplex on Rusev as well. Goldberg is #28. Crowd was going wild as they chanted "Goldberg" for him. Lesnar was waiting for him. Everybody else in the ring was down to set up this confrontation. Goldberg avoided a clothesline, bounced off the ropes and hit a Spear. Goldberg eliminated Lesnar with a clothesline. Goldberg with clothesline, punches and kicks. Jericho took a kick from Goldberg. Goldberg nailed Zayn with a Jackhammer. Orton and Wyatt worked together on Goldberg. They sent Goldberg into the ropes, so Goldberg bounced off the ropes to nail them with a double spear. Everybody is down the ring as the gong hits for #29 The Undertaker. There was no walk to the ring by Undertaker. He just showed up in the ring. Goldberg had a staredown with Undertaker. Taker choked him, but Corbin and Rusev broke it up by attacking them from behind. Goldberg dumped Rusev out. Undertaker eliminated Corbin. Goldberg with a Spear on Undertaker. Goldberg dumped Harper out. Goldberg was looking at Harper, so Undertaker eliminated Goldberg. Undertaker nailed Miz with a Chokeslam and he hit Zayn with a Chokeslam as well. Roman Reigns is the 30th man in the match. Crowd booed that.
When Reigns got into the ring, Undertaker was waiting for him. Undertaker nailed him with a clothesline. Reigns avoided a chokeslam with a Superman Punch. Undertaker came back with a Chokeslam on Reigns. Undertaker eliminated Miz and Zayn with clotheslines over the top for each guy. The final five are Undertaker, Jericho, Wyatt, Orton and Reigns. Undertaker tried to dump Reigns out, but Reigns held on. Undertaker with a Chokeslam on Jericho. Undertaker did a throat slash gesture, so Reigns snuck up from behind and eliminated Undertaker. Crowd booed that loudly. There was a long staredown by Undertaker and Reigns after that elimination with Reigns saying it's his hard now. That's a rumored match at WrestleMania.
Final four are Reigns, Orton, Jericho and Wyatt. Jericho tried to go after Reigns. He went up top, but Reigns nailed him with a Superman Punch to eliminate him. The Wyatt Family duo worked together on Reigns with Orton hitting a draping DDT off the ropes. Reigns fought out of a double team with a Superman Punch on Orton and a Superman Punch on Wyatt as well. Reigns dumped Wyatt over the top to the floor. Reigns charged in for a Spear, Orton avoided it, Orton dropped him with a RKO and a clothesline by Orton eliminated Reigns. Randy Orton wins! The match time was 62:07.
Winner: Randy Orton
Analysis: ***1/4 I'm going to go point form notes for it because there was a lot to take in for an hour.
– It was a good Rumble match that had a strong ending with some big names, some comedy spots and a lot of slow moments in the first half as well. It wasn't the best Rumble match I've ever seen by any means, but it was good enough.
– They set up the big moments well such as all of the Strowman eliminations, Goldberg getting rid of Lesnar easily and Undertaker was impressive as he eliminated Goldberg as well as several others.
– Putting Reigns in the match upset the crowd, but they enjoyed seeing him get eliminated as Orton hit the RKO and dumped him out rather easily. Reigns was in there to set up the WrestleMania match with Undertaker. If they have Reigns brag about it on Raw that would be smart because it would piss off the crowd and possible lead to Reigns finally going heel.
– Good to see Tye Dillinger at #10 as he should have been. However, I have my doubts that he is going to be used that well on the main roster. It could happen, but it's not like they did anything with Tyler Breeze. Just because the crowd likes chanting "ten" doesn't mean Vinny Mac is going to push him huge. I hope he does. I just have my doubts.
– Strowman had a great showing with seven eliminations. I was surprised they had Corbin eliminate him since it would have made more sense for a face to do it.
– I was disappointed that the surprises in the match weren't big names. They were all midcard wrestlers, plus Reigns and also Dillinger as the lone NXT guy in the match. I was hoping for Samoa Joe or Finn Balor to be there, but that obviously didn't happen. Those two guys could have helped the match I think. Saving them for another time makes sense too. Plus, Balor may not have been healthy enough to be there.
– Jericho was the ironman in the match since he stayed in there for one hour, but he really didn't do much since he stayed on the floor for about half the match. It's still impressive for a 46 year old to last that long in this match.
– I realize that some people might be upset by the Orton win since he's been a top guy for over a decade. So what? I like the story he has going with Bray Wyatt and if that story leads to those two having a big match at WrestleMania then that's great. I'm intrigued by where things might be headed for them.
Person That Lasted The Longest: Chris Jericho at 60:13.
Most Eliminations: Braun Strowman with 7.
===
WWE Royal Rumble
January 28, 2018
Wells Fargo Center in Philadelphia, Pennsylvania
Aiden English appeared first to let us know it's Rusev Day and then we found out Rusev is #1 in the Royal Rumble and fans chanted "Rusev Day" for him.
Finn Balor is in at #2. He's a pick to win for some people, so he would have to go the distance.
Men's Royal Rumble Match
Rusev and Balor battled early with Rusev trying to slam Balor over the top, but Balor held on. Rusev with a splash, but Balor came back with a running dropkick. The fans were loud as they counted down to see #3 man in the match is Rhyno. Rhyno nailed Rusev with a splash followed by a belly to belly suplex. Rhyno with a belly to belly suplex on Balor followed by a clothesline. Rusev with a forearm to Rhyno's back. Rusev ran the ropes and hit a spinning heel kick on Rhyno as the clock counted down again. It's Baron Corbin at #4, who entered to boos. Corbin nailed a splash on Balor in the corner and tossed him across the ring. Clothesline by Corbin on Rhyno. Corbin did his slide under the ropes and go back in spot leading to a clothesline on Rusev. Rhyno with a belly to belly suplex on Corbin. Deep Six by Corbin on Rhyno and Corbin tossed Rhyno out of the ring. Balor dumped Corbin out easily. After the elimination, Corbin was furious and he attacked Balor on the floor. Rusev was also attacked by Corbin outside the ring. Heath Slater was #5 and Corbin decked him with a clothesline as he was walking to the back. Balor was favoring his shoulder. Slater was still down in the aisle.
Elias is #6 and he had a guitar in his hands. Elias kicked Slater on his way down to the ring. Elias went into the ring with the guitar to say that the clock will stop until he's done his performance. There was nobody else in the ring since Rusev, Balor and Slater were down. Elias said he spit in the face of the Rocky statue. It's NXT Champion Andrade "Cien" Almas with Zelina Vega at #7. Good ovation for him because he had an incredible match against Johnny Gargano on Saturday at NXT Takeover. Almas nailed a running double knee attack on Elias against the turnbuckle. Elias with a running clothesline that decked Almas. Bray Wyatt is #8 with his lamp as he walked down to the ring, blew out the light and he whipped Slater into the barricade. Wyatt went into the ring with a uranage slam on Elias. Balor finally got back in the ring, but Wyatt decked him with a clothesline and Wyatt punched Almas. Rusev was on the floor while Slater was also on the floor because he hasn't entered the ring yet. Fans chanted "Rusev Day" as Wyatt punched Rusev down a few times. Big E of the New Day is #9 and he helped Slater back to his feet on his way to the ring. Big E put some pancakes in Slater's mouth. At least he didn't punch him. Big E with a belly to belly slam on Wyatt and Rusev with a kick to the head of Big E. The six guys in the ring paired off in three of the corners of the ring. Tye Dillinger is #10 for the second year in a row, but he didn't make his way out there. Dillinger was attacked by Owens and Zayn backstage. They sent Dillinger into a case backstage. Zayn went to the ring, so he's the new #10 in the match. Zayn entered the match and joined the action even though he wasn't legally in the match. Nobody stopped him from it.
Sheamus of The Bar is #11 and he's got a match later in the night. Sheamus tossed Slater in the ring and Slater hit a clothesline that sent Sheamus over the top to eliminate him on Sheamus' birthday. Fans were going wild for it. Slater celebrated the elimination and then Wyatt eliminated Slater. That was funny. Xavier Woods of the New Day is #12 in the match as he went after Wyatt with punches. Big E and Woods hit a double team move on Zayn and then Big E picked Woods to slam on him onto Elias. There were some near eliminations, but then everybody paired off in corners again as the clock counted down. Apollo Crews is #13 as he entered the ring with a leaping kick to Wyatt. There was not much of a reaction for Crews' entrance. Saxton complained about Zayn illegally entering the Rumble match with Graves saying he liked it. Me too. Balor with a double foot stomp to Wyatt. Shinsuke Nakamura is #14 and he's my pick to win. The fans chanted Nakamura's song as he cleaned house with kicks for everybody including a sweet jumping kick to Zayn. Fans were going wild for Nakamura with "Nakamura" chants. Nakamura with a running knee lift on Zayn that eliminated him. Cesaro was #15 and he tried to dump Balor out of the ring, but Almas kicked Cesaro in the back to stop the elimination attempt. Fans were chanting "Rusev Day" again. Rusev and Cesaro exchanged punches as the clock went down again.
Kofi Kingston is #16 in the match, so all three New Day guys are in the match. Cesaro decked Kingston early on. Crews tried to toss Cesaro out with a slam, but Cesaro fought out of it and nailed a forearm to eliminate Crews. Jinder Mahal is #17 in the match with Cole noting that it is Mahal's first Rumble match. Mahal with a suplex on Woods with Lawler saying he picked Mahal to win. Mahal hit a back body drop on Woods to eliminate him. Big E and Mahal battled on the apron with Mahal nailing a kick on Big E to eliminate him after Big E went over the top during their battle. Seth Rollins is #18 with some flames on his tights since he's got that "burn it down" song. Rollins with a Slingblade on Elias and a Slingblade on Balor as well. Cesaro tried to eliminate Rollins, but Rollins countered him with a monkey flip that eliminated Cesaro from the match. Cool spot by two of the best guys out there. Mahal tossed Kingston out, but Kingston's right foot landed on Woods to save Kingston. Big E put a plate of pancakes under Kingston's foot to save him. That was a crafty save for Kingston as the New Day guys launched Kingston into the match for the annual "Kofi's incredible save" spot of the match we get every year. Kingston hit the Trouble in Paradise to Mahal, who bumped over the top to the floor, which eliminated Mahal. Almas hit a Hammerlock DDT on Kingston and Almas tossed Kingston out of the ring. That was a fun spot with Kingston. It's "Woken" Matt Hardy at 19 with "delete" chants and Hardy went after Elias by sending him into the turnbuckle. Hardy and Wyatt had a staredown, but Rusev broke it up with punches. Double clothesline by Wyatt and Hardy eliminated Rusev, which drew boos. Cole noted that Rusev lasted over 30 minutes. Wyatt tossed Almas into Hardy, who hit a Side Effect. Hardy and Wyatt punched eachother and then they both tumbled over the top to the floor so they were both eliminated. John Cena is #20 with Lawler saying that's his pick. The fans sang "John Cena sucks" as he entered. The others in the match are Balor, Nakamura, Elias, Rollins and Almas. Cena dumped out Elias pretty easily as I expected, but there wasn't much of a battle.
There was a surprise at #21 as The Hurricane entered to a big applause. Good to see him back in WWE at least for one night. Hurricane tried to hit Cena with a Chokeslam, but Cena powered out of that attempt and dumped Hurricane easily. Comedy and nostalgia in one moment. Aiden English was #22. There wasn't a lot happening as the six guys paired off in the three corners with the fans doing their "Let's Go Cena/Cena sucks" chant. Adam Cole from NXT is #23 with the crowd chanting "Adam Cole bay-bay" for him on his entrance. Cole had his ribs taped after a crazy Extreme Rules match at Takeover on Saturday. English stood on the middle turnbuckle doing a song and Balor nailed a leaping kick to eliminate English. Randy Orton is #24 and he's the winner from last year. Orton with a powerslam on Cole. Almas tried a leaping attack on Orton, but Orton nailed an RKO. Orton dumped Almas over the top to eliminate him. Titus O'Neil is #25 to no reaction. The seven in the match right now are Cena, Orton, Rollins, Nakamura, Balor, Titus O'Neil and Adam Cole. There wasn't a lot happening as the guys paired off in corners.
The Miz, the current Intercontinental Champion, is #26 and he held up his title in the air. Miz gave the title to his buddies Bo Dallas and Curtis Axel. Miz was on fire with moves on Rollins, Balor and a DDT on Cena. Miz nailed Miz kicks on Rollins and Cena and fans used to boo that, but they chant "yes" because they like heels. Miz hit the Skull Crushing Finale on Cena and Rollins hit a superkick on Miz. Rollins tried to toss Miz out, but Miz held on. It's Rey Mysterio at #27 to a huge ovation. Surprise! The crowd was going wild for him. Mysterio with a hurricanrana to eliminate Cole and Mysterio hit a 619 on Miz. Roman Reigns is #28 with the majority of the arena booing him. It was similar to three years earlier when Reigns won the Royal Rumble in the same building and they booed him. Reigns decked everybody with punches and a few clotheslines for Miz. Corner clotheslines by Reigns on Miz, O'Neil splash attempt, Reigns moved and Reigns eliminated O'Neil. Reigns tried to toss out Miz, but Axel and Dallas were there to save Miz. Rollins nailed Miz with a kick followed by the Blackout (former Curb Stomp) on Miz. Rollins picked up Miz and Reigns with a Powerbomb on Miz onto Dallas and Axel on the floor. Reigns tossed Rollins out as the crowd booed loudly. Reigns and Rollins smirked. Goldust is #29 to not much of a reaction. Goldust nearly eliminated Orton, but he wasn't able to do it. Goldust hit the atomic drop on Cena followed by an uppercut. Dolph Ziggler is #30, so it's his return after missing over a month of action after leaving the US Title behind.
Names that are left: Cena, Mysterio, Orton, Reigns, Balor, Nakamura, Ziggler and Goldust.
Ziggler and Goldust battled with Ziggler eliminating Goldust with a superkick. Nakamura blocked a Ziggler superkick and nearly suplexed him out. Balor ended up jumping over Nakamura to eliminate Ziggler. I figured Ziggler would do more after sitting out for over a month. Nope. That was it.
The six men left had a staredown: Orton, Cena, Mysterio, Balor, Nakamura and Reigns. Mysterio tripped up Reigns while Cena hit the AA on Balor. Mysterio hit the 619 on Reigns. Nakamura went for kicks on Orton, but Orton hit a RKO and Lawler was yelling at Orton to cover him because he was too excited. Reigns with a Superman Punch on Orton and Reigns dumped Orton out. Mysterio dropkick and Mysterio hit a double 619 on Cena and Orton. Mysterio leaping attack on Cena and Balor eliminated Mysterio.
The final four are: Cena, Reigns, Nakamura and Balor, who has been in for 52 minutes after entering at #2. There was a really long delay as all four guys were down on the mat for a bit and then they slowly stood up in their respective corners. Fans were chanting for "Nakamura" over the others as they all continued to stare. Cena went after Nakamura with punches and Reigns took down Balor with punches. Nakamura got back to his feet to knock down Cena and Nakamura with punches. Nakamura with a knee lift nearly eliminated Balor, but Balor came back with a kick and a forearm. Nakamura with a kick to the head. Balor with a basement dropkick with Cole noting that Balor was at 55 minutes and Nakamura was at 35 minutes. Cena and Reigns back up with clotheslines on Nakamura and Balor. Cole said in his estimation, Cena is the greatest of all time. Cena with a running shoulder tackle on Reigns and Reigns came back with a Samoan Drop. Reigns was the only man standing as the crowd booed him. You could tell Cena was telling Balor something about a spot coming up, but I couldn't hear it. Cena with his back suplex on Reigns. Cena ran the ropes and Balor hit the Slingblade on Cena followed by the corner dropkick. Balor with Slingblade to Reigns and the dropkick to him. Balor with a Slingblade to Nakamura, but Nakamura nailed him with a kick. Balor with a double stomp to take down Nakamura. With Balor looking like he was on roll, Cena eliminated Balor after 57 minutes of in-ring time for Balor.
It's down to Cena, Reigns and Nakamura. Cena with a spinning suplex on Reigns, but Reigns got back to his feet with a Superman Punch. Reigns moved Nakamura out of the way as Reigns set up for a Spear, but Cena caught him and hit the Attitude Adjustment on Reigns. Nakamura tried a slam on Cena, but Cena elbowed out of it. Nakamura picked up Cena, put him on the apron and Nakamura with a Kinshasa knee on Cena to eliminate him.
Nakamura and Reigns were the final two with Nakamura telling Reigns to "come on" to big cheers. They exchanged punches and Reigns nailed a Superman Punch. Reigns tried to toss Nakamura, but Nakamura held on. Nakamura slapped on an armbar on Reigns against the ropes, but Reigns powered out of it and Reigns hit a Powerbomb in the ring. Fans chanted "Nakamura" as both guys were down in the ring. Reigns went for the Spear, Nakamura kneed him in the head and Nakamura jumped off the middle ropes with a flying knee. Nakamura set up in the corner again and Reigns hit a Spear. Reigns picked up Nakamura to eliminate him, but Nakamura held onto the ropes. Nakamura ran the ropes with a Kinshasa knee to the face. Nakamura picked up Reigns and eliminated Reigns to win the match. It went 65 minutes. The crowd went wild for Nakamura's win.
Winner: Shinsuke Nakamura
Analysis: ****1/4 That was an awesome match. It's one of the best Rumbles this decade for sure and one of the best ever. It had a lot of cool moments. I think maybe there weren't enough surprises for some people, but bringing back Rey Mysterio for it is pretty cool. A lot of us expected a name like Bobby Lashley to be there, but he wasn't. I hope he's back in WWE soon, though. I thought the Rumble was booked very well. Final six especially was awesome. Having Nakamura beat Cena & Reigns to win is awesome. It elevates Nakamura a lot by having him beat former winners like that. Don't see how people can complain about that one. There were some cool surprises with Mysterio and Hurricane as well as the NXT guys Cole and Almas. I think that match was very well done and definitely could have been the main event of the show. Everything just worked well in terms of who they chose to end the match, the comedy spots were good for a few laughs and the crowd was into the whole thing, especially with Rusev in there. Some years the Rumble is boring because of how predictable it was. This one featured the right guy winning and WWE should be applauded for that. Nakamura was my pick to win. I'm glad I was right about this one.
Person That Lasted The Longest: Finn Balor at 57:38.
Most Eliminations: Roman Reigns and Finn Balor with 4.
===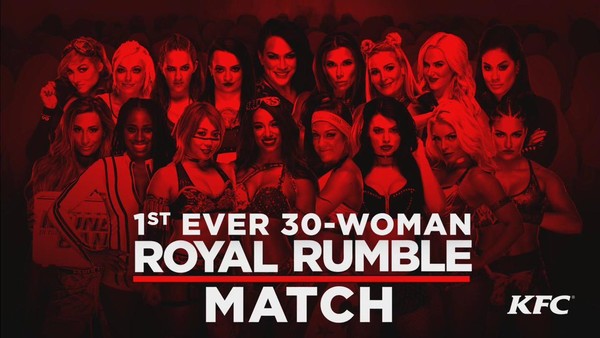 Sasha Banks made her entrance as the first woman in the match. Becky Lynch is #2. Both good choices as two of the better workers in the match.
Women's Royal Rumble Match
The bell rang at 10:09pmET so if they go an hour then this show is going over four hours long.
Banks tried to eliminate Lynch, but she couldn't do it and Lynch avoided the Backstabber attempt as well. Lynch with an armdrag followed by an armbar. Stephanie said this is history right now. Get used to her saying that. Both women tried a move and got knocked down. Sarah Logan is #3 to no reaction from the crowd. Logan stomped away on Lynch. Lefty clothesline by Logan and she tried to eliminate Lynch, but Banks stopped that. Logan nailed Banks with a headbutt. Logan stomped away on Lynch in the corner. Mandy Rose is #4 and she's a favorite of mine. Not a favorite to win. Just a favorite because look at her. Rose nailed Banks with an arm drag and Graves picked Rose to eliminate this as Steph added that Rose can squat over 300 pounds. Rose nailed a running knee strike on Banks to knock her down. There was a surprise at #5 as WWE Hall of Famer Lita made her entrance to a huge ovation. Lita with a double clothesline on Lynch and Banks. Rose attacked Lita from behind. Rose tried to eliminate Lita, but she couldn't do it. The announcers talked about women from the past and Steph mentioned Chyna, which is interesting considering Stephanie married Triple H, who dated Chyna before her. Lita managed to eliminate Rose.
Kairi Sane from NXT is #6 and she nailed Lita with a running forearm smash with Lita up against the turnbuckle. Sane jumped off the top with a punch on Logan and a neckbreaker to Banks. Good reaction for Sane. Sane went up top and hit her incredible elbow drop off the top rope. Sane kicked Lynch. Sane hit her flying elbow drop off the top on Lynch. Tamina is #7 in the match with a superkick for Sane, Banks and Lynch. Forearm by Tamina on Logan. Lita hit a DDT on Tamina. Lita hit the Twist of Fate on Banks and a Twist of Fate on Lynch as well. Lita went up top and hit a moonsault onto Lynch and Banks. Fans chanted "you still got it" for Lita. Tamina tried to go after Lita, Lita ducked and Tamina was eliminated. Lynch dumped Lita out to eliminate her, which the crowd didn't like. Dana Brooke is #8 to no reaction from the crowd, but she did a nice cartwheel. Brooke nailed Lynch with a clothesline, she took down Banks a dropkick on Logan. Brooke set up Sane on the top rope and Brooke shoved her down to eliminate her. Torrie Wilson is #9 as another surprise entrant with Cole saying she's a fitness instructor and a blogger. Torrie with a face first slam on Brooke and a dropkick on Lynch. Logan knocked down Torrie and the fans chanted "Torrie Wilson" because they missed her. I did too. Brooke nailed Wilson with a forearm. Wilson back body drop on Brooke onto the apron and a dropkick to the feet knocked Brooke out. Sonya Deville is #10 with four others in the ring: Banks, Wilson, Logan and Lynch. Deville tried to eliminate Lynch, but Lynch held on. Wilson tried to fight against Deville, but Deville put her on the apron and Deville eliminated Wilson with a kick.
It's Liv Morgan of the Riott Squad at #11, so she's an ally of Logan. Morgan sent Banks down face first with a foot to the back. Morgan and Logan tried to eliminate Banks, but Banks managed to hold on with Lynch working over Logan. Molly Holly is #12 even though she commented recently that she wasn't in it. People in wrestling lie. Shocking. Molly eliminated Sarah Logan. Holly went up top and hit the Molly Go Round flipping dive onto Banks. Lynch hit a Bexploder on Deville. The ravishing Lana is #13 with fans chanting "Rusev Day" for her in support of her husband. Deville and Morgan kicked Lana as soon as she got in the ring. Fans chanted "Rusev Day" again. Lana fought back with a hard slap to Deville and Lana tackled Morgan. Michelle McCool is #14 in the match, so that's another name from the past. McCool nailed kicks on the women followed by running knee strikes. Fans chanted "Undertaker" at McCool since she's married to the Undertaker and I call her McTaker sometimes because of that. McCool eliminated Deville, Morgan and Lana. It's Ruby Riott at #15 at the midway point of the match. Riott took down Lynch with a STO.
"EXCUSE ME!" It's Vickie Guerrero at #16 to a nice pop and some boos too. Vickie yelled "EXCUSE ME" loudly. Guerrero told them to listen to her. The women stopped, tried to crawl out, but they picked her up and gently tossed Vickie out of the match. Carmella is #17 with her Money in the Bank briefcase. Carmella got in Vickie's face, so Vickie grabbed the briefcase and hit Carmella in the back with it. That was a sloppy spot, but it's the thought that counts. Carmella was out on the floor while the four women were still in the match: Banks, Riott, McCool and Lynch. It's Natalya at #18, who is one of my favorite women in the match. Natalya tossed her jacket onto Carmella, so Carmella pulled her off the apron and Carmella got in the match. There was some miscommunication spot between Lynch and Carmella where they didn't do what they look like they were trying to do. Lynch finally hit a suplex on Carmella. It's Kelly Kelly at #19. Natalya tried to eliminate Kelly, but Kelly held on. McCool and Kelly did a spot where Kelly spun around and took down McCool. Natalya dumped out McCool aka McTaker, who had a good showing in the match. Naomi is #20 and she didn't do her full entrance because it takes too long. Naomi with a headscissors on Natalya and she hit the Rear View on three women in a row. Naomi nailed Banks with a hard kick and then Lynch slammed Naomi off the turnbuckles. Lynch with a missile dropkick on Naomi. Lynch saved Kelly from elimination and Lynch nailed two Bexploders. Riott dumped out Lynch and Lynch tried to hang on, but she couldn't do it.
There's another name from the past because it's Jacqueline at #21, who is in the WWE Hall of Fame. Jacqueline with a shoulder tackle on Carmella and she cleaned house by going after the others. Natalya and Jacqueline tried to eliminate Kelly together, but Kelly hold on. Nia Jax is #22 with Cole saying that's his pick. Jax with double clotheslines and she dumped Jacqueline. Jax dumped Kelly out of the ring to eliminate her too. Jax clothesline on Natalya led to Natalya rolling out of the ring. Jax press slammed Riott above her head, sent her onto the turnbuckle and dumped her out. Naomi worked over Jax with some kicks. Jax caught Naomi and hit Naomi with a punch with Naomi landing on top of the other girls. Naomi is still in the match as she sat on the barricade. It's NXT Women's Champion Ember Moon at #23 with a taped up left arm after her match at Takeover. Moon with kicks to Jax followed by a springboard kick. The other women in the match are outside the ring. Jax tossed Moon across the ring. Naomi walked across the barricade. Naomi went onto a chair that Menounos was sitting in and used her hands to move across the floor. Similar to Kofi Kingston years ago. Naomi climbed up the steps, she jumped into Jax's arms and Jax tossed Naomi over the top to the floor. Beth Phoenix is #24 in the match and she's another WWE Hall of Famer. Phoenix got in Jax's face with Jax hitting a forearm and fans chanting "this is awesome" for them. Jax missed a corner attack and Phoenix tried to lift her up, but she couldn't do it. Phoenix picked up Jax and tried to dump her, but Jax stopped it. Natalya went back in there and they hit a double shoulder tackle to knock Jax out of the ring under the top rope. Phoenix hugged Natalya and Natalya nailed her with a punch. Natalya eliminated Phoenix by tossing her over the top to the floor. It's Asuka at #25 and she's the favorite in the match. Big reaction for her. Asuka cleaned house early on. Asuka confronted Moon leading to cheers from the crowd because they had a great rivalry in NXT. Moon with a sweet headscissors. Moon nailed her Eclipse on Asuka. Love that move. Moon tried an attack, but Asuka sent her on the apron and Asuka pulled on the arm to eliminate Moon.
Mickie James is #26 and she's definitely a favorite of mine. James nailed Asuka with a neckbreaker. Natalya drove James in the corner with shoulder tackles. James fought back with a neckbreaker. Banks and Carmella battled eachother in the corner. It's Nikki Bella at #27. Welcome back to her. Neckbreaker by Nikki on Carmella and Banks went after her, but Nikki nailed a kick off the middle ropes. Nikki nailed Natalya with a Spear. Nikki stared at Charlotte as fans chanted "John Cena Sucks" for Nikki in the ring. Carmella worked over Nikki in the corner. Nikki put Carmella on her shoulders and Carmella screamed about it. Nikki sent her throat first into the ropes to eliminate Carmella. Brie Bella is #28 and I hate that Brie Mode song. This is Brie's first match in a long time after having her baby girl last May. Women in the match: Sasha Banks, Nikki Bella, Asuka, Natalya, Mickie James and Nia Jax. This is Brie's first match since he had her baby last May. The crowd was on fire with "yes" chants for Brie. The Bellas hit a dropkick on Jax who was on the apron, but she did not go over the top. Double suplex by the Bellas on Natalya. It's Bayley at 29. Bayley nailed an elbow smash on Natalya off the middle ropes. Bayley nailed a belly to back suplex on James. Asuka with a spin kick on Bayley. Asuka tried to eliminate Bayley. Trish Stratus is #30 in the match as the last woman to join the party. She looks fantastic like usual.
Stratus went after Natalya at first and hit Banks with forearms. Stratus nailed a double Stratusfaction on the Bella Twins at the same time. Bayley kicked Trish, but Trish nailed a headscissors. There was a staredown between Mickie and Trish, which drew a big reaction from the crowd due to their famous feud from 2006 that I absolutely loved. Great to see the fans show them that respect and even start a "yes" chant. Trish went for her headscissors off the ropes, but Mickie blocked it. With Mickie on the top rope, Trish kicked Mickie to eliminate Mickie. That makes me sad. Jax got back in the ring and she destroyed everybody in her path. The Bellas worked together to try to eliminate Jax and then the other women teamed up to eliminate Jax. Banks eliminated her best friend Bayley, which drew some boos. I think I called that spot in my preview. Stratus tried to go after Natalya, but Natalya slapped on the Sharpshooter. Stratus powered out of it. Trish sent Natalya onto the apron and Stratus nailed a kick to eliminate Natalya. Banks got in Stratus' face and Banks eliminated Status. The crowd was sad about that. I am sad about it too.
The final four women left in the match are Sasha Banks, Nikki Bella, Brie Bella and Asuka. Banks and Asuka had a staredown with Banks knocking down Asuka. The women worked together against Asuka with Nikki hitting a facebuster, Brie clothesline and Banks with a knee attack. Banks nailed Asuka with a hard slap to the face while saying she was ready for Asuka. Banks tried to hit her knee attack in the corner, but the Bellas eliminated Banks, who was in there for 54 minutes.
Jax nailed both Bella Twins with hard kicks to the head. Asuka tried to eliminate Brie, but Brie held on. Nikki nailed Asuka with a clothesline. Nikki put Asuka on her shoulders and slammed her off face first. Brie was on the apron after being sent over the top and Nikki nailed a forearm that knocked Brie out of the match.
Final two are Asuka and Nikki Bella. Asuka nailed Nikki with a shoulder to the ribs. Asuka went up top with a missile dropkick. Nikki went to the middle ropes and nailed a kick to the head. Nikki tried to eliminate her, but Asuka held on. Nikki with a forearm and Asuka continued to hold on. Asuka with a kick to Nikki. Asuka tried to flip Nikki out by using her foot to send Nikki over the top. Both women were on the apron. Nikki hit a forearm and Asuka kicked her in the knee to knock Nikki down. Asuka wins the match after 59 minutes.
Winner: Asuka
Analysis: ***1/2 The match was good with the right woman getting the win and I predicted the Asuka win like most people did. I don't know if I would have had the Bella Twins as the final two because I think it would have been smarter to have Jax until the end with Asuka, but the Bellas are big stars too. It's just that if it was Jax at the end then people may have believed she was going to win the match. There were a lot of fun surprises in the match with women we haven't seen in a long time like Trish Stratus, Lita and Michelle McCool to name a few, but those three really stood out among the women from the past. I don't think there were any moments that were that bad. A few sloppy things maybe, but nothing that stood out as bad. The crowd got into it more as the match went on too.
Person That Lasted The Longest: Sasha Banks at 54:46.
Most Eliminations: Michelle McCool with 5.
===
I wasn't going to include the Greatest Royal Rumble, but then I thought about the people that would complain if I left out, so I figured I might as well include it. That's how I think these days.
WWE Greatest Royal Rumble
King Abdullah Sports City Stadium in Jeddah, Saudi Arabia
April 27, 2018
Daniel Bryan entered first for the Greatest Royal Rumble. Dolph Ziggler was up next as the second man in the match.
50-Man Royal Rumble Match
Daniel Bryan is #1 and Dolph Ziggler is #2. The announcers talked about what it would be like if one of them lasted the whole match with 50 men, which feels like a giveaway that it's going to happen. I like both guys a lot, but not a lot happened with them. Sin Cara is #3 with a Powerbomb on Ziggler and Cara nailed a senton bomb on Bryan. Ziggler worked over Sin Cara with a superkick followed by a clothesline that eliminated Sin Cara, so it was about one minute in the match for Sin Cara. Curtis Axel is #4 to no reaction from the crowd. Axel with forearms on Ziggler and slammed him down. Mark Henry is #5 as a recently retired and recent inductee in the WWE Hall of Fame. Good reaction for the World's Strongest Man as he picked up Axel and dumped him over the top and a Henry headbutt eliminated Axel easily.
It's Mike Kanellis at #6. He hasn't been on television that much in the last six months or so. As soon as Kanellis entered, Henry hit him with a clothesline to get rid of him. Cole was yelling that it might be a record elimination. The record elimination is one second by Santino. The #7 entrance is a man named Hiroki Sumi and he's a sumo wrestler from Japan that is 398 pounds as Cole talked about his credentials. Henry had a face off with Sumi. They had the big staredown, Henry pushed him towards the rope and Henry dumped Sumi out of the ring. Bryan and Ziggler worked together to dump Henry out of the ring. That meant it was back to Bryan and Ziggler until Viktor ran down to the ring at #8. Viktor nearly tossed out Ziggler. Viktor hit Bryan with a knee off the middle ropes. Bryan yanked on the left arm of Viktor and dumped him out of the ring. I'm timing some of the intervals and some of them are going at around 70 seconds, so it's not true to the 90 seconds that it usually is. Kofi Kingston is #9 in the Rumble match, he knocked down Ziggler and hit a boom drop. Kingston tried to dump Bryan, but Bryan managed to hold on. Bryan worked over Kingston with kicks. It's Tony Nese from 205 Live at #10 to absolutely no reaction. He has nice abs, though. Just ask him. Nese tripped up Kingston and tried to toss him, but he had no success with that.
Dash Wilder of The Revival is #11 and he tried to eliminate Ziggler. Cole was freaking out wondering how Ziggler was still in the match. It's not that hard to understand. There's a surprise at #12 because Hornswoggle is back and the crowd loves him! They dumped Wilder out of the match. Hornswoggle hit a Samoan Drop on Kingston, which was funny. Hornswoggle went up top and Ziggler hit him with a superkick. Hornswoggle bit Ziggler's hand and Nese hit Hornswoggle with a knee to eliminate him. It's Primo Colon at #13. He tried to do a springboard spot off the middle ropes, but he slipped. Some crowds may boo a slip-up like that, but this crowd did not. Bryan hit a Tornado DDT on Kingston. Xavier Woods of The New Day is #14 to join his buddy Kofi Kingston. Woods saved Kingston from an attack from Nese with a headbutt. Primo tried to get the New Day guys, but Kingston landed on Woods' back. Woods climbed to the top rope with Kingston on his back, so Kingston jumped off Woods' back with a cross body block. Woods and Kingston did their dance. Nese joined in with them, but Kingston and Woods ended up dumping Nese out of the match. Bo Dallas is #15 to no reaction. Dallas with a clothesline on Woods. Bryan and Ziggler have been in the match for 20 minutes.
Big name at #16 because it's Raw General Manager Kurt Angle. Two German Suplexes by Angle and he tossed out Primo and Dallas. Ziggler charged at Angle, but Angle caught him and hit an overhead belly to belly to eliminate Ziggler after 22 minutes of action for Ziggler. Scott Dawson of The Revival is #17. There wasn't a lot happening there as guys were just pairing off into the corner. Goldust is #18 with Cole noting it's a monumental moment because it's his 13th Rumble match, trailing only Kane, who has 17 Rumble appearances. Kane sent Woods onto the apron. Bryan was on the top rope and nailed a flying knee to the face of Kingston. Konnor of The Ascension is #19 to no reaction. Konnor nearly eliminated Kingston, so Woods saved his buddy Kingston. Elias is #20 with Cole acting really excited as Elias walked out there with his guitar. There was a microphone on Elias as he did his promo on the way to the ring. Elias did his "WWE stands for" bit and the crowd chanted "Walk With Elias" so they knew that spot. Elias took about one minute to get into the ring. Elias went in the ring and eliminated Kingston, Woods and Konnor while they were battling against the ropes.
Luke Gallows is #21 while I don't care that much because Angle and Bryan were matching up. Angle hit a German Suplex with Bryan landing on his stomach. Bryan came back with the kicks to the chest. Angle went for an ankle lock, Bryan fought out of it, Bryan charged in and Angle hit an Angle Slam on Bryan. Elias eliminated Angle, who is his boss on Raw. That could be worked into a storyline. Rhyno was #22 and there wasn't much of a reaction for him while Cole noted that Bryan has passed the 30 minute mark. It's very possible that Bryan will break the record held by Rey Mysterio. Drew Gulak is #23 and he didn't do anything when he got in there. It's Tucker Knight at #24 from the NXT tag team Heavy Machinery. Knight eliminated Gulak easily when he got in there. Bobby Roode is #25 as we have reached the halfway point in the match about 33 minutes into it. Goldust was eliminated shortly after Roode got in there. Roode eliminated Dawson with a slingshot like move into the corner.
Analysis: The Bryan and Angle spot was fun. I hope it's something that can lead to a future match between them.
Fandango is #26 with Cole calling it right away, Graves wondering how he knew it was him instead of Breeze and Cole noted it said Fandango on the screen. Elias was able to hang on to avoid an elimination, which made Cole happy. It's Chad Gable at #27, who is in a face role on Raw now. Gable with an arm drag on Fandango. Gable had Knight on his shoulders and dropped him with an Electric Chair Drop. Bryan worked over Gable with some kicks. They are very good technical wrestlers. Rey Mysterio is at #28 to a nice ovation. Mysterio eliminated Gallows easily and that drew a good response. Mysterio was caught by Gable, he landed on Gable and hit a Tornado DDT on Gable. Mojo Rawley entered at #29 and Cole noted he won the Andre battle royal last year. Rawley was in Saudi Arabia for over a week to promote the event. Rawley nailed a clothesline on Fandango to eliminate him. Tyler Breeze of Breezango was up next at #30 and he greeted his buddy Fandango in the aisle. Rawley tried to eliminate Breeze, but Breeze jumped in Fandango's arms until Rawley shoved Breeze to eliminate him. Knight nailed a Thesz Press on Gable. Bryan nailed Knight with the kicks to the chest followed by a kick to the head. Cole said Bryan has been in the ring for 43 minutes, but I have it at 40 minutes.
Big E is #31 as the last man from the New Day group. Big E had pancakes in his tights and he threw them at Knight. Saxton was excited about the pancakes. Big E hit the Big Ending on Knight and he tossed him out of the match. Big E tossed more pancakes onto Knight. The match is 42 minutes old and Karl Anderson is in there at #32, so do the match and you can see the intervals are just over one minute in length. Anderson with a kick on Bryan followed by a spinebuster on Roode. Big E ran over Anderson with a clothesline. Apollo Crews is #33 with a standing moonsault on Gable and Crews tossed Gable out of the ring to eliminate him. There was a rough landing for Gable that the announcers mentioned. I hope he's okay. Roderick Strong of The Undisputed Era in NXT is #34 with a dropkick on Elias and a backbreaker on Roode. Strong with a backbreaker on Anderson and a backbreaker for Mysterio as well. Strong hit a gutbuster on Big E with Graves saying Strong is going to win this thing. Nope. Strong eliminated Rhyno. It's a big name at #35 with Randy Orton's entrance getting a loud reaction from the crowd. Orton with clotheslines and a powerslam on Anderson. Crews went for a splash off the ropes and Orton turned it into a RKO on Crews. Orton eliminated Anderson and Rawley back to back. Orton picked up Crews and eliminated him easily.
Heath Slater is #36 wearing his shirt about how he has kids. Cole was screaming about Bryan in trouble even though nobody gets eliminated that way. Slater tried to eliminate Elias, but Elias held on. Babatunde from NXT is #37. He's a big man that's around 7 feet tall. I honestly don't know much about him and I know a lot about most people. He's a very big man as he ran over Roode with a shoulder tackle. Bryan's chest had red marks from all the punishment he has taken in the match. Baron Corbin is #38 with Graves noting that Corbin won the Andre battle royal a few years ago. Corbin pulled Elias out of the ring and whipped him into the steel steps. Corbin with kicks for everybody and a Deep Six slam on Mysterio that looked impressive. Corbin did his under the ropes and slide back in for a clothesline on Strong. Corbin dumped Roode over the top to eliminate him. Corbin eliminated Strong and Graves changed his pick to Corbin. Titus O'Neil is #39 and he apparently fell down before going into the ring. The announcers laughed about it. They replayed it and O'Neil went head first into the bottom of the ring. That was hilarious. Bryan tried to dump Orton out, but it didn't happen. Dan Matha is #40 in the match and he's from NXT. There were more replays of O'Neil falling under the ring for his entrance.
"That may be the greatest thing I've ever witnessed."

➡️ https://t.co/ePt5TzD6sU pic.twitter.com/Z0j84mZgvE

— TDE Wrestling (@totaldivaseps) April 27, 2018
Braun Strowman is #41 to a big ovation as expected. He is the favorite to win the match. Strowman dumped out three guys: Babatunde, Matha and Slater. Everybody in the match tried to eliminate Strowman, but they couldn't do it. Tye Dillinger was #42. Strowman dumped O'Neil and Strong. Orton hit a dropkick on Strowman, Mysterio dropkick to the knee and a 619 connected on Strowman. Orton hit a RKO on Strowman, but Orton hit Orton with a seated senton off the top. Corbin with a clothesline that eliminated Mysterio, Orton eliminated Corbin and Elias dumped Orton out. Strowman knocked Elias down leading to Elias going to the floor. Curt Hawkins is #43. Hawkins tried to run away, but Strowman chased him down and brought Hawkins back into the ring. Strowman ran over Bryan, who was on the floor and Strowman kicked Elias. Strowman threw Elias back in the ring. Strowman hit a clothesline on Hawkins to eliminate him. Strowman charged Elias, Elias moved and Strowman hit the turnbuckle. Bobby Lashley is #44 and he got rid of Elias easily. It was 35 minutes for Elias in the match. Daniel Bryan got back in the ring with a dropkick on Strowman and Lashley on the other side. Bryan hit four dropkicks on each guy. Great Khali is #45 and it's going to take him a while to get to the ring. He walks very slowly. The crowd gave him a big reaction. The four guys in the ring are: Bryan, Strowman, Lashley and Khali. Khali chop to Lashley, Bryan and Strowman. Lashley and Strowman eliminated Khali together.
Kevin Owens is #46 with cannonballs for Lashley and Strowman. Bryan nailed Owens with a kick. Owens came back with a Popup Powerbomb. Shane McMahon got a loud reaction at #47. Shane ran in there going after his rival Owens with a flying elbow smash on Owens. Shane kicked Owens in the head and hit a DDT on him. Shane danced around the ring and he had a staredown with his buddy Daniel Bryan. They double teamed Owens with yes kicks to the chest. Shelton Benjamin is #48 joining Lashley, Strowman, Bryan, Shane and Owens in the match. Benjamin with a spin kick on Shane followed by a step up knee on Lashley. Strowman tossed Benjamin down when Benjamin tried to attack him. Owens told everybody else in the ring they need to work together to get Owens out of the match. The other wrestlers worked together on Strowman, but Strowman fought his way out of the corner. Big Cass is #49. I'm still not used to his generic theme song. Bryan waited for Cass when he got there. Cass worked over Bryan with punches and Cass with a kick on Strowman. Benjamin with a knee on Strowman, Lashley with a shoulder tackle on Strowman and Shane hit the Coast to Coast dropkick on Strowman that sent Strowman to the floor by going under the bottom rope. Cass with a running splash on Owens in the corner. Cass with a fallaway slam. It's Chris Jericho at #50 and he got a big reaction. Jericho had a scarf with lights and Owens was ready for him.
The final men in the Rumble match: Strowman, Bryan, Owens, Lashley, Benjamin, Jericho, Cass and Shane McMahon.
Jericho with a Lionsault on Owens. Jericho with a clothesline on Benjamin to eliminate him. Jericho applied the Walls of Jericho on Owens in the middle of the ring. Big Cass nailed a big boot to the face. Lashley tried a delayed suplex on Cass, but didn't lift him all the way and it was a rough landing for Cass. Ouch. That was brutal. The announcers tried calling it a brainbuster, but it was really just Lashley not able to hold Cass due to how big Cass is. Bryan got going again with a corner dropkick on Owens. Shane McMahon was on the top rope, Strowman was on the apron and he tossed Shane off the top rope through the announce table. Ouch. Cole was screaming about it because it was a huge move. Fans were chanting "this is awesome" for them. Strowman caught Lashley in his arms and dumped him out. Strowman also tossed Jericho out. Strowman tossed Owens out.
Final three are Strowman, Cass and Bryan. Strowman was up against the ropes, so Bryan tried to dump him out. Strowman managed to hang on. Cass nailed Bryan in the head with a kick. Cass dumped out Bryan. Bryan was in the match for 1 hour, 16 minutes or 76 minutes. That's the all time record. Strowman and Cass are the final two. It's good to be tall.
Cass tried to clothesline Strowman out, but Strowman put Cass on the top rope to crotch him. Strowman ran the ropes and hit a running shoulder tackle to Cass to eliminate him. The match went 77 minutes.
Winner: Braun Strowman
Strowman celebrated the win and the crowd cheered him.
Analysis: ***1/2 It was a long, grueling match that was fun to watch with Daniel Bryan as the star of the match with his record setting performance. I think it's amazing that they would book Bryan to go for that long when he wasn't wrestling for three years, but obviously the decision makers felt comfortable in having Bryan work for over an hour in this match. Strowman was dominant in the match and I'm not surprised that he got the win. He was the right choice. Big Cass eliminated Bryan made sense due to their feud and the match they have at Backlash. The bump by Shane McMahon through the table was brutal and very risky, but it looked like he landed as safe as he could. The funniest moment was the fall by Titus O'Neil and I loved how the announcers laughed about it so much. The crowd was into the match for the big names, but there was a lot of silence along the way because of how many midcarders were involved.
Person That Lasted The Longest: Daniel Bryan at 76:05 – All-time record.
Most Eliminations: Braun Strowman with 13 – All-time record.
===
That's all, my friends. Check out the Royal Rumble archive section for all of the recaps in case you missed any. Enjoy this year's show and future years as well! The Rumble match is a lot and I'll always enjoy it.