Here are four more WWE Royal Rumble match reviews as we head into the earlier part of this decade. Some familiar names were in power positions, but others emerged. The one guy that should have won the 2014 Rumble, Daniel Bryan, wasn't even in that match.
In case you missed any of the previous reviews, check out the Royal Rumble Match archive here. Let's get to it.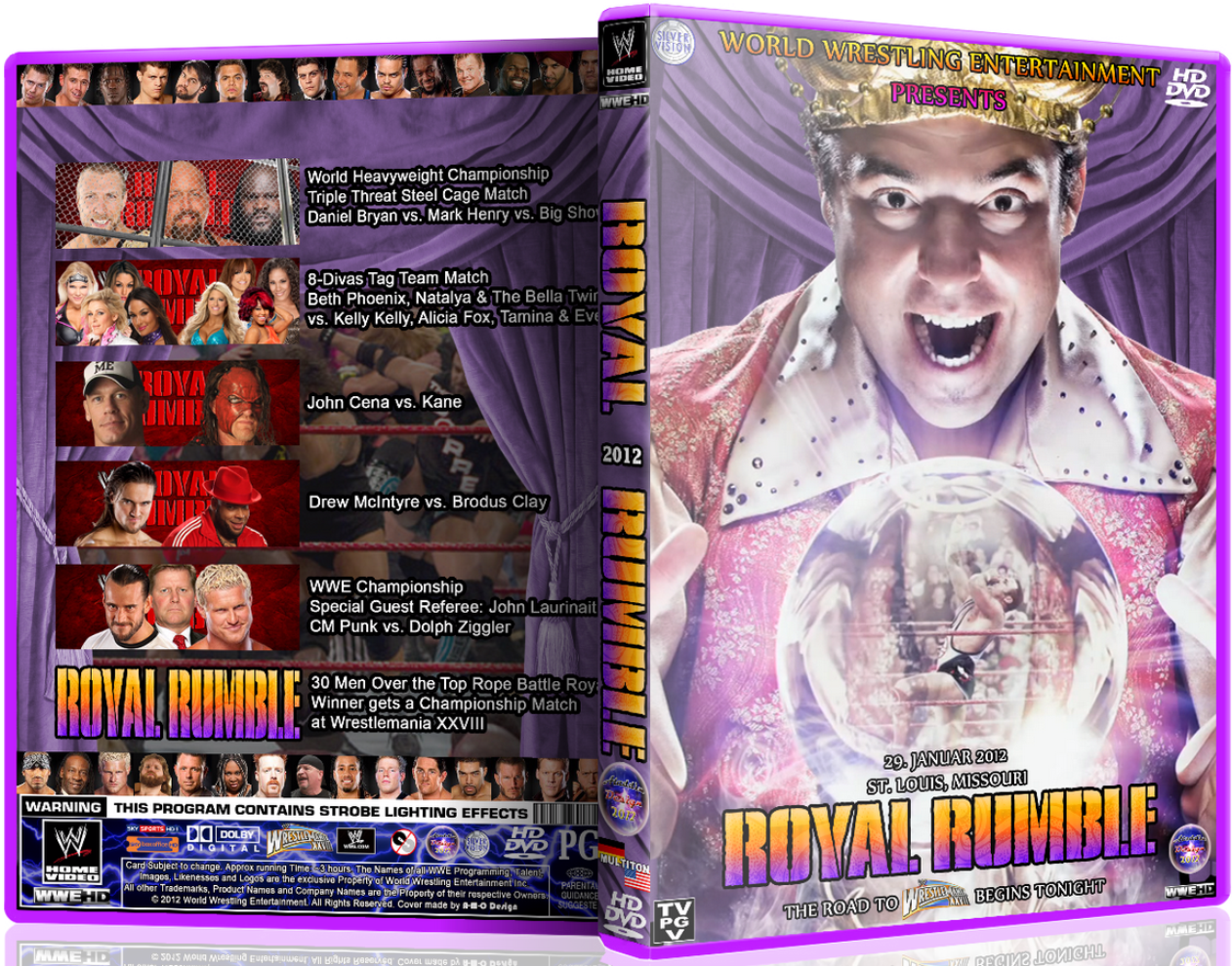 The 25th Royal Rumble is an event that I wrote about live when it happened. Heading into the show the favorites for the Royal Rumble match were Chris Jericho, Randy Orton and Sheamus. I looked up it up and saw that I picked Orton while my PPV preview buddies Christian & Andrew picked Jericho. As it turns out, none of us were right. On to the review.
WWE Royal Rumble
St. Louis, Missouri
January 29, 2012
he announcers for the match are Michael Cole, Jerry Lawler and Booker T.
The #1 man is The Miz as we know. In at #2 is Alex Riley. Miz dumped out Riley in about 45 seconds. I'll save the more specific details for the more important people. The #3 guy is R-Truth. I'm getting tweets from people mocking Miz' fake tan. It is pretty bad. Some are even saying that his tan is staining the ring. God bless HD TV I guess. In at #4 is Cody Rhodes, who I like and would expect to go far. The heels double team R-Truth during that entire interval. The #5 entrant is Justin Gabriel, who hits a crossbody on Rhodes & Miz at the same time. Not a whole lot going on between the four guys in the ring.
Primo is #6, who is one half of the tag team champions along with cousin Epico. Truth knocked down Cody. Miz capitalized and threw Truth out. After the elimination, Truth pulled Miz by the foot, yanked him out to the floor and hit his Little Jimmy finisher. I guess Miz can sit on the floor for a little while. It's Mick Foley at #7 in a Cactus Jack shirt. He threw out Primo pretty quickly. He hit all of his signature spots on Cody including the running knee in the corner and the double arm DDT. Crowd was loving it all. Del Rio's music hits, but instead it's Ricardo Rodriguez in a crappy car as the #8 entrant. There was a loud "Ricardo" chant. He is a trained wrestler for those that don't know. Ricardo teamed up with Foley to throw out Gabriel. That was a bit of a surprise. Ricardo celebrated. Meanwhile, Cody was in the corner while Miz was still on the floor. In at #9 is Santino to do some comedy with Ricardo, who was scared of the cobra. Atomic drop by Santino. Then they did a unique rolling cradle move that sent Ricardo to the corner. Santino gave Ricardo a wedgie. Then he threw him out. Fun performance by Ricardo. In ring, Foley took out Socko and Santino took out the Cobra. Crowd loved it. Epico ran in the ring as #10. Santino gave him the Cobra, Foley gave him Socko and threw him out in a matter of about 20 seconds.
We have four in the ring now. Cody threw out Santino. Foley went after Miz. Cody snuck up from behind and threw Foley out. Mick had a nice run. I liked it. The #11 man is Kofi Kingston. He knocked them down and hit the Boom Drop on both of them. Cody came back with a dropkick to Kingston. The music of Jerry Lawler started up and he's #12. Lawler hit his fist drop on Miz rather easily. Rhodes threw Lawler out. The #13 man is Ezekiel Jackson. King was already back at the announce desk. They are keeping to the 90 second intervals, so that's nice. Zeke hits power moves on everybody including a nice side slam on Kingston. It's Jinder Mahal at #14 as Jackson waits for him while Mahal takes his time to get in the ring. Mahal hit a knee on Kingston followed by a neckbreaker on Jackson. Here's a surprise with The Great Khali entering at #15. I thought he was gone forever. Nope. He chops Mahal and throws him out. Then Khali throws Jackson out rather easily. Lawler says Khali is a favorite to win. There's my old joke coming to fruition where they say that the big guys are always a favorite to win even though they rarely win the Rumble.
It's Hunico at #16. Khali chops him down quickly, but he doesn't get eliminated. The #17 entrant is Booker T, who has one of my favorite theme songs ever. He goes after Cody right away. Cole was criticizing him for being in the match. Kingston skins the cat to avoid elimination. Wow. Kofi almost got eliminated as his hands were on the ground, but his feet weren't so we made his way over to the ring steps by walking with his hands in a handstand position. I can't explain it. Wow that was incredible by Kingston, similar to Morrison's spot last year. It's Dolph Ziggler at #18, so he works twice at another PPV after failing to win the WWE Title earlier. Hacksaw Jim Duggan is #19 to a huge pop. HHHHHOOOOOO! Tough guy. Huge "USA" chants for Duggan. I think Duggan got the biggest pop of the match so far. That's not a good sign when you think about it. Rhodes throws out Duggan. A bunch of guys team up to throw out Khali & Booker at the same time. Oh man, it's Michael Cole at #20. He takes off his suit to reveal his awful wrestling gear that we've seen way too much of. By the way, there are six total in the ring now. Nothing happens as Cole is in the ring because the others are fighting.
It's Kharma at #21. Wow. That was a surprise. Cole runs away from her. The announcers pull Cole out. Kharma hit the Implant Buster. Then she threw out Hunico. Dolph recovered to throw out Kharma, so she was only in the match for about a minute or so. Sheamus is #22 to a big pop. There are five guys in the ring now. Sheamus eliminated Cody so we're down to Miz, Rhodes, Ziggler and Sheamus, who dominates the three other guys. OH YOU DIDN'T KNOW…the crowd went nuts for #23, who is the Road Dogg. He works backstage as a road agent now. He hit his signature punches on Rhodes and the pumphandle slam on Miz. Crowd is chanting "you still got it" to Road Dogg, which probably makes him very happy. It's Jey Uso in at #24 as Jimmy walked beside him, so I guess he's not in the match. Uso hit a corner splash on Road Dogg. The #25 spot belongs to Jack Swagger, so we've still got two favorites in Orton & Jericho to come. There are seven in the ring now: Miz, Rhodes, Sheamus, Swagger, Jey Uso, Road Dogg and Ziggler.
It's time for the final five. Wade Barrett is #26 with new theme music. I liked his previous song. Barrett eliminates Road Dogg rather easily. Ziggler hits the Fameasser on Jey Uso, but he can't eliminate him. We've got David Otunga at #27. The match has been pretty average so far. They are going to need a hot finish, but it's loaded with good workers so they will likely finish strong. The hometown boy Randy Orton is #28, going after Barrett right away and hitting his powerslam on a couple of them. Orton set up Ziggler & Rhodes for his DDT off the ropes spot. Yep, a double DDT. That was pretty sweet. Orton throws out Uso, RKO to Barrett and he throws him out. The #29 spot belongs to Chris Jericho "connecting physically for the first time in two years" says Cole. September 2010 to January 2012 is not that long, Mike. Jericho threw out Otunga rather easily. And yes, he had the jacket on. Cole mentioned Miz being in the match for 43 minutes and Rhodes for 41 minutes. It's Big Show at #30, so that's the last man. Sheamus eliminated Swagger, who pushed Big Show and he decked Swagger with the KNOCK THE FUCK OUT~! punch. Big Show cleared the ring of everybody except four: Orton, Jericho, Sheamus and himself.
It's final four time with Jericho, Sheamus, Orton & Show staring at eachother.
Show hit a chokeslam on Jericho, Sheamus hit Show in the back and Orton hit the RKO. Randy eliminated Show. As Randy was celebrating, Jericho dumped out Orton. Final two are #28 Chris Jericho and #22 Sheamus as they both look at the WrestleMania sign.
Jericho almost got eliminated, but he was able to hang on. He hit a missile dropkick on Sheamus, but Sheamus came back with the Irish Curse backbreaker. He sets Jericho up for Celtic Cross, Jericho hit a clothesline and Sheamus hung on. Jericho hit his springboard corner dropkick. Sheamus hung on again. Sheamus gets back in the ring with a shoulderblock over the rope. Jericho avoided the Brogue Kick and put Sheamus into the Walls of Jericho. Crowd popped huge for Jericho. They are mostly cheering for Jericho. Chris charged in, Sheamus with a back body drop, but Chris held onto the top rope. I like that they're getting time for the final sequence. They fight up on the top rope. They punched eachother, both fell down on the apron and went back in. Jericho with the Codebreaker. He followed that up with a pin. Oops. Jericho came close to eliminating him again. He slapped Sheamus in the face a few times. Sheamus got angry. He missed the Brogue Kick. They did a spot where Sheamus tried to throw him out, Jericho held on Shawn Michaels style and got back up on the apron. Sheamus readied himself and hit the Brogue Kick. Jericho went crashing to the floor.
Winner: Sheamus
The match ended at 54:55.
FIVE RANDOM THOUGHTS
– It's easy to book an average Rumble match. That's what this was. They had a few surprises, they had some comedy spots and they had a lot of star power in the end to bring it home. I expect better than average when I watch the Royal Rumble. It was underwhelming.
– There wasn't one dominant competitor in the match. Usually when that happens the match feels less important. That's what happened with this one. We need to see one babyface we should get behind or a heel to root against for it to feel like a big deal.
– I like that there was a five minute sequence between Jericho & Sheamus to end the match. It was similar to the Michaels/Undertaker ending in 2007 although not as good. It was the same idea, at least. The crowd was into it and even though Jericho was getting cheers I think the fans were fine with Sheamus getting the win. If the ending sequence was poor this would have been one of the worst Rumble matches ever. Since it was such a strong finish it bumped it up to the three star (out of five) level, which is about the average.
– The Miz and Cody lasted the longest, but were easily dispatched by Big Show during his run of eliminations. That made their long runs in the match seem a bit meaningless.
– People always make a big deal out of surprises. I usually don't. Why? Because in this match the surprises were Road Dogg (cool), Jim Duggan (okay) plus the announce trio of Cole, Lawler & Booker. Mick Foley was entertaining as a part time performer, but that didn't last long. None of the surprises felt special.
FACTS & OPINIONS
Person that lasted the longest: The Miz at 45:39.

Most Eliminations: Cody Rhodes with 6.
Best Performers (3): Chris Jericho – On fire as soon as he got in there. Carried the ending.
Sheamus – He really impressed me with his performance.
Cody Rhodes – Eliminated the most people and lasted over 43 minutes.
Best Elimination: Sheamus hitting the Brogue Kick to eliminate Jericho at the end.
Match Rating: ***
===
For this one, as well as the two that follow, it's not formatted the same way as the others. That's because I wrote this one live in 2013 and I'm not going to edit it or change it up.
WWE Royal Rumble
Phoenix, Arizona
January 27, 2013
The announcers for the match are Michael Cole, John Bradshaw Layfield and Jerry Lawler.
Dolph Ziggler was the #1 entrant. He had AJ Lee & Big E Langston. He got a sloppy kiss from AJ as he entered. They went to the back. Ziggler said he was all alone in the spotlight exactly where he belonged. He said when this Royal Rumble match ends it's going to be the same with him standing in the ring by himself as the winner of the Royal Rumble match. If you're wondering there is a WrestleMania logo in the building. Ziggler said he didn't care who the #2 entrant was.
Break down the walls! Chris Jericho! The lights went out and the crowd went crazy as Chris Jericho entered the match as the #2 participant. I did not see that coming. There's some continuity here since Ziggler beat Jericho to send him out of WWE back in September. Ziggler nearly eliminated Jericho, but Chris landed on the apron and hit a chop off the top rope. Jericho's got a tattoo on his left arm, which is new since we last saw him. The crowd chanted "you still got it" at Jericho. Jericho said "I never lost it baby!" Jericho hit a superplex. The #3 entrant is Cody Rhodes and Jericho meets him with punches. Ziggler got to his feet, so the two heels worked together to attack Jericho. Jericho went for the Walls of Jericho on Rhodes and he applied it to a thunderous ovation. Ziggler attacked Jericho from behind to break it up. The #4 man is Kofi Kingston with a lot of energy. He went right after Rhodes and then Ziggler avoided the Trouble in Paradise by Kingston. Ziggler nearly got eliminated by Kingston again. Lots of attempts for elimination, but everybody was able to hang on. Santino is #5. Cole immediately mentioned that Santino finished second two years ago. He nearly eliminated all four guys. Then they all faced him. Jericho chopped him and then Ziggler gave Santino a superkick. Rhodes threw Santino over the top to eliminate him.
The #6 spot belongs to Drew McIntyre of 3MB. We've got five guys in the ring as they all tried to eliminate people, but nobody was getting tossed. Nice dropkick by Ziggler on Jericho. Ziggler nearly eliminated Jericho, but Chris did a wonderful job of dangling his feet near the floor and his feet did not touch the floor. In at #7 is Titus O'Neil. He hit a double clothesline on Kingston & Rhodes at the same time. O'Neil hit a backbreaker on Kingston. Jericho hit a dropkick off the middle rope to eliminate McIntyre. Loud "Y2J" chant for Jericho. The #8 man is…Goldust. Nice surprise there. He went right after his brother Cody. They each did their low uppercut punch spot. The crowd was really behind Goldust as they started a "Goldust" chant for him. The #9 spot belongs to David Otunga as we have seven guys in the ring right now. Goldust and Cody were working together for a bit. The crowd liked that. Then Cody nearly eliminated Goldust. Not a lot went on there as we waited on #10 and that ended up being Heath Slater. There were some more near eliminations of Ziggler, but he kept hanging on.
It's Sheamus at #11 to a big ovation. He's the one I picked to have the most eliminations. He hit a lot of his signature spots on a bunch of guys. He did his clubbing forearm blow spot to O'Neil and threw Otunga into him to get rid of O'Neil. Then he did the forearm blows to Otunga and gave him a Brogue Kick to knock him out. Tensai is the #12 man as the crowd started an "Albert" chant for him. Cole mentioned that this was his sixth Rumble and at least we have the fans to tell us what his name was back in the day. Ziggler missed a splash in the corner and took a bump over the top, but he was able to stay on the apron to avoid an elimination. The #13 man is Brodus Clay. He danced with the Funkadactyls by the entrance and then he finally got into the ring after about 20 seconds. Clay went after Jericho early on. Cody challenged his brother so Goldust gave him a backdrop, but Rhodes held on. Cody threw Goldust into the steel post and that eliminated him. It's Rey Mysterio at #14. He hit the 619 on Ziggler and then to Jericho. He hit his splash off the top onto Jericho as Cole pointed out that Ziggler & Jericho have lasted over 20 minutes. It's Darren Young at #15. When he got in there everybody worked together to dump Brodus Clay over the top to the floor. Kingston gave Tensai a headscissors to the floor. Kingston was on the apron, so Ziggler kicked him. Kingston landed on Tensai's back. Tensai attacked him, but Kingston was able to get onto the Spanish table and he wasn't eliminated yet. Kingston wanted JBL's chair.
The man at #16 is Bo Dallas from NXT. Kingston used JBL's chair and he hopped onto the chair all the way to the ring. Kingston eliminated Young. Then Kingston was eliminated by a Disaster Kick of Cody Rhodes. That was a very innovative spot by Kingston. The crowd loved it. It's The Godfather as a surprise entrant at #17. With a couple of ladies for the hooooooooooo train. As soon as he got in the ring, Ziggler knocked him out quickly. He was eliminated in about three seconds. His music played during the entire time. The Intercontinental Champion Wade Barrett is #18. Sheamus went after Barrett, but Barrett was able to overpower him and nearly eliminate Sheamus. There's John Cena at #19. JBL said there's nobody on their feet – he meant to say everybody is on their feet. Cena got a huge pop. He went in there on fire. He threw Slater out and gave Rhodes the Attitude Adjustment to eliminate him. There are eight guys in there with Cena, Dallas, Barrett, Ziggler, Jericho, Sheamus, Mysterio and the #20 man Damien Sandow. It's the first Rumble for Sandow. Barrett battled with Mysterio and Barrett won that battle by eliminated Mysterio with a kick to the ribs. Mysterio was gone. The match is over 30 minutes in length now. Jericho went for the Walls of Jericho on Cena, but that didn't really work.
The #21 man was The Dazzler Daniel Bryan. He unleashed kicks on every guy in the ring. The crowd chanted "yes" along with him. There was a loud "Let's Go Cena/Cena Sucks" chant as everybody was brawling. The US Champion Antonio Cesaro entered the ring as #22. More dueling Cena chants from the crowd. Ziggler missed an attack on Dallas in the corner, but Dallas wasn't able to eliminate him. Barrett decked Cena with a hard kick to the stomach. The Great Khali is #23 and he might not get to the ring until #24 is up. I'll be nice and say that it took about ten seconds for him to get there. Sadly there was no Natalya sighting there. JBL said Khali & Natalya had an interspecies relationship. Not a whole lot happened with Khali entering the match. It's Kane in the #24 spot as Cole pointed out it was a record setting 14th Rumble in a row for him. The ring is very full at the moment, so there's not a lot of room for guys to hit signature spots in there. That was another period with not a lot happening. It's Zack Ryder entering at #25. He hit the Rough Ryder on Ziggler. Kane threw out Khali. We didn't really see it. Bryan threw out Kane as the crowd gave a big reaction to it. Cesaro knocked Bryan out, Kane caught him and Bryan wanted him to put him back into the ring. Kane didn't want to put him back in, so Bryan fell to the floor.
There was a big pop for #26 Randy Orton. He nearly eliminated Dallas, but that didn't work. Orton ended up hitting his DDT off the ropes on Dallas & Ziggler a few times. RKO for Ryder. Orton threw out Ryder rather easily as Ryder took that bump on his chest and landed right on his face too. Ouch. Jinder Mahal enters at #27, which is the luckiest spot according to Cole because four guys have won from that spot. I don't think he'll make it five. Cena gave Cesaro a backdrop over the top to eliminate the US Champ from the match. The #28 spot belongs to The Miz. As he entered the arena, he brawled with Cesaro. Miz limped down to the ring with Cole telling us that he has an injured ankle. Mahal gets eliminated by a high knee lift of Sheamus. Sin Cara is #29 meaning that Ryback will be the last man into the ring. The ring is pretty full. It's hard to count how many are in there. Bo Dallas eliminated Wade Barrett. That's a possible feud for the near future. After he was eliminated, Barrett eliminated Dallas from the match. Then Barrett hit Dallas with the Bull Hammer elbow to knock him out at ringside. It's Ryback in at #30 to a huge reaction.
The crowd chanted "Goldberg" at Ryback, who quickly eliminated Sandow with a clothesline while he was on the apron. Ryback picked up Sin Cara and threw him over the top to the floor onto Sandow, who caught him. Ryback eliminated Miz from the match. Jericho with a Codebreaker on Ryback. Lionsault for Sheamus. Springboard kick by Jericho nearly eliminated Sheamus. Didn't work. Jericho went for a Codebreaker on Ziggler and he hit it, but Ziggler held on. Ziggler hit a superkick on Jericho to send him out.
The final five in the match are Cena, Ziggler, Orton, Sheamus & Ryback. The five biggest names. Orton with RKO on Ziggler and then he hit a RKO on Cena. RKO to Sheamus too. Orton hit his DDT off the ropes onto Ryback. He went for the RKO, but Ryback gave Orton a clothesline over the top to eliminate him.
The final four are Sheamus, Ziggler, Cena & Ryback.
Ziggler hit Cena with a jumping DDT. Sheamus gave Ziggler to eliminate him. Ziggler lasted about 50 minutes. The final three babyfaces faced off. Sheamus & Cena gave a double suplex to Ryback. Then they stared at the WrestleMania sign. Cena hit his spinning suplex on Sheamus. Ryback decked Cena with the Meat Hook Clothesline to a big ovation because some in the crowd don't like Cena like usual. Sheamus hit White Noise on Ryback. Sheamus went for the Brogue Kick. Ryback ducked it. Ryback dumped Sheamus over the top. Down to Cena & Ryback.
There was a big showdown for the final two as Cena & Ryback each stared at the WrestleMania sign. Ryback hit the spinebuster on Cena. "Feed Me More" chants, but Cena avoided the clothesline and applied the STF submission hold in the center of the ring. The story was that Ryback was out from the move, so Cena put Ryback on the top rope. Ryback fought back with a Thesz Press. He went to powerslam Cena out, but Cena avoided that elimination and Cena dumped out Ryback out. John Cena wins the Royal Rumble at 55:05.
Winner: John Cena
Analysis: ***3/4
I really liked that Rumble match. I realize the Cena haters are going to bitch about him winning because that's how they feel, but I don't mind it. So what if it's predictable? A lot of things in wrestling are predictable. What I like about Rumble matches are the spots they do in it to build to exciting elimination sequences. I loved seeing Chris Jericho and Goldust with Jericho get a lot of chance to "shine" in the match. He was on fire before he was eliminated by Ziggler. I thought Ziggler was one of the biggest stars of the match, so that was good to see too. Orton getting eliminated by Ryback was interesting. Could that be a future feud if Orton turns heel? Might happen. Cena's win was inevitable and it was predictable, but it was still an exciting match from my perspective.
Person That Lasted The Longest: Dolph Ziggler at 49:47.
Most Eliminations: Sheamus and Ryback with 5.
===
This review was written live on the day of the show and not altered since then.
WWE Royal Rumble
Pittsburgh, Pennsylvania
January 26, 2014
The announcers for the match are Michael Cole, John Bradshaw Layfield and Jerry Lawler.
CM Punk entered the match at #1. In at #2 is Seth Rollins. Good choice since he's one of the best workers in the company. Running kick by Rollins as Cole called him the "architect" of The Shield. Punk hit his running knee in the corner, then Rollins hit a kick and then Punk did one. They were both down as #3 is Damien Sandow. That's why Khali was laughing. The heels worked together to try to eliminate the babyface Punk. Punk hit a nice neckbreaker/DDT combo. It's Cody Rhodes at #4. He hit Cross Rhodes on his old rival Sandow. They paired off with Punk giving Sandow a back body drop over the top to the floor to eliminate him. Sandow lasted about two minutes. The #5 entrant is Kane, who wasn't listed in the match, but there were many spots available. He was wearing black dress pants as he wrestled. He went right after Punk with a clothesline and a sidewalk slam. Punk gave Kane a roundhouse kick and dumped him over the top to the floor. Kane lasted about 80 seconds (assuming these entrances are 90 seconds). The Bulgarian NXT performer Alexander Rusev was in at #6. He's a power wrestler that was destroying everybody. He went after everybody and hit a nice fallaway slam on Punk. Jack Swagger of the Real Americans is #7. He hit a Swagger Bomb on Rollins and on Rhodes as well. Rusev stared at him, they exchanged punches and Rusev hit a body attack on Swagger. Kofi Kingston is #8 as he went right after Punk. Kingston is a close friend of Punk outside the ring (watch the Punk DVD to see that). There wasn't a whole lot happening as the six guys in the ring were all standing by the ropes. Jimmy Uso is #9 and he hit a full nelson bomb on Rollins. The #10 man in is Goldust. His brother Cody is still in there.
There were 8 guys in the ring since Kane and Sandow were the only two eliminated in the first third of the match. A bunch of babyfaces worked together to eliminate Rusev. Kingston was on the apron. Punk gave him a forearm shot. Kofi landed in the arms of Rusev. Following that, Rusev placed Kingston on the barricade. Refs stopped him. Kingston ran across the barricade and jumped onto the apron. There's your annual Kingston save spot. Very impressive. The #11 entrant is Dean Ambrose, who ran in from the regular entrance rather than going into the ring via the crowd. Dolph Ziggler is in at #12 with a missile dropkick on Ambrose. Crowd chanted "let's go Ziggler" and Hacksaw Jim Duggan probably joined in since Ziggler was his pick. There were a lot of teased eliminations, but nobody went out. The #13 man is R-Truth. Somebody held up a "Jobber" sign right there. Good timing. Right on cue, Ambrose hit a running dropkick on Truth to eliminate him. He lasted about 15 seconds. Jimmy Uso went to the top, but Rollins kicked him in the head and Ambrose shoved him out. The Shield worked together right there. Kingston ripped off Swagger's boot and held on by using his feet along the bottom ropes. He hit Swagger with the boot. Kevin Nash is #14. There's a surprise. He looks to be in great shape and had dark brown hair. He came out to the NWO theme music. Nash immediately eliminated Swagger. The Shield went after Nash, so he only eliminated one person there. The #15 entrant is Roman Reigns, who is the muscle of The Shield as Cole called him. Reigns entered by hitting a leaping dropkick onto Punk while he was on the apron. Reigns hit a Spear on Rhodes. Kingston went after him, but Reigns caught him and dumped him over the top. Ziggler DDT on Reigns. Reigns quickly came back with a Spear and he eliminated Ziggler. Nash charged in, Reigns ducked and out went Nash. That's three eliminations for Reigns.
The #16 man is Great Khali. The Shield quickly worked together and Reigns hit him with a Superman Punch. They dumped Khali out. He was in for about 15 seconds. They were showing Khali replays. Goldust eliminated his brother Cody and then Reigns eliminated Goldust. The Rhodes brothers are out. They didn't show anything after the elimination, but it's been rumored they could do Goldust vs. Cody at WrestleMania. The man at #17 is the returning Sheamus, who has been out with a shoulder injury for the past five months. It wasn't announced that he'd be there, but most of us expected it. Sheamus went after The Shield members while Punk recovered in the corner. Sheamus hit a nice Brogue Kick. The crowd was really into the return of Sheamus. The #18 spot belongs to The Miz, who went after The Shield. He barely got a reaction. Has a former WWE Champion fallen as far and as fast as him in three years? Fandango is in at #19. He just did a quick dance with Summer Rae before entering while the crowd was doing the dance. He almost eliminated Miz, but that didn't work. Then the match died down again. It's #20, so that meant it was time for El Torito. He's in the Rumble instead of Diego and Fernando. He hit some big spots on Rollins as well as Miz. Cole said Torito is the smallest competitor in Rumble history. He ran at Punk, so Punk palmed him by the head and Torito hit a headscissors. Fandango decked Torito, who almost eliminated Fandango. Then a missile dropkick eliminated Fandango. Reigns caught Torito and he threw him over the top onto Fandango to eliminate him. That's 6 eliminations for Reigns.
Antonio Cesaro is #21 and he gave the Cesaro Swing to Miz. He briefly did the swing to Punk, but that didn't last and Cesaro gave the Cesaro Swing to Rollins for at least 25 revolutions. That's what it felt like. Luke Harper is #22. Reigns hit a Spear on Cesaro. Harper didn't do much when he went in there. It's Jey Uso at #23. There were 9 guys in the ring at this point. Huge uppercut by Cesaro on Harper and then Harper hit a huge boot to the face. That would be a fun power match. The #24 spot belonged to JBL, who slowly entered the ring and took off his coat. He told Cole to take his coat. As that happened, he turned his back to Reigns and that led to Reigns eliminating him too. There's another comedy spot in the match. Erick Rowan of the Wyatt family is in at #25 and he went after Miz, who was attacking Harper. Miz couldn't deal with them because Harper hit a huge clothesline while Miz was on the apron and that was the end of Miz.
The man at #26 is Ryback and the crowd was chanting "Goldberg" at him. Sheamus and Cesaro were exchanging forearm shots in the middle of the ring while everybody else was paired up in the corner. Cole mentioned that Punk & Rollins were in there for 40 minutes by now. Alberto Del Rio is #27 and he quickly joined everybody else in fighting in the corners of the ring. The #28 spot belongs to Batista. His ring gear is a bit different than what he had before, but he looks to be in great shape obviously. He eliminated Rowan. Ryback wanted a faceoff, so they went at it until Batista gave Ryback a back body drop over the top rope to eliminate him. Del Rio with a standing side kick to Batista. Batista fought back to eliminate Del Rio, so that's three eliminations for Batista. It's Big E Langston in the #29 spot, so only one more person left. Langston hit some power moves, then paired off with Sheamus. The #30 entrant is Rey Mysterio. He was booed loudly. The crowd wanted Daniel Bryan, but he's not in the match. Punk went at with Mysterio as they rekindled an old feud and each guy held on.
Sheamus eliminated Langston with a clothesline. 619 by Mysterio to Rollins, but then Rollins came back with a dropkick while Mysterio was on the apron. Reigns hit a Superman Punch on Harper to try to eliminate him. Reigns was celebrating that, so Ambrose tried to eliminate him. Rollins didn't like that. Cesaro tried to eliminate The Shield guys. Reigns ended up eliminating Ambrose, Rollins & Cesaro at the same time. That's 11 eliminations for Reigns, which ties a record.
Final four: Batista, Reigns, Punk & Sheamus.
They all hit signature moves on each other. Punk ended up as the last man standing. He stood by the turnbuckle. Kane came out of nowhere, eliminated Punk and assaulted him outside the ring. Kane gave Punk a Chokeslam through the Spanish Announce Table. Good to see the Spanish table broken. That's what it does! I don't like when somebody is eliminated by somebody that's not legally in the match. It plays into the story that Punk is going to have an uphill battle and it will likely lead to a match against Triple H at WrestleMania. (2019 Update: Or not! Punk quit the next day!)
They did a big final three setup with Batista, Sheamus & Reigns staring at each other. Batista hit a powerslam on Reigns. There were fans in the crowd chanting "no" during this. Sheamus wanted the Brogue Kick and the crowd chanted "no" during the setup for it. Batista Bomb attempt, but Sheamus fought out. He was on the apron. Reigns with a shoulder tackle eliminated Sheamus. That's 12 eliminations by Reigns, which a new record. Batista tried to eliminate him, but Reigns held on.
Final two Reigns and Batista had a big staredown. Reigns got the advantage early. The crowd was chanted "Roman Reigns" for him. He wanted the Superman Punch, but that didn't end up happening because he hit a Spear on Reigns. It didn't look that great. Reigns hit a  Spear of his own that looked awesome. They got to their feet, Reigns tried to throw him out, but Batista ended up turning it around and he tossed Reigns over the top to the floor. The match went 55:07.
Winner of the Royal Rumble: Batista
After it was over, they replayed a lot of Reigns' eliminations because 12 eliminations is the new record. There were a lot of highlights along the way.
Analysis: *** It was an average Rumble, so I'll give it three stars out of five. The formula is always there for them to hit three stars. There were some cool moments and Reigns was obviously the star of it despite the fact that he wasn't the winner. Batista came in late, only did a couple of eliminations and didn't really look that impressive. It's not like the crowd reacted to him like a top guy. They gave him the reaction of a regular guy who was just back in a match. It was good to see Sheamus again. I've been a fan of his work for a while. With that said, they didn't book him strong enough. CM Punk lasted nearly the whole match, yet he barely had eliminations or memorable moments. He was down on the mat for a lot it. The way he was eliminated will likely lead to a showdown with Triple H in the near future. I think we could also pencil in Punk vs. Kane for Elimination Chamber as a possibility. The Kofi Kingston save spot was fun. The comedy spots with Torito & JBL were just average. Not that funny, really. After Mysterio came in at 30, it was almost as if the air went out of the building because the crowd realized their hero Daniel Bryan wasn't coming in. Hopefully, WWE officials listened to that. It was obvious what the fans wanted and who they wanted.
Batista was celebrating the win to end the show. You could definitely hear the booing. Batista pointed to the WrestleMania 30 sign as fireworks went off in the arena.
Person That Lasted The Longest: CM Punk at 49:11.
Most Eliminations: Roman Reigns with 12.
===
This review was written live on the day of the show and not altered since then.
WWE Royal Rumble
From Philadelphia, Pennsylvania
January 25, 2015
The announcers for the match are Michael Cole, John Bradshaw Layfield and Jerry Lawler.
The Miz is the #1 entrant in the Rumble match and R-Truth is #2, so he did his rap on the way to the ring. Miz hit a boot to the face. The #3 entrant is Bubba Ray Dudley in Dudley Boys gear. Amazing. The crowd popped huge for him. He spent many years in TNA, so it's great to see him back in WWE. They were cheering loudly for him as he did some of his signature spots. Loud "ECW" chants for him too. He got Truth to do the Wassup Drop on Miz. Then Bubba looked confused, but told Truth to get the tables. Truth and Bubba did the Dudley Death Drop on Miz. That led to Miz getting tossed out and Bubba tossed out Truth with a back body drop. The #4 man is Luke Harper, who started exchanging punches with Bubba. Luke hit a superkick, but Bubba nailed him with a clothesline. Bray Wyatt is #5. He worked with Harper to battle Bubba and they tossed out Bubba. Wyatt was the one that eliminated Bubba. Wyatt told Harper they should work together. I enjoyed seeing Bubba in there.
It was Curtis Axel as the #6 man, but Eric Rowan attacked him by tossing him into some steel by the entrance. Rowan entered for a Wyatt Family face off. The announcers said Rowan was not in there legally, but he still went after Wyatt and Harper. As Rowan and Harper battled by the ropes, Wyatt dumped both them over the top to the floor. The #7 entrant is The Boogeyman. Yawn. Not a great surprise. It's a stupid gimmick. Wyatt did his upside down pose/walk, hit a clothesline and dumped him out quickly. It's Sin Cara at #8, who barely gets a big reaction. Wyatt quickly overpowered him, hit the Sister Abigail and eliminated him. Wyatt grabbed the microphone to say that this is Bray Wyatt's year. He started singing "he's got the whole world in his hands" with the crowd singing along with him. Zack Ryder is back as the #9 man. He's been out for months after a shoulder surgery. Ryder was on fire with some of his signature spots including a Broski Boot. Wyatt recovered quickly to eliminate Ryder. Here's some much needed star power with Daniel Bryan is the #10 spot. Bryan was on fire and the crowd was going crazy with "yes" chants as he hit multiple running dropkicks on Wyatt in the corner. He did four of them. Bryan did a hurricanrana off the top.
It's Fandango at #11. He nails Bryan with a dropkick as some in the crowd try to sing his old theme song, but it really didn't catch on. He did some posing. Bryan did an airplane spin to Fandango and tried to eliminate him. Wyatt rested in the corner during that altercation. Tyson Kidd is #12. He nailed Bryan with a kick followed by a missile dropkick. Bryan nailed Fandango with a dropkick in the corner and then Kidd hit Fandango. There was a double cross body block sequence by Kidd and Bryan, so all four guys were down in the ring. Wyatt has stayed in the corner for over three minutes. Stardust is #13. Fandango nearly eliminated him, but Stardust hung on and did the skin the cat move. Kidd went after Bryan, but Bryan was able to eliminate him with a back suplex over the top to the floor. Bryan knocked Wyatt to the floor, then hit a running dive between the top/middle rope. Wyatt tossed Bryan into the stairs. They weren't eliminated. They just went out of the ring by going under the rope. It's Diamond Dallas Page as a surprise entrant at #14 although it was leaked online a couple of days ago. The reaction to DDP was solid. He was wearing his DDP Yoga shirt of course. DDP hit the Diamond Cutter on Stardust. Fandango went to the top rope, but DDP gave Fandango a Diamond Cutter off the top rope. DDP avoided a Wyatt attack and he gave Wyatt the Diamond Cutter to a big pop. The crowd loved that spot for DDP. Rusev is #15. No Diamond Cutter for him, because he shoved Paige away, gave him a superkick and tossed Page out of the ring. Rusev also tossed Fandango out. Rusev stared at Wyatt. Bryan nailed both of them with a dropkick off the top and then a series of kicks. Rusev superkick on Bryan, but Bryan held on. With Bryan on the apron, Wyatt knocked him out of the ring. The crowd hated that. I do too. I didn't think Bryan would win. I just thought he would last longer.
There's Goldust at #16. Stardust tried to eliminate him, but Goldust hung on. Fans were chanting "Daniel Bryan" even though he went to the back. Kofi Kingston is #17 to almost no reaction from an angry crowd. Wyatt nearly eliminated Kingston, but Kofi was able to hang on. Adam Rose is #18 with the Rosebuds entering the building along with him. I can't hear the crowd booing because of the music, but I assume they are. Kingston got tossed over the top, but the Rosebuds caught him and put him back in. That's the creative Kofi save spot. Rusev got rid of Rose quickly and then a Rusev kick to the head finally got rid of Kofi. In the ring right now are Rusev, Stardust, Wyatt and Goldust. Roman Reigns is #19 and the crowd is booing him. This is not the reaction WWE thought he would get, but they shouldn't be that surprised. Reigns cleaned house with a Samoan Drop on Goldust, then he tossed him out and then he gave Stardust a clothesline to eliminate him. The crowd was still booing Reigns. Big E is #20 to almost no reaction. Rusev hit a running dive on Big E in the corner. Four guys in the match 2/3 of the way through it: Reigns, Rusev, Wyatt and Big E.
The 21st entrant is Damien Mizdow. The fans cheered. The Miz comes out to tell Mizdow that he should go to the back. The Miz was on the apron, Reigns knocked him out of the ring before he could get in. Mizdow went in, hit a couple of moves and then he was eliminated by Rusev. Miz yelled at him, but Mizdow just sat beside him imitating him. They blew an opportunity to do something cool with them in this match. Jack Swagger is in at #22 to a mild reaction, but nothing much. Not a whole lot happens following Swagger's entrance. Ryback enters at 23 to almost no reaction and cleans house on everybody with power moves. When he hit Reigns with a clothesline the fans cheered that. Ryback hit the Meat Hook Clothesline on Rusev. No eliminations. Fans were chanting "CM Punk" because they were bored. The veteran Kane is #24 as the announcers mentioned he has 38 eliminations all time while Shawn Michaels has the record with 39 eliminations. That was another dead spot in the match because they just wanted to fill up the ring with more guys. Dean Ambrose is 25 and the fans like him, so that's good. There was a "Let's Go Ambrose" chant for him as he took down Ambrose with a flying elbow drop off the top. There were eight guys in the ring with five men left.
It was Titus O'Neil at #26. Lawler says "oh boy" as if he's a big name, then he gets tossed out in four seconds. It would have been quicker, but he didn't go over the top the first time he was hit with a clothesline. Cole noted that Wyatt has been there for 38 minutes. The IC Champion Bad News Barrett is #27. Barrett hit the spinning slam to Ambrose, then immediately joined the others in just trying to dump somebody out. Cesaro is #28. He didn't do anything of note. Why not let him do some power moves? Too many guys are going into this match without doing a thing once they get in there. Rusev eliminated Big E with a dropkick while Big E was on the apron. Big Show is #29. Everybody faced him. Show and Kane did a double chokeslam to get rid of Ryback, so Kane has 39 eliminations in his career to tie Michaels. Show eliminated Swagger. Nothing else of note happened there. Dolph Ziggler is #30.
Ziggler quickly eliminated Barrett by putting him on the apron and then nailing a superkick. There was a battle with Cesaro and Ziggler by the ropes, which was won by Ziggler. He eliminated Cesaro. Ziggler teased being eliminated by Kane, but then Big Show nailed him with a KO Punch. Kane and Big Show picked up Ziggler, then dumped him out of the ring. Crowd hated that. Me too. Big Show with the KO Punch on Wyatt so Show and Kane dumped him out.
Final four in the match are Reigns, Ambrose, Show and Kane.
Reigns hit a leaping clothesline on Show. It looks like Reigns was bleeding from the mouth. Kane hit a big boot to slow down Reigns and then the heels stomped on Ambrose. Show with a Chokeslam on Ambrose. That led to Show and Kane dumping Ambrose out. That means Reigns is against the two evil big guys. The heels went to eliminate Reigns, but then Show tried to dump Kane out too. Kane got mad about it, so they started brawling. Kane and Show grab eachother by the throat. Reigns walks over to them and dumps them both out.
After the Rumble, Reigns received a Chokeslam. The Rock's music hit and he came out for the save for his cousin Roman Reigns. Rock hit the Spinebuster and Rock Bottom. He took care of the giants. Rusev went back into the ring because he wasn't eliminated. Reigns gave Rusev a Spear and then tossed him over the top rope to eliminate him.
Winner of the Royal Rumble: Roman Reigns
Backstage, WWE Champion Brock Lesnar and Paul Heyman were looking on.
Analysis: **1/2 That was a weak Rumble. The crowd hated nearly everything that happened after Daniel Bryan was eliminated. Bray Wyatt was booked strong for most of it, but then he got dumped out so easily that it made him look weak. Bryan's elimination sucked. He should have lasted longer. My guess is that WWE wanted him long gone before Reigns got in there so that it made Reigns look like a bigger star. That strategy didn't really work.
The highlights of the Rumble were seeing guys like Bubba Ray Dudley and DDP out there. I hope that Bubba stays in WWE full time after this because he's still a very good performer. Bring back D-Von too. They missed an opportunity by not putting D-Von in the match as well because the crowd would have loved seeing them together in this. Fans were even chanting for D-Von to be out there.
I spent about 15 minutes after the show just interacting with people on Twitter and Facebook about it. People are genuinely mad about what happened. I'm mad too. If you read my preview of the event then you know I picked Reigns winning with heels like Big Show and Rusev lasting until the end so that WWE would think fans would cheer Reigns, but guess what? The fans didn't care.
Back to the show.
Roman Reigns celebrated in the ring with his cousin The Rock. The Authority's Triple H and Stephanie McMahon stood by the entrance looking angry about Reigns winning and The Rock being out there.
When The Rock left, Reigns posed by the WrestleMania logo and the crowd booed. His mouth was still bleeding. The announcers didn't mention the poor reaction for him. The PPV went off the air at around 10:43pmET.
Person That Lasted The Longest: Bray Wyatt at 47:29.
Most Eliminations: Roman Reigns with 6.
===
That's all for now. Almost at the end. Thanks for reading.