WWE WrestleMania 36 Review
WrestleMania 36 in 2020 was the most unique of them all because it's the only one that had no fans, there were taped matches and it was the first time WWE decided to make it a two-night event.
It was such a weird time because it was in the first few months when we really knew about COVID-19 and how the world was shut down in many ways. I believe it was mid-March when sporting events were shut down and in WWE, that meant no more shows in front of the fans. They were taping events out of the WWE Performance Center in Orlando. I truly hope the world never has to go through what we went through in 2020 and in the two years that followed again. I guess from a WWE perspective, they deserve credit for at last coming up with the two-night WrestleMania concept that might be here to stay. Anyway, WWE also deserves praise for even putting on this show as well as they did.
I'm not going to add updated 2022 thoughts in blue font to every match because it's already extremely long at 14,000+ words. I'll do it for some, but not all of them.
====
WRESTLEMANIA 36 NIGHT ONE
Here's my full review of WrestleMania 36 with part one from Saturday, April 4th and part two from Sunday, April 5th. It's just under 15,000 words combined. The combined length of the two main shows was 6 hours, 25 minutes. Lots of content! Let's roll.
Kickoff Show Match: Cesaro vs. Drew Gulak
Gulak with a boot to the face to block a corner charge, but then Cesaro came back with a backbreaker. Gulak went for an armbar only for Cesaro to counter it with a one-arm Powerbomb. Gulak was able to counter Cesaro into a Crossface submission for a two count. Gulak sent Cesaro over the top to the floor followed by Gulak hitting a clothesline off the apron onto Cesaro on the floor. Cesaro with a punch, then back in the ring where Gulak stretched the arm against the top rope. Gulak sent Cesaro over the top to the floor with a clothesline. Gulak with an arm drag on the floor and Gulak sent Cesaro right shoulder first into the steel steps two times. Cesaro was favoring the right arm. Gulak went up top, he jumped and Cesaro hit him with an uppercut for a two count. Gulak slapped on an armbar on the injured right arm of Cesaro. Gulak got a pin attempt for two. Cesaro countered a dragon sleeper attempt into a slam followed by a boot to the face for Cesaro. Cesaro with a lefty uppercut. Cesaro spun Gulak on his shoulders while putting his hands on his hips and slammed Gulak down for the pinfall win at 4:25.
Winner by pinfall: Cesaro
Analysis: **1/2 It was a hard-hitting match where they made the most of the time they were given. I would have liked to see them get more time than that, but I liked the story they told with what they were given. Gulak was relentless in working on the shoulder. Cesaro used his power to make the comeback and there was a unique finish too. Fun match.
Now let's go on to the main show.
WWE WrestleMania 36 (Night One)
From WWE Performance Center in Orlando, Florida (mostly)
Saturday, April 4, 2020
The show began with Stephanie McMahon standing in a studio saying this will be the most different WrestleMania of them all. She said there won't be 80,000 people screaming due to the current circumstances. She thanked us and welcomed us to WrestleMania.
There was a video package showing past performances of America the Beautiful at WrestleMania events over the last 35 years. That was cool.
The opening video package featured some of the footage of the WWE superstars in the pirate theme gear that was going to be part of the WrestleMania 36 pirate ship stadium in Tampa. They also showed highlights of the key superstars in the big matches. It was well done as usual.
The set at the WWE Performance Center looked familiar with the WrestleMania logo in the building.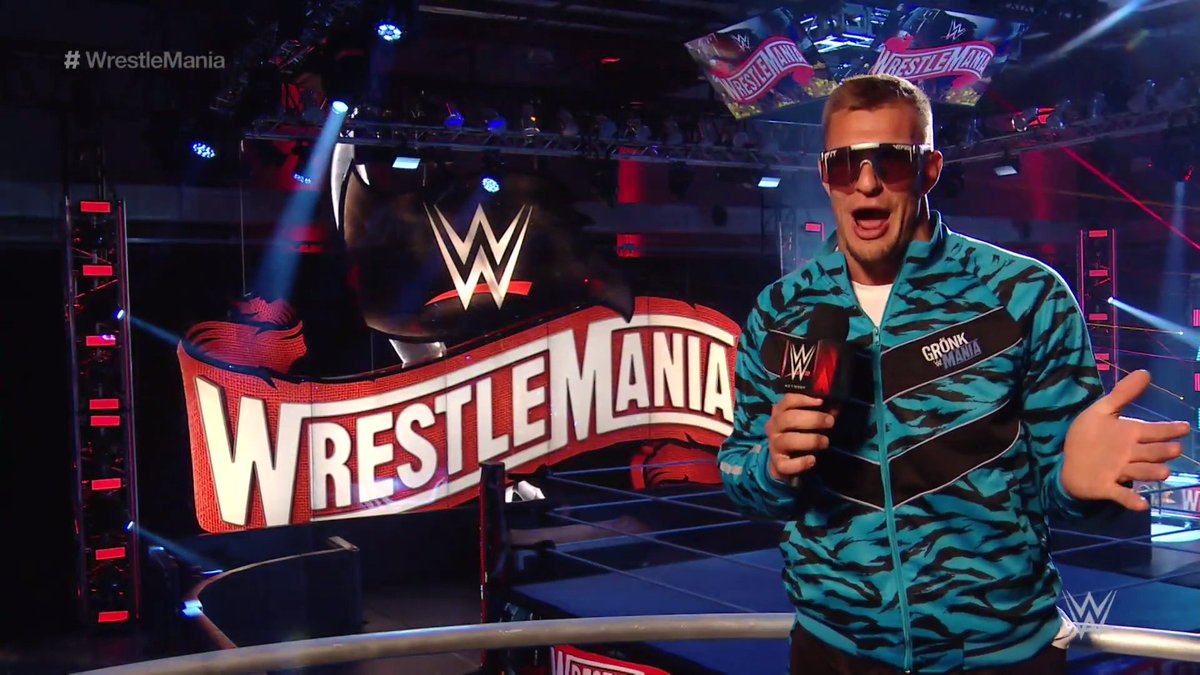 Rob Gronkowski appeared as the WrestleMania host with the most with Gronk saying this year's party is too big for just one night. Gronk had on a GronkMania jacket while saying he knows how to host a party. Gronk said we should forget what's going on in the world right now and let WWE entertain you. Gronk called his good friend Mojo Rawley to join him on the podium in the PC. Gronk hit Rawley with four chops to the chest and they told us it starts right now.
Alexa Bliss and Nikki Cross entered as the challengers. Asuka and Kairi Sane entered as the Women's Tag Team Champions.
Michael Cole is calling the Smackdown matches and he's got John Bradshaw Layfield as his broadcast partner instead of Corey Graves, who has not made the trip to the WWE PC since they started taping there.
Analysis: JBL has a lot of experience announcing and working with Cole, so they should be fine working together.
Women's Tag Team Championships: Asuka and Kairi Sane vs. Alexa Bliss and Nikki Cross
Sane knocked Bliss down, then Bliss with a slap and Bliss sent Sane down. Cross with a dropkick. Asuka tagged in with a kick to the back. Cross sent Asuka to the floor, Bliss made the tag and Cross kicked Sane out of the ring to the floor. Bliss hit a flip off the apron onto Asuka on the floor. Cross hit a cross body block off the apron onto Sane on the floor. Bliss got a two count on Asuka. Cross went up top with a double axe to the arm of Asuka, but then Asuka broke free and tagged in Sane. Cross sent Sane out of the ring. Sane worked over Cross with punches outside the ring and Asuka sent Bliss into the ring post. Sane with a headscissors on Cross and Asuka hit Cross with a kick to the head. The heels took control as Asuka worked over Cross with kicks. Asuka with a bulldog on Cross followed by Sane hitting a dropkick for a two count. Bliss got the tag, clothesline on Sane and a dropkick. Bliss missed a corner charge when Sane moved, Sane tripped up Bliss against the turnbuckle and Sane hit a double foot stomp on Bliss off the top for a two count. Sane with a sliding forearm on Bliss and Asuka tagged back in for her team. Asuka slapped on an armbar on Bliss followed by choking Bliss on the ropes and Sane got a cheap shot as well. Asuka with a running hip attack on Bliss. Bliss avoided a bulldog, but Asuka came back with a knee to the face. Bliss avoided a back elbow, punch by Bliss and Asuka with a kick. Cross got the hot tag against Sane with Cross hitting two forearms, a corner splash and a running bulldog. Bliss went up top and hit a cross body block for a two count with Sane barely getting her shoulder up. Sane did an eye gouge while Asuka distracted the referee. Cross sent Sane to the apron, Asuka was legal because she made the tag and Asuka with punches, but Cross hit a neckbreaker. Sane hit the Insane Elbow on Cross to break up the pin attempt. That was a good spot. Asuka avoided a pin attempt by Cross, Asuka went for the Asuka Lock and Bliss hit the Twisted Bliss splash to break it up. Sane with a Spear on Bliss to take her down as all four women were down on the mat. Sane tagged in, Asuka with a double knee attack to the face and Sane went up top, but Cross punched her to stop Sane. Asuka tagged back in as she held Cross on her shoulders and Sane jumped off the top with a double team clothesline into a Powerbomb for two. That was a great spot. Sane punched Bliss off the apron, Cross avoided an Asuka charge and Sane hit the neckbreaker on Sane. Bliss got the tag and Bliss went up top with the Twisted Bliss splash for the pinfall victory at 15:05. New champions.
Winners by pinfall AND NEW Women's Tag Team Champions: Alexa Bliss and Nikki Cross
Analysis: ***1/4 It was a pretty good match that got a lot of time with the heels controlling most of it. Cross had a strong performance in terms of selling the beating, then making the hot tag and working hard to put on a good match. I like how they set up the finish. Asuka and Sane worked very well together as usual. The title change made sense since Asuka/Sane barely defended the titles and hopefully Bliss/Cross have a good second run with the titles.
Bliss and Cross celebrated with the titles. It's their second time winning those titles together. The announcers put over Cross's performance a lot.
The Artist Collective trio of Sami Zayn, Shinsuke Nakamura and Cesaro were interviewed by Kayla Braxton. Zayn talked about how they have always got a plan. Zayn said tonight he'll do something that very men have ever done because he's walking in as Intercontinental Champion and walking out as IC Champion.
There were commercials for WWE Shop and The Main Event movie on Netflix.
King Corbin made his entrance. They showed highlights of the silly bump that Elias took on Smackdown eight days earlier.
Corbin did a promo saying it felt good sending Elias off that balcony. Corbin said that it will feel good to get his second win at WrestleMania in a row, so he wanted the referee to count to ten because Elias is going to forfeit. Elias made his entrance, Corbin went after him, Elias avoided an attack and Elias hit Corbin in the back with his guitar. Elias sent Corbin into the ring post. Elias sent Corbin into the ring and the referee Jessika Carr asked if Corbin could start the match. Corbin said he could, so the bell rang.
King Corbin vs. Elias
Elias was in control with punches and kicks followed by a neckbreaker. Corbin got some offense as he sent Elias into the ropes leading to Elias bumping to the floor. When Elias got back in the ring, Corbin sent Elias shoulder first into the ring post. Corbin sent Elias into the turnbuckle, Corbin did his slide out of the ring and back in spot with a punch to the face. Corbin worked over the right shoulder of Elias with elbow strikes since Elias had his right shoulder taped up a bit. Elias tried to fight back, but Corbin came back with another hard whip that sent Elias' left shoulder into the ring post. Corbin yelled at the referee and she told him it was a two count. Corbin with more elbow strikes to the shoulder. Corbin took his turn going into the turnbuckle, so they were both dealing with shoulder injuries. Elias with a mule kick out of the corner followed by punches and kicks against the turnbuckle. Elias hit a spinning neckbreaker for a two count. Elias went up top, he jumped off with nothing, Corbin moved and Corbin hit the Deep Six Slam that usually gets him a two count. Corbin did his slide out of the ring spot, but this time Elias hit him with a jumping knee. Corbin got an uppercut punch followed by a pin with his feet on the ropes, but the referee saw it. Elias rolled up Corbin with the ROLLUP OF DEATH~! with tights for the pinfall win. It went 9:02.
Winner by pinfall: Elias
Analysis: *1/4 This was a boring match. If there was a crowd they would likely be dead quiet for it too. I had low expectations going in and they really didn't do that much to entertain me. Corbin tried to cheat to win, he failed and Elias successfully cheated to win even though he's the face in the match. I'm so tired of the ROLLUP OF DEATH~! finish, but WWE loves it and that's why it won a match at WrestleMania. This feud didn't interest me much. I picked Corbin to win, but I get the Elias win since he got payback for Corbin's attack on him on Smackdown two weeks ago.
A commercial aired for the WWE Supercard game. There were commercials for Papa John's pizza and Cricket Wireless featuring The Miz.
A video package aired to set up Becky Lynch vs. Shayna Baszler for the Raw Women's Title. They had a pretty good story to set this up over the last couple of months.
The Raw announce team is Tom Phillips and Byron Saxton with no Jerry Lawler. They took over for this match.
Becky Lynch drove her truck that had "The Man" on it that we have seen for the last few weeks. It was very dark out when Lynch arrived, which is not normal for 7:50pm, so you can tell it was a pretape moment. Lynch had the Raw Women's Title on her and her gear was on too. Shayna Baszler made her entrance as the challenger. Becky Lynch was up next as the champion looking confident as usual. Lynch has held the title for one year after winning at WrestleMania 35 last year.
Raw Women's Championship: Becky Lynch vs. Shayna Baszler
The action spilled to the floor quickly with Lynch avoided a move and she hit a headscissors. Lynch sent Baszler into the announce table followed by Lynch sending Baszler into the steel steps. They went back in the ring where Lynch went up top and hit a missile dropkick. Lynch stomped away on Baszler, the referee John Cone made her back off and Lynch continued to strike. Lynch tried a kick, Baszler blocked and hit a knee to the face. Lynch tried a pin, Baszler powered out and hit a spinebuster like slam. Baszler with a double underhook suplex for a two count. Baszler went for a knee strike, Lynch moved, Lynch with a kick as they battled on the apron with Lynch hitting a uranage slam on the apron. Lynch got a two count out of that. Baszler got back into it with a sitout slam into an armbar on the left arm of Lynch. Lynch rolled out of it as Baszler slapped on a variation of Lynch's own submission, Lynch got out and Baszler hit a knee to the face for two. It sounded loud due to the leg slap, which is even louder when there are no fans in the building. Baszler went for the Kirifuda Clutch while Lynch was against the apron, Lynch managed to get out of it and Lynch went to the floor. Baszler swung Lynch into the side of the announce table two times. Back in the ring, Baszler slapped on the Kirifuda Clutch, but Lynch rolled through and covered while Baszler held onto the hold. Lynch won by pinfall at 8:30.
Winner by pinfall: Becky Lynch
Analysis: *** The match was good and it went shorter than I thought it would go. I think it's hard to do longer singles matches with no fans, so that's probably why. Baszler was booked strong as the challenger with a lot of offense, but Lynch kept on coming back. The finish is something we have seen many times in wrestling where somebody holds onto a submission too long and the other wrestler counters into a pin to win. I can remember Bret Hart beating Roddy Piper and Steve Austin using a similar type of finish. By losing like that, Baszler doesn't look that weak because it's a counter finisher rather than a submission move for Lynch that would be a more decisive win. I don't think management (mainly Vince McMahon) believes that strongly in Baszler and that's why she didn't win, but they might have more matches later. Anyway, Lynch's one year reign continues with Becky running through the entire division. I don't know who is next, but maybe Nia Jax can fill that role when she returns. I picked Lynch to win, so the result is fine with me.
(It was around a month after this when Becky Lynch revealed she was pregnant. She gave birth to a baby girl in December 2020.)
Lynch celebrated while Baszler left looking frustrated. There was no post match attack.
There was a Hyundai commercial narrated by Roman Reigns.
There's a Limited Series Event about The Undertaker coming to WWE Network soon. It's about Undertaker's Last Ride, so it's about him retiring soon while showing him at home with his family and talking about injuries. It looks cool.
The IC Title match is next with Daniel Bryan entering with Drew Gulak. The IC Champion Sami Zayn was joined by Shinsuke Nakamura and Cesaro. Gronk and Mojo were standing on the balcony in the PC.
Intercontinental Championship: Sami Zayn (w/Shinsuke Nakamura and Cesaro) vs. Daniel Bryan (w/Drew Gulak)
Zayn ran out of the ring constantly in the first few minutes of the match. Cesaro and Nakamura got in Bryan's way when Bryan was chasing after Zayn. Zayn stumbled out of the ring, Bryan got his hands on him, Cesaro/Nakamura got in Bryan's way, so Gulak dove on Cesaro and Nakamura to take them out. Gulak gave Cesaro a back drop over the barricade. Gulak sent Nakamura over the barricade as well. Zayn tried to leave for a countout loss, so Bryan chased after him and punched Zayn. After about four minutes, Bryan threw Zayn into the ring. Bryan tripped up Zayn, then Bryan worked over Zayn with punches and knee strikes to the ribs. Bryan worked over Zayn with kicks to the leg and back followed by more punches. Zayn rolled out of the ring, so Bryan hit a suicide dive. Bryan sent Zayn back into the ring leading to Bryan hitting a missile dropkick. Bryan worked over Zayn with forearm strikes. Bryan slapped Zayn twice followed by a corner dropkick. Cole wondered if Zayn was crying. Zayn finally got some offense with an elbow to the mouth followed by a running clothesline. Zayn worked over Bryan with punches, then some chops and Bryan ran the ropes leading to a clothesline. Bryan worked over Zayn with the Yes Kicks to the chest followed by a roundhouse kick to the head. Bryan held the arms followed by repeated stomps to the head. Cesaro and Nakamura attacked Gulak and sent him into the steel steps. Bryan hit a suicide dive on Cesaro and Nakamura. Bryan went up top, he jumped off and Zayn hit a Helluva Kick on Bryan for the pinfall win at 9:20.
Winner by pinfall: Sami Zayn
Analysis: **1/2 This was about the story more than the work in the ring with Zayn running away as much as he could while Bryan was aggressive the whole way. Zayn didn't get a lot of offense, but he managed to get the win after Bryan was occupied with taking out Cesaro and Nakamura on the floor. I did like the finish a lot with Zayn hitting the Helluva Kick to counter a diving attack from Bryan. If you were hoping for a classic match between two elite in-ring performers, this wasn't that. Zayn's out there to be the chickenshit heel that runs away a lot, so it's hard to have a great match.
(I was hoping for a better match between two of my favorites in WWE. Nope. It was nothing special.)
There was a commercial for the WWE 24 documentary about Edge's return to the ring. It will air on Sunday after WrestleMania on WWE Network. That should be great.
The Smackdown Tag Team Title match is next. They said that Miz (not on the show, but on social media to set up the match) had an injury even though the real reason is because he was sick when they taped this. That means they are now having a triple threat singles match for the Smackdown Tag Team Titles. It's Kofi Kingston entering first, then Jimmy Uso for his team and John Morrison for the champions. No Big E or Jey Uso to support their partners.
Smackdown Tag Team Titles Ladder Match: John Morrison vs. Jimmy Uso vs. Kofi Kingston
There were ladders all around the ringside area. All three men brought ladders into the ring. They climbed up the ladders, nobody got the titles and Kingston hit a cross body block off a ladder. Morrison worked over Kingston with a kick to the ribs. Morrison with kicks on Jimmy. Kingston and Morrison missed with kick attempts, Jimmy climbed the ladder and Kingston stopped him with punches. Kingston with a headbutt to knock Jimmy off a ladder. Morrison knocked Kingston down a ladder with punches. Jimmy grabbed Morrison down the ladder followed by an uppercut punch by Jimmy. Morrison with kicks on Jimmy, Kingston tried an attack, but the two other guys caught him and dumped Kingston the floor. Morrison with an eye poke on Jimmy followed by Morrison shoving a ladder onto Jimmy to knock him down. Jimmy tried a suplex on Morrison on the turnbuckle, but Morrison tripped up Jimmy on a ladder and Morrison hit a twisting splash onto Jimmy to take him down. That looked great in slow motion. Morrison set up a ladder with a slow climb to allow Kingston to get back into it and Kingston hit a springboard hurricanrana to take down Morrison. That was impressive. Kingston sent Jimmy over the apron followed by a punch. Kingston jumped over the top onto Morrison on the floor while Morrison was holding a ladder. Jimmy ran the barricade, but Kofi was ready for him as he tossed a ladder at Jimmy. Kingston set up a ladder bridge from the apron to the barricade. Kingston set up Jimmy on the ladder, Morrison went up top, Kingston tripped him up and JBL talked about how these guys were beating the hell out of eachother. Kingston climbed up top while Morrison walked across the top across the ring to Kingston and Morrison hit a Spanish Fly on Kingston into the ring. Jimmy hit an Uso Splash on Morrison and all three guys were down selling.
Jimmy tried a slow climb, Kingston went after him and Jimmy managed to punch him down. Kingston climbed up the inside of the ladder for some reason, then he knocked Jimmy down with punches and Kofi was near the top of the ladder. Morrison was there with punches to slow down Kingston, but Kofi managed to knock him down. Kingston jumped off the ladder near the top of it and he hit a double foot stomp to the upper chest of Morrison. That was an impressive spot. Jimmy brought another ladder into the ring, it was bridged to the ropes and the other ladder and Jimmy sent Kofi face first into the ladder. Jimmy trash talked Kofi saying he flattened his face like a pancake. Morrison jumped off a ladder right into a superkick by Uso. Jimmy was on top of a ladder, Morrison shoved it and Jimmy bumped over the top all the way to the floor. They didn't show Jimmy's landing, but Jimmy was out on the floor. There may have been a crash pad or something and then they could edit it out. I don't know if they did that, but it's possible. Morrison was all alone in the ring as he slowly climbed up where the ladder bridge was. Morrison was near the top, he held onto the base that the ladders were on, but he couldn't reach because Kingston stopped Morrison's climb. Jimmy got back into it with a second ladder side by side. All three guys were holding the apparatus and all three guys held the hanger that was holding the two titles. Jimmy and Kingston each headbutted Morrison and Morrison took both titles down, so Morrison wins the match at 18:30.
Winner: John Morrison (Morrison and Miz remain Smackdown Tag Team Champions)
Analysis: **** This was a great match with plenty of fantastic spots and it was exciting the whole way. They did some unique stuff in there while wrestling at a fast pace as well. Morrison's win came off as a cheap victory because he took a bump while he won, but I don't mind it because it shows how close it was. Kingston was incredible with some of the high spots he did, Jimmy showed us he could be an awesome singles wrestler if given the chance (I like him in a team) and Morrison may have had the best performance of the three. I really liked the match a lot. If there were fans it would probably be better, but it was still a lot of fun to watch. Nice job by all three guys. It's still weird that a triple threat singles match was for the Tag Team Titles, but they made the best of a tough situation.
(Poor Jimmy Uso tore his ACL in this match and missed about a year of action. These guys had the best match in a ring at WrestleMania 36.)
Morrison was down on the mat selling the beating while holding the two titles. There was a replay of the finish. Kingston and Jimmy were frustrated in the ring.
A WWE Network commercial aired.
There was a video package to set up Seth Rollins vs. Kevin Owens, which is up next. This has had a long build on the Raw brand.
Seth Rollins entered first for his match in all white gear. I saw him in an interview once saying Vince McMahon didn't like him in white gear, so maybe he got to do it here to be different since it's WrestleMania. I can remember Rollins in white gear at SummerSlam in the past. Anyway, Kevin Owens was up next as the babyface in his KO-Mania IV shirt.
Kevin Owens vs. Seth Rollins
Owens was aggressive with punches and kicks. Rollins had "Monday Night Messiah" on his tights. Owens with a clothesline followed by two senton splashes so Rollins bailed to the floor. Owens with a chop followed by a whip into the barricade two times. They battled on the apron with Owens countering a powerbomb attempt with a back body drop on the apron, which is the hardest and a Falcon Arrow slam on the apron. Rollins hit a suicide dive on Owens into the barricade. Owens got a punch to knock down Rollins briefly in the ring, but Rollins came back with the Slingblade neckbreaker. Rollins worked over Owens with kicks to the back. Rollins trash talked Owens saying that KO things he was the one to burn it down at WrestleMania and Rollins hit a kick to the gut. Owens avoided The Stomp two times and hit a kick to the gut followed by a DDT. Rollins missed a corner splash because KO moved, Owens with a superkick and a cannonball attack against the turnbuckle. Owens went up top with a Senton Bomb for a two count. They each reversed some signature moves, Rollins hit an enziguri and Owens bounced off the ropes with a clothesline. Owens set up Rollins for a superplex, Rollins gouged the eyes and Rollins hit a Buckle Bomb into the turnbuckle. Rollins with two superkicks, Rollins into the ropes and Owens hit a Popup Powerbomb into a pin attempt for a two count because it's not his finisher anymore. They left the ring, Rollins hit Owens with the ring bell and Owens was announced as the winner by disqualification after about 10 minutes.
Winner by disqualification: Kevin Owens…but wait there's more
Owens grabbed the microphone and said that those weren't the actions of a God, they were the actions of a little bitch. Owens wanted Rollins to finish this once – he said no disqualification and no rules.
The match restarted with Rollins hitting Owens with a knee. Rollins sent Owens into the barricade. Rollins hit Owens with the top half of the steel steps. Rollins grabbed a steel chair at ringside and he hit Owens in the body three times. Rollins told the referee he can do whatever he wants. The chair shots were very loud in the empty arena. Owen came back with the ring bell in the head two times. Rollins was laying down on the announce table. Owens climbed up the WrestleMania sign that was above the announce table and he jumped onto Rollins with an elbow drop/senton splash that drove Rollins through the table. That was an impressive leap! When Owens climbed up he said: "How's this for a WrestleMania moment?" That was awesome. They were down selling the big spot as you would expect. Owens sent Rollins back into the ring and Owens hit the Stunner with Rollins selling it down by collapsing. Owens covered Rollins for the pinfall win at 17:20 after the match began.
Winner by pinfall: Kevin Owens
Analysis: ***3/4 This was a very good match with the big spot by Owens really standing out as a big moment in the match. They set it up well with Rollins getting disqualified on purpose, Owens wanting to keep fighting and finding a way to win makes him the kind of likable babyface that you want to root for. I picked Owens to win because it just made sense in the storyline to have Owens get the victory that he needs to give him momentum as a babyface. They worked so well together.
(A big and meaningful win by Owens. It was part of the story to mention that Rollins had a lot more success at WrestleMania and Owens beating Rollins here meant a lot to KO. That memorable dive off the set by Owens was a highlight for sure.)
OH MY MESSIAH!!!! 😱#WrestleMania@WWERollins@FightOwensFightpic.twitter.com/pKxa9daB7P

— WWE (@WWE) April 5, 2020
Rob Gronkowski and Mojo Rawley were on the balcony. R-Truth showed up with the 24/7 Title saying that this thing has been giving him problems. Truth said he can't go to picnics, church or cookouts. Truth asked if he can chill there for a little bit. Gronk knocked Truth down, but then Mojo shoved Gronk away and Mojo pinned Truth to win the 24/7 Title again.
Paul Heyman was interviewed by Charly Caruso in the backstage area. Heyman said that Drew McIntyre is 24 hours away from being a wannabe that can't beat Lesnar. Heyman said for 20 years, he has accurately conveyed to the world just how unique Lesnar truly is and how once-ever Lesnar truly is. Heyman said that Lesnar is a super being, he's not even our species and McIntyre is going to learn that in 24 hours. Heyman uttered some of his favorite phrases describing Lesnar while saying that Brock was the greatest title holder that has graced a WWE ring with his mere presence and he let us know his name is Brock Lesnar.
The announcers plugged night two WrestleMania matches: Lesnar vs. McIntyre for the WWE Title, Edge vs. Orton, Otis vs. Ziggler, Black vs. Lashley, Bayley vs. Banks vs. Tamina vs. Evans vs. Naomi for the Smackdown Women's Championship, Ripley vs. Charlotte for the NXT Women's Championship, Street Profits vs. Garza/Theory for the Raw Tag Team Titles and The Fiend vs. John Cena in a Firefly Funhouse Match. I assume Lesnar vs. McIntyre goes on last.
Braun Strowman entered as the challenger for the Universal Championship as the replacement for Roman Reigns. Goldberg was next as the Universal Champion with his white beard.
Universal Championship: Bill Goldberg vs. Braun Strowman
Goldberg with a kick to the gut, Goldberg charged, Strowman moved and Goldberg hit the turnbuckle. Strowman went for the Powerslam, Goldberg got out of it and Goldberg hit a Spear. Goldberg hit two more Spears leading to a two count. Goldberg with a fourth Spear. Goldberg went for the Jackhammer, but Strowman countered into a Powerslam. Strowman hit a second Powerslam, then a third Powerslam and he wanted Goldberg to get up for more. Strowman hit a fourth Running Powerslam and Strowman pinned Goldberg to win the title at 2:10.
Winner by pinfall AND NEW Universal Champion: Braun Strowman
Analysis: * A quick match as expected whenever Goldberg is out there because WWE knows it's for the best. They hit big moves, Strowman kicking out of the Spears was a good sign and Strowman hitting his finisher four times was the right way to put him over in a big way. Strowman won the Universal Championship after not even being booked in a match on this card and only because Roman Reigns was removed from the show. I don't mind it because I'm so tired of Goldberg matches and Goldberg winning titles, so I'm all for a title change.
Braun Strowman celebrated with the Universal Championship. It is Braun's first time winning a major title in WWE.
Analysis: I didn't predict a Strowman win because I thought WWE might want to have Reigns beat Goldberg down the road, but I am certainly fine with Strowman winning.
(Good for Braun. I think I figured Reigns would be back soon. Reigns didn't come back until SummerSlam 2020, so it was over four months away. I was happy for Braun winning his first major title in WWE.)
A commercial aired for next year's WrestleMania in Los Angeles at the new SoFi Stadium that will be the home of my LA Rams and the LA Chargers. Here's hoping we can get back to "normal" by then with fans in attendance.
A video package aired for AJ Styles vs. The Undertaker, which is the main event of this first night of WrestleMania.
AJ Styles arrived in a hearse and got out of a casket as if it was no big deal. The Undertaker arrived on a motorcycle while Metallica's song "Now That We're Dead" played. It was pretty cool.
The legacy continues. @WWE superstar The @Undertaker walked out to "Now That We're Dead" on @WWENetwork! pic.twitter.com/mC4hCGLpOm

— Metallica (@Metallica) April 5, 2020
Boneyard Match: The Undertaker vs. AJ Styles
Styles trash talked Undertaker by calling him an old man and asking if Michelle McCool let Undertaker out this late. Undertaker whipped Styles into the back of the hearse and the casket. This was filmed in a cinematic way like a TV show or movie. Undertaker tried an attack by the car, but Styles moved and Undertaker hit his arm against the car window, so there was a cut on Undertaker's arm. Undertaker tossed Styles onto the glass of the hearse. They brawled on the hearse with Undertaker beating him down with punches while telling Styles not to talk about Taker's wife again. Styles got some momentum going with punches followed by a kick to the groin. Styles worked over Undertaker with punches by a grave that had a hole, but Undertaker came back with a punch of his own. Undertaker with a punch that led to Styles falling into a grave. That's when Luke Gallows and Karl Anderson showed up to help Styles, so Undertaker walked over towards them. There were six guys dressed like druids that were there to support Gallows and Anderson as well, so Undertaker was outnumbered in a big way. Undertaker beat on those guys with punches and kicks, but Gallows/Anderson beat on Taker with punches and kicks. Undertaker managed to fight back with punches to take down Gallows and Anderson. Taker used a shovel handle to hit Anderson and he also hit Gallows. Styles showed up with some object that he used to hit Undertaker from behind to knock him down. Styles told Taker that Michelle never should have let him out. Styles worked on Taker with punches. Styles told him to give up or retire already. Styles charged at Taker and he tackled him through a wooden fence that was where they were. Undertaker was down groaning and selling the attack. Undertaker gave Styles the middle finger with Taker sounding like he was out of breath. Styles said he thought Taker was an American Badass, but now he looks like a broken down old bitch. Taker was groaning a lot as Styles got a shovel in his hands. Styles hit Undertaker in the back with a shovel and Undertaker fell into a grave. Styles: "Ashes to ashes, dust to dust." Styles got into a tractor and he was about to dump something on him, but then there was The Undertaker standing behind him. The power of pre-tapes strikes again.
Undertaker chased after Styles, who climbed up a ladder to get onto the roof of some building at the cemetery. Taker lifted up his arms and there was fire behind Styles. When Styles charged at him, Taker decked him with a kick. Gallows and Anderson were back up so Undertaker punched them to knock them down. Taker threw Gallows off the roof onto the ground. Undertaker gave Anderson a Tombstone piledriver on top of the house. Styles wondered how he was coming back, Styles with punches that Undertaker didn't sell and Undertaker gave Styles a Chokeslam off the roof onto some wooden pallet material below. Undertaker asked Styles what's his wife's name? Styles didn't speak. Taker asked how old he is and asked Styles if he knows how old Taker is. Taker told him that they're not done yet, they're just getting started. Taker put Styles on his shoulders while saying that Styles is a lot tougher than he gave him credit for. Styles said he was sorry, so Taker asked what he was sorry for. Styles told him not to bury him. Taker told him to go out like a man. Taker told him he put up a hell of a fight and he gave Styles credit for fighting his ass off. Taker hugged him saying there's a lot of people who can't give him that fight. Taker looked like he was about to leave, but he turned back around and kicked Styles into the grave. Taker got into the tractor or whatever it is and he dumped the dirt onto Styles in the grave. Undertaker removed a cover on the headstone that said "AJ Styles 1977-2020" on it. They showed Styles in the grave with a glove on. This whole thing went about 19 minutes.
Winner: The Undertaker
Analysis: I don't think I can rate this like a regular match. If I did maybe it would be around **** or so, but it's hard to rate like that. There was a lot to that Boneyard match. It was shot like a movie scene and you can't compare it to a regular match. I thought it looked pretty cool. The story saw Styles dominate some of it, Undertaker looked like he was done, then due to the magic of editing he was there to keep attacking Styles. That led to Taker beating up Gallows and Anderson as well. It was different than anything WWE has really done in the past and I don't know if every WWE fan is going to like it. I liked it for the most part. It was creative, but it worked in terms of the story they were trying to tell. I just can't sit here and say three stars or whatever because it's unlike any pro wrestling "match" I've ever seen before. What I could criticize is that the world is dealing with a health crisis right now and a lot of deaths are being reported on a daily basis, so it's not easy to watch a match where the idea is to bury somebody. It's pro wrestling, though, so I'm not going to get too worked up about it. I really liked the presentation of this as a different kind of match.
The Undertaker put his bandana back on, he got back to his motorcycle and he left as the winner. Undertaker held his right hand up as some fire went off along with the Undertaker symbol. A Metallica song played as he drove away. That was the end of this part of WrestleMania.
Analysis: That final scene looked cool. The American Badass version of Undertaker showed up, kicked some ass and left triumphantly just as he walked in.
(A lot of people loved this and with good reason. While I wouldn't call it a Match of the Year contender or anything like that, it was very good for what it was presented as, which is like a cinematic fight. I don't see how you can rate it compared to a match when we learned that it took them eight hours to do this. You can't compare that to a live match in a ring. Anyway, I did enjoy this a lot and it made sense for Undertaker to win. It would end up being Undertaker's last match…if you want to call it a match.)
This first part of Wrestlemania had a run time of 2:58:57 on WWE Network.
Five Stars of the Show
John Morrison/Kofi Kingston/Jimmy Uso
The Undertaker
Kevin Owens
AJ Styles
Seth Rollins
Final Thoughts
I'll rate this part of WrestleMania a 7.25 out of 10.
I enjoyed the show with the ladder match standing out as the best match with Owens/Rollins right there beside it. I'm also happy for Braun Strowman winning the Universal Championship because I thought it was something he should have won three years ago, so to see it happen for him now is cool. The Undertaker/Styles Boneyard Match at the cemetery was like a cinematic fight sequence rather than a regular match, so I can't compare it to a wrestling match. I thought it was very creative and well done.
The rest of the matches were just okay with the Women's Tag Team Title match actually being a bit better than Lynch/Baszler or Zayn/Bryan. I didn't expect that before the show, but it helped that the Women's Tag Team Title match got more time.
Overall, I enjoyed the presentation of this first night of WrestleMania. It's not easy without a crowd and I know some fans are going to hate it, but I think we have gotten used to it as fans. Is it better than a wrestling show with fans? Absolutely not. I'm just saying the wrestlers deserve credit for telling their stories in the ring in an entertaining way even with the fans not there.
WRESTLEMANIA 36 NIGHT TWO
Kickoff Show Match: Natalya vs. Liv Morgan
There's no storyline for this. Natalya got a rollup pin where she sat on top and Morgan kicked out. Morgan managed to trip up Natalya, but Natalya pushed her back. Morgan with a kick to the ribs and she sent Natalya into the turnbuckle followed by some ass slapping with Tom Phillips saying it was mind games. Slapping your own ass is mind games now? Odd. Natalya sent Morgan into the turnbuckle, Natalya with a suplex off the ropes, Natalya stepped on the back and hit a low dropkick for two. Morgan choked Natalya across the top rope, Natalya missed a shoulder tackle, Natalya with a kick and discus clothesline on the apron to send Morgan to the floor. Natalya with a snap suplex. Natalya did the surfboard submission on Morgan, who was screaming and saying "no" because she didn't give up. Morgan got back into it with a jumping knee to the face for a two count. Natalya with a slam that sent Morgan face first into the canvas for a two count. Morgan with an inside cradle for two followed by a step up enziguri. Morgan countered a suplex into a two count, Natalya countered that into a two count and then Morgan rolled through while sitting on top for the pinfall win at 6:29
Winner by pinfall: Liv Morgan
Analysis: **1/4 It was okay with Morgan getting a victory over the veteran Natalya, so it's one of the bigger wins Morgan has had as a singles wrestler. Natalya controlled most of it with Morgan winning in a way that showed it was close. It's tough to do a match with no story, but they got through it fine.
Now let's get to the main show.
WWE WrestleMania 36 (Night Two)
From WWE Performance Center in Orlando, Florida (mostly)
Sunday. April 5, 2020
The show began with Stephanie McMahon welcoming us back for night two of WrestleMania while noting that the superstars are performing on a closed set. It's time for night two of WrestleMania.
The same opening video package that aired yesterday is also airing tonight. I'm sure somebody is complaining about that somewhere. Not me. Early bathroom break.
Rob Gronkowski is the WrestleMania host again as he appeared on the podium to say WrestleMania continues right now. Whatever they are paying him it's too much.
Charlotte Flair made her entrance in one of her robes and she's got the purple gear on tonight. The Raw announce team of Tom Phillips and Byron Saxton was there to call the match. The video package aired for Flair challenging Rhea Ripley for the NXT Women's Title.
Rhea Ripley made her entrance as the NXT Women's Champion. This is Ripley's first WrestleMania match along with the first time an NXT title has been defended at a WrestleMania. Ripley has different gear on because it's white and blue instead of the usual all black attire that she wears.
NXT Women's Championship: Rhea Ripley vs. Charlotte Flair
Flair was aggressive early on by sending Ripley into the turnbuckle followed by chops to the chest while Flair trash talked her. Ripley managed to come back quickly with the Riptide (pumphandle slam) for a two count. That is Ripley's finisher that people don't get kick out of usually, but Flair did that two minutes into the match. Flair left the ring, Ripley went after her and Flair got the upper hand with stomps while Ripley was trying to get back into the ring. Ripley kicked Flair and grabbed her by the hair to send Flair to the floor. Flair sent Ripley into the steel steps, Ripley with a back elbow and Ripley hit a flipping dive onto Flair on the floor. Back in the ring, Ripley hit a dropkick followed by shoulder tackles to the ribs. Ripley stomped on Flair to keep her down followed by a suplex for a two count. Ripley grounded Flair with body scissors around the waist. Ripley kicked Flair to the apron, but when Ripley tried to follow with a kick, Flair stretched the left leg against the top rope. That led to Flair taking control with stomps on the left leg. Flair kicked the left leg while it was against the ropes. Flair was trash talking as she drove Ripley's left knee into the mat twice. Ripley with a slap, so Flair kicked her in the knee again. Lots of screaming from Ripley. Flair whipped Ripley's left leg into the ring post repeatedly. Flair continued the attack on the left knee in the ring, but then Ripley got a rollup. Flair managed to get back up to her feet followed by a kick to the body. Ripley picked up Flair and planted her front first (chest first in Flair's case) into the mat. That allowed Ripley to recover a bit. Flair said she never stops or gives up as they exchanged strikes. Flair with a chop, Ripley came back with knee strikes using the good right knee and a kick. Ripley with a kick to the side of the body followed by a dropkick. Flair sent Ripley to the apron followed by another kick to the leg to knock Ripley to the floor. Flair was laughing about it.
Flair went up top, Ripley to the apron and Ripley kicked her in the face. Ripley put Flair on the shoulders and slammed Flair front first into the mat for a two count. Ripley grabbed Flair by the waist, Flair with a back elbow and Flair with a forearm to the face. There's a lot of screaming in this match. We can hear it more due to no fans. Ripley kicked Flair away and went up top with a missile dropkick for two. Ripley charged, boot by Flair and a chop block to the back of the left knee. There's a lot of grunting and screaming going in that is very distracting. Flair dropped her knee onto the left knee of Ripley. Flair went for a move, Ripley took her down using her feet and Ripley stomped on Flair. Ripley with the Standing Cloverleaf submission, Flair crawled towards the bottom rope and Ripley pulled her back. Flair got out of the hold followed by a kick to the face. Flair went for the Figure Eight submission, but Ripley kicked her back. Flair got a flipping pin attempt for two with Ripley kicking out, so Flair slapped on a Boston Crab submission. Ripley countered it into a pin, both women each got two more nearfalls and Ripley with a kick to the arm. When both women got back up, Ripley came back with a boot to the face for two. They battled on the turnbuckle with Flair blocking a superplex attempt and sending Ripley onto the mat. Flair went up top and she missed a moonsault with Ripley hitting boots to the face. Ripley charged, but Flair hit a Spear for a two count. Ripley came back with a two count of her own. Flair slapped on a Figure Four Leglock and then she turned it into the Figure Eight submission. Ripley was screaming and then Ripley tapped out to give Flair the win. The match went 20:30.
Winner by submission and NEW NXT Women's Champion: Charlotte Flair
Analysis: ***1/2 I thought it was a very good match that went a bit long, but they told a nice story throughout the match. Flair worked over the left knee for more than half the match, Ripley kept coming back and I thought Ripley would find a way to win in an almost upset manner, but instead it's Flair getting another title. Does Flair need another title reign? No, but WWE loves pushing her. They can probably build to a rematch with Ripley getting the title back or maybe somebody else can get it because I doubt Flair will be on NXT for a long time in her career. The screaming and groaning was very distracting. I don't know if they are both just used to that and we rarely hear it due to fans in the building. It just sounded so loud that it felt like too much at times.
(A pretty good match. I mentioned the groaning because it was noticeable. When there are no fans, you are going to hear a lot more of that. I didn't like the decision of Charlotte winning the title. I thought it would have been better if Ripley beat her. Charlotte ended up losing it in a three way with Ripley and Io Shirai a few months later with Shirai being the new champion.)
Flair celebrated with the NXT Women's Title. It's her second time winning that title in her career.
There were commercials for WWE's Netflix movie The Main Event and WWE Shop.
A video aired showing highlights of night one of WrestleMania.
Aleister Black entered for his match followed by Bobby Lashley with the "wife" Lana joining him. There's no storyline for this match.
Aleister Black vs. Bobby Lashley (w/Lana)
Black tried a takedown, but Lashley powered out of it. Black sent Lashley out of the ring, Black tried a moonsault on the floor, Lashley moved and Lashley hit an overhead belly to belly suplex on the floor. Black sent Black into the barricade. Back in the ring, Lashley drove Black into the turnbuckle. Lashley with a running shoulder tackle followed by a neckbreaker. Lashley went for a stalling suplex, Black with a knee, Black to the apron and a hard kick to the chest by Black. Black went up top, charge by Lashley and Lashley hit a powerslam for a two count. Lashley kicked Black while against the ropes followed by a suplex for a two count. Lashley charged and Black hit a knee to the face for two as Lana screamed at ringside. We already have had enough screaming on this show. Black kicked the legs of Lashley, then he sent Lashley out of the ring and Black hit a moonsault off the turnbuckle onto Lashley on the floor. Back in the ring, Lashley with a running cross body block and a clothesline for two Lashley picked up Black going for a power move, but Lana told him to spear him. Lashley charged in and Black hit the Black Mass kick for the pinfall win at 7:20.
Winner by pinfall: Aleister Black
Analysis: **1/2 It was a basic match with Lashley controlling about 80% of the match until Black found a way to get the win. The story is that Lana cost Lashley the match by telling him to do a move that set up the Black Mass kick. In other words, Lana is a terrible manager. I don't know if that's going to lead to a breakup angle, but they could be planting the seeds for that. Black getting the win makes sense since he has been booked as an unbeatable singles wrestler and I'm glad that continues for him.
There was no post match angle with Lashley and Lana about the loss. Black just celebrated the win.
Bayley and Sasha Banks were interviewed backstage by Kayla Braxton. Bayley complained about being in a 5-Way Elimination Match and people trying to drive a wedge between Bayley and Banks. Bayley said they're united, they're best friends and there's nothing that's going to stand between them. Bayley said this interview is over. Braxton asked how badly Banks wants to win and Banks said we'll have to watch and see.
A commercial aired for the Money in the Bank PPV on Sunday, May 10.
A commercial aired for Total Bellas. Terrible acting. Poor Daniel Bryan.
(I think I wrote "poor Daniel Bryan" almost every time there was a Total Bellas commercial during the show's run. I truly felt sorry for the man being on that show.)
There was a clip from yesterday when Mojo Rawley pinned R-Truth to win the 24/7 Title to prevent Rob Gronkowski from winning the title.
Gronkowski was on the podium with Charly Caruso, who asked Gronk about what happened. Gronk said he won three major championships in his life, but that's in the past and he wants to win the 24/7 Title by the end of the night. Caruso wished him good luck with that and he said thanks.
A video package aired for the Otis/Mandy/Ziggler/Sonya story.
Dolph Ziggler made his entrance joined by Sonya Deville. This Otis vs. Ziggler match was called "one of the most personal matches in WrestleMania history" by Michael Cole. That's way over the top, but I guess that's usual. The story is that Sonya is the one that took Mandy's phone to tell Otis that she would be late for the date that Otis had with Mandy, so now Sonya is an ally of Ziggler. Otis made his entrance alone.
Dolph Ziggler (w/Sonya Deville) vs. Otis
Otis with a shoulder tackle, then a corner splash. Otis charged, Ziggler moved and Otis hit the turnbuckle. Ziggler hit Otis with a superkick to send the big man Otis out of the ring. Ziggler whipped Otis into the ring post, Ziggler told Otis he will never beat him and Ziggler got a two count when they went back into the ring. Ziggler did some choking by the ropes along with some eye gouging and a neckbreaker. Ziggler hit an elbow drop on Otis for two. Ziggler slapped on a chinlock with leg scissors to ground the big man. Ziggler kicked the knees of Otis, but then Otis caught Ziggler leading to a catapult by Otis that sent Ziggler into the turnbuckle. Otis did his hulking up routine by shaking his below as he no sold punches and hit a lefty clothesline. Otis with a body slam. Otis whipped Ziggler into the turnbuckle two times. Otis whipped Ziggler into the turnbuckle again with Ziggler taking the bump sternum first. Otis with a fallaway slam on Ziggler to send him over the top to the floor. Otis whipped Ziggler into the barricade and ring post. Back in the ring, Otis picked up Ziggler leading to a front slam. Otis did the Caterpillar, but then Deville was on the apron and Ziggler kicked Otis in the groin from behind. The referee never saw it because Deville was there. That was the cue for Mandy Rose to show up as Rose went down to ring in her gear. Rose slapped Deville and sent her into the ring. The referee was distracted by Deville, so Rose hit a low blow on Ziggler. Otis hit the Caterpillar into the elbow drop for the pinfall win at 8:15.
Winner by pinfall: Otis
Analysis: *1/2 It was just a decent match to put an end to this storyline with Otis getting the win thanks to Mandy getting revenge on Ziggler and Deville. It makes sense in the storyline with the babyface Otis getting the win. The Caterpillar into an elbow drop is one of the weakest finishers there is, but the move is popular when there are fans there.
After the match, Mandy went into the ring and hugged Otis. Mandy's outfit was tremendous. Otis picked up Mandy in his arms and she kissed him on the lips. Otis left with Mandy to end it.
Analysis: Congrats to Otis on the post match kiss, you lucky bastard. That is not social distancing! Just saying. I think if this was done in front of a crowd it would have got a huge ovation from the fans that love Otis. It still worked fine, but it's tough without fans there.
(My favorite outfit at WrestleMania belongs to Mandy Rose. Just saying. Anyway, this was actually a good long-term storyline. I think the fans would have loved it if there was a crowd.)
A commercial aired for WWE Network shows. I watched the WWE 24 episode with Edge earlier in the day and it was amazing. I highly recommend it.
The video package aired for Edge vs. Randy Orton. I think this match has the best build of any match at WrestleMania this year.
Edge made his entrance first for his first WrestleMania match since WM27 nine years ago in Atlanta. I was there for that match. Randy Orton's music hit and Edge looked at the entrance, but there was no sign of Orton. While Edge was looking at the stage, Orton snuck in in all black gear and hit an RKO out of nowhere. The replay showed that Orton was disguised as a cameraman. The referee told Edge to get to his feet and they'll start the match. That's when the bell rang.
Analysis: That was a creative way to begin with Orton doing a cheap tactic to start the match.
Last Man Standing Match: Edge vs. Randy Orton
The winner of this match must incapacitate their opponent so that they can't answer a ten count.
Edge got up, he tried throwing a punch, Orton moved and Orton hit Edge with a second RKO. The referee counted Edge down, so Edge left the ring and stood on his feet at the count of nine, so that was enough to say that Edge was back on his feet. Orton hit Edge with a camera to knock Edge over a barricade as the referee counted Edge down again, but Edge got back up at eight. They went brawling into the backstage area of the WWE PC with Orton punching Edge repeatedly. They went into the gym area where the equipment was as Orton rammed Edge's head into a table. When Edge got back up, Orton beat him up again. Orton used some equipment to wrapped around Edge's neck. Orton worked over Edge with punches and Edge got back up again. Orton wanted to attack again, but Edge kicked a weight onto Orton to knock him down. Edge sent Orton's head into a table followed by punches. Edge worked over Orton with forearms while on a chair and Edge did a pull up on a bar leading to Edge jumping onto Orton. Edge with a running double axehandle. Edge yelled "nine years, Randy" at him and Orton managed to whip Edge into a wall. Orton noticed a sled nearby, so Orton slid it across the ground and towards Edge, but Edge moved out of the way. Edge whipped Orton into an equipment crate that was there. They walked back into the production area and then Edge whipped Orton into a steel garage door that was. Orton got back up to stop the referee's count. They were back to a part of the building that was back near the ringside area. They were on a platform that had some spotlights and Orton tossed Edge off a stage about five feet high, right into a barricade at ringside. The referee counted Edge down with Edge getting back up at nine.
Orton continued the attack with punches and Edge stumbled into the backstage area again. Orton took Edge out a door as they went into a hallway where Orton sent Edge's back into a window. Phillips said they were near a main office in the PC as Edge got back at six. Orton whipped Edge into a wall and they went into the main office area. Edge sent Orton face first into a big desk that was in the room. Edge sent Orton into a wall and Orton was down for a count of nine when he got up, so Edge kicked him in the ribs. Edge tossed Orton onto the huge table that is steel or aluminum or some material like that. Edge managed to hit an elbow drop with both guys selling it. Orton with a thumb to the eye followed by Orton whipping Edge into two posters and a camera guy took a bump after Edge went into him. They were in a storage facility according to Phillips as they continued to exchange punches. Edge sent Orton into a ladder. Orton slowed down Edge and then sent him into a storage cart. They found some steel chairs back there with Orton tossing them away. Orton sent Edge face first into two layers of steel steps that were back there. Edge got back up at nine with Orton continuing to attack with punches. They went to an area backstage where interviews are conducted as Orton stomped on Edge's hand and raked the boot against the eye. Edge sent Orton into an equipment case followed by punches and a kick to the ribs. Edge picked up Orton and hit him with a forearm to the head. Edge with a knee that set up Orton on a table. There was a ladder nearby, so Edge did a slow climb onto a platform that was about ten feet high. Edge stood up and jumped off with an elbow drop that put Orton through the table. Both guys got up at the count of eight. Orton had a cut the back of his left shoulder. Orton with a kick to the gut and a forearm to the back.
They continued to fight backstage with Orton hitting a forearm and sending Edge into the back of a truck. Edge got back up before ten, so Orton slammed him repeatedly in the back of the truck. They were on the hood cover the back of the truck and then Edge went on top of the truck. Orton gave Edge a DDT off the hood of the truck onto the truck cover on the bed of the truck. The referee checked on Edge instead of counting right away. The referee started the count as both guys managed to get back up around five. Edge climbed up some equipment boxes and onto a big truck that had NXT on the side of it. The referee followed Edge up there and Orton joined them on top of the truck. Edge was on all fours on top of the long truck, so Orton charged teasing The Punt, but Edge came back with a Spear while they were on the truck. Orton was down selling it while the referee counted them down, Edge got back up first and Orton was back at eight. Edge charged again and Orton hit him with a RKO on top of the truck. Orton got off the truck, Edge got back up at nine and then stumbled back down, but it was enough to break the count. Orton grabbed two steel chair and brought them on top of the big truck that Edge and the referee were on. Orton hit Edge in the back with the steel chair. Orton placed a chair under Edge's head and Orton grabbed the other chair to set up for the Conchairto while the referee told Orton not to do this. Edge got back up with the head/arm choke to choke Orton out on top of the truck they were standing on. Edge choked Orton out so that Orton's head was on the chair that was on the truck. Edge grabbed the other chair and he told the referee not to "fu**ing count" and the swear word was bleeped. Edge looked distraught with tears in his eyes as he held the chair above Orton and Edge gave Orton a Conchairto on the truck. The referee counted Orton down for 1…2…3…4…5…6…7…8…9 and 10. Edge wins the match. It went 36:35.
Winner: Edge
Analysis: **1/2 This was a very long match that went way longer than it needed to be. It was a brawl all around the building with Edge making the big comeback to get the win as expected. There wasn't one guy that dominated the match in terms of offense, but I thought they really hurt the match quality by going so long. If this was more of an exciting, fast paced style brawl that was closer to 15-20 minutes then it would have been a lot better. I really liked the start of it with Orton jumping Edge early with two RKOs, but then they left the ring and it became a standup brawl with weapons, then guys breaking the count and it just kept going. I think the match was hurt a lot by the stipulation because if this was Last Man Standing with fans then they could play off the crowd. Since they were unable to do that, it was a lot more difficult to get into it. I thought Edge should win due to the revenge factor, so it was the right match result.
(It was too long. I remember Edge not liking when people complained about that, but do you really need 40 minutes when there's no fans or reactions? I would go with a shorter match and it would have been better. Their next match at Backlash was billed as the "greatest wrestling match ever" and it was a lot better than this.)
The action in the arena picked up with Mojo Rawley getting chased by a bunch of wrestlers. Rob Gronkowski was on top of the podium in the building and he jumped onto all the wrestlers to knock them down. Gronk pinned Mojo to win the 24/7 Title and Gronk left as the champion.
Analysis: My interest in the 24/7 Title is very low. I don't really care too much about it.
A commercial aired for the WWE 24 special on Edge that's on WWE Network now.
It's time for the Raw Tag Team Championships. There's no storyline here with the news being that Austin Theory replaces injured Andrade in this match.
Raw Tag Team Championships: The Street Profits (Montez Ford and Angelo Dawkins) vs. Angel Garza and Austin Theory (w/Zelina Vega)
Dawkins with a running shoulder tackle on Theory. Street Profits sent the opponents out of the ring. Theory managed to avoid an attack from Dawkins and he sent Dawkins over the top to the floor. Garza with a superkick on Dawkins on the floor. Garza tagged in with a dropkick on Dawkins. Theory back in with a rolling dropkick on Dawkins. Dawkins managed to escape from Garza and Ford tagged in. Ford with a leap over Garza followed by a leaping clothesline and a standing moonsault for two. Dawkins and Theory were out of the ring leading to Ford hitting a somersault dive onto Theory and also Dawkins on the floor. Garza went up top with a moonsault onto both Street Profits. Both of those big moves looked impressive. Back in the ring, Garza hit a moonsault off the middle ropes for a two count. Dawkins tagged in against Theory with Theory hitting a kick and then a TKO slam off the shoulders. When Theory tried to cover Dawkins, Ford jumped off the top with a Frog Splash on Theory and Dawkins covered Theory to win at 6:20.
Winners by pinfall: The Street Profits (Montez Ford and Angelo Dawkins)
Analysis: ** A short tag match with the champs retaining against challengers who are a makeshift team. There were some good high spots with the dives to the floor, but other than that it was a simple match. The finish was good with Ford hitting the Frog Splash leading to the Dawkins pin. I'm not surprised that Theory was the guy that got pinned in the match.
Post match, Garza with a dropkick to the back of Dawkins. Garza kicked Ford as the heels attacked and Vega hit a kick to the face of Ford. Bianca Belair went out to the ring to save her husband Ford and she attacked. Belair put Vega on her shoulders leading to the KOD slam to take out Vega. The guys went brawling to the back, so Belair danced over Vega. Ford celebrated with his wife and Dawkins to end it.
Analysis: That could lead to Belair being a new superstar on Raw to join husband Ford. That would make sense since Belair has been in NXT for a while and she can do more on Raw.
Titus O'Neil was in the suit and he said Gronk is gone with the 24/7 Title, so he's going to host now. Host what? There are three matches left. Anyway, Titus just said let's keep this party rolling.
A commercial aired for WWE Titles on sale at WWEShop.
The entrances took place for the Smackdown Women's Title 5-Way Elimination match. Sasha Banks was out first, Lacey Evans was next, Tamina was third, Naomi was next and then Bayley was last as the SD Women's Champion.
Smackdown Women's Champion 5-Way Elimination Match: Bayley vs. Sasha Banks vs. Lacey Evans vs. Naomi vs. Tamina
Tamina was attacked by all four women with Tamina shoving them all away. Tamina with punches for three women followed by an elbow smash on Evans. Naomi grabbed Tamina by the foot. Banks and Bayley with a double team dropkick on Tamina and Banks kicked Tamina out of the ring. Evans whipped Bayley into the corner, Banks to the apron and Banks sent Evans into the middle turnbuckle. Bayley with a running knee on Evans with Banks helping Bayley on the cover, but Evans kicked out. Naomi and Evans each hit clotheslines to knock down Banks and Bayley. Naomi and Evans each hit dropkicks. Evans and Naomi were in the ring and then Tamina went back in with clotheslines for both. Tamina with a running double clothesline on Bayley and Banks on the apron. Tamina tossed Evans and Naomi across the ring. Tamina with a running hip attack on Evans and Naomi against the turnbuckle. Tamina tried pin attempts with one foot on the chest. The referee stopped a count when Tamina had her had on the ropes and Cole was right to say that it was No DQ. Banks, Tamina and Naomi were in the ring together as they put their fists in the ring since they were a brief stable about five years ago. Tamina kicked Banks out of the ring and Naomi hit a stunner on Tamina. Evans moonsault on Tamina, who powered out of a pin attempt. Banks hit a 619 kick on Tamina and Bayley went up top with an elbow drop on Tamina. Banks with a Frog Splash off the middle rope on Tamina. Evans with a moonsault on Tamina and Naomi with a split-legged moonsault on Tamina. The four women covered Tamina to eliminate her.
Tamina has been eliminated
Analysis: They booked Tamina to be the dominant woman in the match and it was a good story leading up to her elimination.
Bayley and Banks went to the floor, which led to Evans and Naomi attacking, but Bayley was able to send Evans into the steps while sending Naomi into the apron. Banks and Bayley worked together as they sent Naomi into the turnbuckle. Banks missed a corner charge when Naomi moved and Naomi hit a double sunset flip on Bayley and Banks for two. Naomi with a running dropkick followed by a running slap. Naomi with a stunner on Bayley and a Rear View on Banks. Naomi with a springboard kick to the face on Bayley. Naomi with a Full Nelson Slam on Banks for two. Naomi slapped on a submission on Banks on the arms, but Bayley made the save. Banks with the backstabber into the Bank Statement submission and Naomi tapped out.
Naomi has been eliminated
Bayley told Banks that she was amazing and said that they are doing this. Bayley to Naomi: "Go dance to the back!" Bayley and Banks were trash talking Evans, who stumbled her way into the ring. Banks and Bayley hit a double team slam on Evans for a two count. Bayley charged saying this was for Summer (Lacey's daughter), Bayley with a running knee, Evans moved and Bayley hit Banks by accident. Evans got two rollups on Bayley and Bayley hit a knee to the face for two. Banks was back in the ring asking Bayley what the hell was that knee. Bayley said that it was a mistake and Banks told Bayley she's always had her back. Bayley shoved Banks out of the way of an attack and Evans hit Banks with a Woman's Right. Evans pinned Banks to eliminate her with Bayley staring right at it, so Bayley didn't try to help Banks at all.
Sasha Banks has been eliminated
Bayley and Evans were the final two women as Bayley hit an elbow drop for a two count. Evans went for a corner attack, but Bayley moved and Bayley sent Evans into the ring post. That got a two count for Bayley. Bayley put Evans up against the turnbuckle and used the tag rope to tag Lacey's right arm to the turnbuckle. Evans fought back with a boot to the fac and Evans untied her right hand. Evans with kicks to the ribs and a kick to the back of the neck. Evans with a corner splash on Bayley two times. Evans did a slow climb to the middle ropes, Evans did a military salute and Evans jumped to the top leading to a moonsault off the top for a two count. Banks went back into the ring with a Backstabber to Evans since there's no DQ and Bayley hit her front face slam into the mat. Bayley covered Evans for the pinfall win at 19:20.
Lacey Evans has been eliminated
Winner: Bayley
Analysis: **1/2 The champ retains the title thanks to Banks helping Bayley out even though Bayley didn't try to help Banks when she could have. The eliminations of Tamina, Naomi and Evans were booked well. The key thing in the match was when Bayley chose not to help Banks when she had the chance to do so. Banks didn't know that, though, so that can be revealed down the road as the story evolves. If there was a crowd I don't think they would have cared about the women other than Bayley and Banks here. It just wasn't that exciting to me.
Post match, Banks put the Smackdown Women's Title around Bayley's waist. Bayley celebrated with the title.
Analysis: They can do the Bayley/Banks split following this show after Banks realizes that Bayley didn't try to help her when she could have. They'll have great matches together with Banks likely in the face role.
(The Bayley/Banks split was saved until around SummerSlam time, which was fine. I liked their feud when it happened.)
A commercial aired for WrestleMania 37 on March 28, 2021 in Los Angeles.
The video package aired for John Cena vs. "The Fiend" Bray Wyatt in the Firefly Fun House Match.
John Cena made his entrance in the arena and he was looking around wondering what was going. Cena said "welcome to WrestleMania" as clips of past WrestleManias were shown until the Firefly Fun House graphic was on.
Bray Wyatt was in the Firefly Fun House with his puppets. Wyatt said there's a world where our darkest urges are no longer kept secret. Wyatt wondered who are we really and why do we do the things that we do? Wyatt told Cena he's going to face his most dangerous opponent yet…himself. Wyatt welcomed us to the Firefly Fun House and walked out the door.
Firefly Fun House Match: John Cena vs. "The Fiend" Bray Wyatt
John Cena was in his gear on the Firefly Fun House set. Ramblin' Rabbit was there said he saw Bray go through that door, so Cena opened the door and the Rabbit told him to be careful.
Cena was in some darkened area as a Vince McMahon puppet was there asking Cena if he had Ruthless Aggression. Vince told Cena to show him he had Ruthless Aggression or he's fired. Wyatt was in the ring doing the Kurt Angle speech from 2002 when John Cena answered the challenge. This led to Cena appearing in his 2002 gear. Cena kept saying "Ruthless Aggression" as Wyatt kept avoiding punches. Wyatt even sang the Bellas theme song briefly, which was funny. Macho Mercy and Mr. McMahon Bossman were on commentary. The Saturday Night's Main Event was shown. Bray Wyatt did a promo behind a steel cage doing a Hulk Hogan impression talking about his partner Johnny Largemeat saying that the ladies love him and the men want to be him. That led to Cena appearing while lifting weights. Cena kept pumping the weights. Wyatt said that Egomania has been running wild on Cena and he tossed Cena back into another screen.
It was time for Basic Thuganomics Cena to appear in front of the Smackdown fist. Cena did a rap to Wyatt in the ring with a joke about Husky Harris. Cena had a line about Wyatt blowing his chances. Wyatt said that he's had to earn everything he's been giving in life and they're still taking from him. Wyatt told Cena he's untouchable, but he's not a hero – he's a bully. Wyatt told Cena he's a horrible person that takes the weaknesses of others, he turns them into jokes and he does anything for fame while telling him he's the man now. Wyatt told Cena this was his last chance and said that the floor is yours. Cena fired up with a rap about "Deez Nuts" in your face, Cena charged, Wyatt moved and Wyatt punched Cena with a steel chain wrapped around his fist.
Bray Wyatt was in his old attire sitting in a cabin while sitting on a rocking chair from his first days in WWE. Wyatt said that Cena was supposed to be a man of the people, so why wasn't he listening? Wyatt said that they needed him, they wanted him and a prophecy fulfilled, but instead it's his grandest failure. Wyatt said now it's time to rewrite his own story. Wyatt ran at Cena with a splash against the turnbuckle. Wyatt danced around with Cena and he tried the Sister Abigail neckbreaker, but Cena stood up. Wyatt gave Cena a chair and told Cena that six years ago he made the wrong choice while telling Cena to fix it, so then Cena swung the chair and Wyatt moved.
There were WCW Monday Nitro graphics with Wyatt in the ring with a black and red New World Order shirt on. Wyatt introduced Cena leading to Cena entering to Hollywood Hulk Hogan music with Cena in an NWO black and white shirt The Vince puppet said: "This is such good shit!" It was not bleeped. Cena tackled Wyatt followed by punches. They showed images on the screen. Cena continued punching and he was punching one of the puppets. That's when The Fiend finally appeared.
The Fiend finally appeared as Cena turned around and The Fiend gave him the Mandible Claw. The Fiend held Cena as they played audio of Cena's promo against Wyatt. The Fiend hit the Sister Abigail on Cena followed by the Mandible Claw. Bray Wyatt appeared to count the pin to give The Fiend the win. When The Fiend stood up, Cena's body was gone. This whole thing went about 15 minutes.
Analysis: I'm not rating that with star ratings. It was not a match when you have The Fiend pinning Cena and Wyatt counted the pin. It was a very unique and different kind of situation just like the Boneyard Match was last night. I don't even think they took any real bumps there that you would see in a regular match because this was about the mind games from The Fiend. It almost felt like it was The Fiend giving Cena nightmares or something along those lines. It was stuff like Cena doing the NWO thing, so it showed what Cena would be like if he turned heel like Hulk Hogan did, for example. The videos seemed to be about things that Cena went through in his career and if he did things differently along the way (like hitting Wyatt with a chair six years ago). I thought it was pretty funny at times, ridiculous at other times and interesting for most of it. The Vince puppet saying "this is such good shit" and Bray singing the Bellas song at Cena were great moments. There's probably going to be a mixed reaction with some people hating it while others love it. The initial feedback I got on Twitter was that people liked it, so that's a good thing. I think the Boneyard segment was better than this because it felt like more of an actual match, but I think if I watched this again without writing a review I might like it more. If I gave it a letter grade then maybe go with a "B" for it.
(A very unique presentation. I liked it more the second time that I watched it. I also wouldn't call it a match.)
It was back to the WWE PC with Titus O'Neil saying "I don't know what I just saw." It was a 5-Hour Energy commercial after that.
A commercial aired for Money in the Bank.
The video package aired for Lesnar vs. McIntyre as the main event for the WWE Title.
The entrances took place for the main event with Drew McIntyre out first as the challenger. Brock Lesnar was next with his advocate Paul Heyman joining him. Mike Rome did the introductions. It was a surprise that Heyman didn't introduce Lesnar like he loves to do.
WWE Championship: Brock Lesnar (w/Paul Heyman) vs. Drew McIntyre
Lesnar attacked McIntyre with a kick followed by Lesnar driving McIntyre to the turnbuckle. McIntyre came back with a Claymore Kick. McIntyre went for the kick again, but Lesnar moved and Lesnar hit a German Suplex. Lesnar hit another German Suplex across the ring. McIntyre tried to fight off a suplex, but Lesnar hit another German Suplex. Lesnar picked up McIntyre and hit an F5 leading to McIntyre kicking out at one. That was impressive to see Drew kick out at one with Lesnar looking pissed off about it. Lesnar hit a second F5 on McIntyre with Drew kicking out at two this time. Lesnar picked up McIntyre on his shoulders followed by an F5 for the third time and McIntyre kicked out again. Heyman told Lesnar to keep doing it because McIntyre can't keep kicking out. Lesnar wanted another F5, McIntyre fought back by sending Lesnar into the ropes and he hit a Claymore Kick again. McIntyre hit a third Claymore Kick on Lesnar. McIntyre hit a fourth Claymore Kick while Lesnar was on his knees. McIntyre covered Lesnar for the pinfall win at 4:35 to become the WWE Champion!
Winner by pinfall AND NEW WWE Champion: Drew McIntyre
Analysis: ** It was a quick match with big moves, which has become the formula for Lesnar matches for the last several years. McIntyre kicking out of the F5 three times was a huge thing, but it was also a great way to make McIntyre look like a big deal that was able to take Lesnar's offense and keep going. I liked that McIntyre had to hit the Claymore Kick four times and he didn't go for pinfalls during it either. He just kept on delivering the offense. I would have liked a back and forth 15-minute match because I think it would be great, but going short and booking Drew to be dominant is good for making Drew look strong. The booking was simple and it worked for this match.
Post match, Drew McIntyre celebrated with the WWE Title while Lesnar was down in the ring. McIntyre posed on the turnbuckle. Lesnar was still down in the ring selling the attack. McIntyre continued to celebrate. The show ended right there.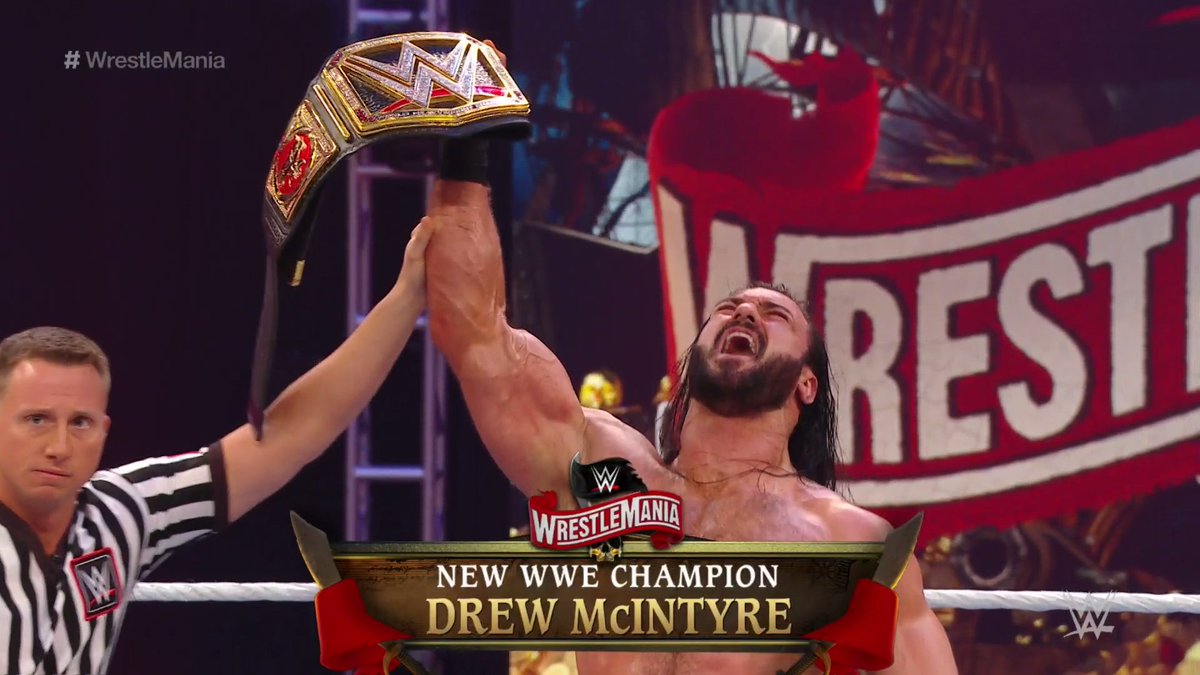 Analysis: Congrats to Drew on winning the WWE Title. It's well deserved for a guy that has busted his ass for years. I'm genuinely happy for the guy.
(I was so happy for Drew. I just wish the fans were there to see it.)
This second part of Wrestlemania had a run time of 3:24:33 on WWE Network.
Five Stars of the Show
Drew McIntyre – I'm happy for the guy after the long journey that he's been on.
Charlotte Flair
Rhea Ripley
John Cena/Bray Wyatt
Edge – His first singles match in nine years. It was too long, but I'm happy for him.
Final Thoughts
I'll rate this part of WrestleMania a 5.25 out of 10. If you combine the two parts, I'm going with a 6.25 out of 10.
This was the longer of the two nights and I thought the matches were worse overall. I liked the first part more.
For this show, the women's match with Flair and Ripley was the best match of the night. I can't call the Wyatt/Cena segment a match because it was more of a cinematic story than anything and when The Fiend pinned Cena with Wyatt counting the pin, you could say the result is unofficial. Anyway, they tried something different there at least. I think people are going to like it a lot or hate it. I liked it for the most part. The Edge/Orton match went way too long at over 30 minutes. It didn't need to be that and because of that, the match quality was hurt a lot. It just wasn't that interesting to watch. I hate to use the word boring, but it definitely felt that way for some of the match.
There were a lot of feel good moments with Drew McIntyre winning the WWE Title for the first time in his career. It would have been nice if they had more of a proper match, but it was fine for the story they wanted to tell. Edge beating Orton was the right finish even though the match was too long. I thought the Otis win was booked well with Mandy Rose celebrating with him in the end. Other matches were just okay. Nothing else really stood out.
I think it got harder to watch and enjoy the matches in an empty arena as we got deeper into this show. In part one, it was fine because the three hours flew by fairly quickly, but then you add in three more hours today, then you really realize how hard it is to put on a good match with no fans there. I'm not saying it to be critical of WWE or the wrestlers. It's just the predicament the world is in right now. I miss the days with the fans there and I hope we can return to "normal" soon.
I am in favor of two night WrestleMania because it's better to have three shows around three hours each instead of a 6+ hour show all at once. I don't know if they will do two night WrestleMania next year, but if they ever do it again, I would be cool with it.
=====
That's all for me. Check out the full list of my WWE PPV Review archive right here.
Thanks for reading. My contact info is below.
John Canton
Email mrjohncanton@gmail.com
Twitter @johnreport