WWE Survivor Series 2020 Review
The 34th edition of WWE's Survivor Series was the most unique of them all because it's the only one without any fans in attendance.
Due to the ongoing COVID-19 pandemic that the world has been dealing with, WWE was running shows from the "Thunderdome" setup they had to make it look close to a regular WWE experience with the faces of fans on screens surrounding the ring. It definitely wasn't the same, but at least it was better than wrestling in an empty building.
The 2020 edition of Survivor Series was also 30 years of The Undertaker, who debuted at Survivor Series 1990. This event was considered The Undertaker's farewell.
====
The Kickoff Show match was a dual-brand battle royal with Raw's Tom Phillips, Byron Saxton and Samoa Joe on commentary for the match. The entrances were shown of Rey Mysterio with Dominik and Murphy, plus "Mr. Money in the Bank" The Miz with John Morrison. The other wrestlers were already in the ring.
Dual Brand Battle Royal
It's an 18-man battle royal featuring wrestlers from Raw and Smackdown. There was no reason given why certain people were or weren't in the match. There were just 18 men in the match.
Dominik was nearly eliminated, then he went back in and Dominik eliminated Morrison with a clothesline. Miz was sad about that. Kalisto and Rey battled with a headscissors takedown leading to a stare between them, but then Cedric Alexander eliminated Kalisto with a jumping kick. Rey sent Ziggler and Roode against the ropes, but Ziggler hit a superkick on Rey and Ziggler eliminated Rey after that. Murphy went after Ziggler for that. Angel Garza battled Humberto Carrillo with Garza eliminating his cousin Carrillo. Shelton Benjamin and Cedric Alexander worked together to eliminate Garza. Miz hit his backbreaker/neckbreaker combo on his buddy Ziggler. Ricochet and Alexander battled on the apron with Ricochet hitting a German Suplex on the apron to get rid of Cedric, but there was Benjamin with a jumping knee to get rid of Ricochet. Apollo Crews dumped Benjamin out right after that with Crews having a long history with the Hurt Business guys. Ziggler and Murphy each avoided elimination, then they battled on the apron with Roode helping Dolph to eliminate Murphy. Dominik eliminated Roode, so Ziggler pulled Dominik onto the apron. Dominik rocked Ziggler with a punch on the apron, Ziggler charged, Dominik moved and Dominik hit a dropkick to eliminate him. Crews and Elias worked over Miz with punches. Shinsuke Nakamura set up Crews on the top rope, but Crews avoided a knee, then Elias attacked Crews, so Nakamura hit a running knee to eliminate Crews. Jeff Hardy with a jawbreaker to Nakamura and a dropkick to the legs eliminated Nakamura. Hardy put Elias on the apron and Hardy hit a spin kick to eliminate him.
The final four were Jeff Hardy, Chad Gable, The Miz and Dominik Mysterio. Gable with punches on Hardy, then a knee and a clothesline that sent Hardy over the top to the floor. Miz with a boot to the face of Dominik and Gable. Miz said that he was the face of USA Network. Dominik sent Miz over the top to the apron, but Miz was able to hang on. Dominik kicked Miz under the bottom rope to the floor so Miz wasn't eliminated because Miz was back in the ring when that happened. Dominik charged, but Gable hit him with two belly to belly suplexes in a row. Gable hit a German Suplex with Dominik doing a flip bump onto his stomach. Dominik came back with a 619 kick attempt, Gable got out of the way, but then Dominik hit a headscissors into the ropes and Dominik hit the 619 kick. Dominik eliminated Gable, then Dominik thought he won the match, but Miz showed up from behind Dominik and dumped him over the top to the floor to win the match at 12:02.
Winner: The Miz
Analysis: **1/4 It was just an average battle royal. I would have liked to see Dominik get the win or somebody else that would be more of a surprise. Congrats to Miz winning as Money in the Bank holder, which is something that doesn't happen that often in WWE. That finish is done once in a while in battle royals. It's not that creative or interesting, but it works for a heel character like Miz to win in a crafty way.
Here was the order of elimination if you care: John Morrison, Kalisto, Rey Mysterio, Humberto Carrillo, Angel Garza, Cedric Alexander, Ricochet, Shelton Benjamin, Apollo Crews, Murphy, Robert Roode, Dolph Ziggler, Shinsuke Nakamura, Elias, Jeff Hardy, Chad Gable, Dominik Mysterio. Thanks to Wikipedia for that.
Let's get to the main show.
WWE Survivor Series
WWE Thunderdome at the Amway Center in Orlando, Florida
November 22, 2020
The opening video package hyped up all the matches that are coming along with The Undertaker's final farewell. Great stuff as usual and I like the AC/DC "A Shot in the Dark" song they are using for the show.
The pyro went off in the Amway Center and the ThunderDome was there as usual. Michael Cole welcomed us to the 34th Survivor Series.
The men's Survivor Series elimination match was up first with Team Raw making their entrances individually. AJ Styles made his entrance with his associate Omos, so they finally gave the big guy a name. It is Smackdown's Michael Cole and Corey Graves along with Raw's Samoa Joe calling the first match.
Styles had the letter "C" on his jacket because he thinks he's the captain. Styles said he won't apologize for the victory that they will have and here comes Riddle with his flip flops. Keith Lee was next with a new theme song that was his voice rapping a song that was for him. The big man Braun Strowman was next with Cole saying that Strowman was a record holder at Survivor Series with most eliminations in a match because he had four eliminations. Sheamus was up last for the team. Every time somebody got out there, Styles tried to encourage them because he thought he was the team captain.
Smackdown was next with Jey Uso up first for the blue team with Paul Heyman watching on a TV backstage. Kevin Owens was next followed by Otis, who was the only guy on the team that didn't win a match to be a part of the team. Seth Rollins was next coming off a big loss to Murphy this week on Smackdown and Rey Mysterio the previous week. The last man on Smackdown's team was King Corbin.
Analysis: I noted in the Smackdown review this week that I thought it was a surprise that Big E wasn't a part of this match. It made me realize that Raw was probably winning because WWE didn't want Big E losing a match since he's going to get a big push into next year.
Elimination Match: Team Raw (AJ Styles, Riddle, Keith Lee, Braun Strowman and Sheamus) vs. Team Smackdown (Seth Rollins, King Corbin, Jey Uso, Kevin Owens and Otis)
Some guys were wrestling in shirts representing their shows while others were not. Joe said he thought it was the most ruthless and best version of Jey Uso. Styles hit a dropkick on Jey, who came back with uppercuts and Jey avoided a Pele Kick leading to a two count for Jey. Styles with a headscissors takedown, but then Jey hit a Samoan Drop. Corbin decked Styles with a punch and then when Styles went for an attack off the apron, Corbin punched him again. Riddle ran into a shoulder tackle from Otis, who said: "Oh yeah…bro." Riddle kicked Otis, who did a dancing routine and then he flipped Riddle down followed by a headbutt. Owens tagged in with stomps on the bare left foot of Riddle and he wrenched on the left foot. Sheamus tagged in, Rollins asked for the tag, so Owens reluctantly tagged him in. Rollins said for the greater good, then he went down on two knees, stuck his arms out and told Sheamus to do his part. Sheamus hit a Brogue Kick and pinned Rollins to eliminate him.
Seth Rollins eliminated by Sheamus
Analysis: That was bizarre. It fits Seth's messiah persona where he thinks he's doing things for the benefit of others, but it was also weird to see that happen.
The Smackdown guys were mad about it with Owens telling Rollins he'll always be a piece of trash. The Smackdown team was talking, so Strowman tagged himself in and ran them over with a running shoulder tackle. Riddle tagged in against Corbin with kicks to the chest until Corbin hit a punch to the face. Lee faced off against Otis in a battle between two super heavyweights as Cole called them. After a lockup, Lee ran into Otis three times with shoulder tackles that barely rocked Otis. Lee went for a double chop, Otis blocked that and each guy was going for a suplex, but they couldn't connect. Lee decked Otis with a punch with Strowman tagging in with a punch on Otis. Strowman bounced off the ropes with a running dropkick on Otis. Styles tagged in, Otis with a jawbreaker and Owens was back in with a clothesline on Styles. Owens with a back body drop on Styles across the ring. Owens with a tilt-a-whirl backbreaker on Styles. When Styles went to the apron, Owens decked him with a forearm. Owens with a Stunner on Lee, a Stunner by KO to Lee, a Stunner by KO to Riddle and then Styles came back with a Phenomenal Forearm off the top on Owens for the pinfall.
Kevin Owens eliminated by AJ Styles
Corbin hit Styles with the End of Days slam, but the other Raw guys broke up the pin. The Smackdown guys did not try to break up the pin attempt a moment earlier. Corbin hit the Deep Six slam to Sheamus. Styles got out of a slam attempt by Corbin, kick to the leg and a Pele Kick knocked Corbin down. Riddle tagged in, went up top and hit the Floating Bro splash to pin Corbin to eliminate him.
King Corbin eliminated by Riddle
It's 5 to 2 for Raw against Smackdown with Jey going after Riddle, who stopped Jey with a boot to the face. Sheamus hit a pump knee to Jey's face for a two count. Sheamus worked over Jey with forearms to the chest. Jey hit a spinning kick with Otis getting the tag. Styles ran into Otis, who hit a belly to belly suplex. Riddle ran into a clothesline by Otis. There was a belly to belly suplex by Otis on Lee and Sheamus. Strowman tagged in to face off against Otis. Strowman with a running boot to the face, he missed a charge and Otis hit a slam that looked impressive. Otis did the Caterpillar leading to the elbow drop. Otis to the ropes, Riddle went after him, Otis punched him and Strowman was back up with a Running Powerslam on Otis to eliminate him.
Otis eliminated by Braun Strowman
Jey Uso was the only man left for his team as he hit superkicks on the Raw guys. Riddle with a knee to the face, Jey with a superkick for him and Jey hit a dive over the top onto the Raw team on the floor. Jey whipped Riddle into the steel steps and a superkick on Lee. Jey charged at Strowman, who caught him and Jey shoved Strowman into the post, so Styles tagged in. Jey with a superkick on Styles, Jey went for a splash, but Omos pulled Styles out of the ring (the referee never saw that) and Styles hit a forearm on Jey. When Styles wanted a springboard attack, Jey kicked him while Lee tagged Styles. Jey went in, he jumped onto Lee, who caught him on the shoulders and Lee hit a Spirit Bomb on Jey for the pinfall win at 19:25.
Jey Uso eliminated by Keith Lee
Winners: Team Raw. Survivors – AJ Styles, Riddle, Keith Lee, Braun Strowman and Sheamus
Analysis: *** A clean sweep for the Raw brand with all five wrestlers getting one elimination each, so nobody stood out more than anybody else on the team. It made the Smackdown guys look like they weren't on the same level at all, which sucks for them, but that's what happens when you book a match like this. The spot with Rollins was strange with the sacrifice while the rest of Smackdown's team tried to put up a fight. I thought most of the eliminations were booked well with Lee standing out the most since he caught Jey on his shoulders and finished him off.
After the match, the Raw team finally stopped arguing because they were happy that they won in a clean sweep.
A commercial aired for WWE Shop plugging merchandise for the holiday season. There was also a Cricket Wireless commercial with The Miz in it.
The New Day entered with Big E introducing the world famous, ten-time champions. They were dressed in Gears of War style gear as Big E walked to the ring with his buddies Xavier Woods and Kofi Kingston, who are the Raw Tag team Champions. They're in the Gears 5 video game, so that's why they were dressed in the Gears of War armor. The announcers for the next match were Tom Phillips, Corey Graves and Samoa Joe.
A clip aired showing the New Day trio in the Gears 5 trailer. The graphics look amazing.
The Street Profits duo of Montez Ford and Angelo Dawkins were backstage in the gorilla position doing a promo to hype themselves up. Montez Ford said that 30 years ago today, The Undertaker's legacy was born right here at Survivor Series. Dawkins and Ford mentioned some of the famous opponents that Undertaker faced off including a "Sexy Boy" rendition for Shawn Michaels. Ford said that they start their own legacy since New Day has been the best team in WWE for over half a decade. Dawkins said that they're there to take the torch and Ford fired up leading to them saying they're up and they "want the smoke." Nice intensity there.
The Street Profits made their entrance as the Smackdown Tag Team Champions. Ford has a blue solo cup instead of a red solo cup, but then there were red solo cups that filled the arena. The Street Profits entered while New Day danced to the theme song.
The New Day (Kofi Kingston and Xavier Woods) vs. The Street Profits (Montez Ford and Angelo Dawkins)
Dawkins shoved Woods into the ropes, so Kofi tagged in with Ford going into the match for the Profits. Ford had on a silver glove on his left hand. Ford with leapfrogs, then he went for a dropkick and after Kofi was sent to the floor, Ford hit him with a leaping kick. Dawkins tagged in with a double team flapjack followed by a running splash for two. Kofi avoided a double team, he sent Dawkins to the floor and Kofi hit a dive over the top landing onto Ford on the floor. Woods jumped onto Dawkins on the floor. Woods and Kofi took turns working over Ford with punches to the ribs. Woods with two kicks to the ribs, then a knee to the rubs on Ford and a gutbuster got a two count. Kofi had a solo cup that he kicked while Woods had Ford grounded with a chinlock and a kick to the ribs. Kofi with a waistlock along with another shot to the ribs since New Day was working over Ford's ribs. Ford fought out of Kofi's grip with a leaping DDT.
Dawkins got the hot tag against Woods with running clotheslines, then a jumping back elbow, a flapjack and a belly to belly suplex. Dawkins hit a belly to belly to belly suplex on Kingston as well. Dawkins with the spinning splash on both opponents along with a double underhook into a spinning slam for two. Woods tried to attack Dawkins, but Ford made the tag and hit a belly to back suplex. Dawkins hit a running corner splash, then Ford did one and Ford hit a running Sliced Bread neckbreaker as Dawkins got a two count on Woods. Woods sent Ford into Dawkins on the apron, Kofi tagged in and they hit the Midnight Hour double team move that was the popular New Day finisher, but usually, it was Big E holding the guy. Anyway, that got a two count. Kofi hit three boom drop leg drops on Ford, who continued to sell the ribs. Ford with a dropkick after Dawkins held Kofi's foot. Dawkins with a spinebuster and Ford tagged in with a Frog Splash for a two count although he was slow to cover due to selling the rib injury. Kofi managed to hit the SOS on Ford for a two count with Dawkins breaking it up. Woods hit a missile dropkick on Dawkins to send him out of the ring. Ford avoided a kick from Kofi and Ford hit his own version of Trouble in Paradise kick, but Woods was legal with a press slam into the double knees! An impressive move by Woods to get a two count. Dawkins made a tag that Woods didn't see, he put Woods on his shoulders and Ford hit a Blockbuster neckbreaker onto Woods with Dawkins falling back, so it was like a double team Blockbuster into a slam. Dawkins covered Woods for the pinfall win at 13:40.
Winners by pinfall: The Street Profits (Montez Ford and Angelo Dawkins)
Analysis: ***3/4 This was a great tag team match between two babyface teams that are easy to like. I think they made the right call by making Ford the face in peril, which led to Dawkins getting a lot of momentum after the hot tag. Ford sold the rib injury very well throughout the match. They picked up the pace as it went on and the final few moments were outstanding. There were a lot of nearfalls in the match, they worked so well together considering it was their first-ever match and it left me wanting to see more although I doubt that's happening any time soon. I think if they had a match where one of the teams were the heels that were even more aggressive on offense during the match it would be even better. I'd love to see this match again down the road.
After the match was over, New Day and Street Profits shook hands along with hugs. They did a great job. There's a lot of respect there as there should be.
There was a shot of the Team Smackdown women's team meeting before their match with some bickering. The Raw women's team met up backstage with four women talking while Lana was standing off to the side.
Sami Zayn entered as the Intercontinental Champion with Michael Cole, Corey Graves and Byron Saxton calling this match. Bobby Lashley entered as the US Champion with his three Hurt Business buddies MVP, Shelton Benjamin and Cedric Alexander joining him.
Bobby Lashley (w/MVP, Shelton Benjamin and Cedric Alexander) vs. Sami Zayn
Zayn bailed to the floor right away, Lashley went after him on the floor and took over with a clothesline. Lashley whipped Zayn into the turnbuckle with Zayn taking a big bump. Lashley launched Zayn across the ring, so Zayn bailed to the floor. Zayn managed to take control after a choke across the top rope and then he drove his knees into Lashley's back against the middle rope. Zayn with an elbow smash for just a one count. Lashley with an overhead suplex across the ring. Lashley with repeated shoulder tackles and a running shoulder tackle, followed by a neckbreaker. Lashley charged, Zayn with a boot to the face and Zayn's suplex attempt failed as Lashley turned it into a delayed vertical suplex. Zayn apparently told the referee he suffered vertigo, then he got a rollup for one, but then Lashley hit a lifting flatliner. Graves said that Zayn had vertigo a few years ago. Zayn was getting yelled at by Hurt Business guys, he dared them to hit him, so Lashley hit Zayn in the back and drove him into the barricade. Lashley sent Zayn back in the ring, so Zayn left the ring again and tried to get away, but Lashley was there to send Zayn into the barricade again. Lashley lifted up Zayn, so Zayn shoved Lashley into the ring post. Zayn tried to take the turnbuckle pad off, but Benjamin stopped him from doing that. Zayn charged with a Helluva Kick, Lashley caught Zayn and gave him a huge spinebuster into the mat. Zayn bailed to the floor again where MVP stood and Zayn tripped over his foot. Zayn claimed MVP tripped him, which was a bit of a stretch. MVP sent Zayn back in the ring while Lashley was distracting the referee. Lashley slapped on the Hurt Lock (full nelson) submission and Zayn gave up, so that was it at 7:50.
Winner by submission: Bobby Lashley
Analysis: *3/4 It was a glorified squash match with Zayn running away for most of it and Lashley looking dominant in victory. It was pretty much what most of us expected it to be. I would have loved for Zayn to be booked in a stronger way, but that's how WWE presents him as a cowardly heel.
Post match, Zayn complained to Graves and the referee that MVP tripped him. Graves agreed with Zayn while the referee said that the result was final.
There was a backstage scene with Jey and Jimmy Uso standing outside of Roman Reigns' dressing room with Paul Heyman walking out of the room. Roman Reigns walked out of the room in a "Head of the Table" shirt. Jey tried to explain the loss, Jimmy said it was 1 on 5 so it wasn't fair and Roman was upset. Roman told Jimmy to go, but Jey has to stay there. Roman told Jey that he lost because he can't control his temper and the team didn't fear Jey. Roman said that the team didn't respect Jey, so that means they don't respect Roman or their family. Roman said if Jey can't make them respect him, then he has no space at the table. Roman told Jey to find his brother and get out of his arena. Reigns said he had no time for losers, not tonight.
Analysis: Tough love by Roman after Jey was on the losing end at Survivor Series. At least they care about winning more than a lot of people in this company.
There was a commercial for some WWE Mattel Elite Collection toys. I guess you can call them action figures.
Asuka made her entrance as the Raw Women's Champion with Tom Phillips, Corey Graves and Byron Saxton on the call for this match. Sasha Banks was up next as the Smackdown Women's Champion dressed in some blue gear representing her brand.
Sasha Banks vs. Asuka
Banks took control early on with an arm drag into an armbar. Banks flipped over going for an armbreaker, but Asuka blocked it from happening. Banks went for her submission on the mat, Asuka got out of that and Banks got two nearfalls. Asuka went for the Asuka Lock, got out of that by pulling on the hand and pulling on the arm. Banks hit a backstabber (double knees to the back) to Asuka, who went to the floor. Back in the ring, Asuka hit a running hip attack to knock Banks out of the ring. Asuka went for an ankle lock, Banks broke free and Asuka hit three kicks including a running kick for a two count. There was more battling over submissions with Banks slapping on an octopus stretch submission. Asuka got out of that, so Banks hit a headscissors into the ropes. They battled on the apron, Asuka blocked a kick, Banks avoided a suplex, Asuka kicked Banks down and Asuka hit a running hip attack to knock Banks off the apron to the floor. Asuka was caught out on the floor with Banks hitting a running dropkick on Asuka to knock her down on the floor. Asuka jumped off the barricade with a knee attack, but Asuka countered by getting her knees up to block and both women were down for a nine count before they got back into the ring. Each woman got a nearfall. Asuka went for a hip attack again, but Asuka hit her with a kick to the back and Banks hit backstabber again for a two count. Banks with the double knees against the turnbuckle. Banks to the middle ropes, it was obvious she wasn't going to hit the Frog Splash as Asuka got her feet up and Banks slapped on the Bank Statement submission. Asuka slipped out of the Bank Statement, Asuka with a kick while Banks on the apron and Asuka hit another double knee attack (like a Codebreaker) for a two count. Asuka went for an ankle lock, Banks escaped and each woman got a two count. Banks with a sunset flip for two, then more nearfalls by each woman. Each woman hit kicks that rocked the other woman. Asuka went for a backslide, Banks got out of it, Asuka charged, Banks flipped her over and Banks covered for the pinfall win at 13:05.
Winner by pinfall: Sasha Banks
Analysis: ***1/4 This was very good as expected, but I've also seen them have better matches. I really liked how even it was. Every time Banks would go for a submission, Asuka was ready to counter with a submission move of her own. There were also so many nearfalls for each woman, so when Banks was finally able to counter an Asuka charge into a pin, it was believable as a way to end the match in a close manner. It was fast-paced, but they slowed down when needed too. They are two awesome wrestlers that have had great years too. I'll never get sick of Asuka facing Banks, but if there was an issue here it's that these Survivor Series matches don't have much of a long-term effect. They happen and then everybody moves on.
Post match, Banks celebrated with her title while Asuka looked frustrated about the loss.
A recap was shown of The Miz winning the battle royal on the Kickoff Show.
There was also a video of the Gobbledy Gooker beating R-Truth to win the 24/7 Title. That really happened.
The Gobbledy Gooker (Drew Gulak in the costume) was shown walking backstage with the 24/7 Title where he spotted some birdseed. Tozawa walked up behind him and did the ROLLUP OF DEATH~! to pin Gooker to win the title. R-Truth hit Tozawa with a bag of birdseed and pinned Tozawa to win the 24/7 Title for the 45th time.
Analysis: Congrats to Truth. Poor Gooker. I guess. I'm sure Vince McMahon thought the birdseed thing was funny, so that's all that matters to him.
The entrances took place for the women's elimination match. Team Raw was up first with Women's Tag Team Champion Nia Jax as we saw clips of Jax putting Lana through the Raw announce table nine times with the same Samoan Drop move. Shayna Baszler, who is also a Women's Tag Team Champion, was up next. Lacey Evans was next followed by Peyton Royce, who has purple hair now. I'm not a huge fan of the hair color change, but I guess people need to try things to stand out more. I think Banks was fine with her regular hair color. Lana was up last and I think she's the only face on the team even though she has been a heel for most of her career. It is Phillips, Graves and Saxton calling this match, by the way.
Bayley was up first for Team Smackdown followed by Bianca Belair, Ruby Riott on her own and Liv Morgan. Natalya was up last for the team.
Elimination Match: Team Raw (Nia Jax, Shayna Baszler, Lacey Evans, Peyton Royce and Lana) vs. Team Smackdown (Bayley, Natalya, Liv Morgan, Bianca Belair and Ruby Riott)
Bayley started with Evans with not much happening there. Natalya slammed Evans into the mat and then hit a low dropkick. Royce tagged in with Natalya getting a rollup for two. Belair tagged in with a spot where she did squats with Natalya leading to a delayed suplex. Belair with a moonsault on Royce. Morgan with a rollup on Royce and then they did a double clothesline spot. Baszler faced off with Riott with a backbreaker, then some kicks and a knee to the head. Riott countered a Baszler move with left-handed punches. Jax tagged in against Riott, Bayley made a tag, Morgan tagged herself in and Jax slammed Morgan down. Lana tagged herself in, which Jax didn't like and Lana got a jackknife cover on Morgan, but Liv powered out of it. Natalya tagged in to face off against her former ally Lana with Natalya hitting a shoulder tackle. Lana managed to get a nearfall, then Natalya countered into a pin of her own and Lana got out of that leading to a Lana kick to the back. Lana with a kick to the face leading to a two count. Jax tagged Lana and told Lana to stand on the steps. Bayley faced off against Royce with a whip into the turnbuckle and a suplex. Royce with a kick to the head along with a move where she pulled back on Bayley's arms against the ropes. Belair with a press slam on Belair into the turnbuckle. Bayley tagged in with an elbow drop off the top for two with Evans breaking up the pin. Natalya clothesline on Evans, Baszler kick to Natalya, Belair took down Baszler and then Jax cleared the ring. Bayley clipped the knee of Jax and then hit her with a knee to the face. Bayley laughed at Lana on the steel steps. Bayley took a long time on the turnbuckle, Royce kicked Bayley and then Royce gave Bayley a suplex onto seven of the wrestlers on the floor. Lana was still standing on the steps and she had part of her makeup on her chin. Back in the ring, Royce hit the Déjà Vu neckbreaker into a slam on Bayley to eliminate her.
Bayley eliminated by Peyton Royce
Royce worked over Natalya with kicks including a spin kick to the face for two. Natalya managed to slam Royce on her butt in the ring, then she ran the ropes and Royce caught Natalya in a single leg crab. Natalya got to Belair, who was on the floor and Natalya tied up Peyton's feet for a submission, but that didn't work, so Natalya slapped on the Sharpshooter with Royce tapping out.
Peyton Royce eliminated by Natalya
Evans was back in for her team with a clothesline on Natalya. Evans went for a moonsault off the top, but Natalya moved and Evans hit the mat. Baszler went into the ring, Natalya tried to apply the Sharpshooter on her, so Evans decked Natalya with a Woman's Right punch for the pinfall.
Natalya eliminated by Lacey Evans
Belair was in for her team, she got a rollup on Evans. When Evans went for a strike, Belair moved, but then Belair came back with a move similar to the Glam Slam that Beth Phoenix used in her career. Belair to the top rope, she was distracted for a moment, so Evans met Belair on the top and hit a Spanish Fly slam for a two count as Riott and Morgan made the save. Riott and Morgan took turns trying to attack Jax, who was legal, but they didn't have much success. Riott and Morgan managed to get some offense with a chop block to the knee and a dropkick. Morgan with double knees to Jax, Riott with a Riott Kick and then Jax tagged Baszler into the match. Baszler with a running knee to Morgan and then a sliding knee got a two count. Baszler kicked Morgan on the apron, then Riott got a rollup on Baszler and Baszler managed to slap on the Kirifuda Clutch on Riott, who managed to counter for a pin attempt, but the referee was looking at Jax, who pulled Morgan off the apron. Riott sold it like she passed out, so Baszler pinned Riott to eliminate her.
Ruby Riott eliminated by Shayna Baszler
Morgan was in the ring against Evans with Liv hitting repeated stomps onto Evans followed by a missile dropkick off the middle ropes. Morgan hit a crucifix bomb to pin and eliminate Evans.
Lacey Evans eliminated by Liv Morgan
That means it's three for Raw with Jax, Baszler and Lana against Smackdown's Morgan and Belair. Morgan kicked Jax down to a knee, then a DDT and an enziguri kick. Jax no sold most of that and hit a Samoan Drop on Morgan for the pinfall while Baszler grabbed Belair on the apron to prevent Belair from getting in the ring.
Liv Morgan eliminated by Nia Jax
Bianca Belair was the last woman left in the match for Smackdown. Belair with shoulder tackles to Jax, then Belair hit a backflip over Jax, a dropkick was next and then forearms. Belair went for a splash, but Jax got double knees up to block. Jax with a body slam followed by a leg drop for two. Jax went to the middle rope, Belair kicked her off and on the floor as Baszler made a tag. Belair managed to get out of a submission attempt with a belly to back suplex. Belair went for a handspring attack off the ropes, Baszler got a hold of her in the Kirifuda Clutch, but Belair managed to power out of it by landing on the bottom rope with her left arm. Baszler held on while Belair was in the ropes because Baszler said that Belair was out, so the referee disqualified Baszler for not letting go.
Shayna Baszler eliminated by disqualification
Nia Jax grabbed Belair and cleared off the announce table. Belair avoided that and sent Jax into the steel steps. Jax and Belair battled on the floor a bit, it went back and forth and then Belair gave Jax a back body drop over the top of the barricade into the crowd. The referee was counting them out with Belair not able to get back before the ten count. That meant both women were eliminated.
Nia Jax and Bianca Belair eliminated by countout
That meant there was one woman left as the winner: Lana. This match went 23:20.
Winner and Survivor: Lana (Team Raw)
Analysis: **1/2 It was okay for an elimination match with the fluky finish. Lana spent most of the match sulking on the steel steps, yet the match was booked in a way that allowed her to look like a winner. I was a bit surprised that Bayley was eliminated first because I thought she would last until near the end of the match. It was nice to see Royce featured a bit more. Jax and Baszler did well in their roles as the mean heels while Natalya also had some fun moments early on. I was hoping Belair would win the match because I think she's the future of the women's division, so a win here would have given her a lot of momentum. Instead, they went for the comedy finish that probably made some fans groan while others might have liked it since it was redemption for Lana. I just don't think it's a great way to end a match like that. I get why WWE did it. It's just not what I would have done in that spot because I would have rather seen Belair get the win.
Lana celebrated the win as if she did something even though her actions had very little impact on the finish of the match. I guess it's the result that counts. Lana was smiling a lot.
Analysis: It is a way for Lana to get some redemption in the story since she has been beaten up by Nia Jax for several months, but now Lana gets to celebrate. It's a feel-good moment for Lana, who is now in a babyface role.
The next WWE PPV is Tables, Ladders and Chairs on Sunday, December 20. Check it out on WWE Network. That one will be at Tropicana Field in Tampa at WWE's new home for the ThunderDome.
There's only one match left with Michael Cole, Corey Graves and Samoa Joe taking over on commentary.
The video package aired to set up Universal Champion Roman Reigns against WWE Champion Drew McIntyre, who won the title back six days earlier on Raw.
Roman Reigns made his entrance as the Universal Champion with Paul Heyman by his side. Roman's entrance took a long time since he does a slow, power walk on his way to the ring.
Drew McIntyre made his entrance with the WWE Title around his waist, the kilt he wore on Raw and the sword that he put into the ramp as the pyro went off. It's a cool entrance. McIntyre and Reigns had a long staredown before the match. They stood face to face while holding their titles in the air.
Drew McIntyre vs. Roman Reigns (w/Paul Heyman)
They started at a very slow pace with a lot of staring and McIntyre grabbed a side headlock to take down Reigns in the ring. When they got to a standing position, McIntyre hit a shoulder tackle that led to Reigns bailing to the floor. When Reigns got back in the ring, he connected with punches and a whip into the turnbuckle. McIntyre came back with punches of his own along with a chop, but Reigns came back with a headbutt and a barrage of punches. Reigns tried to intimidate referee Dan Engler as McIntyre came back with punches of his own. McIntyre sent to the apron, Reigns with an uppercut punch and Reigns whipped McIntyre into the ring post with Drew's left shoulder hitting the post. Reigns left the ring, broke the referee's count and whipped McIntyre into the steel steps with Drew selling his left arm as Reigns got a two count in the ring. Reigns grounded McIntyre with a chinlock, knees to the face and a suplex for two. Reigns grabbed another chinlock, McIntyre got to his feet and Reigns yanked McIntyre down by the hair because that's what heels do. McIntyre tried coming back, but Reigns bounced off the ropes with a leaping clothesline for two. Reigns with another submission attempt, McIntyre fought back with punches, two clotheslines and an overhead suplex. McIntyre hit the neckbreaker leading to kip-up back to his feet as the crowd came alive. Reigns avoided a DDT, McIntyre avoided a Samoan Drop and Reigns sent McIntyre into the turnbuckle leading to a Samoan Drop by Roman for a two count.
Reigns set up in the corner, he charged and McIntyre came back with a spinebuster for a two count. They left the ring with McIntyre sending Reigns into the barricade, ring post and steel steps. They were back in the ring with Reigns hitting McIntyre with an uppercut punch. Reigns talked about how this is why he's the man around here. McIntyre hit a headbutt, each guy hit a boot to the head, Reigns went for a Superman Punch and McIntyre hit the Future Shock DDT that used to be his finisher, which is why it got a two count. Reigns was down selling, then he got back up, McIntyre charged and Reigns hit a Superman Punch. McIntyre countered a Guillotine attempt with an overhead suplex. Reigns with a boot to the face and then he sent McIntyre shoulder first into the ring post. Reigns charged with a Spear attempt, but McIntyre avoided it and slapped on a kimura lock on the left arm with Reigns fighting out of it by getting his right hand on the bottom rope to break the hold. That was such a cool counter into the submission. I liked that spot a lot. Reigns left the ring, McIntyre charged and Reigns gave him a Samoan Drop onto the announce table. It didn't break the table, which is a surprise. Reigns picked up McIntyre again and gave him a Samoan Drop that broke the table. The referee was counting them out, Reigns went back in to break the count at eight and Reigns hit a Spear through the barricade that was behind the announce table. Reigns sent McIntyre back into the ring and that was only good for a two count. Cole: "Are you kidding me? You gotta be kidding me!" Graves wondered how McIntyre kicked out. That was an amazing nearfall right there. The fans chanted "this is awesome" as ThunderDome fans were clapping in appreciation for this. McIntyre slowly got back up, Reigns ran right into a kick, Drew ran off the ropes, but Reigns met him with a Spear for one…two…and no! McIntyre kicked out. The replay showed that Drew was going for the Claymore Kick with Reigns beating him to the punch by hitting that Spear. Reigns spoke about how you "ain't seen this shit before" as he talked to Samoa Joe at ringside and Reigns charged for a Spear, but McIntyre hit him with a Claymore Kick that led to Reigns bumping into the referee to send the referee out of the ring. Jey Uso ran down to the ring and McIntyre punched him out of the ring. Reigns hit a low blow on McIntyre, Jey hit a superkick and Reigns hit a Superman Punch. Reigns slapped on the Guillotine Choke submission as another referee Jason Ayers was in the ring. McIntyre passed out in the hold, so the referee called off the match with Reigns winning by submission at 24:50.
Winner by submission: Roman Reigns
Analysis: ****1/4 This was an excellent match. The ending was cheap, but I think that kind of finish makes sense for a match like this because WWE wants to keep McIntyre strong even in defeat, so if the heel Reigns is going to win then a bump by the referee is okay in that spot. I loved the big spots in the match, all of the nearfalls they did, the way McIntyre kicked out of everything and Reigns was frustrated. It added to the drama of the match for sure. I like how it was structured while treating every moment as something special. They worked hard and had a lot of chemistry together. I don't think McIntyre is going to be hurt by the loss while Reigns continues to win every match since he turned heel back in August, so his run as a dominant champion continues.
Reigns left the ring with his title while McIntyre was down in the ring. The announcers put over the story that Reigns won in part because of Jey Uso's help and the low blow, which is true. Reigns saw Jey on the ramp with Jey applauding his cousin for the win. Reigns nodded his head at Jey, who hugged Reigns to show that they are a strong family unit. They hugged while Reigns held up the Universal Title. McIntyre was frustrated at ringside.
Analysis: The story ends there for now. I would love to see a rematch down the road. No cash in attempt from The Miz is fine with me.
There was a commercial with Steve Austin talking about The Undertaker as his guest on the Broken Skull Sessions show on WWE Network. That is available on WWE Network now.
The Undertaker's Final Farewell
There was a shot of ring announcer Mike Rome welcoming us to The Undertaker's Final Farewell. Mike said there were people here to pay homage to The Undertaker. That led to the entrances of several big names in WWE history.
The entrances took place for guests for this Undertaker farewell: Shane McMahon, Big Show, John Bradshaw Layfield, Jeff Hardy with The Undertaker symbol painted on his face, Mick Foley, The Godfather, Henry and Phinneas Godwin (aka Mideon), Savio Vega, Rikishi, Kevin Nash (aka Diesel), Booker T, Shawn Michaels (the man that had the most classic matches with Undertaker), Ric Flair, Triple H and then there was Kane in his full Kane attire with a mask.
There was an awesome video package showing a lot of memorable moments and clips from Undertaker's career. There was a Metallica song "Now That We're Dead" playing for it. There were comments from various WWE personalities talking about the legacy and longevity of Undertaker. We saw a lot of those comments during The Last Ride documentary that WWE aired on WWE Network earlier in the year. It ended with fans chanting "Under-taker" from many shows over the years.
Analysis: Amazing video package. No surprise there. WWE always does an excellent job with that kind of thing.
Vince McMahon was alone in the ring talking about 30 years of this man entertaining a global audience be it WWF or the WWE Universe. Vince said tonight marks the end of an era of the most storied career that will never be duplicated. Vince said tonight we say goodbye (he was getting emotional). Vince said that they're wrong when they say nothing lasts forever because the legacy of The Undertaker will live on internally. Vince: "So now I give you The Deadman, The Phenom, ladies and gentlemen…The Undertaker."
There was a lot of video, lights and smoke to enhance the classic entrance of The Undertaker, who made that slow walk down to the ring in classic Undertaker gear complete with the black hat. When Undertaker got to the ring, there was a platform that he stood on that raised him to the apron, so that looked really cool.
When The Undertaker got in the ring, it was empty and he took his time walking around to soak in the moment one more time. After several minutes, the music stopped and WWE piped in "Under-taker" chants from the fans. The arena was full of Undertaker symbols, purple light, there was smoke and even a moon on the video screen. It's all about the darkness with Taker.
The Undertaker spoke in his deep voice in character saying that for 30 long years, he's made that slow walk to this ring and have laid people to rest time and time again. Taker said that now his time has come. There were "Thank You Taker" chants. Taker said that his time has come to let The Undertaker rest in peace. That led to Undertaker looking out into the crowd again as he did his famous kneel down pose in the ring. There was a Paul Bearer hologram that joined him in the ring. That's awesome.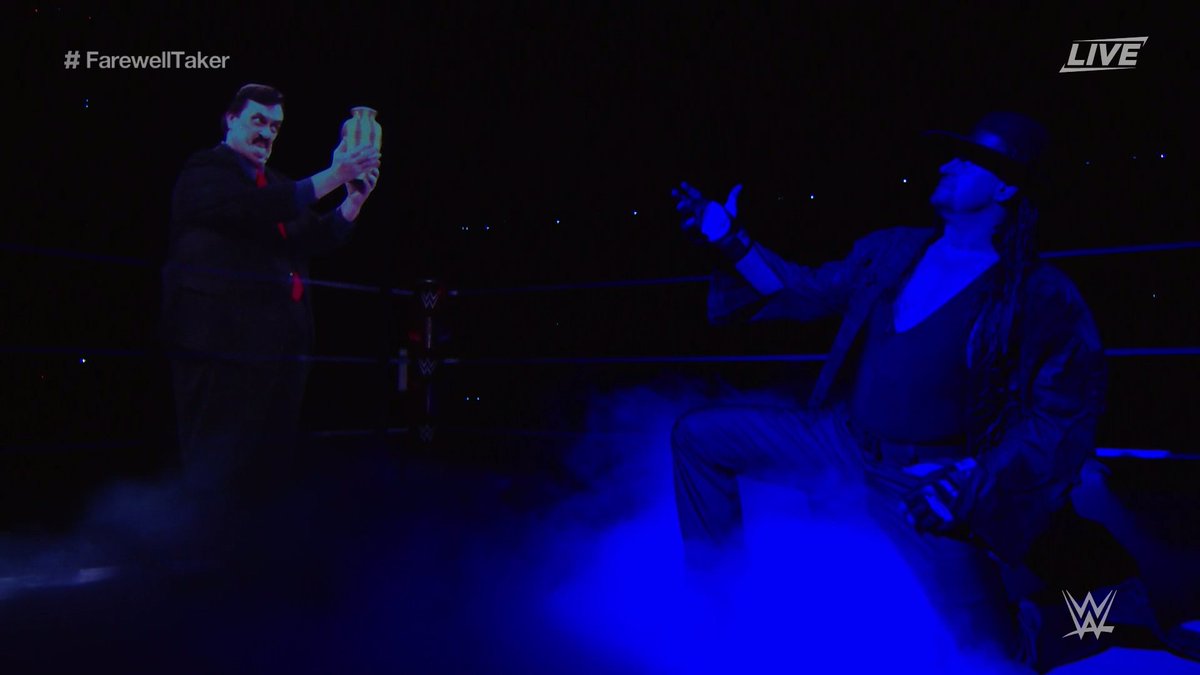 The Undertaker continued to kneel in the ring as his music played again. When The Undertaker stood up, he did a throat slash while sticking out his tongue as he did so many times over the last 30 years. The Undertaker left the ring.
The Undertaker walked up the ramp one more time and with his back to the camera, he turned his head to acknowledge the fans as well as the ring. The Undertaker held up his hand one more time as more pyrotechnics went off. It was a gesture he did so many times in his career. The Survivor Series copyright graphic appeared on screen and Undertaker walked away to end the show.
Analysis: I loved it. It's not the same as if there was a crowd there and how special it was at WrestleMania 33 in 2017 when he thought that was goodbye, but they did the best they could at a time when there were no fans. I didn't expect him to break character at all, so when he slowly walked out there, did a short speech in Undertaker voice and left, it was what I thought he would do. It wasn't Mark Calaway talking on a documentary about his love for his family. It was Undertaker saying goodbye to that character. The Paul Bearer hologram was a really nice touch. It was everything that it needed to be.
This event had a runtime of 3:27:11 on WWE Network.
Final Thoughts
I'm going with a 7.25 out of 10 for this show.
It was a pretty good show in terms of match quality with Roman Reigns/Drew McIntyre having the best match in my opinion. I didn't expect a totally clean ending, so when Reigns won after a low blow and interference from Jey Uso, it was what it needed to be. It would be great to see a rematch down the road. Reigns continues his dominant run over the last three months while McIntyre showed a lot of heart in kicking out of everything. After that, I liked the Street Profits/New Day tag team match the most and then Asuka/Banks as well. The Lashley/Zayn match was more of an extended squash for Lashley.
The two elimination matches were okay, but nothing great. The Raw team dominated the men's match with all five guys getting pinfalls, which puts them over big as a team without having one of the wrestlers look stronger than the rest. It made Smackdown's team look like losers, though. As for the women's match, Lana got the fluky win. I thought it was possible, but I don't love it as a finish because it is more of a comedy finish.
The Undertaker's "final farewell" was a nice tribute to a man that definitely deserves it after 30 years. This is one of those moments where I really wish there were fans in the arena because I think the response would have been incredible. I guess we can just watch the end of WrestleMania 33 three years ago when we thought it was the end and he got a send-off that night too. Anyway, I'm sure some fans are going to complain about it, but to me it was fine because it's a tough thing to do without fans in attendance.
The problem with Survivor Series is that if you're a fan of WWE because of the stories more than the matches then there's not much going on here. Raw won four matches (counting the Kickoff Show) compared to Smackdown winning three, but it wasn't brought up by the announcers at all. The matches were barely built up on television and since the wrestlers are on separate brans, there's no follow up to the wins and losses. That's why Survivor Series isn't a big deal in the eyes of some fans, which is something I totally understand. That's something WWE has to fix in the years to come.
It wasn't a bad show at all. I just think some fans will be turned off by it due to the lack of stories.
Five Stars of the Show
1. The Undertaker – A special night, so I'm only naming one superstar.
Based on star ratings, you can figure out the others. I just think it's right to leave Undertaker there.
That's all for me. Check out the full list of my WWE PPV Review archive right here. Thanks for reading.
My contact info is below.
John Canton
Email mrjohncanton@gmail.com