TJR: Review Of WWE Ranking Roman Reigns' Tribal Chief Top 10 Moments (VIDEO)
This is a review of a Youtube video that WWE posted counting down the ten greatest moments of Roman Reigns' run as the "Tribal Chief" in WWE since he started doing that gimmick in the summer of 2020.
As usual, I'll provide context for those moments and share my thoughts as we go through the countdown. Remember, this is WWE's list, not my list.
While Roman Reigns had a really good run in WWE prior to the Tribal Chief, the fans didn't necessarily accept him as "the guy" during his main event push starting with a Royal Rumble 2015 win that saw the crowd boo him even while The Rock was in the ring with him. That Rumble win led to several WrestleMania main events in the years that followed (2015-2018) and the boos didn't go away. On the Raw after WrestleMania 33 in 2017, Reigns was booed heavily for nearly ten minutes and simply said "this is my yard now" since he defeated The Undertaker one night earlier.
In August 2020 after taking a few months off due to concerns during the COVID-19 pandemic (Reigns is a father of five that also has had leukemia twice), Reigns appeared at the end of SummerSlam 2019 to attack Universal Champion "The Fiend" Bray Wyatt and Braun Strowman. Reigns was now a heel. One week later, WWE ran another pay-per-view called Payback on August 30 with Reigns beating The Fiend and Strowman in a triple threat to become the WWE Universal Champion. As I write this nearly two years to the day since Reigns won that title, Reigns is still the Universal Champion. Reigns also added the WWE Championship at WrestleMania 38 earlier this year when he defeated Brock Lesnar. Reigns is the Undisputed WWE Universal Champion.
Reigns also hasn't done this reign of dominance alone. Jey Uso has been the "right-hand man" even though Reigns had to beat him in a few matches to get Jey to "acknowledge" the Tribal Chief. Jimmy Uso missed most of the first year of Roman's dominance due to recovering from knee surgery, but Jimmy has been loyal. The Usos have been Smackdown Tag Team Champions since July 2021 and they added the Raw Tag Team Titles a few months ago to be the Undisputed WWE Tag Team Champions. The Usos have interfered in many of Roman's matches, so it's not like all of Roman's wins are clean. We also know Reigns has the "Special Counsel" Paul Heyman by his side and even Sami Zayn is loosely part of the group known as The Bloodline.
We are now less than one week away from Roman Reigns defending the Undisputed WWE Universal Championship against Drew McIntyre at Clash at the Castle in Cardiff, Wales on Saturday, September 3rd. It will be home turf for Drew since he's from the UK and it's a match in the UK in front of 70,000 screaming fans that will likely want him to win.
Here's the top ten countdown from WWE's video with some comments from me.
10. Returns At SummerSlam 2020
They showed "The Fiend" Bray Wyatt celebrating with the WWE Championship after SummerSlam 2020 and that's when he got attacked by a returning Roman Reigns, who was wearing a "Wreck Everyone & Leave" t-shirt. Reigns also gave The Fiend a Spear. It was an unadvertised, surprising return for Reigns.
9. Runs Over Kevin Owens
It was Royal Rumble 2021 with Reigns defending the Universal Title against Kevin Owens in a Last Man Standing Match. They were in the back part of the Tropicana Field stadium in Tampa with Owens down selling, then all of a sudden Reigns came driving in with a golf cart that he used to run over Owens! It was a fun moment (unless you're Owens) in what was an entertaining match.
8. "Ya Daddy's Not Here Anymore"
This was on Raw recently at MSG on July 25 when Roman Reigns was in the ring doing a promo with The Bloodline. That's when Money in the Bank briefcase holder Theory tried to warn Reigns that he might cash in the briefcase. Reigns had some fun with Theory telling him that "ya daddy's not here anymore." That was a reference to Vince McMahon no longer running WWE since Theory was Vince's pet project, so to speak. The fans chanted "daddy's gone" among other things.
7. Makes Jey Uso Quit
Early in Roman's run as Universal Champion, he tried to make cousin Jey Uso acknowledge him. They had a brutal "I Quit" Hell in a Cell match at Hell in a Cell 2020 with Reigns dominating Jey so much that Jimmy Uso tried to tell Reigns to leave Jey alone. This was a few months after Jimmy had knee surgery and he wasn't cleared to return yet. Reigns applied the Guillotine Choke to Jimmy, who pulled Jey back up and officials had to break it up. Meanwhile, Jey said "I Quit" to give Reigns the win.
6. Wins Champion vs. Champion Match
It was Survivor Series 2021 with Universal Champion Roman Reigns facing off against WWE Champion Big E. Neither title was on the line, but it was a big match. All they showed here was Reigns kicking Big E in the back of the knee and hitting a Spear to win. It was a clean win to show how dominant Reigns was.
5. Double Pin At WrestleMania
This was WrestleMania 37 in 2021 with the fans back for this show at Raymond James Stadium at this show in Tampa. It was the night two main event with Reigns defending the Universal Title against Royal Rumble winner Edge and Daniel Bryan. They showed Reigns giving Edge the Conchairto with two chairs. Reigns placed Edge across Bryan's chest so that both opponents had their shoulders down and Reigns did a stacked pin on both guys. What they didn't show is that Reigns won because of interference from Jey Uso, so it wasn't really clean.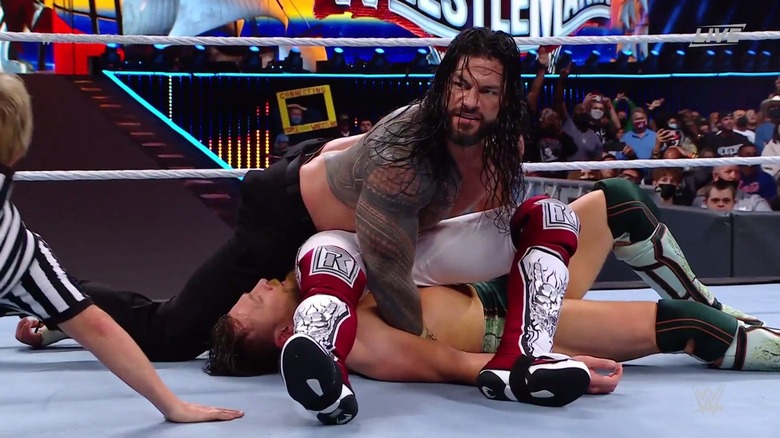 4. "This Is My Ring"
It was a promo face-off between Universal Champion Roman Reigns and WWE Champion Brock Lesnar on Smackdown prior to WrestleMania. Reigns told Lesnar he was going to smash him and it's not even Brock's fault. Reigns said that this is his show, it's his ring, it's his cameraman and these are his people because they acknowledge him. Reigns pointed out other things including the commentators and WrestleMania sign because he is WrestleMania while informing us that everybody works for him. Good promo.
3. Dominates John Cena
I don't know if "dominates" is the right word for Reigns beating John Cena at SummerSlam 2021. The match went 23 minutes, so it's not like Reigns easily beat the guy. It took a while for it to happen. Cena hit the Attitude Adjustment finishing move three times, but he failed to win with it. Reigns came back to take control and hit the Spear for the pinfall win. I think it's justified to call it one of the biggest wins of Roman's career.
2. Spears Brock Lesnar Through The Barricade
It was WrestleMania 38 earlier this year with Reigns facing Brock Lesnar for the Universal and WWE Titles. While WWE tried to call it the biggest match ever, I don't really believe that and I doubt that most fans did. They showed a clip of when Lesnar was scaring his former advocate Paul Heyman on the floor, so Reigns took advantage of the situation and gave Lesnar a Spear through the barricade.
1. Starts His Legendary Championship Reign
The main event of Payback 2020 saw Reigns challenge "The Fiend" Bray Wyat and Braun Strowman for Wyatt's Universal Title. This clip just showed the end of the match with Reigns hitting a Spear on Strowman for the pinfall win. That match was on August 30, 2020 in the Thunderdome and it was the start of Roman's dominant two year (and counting) run as the Universal Champion in WWE. Reigns regained the championship he never lost.
The full video is here.
Final Thoughts:
They did a good job with this and picked a lot of the right things. I think they should have put Roman's win over Lesnar at SummerSlam 2022 at number two instead of just one spot from the WrestleMania match. The SummerSlam 2022 match with Lesnar was way more entertaining than what they did at WrestleMania. They didn't even include Reigns winning the Universal and WWE TItles at WrestleMania 38 either, which surprised me a bit.
Another thing they could have included was Roman beating Daniel Bryan on Smackdown in April 2021 leading to Bryan leaving WWE when his contract expired. Perhaps WWE didn't want to do it since Bryan works for AEW now, but I think that was a significant win for Reigns.
It's been fun to watch Roman's run as the dominant Universal Champion for two years now. It's also going to be interesting to see when he loses the titles and who he loses to. We could find out as soon as Clash at the Castle this Saturday when Reigns faces Drew McIntyre in Wales. It's a big one, that's for sure.
=====
That's all for me.
My contact info is below.
John Canton
Email mrjohncanton@gmail.com
Twitter @johnreport