WWE NXT Takeover Brooklyn 2015 Review
The WWE NXT Takeover Brooklyn show from August 2015 took place during SummerSlam weekend. It happened at a time when some people might say the NXT brand was at its absolute peak.
This was originally written when the show took place. I have added some 2021 thoughts in blue font throughout the review. This is a poster that WWE made for the show.
NXT Takeover Brooklyn
August 22, 2015
Barclays Center in Brooklyn, New York
The broadcast started with Triple H standing in the ring with a microphone on his chest. The lights were off. He talked about how they had a vision for change and you (the fans) made it a revolution. They told us they were future until you told us the future is now. He raised his arms, the lights went on and the crowd chanted "NXT" as the show began. Triple H grabbed a microphone and said "WE ARE NXT."
Analysis: Cool open. Hot crowd. I liked it.
There were some models on the stage with New York-themed outfits as Tyler Breeze made his entrance.
The announce team of Rich Brennan, Byron Saxton and Corey Graves were shown from their seats at ringside.
Jushin Thunder Liger was given some generic theme song. He received a really nice ovation from the appreciative Brooklyn crowd. Liger is 50 years old, a legend from wrestling in Japan, as well as WCW and this is his first match in WWE.
Tyler Breeze vs. Jushin "Thunder" Liger
The crowd was hot for Liger from the beginning of the match. Breeze did his taunt where he posed on the top rope and then Liger did it. Liger applied a surfboard submission that the crowd loved. Breeze upset Liger by playing around with his headgear, which stunned Liger and then Breeze hit a Supermodel Kick for a two count. Breeze controlled the action with a headlock on Liger. Cool spot by Breeze with an armbar into a backstabber for a two count. The crowd was chanting "Full Sail Sucks" in reference to the Orlando university where they tape NXT shows. They chanted it to the chant of "New Day sucks" too, which is pretty funny. Liger hit a rolling kick in the corner and then a tilt-a-whirl backbreaker. Liger went to the top, but his dive missed because Breeze got his feet up. Breeze hooked the arms for a rollup for two. Palm strike by Liger and then he nailed a running dive off the apron when Breeze rolled to the floor. Ligerbomb connected for a three count. The match went 8:42.
Winner by pinfall: Jushin Thunder Liger
Post match, the crowd gave Liger a big ovation and he bowed to them in appreciation.
Analysis: **1/2 It was a good match with some cool spots, but I was surprised that Liger got the win. Breeze is the one that will be there on future shows and he's the younger wrestler obviously, so I figured he'd get the win. It's not that big of a deal. It also could have been done so that they can bring back Liger for future events, so maybe that was part of the reason they did it. I thought they had some good nearfalls and the atmosphere was good. A solid choice for an opener.
(It was cool that WWE brought Liger in for this one match on this show. I wish they did more with him in NXT, but this was it. I'm sure it was a thrill for Breeze too.)
They showed Kevin Nash, Scott Hall and X-Pac sitting ringside at the show. They looked happy to be there.
Bayley was in her dressing room. Charlotte and Becky Lynch were there to show support.
There was a video package for a new diva Mia Jax coming soon.
The Vaudevillains entered first followed by the tag team champions. Alexa Bliss was trash-talking The Vaudevillains saying they couldn't get somebody to help them. The crowd chanted for Blue Pants and her music hit to a big pop. That was an awesome reaction. In fact, the crowd chanted "this is awesome" for it as Blue Pants (Leva Bates) is out there in a Vaudevillains shirt as well as those Blue Pants of hers.
NXT Tag Team Titles: Wesley Blake & Buddy Murphy (w/Alexa Bliss) vs. The Vaudevillains – Aiden English & Simon Gotch (w/Blue Pants)
Simon Gotch controlled Blake early on. English was on fire with a boot to the face after he tagged in and then he controlled Murphy after an armbar. Good charisma shown by English while flexing his arm. The crowd cheered for that, which shows this Vaudevillains team is definitely popular with this Brooklyn crowd. English was on the apron, so Blake interfered to trip him up and English bumped to the floor, which means English is the face in peril in this match. The camera angle showing Bliss' backside in those short shorts is tremendous…I'm just saying. The heels isolated English in their corner for a few minutes while the crowd tried to rally behind English. English did an armbar to break free, but Blake tripped up Gotch before the hot tag could be made. Great double neckbreaker spot by Blake and Murphy. There was a spot in the corner where Blake and Murphy bumped into each other. English kicked free.
Gotch tagged in after the hot tag and hit his unique style of punches, kicks and knees. Forearms for both guys, then he had Murphy on his shoulders and English tagged in. Murphy sent Gotch out of the ring while tripping up English. There was a big Superplex spot that they were going for, but Gotch ended up hitting a Powerbomb on B&M at the same time. English hit a beautiful Swanton Bomb for the nearfall. Great nearfall there! Bliss jumped on the apron for the distraction. Blue Pants took her out. They went in the ring where Pants blocked a slap. The girls tumbled out of the ring in the catfight spot. Gotch hit the forearm shot into the English neckbreaker that they call the Whirling Dervish and there's the cover on Murphy for the victory 10:16. New tag team champions!
Winners And New Tag Team Champions: The Vaudevillains
Post match, The Vaudevillains did a big celebration for their title win. The crowd popped huge for it. They posed with Pants on their shoulders while the former champs walked away.
Analysis: ***1/4 What a fun match. The crowd was hot as soon as Blue Pants came out and then she was a factor in the finish, which provided us with a great ending to the match. They had to incorporate the girls into the finish. They had some exciting nearfalls as well. That's how you build up to the finish of a match the right way. Blake and Murphy did a great job as champions. I don't mind seeing them lose because I think it's fair to say that they became a better team due to holding the gold. That was an awesome moment and I'm genuinely happy for The Vaudevillains. I know English has been there for about three years now, so it's nice to see him with some gold. Gotch has paid his dues as well. Hard work pays off.
(I liked the story here. The match was well worked with the women playing a big role since the Blue Pants gimmick was so over at the time. You'd think something so silly wouldn't work, but it just did. The Vaudevillains winning the titles was the right call and there was a big pop for the title change.)
There was a commercial for SummerSlam.
There was a clip from earlier showing Finn Balor arriving with Neville and then being greeted by Cesaro.
Rick Rubin, a Grammy Award winner, was shown at ringside enjoying the action.
Tye Dillinger made his entrance. He's doing the "Perfect 10" gimmick now. Fans were chanting for him, so they know all about the gimmick. Apollo Crews made his entrance for his debut. He remarked on how big the crowd was.
Apollo Crews vs. Tye Dillinger
The crowd was excited to see Crews' debut. Dillinger is from southern Ontario like me and he's been wrestling for over a decade, so I'm glad he's getting more exposure. Crews showed off his athleticism with a perfect looking dropkick. Dillinger came back with a dropkick of his own while Crews was on the apron, so Dillinger got the advantage. Dillinger tried a sleeper like move that was almost like a Million Dollar Dream and he said "this is why I'm a perfect ten." Crews got a rollup, but then Dillinger connected with a standing side kick for two. Crews came back with an enziguiri kick to the head. Huge clothesline by Crews followed by some leaping clotheslines and a kip up. Gorilla press by Crews and then a standing moonsault is enough for the win at 4:43. It is Crews' birthday too, so happy birthday to him.
Winner by pinfall: Apollo Crews
Analysis: **1/4 It was an impressive debut by Crews, but I'm glad that Dillinger got some offense in too. It's not like the match was a squash. While a standing moonsault doesn't sound like a great finisher, it's okay with me when he does it after a Gorilla Press slam. I think he might need a better finisher in the long term, but that's fine for now. I'm looking forward to seeing more from Crews.
(Crews was new so they put him over a solid worker like Dillinger, who is Shawn Spears in AEW now. Simple match.)
The NXT GM William Regal announced the Dusty Rhodes Tag Team Classic. He said they will make the American Dream very proud. During the promo, he mentioned that October 7 is the next Takeover show, which is a Wednesday night.
The finalists from Tough Enough (Josh, ZZ, Amanda & Sara) were at ringside.
(Amanda would go on to become Mandy Rose. The other three didn't make it as WWE superstars.)
There was a video package to hype up the Corbin/Joe match. Corbin's video package was shown on NXT TV a few weeks back. It basically establishes him as a heel that didn't care what the fans thought about him. Joe told him to be ready.
Corbin entered first to boos. Huge ovation for Joe, who is wrestling at a Takeover for the first time.
Baron Corbin vs. Samoa Joe
Corbin did the classic heel thing of getting out of the ring, but Joe was aggressive as he destroyed Corbin with kicks in the corner followed by another kick that sent Corbin out of the ring. Corbin blocked a running Joe attack with a forearm shot. Back in the ring, Corbin hit three corner splashes to take control. The announcers are talking about Joe competing for 16 years while Corbin's only been in WWE for three years. Good point by them in establishing where they are at in their careers. Joe was aggressive with a single-leg crab submission and then a crossface submission. Corbin got his foot on the ropes to break free. Joe knocked down Corbin on the apron and then tossed him into the barricade at ringside. Back in the ring, Corbin tripped up Joe and applied a heel hook submission on the ankle. Joe hit a chop, but Corbin hit a spinning slam for a two count in a nice nearfall. Corbin hit a superkick and then Joe came back with an enziguiri to take him down, so both guys were out on the mat. They exchanged some punches when they got back to their feet. Joe nailed some hard slaps and then a massive spinning back fist. Corbin fought back with a boot to the face. Suplex into a slam by Corbin for a two count. Good aggression shown by Corbin with punches on Joe while he was in the corner. Corbin did this impressive one-armed slam. Joe kicked out and then grabbed Corbin in the Coquina Clutch. I checked the spelling on that and that's how they spell it. Corbin passed out, so the ref called for the bell. Joe wins by submission at 10:21. The crowd went wild for the finish.
Winner by submission: Samoa Joe
Analysis: *** A good match that I was looking forward to because I wanted to see what Corbin could do in a longer match. He showed he has a lot of talent and can hang with a talented vet like Joe. I thought Joe looked as good as he has in a long time. His TNA run didn't end that well, but now he's really motivated and was really on his game in this match. Joe is probably going to main event in NXT in the near future. As for Corbin, he should still be pushed as a strong heel, but I hope this means he can have some longer matches too. Long term, Corbin has a lot of potential. Remember that NXT is supposed to be developmental and it's built for guys like him. Working with a vet like Joe makes Corbin better, which is what makes NXT so great.
(They were building up Joe as a newcomer in NXT, so it was obviously the right call to have him win. Corbin was booked in a lot of short matches before this, so it was a chance for him to show more of what he can do and I thought they had a competitive match here.)
They showed Ric Flair, Sgt. Slaughter and a female wrestler Kana at ringside. Naomi and Tamina were also in the crowd in Team B.A.D. shirts to support Sasha.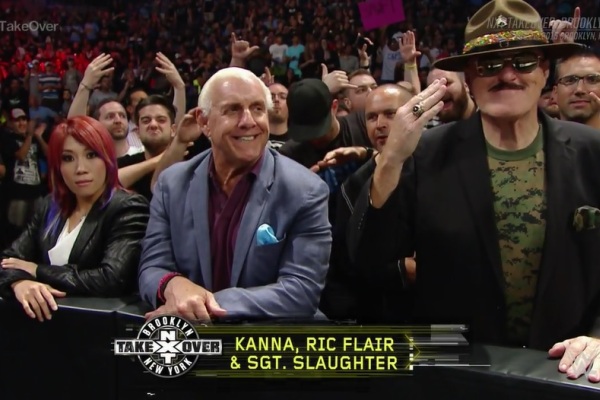 (Kana is Asuka, who would debut a few months later at the next Takeover, which I was at.)
Stephanie McMahon walked down to the ring. She said there were 15,589 people at the show. That's very impressive. She said she was there to introduce the women in the co-main event of tonight's show. My favorite part of NXT is no McMahons are usually on it! I'm not really joking. That led to a video package for the Women's Title match.
Bayley got a really nice reaction from the appreciative crowd. Sasha Banks was driven in a Cadillac Escalade and had four security guys that walked her to the ring. That's some star power right there for the NXT Women's Champion. Banks was cheered as soon as her music hit. I don't see this crowd booing her much. They got the big face to face intros in the ring.
NXT Women's Title: Sasha Banks vs. Bayley
The crowd was doing dueling chants for the ladies: "Let's Go Bayley/Let's Go Sasha." Bayley did this cool elbow drop spot with Banks against the ropes. Fans were chanting "Sasha's ratchet/No she's not" like we see at NXT shows. Bayley hit a dropkick by the apron. Banks stopped her and went for a double knee attack, but Bayley moved out of the way. With Bayley standing on the middle ropes, Banks kicked her in the knee to knock her down and Bayley bumped to the floor. Nice spot there. Banks does all the little things right such as doing a spin before hitting Bayley with a punch to the face. Banks grounded Bayley with her knee to the back submission. When Banks went for her double knee attack in the corner, Bayley caught her and Banks sent her into the turnbuckle again. Banks set up Bayley on the top rope, then Banks went up top and hit the double knee attack to the ribs, which drew a big reaction. That earned a two count. Bayley hit a boot to the face to start a comeback followed by a barrage of punches. Banks hit a great move as she draped Bayley's arms against the middle ropes. Fans chanted "this is wrestling" as Banks took off the wrist brace that Bayley had on to protect her broken hand. Banks slammed Bayley's injured right hand into the steel steps. Banks placed Bayley's hand against the steps and the ring apron and then kicked the steps to cause a lot of pain. Bayley sold it big time while holding her right hand. The ref told Banks to stand back, but Banks did a somersault plancha over the top. That was incredible! Crowd chanting "this is awesome" for them. That got a two count.
There was a big spot where Banks took a bump off the apron and landed hard on her knees on the floor. The referee checked on Banks, who looks like she's okay. Fans were chanting for Bayley. They exchanged punches in the ring with Bayley favoring her right hand, so she used her left. Running corner splash by Bayley. Great spot by Bayley as she did a suplex that sent Banks into the corner with her legs hitting the turnbuckle. Bayley went for her finishing suplex, but Banks rolled her up. They exchanged some holds in the middle of the ring. Banks brought her down by yanking on the right hand of Bayley. Banks applied the Banks Statement submission. When Bayley almost got to the ropes, Banks kicked Bayley's hand to prevent her from getting the rope. Wow, that's great. Bayley ended up getting to the ropes and then applied a Crossface submission of her own. This is intense. The crowd was going wild for it! Banks grabbed the ropes to break free. After another brief exchange, there's the Bayley to Belly Suplex by Bayley and the tight cover, but Banks kicked out. Wow! What an amazing nearfall right there. They went at it on the top rope, Banks shoved her off and Bayley took a hard bump on her head/neck area. That looked scary, but she's okay. Banks hit a double knee attack for a two count. Another awesome nearfall in this match. They battled by the turnbuckle again. Bayley dominated her with elbows. Bayley hit a reverse hurricanrana that spiked Banks on her head for a big bump. She followed that up with the Bayley to Belly suplex for the pinfall and win at 18:22.
Winner by pinfall: Bayley
Analysis: ****1/2 What an absolutely fantastic wrestling match that was. It's not just great for a women's match like some people might say, but they delivered a match that any wrestler man or woman would be proud of. The nearfalls were fantastic. I loved the submissions. I found myself saying "wow" so many times because they went all out to deliver a classic. Banks was tremendous on offense in her attack on Bayley's hand. Then when Bayley came back, she sold the injury and her offense that followed was very believable. The babyface fire shown by Bayley was excellent as the crowd supported her every step of the way. I loved the finish by Bayley. She couldn't just win with a simple B2B. It had to follow a big move, which it did when she did that huge reverse hurricanrana off the top rope. I was so impressed by both of them. It was a classic match and one of the best in WWE this year. It's not at five stars for me although it was one of the best matches of the year so don't take my rating to be a slight in any way. Maybe if I watch it again I'll change my mind. Sometimes it's tough to get a proper feel while writing a play by play.
(I stand by rating since I have seen the match a few times now. If somebody wants to rate it higher, that's fine. It is still one of the best women's matches in WWE history and I absolutely love watching it. I was so impressed by it that when I found out they were doing a rematch at the next Takeover, I flew down to Orlando and saw it in person.)
Post match, there was a big celebration for Bayley. The crowd gave her a standing ovation.
Charlotte and Becky Lynch went to the ring to celebrate with her. After the celebration, Banks hugged Bayley as well. All four women embraced in the ring with a big hug. Graves said women's wrestling is back. What a cool moment. So happy for all of them.
Analysis: Those four women have been the foundation of the women's wrestling revolution on NXT in the last couple of years. They have a tight bond and I'm glad that they had that big moment together.
(They were so close and they did come up in WWE together, so that bond will always be there. Now that I write this in 2021, apparently Becky and Charlotte aren't as close as they used to be, which sometimes happens in wrestling. People grow apart.)
The WWE Champion Seth Rollins was at ringside. He was with his tattooed girlfriend Zahra Schreiber that works in NXT as well. You might remember her from when Rollins' then-girlfriend posted nude photos.
(Rollins ended things with her. A few years after this, Rollins started dating Becky Lynch, they had a daughter born in 2020 and got married in 2021. Awesome couple.)
They showed an announcement by Triple H talking about NXT invading the UK from December 10 to 16. Tickets go on sale on August 28.
Video package for Balor vs. Owens aired.
Kevin Owens made his entrance first. Really good reaction for him that was mostly cheers. Finn Balor, the NXT Champion, is in full Demon gear and made a spectacular entrance that he has been known to do. Owens was sitting in a chair at ringside not looking impressed. Owens is great like that. They were given big intros in the ring.
The NXT Title was raised above the ring and the bell rang. The match began at 10:58pmET, which means they are running past the two-hour allotted time. That's the advantage of having the show on your own network.
NXT Title Ladder Match: Finn Balor vs. Kevin Owens
Owens crushed Balor with a running senton in the ring. Balor's body paint was pretty damn cool like it was in Japan on July 4 when he won the title. Balor had some brief moments early, but it was mostly Owens dominating as he hit a cannonball in the corner. Fans were chanting "ole ole ole" for Sami Zayn. Owens mocked Zayn by grabbing the shoulder. Brennan mentioned it was past 11pmET and that the action keeps going on WWE Network. Saxton said look at Owens mocking Balor – actually he was mocking Zayn. That allowed Balor to take him down, but then Owens went by the entrance for a ladder. Balor took him down with a forearm to the back. Owens trapped Balor using the ladder against the side of the ring. Owens ran at him, stopped and punched him in the face. They brawled around ringside and then went into the crowd. Balor ended up giving Owens a backdrop over the barricade leading to Owens landing hard on the floor. Owens caught Balor and drove him into the barricade. Owens tossed Balor over the announce table followed by throwing the top of the announce table into Balor at ringside. Owens grabbed a Balor under the ring, so Balor ran across the table and hit a dropkick into the ladder to knock Owens down. Balor looked like he hurt his leg a bit, but he was fine as he hit a huge dive over the top to take out Owens outside the ring. The ladder was set up in the ring, so Owens threw Balor into it. The announcers mentioned Balor hasn't been in a ladder match while Owen has. As Owens climbed, fans chanted "climb Owens climb" for him. Balor brought in another ladder to stop the climb. Balor came back with a Pele Kick, but then Owens nailed a hard clothesline.
Owens slammed Balor onto a ladder that was placed horizontally in the ring. He followed that up with a senton. Owens set up the ladder in a V shape across the mat. He teased a Powerbomb, but Balor gave him a backdrop sending Owens onto the ladder and then "holy shit" chants followed. Balor climbed, Owens yanked him down and tossed him back first into ladder in the corner. Owens went for a cannonball, Balor moved and Owens went crashing into the ladder. Balor with a running dropkick. Coup de Grace double foot stomp finisher by Balor in the ring. Balor climbed up, but Owens grabbed his foot, yanked him off and nailed a Powerbomb. Huge spot. Owens climbed up, then Balor shoved the ladder and Owens went crashing into the corner. Owens rolled out to the floor. Balor avoided a Powerbomb on the apron and then kicked Owens in the face to knock him down. Balor went for the double foot stomp on the floor, but Owens moved. Owens nailed the Powerbomb on the side of the ring. Huge reaction for that spot that has done so much damage to guys like Zayn and Cena in the past. Both guys were out on the floor outside the ring.
The ladder was set up in the ring as Owens went to climb. Balor shoved the ladder to knock Owens down and then Owens nailed him with a superkick to the face. Owens told him to stay down, Balor shook his head no and Owens gave him another superkick. They fought on top of the ladder. Owens wanted the cradle suplex off it, but Balor fought it off. Balor slammed Owens' head onto the ladder and then Owens landed back first onto a ladder that was on the bottom rope. Balor reached for the title, but he wasn't directly under it. Balor went for the double foot stomp off the top of the ladder (he was on the step right under the very top of the ladder) and he connected with it. Balor was grabbing his left foot to sell the pain of the move. Balor climbed up the ladder and yanked down the NXT Title for the victory at 21:45.
Winner: Finn Balor
They aired replays of the big spots in the match.
Analysis: **** It was a damn good ladder match from these two that I'm rating four stars out of five. What really made it stand out was that none of the other matches on the show used weapons too much, so those ladder spots were very effective in terms of drawing a good reaction from the crowd. I liked that they didn't have too many slow climb ladder spots while waiting for a guy to get in position. Owens had a few moments where he may have been a bit slow while waiting for Balor, but it wasn't bad at all. I like how they set up the big spots well. Balor hitting the double foot stomp off the ladder was a great moment for the finish. Owens gave him everything he had, but he wasn't able to hit that cradle suplex off the ladder. That's why they told a great story because it was Balor who hit the decisive big move to win the match. That's how you use basic storytelling to make a ladder match look great. It's not just about guys jumping off the ladders and killing themselves. It was about who could hit that one big move to seal the win. It was Balor and it was a clean win for him.
(I remember thinking Owens might win to surprise us since he was on the main roster already at this point, but the Balor win made sense. They wanted to establish that Balor was tough to beat as the Demon character and it just made sense for Owens to move on from NXT since he was on the main roster. It's a good match overall with some big spots and they got plenty of time. It's probably overshadowed by Bayley/Banks, which is understandable.)
The show ended with Balor celebrating his win on the ladder.
This event has a runtime of 2:19:49 on WWE Network.
Five Stars Of The Show
1. Sasha Banks – Both women deserved it, but The Boss was on fire.
2. Bayley – Very impressed by her. She has a lot to smile about after the one.
3. Finn Balor
4. Kevin Owens
5. Samoa Joe
Final Thoughts
This felt like a 9 out of 10 from me.
(That may be generous. I'd probably go 8.5 now. That's still very good!)
Great job by the Brooklyn crowd. They were hot all night and respectful most of the time, unless you go to the Full Sail shows because they didn't like those fans haha.
The babyfaces won all six matches. That's pretty rare. I picked Breeze and Owens to win, but neither of them did. I'm okay with that, though. Maybe I'm just biased for my fellow Canadians!
I have so much praise for that show because the matches were very good from top to bottom and the co-main events delivered the goods. It was a fantastic all-around WRESTLING show that any fan of this business should love.
The women absolutely stole the show. I'm so impressed by the efforts of Bayley and Banks. I've seen Banks have a few matches of that caliber or close to it, but I think that was the best match. It was definitely the best Bayley match I've seen because it's the first time I can remember her really getting a chance to be in a long singles match that went about 20 minutes. They were fantastic.
Very good main event by Balor and Owens. It probably ends the feud for good. I'm not sure who is up next for Balor because they don't really have ready-made heels for him to face.
Everything else was cool. I'm so happy for The Vaudevillains winning the tag team titles. Joe and Crews were impressive in their wins. Liger winning was a good choice for the opener.
Huge thumbs up from me. Go watch this show if you missed it.
Thanks for reading.
John Canton –mrjohncanton@gmail.com
Twitter@johnreport