The John Report: WWE NXT Battleground 2023 Review
This is WWE NXT Battleground featuring Carmelo Hayes-Bron Breakker for the NXT Title, plus three more championship matches.
It's the third WWE NXT PLE of 2023 and they're on the road again. I watched Battleground on Monday morning due to reviewing another show on Sunday night. Let's get to it.
NXT Battleground
From the Tsongas Center in Lowell, Massachusetts
May 28, 2023
There was an opening video package showing some history in Lowell, Massachusetts as if it's a wrestling hotbed and then the video focused on the key matchups on the show.
The commentary team of Vic Joseph and Booker T welcomed us to the show from their seats at ringside.
NXT North American Championship: Wes Lee vs. Joe Gacy (w/Ava) vs. Tyler Bate
The first fall wins. No disqualifications and no countouts in this match.
The three guys all tried nearfalls to start the match. Wes dumped Gacy to the floor, then Gacy trash talked them, so Wes and Bate fought with Gacy on the floor. Wes and Bate started throwing punches, so Gacy hit a dive onto both guys. Gacy caught Bate with a powerslam and Wes broke up the pin. Wes did a sunset flip on Gacy while Gacy did a suplex on Bate for another nearfall for Wes. Wes got a hurricanrana on Bate for a two count. Bate got some offense going with overhead suplexes on both opponents. Bate hit a standing SSP on Wes. Bate with a jab to Gacy, then Bate got a hold of Wes and Bate did a light swing to Wes while Gacy was on his (Bate) back. Bate slammed Gacy onto Wes and Bate bounced on the ropes with a clothesline. Wes worked over Bate with a forearm smash, Bate launched Wes into the air, Gacy caught Wes and Gacy gave Wes a Powerbomb into Bate. Gacy caught both opponents for a reverse DDT/uranage combo. Gacy applied a head/arm submission, Bate kicked Gacy in the head, Gacy smiled and then Bate beat him down with punches. Bate missed a running SSP on Gacy, who applied the submission on Bate, but Wes broke it up. Bate and Gacy each tried a combo move on Wes, but Wes avoided it, so Bate and Gacy clotheslined eachother. Wes hit a Cardiac Kick on Gacy at the same time leading to Wes getting two counts on both guys. Wes hit a jumping kick on Bate, then Gacy avoided a charging Wes and punched Wes in the face. Wes applied a sleeper to Gacy, who ran Wes into the turnbuckle. Bate broke up a pin attempt by Gacy with a twisting splash off the ropes. Bate hit the Tyler Driver 97 on Gacy and Wes broke that up with a Meteora (double knee) on Bate. Wes kicked Gacy, Joe knocked Bate off the apron and Gacy was seated on the top rope. Wes jumped over the top with a dive on Bate. That was great by Wes. Gacy hit a uranage, then tried his bounce off the rope move and Wes hit the Cardiac Kick instead for the pinfall win at 11:59.
Winner by pinfall: Wes Lee
Analysis: ***1/4 A good win for Wes Lee to keep his title. It was fast-paced with a lot of nearfalls, so it's a smart choice for an opening match. I think if it was Wes Lee against Tyler Bate it would have been a much better match. That's nothing against Gacy, but singles matches are better than triple threats. They did a lot of unique combo moves, so I give them a lot of credit for being innovative. The last few minutes were outstanding with all three guys looking like they might win, but Wes pulled it out after that dive onto Bate on the floor and the Cardiac Kick to finish off Gacy as well.
As Wes Lee celebrated the win, Vic said that Wes had the most title defenses of any NXT North American Champion ever.
Bron Breakker was shown walking backstage. Bron bumped into two random dudes backstage, who backed away from him. They showed NXT Champion Carmelo Hayes and Trick Williams walking backstage earlier in the day.
A video aired about the Heritage Cup match by letting us know about the rules.
NXT Heritage Cup: Noam Dar vs. Dragon Lee
There are six three-minute rounds in the match. It's 2 out of 3 falls. Nathan Frazer was the cornerman for Dragon Lee for this match while Dar didn't have a cornerman.
Round 1: They spent over one minute fighting over some basic holds. Dragon applied a wrist lock submission. Dar tripped up Dragon going for a submission, but Dragon kicked him away. They each went for kicks, but they avoided eachother with Dar ducking by the ropes. Dragon hit a dropkick to knock Dar off the apron. They had a 30-second break to end the round. Oro Mensah ran down to ringside to support Dar.
Round 2: Dragon was in control as he knocked Dar down by the turnbuckle and jumped over the ropes leading to a dropkick. Dragon hit a running dropkick in the corner. Dar rolled up Dragon for two. Dar rolled up Dragon for a second time and put his body weight across Dragon, so Dar had the first fall.
Round 3: Dar leads 1-0. Dar tripped up Dragon going for an armbar, but Dragon got out of it with a kick to the head. Dragon was on the turnbuckle and Dar kicked the ropes to knock him down. Dragon got a rollup for two. Dar went to the apron, so Dragon jumped over the top rope and hit a hurricanrana on Dar on the floor. Dragon hit a suicide dive on the floor. Dragon hit a running knee for a two count. Dragon did some punches by the ropes as the third round ended. Dar hit a spinning back elbow to the head after the bell. The referee didn't disqualify Dar for it.
Round 4: Dar was on offense with a running kick to the head. Dragon got an inside cradle for two. Dar applied an armbar on the left arm Dragon applied a Texas Cloverleaf submission, Mensah pushed the rope toward Dar and Dar got to the rope. Frazer complained about that to Mensah, so Mensah shoved Frazer into the steel steps. Dar got a rollup on Dragon for two. Dragon flipped around and slammed Dar into the mat. It was 1-1 now.
Nathan Frazer went into the ring and superkicked Mensah out of the ring. Frazer hit a suicide dive on Mensah on the floor. Both cornermen were tossed out of the match.
Round 5: It was tied 1-1. Dar caught Dragon's foot, then Dar applied an Ankle Lock and Dragon sent him to the apron. Dragon tried a hurricanrana while on the apron, but Dar caught him and hit a Powerbomb-like move on the floor. Back in the ring, Dar hit a back elbow to the head for a two count. Dragon came back with a German Suplex, a knee to the jaw and a sitout Powerbomb for two. Jakara Jackson ran into the ring, then Lash Legend showed up and hit Dragon with a bucket to the back. Dar hit a jumping kick Nova Roller for the pinfall win. It went 11:51.
Winner by pinfall: Noam Dar
Analysis: **3/4 It was okay, but I don't think the match format works in terms of having an exciting match. They are both tremendous performers and having a regular match would be better than this. I understand the history of the Heritage Cup and having different rules can lead to some interesting booking. I just think Dragon and Dar would have a better match if it was more of a regular pro wrestling match. Anyway, that bump by Dragon to the floor in the fifth round was nasty and Dar finished off Dragon after that thanks to Jackson/Legend helping Dar win. I think they need to book Dragon stronger than this although it wasn't a clean loss.
After the match, Dar celebrated with Legend, Jackson and Mensah. It looks like a new stable.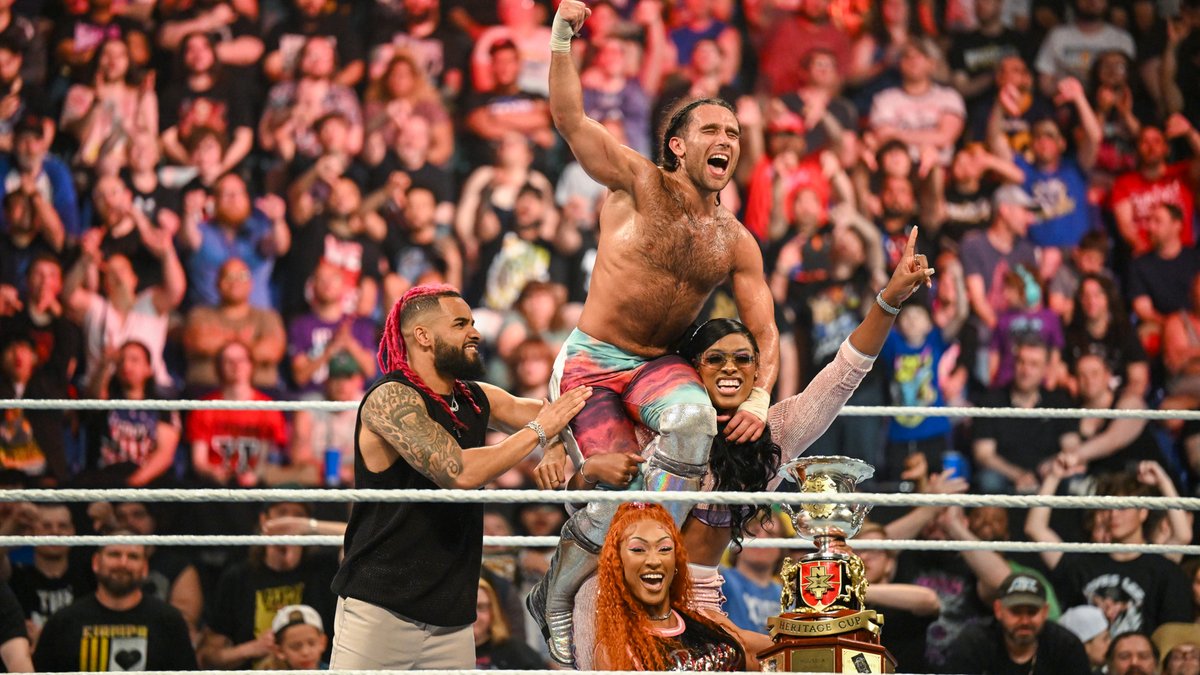 This Tuesday on NXT it's Jacy Jayne vs. Gigi Dolin in a Weaponized Cage Match kicking off the show.
A video package aired about Dijak's match with Ilja Dragunov that was set up with a lot of fights in the backstage area.
During Dijak's entrance, he told his wife and kids in the aisle that he didn't want them to see this. He's from the Massachusetts area.
Last Man Standing Match: Ilja Dragunov vs. Dijak
Last Man Standing Match means there are no rules and you win by beating your opponent down so they can't answer a ten count. This is the match I was looking forward to the most on this card. They are great performers and it has been built up well.
Dijak used his size advantage to connect with a clothesline along with a running kick that knocked Dragunov off the apron to the floor. Dijak brought steel steps into the ring. Dragunov sent Dijak into the top of the commentary table followed by a jumping kick. Dragunov tried an attack on the floor, but Dijak hit him with an up kick. Dijak slammed Dragunov onto the steel steps. Dijak pulled a table out from under the ring, which led to cheers. Dijak held the table against his body, so Dragunov ran at him to break the table. Dragunov cut his own jaw doing that dive because he was bleeding heavily around his mouth. They showed replays probably because they were trying to stop Dragunov's blood. When the match continued, Dragunov's blood was slowed down for sure. Dragunov kicked Dijak down while they were in the ring. Dragunov tried a suplex on the steel steps, Dijak held the ropes and Dragunov went back first onto the steps. Dijak tried a lift, but Dragunov countered with a DDT onto the steps. Great spot as the fans chanted "NXT" for them. Dragunov hit Dijak with the steel steps while Dijak was near the ropes. Dragunov put the steps beside Dijak, then Dragunov climbed to the top and Dragunov hit the Coast to Coast dropkick into the steps on Dijak. Impressive leap by Dragunov there. Dijak was up before the nine count. Dragunov with chops, Dijak with a kick, Dragunov with more chops and a hard chop to the chest. Dragunov delivered even more chops on Dijak. Dragunov gave Dijak a German Suplex with Dijak flipping over and getting back up. Dijak choked Dragunov, brought him to the apron and Dijak delivered a Chokeslam on the apron. Dragunov got up at a nine count. Back in the ring, Dijak hit the Feast Your Eyes lifting knee to the jaw. Dragunov was bleeding by the jaw again as Dragunov leaned against the turnbuckle to sell that.
Dijak grabbed a kendo stick from outside the ring and hit Dragunov in the chest with it. Dragunov was against the ropes with his arms against the turnbuckle. Dijak hit Dragunov in the chest again. Dijak: "What are you forcing me to do?" Dijak hit Dragunov in the chest with the kendo stick again. Dijak told Dragunov to stay down while wiping blood on the kendo stick. Dijak hit Dragunov two more times with the kendo stick and the kendo stick broke at that point, so Dijak tossed it aside. Dijak hit Dragunov with a chair to the back. Dragunov was back up with a running kick to knock Dijak down as the fans chanted "this is awesome" for them. Dijak delivered a running forearm on a seated Dijak. Dragunov jumped off the steps with a forearm to the back while Dijak's head went into a steel chair. The referee was counting really fast, Dragunov was back up around eight and Dijak stayed down for the ten count, so Dragunov won the match. It went 15:54.
Winner: Ilja Dragunov
Analysis: ****1/4 Excellent match that lived up to the hype of being a great fight. They both took a beating, they didn't rush anything and they sold everything well. Sometimes in wrestling, guys don't sell enough and they want to rush through a match. These guys took their time to tell the right kind of story. I thought the finish was clever with Dragunov hitting a blow to the back of the head with Dijak's head hitting the chair to keep Dijak down for good. Having the babyface Dragunov win the match was the right call to settle this rivalry for now. Both guys deserve pushes to the main event level in NXT. They are awesome.
Ilja Dragunov celebrated the win with the fans cheering for him.
There was a Chase U vignette with Duke Hudson saying you all did well in the test, except a guy named Ricky. He sucked. Duke Hudson brought in special guest teachers Drew Gulak and Charlie Dempsey to teach them about catch wrestling. They mocked Thea Hail for losing matches and her poor technique. Duke told them not to make Thea cry and said next week, have a better lesson plan. Duke said the class was dismissed.
Noam Dar and his group were interviewed by Mckenzie Mitchell. Dar said that it was history defending the NXT Heritage Cup in America for the first time. Dar said they were at the top.
The next NXT Premium Live Event will be the Great American Bash on Sunday, July 30th from Cedar Park, Texas. It is near Austin, Texas.
NXT Tag Team Championships: Gallus – Wolfgang & Mark Coffey (w/Joe Coffey) vs. The Creed Brothers – Julius & Brutus Creed (w/Ivy Nile)
There wasn't much of a story to this. It's just a way to get this title match on the show. The Creeds were in control of Mark early on with the brothers each hitting knee strikes to the body. Julius ran the ropes, Brutus made the tag and Brutus hit a double axhandle off the top. Brutus smashed Mark with forearms. Wolfgang made a blind tag leading to a stun gun into the top rope. Gallus worked over Brutus in their corner as Mark hit a knee to the ribs and Wolfgang hit a running senton splash on Brutus. Mark hit a shoulder tackle followed by a side headlock to slow it down. Brutus powered Mark up leading to a slam. Wolfgang back in, he elbowed Julius off the apron, Brutus hit a back body drop and Julius got the tag. Julius hit belly-to-belly suplexes on both guys six times in a row with Julius doing a kip-up every time. The fans got into it. Julius hit two more belly-to-belly suplexes and I think that was eight total. Brutus tagged in with a standing moonsault on Mark for a two count. Mark countered a tag team move attempt by the Creeds. Wolfgang went into the ring and hit a double Chokeslam. Brutus jumped off the top with a Brutus Ball onto both Gallus guys. All four guys were down. After they all got up, they started brawling with punches. Julius and Mark were legal with Julius hitting jumping knee, then a lifting slam and Joe went into the ring, so Nile tripped him up. Julius clotheslined Joe out of the ring. Ava showed up and shoved Ivy into the ring post. Wolfgang picked up Julius on his shoulder and Mark hit a running knee on Julius for the pinfall win at 9:35. Gallus boys remain on top.
Winners by pinfall: Gallus – Wolfgang & Mark Coffey
Analysis: **3/4 It was a good tag team match. It never really got going in terms of being more than an average match. They were also in a tough spot trying the follow the match before it that was an intense fight. Things really picked up after Julius tagged in with all of those suplexes and there were a lot of big moves. I didn't like all of the illegal action in the last few minutes of the match with all four guys in the ring for far too long. Hopefully there's a better tag team feud for Gallus in the future.
The mystery woman that wears a hoodie said she will reveal who she is this Tuesday on NXT. She has attacked several people for months now, so we will find out who it is.
A video aired about the Women's Championship Tournament final match between Tiffany Stratton & Lyra Valkyria. They both won two matches to get to this point.
Women's Championship Tournament Final: Lyra Valkyria vs. Tiffany Stratton
Stratton is the cocky heel while Lyra is the face. Lyra got a headlock takeover to get control early on. Lyra applied a crucifix pin for a two count. Lyra got another nearfall while Stratton regrouped by taking a breather. They did a spot where they ran the ropes, Lyra did a leapfrog and landed awkwardly on her left leg leading to a bit of an ankle/knee twist. Lyra with a monkey flip followed by an arm drag leading to Stratton bailing to the floor. Back in the ring, Lyra got a takedown and Stratton left the ring again. Lyra went for a dropkick on the floor, Stratton caught her and slapped Lyra down. Stratton sent Lyra's left knee into the ring post. Stratton did it again as she drove Lyra's knee into the ring post. Stratton took a knee brace off Lyra's left knee. Back in the ring, Stratton hit a knee breaker along with a dragon screw leg whip. Stratton did it again. Stratton wrenched on the left knee again including a bridging submission where Stratton pulled back on Lyra's head. They got into a slap fest leading to Stratton slamming Lyra's knee to the mat. Lyra managed to get a sunset flip for two. Lyra kicked Stratton into the turnbuckle and Stratton kicked out of a pin attempt. Lyra hit a missile dropkick off the middle rope knocking Stratton down. Lyra got some offense with a kick to the back. Lyra hit two Northern Lights Suplexes, but Stratton kicked the left knee again. Stratton charged and Lyra kicked her in the head. Lyra hit a cross body block off the apron to the floor.
Back in the ring, Lyra did a slow climb to the top and jumped off with a cross body block. Stratton caught Lyra, did a lift to the shoulders and Lyra did a Crucifix Bomb pin attempt for two. Lyra went up top slowly, Stratton tripped her up and hit a dropkick. Stratton hit a splash off the turnbuckle for a two count. Lyra tried a lifting move, Stratton kicked the left knee. Lyra caught Stratton for a two count. Stratton hit a dropkick on a seated Lyra for a two count. Stratton went for the handspring attack in the corner, but Lyra caught Tiffany and hit a German Suplex. Lyra tried a spin kick, but the left knee buckled and she missed it to sell the knee injury. Stratton hit a rolling senton. Stratton went for the triple jump moonsault off the top, but Lyra moved. Lyra hit a the spin kick to the head for one…two…and no because Stratton's right foot was on the bottom rope. It was obvious that was coming based on where Stratton was positioned. Lyra went for a Powerbomb out of the corner, but Stratton hit a hurricanrana. Stratton with a rolling senton again, then Tiffany hit the triple jump moonsault for the one…two…and three! Tiffany wins at 16:01.
Winner by pinfall AND NEW NXT Women's Champion: Tiffany Stratton
Analysis: ***1/2 I liked that match a lot because of the story they told. It was probably the best match I've seen from both women in NXT so far. They worked hard, had a lot of time and ended up having a pretty good match. There was a story to the match with Stratton working over the left knee for most of the match and Lyra sold it while also looking like a fighting babyface making a comeback. I think the right woman won with Stratton getting the biggest win of her career as the new NXT Women's Champion. Lyra is talented in the ring, but character-wise she isn't there yet and they need to work on her persona more.
It was Tiffany Epiphany for the new NXT Women's Champion Tiffany Stratton as she celebrated with the NXT Women's Title.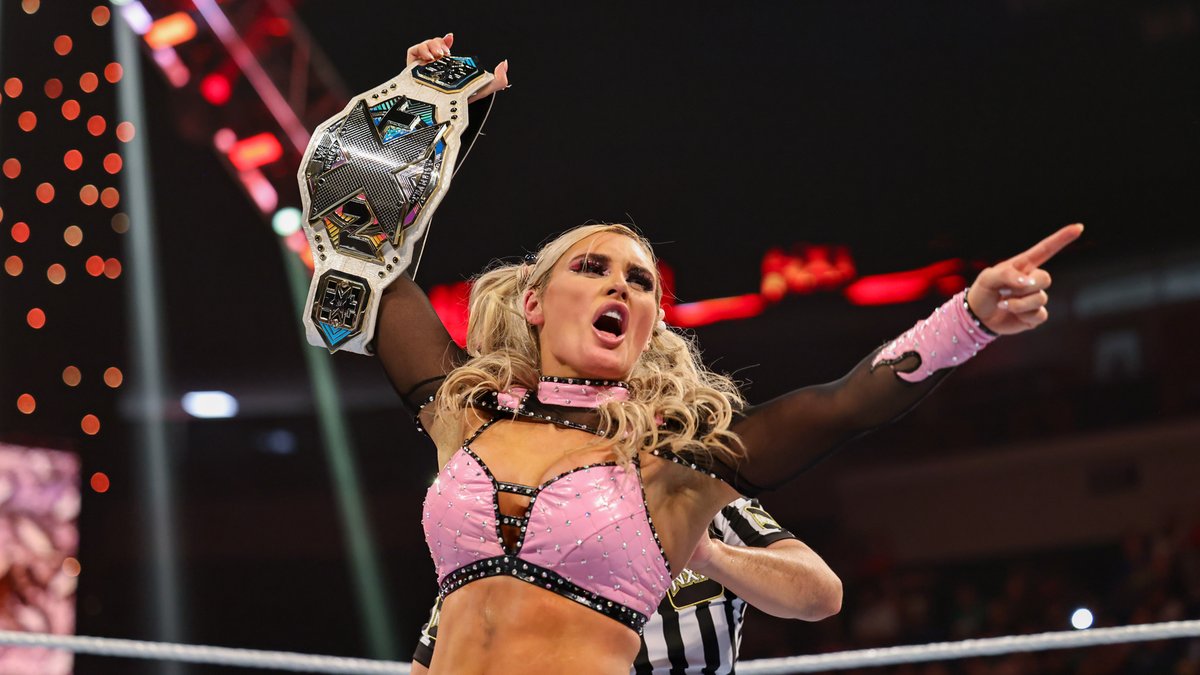 Analysis: Congratulations to Tiffany on the win. She is going to be a big star in all of WWE over the years, so this is just an early part of her journey. Tiffany has improved a lot in the ring, she's got the look and the star power, so she's going to be a big deal.
The video package aired for the main event with NXT Champion Carmelo Hayes defending the championship against the former champion Bron Breakker. Bron turned heel after losing the title to Melo, who is now the top face of the brand.
Bron Breakker made his entrance first as the challenger. Bron had a hoodie on along with a rabid wolf or dog mask on his face to make him look scary.
Trick Williams did the introduction for his buddy Carmelo Hayes while mentioning the sports teams in the city of Boston and all their championships. Carmelo Hayes is from the area, so the fans popped loudly for him. Melo flexed and it said "HIM" with some flags on his arms. The shirt he had on said "Welcome to Melochussetts" so that's clever. Good job by Bron having a beard to look more intimidating as the heel. Alicia Taylor did the introductions. They don't say how much a wrestler weighs anymore, which is weird.
NXT Championship: Carmelo Hayes (w/Trick Williams) vs. Bron Breakker
Melo attacked Bron by kicking the left knee repeatedly. Melo kicked Bron out of the ring. Melo jumped onto Bron on the floor and nearly didn't make it that far, but Bron was able to catch him and Bron sold it fine. Bron tackled Melo into the ring apron. Back in the ring, Bron caught a leaping Melo and hit him with a powerslam. Melo jumped over Bron's back leading to a dropkick. Bron gave Melo a hiptoss across the ring. They left the ring with Bron beating him up a bit while warning Trick as well. Melo with a kick that didn't really connect, then a neck snap against the ropes and Melo hit a springboard fade away leg drop. Melo applied a half crab submission on the left knee. Bron got out of that, Hayes tried an arm drag and Bron came back with a clothesline. Bron gave Melo an overhead suplex as he took control of the match. Bron hit a belly-to-belly suplex followed by some suplexes like uncle Scott Steiner loved to do. Bron caught Melo trying to do a move and Bron hit another overhead suplex as the fans chanted "you suck" at Bron. Melo was on the turnbuckle, he kicked Bron down and Bron was back up with a Frankensteiner (like uncle Scott) for two.
Bron remained in control with two straight clotheslines. Melo avoided a clothesline, then he kicked the left leg and delivered some chops. Bron came back with a German Suplex. Bron tried to jump on the back, Melo got two knees up and Melo hit an up kick. When Bron tried to come back with a delayed suplex, Melo hit a DDT to counter. Great move! The fans were coming alive for the hometown guy Melo. They exchanged punches with Melo delivering some punches, then a drive to the knee and a superkick. Melo hit a pump kick followed by a springboard clothesline. Hayes spun around the shoulders leading to a slam into the mat. Bron powered out of pin attempt. Melo hit a lifting Cutter for a two count. They both got up to exchange punches, Bron delivered an uppercut and went for a press slam, btu Melo countered with double knees like a Codebreaker. That was awesome. Melo jumped off the top, Bron avoided it and Melo sent Bron into the turnbuckle. Melo went for a springboard attack, but Bron hit a Spear for one…two…and no! That was excellent. They nailed that perfectly. Bron hit two gutwrench slams. Bron went for a lift, Melo got an inside cradle for two and Melo connected with two superkicks. Melo with a third superkick. Melo with a springboard DDT. That was great. Melo went up top and hit the Nothing But Net leg drop to the back of the head driving Bron into the mat. Melo covered for the one…two…and three! Melo gets the pinfall win at 14:14.
Winner by pinfall: Carmelo Hayes
Analysis: ***1/2 I thought it was very good and probably a bit better than their Stand & Deliver match. Since Bron was a heel here it was more of an interesting going into the match. I like Bron more as a heel than as a face because he looks more intimidating this way while it's easy to root for his opponent to try to beat him. That move where Hayes went for a springboard attack and Bron hit him with a Spear was incredible. They timed that perfectly and it looked vicious. That springboard DDT by Melo before the finish was brilliant. He usually does the springboard clothesline, but doing a DDT off the leap is even more impressive. That Nothing But Net finish by Hayes is one of the best finishers in all of WWE these days.
Carmelo Hayes celebrated the win with the NXT Title as the fans cheered for him. End show.
This event had a runtime of 2:31:04 on WWE Network. That's about ten minutes shorter than Stand & Deliver was.
Five Stars of the Show
Ilja Dragunov
Dijak
Carmelo Hayes/Bron Breakker
Tiffany Stratton
Wes Lee
Final Thoughts
I rate this show a 7.25 out of 10.
It was a pretty good night of wrestling with a 2.5-hour runtime for six matches. I think Dragunov-Dijak definitely had the best match. It was a fight and worthy of the Last Man Standing stipulation. They both took a beating to tell the story of the match. I thought the Carmelo Hayes-Bron Breakker match was better than their last match. That Spear by Bron when Melo jumped off the ropes was amazing. Loved some of the moves that Melo did as usual.
I'm happy for Tiffany Stratton winning the NXT Women's Title. She has improved a lot as a performer, improved her look along the way (wink, wink) and she has such a bright future in WWE. Lyra Valkyria sold that knee injury very well, so that led to an interesting story in that match. Wes Lee continued his reign. I think he would have had a better match with Tyler Bate if it was just a singles match. Nothing against Joe Gacy, but triple threat matches aren't as interesting. The Heritage Cup match is different. I wouldn't say it's better than if Dar/Dragon had a regular match, though.
Overall, I liked the show for the most part. It's not at the level of the best Takeover era from about five years ago or anything like that. It's still solid wrestling with a young roster that is getting better.
===
Thanks for reading. My contact info is below.
John Canton
Email mrjohncanton@gmail.com
Twitter @johnreport