TJR: Review of WWE Ranking Randy Orton's 20 Greatest Moments
Randy Orton made his WWE television debut 20 years ago this month. In order to celebrate that occasion, WWE has released a video counting down the top 20 greatest Orton moments.
What I'm reviewing here is a Youtube video WWE posted counting down Orton's 20 greatest moments. I'll provide context for those moments and share my thoughts as we go through the countdown. Remember, this is WWE's list, not my list.
I'm a fan of Randy Orton. I don't know how many Randy Orton matches I've watched and reviewed in my life, but it's going to be in the thousands. I was there at Raw on the night after he won the World Heavyweight Title for the first time. We're the same age. I've met him a few times. He was a bit wild in his younger days, but he's matured into being a WWE veteran that's a husband, father, and a leader in WWE. Orton is 42 years old, he wants to wrestle until he's around 50 years old, so there's a lot of time left in his career as long as he stays healthy.
Let's get to WWE's list.
20. Debut Victory
Randy Orton won his first match on Smackdown when he beat veteran Hardcore Holly. Orton hit a cross body block off the top, Holly turned it over into a pin attempt. Orton did a drop toe hold followed by an Oklahoma Roll into the pinfall win. It aired on the April 25, 2002 edition of Smackdown.
19. Intercepts Chad Gable with Mid-Air RKO
This was from earlier this year. Chad Gable of the Alpa Academy was on the top rope, he jumped off with a moonsault and Orton was there to hit him with a mid-air RKO. The fans were going wild for it.
18. Evolution Forms
Scott Steiner was beating up Batista against the turnbuckle, Triple H made his way down to the ring to go after Steiner while Orton and Ric Flair were already in the ring. This led to Triple H, Batista, Orton and Flair celebrating together as they became the dominant group known as Evolution. This was in early 2003.
17. Wins First Title
The first title that Orton won in WWE was the Intercontinental Title when he beat Rob Van Dam. Orton beat RVD clean with an RKO at Armageddon 2003. Mick Foley was the referee that counted the pin. Orton would go on to have a memorable feud with Foley in 2004. That Armageddon 2003 PPV ended with Evolution standing together with all four men holding titles.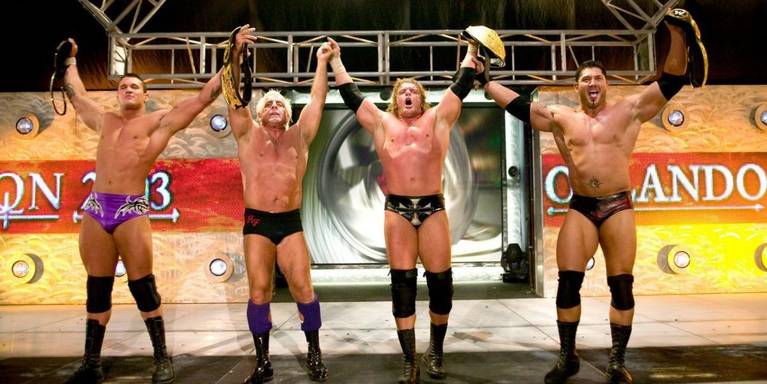 16. Counters The Undertaker's Chokeslam Into an RKO
It was WrestleMania 21 in 2005. The Undertaker tried to give Orton a Chokeslam, but Orton countered it into an RKO. It drew a huge ovation from the crowd even though Orton was the heel in the match. That was a move we weren't expecting, nor have we ever seen before, so it really stood out as a big move and that's why it drew a big reaction.
15. Wins US Title with RKO Counter
Robert Roode was the US Champion facing Orton. The finish of the match saw Roode going to the middle turnbuckle, he jumped off and Orton caught him with the RKO for the pinfall win. Orton became the US Champion. That drew a huge pop since Orton was a babyface at the time.
14. Prevails in WrestleMania Debut
Orton's first WrestleMania match was in 2004 at the memorable WrestleMania 20 event in Madison Square Garden. Orton teamed up with his Evolution buddies Ric Flair & Batista in a 2-on-3 handicap match against The Rock & Mick Foley. The finish saw Foley going for the dreaded Mr. Socko attack on Orton, but Orton was waiting for him and dropped Foley with an RKO for the pinfall win.
13. RK-Bro Wins Raw Tag Team Titles
Orton's tag team with Riddle known as RK-Bro has had a lot of success over the last year. At SummerSlam 2021, they challenged the champions AJ Styles & Omos for the Raw Tag Team Titles. Styles went for a Phenomenal Forearm on Orton, who moved out of the way and Styles blocked an RKO. Styles got a rollup, Orton kicked out and Orton hit the RKO on Styles to win the Raw Tag Team Titles. it was another moment leading to cheers.
12. Wins WWE Title in 6-Pack Challenge
There was a six-pack challenge for the WWE Title at Night of Champions 2010. It was an elimination-style match that came down to the WWE Champion Sheamus and Orton. After Sheamus went for the High Cross, Orton slipped out of it and Orton hit the RKO for the pinfall win. There was a thunderous ovation for that WWE TItle win by Orton.
11. Pins The Undertaker
One of Orton's longest feuds was with The Undertaker in 2005. At SummerSlam 2005, Undertaker picked up Orton going for a big move and Orton hit Taker with the RKO leading to the pinfall win. What the clip didn't show is that Orton benefitted from a "fan" going in the ring to distract Undertaker. It was Orton's dad Bob Orton, so even though Randy got the win, it wasn't necessarily a clean win.
10. Cashes in his Money in the Bank contract
It was SummerSlam 2013 after Daniel Bryan beat John Cena to become the WWE Champion. Triple H was the referee of that match. After the match, Triple H gave Bryan a Pedigree. That wasn't even shown in this clip, but they did show Orton cashing in his Money in the Bank contract. Orton was a face at this moment, but as he turned Bran over and pinned him, Orton was a heel along with Triple H. That's how SummerSlam ended in 2013.
9. Counters Stomp Into RKO
Orton faced Seth Rollins at WrestleMania 31 in 2015. Rollins countered an RKO attempt with a shove, Rollins with a spin kick to the chest and Rollins wanted The Stomp, but then Orton managed to launch Rollins into the air leading to one of the greatest RKOs ever! Orton pinned Rollins to win the match. It is remembered as one of the best RKO's ever for sure and certainly one that people will always think about fondly since it took place at a WrestleMania.
8. Wins 2009 Royal Rumble Match
They showed the final four in the 2009 Royal Rumble match with Orton joined by his Legacy buddies Ted Dibiase and Cody Rhodes battling against Triple H, who was the lone babyface left. Orton was nearly eliminated, Hunter gave Cody a Pedigree and Hunter dumped Dibiase out. Hunter dumped Cody out as well, but then Orton capitalized right after that to dump Hunter out of the ring. Orton won the 2009 Royal Rumble as a heel. That was his first Royal Rumble win.
7. Defeats John Cena Inside Hell in a Cell
John Cena was one of Orton's greatest rivals in WWE. They had a long feud in 2009 that saw Cena defend the WWE Title against Orton side Hell in a Cell at the 2009 version of the PPV with the same name. The match ended with Orton kicking Cena in the head with The Punt for the pinfall win. When you watch the clip, WWE censors it by not even showing Orton's foot making contact with Cena. Orton was the WWE Champion again. This time he was a heel.
6. Sets The Undertaker on Fire
I mentioned earlier that one of Orton's longest and best feuds was in 2005 against The Undertaker. This moment was from No Mercy 2005 with Orton and his father Bob putting The Undertaker in a casket. They went over by the entrance area, Orton poured a big can of gasoline on top of the casket and lit it on fire. Undertaker would come back after that leading to Undertaker vs. Orton at Armageddon 2005.
5. Wins Money in the Bank
This was in 2013. Rob Van Dam was climbing the ladder, Orton stopped that and dropped RVD with an RKO off the ladder. The ladder was higher than the top rope, so it was a great bump and spot. RVD sold it so well. Orton climbed the ladder slowly, made it to the top and Orton pulled the red Money in the Bank briefcase down. The fans popped for that.
4. Last Man Standing Against Triple H
Triple H was another guy that Orton wrestled a lot in his career with Orton usually in the heel role. It was No Mercy 2007 with the WWE Title on the line in a Last Man Standing Match. They were battling on the commentary table, Orton countered Hunter and hit an RKO on the table. The table didn't break although I assume it was supposed to break. Orton got back into the ring while Triple H was unable to stand up, so Orton won the WWE Title again.
3. Intercepts Evan Bourne with Mid-Air RKO
I think most WWE fans would remember this one. It's probably the RKO that's celebrated the most as perhaps the greatest RKO ever. It actually didn't happen during a match. It was a post match attack with Evan Bourne looking for revenge against Orton on the July 12, 2010 edition of Raw. Bourne hit a spin kick that knocked Orton down. Orton went up top going for Air Bourne (the shooting star press that Bourne did), then when Evan jumped off the ropes, Orton popped right up and hit an incredible RKO! The fans were going crazy for it. Bourne sold it great like he was knocked out by it.
2. Wins 2017 Royal Rumble Match
The second time Orton won a Rumble match was in 2017 when he was a babyface on the Smackdown brand. Orton was in the final two with Roman Reigns, who charged with a Spear attempt and Orton caught him with an RKO. Reigns popped right back up, then back into the ropes so that Orton could hit the clothesline over the top to the floor and give Orton the win. Even though Orton won the Rumble, he did not "headline" WrestleMania. Reigns did. Orton did go on to win the WWE Title against Bray Wyatt at WrestleMania 33 in a not-so-memorable match.
1. Unifies WWE and World Heavyweight Titles
It was TLC 2013 with the WWE Champion Randy Orton facing World Champion John Cena in a Tables, Ladders & Chairs Match. WWE tried billing this as the biggest match in WWE history. Basically, the brand extension was dead and they wanted to unify the two major titles into one, so that's what this match was for. The finish of the match saw Cena on the ladder while the bottom rope broke, so Orton used that broken rope to send Cena crashing into a nearby table. Cena didn't break the table, but still sold it anyway. Orton set up the ladder, climbed up and retrieved the WWE & World Titles to become the new WWE World Heavyweight Champions.
You can watch the full top 20 list below.
TJR Reaction
I thought they did a nice job for the most part. It's tough to rank some of this stuff because in some cases there are big matches or titles being won while in other cases, it's just a cool-looking RKO. If you think the RKO that he did on Bourne or Rollins is better than winning a Royal Rumble then that's completely understandable. It's all a personal choice. However, I think there are two major omissions from the list.
The first one being Orton's first WWE World Heavyweight Title win at SummerSlam 2004. I understand that WWE doesn't want to show highlights of that because Orton beat Chris Benoit for the World Title and we know Benoit is not mentioned by WWE anymore. However, you need to at least mention Orton becoming the youngest WWE World Champion in company history, right? I mean that's one of the biggest accomplishments of his career easily.
The other match/moment they missed is Backlash 2004 when Orton beat Mick Foley in a legendary No Holds Barred match. This was arguably Orton's best singles match of his career. Foley has called it one of his favorite matches as well. How can you leave it out? I guess maybe it's because there was lot of blood. So what? Use black and white footage for it. WWE also released a 14-minute video of Orton talking about some of his greatest matches/moments and they included the Orton-Foley match on that. I just don't get how you omit this match from Orton's 20 Greatest Moments.
I also think they probably could have included some of Orton's tag team work with Edge as well as when he turned heel on Edge on Raw in early 2020. I'm surprised the "house fight" with Triple H didn't make it although I guess you could say it was a bad thing for Orton.
They also ignored Orton's success at Survivor Series even though he has done really well at that PPV and it should have been mentioned.
Anyway, congrats to Randy Orton on 20 years and I think he's going to reach his goal of having a 30-year run. Best wishes and good health to him moving forward.
—-
That's all for me.
My contact info is below.
John Canton
Email mrjohncanton@gmail.com
Twitter @johnreport