The John Report: WWE Super Showdown 2019 Review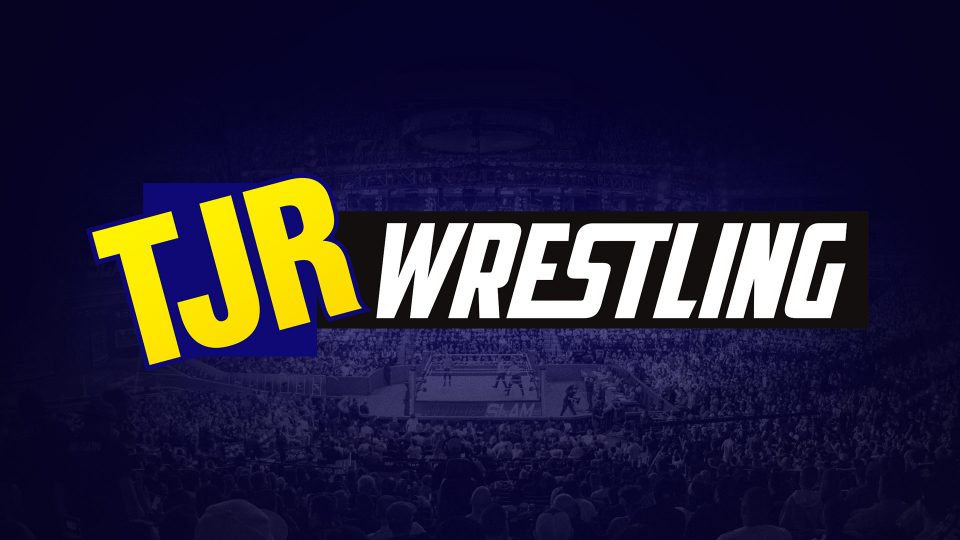 Welcome to the TJRWrestling review of WWE Super Showdown 2019. It's an afternoon show for me, so that's nice to have an event earlier in the day.
The Kickoff Show match saw The Usos beat The Revival. I only caught the last few minutes. I'm not sure if I'll review it.
WWE Super Showdown
From King Abdullah International Stadium in Jeddah, Saudi Arabia
June 7, 2019
The opening video package promoted epic battles like the 50-man battle royal, unfinished business between Randy Orton and Triple H, Kofi Kingston vs. Dolph Ziggler for the WWE Title, Roman Reigns vs. Shane McMahon, Seth Rollins vs. Baron Corbin with the Brock Lesnar tease and The Undertaker vs. Goldberg for the first time ever. The "Legends Rise" theme song for the show isn't bad, but I am sick of hearing it too.
LET'S GOOOOO! #WWESSD is now streaming LIVE on @WWENetwork! pic.twitter.com/zibHySLggn

— WWE (@WWE) June 7, 2019
There was a huge stage in the outdoor stadium in Jeddah and an impressive pyro display. It's the same venue as Greatest Royal Rumble last year. The crowd was excited. Michael Cole welcomed us to the show with Corey Graves and Renee Young joining him on commentary.
Seth Rollins, the Universal Champion, made his entrance to a big ovation. They aired a video package of Brock Lesnar beating up Rollins on Monday's Raw. Rollins had his ribs taped up to sell the attack from Raw. Baron Corbin made his entrance as Seth's challenger.
They showed the announce team at ringside and there was the Arabic announce team at ringside as well.
The wrestlers stood in the ring as ring announcer Greg Hamilton read Corbin's special introduction prior to the match. The fans booed. Big ovation for Rollins when he was introduced.
WWE Universal Championship: Seth Rollins vs. Baron Corbin
Corbin attacked the ribs right away and Rollins came back with a dropkick. Rollins went for a springboard attack, but Corbin tripped him up. Corbin sent Rollins ribs first into the top rope. Corbin with a slam followed by another suplex where he sent Rollins ribs first into the top rope. Rollins tried to fight back, but Corbin did his slide out of the ring move and back into the ring with a clothesline. Corbin with a bearhug on the ribs of Rollins. Corbin picked up Rollins with a belly to back suplex for a two count. Rollins managed to come back with a jumping kick to the head. Rollins worked over Corbin with punches, a forearm to the face and Rollins hit the Slingblade to take down Corbin. Rollins with a suicide dive on Corbin into the announce table. Corbin went to the other side of the ring on the floor and Rollins hit another suicide dive to take down Corbin. When Rollins went up top, Corbin grabbed him by the throat, but Rollins came back with a sunset flip for two followed by a superkick for two. Corbin left the ring, Rollins charged and Corbin hit a forearm to the face. Corbin hit a spinning slam off the shoulders for a two count. Corbin with two clotheslines against the turnbuckle, Rollins came back with a clothesline and a kick, but Corbin hit the Deep Six slam that got a two count as usual for that move. Corbin yelled at referee John Cone about counting to three. Rollins avoided a slam, Corbin slid back out and back in the ring, so Rollins hit him with a back elbow to the head. Corbin grabbed a steel chair, but the referee told Corbin he can't win the title this way. Corbin yelled at the referee, so Cone yelled at him. Rollins rolled up Corbin and got the pinfall win at 11:15.
Winner by pinfall: Seth Rollins
Analysis: **1/2 The match was just average with Corbin getting most of the offense, then he was consumed by arguing with the referee and Rollins got the rollup for the pin. It was not a ROLLUP OF DEATH~!, but it was similar to that. Corbin did fine in terms of attacking the ribs relentlessly, but it wasn't that exciting. A Rollins PPV match is usually better than this. Rollins winning was expected.
Post match, Corbin attacked Rollins from behind and hit him with the End of Days slam.
Brock Lesnar's music hit as Lesnar walked out with a steel chair while Paul Heyman had the Money in the Bank contract in his hand. They had a referee with Lesnar too. Heyman stumbled on the ropes when he tried to get into the ring and dropped the briefcase, which distracted Lesnar. It was a planned fall for the storyline. Rollins hit Lesnar with a low blow punch. Rollins hit Lesnar in the back with a steel chair two times. Rollins hit Lesnar in the back two more times as Cole correctly stated that the bell never rang to start the match. Rollins hit Lesnar in the back with the chair again. Rollins hit Lesnar with the chair four more times. Rollins gave Lesnar The Stomp on the briefcase with Lesnar's head hitting the briefcase. Rollins left triumphantly while Lesnar was down in the ring and Heyman checked on him.
Analysis: That was a good post match angle. It showed that Rollins was ready for Lesnar. The Heyman stumble into the ring was obviously part of the angle because it caused Lesnar to look down at Heyman, which allowed Rollins to survive as the Universal Champion. I like how it was booked. Lesnar not winning the Universal Title is fine with me because it should be on Rollins long term. Lesnar looks like a fool with the failed cash-in attempt, but as I've said I feel it's more likely that Brock will cash in on Seth or Kofi by August or maybe October when Smackdown is on Fox.
Through it all…@WWERollins is STILL your #UniversalChampion! #WWESSDpic.twitter.com/APIjCR2WTg

— WWE (@WWE) June 7, 2019
A commercial aired for WWE Stomping Grounds on June 23.
Brock Lesnar was shown leaving the ring with Lesnar grabbing his left elbow from the chair attacks. They had a closeup on Lesnar's left elbow that was bruised up from the attack. Lesnar grabbed the briefcase from Heyman and slowly went up the long ramp.
Analysis: A few of those chair shots from Rollins hit Lesnar in the elbow, so that's why it was bruised up.
Andrade made his entrance. No Zelina Vega with him since women's wrestlers/managers are not allowed to be on this show. The "Demon" Finn Balor got a spectacular entrance with some guys dressed in black joining him on stage and Balor was on a staging area.
Intercontinental Championship: "Demon" Finn Balor vs. Andrade
Andrade with a jawbreaker followed by a knee to the face. Balor came back with a basement dropkick followed by a double foot stomp to the chest. Andrade sent Balor to the turnbuckle, then Andrade missed an attack and went over the top to the floor. Balor tried an apron attack, but Andrade tripped him up. Back in the ring, Andrade with a missile dropkick on Balor for two. Andrade hit the Three Amigos vertical suplexes for two. Balor charged and Andrade hit a back elbow followed by a reverse DDT off the turnbuckle for two. Andrade with a chinlock and Balor with a dropkick. Graves gave Andrade credit for going "this deep" into the match that has only been five minutes. Balor with a clothesline that sent Andrade over the top and Balor hit a somersault dive onto Andrade on the floor. Balor worked over Andrade with kicks to the chest. Andrade avoided a Balor corner attack leading to an Andrade kick to the face. Balor with an elbow to the chest followed by a reverse suplex into a slam for two. Andrade with a chop to the chest, Balor with a Slingblade neckbreaker, Andrade kick to the chest, Andrade back elbow, Andrade did a cartwheel into the knees into the back of the head and Andrade with a double knee attack for two. Andrade went up, moonsault missed, Balor moved and Andrade with another moonsault attempt, but Balor got the knees up to block. Andrade went for a powerbomb off the apron, but Balor blocked it and double foot stomp to the chest. Balor up top and he hit a double foot stomp to the back of the neck for two. Andrade with a double knee attack to the face. Andrade hit the Hammerlock DDT for a two count because Balor got his right shoulder up. That is Andrade's finisher. Balor came back with the dropkick that sent Andrade into the turnbuckle. Balor went up top, but Andrade stopped him with a punch. Andrade joined Balor up top and Balor hit a front DDT off the top that looked very impressive. Balor up top and he hit the Coup de Grace double foot stomp for the pinfall win at 11:40. The win meant that Balor remains undefeated in his "Demon" gear.
Winner by pinfall: Finn Balor
Analysis: ***1/4 That was a good match. I liked the front face DDT by Balor off the top to set up the finish because that was a move that we don't normally see from Balor. I like when wrestlers do something that they don't normally do in order to retain the title in a big match and to have it work makes the wrestler look more skilled. It makes it feel more special. Andrade looked competitive in defeat, so even though he lost, it's not really going to hurt him too much. I think Andrade is the next Intercontinental Champion at some point in the next two months.
Just #TheDemon doing Demon things.@FinnBalor is STILL your #ICChampion! #WWESSDpic.twitter.com/mIRu5Mz9BM

— WWE (@WWE) June 7, 2019
There were promos from The Miz and Jinder Mahal talking about winning the 50-man battle royal.
The video package aired for Roman Reigns vs. Shane McMahon.
Shane McMahon made his entrance to boos from the crowd. There was some fake money that went into the crowd for Shane's entrance. The "Best in the World" trophy was at ringside. Shane won it in Saudi Arabia last November. Shane waited for Greg Hamilton to give him his special "Best in the World" entrance. Drew McIntyre made his entrance to support Shane.
Roman Reigns got a big pop from the crowd when his music hit. Reigns put his fist down on the stage and fireworks went off.
Roman Reigns vs. Shane McMahon (w/Drew McIntyre)
There was a distraction from McIntyre, so Shane took control early with punches to the ribs. Reigns tried a shoulder tackle, but Shane moved and Reigns went shoulder first into the ring post. Shane whipped Reigns shoulder first into the ring post again. McIntyre with a cheap shot kick to Reigns. Back in the ring, Shane with a side Russian legsweep for two. Reigns with punches, two clotheslines and Shane came back with a jumping back elbow for two. Shane worked over Reigns with a chinlock. Reigns with clotheslines against the turnbuckle followed by a running kick to the face. Reigns charged with a Superman Punch, but Shane countered with a shoulder tackle to the leg for a two count. Nice counter. Shane slapped on the Triangle Choke submission around the shoulders/neck of Reigns, but Reigns countered into a sitout Powerbomb for two. Shane left the ring, Reigns threw him back in, McIntyre sent Reigns into the barricade and Reigns sent McIntyre into the steel stairs. Reigns with a Superman Punch on McIntyre on the floor. Reigns with a punch to Shane. Back in the ring, Shane kicked the ropes when Reigns was going in the ring and Shane hit a Spear on Reigns for two. Fans were chanting "CM Punk" during the match. Shane set up Reigns against the turnbuckle, Shane went up top and Reigns hit a Superman Punch to knock Shane off the top for a two count. Reigns fired up, the crowd got behind him, Reigns did his yell, Shane with a kick to the face, but Reigns hit Shane with a kick to the face with Shane bumping into referee Charles Robinson, who went down. McIntyre went into the ring, the referee checked on Shane and McIntyre hit a Claymore Kick on Reigns with Robinson stunned in the ring, so he didn't see it. Shane covered Reigns and that was enough to win the match at 9:15.
Winner by pinfall: Shane McMahon
Analysis: ** A cheap win for Shane to continue this rivalry. It's the third straight PPV win for Shane and I picked against him all three times. I figured Reigns would get the win since he doesn't lose very often, but WWE opted to go with the cheap win for Shane. It doesn't excite me that much although it's a way to keep Reigns busy with Drew and Shane for a few months before he gets into the WWE Title picture later in the year (October when Smackdown is on Fox). I don't think this booking decision is going to make people happy. It's weird to see 49-year-old Shane beating Reigns even in a cheap manner, but as I said, I think it's just done to keep Reigns busy for a few months.
This friendship pays dividends. @shanemcmahon leaves #WWESSD with the W! @DMcIntyreWWEpic.twitter.com/OZ9fcNpekS

— WWE (@WWE) June 7, 2019
Post match, McIntyre put Shane on his shoulders to celebrate and the fireworks went off. Reigns was frustrated in the ring. Graves put this over as a monumental win for Shane.
The temperature in Jeddah was 94 degrees Fahrenheit, which is very hot. There was a shot of Goldberg's locker room door.
Kofi Kingston, the WWE Champion, and Xavier Woods were interviewed by Byron Saxton. Kingston did a typical babyface promo saying he needs to stay on top and he needs to do it for everybody that has believed in themselves. Kingston said he'll remain your WWE World Heavyweight Champion.
The Lucha House Party trio entered for their loss against Lars Sullivan. They replayed some of Sullivan's weird promo on Smackdown. Lars Sullivan made his entrance for his first match on the main roster.
Lars Sullivan vs. Lucha House Party (Kalisto, Gran Metalik and Lince Dorado)
Sullivan was dominant right away as he slammed Kalisto face first into the top rope. Dorado tagged in with punches, Sullivan shoved him down and Sullivan punched Dorado in the chest. Sullivan grabbed Dorado by the throat and threw Dorado over the top to the floor. Sullivan was bleeding from the mouth. Sullivan sent Dorado into the ring leading to Sullivan hitting a running shoulder tackle. Sullivan put Dorado on the top rope and shoved him to the floor. Metalik with two kicks, handspring elbow, two kicks and Kalisto tagged in. Kalisto tried an attack off the turnbuckle, but Sullivan decked him with a clothesline. Sullivan charged, Kalisto pulled the ropes down and Sullivan went over the top to the floor. Sullivan back in and he knocked Metalik off the apron. Sullivan picked up Kalisto and gave him a slam. The crowd was dead as Graves said that there was a "hush" over the stadium. Sullivan went up top, but Dorado and Kalisto knocked him down. The referee called for a DQ after two guys attacked Sullivan at once. It went 5:15.
Winner by disqualification: Lars Sullivan
Analysis: 3/4* That was boring. The crowd was quiet for almost all of it. The simple thing to do was to have Sullivan win the match in dominant fashion. Instead, they went with a DQ. This was Sullivan's first match on the main roster. Why end in a DQ? Bizarre booking. I don't think it was the right call. With that said, I don't have high hopes for Sullivan as the latest heel monster project, but obviously, he has a look that WWE likes and he'll get a push.
Post match, the Lucha House Party guys attacked Sullivan. Dorado hit a splash off the top rope. Metalik with an elbow drop off the top rope.
The LHP guys left the ring, so Sullivan left the ring after them. Sullivan with a back body drop on Metalik and a body slam on Kalisto onto the steel ramp. Dorado tried an attack on Sullivan, but Sullivan caught him and slammed him onto the side of the apron. Sullivan left as his music played.
An artist admiring his work. 🎨@LarsSWWE#WWESSDpic.twitter.com/rxd5FgYPm5

— WWE (@WWE) June 7, 2019
Analysis: Sullivan stood tall, so WWE wants us to forget that he didn't win this match by pinfall. I just think it would have been better to win the match with a pin because that would look more impressive than what they did.
The video package aired for Triple H vs. Randy Orton showing their rivalry that goes back about 15 years with Cole saying it's their first match in nearly a decade.
Randy Orton made his slow walk down to the ring to a solid reaction from the crowd.
Triple H made his entrance on a motorbike of some kind. It was like one of his WrestleMania entrances in the past. He got a big ovation from the crowd. The fans loved Triple H.
Randy Orton vs. Triple H
There were "NXT" chants for Triple H to start the match. There was some mat wrestling to start the match as Cole talked about the legacies of both guys with Triple H as a 14-time World Champion and Orton as a 13-time World Champion with Graves saying that sometimes you forget about how great Orton has become. Hunter with a shoulder tackle, each man went for their finisher and neither man connected. Orton connected with punches. Hunter avoided a corner charge and Orton went into the ring post. Hunter pulled on Orton's arm against the ropes. Hunter whipped Orton's left hand against the top of the steel steps as well as the steel ring post. Hunter went after Orton on the floor, so Orton gave him a belly to back slam onto the announce table at ringside. It did not break the table, but Hunter's back went into the edge of the monitors. Orton whipped Hunter shoulder first into the steel steps. Back in the ring, Orton stomped on the limbs of Hunter. Orton with a chinlock on Hunter for about two minutes or at least it felt that long. When Hunter got back up, Orton grabbed the beard and then a clothesline connected for two. Orton grabbed another chinlock. When Hunter broke free, it turned into a slugfest leading to Hunter connecting with a jumping knee to the face. Hunter with a corner clothesline followed by a facebuster into the knee.
Hunter wanted a Pedigree, Orton avoided it and sent Hunter into the ring post (the hand blocked it). Hunter came back with a clothesline. Orton with a kick to the face. Hunter tried another Pedigree, but they were near the ropes, so Orton sent Hunter to the apron. Orton hit a dropkick to Hunter and both guys were down. Orton with punches, Hunter powered out of it, Orton went for a RKO and Hunter slipped out leading to Hunter hitting a clothesline to the back of the head. Hunter did a "suck it" pose in the corner and Orton came back with a powerslam for two. The crowd chanted "RKO" for Orton. Orton hit a draping DDT off the ropes followed by Orton favoring his left shoulder. Orton teased the RKO, the crowd cheered and Hunter came back with a spinebuster for two. Orton hooked the arms into a pin for two. Hunter came back with a Crossface submission with Cole saying that it's very hot there, so the wrestlers are sweating profusely. Orton managed to get his arm on the bottom rope to break free. Hunter wanted a Pedigree, Orton with a back body drop, Orton rolled through and Orton hit a RKO for one…two…and no. The crowd was shocked by that. Cole said that they look exhausted. It's because the match was too long and it's really hot. Orton teased the running punt kick with fans cheering for it, but Hunter blocked that and Hunter did the kick to the gut followed by the Pedigree for a two count. Fans were chanting "this is awesome" for them. They left the ring and Hunter slammed Orton back first onto the announce table. Hunter slammed Orton on the announce table three more times, so it was four times in a row by Hunter. Hunter posed and the crowd cheered him. Hunter went back in the ring, he charged and Orton hit a RKO out of nowhere for the pinfall win at 25:45.
Winner by pinfall: Randy Orton
Analysis: **1/2 The match was good in the last five minutes, but I thought they went too long. If this was a 15-minute match where they shaved off some of the really slow parts then it would have been a lot better. Instead, it dragged on too much. I liked the last five minutes a lot when they were hitting their finishers, then the action spilled to the floor and Orton came back with the RKO for the win. Orton getting the win over Triple H made sense since he's the active wrestler while Hunter is a part-timer.
3️⃣ devastating letters. 1️⃣ #LegendKiller.@RandyOrton stands tall tonight at #WWESSD! pic.twitter.com/ntujxNbqPY

— WWE (@WWE) June 7, 2019
Post match, Orton celebrated the win. The announcers tried to put this over as a classic match. I don't think it was that. No post match handshake because Orton left, which is fine since Randy is a heel.
The announcers recapped the two 24/7 Title changes with Jinder Mahal beating R-Truth for the title and then Truth won it back while on the plane. Truth went into the bathroom with the title.
Baron Corbin went up to Byron Saxton to complain about his match because the referee cost him the match. Corbin said that he's not going to stand for it and heads are going to roll.
Bobby Lashley got some pyro for his flexing routine on the stage. Braun Strowman got a pretty good ovation for his entrance.
Braun Strowman vs. Bobby Lashley
Strowman and Lashley got into a shoving match. They did a test of strength spot, Strowman broke free, he did a roll through and then a running shoulder tackle. Strowman with a splash against the turnbuckle, but Lashley avoided a charge and Lashley hit running Powerslam for two. No reaction for that. Lashley with a knee to the back to ground Strowman. Strowman with a spinebuster with Lashley landing hard on his shoulder. Strowman with shoulder tackles and a corner clothesline with Lashley rolling to the floor. Strowman hit two running shoulder tackles on Lashley while outside the ring. Strowman with a punch to the chest. Strowman picked up Lashley and hit a Powerslam (without the run) for a two count. The action spilled to the floor with Lashley hitting a running shoulder tackle that sent Strowman into the barricade. Lashley hit a suplex onto the ramp. Back in the ring, Lashley hit him with a hammer fist. Lashley went up top for nothing, so Strowman threw him down. Strowman with a Powerslam and Strowman with a Running Powerslam for the pinfall win at 8:20.
Winner by pinfall: Braun Strowman
Analysis: *3/4 It was a basic big man match with Lashley getting a good amount of offense before Strowman predictably put him away. There wasn't a point in the match where it looked like Lashley might win even though the announcers tried to push that idea. Strowman winning was what I expected.
BRAAAUUUUUUUN!

WHAT A WIN for @BraunStrowman here at #WWESSD! pic.twitter.com/NguMnITLuZ

— WWE (@WWE) June 7, 2019
There were promos by Ali and Samoa Joe about how they are going to win the battle royal.
The video package aired for the WWE Championship match between Kofi Kingston and Dolph Ziggler.
Dolph Ziggler made his entrance first. There wasn't much of a reaction to him. Kofi Kingston entered with the WWE Title around his waist and Xavier Woods joined him. They showed some kids in the crowd dancing to the New Day song. They stood in the ring for the championship introductions.
WWE Championship: Kofi Kingston (w/Xavier Woods) vs. Dolph Ziggler
Ziggler with a shoulder tackle and Kingston came back with the jumping back elbow. Kingston missed a corner attack, so Ziggler hit a dropkick. Ziggler slapped on a chinlock on the mat and when Kingston got back up, Ziggler raked him in the eyes. Ziggler with an elbow drop followed by another chinlock. Kingston whipped Ziggler sternum first into the turnbuckle. Kingston came back with chops, dropkick, leaping clothesline and a boom drop legdrop. Ziggler to the apron, elbow to the head and a leaping DDT for Ziggler got a two count. Ziggler set up for a superplex, but Kingston blocked it with a headbutt. Kingston came back with a cross body block off the top, Ziggler rolled through and got two. They did a sequence where they each got two counts followed by Kingston hitting a SOS for two. Kingston charged at Ziggler by the apron, Ziggler got the knee up and a knee blocked Kingston's attack. Kingston managed to send Ziggler to the floor. Kingston hit a leaping trust fall dive onto Ziggler on the floor. Ziggler drove Kingston into the barricade and into the steel stairs. Woods checked on Kingston, so Ziggler hit Woods with a superkick. Back in the ring, Ziggler avoided a top rope attack and Trouble in Paradise. Ziggler got a rollup, Kingston kicked him off, Woods with a kick to Ziggler as payback (the referee never saw it) and Kingston hit the Trouble in Paradise on Ziggler for the pinfall win at 10:15.
Winner by pinfall: Kofi Kingston
Analysis: **3/4 The match was just average for wrestlers of this caliber. They didn't really have the kind of match you might expect for the WWE Championship. There weren't a lot of nearfalls or moments in the match where it looked like somebody might get the win. The finish was simple with Ziggler getting the cheap shot on Woods, then Woods got the payback and Kingston won. It wasn't clean, but fans should be happy with Kingston remaining as the WWE Champion.
Sorry, @HEELZiggler. It's still @TrueKofi.@XavierWoodsPhD#WWEChampionship#WWESSDpic.twitter.com/5WIvjP4cMO

— WWE (@WWE) June 7, 2019
Post match, Kingston and Woods celebrated the win and there were kids excited about it.
Dolph Ziggler was interviewed by Byron Saxton in the backstage area. Ziggler said that he outwrestled Kingston and it should have been him, but Kofi had his buddy watching his back. Ziggler said he demanded another match with Kofi with no allies, no friends, one on one and Ziggler said he wanted a steel cage match.
Analysis: Kingston will probably retain the title when they do the Steel Cage match too. I don't expect Ziggler to win the title.
The camera was back on Kingston and Woods celebrating with some kids in the crowd.
A commercial aired for the WWE 24 special about Ronda Rousey. I watched it already. It was pretty good. I think it shows how driven Ronda is to succeed.
The announcers recapped the WWE Universal Championship situation.
There was a video package featuring fans at Super Showdown talking about how excited they were to be there. It was mostly kids that were interviewed. Cole put over the crowd for sitting in 100 degree heat to enjoy the event.
Analysis: A lot of people don't like WWE doing this event in Saudi Arabia, so this was WWE's way of showing fans enjoying the action by focusing on kids having fun.
There were entrances for the 50-man battle royal, which is the largest battle royal in the history of WWE. The ring was filled with wrestlers. Some of them got special introductions like The Miz, Samoa Joe, Cesaro, Titus O'Neil (he did not slip this year) and Elias did his pre-match guitar routine. Elias did a song mocking some of the guys in the match. Miz attacked Elias, so that was the end of it.
This looked like such a disaster with so many guys in the ring.
There are 50 men in this ring.

We repeat, 🗣 THERE ARE 50 MEN IN THIS RING!!!!#WWESSDpic.twitter.com/s4W1IjUP7r

— WWE Universe (@WWEUniverse) June 7, 2019
50-Man Battle Royal
There is no prize for the winner. It's just a match.
It's going to be tough to cover everything in there with so many guys in the ring. There were eliminations right away with EC3 (he was first and he really must have pissed somebody off considering how he is booked), Sunil Singh, Samir Singh, Karl Anderson, Eric Young, Luke Gallows, Heath Slater and others. It was hard to keep track and it was also boring to watch, so it was losing my interest. Graves joked about how much weight they have lost because of how hot it is there. Both members of the Authors of Pain were in the ring (Akam is back from his knee injury), so they had a showdown with the Viking Raiders and Heavy Machinery. AOP eliminated Tucker. Viking Warriors eliminated both AOP guys. Most of the ring was full of guys who were down on the floor. O'Neil was hiding under the ring and he came back with boots to the face for a bunch of guys. O'Neil eliminated Ivar and Erik, which felt random since Titus is rarely booked well. Shelton Benjamin eliminated O'Neil with a running knee lift. Buddy Murphy was eliminated by a superkick. Matt Hardy hit a Twist of Fate on the top rope on Benjamin to eliminate him. Zack Ryder saved his partner Curt Hawkins briefly, but then Joe eliminated Ryder and Hawkins easily. Apollo Crews with a nice dropkick on Gable and Gable came back with a German Suplex. There was nothing going on for about one minute. Rusev eliminated Gable. Crews was tossed out of there by Rusev and Nakamura I think. Ricochet used his legs to send Mahal over the top to the floor. There was nothing happening for about a minute. Otis with a running shoulder tackle on Rusev and Nakamura followed by the Caterpillar elbow drop. Rowan eliminated Otis right after that. Rowan with the Iron Claw slam on Woods and Rowan eliminated Woods. The Usos hit a double superkick on Rowan to eliminate him and the Revival guys eliminated The Usos. Hardy with a Twist of Fate on Wilder and he eliminated Wilder. Hardy with a Twist of Fate on Dawson and eliminate him. Cedric Alexander eliminated Hardy. Alexander with a back elbow to Cesaro, but Cesaro raked the eyes and Cesaro did the swing on Alexander in the middle of the ring. Cesaro with a catapult to eliminate Alexander over the top to the floor. Sin Cara with a headscissors on Cesaro. Sin Cara with a flurry off offense including an armbar slam on Cesaro. Nakamura hit the Kinshasa knee strike on Sin Cara. Nakamura to the middle rope and Sin Cara eliminated him with a kick. Rusev eliminated Sin Cara and Miz eliminated Rusev. Roode tried to eliminate Miz, but Miz avoided it and Miz dumped Roode out. Miz did his "It Kicks" routine on Elias and Cesaro with the crowd chanting along. Elias with a jumping knee to eliminate Miz.
There were six guys left: Ali, Ricochet, Mansoor (a Saudi Arabian WWE NXT superstar), Cesaro, Samoa Joe and Elias. Joe used his power to take control. Joe with a hard chop to Ricochet. Ali and Ricochet worked together to flip Joe over the top to eliminate. The crowd popped for that. Well done. Cesaro followed up with a double clothesline to eliminate Ali and Ricochet. Mansoor eliminated Cesaro. Elias and Mansoor were the last two guys. Mansoor with a superkick. Elias tossed Mansoor to the apron, Mansoor held on and Mansoor hit a back body drop on Elias for the elimination and the victory at 17:50.
Winner by pinfall: Mansoor
Analysis: ** It was a decent battle royal with a winner that was a surprise, but it makes sense for the local fans. I don't know much about and I doubt most of you reading this know either, but he did well in the match especially in eliminating Cesaro and Elias for the win. I think 50 men in the ring is too much and it made the first ten minutes extremely boring. We don't need to see battle royals with that many people. I think 20 people is enough. Don't do it with this many people again.
HE'S DONE IT!!!!!!!!!!!!!@KSAMANNY has won the biggest #BattleRoyal in @WWE history at #WWESSD!!! pic.twitter.com/1jcQlN0aWf

— WWE (@WWE) June 7, 2019
The fans cheered loudly as Mansoor celebrated with the crowd. The announcers mentioned Mansoor had a lot of family in the crowd.
After the match, Byron Saxton interviewed Mansoor. Mansoor said that this is a great moment for us. Mansoor said that one year ago at Greatest Royal Rumble he was a WWE prospect, he stood in this ring and he was just a rookie that wanted to make it as a WWE superstar. Mansoor said he had a dream to represent his country all over the world. The fans chanted "you deserve it" for him, so that chant does travel. Mansoor said that he won the most historic battle royal in WWE history and his dream came true. Mansoor spoke in Arabic and the fans cheered. The pyro went off on the stage.
Analysis: Good speech. He did well in putting this over as a big deal to him and the crowd reacted to him in a positive way.
A commercial aired for Stomping Grounds on June 23.
Matches announced for Stomping Grounds: Bayley vs. Alexa Bliss for the Smackdown Women's Championship, Roman Reigns vs. Drew McIntyre, Becky Lynch vs. Lacey Evans for the Raw Women's Championship, Seth Rollins vs. Baron Corbin for the Universal Championship and Kofi Kingston vs. Dolph Ziggler for the WWE Championship in a Steel Cage Match.
Analysis: When the graphics were shown in the stadium, the fans cheered loudly for the two women's matches. Hopefully, women get to wrestle at the next Saudi Arabian event because it almost happened here.
There was a video package for the main event: The Undertaker vs. Bill Goldberg.
Goldberg was shown in the locker room and walking to the ring with security. It looked like he had some blood on his head. Stop headbutting the door! It's not smart. When he entered the stadium, the pyro went off on the stage like it did for his spectacular entrance from the past. It's nice to see the intro with the full pyro display again because it really is one of the best entrances in wrestling history. Goldberg looks to be in great shape for a 52-year-old guy that hasn't had a wrestling match in two years.
There were druids on the stage holding lights and they all walked to the side. That led to The Undertaker making his entrance. The Undertaker made his slow walk to the ring that probably took about five minutes. The crowd cheered loudly for The Undertaker. Taker looks like he is in great shape and he's 54 years old. I don't mention the age to say they are old. I'm just pointing it out.
Goldberg vs. The Undertaker
The bell rang and they had a long staredown. Goldberg did the throat slash gesture. Taker with a punch, Goldberg bounced off the ropes and hit a Spear. Goldberg hit a second Spear for a two count. Taker sat up. Taker was whipped into the ropes, Taker with a choke, Goldberg took him down and slapped on a knee bar submission with Taker reaching the ropes. The crowd was chanting "Undertaker" for the big man. Goldberg missed a corner charge when Taker moved and Goldberg hit the turnbuckle. Goldberg was busted open from his forehead. There's a lot blood from the head of Goldberg, which was probably cut open on the door backstage. Undertaker did the rope walk leading to the punch off the top rope. The referee Mike Chioda put the black gloves on because of the blood and he was checking on Goldberg. Undertaker hit a Chokeslam. Undertaker lifted Goldberg up gently and he hit a Tombstone, but Goldberg kicked out. The pickup by Taker was a bit awkward. They did a running double clothesline spot to knock both guys down. Taker and Goldberg got into a slugfest where they exchanged punches. Corner clothesline by Taker and the Snake Eyes that sent Goldberg into the top turnbuckle. Goldberg came back with another Spear, which was his third Spear of the match. Goldberg picked up Taker and botched the Jackhammer where he dropped Taker on his neck. Ouch. That looked brutal. Goldberg went to lift Undertaker again for a Tombstone, Taker was going to reverse it and go for a Tombstone, but they collapsed. Rough. You can tell Undertaker was really frustrated. Undertaker hit Goldberg with a Chokeslam for the pinfall win at 9:05.
Winner by pinfall: The Undertaker
Analysis: -* This was brutal. I felt bad for both guys at the end of the match when they were messing up some moves that they have both done their entire careers. The first couple of minutes were okay, but then it went off the rails with Goldberg looking exhausted. Goldberg may have had a concussion too since he had blood on his head from the backstage area when he headbutted the door and he looked out of it a bit in the ring. Taker looked like he was fine although when he hit the Tombstone it may have dropped Goldberg on his head. Then Goldberg botched that Jackhammer slam in a big way, so much so that there was legit concern Undertaker was hurt by it. That lead to the Tombstone finish spot and it was another mistake to even try that. They probably planned to go for a few more minutes, but then they realized it was time to go home. I respect both guys. With that said, Goldberg needs to stop wrestling. I think Undertaker should think about it too although he wasn't as bad as Goldberg was.
Here's the Jackhammer, which is supposed to be a suplex into a slam, but Goldberg dropped him on his head. Brutal.
Brainbuster!!!!!! @Goldberg#WWESSDpic.twitter.com/fBD0Ls7wsk

— Italo Santana (@BulletClubIta) June 7, 2019
After the match was over, The Undertaker sat up with a frustrated look on his face. You could tell he hated how the match went. I don't blame him. The ending was not what they wanted, that's for sure.
The #Undertaker prevails.@Goldberg was NEXT! #WWESSDpic.twitter.com/74Iwmwm9BA

— WWE (@WWE) June 7, 2019
The Undertaker posed in the ring with Cole saying we don't know how many of these moments are left. The pyro went off as Undertaker posed some more and that was the end of the show.
It had a run time of 3 hours, 50 minutes.
Five Stars of the Show
1. Nobody. I guess it would be Balor and Andrade, but it's hard to find stars based on what we saw.
Final Thoughts
It gets a 3 out of 10 from me.
I thought it was a really bad show. One of the worst WWE PPVs I can ever remember. It was like Crown Jewel last year, which was also awful. They need to put less old guys in the ring. Feature the young talent more. Trying to watch these guys in their late 40s and early 50s is tough to watch most of the time. The roster has over 200 people. Utilize your talent better, WWE.
I really hope The Undertaker and Goldberg aren't hurt after their match. They messed up a bunch of spots and it's a reminder why part-timers in their 50s should stop wrestling. It was painful to watch.
Super Showdown is a cash grab for WWE. They do it for the money. I sincerely hope that they also remember they need to put better shows on when they are WWE Network because this show sucked. And I'll just leave it that.
Here are my rankings of 2019 WWE PPVs so far with a ranking out of 10:
WrestleMania 35 – 7.5
Elimination Chamber – 7.5
Fastlane – 7.5
Royal Rumble – 7
Super Showdown – 3
===
Thanks for reading this review. My contact info is below. I'll be back during the week with Raw and Smackdown reviews as usual.
Email: mrjohncanton@gmail.com
Twitter: @johnreport