The John Report: WWE Smackdown Live 12/04/18 Review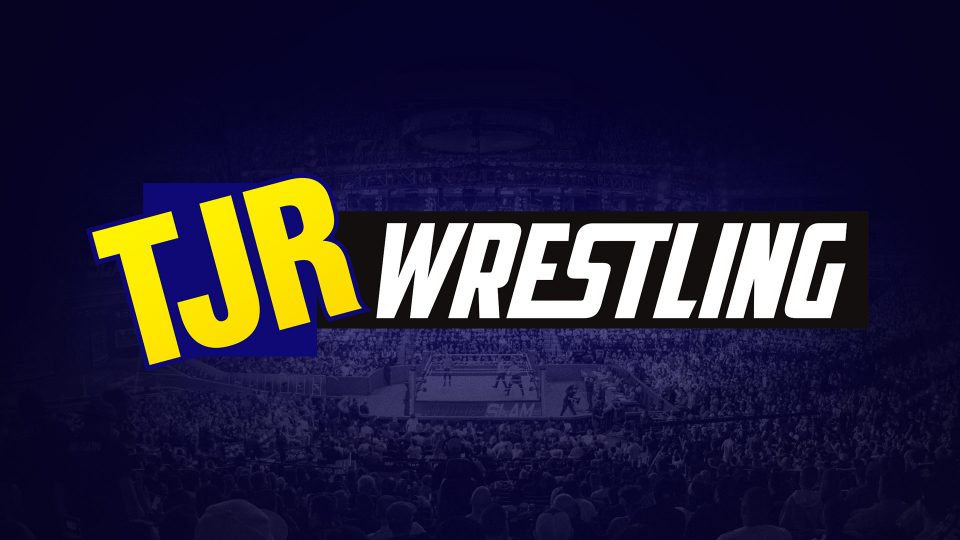 Welcome to the WWE Smackdown Live Review on TJRWrestling for December 4, 2018. Here is what is advertised for Smackdown this week: A contract signing for the TLC Match at TLC with Becky Lynch, Charlotte Flair, and Asuka, Daniel Bryan is a guest on Miz TV hosted by The Miz, Jeff Hardy vs. Randy Orton…again and Xavier Woods vs. Cesaro vs. Jey Uso. The next WWE PPV is TLC on December 16 and I've got the full lineup at the bottom of this post.
Live from Austin, Texas, this is Smackdown Live for episode #1007. Follow me on Twitter @johnreport. If you want to support us at TJRWrestling, here's a Donate Link for our Paypal where anything you send will go towards building the site. Thanks to Melo Man for the banner up top.
The opening video focused on last week's Smackdown that showed how Asuka won a battle royal to earn a Smackdown Women's Title match at TLC. That match is Becky Lynch defending the title against Charlotte Flair and Asuka in a TLC Match for the SD Women's Title at TLC.
Smackdown Women's Title Contract Signing: "The Man" Becky Lynch, "The Queen" Charlotte Flair, "The Empress of Tomorrow" Asuka
The Smackdown General Manager Paige was in the ring to host the contract signing for the Smackdown Women's Title match at TLC, which is a Triple Threat TLC match. Paige was in the ring with a table that had contracts on it. The ring was surrounded by tables, ladders and chairs.
Asuka made her entrance first for the contract signing. She was in her ring gear. The announce team of Tom Phillips, Byron Saxton and Corey Graves were shown on camera welcoming us to the show. Charlotte Flair made her entrance for the contract signing. She was also in her ring gear including a robe. She got a nice ovation. Becky Lynch was up last as the Smackdown Women's Championship. Her title was hanging above the ring like it will at TLC. Becky Lynch entered in all black and wearing her "The Man" t-shirt. Lynch got a huge ovation. She was not in her ring gear like the other two women.
The fans chanted "Becky" as Lynch said it must be a Tuesday because she makes history every time she steps in that ring. Lynch said that the pain of a table, chair or ladder doesn't compare to the pain that she has endured in her career to get her where she is today. Lynch said that at TLC she'll do anything it takes to win, but she can't really say the same thing to those two dopes.
Flair told Lynch to change the song because it's the same one every week where she thinks Flair was handed an opportunity. Flair said that she picked up the ball that Lynch dropped at Survivor Series and she destroyed Ronda (Rousey) with one kendo stick. Flair reminded Lynch that it took one punch to bust her face open. Lynch tried to respond, so Flair told her to shut her mouth. Flair said imagine what she'll do with tables, ladders and chairs.
Asuka interrupted the two bickering ladies. Asuka pointed out that Becky already beat Charlotte. Asuka mentioned that Becky has never beaten her. Asuka claims she would have beaten Ronda at Survivor Series because Becky chose wrong by picking Charlotte. Asuka said at TLC, she will beat Becky.
Flair reminded Asuka that she beat her at WrestleMania and broke her streak. Asuka said she got lucky one time. Flair said when you're this good, you don't need luck. Lynch said that neither of them could beat Rousey and they can't beat Lynch either.
Lynch signed the contract and walked away. Flair said let Becky leave because she's all talk anyway. Flair told Asuka she'll beat her again. Asuka yelled in Japanese. Flair said she's going to finish Asuka at TLC. Flair was the second woman to sign the contract. Asuka was the last woman to sign the contract. Asuka wanted to fight Flair right now.
Mandy Rose and Sonya Deville showed up for the interruption. It's never a bad thing when Mandy shows up. Mandy called them undeserving in the ring while pointing out that Paige personally groomed Mandy and Sonya for stardom in WWE. Rose pointed out that Charlotte lost at Survivor Series. Sonya said that Asuka only won by a fluke, Sonya claimed she made a tiny mistake and it won't happen again. Rose said if Paige wants to see fire and desire, you're looking right at it. Rose wondered what happened if Flair and Asuka don't make it to TLC. Good job by the ladies getting through the promo smoothly while the fans chanted "what" at them.
Paige did the predictable thing by making the tag team match with Sonya and Mandy facing Charlotte and Asuka right now…or at least after the break.
Analysis: I liked the three-way trash talking with all three ladies showing a lot of confidence. Flair came off a bit heelish in some of the things she said like how Lynch had the broken face, but I don't think it means she is a heel at all. It was more about showing how confident she was going into TLC. All three women were cheered by the crowd with Lynch getting the most support. I figured the tag team match was coming since Flair and Asuka had their ring gear on, so the interruption was fine with me. Like I noted above, Mandy and Sonya getting through the promo even with the fans chanting "what" at them was cool. That's not easy to do, but they handled it like pros.
(Commercial)
Shane McMahon was in his office looking at his phone with the WWE World Cup trophy by him. The Miz asked why he's hosting Miz TV tonight. Shane said because it has his name in it. Miz said they were partners. Shane told him they are not partners and Shane told him to use his mind to get the answers out of the "new" Daniel Bryan. Miz said that if he does that, then Shane owes Miz and Shane said he didn't owe him anything. Miz covered the "ears" of the trophy, so that was a funny visual.
Analysis: This storyline is silly with Miz being really over the top, but he makes it funny. Shane gets flown out to these shows to be on camera for one minute. Nice life.
Charlotte Flair and Asuka vs. Sonya Deville and Mandy Rose
Deville had a takedown early, but Asuka came back as she worked on Deville's left arm. Rose tagged in as the heel women slammed the back of Asuka's head into the mat. Asuka went for a knee, Rose blocked it and Rose hit a forearm to the face. Asuka came back with a dropkick off the middle ropes for a two count. Flair tagged in for the first time with "woo" chants as Flair kicked Rose in the back. Rose avoided a slam and sent Flair face first into the middle turnbuckle. Flair with an overhead suplex on Rose and an overhead suplex on Deville as well. Flair with a slingshot dive over the top onto the heels on the floor. Flair did a Flair Strut on the floor as Lynch re-appeared to watch the match.
(Commercial)
The match returned with Asuka working over Rose with kicks and then Lynch managed a tilt-a-whirl slam for a two count. Becky Lynch was seated in a leather chair at ringside watching the match. Deville tagged in with a running knee to the face of Asuka. Rose was back in as she sent Asuka into the ropes followed by a running knee. That running knee by Rose looks impressive every time Rose does it. Flair rallied the crowd to cheer for Asuka as the heels kept Asuka in their corner. Rose with a clothesline, she picked up Asuka for a slam and Asuka hit a jawbreaker-like counter. Flair tagged in against Deville with a clothesline, several chops to the chest, a belly to back suplex and a kip up. Deville with a boot to the face, but Flair came back with an impressive Spear to take out Deville. Flair dumped Rose out of the ring, but Rose tripped up Asuka on the apron. Asuka tripped up Rose on the apron. Flair thought Rose was still on the apron, but she wasn't and Flair kicked Asuka off the apron. When Flair got a rollup on Deville, Asuka went back into the ring with a kick to Flair's head and Deville covered Flair for the pinfall win at around 11 minutes.
Winners by pinfall: Sonya Deville and Mandy Rose
Analysis: *** That match was pretty good. I liked the story of the match, the offense of the heels was solid all match long, Asuka sold everything well, Flair was on fire after the hot tag and the finish was good. I think maybe they could have set up the final spot where Flair kicked Asuka a bit better because maybe Flair could have been blinded by an eye rake from Rose, but it's not a major complaint. I'm impressed by Mandy and Sonya every time I see them. They keep getting better. I believe more opportunities will be coming their way and they will keep impressing us. Good chemistry between them as a team. Plus, Mandy is a personal favorite. Charlotte is too, to be fair.
Post match, Flair backed up into the turnbuckle while Lynch watched on with a bit of a smirk on her face.
Analysis: The women of Smackdown were on this show for the first 30 minutes just like the women of Raw for the first 30 minutes on Monday. Girl power.
Still to come is Miz TV with Daniel Bryan, Jeff Hardy vs. Randy Orton and the triple threat featuring tag team wrestlers is up next.
(Commercial)
There was a shot of Jon Stewart in the crowd. He's part of the Tribute of the Troops show that taped earlier on Tuesday and airs on December 20.
The entrances took place for the triple threat match. The New Day trio were out first, The Bar duo of Sheamus and Cesaro (the Smackdown Tag Team Champions) were next and The Usos were last. These three teams are meeting in a triple threat match at TLC. It's not a Ladder Match (yet) even though I want it to be.
Xavier Woods (w/Big E and Kofi Kingston) vs. Cesaro (w/Sheamus) vs. Jey Uso (w/Jimmy Uso)
Cesaro was dumped out to the floor early. Big E and Kingston were on commentary at The New Day announce table. Woods and Jey battled in the ring with Jey hitting a rollup, then Woods got a rollup and each guy got another two count while Cesaro stayed out of the ring. When Cesaro got back in the ring, Jey and Woods hit him with a clothesline to send him to the floor as the show went to break.
(Commercial)
The match returned with Cesaro hitting an uppercut as Jey jumped off the top rope. A clip aired from during the break showing Cesaro ripping apart the New Day table with the pancakes. Jey hit a popup Samoan Drop on Woods leading to a running butt splash on Woods and Cesaro left the ring, so Jey hit a dive over the top onto Cesaro. Woods hit a Tornado DDT off the apron onto Jey on the floor. Back in the ring, Woods hit a sunset flip into a front Powerbomb slam for a two count. That was impressive. Cesaro blocked the Honor Roll from Woods, Jey back into it and went for a splash, but Cesaro blocked it leading to a two count. Woods hit an elbow drop off the top onto Cesaro, who politely waited for Woods even though he could have easily moved. Graves wondered why Big E was sweating so heavily just from talking. He's a big man! Jey hit a running forearm on Woods, so Woods came back with his own forearm and Jey hit a flying elbow. Cesaro back in, he had Woods on his back and did the airplane swing on Jey. It was nice of Woods to hold on when he didn't have to. That makes the move a bit too contrived, but it's wrestling, so let's have fun with it. Cesaro with a Sharpshooter on Woods, Jey with a superkick and Woods rollup on Cesaro for two. Cesaro sent Woods out of the ring. Jey back in with a superkick on Cesaro for the pinfall win after about ten minutes.
Winner by pinfall: Jey Uso
Analysis: ***1/4 That was a lot of fun. All action in that match. I like matches like that where they aren't doing rest holds and slowing it down too much. This was all about hitting a move, counters and the third man would get a shot in. The Swing spot by Cesaro was a lot of fun even though it was silly to have Woods holding onto his back like that. Jey getting the win gives some positive momentum for The Usos going into TLC and that's really it. That match at TLC will be very good because these three teams are outstanding.
Rusev and Lana were interviewed backstage by Kayla Braxton. They showed a clip of Shinsuke Nakamura attacking Rusev last week. Rusev said he's hungry for that US Championship. Rusev said that title is not a toy, it represents honor and tradition. Rusev claimed that once he gets his hands on him he'll feast on Nakamura on the greatest holiday of them all…Rusev Day. The fans cheered. Lana stood there proudly.
Analysis: It's nice that Nakamura has a feud for the US Title after months of doing nothing.
Jeff Hardy vs. Randy Orton is coming up later. Up next is Miz TV with Daniel Bryan as the guest.
(Commercial)
A video package aired about Lars Sullivan coming soon. There's still no indication about what show he will be joining.
Miz TV with Daniel Bryan as the guest
The Miz welcomed us to Miz TV, but he was interrupted by R-Truth and Carmella. They called for a dance break, so that led to Truth and Carmella dancing on the stage. They left to the back.
The Miz said that over the course of the last eight years, Daniel Bryan has appeared on Miz TV many times, but this is a first because it's the "new" Daniel Bryan as Miz introduced the WWE Champion Daniel Bryan.
Daniel Bryan made his entrance in his street clothes with the WWE Championship on his shoulder. They showed a clip of Bryan's WWE Title win with the low blow and running knee on AJ Styles to win the title. Bryan attacked Styles with the title as well to complete the heel turn. Bryan defends the WWE Title against Sunday at TLC.
Miz asked if he should call him something different because he's a different guy now. Miz said that Bryan realized that there's no such thing as a virtuous win. Miz said that it sounds like Bryan realized that Miz was right all along, which led to some "yes" chants. Bryan said that everybody thought that the old Daniel Bryan was very smart, but how smart could he have been if he catered to the opinions of "these" people? Bryan said that he let their opinions take over his dreams, but then he realized he didn't care about these people and he let his dreams take over. Bryan said he didn't have peers he can talk to like The Miz (good insult) and Bryan said that he had books where he can consult the minds of the likes of Alexander Hamilton. The fans chanted "WHAT?" and Bryan said that these fickle people are reciting something from 20 years ago. It was actually 17 years ago in 2001 when Steve Austin started the "WHAT?" thing, but it's close enough. Bryan quoted something from Hamilton and then talked about the brutality of the NEW Daniel Bryan.
Miz said that it seems to him like what he's seeing is that what Alexander Hamilton wrote is because Miz has been saying it for years. Miz said that he told Bryan he needed to do whatever it takes to win. Bryan said that Miz dances around the issue and never gets to the point. Bryan said that he kicked AJ Styles in the groin, but to be clear he kicked one man in the groin on one day. Bryan said that "these people" harm the earth with their needless consumption with their plastic water bottles, they eat their factory farmed meat and that causes a permanent change to the climate. Bryan said if you want to count sins, he kicked one man in the groin on one day. Bryan said that these people cause countless atrocities against the Earth every single day, every week, every month and every single year.
Miz claimed that Bryan had everybody fooled and Miz said that he saw through it all. Miz wanted a simple answer question because Miz wants to know if Bryan listened to what Miz said: yes or no? That led to "yes" and "no" chants from the crowd. Bryan said yes, then no, then yes, then no and he repeated them. Bryan said that it does not matter. The only thing that matters is that the old Daniel Bryan is dead. Bryan said that the yes movement with these logos (he tossed them out of his pocket) is do and the only thing they (the fans) can't do anything about is this, here is your WWE Champion, the new Daniel Bryan. The fans booed him. Bryan yelled "fickle" as AJ Styles' music started up to interrupt.
Styles walked down to the ring with a purpose as he got into the ring with Bryan. When Styles got into the ring, Bryan shoved Miz into Styles. Bryan left, but Styles stopped Bryan from getting too far. They went back into the ring. Styles went after Bryan again, Miz got involved, Styles went after both guys, Miz didn't like getting punched in the face by Styles, so Miz hit Styles with a Skull Crushing Finale. Bryan left while Miz stood tall in the ring.
Analysis: That promo by Bryan was awesome as he ranted about the environment, which is something he is passionate about and knows a lot about. That's not something wrestlers do in promos very often either, so fans are going to hate that because it's a boring topic you don't hear about in a wrestling promo. Bryan did the "you people" routine to blame the fans for his heel turn, so it's typical for a heel to trash the crowd the way Bryan did there. The Miz getting involved with AJ Styles there will likely lead to a match.
Randy Orton vs. Jeff Hardy is next.
(Commercial)
It was announced that AJ Styles will face The Miz later in the show, which means in the main event because there's not that much time left.
Jeff Hardy made his entrance to a solid ovation. Randy Orton was up next in this matchup of opponents that are very familiar with eachother.
Randy Orton vs. Jeff Hardy
Hardy hit a clothesline that sent Orton over the top to the floor. Hardy sent Orton into the steel ring post. Orton came back by sending Hardy's face into the announce table, then Hardy came back with a head slam into the announce table and a slam by Hardy on Orton on the announce tale. The table did not break.
(Commercial)
The match returned with Orton in control as he hit a suplex that sent Hardy's ribs into the top rope. Chinlock city by Orton. Hardy with a spinning kick to the ribs. Boots to the face by Hardy and then a Whisper in the Wind off the top knocked down Orton. That looked a bit sloppy because Jeff hit the back of Orton, so they must have got their signals crossed a bit there. They managed to get through it. Hardy with a running forearm followed by a double leg drop and a low dropkick for a two count. Hardy led the "delete" chants, Orton with a back elbow to knock Jeff to the apron and Orton hit the draping DDT off the middle ropes. Orton set up for the RKO, Hardy pushed him away, RKO attempt again, Hardy slipped out and hit a neckbreaker. Hardy up top, Orton with a punch to trip Jeff up on the top and Orton slipped out of a superplex attempt to send Orton into the top turnbuckle. Hardy with a Twist of Fate to drop Orton. Hardy up top, Orton rolled out of the ring, so Hardy hit a dropkick to knock him down. Hardy cleared off the announce table and hit another slam onto the table. Hardy went up top, Orton was very far away and Samoa Joe appeared on the video screen. Joe was at the bar, he said Jeff knew about the bar and Joe asked guys at the bar if they wanted a drink. Jeff was distracted by that, so Orton went into the ring and hit a RKO for a pinfall win after ten minutes.
Winner by pinfall: Randy Orton
Analysis: **3/4 The match was just average with a weak finish due to the 20-year pro Hardy acting like he's never wrestled before due to the distraction. That allowed Orton to recover and beat him with one move. I don't mind distraction finishes occasionally. However, it's bad when a guy is on a video screen at a bar, yet he's able to completely change the focus of the guy in the ring. I know why it was done because heels like Joe do things to be jerks and heels like Orton can get cheap wins, but it's not the kind of finish I like to see.
Post match, Samoa Joe was back at the bar. He said you could have a beer or you could have a dozen of them. Joe said you should drink responsibly as he held up a beer in his hand. Jeff watched it with a frustrating look in his eyes as he left the ring to end the segment.
Analysis: The idea is that Joe was taunting Hardy, who has fought alcohol and drug addictions in his career. Joe is the kind of heel that makes things personal just like he did against AJ Styles. It fit Joe's character to be that way.
AJ Styles vs. The Miz is up next.
(Commercial)
Next week on Smackdown it's Sheamus and Cesaro vs. The Usos in a Rap Battle with New Day as the hosts. Charlotte Flair vs. Asuka is also next week in a WrestleMania rematch.
Analysis: That should be great. I'm speaking about Flair vs. Asuka. The Rap Battle will be entertaining and hopefully it's funny.
The Miz made his entrance for the main event. AJ Styles was up next as the opponent with the fans giving him a good ovation. Styles challenges Daniel Bryan for the WWE Title at TLC on December 16.
Daniel Bryan was interviewed backstage by Kayla Braxton, who asked him why he came back because it looked like he left earlier. The new Daniel Bryan said that everything he does is with a purpose and now he's going to commentate. The match begins after a break.
(Commercial)
The match began after the break. The WWE Champion Daniel Bryan was welcomed to the commentary table.
AJ Styles vs. The Miz
Miz hit a shoulder tackle, he ran the ropes and Styles hit a dropkick. Styles with a slingshot attack over the top rope leading to a splash on Miz. Graves asked for Bryan to explain the problems with methane gas. Bryan said that he's enjoying this match. Miz with a knee to the ribs. Saxton asked what Bryan's wife and daughter thinks, so Bryan said he wants his daughter to kick everybody in the groin while calling Byron a horrible human being. Miz was in control of the match as Bryan reminded us that he kicked one groin on one day. Miz charged at Styles, so Styles hit a kick to knock Miz back. Styles to the apron, but Miz kicked Styles to the floor as the show went to break.
Analysis: I am incredibly entertained by Daniel Bryan on commentary. He is one of the best things going in WWE right now.
(Commercial)
The match returned with both guys down on the mat. Styles took control with a running forearm to the face followed by a clothesline against the turnbuckle. Miz with a fireman's carry into a knee to the back (Ushigoroshi) for a two count. Miz with a catapult that sent Styles face first into the turnbuckle. Rollup for two by Styles, Miz back up with a kick to the knee and a DDT for a two count. Graves complained about a co-worker's car and drinking water bottles, so Bryan told him to kick him in the groin. Styles sent Miz out of the ring. Styles jumped over the top rope with a forearm to Miz, which was right in front of Bryan. Bryan left commentary, extended his hand at Styles and Miz threw Bryan towards the barricade. Back in the ring, Miz hit the Skull Crushing Finale for only a two count because Styles got his shoulder up at the last moment. Good nearfall there since that it is the finisher of The Miz, who acted shocked that it wasn't enough to win. Styles kicked Miz shoulder first into the steel ring post. The referee checked on Miz, Bryan pulled AJ's leg and Styles kicked Bryan. Styles slapped on the Calf Crusher submission on Miz and Miz tapped out to give Styles the submission win after 13 minutes.
Winner by submission: AJ Styles
Analysis: *** It was an entertaining main event match with that great nearfall with Miz hitting the Skull Crushing Finale and Styles kicking out. Styles getting the win makes sense since he's getting the WWE Title match at TLC, so it's important to build him up with some positive momentum.
After the match, Bryan attacked Styles from behind with a chop block to the left leg. Bryan drove Styles' left leg repeatedly into the ring post three times. Bryan sent Styles face first into the ring post. Bryan sent Styles face first into the announce table as well followed by Bryan rolling Styles back into the ring. Miz left up the aisle. When Styles got back up, Bryan with another chop block to the back to the back of the left leg. Bryan slapped on the heel hook leg lock on AJ's left leg. That led to more officials running to the ring to break it up. Bryan let go as fans booed him. Bryan acted like he would stop, but then he kicked Styles in the head. Bryan stomped on AJ's head repeatedly. Bryan continued to stomp on AJ's head. The fans booed him.
Bryan went over to the ring announcer Greg Hamilton and told him to announce something. That led to Hamilton announcing Bryan as the WWE Champion. Bryan: "You people don't approve? Fickle. You people don't cheer? Fickle. You people don't love the new Daniel Bryan?" Bryan yelled "Fickle" repeatedly. Bryan went back into the ring and did another chop block to the left leg of Bryan. Bryan slapped on another heel hook submission on AJ's leg as AJ said "get him off" to the refs and that was it for Smackdown.
Analysis: That was great. I'm glad that they had a few minutes left to further establish the Bryan heel persona because he's so entertaining right now. Bryan was relentless in that attack on Styles. I think using a heel hook submission only adds to the ways that Bryan can beat somebody along with the running knee and the Yes Lock on the arm/head of an opponent. This heel turn of Bryan is working perfectly. It's going better than I thought it would, so kudos to WWE for pulling it off at the right time and to Bryan for performing at such a high level.
Three Stars of the Show
Daniel Bryan – He didn't have a match, but he was all over the second half of the show.
The Miz
AJ Styles
The Scoreboard
8 out of 10
Last week: 7
2018 Average: 6.60
Last 5 Weeks: 7, 4.5, 7.5, 8, 5
2018 High: 8.5 (July 31)
2018 Low: 4.5 (January 2, January 9, November 20)
Final Thoughts
I give this week's Smackdown an 8 out of 10.
This was a very good show with four matches all getting more than ten minutes and some entertaining promos as well. I think when you follow that formula in terms of number of matches then there's a nice balance. Last week's show only had three matches and I liked it, but I think four is the right number of matches per show.
Daniel Bryan was very entertaining throughout the broadcast. The creative team knows that they need to give him time to establish his new persona and they did it in multiple ways by having him on Miz TV, then on commentary and then attacking Styles. It shows how a superstar can get over more in a role without even having a match.
I liked the work by the women in the first 30 minutes. I wouldn't say it was "must see TV" or anything like that, but I like how competitive Becky, Charlotte and Asuka are with eachother. What they did made me care more about their match at TLC.
The next WWE pay-per-view is Tables, Ladders & Chairs (TLC) on Sunday, December 16. Here's what we know so far.
WWE Championship: Daniel Bryan (c) vs. AJ Styles
Smackdown Women's Championship TLC Match: Becky Lynch (c) vs. Charlotte Flair vs. Asuka
Intercontinental Championship: Seth Rollins (c) vs. Dean Ambrose
Tables, Ladders & Chairs Match: Braun Strowman vs. Baron Corbin (If Strowman wins, he challenges Lesnar for the Universal Title at Royal Rumble. If Corbin wins, he is full-time GM of Raw.) – Strowman is questionable to make the match due to elbow surgery, so if he doesn't make it, maybe Bray Wyatt will take his place since Wyatt is expected back on Raw very soon.
Raw Women's Championship: Ronda Rousey (c) vs. Nia Jax
Smackdown Tag Team Championships: The Bar (Sheamus & Cesaro) vs. The New Day (Kofi Kingston, Big E, Xavier Woods) vs. The Usos (Jimmy and Jey Uso)
Finn Balor vs. Drew McIntyre
Elias vs. Bobby Lashley
Finals of Mixed Match Challenge (Teams to be determined on Dec. 11.)
—
Thanks for reading. My contact info is below. Go Los Angeles Rams, Toronto Raptors and Toronto Maple Leafs. They're all good!
John Canton
Email mrjohncanton@gmail.com
Twitter @johnreport