The John Report: WWE Smackdown Live 03/26/19 Review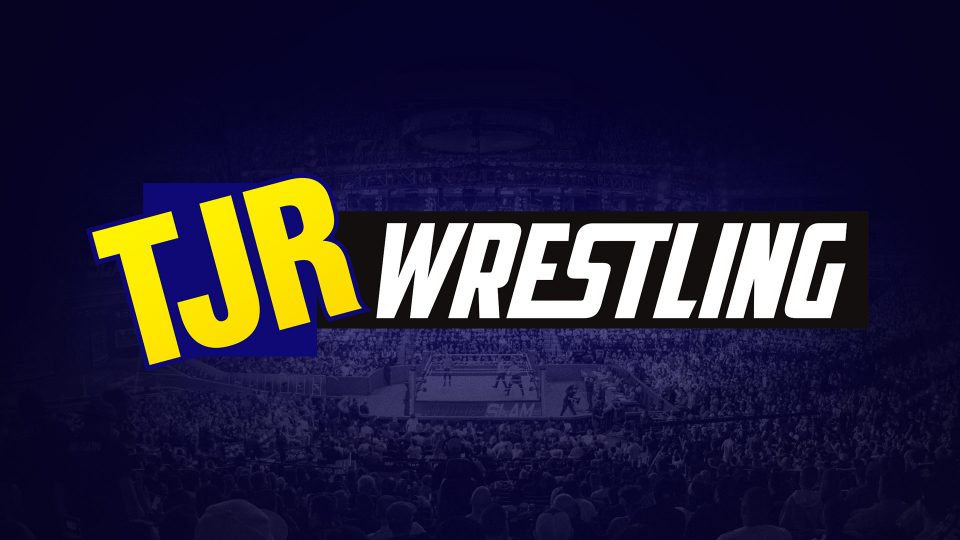 Live from Uncasville (Mohegan Sun), Connecticut, this is Smackdown Live for episode #1023. Follow me on Twitter @johnreport. If you want to support us at TJRWrestling, here's a Donate Link for our Paypal where anything you send will go towards building the site.
The show began with a shot of the crowd with Big of The New Day shouting out the Mohegan Sun for the entrance of the popular trio. Tom Phillips said, "Mohegan Sun here in Connecticut" because this is a small city where WWE doesn't like to say the name.
Let's Hear from The New Day
The New Day trio of Kofi Kingston, Big E and Xavier Woods made their entrances with pancakes and Woods playing the trombone. Good pop for them as usual. There were "Kofi" chants from the crowd.
Woods said that if they can be serious for a minute (Lance Storm?), the last few months have been an emotional rollercoaster for them. Big E talked about they have been together almost five years as The New Day. Woods said it's been incredible with the fans and traveling with these guys performing for the WWE Universe. There were "Kofi" and "New Day rocks" chants. Woods said that it has been a hell of an experience and they wanted to say thank you. Big E said that they have discussed walking away because of all the obstacles in the way of Kofi's journey. The fans didn't like that idea.
Woods said that the hardest thing is watching how poorly Kofi has been treated and it's not just recently, it's been 11 years. Big E said that POP is not just a catchphrase, Kofi exudes the Power of Positivity. Big E said that this man does not know the word quit. Woods said that they know they need to make a decision, but they can't make that decision until they get some answers. Woods noted that the person that has those answers is Mr. McMahon, so they are asking Mr. McMahon to come out there and address them face to face to talk about the issues that they have. Woods said they have no problem waiting in the middle of this ring until Vince comes out there as the fans chanted "Kofi" repeatedly.
Vince McMahon made his entrance in a suit with fans giving him a mixed reaction. Vince entered the ring with the New Day boys.
Vince started by saying he wants to say…and here comes the WWE Champion Daniel Bryan with Rowan with a promo on the stage. Bryan said that if New Day wants to quit then let them quit. Bryan said that the New Day are a stale novelty act that Vince created. Bryan claimed he can replace New Day by calling up three guys from NXT, call them Fresh Afternoon and they can throw waffles into the crowd and they'll be wildly more popular than the New Day was. Bryan said that's because Kofi is nothing more than a B+ player. Bryan said that Kofi lost last week, he lost at Fastlane, he lost at Elimination and he said don't let Woods/Big E in his head or the parasites in the audience get in the head. Bryan said that Vince's instincts that Kingston wasn't championship material is 100% current. Bryan said that Vince is right, these people are wrong and these people refuse to accept that reality.
Woods claimed that Bryan is scared to face Kingston one on one and that Bryan has turned into everything that Bryan used to fight against. Woods said that the reality is that Bryan turned into a hypocrite, which is why Bryan is out there right now.
Vince told them to shut up. Vince laughed about them quitting. Vince said there's not a bone in their body that says they are going to quit and that it's just psychological crap. Vince said he knows they weren't going to quit while acknowledging that most everybody likes what they have here. Vince told Kofi that in his view, Kofi will always be a B+ player. Bryan said that he is 100% correct. Vince said that the only question in his mind is whether they are a B+ tag team. Bryan said that they are lackeys. Vince gets that they have respect for Kingston. Vince wondered if Big E and Woods can put Kingston in the WWE Championship match at WrestleMania. Vince told Kofi he won't have any more opportunities…pal. Vince said that Big E and Woods can win a Tag Team Gauntlet Match tonight then Kofi is in at WrestleMania. The New Day guys seemed to accept that as Vince's music played to end it.
Analysis: It set up a big angle for the main event with the New Day guys having to win a Tag Team Gauntlet match in order for Kingston to get the WWE Title match at WrestleMania. Too many Gauntlet Matches lately? Yeah, but it builds up this story even more. The use of the "B+ player" phrase is smart because it pisses the fans off especially since that was the term used for Daniel Bryan five years ago and now Bryan is the one pushing it. Like Woods said, Bryan is a hypocrite. That's why he's a heel that's easy to boo. It's not that complicated because it's a way to get some heat. Vince knows that and it's working perfectly. Kingston didn't say a word here and that's okay. Woods and Big E were great in their roles, Bryan was awesome as the chickenshit heel champion and Vince continued to be a jerk that got the fans to rally behind New Day even more. Well done by everybody involved.
The announce team of Tom Phillips, Corey Graves and Byron Saxton were shown on screen talking about this development.
The announcers talked about the Main Event of WrestleMania is the Raw Women's Championship match. They showed media around the world and WWE superstars talking about the women headlining WrestleMania.
Becky Lynch was interviewed by Sarah Schreiber backstage. Lynch said they're changing the game. Lynch talked about how she won the Beat the Clock challenge on Raw and that's what will happen at WrestleMania. Lynch talked about how she brings the people, Ronnie brings the title, but what does Charlotte Flair bring to this match? Lynch wondered what has that undeserving third wheel ever added to this match? And with that, Charlotte Flair's music hit in the arena.
Analysis: Lynch had a point there with Flair being added to the match by Vince McMahon several weeks ago without really "earning" it. I think Lynch should have said she earned the match by winning the Royal Rumble, but instead she said she brought the fans into the match.
Charlotte Flair made her entrance in her pink robe and wrestling gear. Flair mentioned Lynch calling her a third wheel and undeserving while noting she's going to show us how deserving she is. Flair did a "Woo" and winked at the camera leading to a break.
(Commercial)
Still to come is the New Day Gauntlet Match to help Kofi Kingston get a WWE Title match at WrestleMania.
Charlotte Flair was standing in the ring for a match. Asuka, the Smackdown Women's Champion, made her entrance.
Analysis: The advertised match for this show was Sonya Deville vs. Mandy Rose vs. Naomi vs. Carmella with the winner of that match getting a Smackdown Women's Title match at WrestleMania. That match did not happen. It seems like WWE advertises a match every week and they end up changing plans. I don't blame Deville, Rose, Naomi or Carmella for being upset about it if they are mad.
The women stood in the ring as ring announcer Greg Hamilton said that this match is for the Smackdown Women's Championship. The announcers acted shocked as I'm sure most fans did with Phillips asking: "What is happening?" Hamilton went through the introductions to begin the match. Saxton wondered how Charlotte was able to swing this. Graves said maybe it was her influence with the McMahon family. Asuka got a nice pop from the crowd for her intro.
Analysis: The interesting thing about this is that on Monday I tweeted about the fact that Charlotte Flair has lost every match she has had this year, which includes live events (heels lose at live events), televised matches (she hasn't wrestled on Smackdown much this year) and PPVs. I saw it on Reddit. I'm not sure if WWE was made aware of it yesterday or if they care at all. Anyway, it's a reminder of wins and losses not really meaning much in WWE these days. However, they should mean more. In the buildup to Rousey vs. Lynch vs. Flair my biggest complaint is that they didn't try to explain why Flair is in the match. They should have booked her to win matches, have her "earn" the spot and instead it was just Vince putting her in the match. It gets Vince heat and Flair gets more boos from the crowd when Flair says that she deserves it (based on her history, she is great), but WWE certainly could have booked it better. They also could have advertised a championship match like Asuka vs. Flair because that should be a big deal.
Smackdown Women's Championship: Asuka vs. Charlotte Flair
They battled over an armbar with Flair taking down Asuka with a hair pull leading to a trip. Asuka grabbed a headlock, there was a whip into the ropes and Asuka kicked Flair in the ribs. Flair bumped to the floor, so that led to a break.
(Commercial)
The match returned with Flair in control with a knee drop to the back of the head. Asuka managed to come back with an octopus hold as she pulled back on Flair's arm. Asuka got a sunset flip into a pinning predicament for two. Flair kicked the left knee of Asuka and stomped away on the foot. Flair ran the ropes, she charged and Asuka hit a Codebreaker (double knees to the face), but she was unable to cover. Asuka unloaded on Flair with slaps, kick to the ribs, hip attack and German Suplex from Asuka. Asuka with a kick to the face followed by a running kick to the face that got a two count. Asuka worked over Flair with kicks to the back. Asuka went for the running hip attack, Flair moved and Flair kicked Asuka in the face for a two count. Nice spot and nearfall there. Flair climbed up top, she went for the moonsault, Asuka avoided, Flair landed on her feet and Asuka slapped on the Asuka Lock, Flair turned it into a pin and got a two count. Flair blocked a spinning back fist, but Asuka came back with a spin kick to the face for two. That was an exciting sequence where they really picked up the pace.
(Commercial)
Flair was aggressive on offense as she went for the Figure Eight, but Asuka kept kicking her away. Asuka kicked Flair into the middle turnbuckle followed by a kick to the side of the face for two as Flair got her left shoulder up. Asuka went up to the top rope, Flair went up after her and Flair hit Asuka with a forearm to the head. Flair hit a Spanish Fly (moonsault into a slam) off the top for a two count. That's a great move that looked perfect in its execution. Flair was talking to herself saying, "I need this." Flair was frustrated that she didn't win the match with that. Flair worked over Asuka with elbows. Asuka managed to slap on the Triangle Choke submission, but Flair powered out of it and hit a sitout Powerbomb for a two count. Flair went for a Figure Eight submission, Asuka countered into an inside cradle and Flair managed to kick out of it. Flair managed to slap on the Figure Eight submission hold and Asuka tapped out to give Flair the win. It went about 18 minutes. The crowd popped for the title change even though it was a heel winning the title. I think they popped because it was unexpected.
Winner by submission and New Smackdown Women's Champion: Charlotte Flair
Analysis: **** Great match as usual from these two who have wrestled a lot in the last year especially on live events. I gave their WrestleMania match last year four stars, so it was around that level. This match was about five minutes longer. Everything from the second and third segment was outstanding because the intensity picked up from there. I thought the finish was done well with Asuka going for her submission moves, but Flair was able to overpower her and slap on the Figure Eight for the win. The bad thing about this is that Asuka was booked poorly as the champion and really didn't have much to do in the last three months. I wish she was booked better. As soon as the match was made, I assumed a title change was coming because I figured WWE didn't want Flair to lose this close to WrestleMania.
Flair was handed the Smackdown Women's Championship and that is her eighth title reign on the main roster, which is the most titles of any woman in WWE history and breaks Flair's tie of seven title reigns that she was tied with Stratus. Graves made the point that Flair proved she wasn't undeserving of the title match at WrestleMania. Asuka looked back at Flair with a frustrated look on her face.
Analysis: The bad thing about this, which is something that is going to anger some fans, is Asuka's title reign was not very good at all. Yeah, she beat Becky Lynch at the Royal Rumble to keep the title, but other than that, it was poorly booked. If you complain about the bad booking of Asuka then I'm with you on that. However, I don't mind Flair as champion because she's awesome just like Asuka as. They just reminded us of that again.
Flair held up the title above her head while the WrestleMania sign was in the background. Flair had some tears in her eyes as she celebrated with the title. The announcers wondered what this meant for WrestleMania since two of the three women in the WrestleMania main event have titles now.
Analysis: It would make sense for the Rousey vs. Flair vs. Lynch match to be a Winner Take All kind of match where the winner of that match wins both titles. Since they are doing the Superstar Shakeup on April 15/16, the winner of both titles (I assume that will be Lynch) can forfeit the one title of the show they are not on and then they can crown a new winner shortly after WrestleMania. It would be easy to do that.
Kurt Angle made his entrance as Flair reached the top of the ramp and Angle seemed to congratulate her for it. Angle got a nice pop from the crowd as he entered the ring for what is apparently his last match on Smackdown Live.
(Commercial)
AJ Styles was interviewed behind the curtain in the gorilla position with Sarah Schreiber doing the interview. Styles said he is proud to be in the ring with Kurt Angle tonight. Styles talked about Kurt Angle as a Hall of Famer while saying that it's not an exhibition match or a warmup match. Styles said that Angle may have laid the foundation, but this is the house that AJ Styles built.
Styles made his entrance to face off with his old TNA/Impact rival Kurt Angle one more time. Styles will face Randy Orton at WrestleMania.
Kurt Angle vs. AJ Styles
Angle with a German Suplex early in the match. Angle tried for an Ankle Lock, Styles managed to get out of that and Styles slapped on the Calf Crusher submission. Angle looked like he was going to tap out one minute into this match, but Angle rolled through into the Ankle Lock submission. That was well done. Styles managed to use the momentum to send Angle face first into the middle turnbuckle. Randy Orton showed up out of nowhere and dropped Styles with a RKO for the DQ finish two minutes into this.
Winner by disqualification: AJ Styles
Analysis: * That was quick. They couldn't even give them two minutes here? That's a shame. I know Kurt is old and putting him in long matches is a bad idea. I was just hoping this would be a bit longer. Trust me, if Triple H has a retirement tour one day he's not going to get two minutes for a match. It's going to get more time. I'm just saying.
Orton stomped away on Styles and Angle hit an Angle Slam on Orton. That led to Orton rolling out of the ring. Angle's music played to end this. Angle helped up Styles to end this.
Analysis: It gets some heat for Orton and then Angle making the save for Styles was a nice touch. I think this Angle match and post match angle could have been given more time. It felt rushed.
There was an interview with Rey Mysterio and his son Dominick with Kayla Braxton doing the interview. Dominick said that Samoa Joe only cares about himself. Rey said that he'll teach Samoa Joe a lesson in humility for himself and his family with Rey becoming the US Champion at WrestleMania.
Analysis: It's the second week in a row where they showed Dominick, who is now a trained wrestler. There's no WWE deal for Dominick yet, but it wouldn't surprise me if that happened soon.
The Miz walked out in a suit for a promo after the break.
(Commercial)
A graphic let us know that the WrestleMania main event is still Rousey vs. Flair vs. Lynch for the Raw Women's Title. They also mentioned the news of Joan Jett singing "Bad Reputation" for Rousey's entrance at WrestleMania.
Let's Hear from The Miz
The Miz was in the ring for a promo in a suit at the top of hour two as fans chanted "Miz is awesome" for him. Miz said that we are twelve days away from WrestleMania and usually he has a rush of emotion, but this year is different. Miz said that the image he sees is him ripping Shane McMahon apart on the grandest stage of them all. Miz talked about how Shane has lit a fire under him that he didn't know he had for 13+ years he was there. Miz reminded us about how Shane beat up Miz from behind and he grabbed Miz's dad in front of him. Miz said he wanted to face Shane in a Falls Count Anywhere match. Miz said he wanted to beat up Shane all around that stadium.
Shane McMahon's music hit as the indy wrestling security guys showed up on the ramp along with a lot of lower and midcard wrestlers including the Sanity trio, Shelton Benjamin and Primo Colon. Shane stood on the stage while telling announcer Greg Hamilton to do what he's been instructed to do. Greg introduced the "Best in the World" Shane McMahon in a very over the top way, which drew boos.
Shane told Miz that the security is there to protect Miz from him. Shane said he can't believe that Miz would want a Falls Count Anywhere match. Shane said he guesses that Miz is as dumb as his father George looks – an image was shown of Shane grabbing George's face. Shane said he watched that footage over and over again while adding that the more he watches it, the better it makes him feel. Shane said that it made him feel great, he could feel it in his bones right down to the core. Shane said that when he grabbed George, he paralyzed him with fear. Shane talked about how it feels euphoric for him. Shane said that he has an absolute taste for that feeling and he's going to beat Miz all over MetLife Stadium for the world to see. Shane said that Falls Count Anywhere stipulation is accepted. Shane said that his only regret is that he didn't do more harm to Miz's father and for making the biggest "Miztake" in his life when he impregnated Miz's mother. That led to Miz leaving the ring and he went after the wall of security guys.
Miz managed to beat up those security guys. Miz walked up to the superstars on SD Live, he knocked Shelton Benjamin down, sent Primo into the steel steps and Miz shoved Benjamin into the steel ring post. The Sanity trio triple teamed Miz at ringside. Wolfe and Dain sent Miz back first into the barricade. Miz gave Wolfe a back body drop over the barricade and he tossed Dain over the barricade. Miz took care of Young. Miz jumped on Dain and Wolfe to knock them down on the floor. They went brawling into the crowd with Miz whipping Wolfe into a guard rail. Miz jumped back over the barricade and that ended the segment because Shane left.
Analysis: It was a good way of showing that Miz had a lot of fight left in him. The promos were good in terms of Miz standing up for himself and Shane making it personal by ripping on Miz and his dad a lot. This rivalry doesn't interest me that much. Shane McMahon as a heel in 2019 is pretty boring. He was great at 20 years ago. These days, I just want him to stop wrestling and for people not named McMahon to get more of a chance. Miz should get the win at Wrestlemania.
There was a replay of Big E and Xavier Woods supporting Kofi Kingston earlier. That led to Vince McMahon setting up the tag team gauntlet match.
There was a replay of Charlotte Flair beating Asuka for the Smackdown Women's Championship, which is Flair's 8th title reign on the main roster.
The announcers set up the clip from Raw showing SNL's Michael Che and Colin Jost arguing with Braun Strowman to put Che and Jost in the battle royal at WrestleMania. This is not good.
Analysis: Are there people in WWE's creative team that think this is a good storyline? Strowman is the worst booked guy on the main roster. I genuinely feel bad for him considering he should be in a top three or four match at WrestleMania.
The New Day group of Big E and Xavier Woods with Kofi Kingston made their entrance. Kingston went backstage while Big E and Woods entered the ring for the Gauntlet Match main event.
(Commercial)
A video aired about WrestleMania letting us know it was 12 days away.
The IIconics duo of Billie Kay and Peyton Royce did a cell phone promo talking about the big news that they are competing for the Women's Tag Team Titles at WrestleMania. They said WrestleMania will finally be iconic.
It's time for the Gauntlet Match. Big E and Woods have to win this Gauntlet Match for Kofi Kingston get the WWE Title match at WrestleMania.
Gauntlet Match #1: Big E and Xavier Woods vs. Luke Gallows and Karl Anderson
Woods hit a dropkick on Anderson to start the match. Anderson with a forearm. Woods tagged in Big E and that led to Kingston/Big E hitting the Midnight Hour double team finisher. Phillips said Up Up Down Down like Xavier's video game Youtube channel, so maybe that's the new name. Anyway, that went about two minutes.
Winners by pinfall: Big E and Xavier Woods
Analysis: * The team of Anderson and Gallows have been booked poorly for a long time. They are barely on the show. There are reports that they are not going to re-sign with WWE later this year, so that's a reason for the booking.
Kofi Kingston was shown watching on a TV backstage with Becky Lynch, Matt Hardy, Jeff Hardy and Rey Mysterio watching with him. Babyfaces stick together.
Gauntlet Match #2: Big E and Xavier Woods vs. Shinsuke Nakamura and Rusev (w/Lana)
Woods started with a headscissors takedown. Nakamura came back with a running knee lift against the turnbuckle for a two count. Rusev tagged in and dumped Woods out of the ring leading to a break.
(Commercial)
The heels were in control as Nakamura hit a knee drop on Woods for a two count. There were more wrestlers watching with Kingston including R-Truth, Naomi, Carmella and Nikki Cross. Nakamura slapped on a headlock on Woods, who managed to break it with a jawbreaker. Woods managed to break free leading to Big E making the hot tag. Big hit his usual three belly to belly suplex in a row followed by a running splash. More wrestlers were watching with Kofi backstage. Nakamura dumped Big E to the floor. Rusev tagged in and Big E whipped Rusev into the steel steps. Nakamura drove Big E's throat into the top rope, Rusev with a kick to the head, suplex and Nakamura with a knee strike for two since Nakamura was the legal man. Woods broke up the pin attempt. Woods dumped Rusev out of the ring followed by a dropkick to knock Big E down on the floor. Nakamura set up for the Kinshasa, Big E avoided it and sent Nakamura into the steel ring post. Woods tagged in and they hit the Up Up Down Down again with Woods pinning Nakamura for the pinfall win.
Winners by pinfall: Big E and Xavier Woods
Analysis: ** That was decent with Nakamura and Rusev getting in a pretty good amount of offense until the obvious New Day comeback got the win for Woods/Big E.
The Bar duo of Sheamus and Cesaro were up next after a break.
(Commercial)
Gauntlet Match #3: Big E and Xavier Woods vs. Sheamus and Cesaro
The heels known as The Bar were in control as Sheamus slapped on a kneebar submission on Big E's left leg. There were more babyface wrestlers watching with Kingston backstage including Asuka, who lost her title earlier in the show. Cesaro tagged in, did the Swing on Big E and slapped on the Sharpshooter submission. Big E broke free and kicked Cesaro out of the ring, but Sheamus tagged in to prevent the tag. Big E managed to break free out of the heel corner with a back body drop on Cesaro and Woods got the hot tag to a big pop. Woods with a kick to the gut, kick to the knee, knee to the face and a dropkick to the back of Cesaro when Cesaro was against the ropes. Woods with a kick to Sheamus followed by a DDT off the ropes. Woods with a somersault dive over the top to take out The Bar on the floor. Woods sent Cesaro back in the ring and hit a leg drop off the top for a two count as Sheamus broke up the pin.
(Commercial)
Big E and Sheamus were in the ring with Sheamus missing a move off the top and Big E hit a Powerbomb. Woods tagged in against Cesaro, Woods off the top, Cesaro with an uppercut and a two count. Sheamus got in a cheap kick on Woods. The Bar set up for a double team move, Big E pulled Cesaro out of the ring and Woods got the ROLLUP OF DEATH~! on Sheamus for their third pinfall win so far.
Winners by pinfall: Big E and Xavier Woods
Analysis: ***1/4 That was pretty good. Awesome job by both teams with Woods/Big E selling everything perfectly and Cesaro/Sheamus working well together as the relentless heel team. I knew the dreaded ROLLUP OF DEATH~! would strike at some point. It's so deadly, after all.
Following the pinfall, Sheamus and Cesaro attacked New Day some more. Kingston was freaking out backstage. Sheamus and Cesaro brought a table in the ring. Sheamus and Cesaro picked up Big E and slammed him back first through the table in the ring.
The Usos were up next. They are the Smackdown Tag Team Champions. Big E was laid out in the middle of the ring after going through the table.
Gauntlet Match #4: Big E and Xavier Woods vs. The Usos
The Usos grabbed microphones before the match could begin. Jey Uso said that everybody knows they have fought wars with The New Day. Jey added that everybody knows there is one person who deserves to fight for the WWE Championship and that's Kofi Kingston, which led to cheers and a "Kofi" chant. Jimmy Uso said that they have already earned respect and Kofi has earned respect from the superstars as well as the fans. Jimmy said: "Good luck, Uce, cuz we forfeit." The Usos left.
Winners by forfeit: Big E and Xavier Woods
The fans cheered that while Big E and Woods nodded at them as a sign of respect.
Analysis: That was an interesting development. The Usos are face Tag Team Champions, so it's certainly understandable. It also puts over Kingston in a big way to have The Usos put him over the way they did.
Daniel Bryan and Rowan were freaking out in the locker room. Bryan kicked over a TV in the room. Bryan yelled about this being bullcrap and they were destroying chairs.
(Commercial)
A video aired promoting next week on Raw: Brock Lesnar is back, plus a six-woman tag team match with Becky Lynch, Ronda Rousey and Charlotte Flair teaming up against the Riott Squad trio. If Ronda, Becky or Charlotte betray their team, they forfeit their WrestleMania opportunity.
There were WWE medical personnel in the ring (likely indy wrestlers) checking on Big E and Woods told them they were fine. It was announced by ring announcer Greg Hamilton that they must face one more team. That team is Daniel Bryan and Rowan, who made their entrance.
Gauntlet Match #5: Big E and Xavier Woods vs. Daniel Bryan
The team of Bryan and Rowan attacked the New Day guys. Rowan whipped Woods into the barricade and slammed him into the side of the ring apron. Bryan whipped Big E's left leg into the ring post repeatedly. Rowan hit a running cross body block on Woods on the floor. Big E tried to fight out of the heel corner with punches, but Bryan slapped on a half crab submission. Woods broke that up with a missile dropkick. Rowan in the ring, Woods sent him to the floor and Woods hit a somersault dive over the top on Rowan on the floor. Bryan charged at Big E, but Big E caught him and hit a uranage slam. Big E hit the Big Ending slam with Rowan going back in the ring to break it up. Rowan knocked Woods off the apron to the floor. Rowan got the tag from Bryan and Rowan hit a uranage sitout slam on Big E for two. Bryan told Rowan to put him through the table, so Rowan cleared off the table. Woods hit Bryan with a DDT on the floor that sent Bryan into the barricade. Woods avoided the Iron Claw slam of Rowan. Woods and Big E sent Rowan into the ring post. Big E clotheslined Rowan over the announce table. Big E flipped the announce table and put it on Rowan. Big E went back in the ring as the referee Mike Chioda counted Rowan down. The fans counted along the entire way and Chioda got to ten, so New Day won the match.
Winners by countout: Big E and Xavier Woods
Analysis: *** This was fun too. That was clever to book a countout finish like that. It's not that often where fans are going to cheer that loud for a countout win, but in this scenario, it was absolutely the right way to end the match. It was such a cool thing to see the crowd counting to ten along with the referee and then cheering loudly for the win. It's not like Bryan or Rowan will be hurt too much by a countout loss either. It was the right finish for sure.
The entire Gauntlet Match went about 38 minutes. The crowd popped huge for the victory for New Day. Greg Hamilton announced the result as: "Ladies and gentlemen, Kofi Kingston is going to WrestleMania!"
Winners of the Gauntlet Match: Big E and Xavier Woods
Analysis: ***1/4 That's my rating for the entire Gauntlet Match. It's not an average score of the matches. It's a rating for the whole thing. I think the best parts were Big E/Woods vs. Sheamus/Cesaro as well as the post match attack that built up more sympathy for the New Day guys. I also liked the finish to the Big E/Woods vs. Bryan/Rowan part of the match as well.
After the match was over, Kofi Kingston ran down to the ring to hug his New Day buddies. The crowd kept on cheering as the guys celebrated the win. The fans chanted "Kofi" for them as replays showed Big E flipping the announce table on Rowan.
There was a shot of Vince McMahon about to go in a limo when Kayla Braxton showed up to talk to him. Vince said that he saw New Day's win and said it was impressive. When she asked if this means Kofi Kingston is going to WrestleMania, Vince said: "Yes. He's going to WrestleMania. The question is can a B+ player beat Daniel Bryan for the WWE Championship? Thank you." Vince left in the limo. It's official now.
It's REALLY happening. @TrueKofi will challenge @WWEDanielBryan for the #WWETitle at #WrestleMania! https://t.co/JbCc2D1r7opic.twitter.com/Irbx5MxVAV

— WWE WrestleMania (@WrestleMania) March 27, 2019
Analysis: Finally. It's official. It took a few weeks to get there and I'm sure some fans wanted it to be official earlier this month, but here we are.
The babyface wrestlers on Smackdown walked down to the ring led to Kevin Owens, Becky Lynch, The Miz, Ali, Matt Hardy, Jeff Hardy, Byron Saxton left the announce table to celebrate at ringside and all of the wrestlers cheered for Kingston. Bryan was shown looking angry at ringside. Kingston celebrated with his New Day boys Woods and Big E and that was the end of the show.
Analysis: That was a cool celebration. I enjoyed it. There are too many WWE shows where the heels are on top, they celebrate to end the night and the fans are pissed off. This was a happy ending that felt great to see. With that said, does this mean Kofi Kingston will win the WWE Title at WrestleMania? I think he should win the title and I'll probably pick him next week when we write our official WrestleMania preview. However, I'm not sure if every major babyface title challenger is going to win a title at WrestleMania. I think Becky Lynch will be the Raw Women's Champion (maybe she'll get the SD Women's Title too), I think Seth Rollins should be the Universal Champion and I want Kingston to win too. If one of them is going to lose, though, I think it might be Kingston. Once again, I want Kingston be WWE Champion. I just don't know if that's going to happen.
Spend five minutes of your life to watch this video. New Day guys are great at this stuff and it sure feels genuine too.
Three Stars of the Show
Big E and Xavier Woods – Impressive performance by them.
Charlotte Flair
Asuka
The Scoreboard
7 out of 10
Last week: 6
2019 Average: 7.08
Last 5 Weeks: 6, 7, 7.5, 8.5, 8
2019 High: 8.5 (February 26)
2019 Low: 5 (January 15)
Final Thoughts
I give this week's Smackdown a 7 out of 10.
It was a pretty good show where we got the final resolution for the WWE Title match at WrestleMania because Daniel Bryan vs. Kofi Kingston is official now. With that said, we don't see another Gauntlet Match on Smackdown for a long time that would be a good thing because three of them in the last two months is too much.
I didn't like the booking of the Angle vs. Styles match. Going less than two minutes is ridiculous. Give them a few more minutes. They could have booked that entire scenario better.
The part of the show that is going to piss fans off is Asuka losing the SD Women's Title to Charlotte Flair. The match was awesome. Kudos to both women. It doesn't make Asuka look good at all, but clearly, WWE is prioritizing Flair more since she's in the WrestleMania main event. If Asuka was the champion, it would have been about the 15th biggest match on a 17 or 18 match card, so I think it's a case of WWE wanting to build up Flair since she hasn't won any matches on WWE TV this year prior to last night. This goes back to what I have written many times about how Flair should have been booked a lot stronger in the last two months if they were going to put her in the WrestleMania main event. What WWE's decision makers did on this show was try to remind people that Flair is deserving, and I think she is because of how good she is in the ring. The creative team certainly could have set it up a lot better. That's been an issue this entire WrestleMania season. Plans keep changing, twists always seem to happen and it leads to a mess sometimes.
I enjoyed this edition of Smackdown thanks to the great Flair/Asuka match and the Gauntlet Match was well booked from start to finish. Smackdown has been far superior to Raw in the build up to WrestleMania.
Here's the lineup for WrestleMania 35 on April 7:
* Raw Women's Championship: Ronda Rousey (c) vs. Charlotte Flair vs. Becky Lynch
* Universal Championship: Brock Lesnar (c) vs. Seth Rollins
* WWE Championship: Daniel Bryan (c) vs. Kofi Kingston
* No Holds Barred Match: Triple H vs. Batista (Triple H Must Retire if He Loses)
* Randy Orton vs. AJ Styles
* Roman Reigns vs. Drew McIntyre
* Falls Count Anywhere Match: Shane McMahon vs. The Miz
* United States Championship: Samoa Joe (c) vs. Rey Mysterio
* Kurt Angle vs. Baron Corbin (Angle's Retirement Match)
* Intercontinental Championship: Bobby Lashley (c) vs. Finn Balor
* Women's Tag Team Championships: Sasha Banks and Bayley (c) vs. Tamina and Nia Jax vs. Natalya and Beth Phoenix vs. (The IIconics) Peyton Royce and Billie Kay
* Andre the Giant Men's Battle Royal – Braun Strowman, Colin Jost and Michael Che are in it.
* Cruiserweight Championship: Buddy Murphy (c) vs. Tony Nese
Expected matches:
* WrestleMania Women's Battle Royal
Alexa Bliss is the host of WrestleMania. Elias is the musical guest.
Plus, there are expected matches for the Raw Tag Team Titles and Smackdown Tag Team Titles. If John Cena has a match that isn't for a title or with somebody already announced then that's another one. I believe Cena may not have a match now.
—
Thanks for reading. My contact info is below. Go Toronto Raptors and Toronto Maple Leafs.
John Canton
Email mrjohncanton@gmail.com
Twitter @johnreport