The John Report: WWE Smackdown 12/09/22 Review
This week's WWE Smackdown featured The Usos defending the Tag Team Titles against Sheamus & Butch while Kurt Angle was on hand for a birthday celebration.
From the PPG Paints Arena in Pittsburgh, Pennsylvania, this is Smackdown for episode #1216. Follow me on Twitter @johnreport. Let's get to it.
It's Fight Night with The Brawling Brutes up first. The Usos were next as the Undisputed WWE Tag Team Champions with Solo Sikoa and Sami Zayn joining them. This is the second title defense for The Usos this week after beating Matt Riddle & Kevin Owens on Raw. Solo destroyed Riddle after the match. They said Riddle is out for six weeks after the attack, so see ya in 2023, bro.
The tag teams stood in the ring as Samantha Irvin did a great job of doing the championship introductions. The Smackdown commentary team was Michael Cole and Wade Barrett as usual. Barrett said it's the first time in over 20 years that a team defended the Tag Team Titles on Raw and Smackdown in the same week. I saw that on social media, so it's cool that WWE mentioned it on air.
Undisputed WWE Tag Team Championships: The Usos – Jimmy & Jey Uso (w/Sami Zayn & Solo Sikoa) vs. The Brawling Brutes – Sheamus & Butch (w/Ridge Holland)
Sheamus got a shoulder tackle knockdown early on. Jimmy tried a hiptoss on Sheamus, but Sheamus hit him with a clothesline. Sheamus with a rolling senton, Butch tagged in and Sheamus did a rolling senton onto Jimmy. Jey managed to get the tag leading to a jumping forearm on Butch in the corner. Butch tried to get some offense going, but The Usos stopped that and hit a double team move sending Butch's throat across the top rope. They went to break about three minutes into the match.
(Commercial)
The Usos were still in control of Butch as Jey sent Butch face first into the middle turnbuckle. Jimmy tagged in with a leap off the top with an elbow smash. Butch tried to break free again, Jimmy grabbed his foot and Butch hit a spinning kick to Jimmy. Jey tagged in and knocked Sheamus off the apron to stop a tag. Jey with punches, Butch avoided a charge and Butch hit a German Suplex. Sheamus got the tag against Jimmy with forearm smashes along with a powerslam. Sheamus and Butch each delivered forearm smashes to the chests of both Usos with Butch hitting Jey repeatedly after Sheamus had stopped. Butch decked Jey with a forearm on the floor. Jimmy got a rollup on Sheamus for two. Sheamus charged, Jimmy moved and Sheamus hit the ring post with his shoulder. Sheamus jumped off the middle rope with a White Noise slam for two. They went to another break.
(Commercial)
It was about 14 minutes into match as Butch did some finger joint manipulation to Jey. Butch jumped off the top, Jey avoided it and Jey lifted up Butch leading to a neckbreaker. Sheamus made the save for the pin attempt. Jimmy kicked Sheamus, but Sheamus hit Jimmy with a White Noise slam on the apron. Jey hit Sheamus with a suicide dive forearm on the floor. Butch went to the apron and hit a moonsault on both Usos on the floor. Butch hit a Tornado DDT on Jey for a two count. Butch stomped on Jey's fingers, then a kick to the side of the head, Jey with a punch, Jimmy tagged in and Sheamus saved his partner from a double team move. Butch gave Jimmy a running Powerbomb for a two count. Sheamus back in and Sheamus did a Celtic Cross (Razor's Edge) into a neckbreaker by Butch for a two count by Sheamus because Jey saved his brother. Sheamus and Jey were legal, Sheamus wanted a move, Jey distracted the referee and Zayn tried to interfere, but Holland decked Zayn with a clothesline. Solo gave Holland a Spinning Solo on the floor. Sheamus wanted a Brogue Kick on Jey, who avoided it and hit a superkick. Sheamus hit a knee smash on Jey. Butch tagged back in, Jimmy made a blind tag and The Usos hit the One and Done on Butch for the pinfall win as Zayn held Sheamus (the referee didn't see it) to prevent Sheamus from making the save. The Usos win after about 18 minutes.
Winners by pinfall: The Usos
Analysis: ***3/4 A great tag team match with the champions finding to retain again. Sheamus and Butch came close throughout the match as they hit some big moves, but it wasn't enough to get the job done. I thought The Usos were awesome as usual throughout the match. The finish worked well because while Zayn wasn't able to interfere in the match, he did do enough to prevent Sheamus from making the save as Butch was pinned to take the loss. I didn't expect a title change here, but I enjoyed the match a lot.
It's 509 days and counting for The Usos as the Smackdown Tag Team Champions and they added the Raw Tag Team Titles back in May.
Kurt Angle was shown walking backstage with fellow Olympic Gold Medallist Gable Steveson. Braun Strowman greeted Angle and Kurt introduced Braun to Steveson. Braun mentioned Gable training at the WWE Performance Center, Braun said we can use you on Smackdown and Gable said when he's ready he'll come see Braun. Strowman left with Angle's birthday celebration coming up later.
LA Knight made his entrance in non-wrestling gear for a segment after a break. There were some Wyatt logos on screen too.
(Commercial)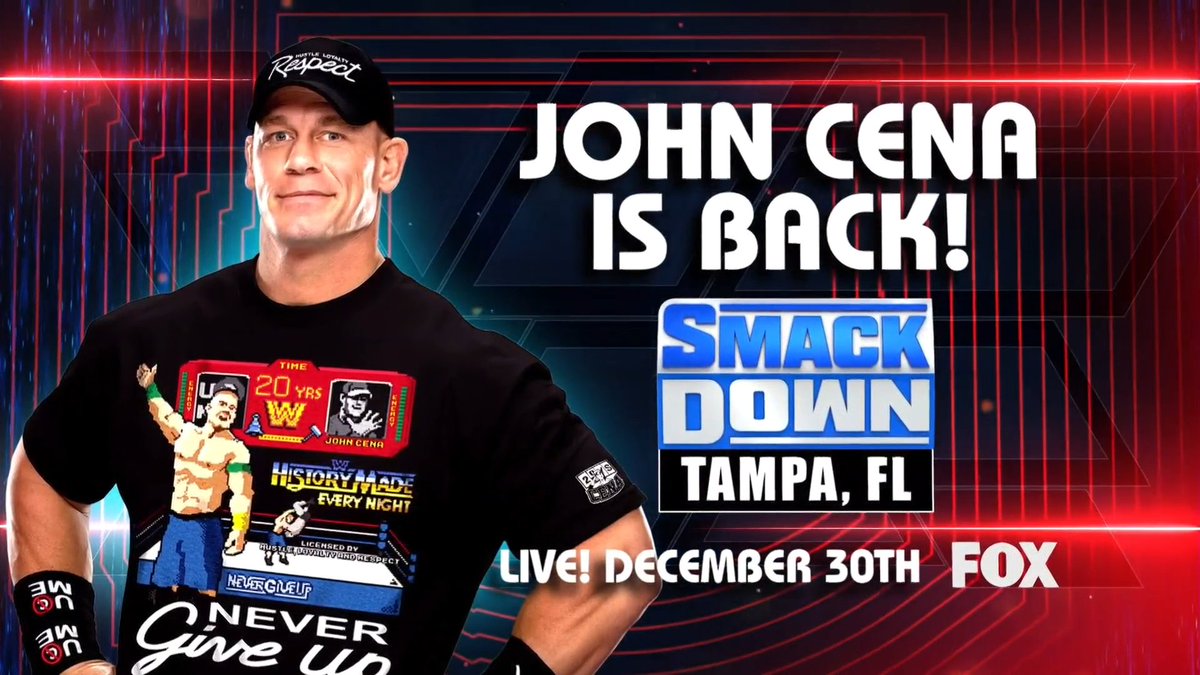 It was mentioned that John Cena is back on Smackdown in three weeks on December 30th. It was announced earlier on Friday, which we covered here on TJRWrestling.
Analysis: Good to see Cena back. It will be interesting to see if it leads to anything or if it's just an appearance. That Smackdown is in Tampa where Cena lives and he's probably not working that day, so they might as well get him on Smackdown.
Let's Hear from LA Knight
LA Knight said he was calling Bray Wyatt's bluff for lying about how he didn't attack Knight in the past. Knight showed some footage of Knight getting attacked three weeks ago. There was a clip of Knight under some objects and Knight showed the clip of some creepy mask in the background. Knight played another clip of being attack where there was another mysterious mask in the background.
There was an interruption from Uncle Howdy asking what kind of man are you and talking about respect. Howdy kept saying "do it" and phrases like "he deserves to suffer" were said as well. The phrase "the door is closing" ended it.
They showed Knight again saying that was a message from Wyatt and Knight said he's going to go backstage to fight Wyatt right now.
Analysis: It was some progress for this storyline with Knight wanting answers about what happened to him with the mystery attacks. I think it will eventually lead to a Wyatt-Knight match perhaps on Smackdown, but more likely at a bigger show like the Royal Rumble. That's a long time away, so there's a lot of time to get there. No Wyatt
The announcers mentioned NXT Vengeance Day on Saturday, February 4th in Charlotte, North Carolina and they plugged when tickets are on sale.
They showed a clip of the parking lot with Ronda Rousey and Shayna Baszler attacking Shotzi by using a car door. This happened while Legado del Fantasma was being interviewed by Cathy Kelley. Shotzi was screaming in pain.
Ronda Rousey and Shayna Baszler were interviewed by Megan Morant, who asked if they have taken it too far outside the ring. Baszler said maybe Shotzi fell. Rousey said to tell the china shop that the bulls are coming. Liv Morgan and Tegan Nox interrupted them saying that Rousey/Baszler has beaten everybody except for them. Baszler said if you mess with the bull, you get the horns.
Analysis: They continue to book Rousey and Baszler as mean girls. Morgan and Nox are likable faces.
Legado Del Fantasma entered for a match with Joaquin Wilde & Cruz Del Toro in tag team action. They were joined by Santos Escobar and Zelina Vega. The tag team match against the Viking Raiders was next.
(Commercial)
It was announced that Roman Reigns returns to Smackdown next week in Chicago. They are also taping the December 23rd episode of Smackdown that night too.
The Viking Raiders – Erik & Ivar (w/Valhalla) vs. Legado del Fantasma – Joaquin Wilde & Cruz Del Toro (w/Santos Escobar & Zelina Vega)
They showed some recent Viking Raiders attacks. Vega was on commentary. They are both heel teams. Erik with a shoulder tackle and a knee to the gut on Wilde. Ivar with a shoulder tackle, Erik back in with a shoulder tackle and Wilde countered a move with a headscissors. Erik ran over Wilde with a forearm attack. Hit Row's music played as B-Fab walked out with a steel chair that she sat on in the aisle. Top Dolla and Ashante Thee Adonis took out Escobar and Del Toro. The match was thrown out after two minutes.
Match Result: No Contest
Analysis: * A quick match that never really got going to the attack from Hit Row. It's probably a good thing because a match between two heel teams isn't that interesting.
Post match it was Top Dolla with a chair shot, Adonis with a DDT and B-Fab took out Valhalla. B-Fab threw Valhalla onto Vega on commentary. Wilde jumped off the top on Dolla, but Dolla caught him and hit a suplex into a slam. Hit Row stood tall to end it.
Analysis: What Hit Row did was revenge as babyfaces, but it's not like the crowd cared. The fans barely reacted to this. I don't think this story with Hit Row and Viking Raiders has been that interesting while the Legado guys feel like they were just thrown into it.
LA Knight was shown walking backstage. Knight went into his locker room and found a Wyatt t-shirt on a hanger. The light went out, then there was a guy standing behind Knight with a mask on. The scene ended there.
Analysis: The mystery continues. No Bray Wyatt shown on camera. His uncle Barry Windham suffered a massive heart attack earlier in the week, so it's understandable if Wyatt missed a show.
This Monday on Raw is Seth "Freakin" Rollins vs. Bobby Lashley in a #1 Contenders Match for a shot at the US Title and Bayley vs. Alexa Bliss in a #1 Contenders Match for a shot at the Raw Women's Title.
(Commercial)
They showed Kurt Angle backstage with Gable Steveson and some members of the roster. Jason Jordan, who works backstage for WWE as a Producer now, showed up to give Angle a birthday card.
#1 Dad ❤️❤️❤️ @RealKurtAngle@JasonJordanJJ#SmackDownpic.twitter.com/A5kc0ubIiQ

— WWE (@WWE) December 10, 2022
Analysis: Nice touch with Jordan giving Angle a birthday card. It was around five years ago when they did the story where Angle was Jordan's father. Sadly, Jordan's in-ring career ended and the story just ended at that point.
Contract Signing For Intercontinental Title Match
Ricochet made his entrance. They showed a replay of last week when Ricochet won the Smackdown World Cup leading to a staredown with Intercontinental Champion GUNTHER to end the show.
GUNTHER was up next along with Imperium members Ludwig Kaiser and Giovanni Vinci. GUNTHER defends the Intercontinental Title against Ricochet next week on Smackdown.
There was a table in the ring along with two chairs while WWE Official Adam Pearce was in the ring to moderate the contract signing. The New Day's music hit for the interruption before the contract signing could get going. They were in their wrestling gear just like the others.
The New Day's Kofi Kingston and Xavier Woods talked about how they know how this is going to go because their boy Ricochet would get jumped. Woods plugged their NXT Tag Team Title match at Deadline this Saturday. Woods said that they would watch Ricochet's back. Pearce asked if they really think that brawl is going to happen and Woods asked: "Have you ever watched wrestling?" Pearce: "Good point."
GUNTHER told Ricochet that he is the one that took the title off Ricochet. GUNTHER said he beat Ricochet twice to prove he's not worthy of being IC Champion and GUNTHER will beat Ricochet. GUNTHER said that they respect this sport, they are professional wrestlers and he said "we are not performers." GUNTHER signed the contract.
Ricochet and New Day said they thought GUNTHER said that Imperium can't perform, which led to a chant. Ricochet signed the contract.
Ricochet told GUNTHER that he will not quit. Ricochet said he'll take that IC Title that is on his shoulder. A brawl started with Pearce called for a referee to get out there so they can have a tag team match. New Day and Ricochet cleared the ring of Imperium. Ricochet hit a somersault dive out of the ring onto the floor and New Day hit dives as well, so Imperium was down on the floor. Referee Charles Robinson called for the bell.
Analysis: It was okay for a contract signing. It was obvious the tag team match was coming the whole way, so it was just a matter of getting through it.
Imperium – GUNTHER, Ludwig Kaiser & Giovanni Vinci vs. Ricochet, Xavier Woods & Kofi Kingston
Kaiser got a takedown, but Ricochet did a flip landing on his feet and Ricochet hit a dropkick. Ricochet with a body slam on Kaiser and Woods slammed Ricochet onto Kaiser for a two count for Woods. Kaiser sent into the ropes leading to Woods hitting a dropkick. Woods hit a clothesline. Vinci tagged in with an arm drag followed by some corner stomping. Vinci kicked Woods out of the ring leading to a break.
(Commercial)
The heels were in control as Vinci hit a backbreaker on Woods. Gunther tagged in using his feet to twist Xavier's neck and Gunther knocked Ricochet off the apron. Gunther hit a running splash on Woods. Kaiser tagged in with an armbar on Woods, then Kaiser hit a forearm and a jumping kick. Woods tried to fight out of the heel corner, but Kaiser hit Woods with a hard chop and punches. Woods knocked down Kaiser with punches followed by Woods hitting a missile dropkick off the top. Kofi got the tag against Vinci with forearms, dropkicks and boots to the head. Kofi jumped off the top with a cross body block followed by a kick to the chest. Kofi hit the Boom Drop leg drop. Kofi tripped up Vinci, but then Kaiser grabbed Kofi's leg, Vinci knocked Kofi to the floor and Kaiser hit an uppercut on Kofi on the floor. Kofi was tossed over the commentary table leading to a break.
(Commercial)
Kofi broke free with a back body drop on Kaiser. Ricochet tagged in against Gunther as a preview for next week. Gunther hit a massive chop to the chest followed by a boot to the face. Ricochet with a step-up enziguri kick, a running knee, Ricochet with punches and the referee Charles Robinson pulled Ricochet back. Ricochet with a jumping kick, but Gunther hit a chop. Ricochet did a quick sunset flip into a pin for a two count. Woods tagged back in against Vince with a jumping kick and a Tornado DDT. Kofi tagged in and jumped onto Kaiser with a chop to the head. Vinci gave Kofi a rolling senton, Vinci with ha moonsault, Kofi with a headscissors on Vinci and Ricochet with a hurricanrana on Kaiser. Woods hit a dive onto Gunther and Vinci. Kofi hit a Trouble in Paradise kick on Kaiser. Ricochet went up top and hit a Shooting Star Press on Kaiser for the pinfall win after 19 minutes.
Winners by pinfall: Ricochet, Xavier Woods & Kofi Kingston
Analysis: ***1/2 A really long match like the first tag team match on this show. I know they like to give matches a lot of time, but I don't think this really needed to go nearly 20 minutes. It dragged on a bit. It's still good action because they are all so talented. I just think you can get more people on the show if you shorten the matches a bit. Anyway, the result was the obvious outcome with Ricochet getting the win to give him momentum going into the IC Title match next week. Gunther was protected since he wasn't pinned as usual.
Ricochet celebrated the win with The New Day. Ricochet had a staredown with GUNTHER with Ricochet saying he doesn't quit and he doesn't stop.
They showed Kurt Angle's birthday party again with Chad Gable & Otis showing up. A security guy informed them that they weren't on the list. The Street Profits showed up and security let them in.
Kurt Angle's birthday celebration was still to come.
(Commercial)
The Bloodline was shown in the locker room talking. They were celebrating the Tag Team Title win by The Usos. Sami, The Usos and Solo said they were going to go get some food. After Jimmy and Solo left, Jey suggested that Sami trim his beard and cut his hair for next week because Roman Reigns will be there and it could be a big night for Sami. Zayn seemed excited about it.
They showed media coverage about John Cena returning to Smackdown in three weeks in Tampa.
Rey Mysterio was in the trainer's room with Karrion Kross and Scarlett showing up to talk. Rey was getting his leg looked at by the trainer since he suffered a foot injury recently. Kross said that Rey must be going through hell with his son Dominik. Kross said that Scarlett is from Romania and she told him this story about a thoroughbred horse. Over time, the horse couldn't move as fast and it became a workhorse. Scarlett never forgot the look in the horse's eyes because he was totally useless. Kross said it's a sad thing when it gets to a point where you have to put an animal out of its misery. Two security guys showed up, Kross said that there was no problem and Kross said "tick, tock" to Rey, who said nothing. Kross left with Scarlett.
Analysis: It was a warning from Kross to Rey about how he was going to put Rey down just like people have to do with a horse sometimes.
They showed a video about Tegan Nox talking about her knee injury history during her NXT run with two major knee surgeries. Nox talked about going through disappointments and betrayals, but she never gave up and kept fighting. They showed Nox's return last week on Smackdown. Nox said she's known liv since their first days in the WWE Performance Center and they are the same kind of people, so that's why they get along.
Analysis: Nox is talented. She never got a major push in NXT and then was called up to Smackdown. They didn't do anything with her, so she was released. She's still in her 20s and like Morgan, has a bright future. I'm all for creating some women's tag teams like this that feature babyfaces teaming up.
(Commercial)
A video aired featuring Lacey Evans doing some training with the military since she was in the military, so they are pushing that story again.
Ronda Rousey, the Smackdown Women's Champion, and Shayna Baszler made their entrance. There wasn't much of a reaction.
Liv Morgan & Tegan Nox vs. Ronda Rousey & Shayna Baszler
Nox hit Baszler with two arm drags. Nox with a forearm, a running kick and a cannonball splash in the corner. Nox went to the turnbuckle, but Baszler stopped that with a jumping kick. Rousey tagged with some armbar takedowns followed by some taunting toward Morgan. Rousey went for an ankle lock, but Nox sent her into the turnbuckle…sort of. Ronda didn't hit the turnbuckle well. Morgan tagged in against Baszler with a dropkick, then Morgan to the middle rope and a missile dropkick. Morgan did a double stomp on Baszler's back. Baszler hit a German Suplex on Morgan. Raquel Rodriguez showed up with her broken elbow (it's just a storyline) that was in a brace and officials told Raquel that she couldn't get involved. Rousey was distracted by Raquel on the floor. Morgan hit a jawbreaker on Baszler and Nox hit the Shiniest Wizard knee on Baszler. Morgan covered Baszler for the pinfall win after four minutes.
Winners by pinfall: Liv Morgan & Tegan Nox
Analysis: ** The distraction finish usually benefits the heels, but in this case, it helped the faces get the win. It's rare to see Rousey lose any match in WWE. It was not a shock that it was Baszler taking the fall even though she is usually booked strongly too. At least Nox got a win in her first match back in WWE. The plan is apparently to have Raquel challenge Ronda at Royal Rumble, so that's why they are doing the injury angle for now and have Raquel get ready in January.
They showed the locker room with Kurt Angle telling his party (The Street Profits, Shinsuke Nakamura, Madcap Moss, Emma) that it was time for a birthday celebration. Gable Steveson asked Kurt if he wanted to come with him, but Kurt said no it's okay, he's got this and Kurt left.
(Commercial)
Next week on Smackdown:
* Roman Reigns is back.
* GUNTHER defends the Intercontinental Title against Ricochet.
* Hit Row vs. Legado Del Fantasma vs. The Viking Raiders.
* Women's Tag Team Titles: Dakota Kai & IYO SKY vs. Liv Morgan & Tegan Nox.
Kurt Angle Birthday Celebration
Happy birthday to Kurt Angle turning 54 years old today (they did not mention his age) and Smackdown was in Pittsburgh, which is where Kurt is from. Kurt still lives there. The fans greeted Angle with "YOU SUCK" chants for his song as usual, but it's more of a respect thing.
The Alpha Academy duo of Chad Gable and Otis made their entrance. Gable got some heat by complaining about not being invited to the birthday party. Gable had a good line about Otis wearing a tie even though he has no neck. Otis threw it down. Gable called himself an Olympic Hero and told Angle that the fans are right because Angle sucks. Gable told Angle to get the hell out of the ring, the celebration is over and Otis is going to eat the birthday cake. The fans chanted "eat the cake." Gable said if you don't get out of the ring, you might end up with a broken freakin' neck.
Angle left the ring while Gable and Otis ate some of the cake. Angle told Gable and Otis that if they are going to eat the cake then they will need a lot of milk. A milk truck was driven out to the arena with Gable Steveson on the side of it. Angle and Steveson threw some milk bottles at Gable and Otis in the ring. Angle grabbed a milk hose from the truck and sprayed it onto Gable and Otis in the ring. Cole made the reference to Angle doing that in 2001 to The Alliance. Angle knocked down Otis and Gable in the ring. Otis and Gable rolled out of the ring to the floor. Steveson and Angle chugged some milk together in the ring. They posed for the crowd. Cole: "What a night on Friday night Milkdown." He said it. That was the end of the show.
Analysis: It was a fun way to end the show. It doesn't advance any storylines or anything like that, but it was a way to give Angle a funny thing to do end it. As Cole mentioned, Angle did the "Milk-o-Mania" thing to the Steve Austin-led Alliance group in 2001, so it was a throwback to that moment. I'm not sure if all fans will remember it although a lot of us do. I think Angle being on screen with Steveson could be WWE's way of teasing that Angle could be used in a mentor/manager/coach role to help Steveson, which is fine with me. It will be interesting to see if Steveson advances enough so that he's wrestling on TV next year and if he is, do they put him on the main roster or start in NXT? It will be something to keep an eye on for sure. Long term, it obviously sets up Steveson against Gable and maybe if Angle can do a tag team match, he can team with Steveson against Otis/Gable as well.
🤣🤣🤣

WHAT AN INCREDIBLE BIRTHDAY CELEBRATION!@RealKurtAngle@GableSteveson#SmackDownpic.twitter.com/NiT8R3ycvP

— WWE (@WWE) December 10, 2022
Three Stars of the Show
The Usos
Ricochet, Kofi Kingston & Xavier Woods
Sheamus & Butch
The Scoreboard
7.25 out of 10
Last week: 7
Final Thoughts
I thought the show was pretty good with two really long matches carrying it along with a mix of some interesting promos segments. The second tag team match with Ricochet & New Day beating Imperium felt like it dragged a bit and I don't think it needed to be a three-segment match. I liked the Tag Team Title match with The Usos beating Sheamus & Butch as the best match on the show. I think two three-segment matches on the same show is a bit much for a two hour show. It's not a major complaint. I just think they can get more people on the show if you trim some of the match times a bit. That's all.
The main event segment was just a way to have Kurt bring back his classic Milk-o-Mania segment on Gable & Otis while Gable Steveson got the hang out with Angle to introduce Steveson to the Smackdown audience. It will be interesting to see how Steveson is used in the future or if this was just a one-time thing to have him hang out with Angle. Also, LA Knight called out Bray Wyatt, who was never shown, and Knight may have been mystery attacked again.
Next week's show has two title matches including the Gunther-Ricochet match for the Intercontinental Title which is a match that has been built well. Roman Reigns is also back next week. In three weeks, John Cena is back on Smackdown too, so that's great to see.
===
Thanks for reading. Please check out my reviews of every WWE PPV ever listed in order. Go Los Angeles Rams, Toronto Raptors and Toronto Maple Leafs. My contact info is below.
John Canton
Email mrjohncanton@gmail.com
Twitter @johnreport