The John Report: WWE Smackdown 11/11/22 Review
This week's edition of WWE Smackdown featured The Usos putting the WWE Tag Team Titles on the line against The New Day, the start of the SD World Cup and more.
It's the first Smackdown following the WWE Crown Jewel Premium Live Event from last Saturday. The road to Survivor Series and WarGames begins as well, so we should learn more about that since that show is just 15 days away on November 26th.
Also on Smackdown this week is a Women's Six-Pack Challenge for a shot at Ronda Rousey's SD Women's Title, Shinsuke Nakamura facing Santos Escobar in the SD World Cup tournament and the Undisputed WWE Universal Champion Roman Reigns is there as well. That should mean the presence of The Bloodline as well. Speaking of them, WWE announced on Twitter that The Usos/New Day match is opening the show.
From the Gainbridge Fieldhouse in Indianapolis, Indiana this is Smackdown for episode #1212. Follow me on Twitter @johnreport. Let's get to it.
There was a video that aired showing highlights of Roman Reigns beating Logan Paul in the main event of Crown Jewel.
A new Smackdown intro song and video played. I don't know the song as of yet, but it's not the AC/DC song "Are You Ready" they were using the last three years.
The Usos made their entrance with Michael Cole noting they were at 481 days for their title reign, which was just the Smackdown Tag Team Titles and the Raw Tag Team Titles were added earlier this year. The New Day's record is 483 days. They showed Roman Reigns, Solo Sikoa and Paul Heyman watching on a TV backstage. I did not see Sami Zayn there.
The New Day's Kofi Kingston and Xavier Woods made their entrance as the challengers. It's Cole on commentary with Wade Barrett. The ring announcer Samantha Irvin did a great job with the introductions while both teams were in the ring.
Undisputed WWE Tag Team Championships: The Usos (Jimmy & Jey Uso) vs. The New Day (Kofi Kingston & Xavier Woods)
The Usos have been Smackdown Tag Team Champions for 481 days while The New Day has the record at 483 days, so if The New Day win then they keep their record.
Jey knocked down Woods with a shoulder tackle, then Woods did a shoulder tackle knockdown and Kofi tagged in with a cross body block on Jey for two. Jey drove Kofi into the corner leading to Jimmy tagging in with a side headlock. Kofi avoided a charging Jimmy leading to a jumping back elbow. New Day worked over Jimmy in their stomping routine in the corner. Woods knocked Jimmy out of the ring and sent Jey out of the ring as well. Woods knocked down Jimmy with a running knee. Kofi jumped off the top with a Trust Fall backward dive onto both Usos on the floor leading to a break.
(Commercial)
Kofi was in the ring with Jimmy, then Jey made the blind tag and pulled down the top rope leading to Kofi bumping to the floor. Jimmy sent Kofi into the barricade followed by Jey hitting a suicide dive on Kofi on the floor. Jimmy whipped Kofi into the barricade. Jimmy got in a cheap shot on Kofi. The fans were chanting for Sami so Jey said Sami wasn't there and Cole said no Sami tonight due to a personal reason. The fans chanted "Sami Uso" as well. The Usos were slowing the pace down with Jimmy grabbing Kofi in a chinlock, but Kofi broke free and hit a missile dropkick. Jey tagged in before Kofi could tag out, Kofi kicked Jey back and Jimmy pulled Woods off the apron. That drew boos from the crowd. Great spot. Jey launched Kofi into the air and hit a neckbreaker.
Analysis: The fans loving Sami Zayn makes me so happy. I don't know why Sami is away this week, but I hope he's okay. Perhaps it's just a vacation with his family. The story is working very well.
(Commercial)
The match returned with Woods getting the tag against Jimmy. Woods hit a spinning forearm to the face, then a corner clothesline and Jey was back in illegally. Woods avoided Jey, clothesline to Jimmy and a legsweep to Jey to take him out of the ring. Woods with a slam off the shoulders into the double knees for two on Jimmy. Kofi back in as New Day hit some tandem moves followed by Woods jumping off the top with a leg drop and Kofi covered Jimmy for two. They replayed the leg drop with Woods getting a lot of height. Kofi hit the Boom Drop double leg drop on Jimmy. Jimmy avoided a Kofi kick, Jey tagged in with a kick to Kofi's gut, then an uppercut and Kofi hit the SOS for two. The fans bought that as a nearfall even though Kofi has been getting two counts out of that for nearly 15 years. Jey sent Kofi out of the ring, but Woods made the tag. Jey superkicked Woods in the head, then Jimmy tagged in and they did a double superkick to Woods. Double superkick by Usos on Kofi and double superkick on Woods on again. The Usos both went up top and hit a Double Uce splash with Jey covering Woods for one…two…and no! Woods kicked out of it. Kofi pulled Jey out of the ring and sent him into the steps. Woods to the apron, necksnap on Jimmy against the ropes and Kofi held Jey on the floor so Woods jumped off the ropes with a Midnight Hour on Jey on the floor. Woods with a DDT on Jimmy. Woods held Jimmy in position and Kofi jumped off the top with the Midnight Hour (double foot stomp) for the two count because Jey made the save. Great nearfall there.
The two teams both stood up for a showdown leading to a slugfest in the middle of the ring. Jey battled Woods on the floor with Jey hitting two superkicks to knock Woods down. Jimmy with an uppercut on Kofi, who was on the top rope. Kofi knocked both Usos off the turnbuckle, but when Kofi jumped off, The Usos caught him with the 1D and Jey pinned Kofi for the win. It went 24 minutes.
Winners by pinfall: The Usos
Analysis: **** It was an outstanding match as expected, especially because they got a lot of time. I think some of it was a bit too slow early on, but then the last five minutes were very exciting. The New Day came close to winning multiple times, then The Usos got a few nearfalls as well and it built up to an exciting finish after the showdown where they all stood up. I thought The Usos were going to win, so I'm fine with that result. The fact that WWE did such a great job of building up the importance of the match made it feel that much more special. I'm glad they got 24 minutes. These really are two of the best teams ever and they proved it here.
They showed Reigns, Sikoa and Heyman watching backstage and they looked proud. It was mentioned by Cole that there are no more title defenses before Monday, so The Usos set the record passing the 483 days that were held by The Usos.
The Smackdown World Cup tournament starts next.
(Commercial)
The Usos were shown arriving in The Bloodline's locker room. The Usos were all excited, Reigns slowly got out of his chair and said: "Feels good, right?" Reigns said that this is what being the greatest of all time feels like. Reign said now that they got done, it was time for him to handle some stuff. Reigns said he needs them by his side and they will handle this business out in the ring, live tonight. The Usos said they were with him. The Usos hugged Roman and said they loved him.
Analysis: A nice tease for a promo segment later in the show.
The eight men in the Smackdown World Cup tournament are: Braun Strowman, Shinsuke Nakamura, Sami Zayn, Santos Escobar, Mustafa Ali, Jinder Mahal, Butch and Ricochet. The winner gets an Intercontinental Title match against GUNTHER down the road.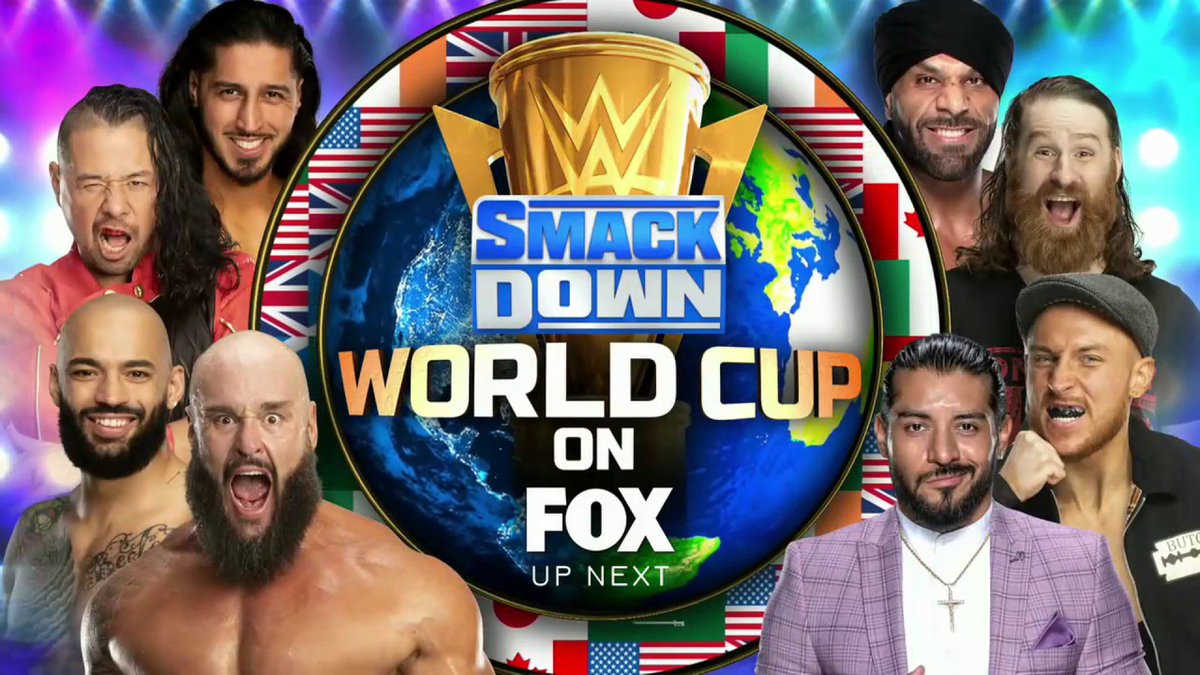 There was a Smackdown World Cup trophy at ringside that goes to the winner.
Smackdown World Cup Quarterfinals: Shinsuke Nakamura vs. Santos Escobar (w/Zelina Vega, Joaquin Wilde & Cruz Del Toro)
It was mentioned by Cole that Nakamura will face The Great Muta as part of Muta's retirement tour. That's cool that they mentioned it. Escobar sent Nakamura into the ropes leading to a dropkick. Nakamura with a jumping kick that knocked Escobar out of the ring. Escobar with a kick to the face, but Nakamura knocked him down on the apron. Nakamura with a knee drop to the back as Barrett mentioned that these guys faced off in CMLL in Mexico about 15 years ago. Nakamura sent Escobar into the barricade followed by a whip into the barricade, which led to a break.
(Commercial)
Escobar was in control, Nakamura got a kick to the head and a running kick to the head. Nakamura hit the sliding German Suplex while Escobar was against the ropes leading to a two count. Nakamura and Escobar exchanged forearms, Escobar with a dropkick to the knee and pin attempt for two. Nakamura came back with a kick off the middle rope for two while Nakamura was selling a left knee injury. Escobar with two kicks to the face, then Nakamura elbowed out of a move and Nakamura hit a reverse Exploder Suplex. Nakamura knocked Cruz off the apron, then scared Wilde off the apron and Escobar got a rollup for two. Nakamura with a spin kick to the face. Wilde pulled Escobar out of the ring after a Vega distraction. Nakamura with a baseball slide dropkick knocking Wilde down. Nakamura sent Escobar into the ring and hit a knee on a jumping Del Toro. Nakamura went up top, Escobar met him with a kick to the side of the head. Escobar hit the Phantom Driver off the middle rope onto Nakamura for the pinfall win after about 10 minutes.
Winner by pinfall: Santos Escobar
Analysis: *** A pretty good match by two talented veterans. The crowd wasn't into it because it was a bit of a slow-paced match without a story going in other than it's a tournament match. Escobar winning is certainly fine with me because it helps to establish him as a threat as a newer wrestler on the Smackdown roster. Nakamura is a talented veteran that just doesn't have anything going on right now. The middle rope version of the Phantom Driver finisher was impressive.
Escobar celebrated with his Legado group with Cole correctly pointing out that they will be a problem due to the numbers game, which played a factor in this match.
A video aired about Veterans Day for those of you in the US. It's also Remembrance Day for us in Canada and other countries also remember on this day as well. Thank you all for your service and for protecting our freedom. When they showed the crowd after the video, they chanted "USA" for it.
The 20th annual Tribute to the Troops special will air one week before Christmas on Fox according to Cole. Christmas is on a Sunday, so that should be on December 18th.
This Monday on Raw: The Miz addresses accusations against him, plus Seth "Freakin" Rollins defends the US Title against Finn Balor.
Liv Morgan entered for the women's Six-Pack Challenge match.
(Commercial)
LA Knight was interviewed by Megan Morant with Knight complaining about how he's not in the Smackdown World Cup tournament. While Knight was speaking, there were some creepy Bray Wyatt images shown in the background. Knight was caught off guard, then Wyatt walked up to him and introduced himself. Wyatt said he can see the anger that Knight had inside of him. Bray talked about how he knows what it takes to get respect and he wondered how far Knight is willing to go. Knight told Wyatt to go back to his romper room and play with his puppets. Knight told Wyatt it was LA Knight's game, so Wyatt headbutted him to knock Knight down.
Analysis: That was an interesting interaction with Bray interacting with another wrestler for the first time since coming back. Maybe it will lead to a match with Wyatt likely to get the win.
Six-Pack Challenge: Liv Morgan vs. Xia Li vs. Sonya Deville vs. Shotzi vs. Raquel Rodriguez vs. Lacey Evans
The winner gets a Smackdown Women's Title shot against Ronda Rousey at Survivor Series.
The action spilled to the floor quickly leading to Evans hitting the Woman's Right punch on Shotzi for two as Deville made the save with a running knee. Morgan sent Deville into the turnbuckle repeatedly and out of the ring. Deville sent Morgan into the steel steps. Raquel charged at Li, who moved and Raquel hit the ring post. Morgan pushed the steel steps beside the commentary table leading to Deville doing a drop toe hold into the steps. Li sent Shotzi into the ring, Raquel stopped Li trying a top rope move and Shotzi hit a backsplash on Evans against the turnbuckle. Raquel hit a delayed vertical superplex on Li off the middle rope leading to Deville getting a two count on Li. Deville got nearfalls on Shotzi and Raquel as well as the show went to break.
(Commercial)
Li was battling Evans in the ring with a suplex across the ring while the other women were out of the ring. Morgan was back in with a missile dropkick, then Morgan hit running corner splashes on Li/Evans. Morgan did about six splashes, then a knee on Li and Morgan hit a spinning knee attack on Evans. Morgan with a jumping DDT on Raquel and Deville sent Morgan out of the ring, but Morgan broke up a pin attempt. Shotzi with a neckbreaker, then there were a bunch of moves by all the women to clear the ring. Raquel hit a Texana Bomb on Li, but Deville broke up the pin. Raquel set up a table on the floor near the commentary table. Raquel had Deville set up on the steel steps, then Morgan jumped off the barricade and tackled Raquel/Deville. I don't know if they wanted to go through the table, but they didn't touch it enough to break it. Shotzi with a spinning punch on Evans, then Evans with a kick and Shotzi caught Lacey's leg for a Never Wake Up DDT for a pinfall win. It went about 12 minutes.
Winner by pinfall: Shotzi
Analysis: **3/4 It was an average match mostly. The table spot that they tried that didn't hit definitely hurt the finish because instead of going through the table, Liv and Raquel were just laying on the floor. I think Deville even went to the apron, but she didn't have enough strength to break up the pin attempt. Shotzi winning is fine because whoever won this has no chance against Rousey at Survivor Series anyway. That should be a quick win for Ronda.
Shotzi celebrated the win that gives her a shot at the Smackdown Women's Title held by Ronda Rousey. That match will be at Survivor Series.
(Commercial)
Shotzi was backstage with her tank, Emma congratulated her on the win and Shotzi said that Emma pushed Ronda Rousey. Emma asked if Shotzi saw Madcap Moss around, Shotzi said no and laughed about Emma "crushing" on him. Shayna Baszler walked up to Shotzi talking trash about what Rousey will do to her. Shotzi said she'll endure whatever Rousey dishes out. Baszler said you sure have a lot to say to Ronda, Shotzi said 'you're damn right" and Ronda was standing there. Baszler choked out Shotzi while Rousey laughed about it. Rousey: "Cleanup on aisle green."
Analysis: They will try to build up Shotzi as a contender, but I don't see people believing she has a shot against Rousey. As for the Emma thing, she has been dating Madcap Moss for months and it's all over both of their social media accounts. I guess when we watch Smackdown we're supposed to pretend that we don't know about it.
Ricochet was interviewed by Kayla Braxton with Ricochet getting to face Mustafa Ali in the Smackdown World Cup tournament next week. Ricochet said he'll get an opportunity to get back the IC Title that was once his. GUNTHER walked up with Imperium. Gunther didn't like Ricochet saying he would take back the IC Title. Gunther told Ricochet to fight with all of his heart because Gunther would love to beat him again.
Analysis: GUNTHER is a confident champion with good reason. I don't think he'll lose the title to whoever wins the tournament unless it's Braun Strowman, but I'd rather see GUNTHER hold onto it.
They showed highlights of Braun Strowman beating Omos at Crown Jewel last Saturday.
Braun Strowman was in action after a break.
(Commercial)
The Progressive Match Flo replay was shown of Drew McIntyre beating Karrion Kross in a Steel Cage Match at Crown Jewel. Drew was really sick going into the match, but he got through it.
Jinder Mahal did a promo by the Smackdown World Cup trophy. Jinder said that the greatest WWE Champion of all time is back (referring to himself). The fans booed. Jinder said he'll ascend to his rightful spot and become your Intercontinental Champion. Jinder said no man can stop him…here comes Braun Strowman.
Smackdown World Cup Quarterfinals: Braun Strowman vs. Jinder Mahal
Mahal attacked Strowman from behind while Braun was posing. Strowman shoved Mahal down, but Mahal hit a dropkick to the knee and a running knee for just a one count. Mahal charged, Braun grabbed him with one hand and slammed Mahal down. Strowman with a shoulder tackle, then a running shoulder tackle and Mahal went to the floor and Strowman ran over Mahal on the floor. Back in the ring, Strowman hit a running clothesline in the corner. Strowman hit a Monster Bomb (Powerbomb) for the pinfall win after two minutes.
Winner by pinfall: Braun Strowman
Analysis: *1/2 An easy win for Braun Strowman, who is fun to watch when he gets the offense going. The crowd is really behind Braun. I don't know if Jinder will ever get pushed that much, but he does know how to get heat as a heel.
Roman Reigns and The Bloodline are up later for a "Special Moment" according to how it's being promoted.
(Commercial)
Zelina Vega was in the ring for a match. B-Fab was was next with Hit Row. However, there was an interruption with The Viking Raiders showing up along with Sarah Logan, who said "Valhalla is here."
The Viking Raiders beat up Hit Row in the ring, Erik tossed Cruz over the barricade and Ivar hit a splash on Wilde against the barricade. Back in the ring, Erik hit a knee (the loudest leg slap move in wrestling) to Adonis and Ivar jumped off the top with a splash. Viking Raiders teamed up to pick up Top Dolla and hit a double Powerbomb. Cole finally realized that the woman was Sarah Logan. B-Fab went after Logan, but Logan lifted up B-Fab and hit her with a headbutt. Logan posed with Viking Raiders as the lights went red in the building and they had evil stares on their faces.
Analysis: The Viking Raiders are back with Sarah Logan, who is Erik's wife. Sarah and Erik had a child a few years ago. The tag team should add depth to the tag team division while Logan could be in some matches on her own as well.
There was a video package showing highlights of Crown Jewel's main event between Roman Reigns and Logan Paul.
Roman Reigns and The Bloodline (The Usos, Solo Sikoa and Paul Heyman) made their entrance with Cole noting it was 803 days for Reigns as the Undisputed WWE Universal Champion. That number is when he won the Universal Title and Reigns added the WWE Title at WrestleMania in April. Cole once again noted that Sami Zayn wasn't there due to a personal matter. That main event promo was up next.
(Commercial)
Let's Hear from Roman Reigns and The Bloodline
Reigns: "Indianapolis, acknowledge me!" The fans did some cheering and booing in response to that. There were some "Ucey" chants before Reigns spoke.
Paul Heyman said that he was talking with The Tribal Chief on the private jet as they were flying to this hellhole (the fans booed) and Heyman said that's not very "Ucey" of you. Heyman talked about rivalries that air on Fox by mentioning some sports, so then Heyman mentioned that The Usos have sent The New Day to the ocean of obscurity. Heyman transitioned to putting over Reigns.
Reigns said that it's not easy being his cousin because his whole life, everybody has acknowledged him for his greatness. Reigns said he honestly didn't know this moment would come, then he mentioned Jimmy and Jey, but here are The Brawling Brutes to interrupt.
Ridge Holland and Butch were there to say they were sick of The Bloodline using the numbers game because it's Fight Night and they have brought backup. Sheamus is back!
Sheamus had tape on his left arm. Sheamus had a microphone that didn't work, so he tried to speak saying that tonight is the start of the end of The Bloodline. Reigns laughed that you couldn't even get the microphone to work. Sheamus and the Brutes went into the ring to fight with The Bloodline. It was a 4-on-3 advantage for The Bloodline. Here comes Drew McIntyre for the save with Drew knocking both Usos down. Drew got into a slugfest with Solo with Drew hitting a clothesline. Reigns with a boot on Drew, but Sheamus got into it with Reigns. Reigns and Sheamus were brawling in the corner along with the other four guys fighting in other corners. The show ended there.
Analysis: They are obviously building to the Men's WarGames match without officially announcing it. Good to see Sheamus back after a few weeks selling the left arm injury. Sheamus got married a few weeks ago with Drew McIntyre as the best man at the wedding, so now they have reunited again as babyfaces against The Bloodline. It was fine as a show-ending brawl between the two sides.
As for WarGames, they can obviously do the five Bloodline guys (Reigns, both Usos, Sikoa & Zayn) vs. Sheamus, Butch, Holland, McIntyre and a fifth guy that could be Kevin Owens if they choose to bring him back for this. There are a lot of other babyface options. Since Survivor Series is just 15 days away, they need to announce this stuff soon.
Three Stars of the Show
The Usos
The New Day
Santos Escobar/Shinsuke Nakamura
The Scoreboard
7.75 out of 10
Last week: 7.25
Final Thoughts
I thought it was a very good show for the most part. It flowed really well. The Usos and New Day took up the first half hour with their tremendous title match that lived up to the hype. It felt like a big deal for The Usos to get the clean win so that they can set the record as the longest-reigning WWE Tag Team Champions of all time. It was an excellent match as usual by those teams. I liked the last five minutes a lot.
It was a Smackdown where every match had stakes. There were two Smackdown World Cup matches, the women's match gave Shotzi a Smackdown Women's Title match and The Usos obviously had the big match with New Day to set the record as the longest WWE Tag Team Champions ever. Bray Wyatt also teased a feud with LA Knight, so we got to see Bray getting physical for the first time since coming back.
The final segment had four guys in The Bloodline brawling with three Brawling Brutes (welcome back Sheamus) who were joined by Drew McIntyre. That should lead to WarGames with Sami Zayn (he was off this week) joining Bloodline and a babyface joining the Sheamus/Drew team, so maybe Kevin Owens or somebody else they have in mind. The Men's WarGames match was not officially announced yet.
The next WWE Premium Live Event is Survivor Series in Boston on Saturday, November 26th. Here's the lineup so far.
* Women's WarGames Match: Bayley, IYO SKY, Dakota Kai, Nikki Cross & one more partner vs. Bianca Belair, Asuka, Alexa Bliss & two more partners.
* Smackdown Women's Championship: Ronda Rousey (c) vs. Shotzi
You can watch WWE Survivor Series streaming live on Peacock in the U.S. and on WWE Network everywhere else at 8 p.m. ET / 7 p.m. CT on Saturday, November 26th.
===
Thanks for reading. Please check out my reviews of every WWE PPV ever listed in order. Go Los Angeles Rams, Toronto Raptors and Toronto Maple Leafs. My contact info is below.
John Canton
Email mrjohncanton@gmail.com
Twitter @johnreport