The John Report: WWE Smackdown 06/23/23 Review
This week's WWE Smackdown featured The Bloodline's implosion continuing, a Women's Tag Team Title unification match, LA Knight in action against Rey Mysterio and more.
It's the big follow up to last week's Smackdown when Jey Uso made his decision by siding with brother Jimmy Uso against Roman Reigns and The Bloodline's Solo Sikoa & Paul Heyman. When Jey hit Roman with that superkick the pop from the crowd was amazing. At Money in the Bank, The Usos will face Roman & Solo in tag team action. I'm intrigued to see how that match is booked because it can go so many different ways.
From the Cajundome in Lafayette, Louisiana, this is Smackdown for episode #1244. Follow me on Twitter @johnreport. Let's get to it.
The opening video package was a lengthy video recapping The Bloodline family drama in the main event spot from last week. I probably watched it five times over the last week. The way Roman Reigns sold that double superkick from The Usos was amazing. I loved that.
Let's Hear from The Usos
The Usos made their entrance and got a huge ovation from the crowd. There were ladders by the entrance area to promote the Money in the Bank PLE. The Bloodline Civil War graphic was shown to promote their Money in the Bank match against cousin Roman Reigns and brother Solo Sikoa. The Usos were wearing their "WE THE ONES" shirt with Jey in white and Jimmy in black.
Jey started the promo nearly saying "The Bloodline is in your city" but then Jey said The Usos instead. Jimmy asked his brother how he's feeling and Jey said they're about to fight their family. Jey said family is not supposed to do that. Jey said that family is supposed to lift eachother up and always have eachother's backs. Jimmy told Jey he made the absolute perfect choice.
Jey said they still love Roman Reigns. Jey said for three years, they were in the trenches in Roman. Jey said if you tell them to jump high, they jump and if you tell them to go low, they go low. Jey said that Roman disrespected The Usos.
Jimmy said that they were raised on respect. Jimmy said they became the most dominant faction in WWE. Jimmy said then they didn't show The Usos the respect they deserve and Jimmy said that Roman is alone on the Island of Relevancy. Jey said the biggest snake of them all is Paul Heyman. Jimmy said that Paul Heyman has known his family for 40 years and loves the family, yet Paul takes orders from a guy that tried to split up two brothers.
Jey said now they have to go to London for a civil war with the family. Jey said they are the best tag team in the world. Jey said that at Money in the Bank, it's locked down, so they said Roman Reigns and Solo Sikoa, welcome to the Uso Penitentiary. The Usos ended it there.
Analysis: It was a good follow up to what happened last week. The pop for The Usos was huge when they walked out there and it continued during the promo. You could tell they had issues with fighting their family, but they were forced and pushed to do it, so they are going to do it and try to win the match.
The commentary team of Michael Cole and Wade Barrett were shown on camera. There was a recap of Santos Escobar beating LA Knight last week. Knight wasn't happy about it.
Rey Mysterio of the LWO made his entrance for a match against LA Knight after the break.
A commercial aired for Money in the Bank on July 1st promoting the Seth Rollins-Finn Balor match for the World Heavyweight Title.
(Commercial)
LA Knight entered to a good ovation. A mix of cheers and boos. Knight is in the 7-man Money in the Bank Ladder Match.
Rey Mysterio vs. LA Knight
Knight was in control early with a hard whip into the turnbuckle with Rey hitting the turnbuckle. Rey hit a dropkick, but Knight choked Rey against the ropes. Knight hit a running knee along with a slingshot shoulder tackle. Rey hit a headscissors that sent Knight into the turnbuckle. Rey countered a Knight move with another headscissors into the ropes, which led to Rey hitting the 619 kick. Rey kicked Knight from the apron to the floor. Rey did the slide under the ropes splash onto Knight on the floor. That led to a break.
(Commercial)
Knight was in control with a slam for a two count. Rey with a hurricanrana that sent Knight into the turnbuckle. Rey with a senton off the top followed by a springboard cross body block for a two count. Knight came back with a powerslam followed by an elbow drop for two. Rey countered a Knight move with a DDT, which is a classic Rey move. Rey with a step-up enziguri. Knight blocked a 619 attempt by Rey. After Rey broke free from that, Rey went for another move, but Knight stopped that and Knight hit the BFT (Blunt Force Trauma) for the pinfall win after about nine minutes.
Winner by pinfall: LA Knight
Analysis: *** A clean win for Knight. It was a solid match for TV with Rey continuing to make comebacks until Knight put him away. It was the right result since Knight lost last week and needs the win to get some momentum going into Money in the Bank.
After the match, Knight grabbed Rey to try to do more damage, but Santos Escobar ran out for the save and Knight left the ring.
Analysis: Escobar is in MITB with Knight, so Knight retreating is fitting for a heel like him.
Solo Sikoa was shown walking backstage with Paul Heyman. Ridge Holland walked up to him and Solo gave Ridge the Samoan Spike to the throat. Solo said he's not in the mood tonight. Heyman called Roman Reigns on his phone.
(Commercial)
They showed WWE Official Adam Pearce and others checking on Ridge Holland. Sheamus said he wanted a match with Solo Sikoa, but Pearce said to give him some space.
Sheamus walked out with a microphone by the entrance area saying if Solo Sikoa wants a fight then Sheamus will give him a fight. Sheamus wants Solo to get out to the ring later and Sheamus will show him a fight.
Analysis: That makes sense as a match for later in the show.
Women's Tag Team Championship Unification Match: Ronda Rousey & Shayna Baszler vs. Alba Fyre
Ronda & Shayna are the WWE Women's Tag Team Champions while Fyre & Dawn are the NXT Women's Tag Team Champions. The winners will unify those titles. They showed Raquel Rodriguez watching the match at ringside smiling because she's a babyface that smiles a lot.
The champions will defend the titles on all three brands moving forward. Both teams are heels. Fyre with an elbow to Baszler. Dawn tagged in with a knee, then she held Baszler and Fyre hit a superkick. Rousey tagged in with a kick to Dawn followed by several arm drags in a row. Fyre made a blind tag, Fyre tripped up Rousey and hit a forearm to the head for two. Fyre suplexed Rousey followed by Dawn hitting running knees for a two count as Baszler made the save. Rousey missed a running knee attack and Fyre kicked Rousey in the leg. Rousey countered Fyre with a reverse rana leading to a break.
(Commercial)
Rousey was in control of Fyre with an Ankle Lock submission. Fyre broke free, Baszler tagged in and hit a knee strike on Fyre for a two count. Fyre was free again leading to Dawn tagging in with clotheslines along with a kick. Dawn hit a belly-to-back suplex along with a kick. Dawn hit a double knee attack on Baszler off the top for two. That was a bit of an awkward landing. Rousey was on the apron kicking Dawn back and Baszler caught Dawn with a Kirifuda Clutch. Fyre hit a Swanton Bomb on Baszler to break that up. Fyre hit a suicide dive onto Rousey on the floor. Fyre tagged in, Baszler fought off a double team attempt and Rousey went into the ring with an armbar on Dawn. Baszler with Kirifuda Clutch on Fyre for the submission win. It went about 12 minutes.
Winners by submission: Ronda Rousey & Shayna Baszler
The WWE and NXT Women's Tag Team Titles are unified meaning only the WWE Women's Tag Team Titles will be moving forward. Bye to the NXT Women's Tag Team Titles.
Analysis: ***1/4 The match was pretty good in terms of the action, but there wasn't much of a story and two heel teams make it tough for the crowd to get into it. The team of Fyre/Dawn got a lot more offense than I thought they would with plenty of nearfalls throughout the match. I'm not surprised by the result with Rousey/Baszler getting the win because I think they'll have a long reign as the champions.
Post match, Ronda Rousey did a promo asking Raquel Rodriguez what she is doing there. Raquel said that "WE" want their titles back. Baszler asked who is "WE" and that led to Liv Morgan making her return. Raquel made it clear that they wanted a shot at the titles. Liv showed off her shoulder to show she is doing just fine. When Liv got into the ring, Rousey and Baszler retreated.
Analysis: It's good to see Liv back and that she didn't need surgery for her shoulder injury. We didn't know for sure if she needed surgery or if she could come back, so I'm glad she's able to return to action soon.
LIV MORGAN IS BACK!!! 😱@YaOnlyLivvOnce and @RaquelWWE want a rematch for the titles they never lost! Are we going to see @RondaRousey and @QoSBaszler vs. Liv Morgan and Raquel Rodriguez for the WWE Women's Tag Team Championship? #SmackDownpic.twitter.com/IX0Ffp06wM

— WWE (@WWE) June 24, 2023
The match between Sheamus and Solo Sikoa is official for the main event later in the show.
Grayson Waller hosts his talk show with Pretty Deadly as the guests.
(Commercial)
Grayson Waller Effect with Pretty Deadly
It was yet another Grayson Waller Effect talk show. Why not put this guy in matches? He can really go in the ring. Anyway, the ring had palm trees and a big desk in the ring. Waller introduced Pretty Deadly (Elton Prince & Kit Wilson) as the guests. Pretty Deadly gets a WWE Tag Team Title match on Smackdown next week.
Prince said this is their favorite talk show and Wilson said it's so much better than the KO Show. Waller credited PD for having style and good banter because we know Americans don't have good banter. Waller said they've had so much success in the tag team division and are getting a title shot next week on Smackdown in London, England. Wilson said it's their home country and they get to face two men that main evented Night One of WrestleMania. Prince complained about not getting respect as the fans chanted "shut up" at them. Prince bragged about winning Tag Team Championships before and unified championships in the past. Prince said that he's been on the same page with Wilson for the last three years since joining this company and they'll be on the same page for the next ten years running the tag team division.
Waller said he's not surprised by Pretty Deadly's success. Waller praised Pretty Deadly for beating five teams in one match last week (sort of). The PD guys put over their big win. Pretty Deadly mentioned all the teams they beat even though they didn't actually beat them.
The Street Profits interrupted the promo while Cole mentioned Pretty Deadly lied through their teeth. Montez Ford did a quick promo saying they want the smoke, which is going to lead to a tag team match after a break.
Analysis: It was a below average talking segment I don't want to say poor, but it was definitely a weaker talking segment. I like Pretty Deadly as a guy that watched and reviewed their matches in NXT for the last couple of years, but I wouldn't call this a great promo. I understand it's a case of wanting to develop their personalities on Smackdown. It just didn't work that well. I think their promos are better when they are interacting with others instead of just giving them five minutes like this. I also want to see Waller in the ring instead of just hosting a talk show because he should be doing more.
(Commercial)
The Street Profits (Montez Ford & Angelo Dawkins) vs. Pretty Deadly (Kit Wilson & Elton Prince)
Ford was in control of Wilson with a headlock and Dawkins tagged in with a shoulder tackle. Prince tagged in with a double shoulder tackle followed by a leg drop/splash combo by PD. Prince tried a leap off the turnbuckle, but Dawkins punched him to stop that. Ford tagged in with dropkicks for both opponents. Ford took off the fishnet top that Prince wears, then Ford put it on and the Profits each hit somersault dives over the top onto PD on the floor.
(Commercial)
Wilson was battling Ford by the turnbuckle with Wilson delivering a headbutt. When Wilson went for a suplex, Ford landed on top to counter. Dawkins got the hot tag against Prince with AD hitting a clothesline, dropkick and a corkscrew elbow. Dawkins with a corner clothesline, step-up kick and a double underhook suplex for two. Ford tagged in, Dawkins with a shoulder tackle and Ford hit a suplex for two as Wilson broke up the pin. Dawkins knocked down Wilson with a shoulder tackle on the floor. Ford with a Rock Bottom on Prince. Dawkins put Prince on his shoulders trying for a double team move with Ford, but Wilson knocked Ford down. Prince got a ROLLUP OF DEATH~! on Dawkins while Wilson used the fishnet shirt while Prince had his feet on the ropes for the pinfall win. The referee never saw Wilson helping Prince with the pin. A cheap ending. It went about nine minutes.
Winners by pinfall: Pretty Deadly (Kit Wilson & Elton Prince)
Analysis: **3/4 A solid tag team match, but it wasn't that exciting. This crowd wasn't very interested because The Street Profits have lost a lot of momentum they had as a team compared to what they were in the past. That's what losing does to you. Pretty Deadly cheated to win, which is fitting for them as a heel. I like the result, but I think The Street Profits should have had more moments where it looked like they might win.
There was a Progressive Match Flo replay showing Bianca Belair complaining to Charlotte Flair last week. Belair was upset about her lack of a title shot while Flair bragged about her accomplishments. Belair said no matter who wins between Asuka and Flair, that title is coming back to Belair.
Charlotte Flair made her entrance for singles action. She will challenge Asuka for the WWE Women's Title next week on Smackdown.
(Commercial)
Charlotte Flair vs. Lacey Evans
Flair was wearing a very shiny outfit. Evans greeted her daughter at ringside. Remember when this was a rivalry involving Charlotte's dad Ric managing Evans over Flair? Yeah, that wasn't a good story. Flair knocked down Evans with a shoulder tackle. Flair delivered several chops with the fans chanting "Woo" for them. Evans did a hair pull takedown. Evans missed a moonsault when Flair moved and Flair sent Evans into the turnbuckle. Flair hit an overhead suplex followed by an Andrade fist pose like her husband. Flair with a big boot. Flair applied the Figure Eight submission and Evans quickly tapped out. This went about two minutes.
Winner by submission: Charlotte Flair
Analysis: *1/2 Easy win to put over Charlotte Flair ahead of her title match next week. Charlotte doing the Andrade pose is a nice touch for her husband. They just don't use Evans much at this point. I don't mind Lacey as a performer, so I hope things get better for her soon.
Charlotte Flair held Evans in the Figure Eight for a few extra seconds, which led to Asuka going into the ring and kicking Flair a few times. Flair was down selling while Asuka left with her WWE Women's Title.
Analysis: I think Charlotte Flair might beat Asuka next week. I'd rather see Asuka's title reign continue, but I think Charlotte winning another title is certainly a possibility.
Here's Charlotte Flair doing the Andrade fist pose during the match.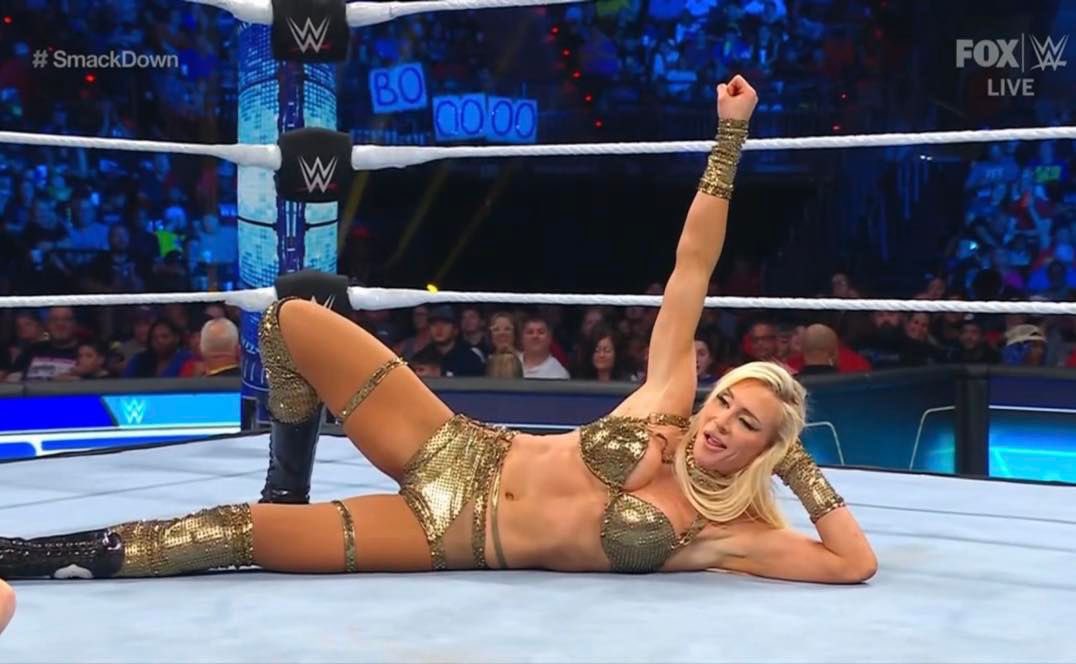 Solo Sikoa made his entrance for the main event with Paul Heyman joining him.
(Commercial)
They showed WWE Official Adam Pearce in his office with Bianca Belair arriving to talk to him. Pearce mentioned Belair wanting to sit ringside to watch the Asuka-Flair match. Pearce said there's too much at stake, so he's going to ban Belair from being at ringside. Pearce told her she can face the winner, then Belair fired back saying that's what he said last time. Belair was frustrated by it.
Analysis: I don't know if this is leading to Belair going heel because he's frustrated, but it certainly could be something like that.
Next week on Smackdown in London, England one night before Money in the Bank also in London, England.
* WWE Women's Title: Asuka (c) vs. Charlotte Flair
* WWE Tag Team Titles: Kevin Owens & Sami Zayn (c) vs. Pretty Deadly
* Grayson Waller Effect talk show with Logan Paul
* Roman Reigns returns next week in London, England.
Sheamus entered for the main event with the fans cheering him. Cole said that Butch already traveled to England (that's nice of WWE to let him go early) and Ridge was injured earlier.
Solo Sikoa (w/Paul Heyman) vs. Sheamus
They started with about 20 minutes left before the top of the hour. It was a slugfest early as they exchanged punches. Sheamus delivered a kick to the chest. Solo bailed to the floor, so Sheamus followed him out there with a running clothesline. Back in the ring, Solo took control with forearms to the back along with shoulder tackles to the back. Solo charged, Sheamus got the boots up and Sheamus went up top leading to a clothesline for a one count. Solo tried a hiptoss, but Sheamus came back with a clothesline. They battled on the apron with Solo shoving Sheamus into the turnbuckle. Solo gave Sheamus a Samoan Drop on the floor leading to a break.
(Commercial)
The match returned with Solo going for the running hip attack, but he took way too long and Sheamus came back with a clothesline. Solo with a hard whip into the turnbuckle, but Sheamus came back with two clotheslines and a powerslam. Sheamus delivered an Irish Curse backbreaker leading to Solo going the apron, so you know what's next. Sheamus delivered the ten forearms to the chest with the fans chanting along. Sheamus charged, Solo with a superkick and Sheamus bounced off the ropes with a jumping knee for two. Solo powered Solo up for the White Noise slam for a two count. Sheamus tried a slam, Solo got out of that and kicked Sheamus in the spine. Solo did a Samoan Spike to knock Sheamus out of the ring. Solo delivered a uranage slam on the hood of the commentary table. Solo hit a running hip attack on Sheamus through the barricade, but you could tell that Solo just ran into the barricade without touching him much at all. Referee Jessika Carr checked on Sheamus saying he was knocked out cold.
Winner: Solo Sikoa by knockout
Analysis: ***1/4 It was the usual very good match from Sheamus while Solo is certainly capable of having quality matches too. They got plenty of time and had a physical match. It's rare to have a match end by knockout like that, but that is an effective way of putting over Solo as a badass that can win a match by knocking a guy out – even a legit tough guy like Sheamus. That's Sheamus really putting Solo over in a big way.
Post match, WWE Officials and indy guys in WWE Medical shirts went down to ringside. Solo tossed down one guy while Solo hit a Samoan Spike on another guy.
The Usos made their entrance. They met their brother Solo in the ring, Solo tried to fight them off, but The Usos were too much. The Usos hit a double superkick on Solo to knock him down. The Usos stared at Heyman on the floor. When Solo slowly got back up, The Usos hit a double superkick again. Solo laid down in the ring, so Jey & Jimmy each jumped off the top rope with a double Uso Splash on Solo. It wasn't the prettiest double team splash move because Solo was too far from Jimmy, but it was good enough. Heyman was calling Roman Reigns while The Usos celebrated. End show.
Analysis: There was no Roman this week, so Solo was all alone and The Usos kicked his ass. The Usos looked strong throughout this show to show they are united and on the same page going into Money in the Bank next weekend.
===
Three Stars of the Show
The Usos
Solo Sikoa/Sheamus
LA Knight
===
The Scoreboard
6.75 out of 10
Last week: 7.5
2023 Average: 7.23
===
Final Thoughts
The show was okay, but I wouldn't call it a great episode by any means. There have been much better episodes this month. Last week's ending was so strong and they did follow it up with The Usos promo to open the show. However, the lack of Roman Reigns hurts because there was no reaction from him. They put Roman on the graphic for the show (that we used for the banner), but he wasn't there this week. Poor Solo Sikoa got beat up by The Usos to end the night because of it. I did like Solo's match with Sheamus with a different kind of ending.
I think some of the promo segments just didn't work this week other. I like Pretty Deadly a lot, but that interview with Grayson Waller needed to be more entertaining. Ronda Rousey & Shayna Baszler beating Alba Fyre & Isla Dawn was predictable and the crowd didn't care much since they were both heel teams. Good to see Liv Morgan return sooner than expected. LA Knight had a really good showing against Rey Mysterio as the fans continue to react well to Knight. Yeah.
There are once again reports about Vince McMahon changing things. The Bayley-Shotzi match that was advertised last week didn't happen. There was no Grimes-Corbin match that was set up last week. They tweaked LA Knight's match too (it was originally a triple threat), but that's fine since he got to beat Rey Mysterio clean. People will freak out about it because Vince is evil. Next week's Smackdown feels much bigger with two major title matches and the Reigns return, so I look forward to that one in England. That's followed by Money in the Bank one day later.
The next WWE Premium Live Event is Money in the Bank on Saturday, July 1st in London, England. Here's what we know so far:
* Roman Reigns & Solo Sikoa vs. The Usos (Jimmy & Jey Uso)
* Men's Money in the Bank Ladder Match: LA Knight vs. Shinsuke Nakamura vs. Ricochet vs. Butch vs. Santos Escobar vs. Damian Priest vs. Logan Paul
* World Heavyweight Championship: Seth "Freakin" Rollins (c) vs. Finn Balor
* Women's Money in the Bank Ladder Match: Bayley vs. Zelina Vega vs. Becky Lynch vs. Zoey Stark vs. IYO SKY vs. Trish Stratus
* Cody Rhodes vs. Dominik Mysterio
You can watch WWE Money in the Bank on Saturday, July 1 at a special start time of 3 p.m. ET/12 p.m. PT, streaming live exclusively on Peacock in the United States and WWE Network everywhere else.
===
Thanks for reading. Please check out my reviews of every WWE PPV ever listed in order. Go Toronto Blue Jays. My contact info is below.
John Canton
Email mrjohncanton@gmail.com
Twitter @johnreport