The John Report: WWE Smackdown 04/14/23 Review
This week's WWE Smackdown features the return of Shinsuke Nakamura, Xavier Woods facing LA Knight, plus a whole lot more.
From the Pinnacle Bank Arena in Lincoln, Nebraska, this is Smackdown for episode #1234. Follow me on Twitter @johnreport. Let's get to it.
The Smackdown intro video aired. They don't show that every week. There was some pyro after that. The commentary team of Michael Cole and Wade Barrett welcomed us to the show.
Kevin Owens and Sami Zayn made their entrance as the Raw & Smackdown aka Undisputed WWE Tag Team Champions. Some replays were shown of their past issues with The Bloodline while Matt Riddle has returned to help Zayn & Owens.
Let's Hear from Sami Zayn & Kevin Owens
Sami Zayn that it's only been two weeks since the Tag Team Titles were in the main event of WrestleMania. Sami said that they started out in this business together, they have been friends for a long time and they closed out the show as champions. Zayn mentioned there's all this stuff going on with The Bloodline and the upcoming WWE Draft, so there's unpredictability.
Kevin Owens said that with the WWE Draft, there's always unpredictability. Owens said regardless of where they end up with this draft, they are the Undisputed WWE Tag Team Champions and they will defend the titles with everything they have whether it's on Raw or Smackdown – every single time. Owens said that sooner rather than later, The Usos are coming for a rematch. The fans booed and here they come.
The Usos – Jimmy & Jey Uso – made their entrance with younger brother Solo Sikoa. Jimmy said that KO & Zayn are folding under pressure while Jey pointed out they were champions for over 600 days. Zayn said that The Usos are the ones that have to report back to their "daddy" Roman Reigns. Jimmy said that Sami has been saying the same thing for months now. Jimmy said Mr. Yellow Shows (Owens) said that The Bloodline is more dangerous than ever and stronger than ever. Jimmy said that the Enforcer is a savage. Jimmy said that they will be 9-time WWE Tag Team Champions again. The fans booed that. Jey said there were no cracks in The Bloodline. Jey said Sami & KO will buckle under pressure while Sami will backstab his "brother" KO like Sami backstabbed Jey's family.
Sami said that he wishes he was as good at anything as Jey Uso is as good at lying to himself. Sami said if you want to act like there are no problems in The Bloodline then that's fine. Sami said it doesn't matter what he says because he knows they didn't come out here just to talk. The Usos and Solo were on the floor, but then they approached the ring.
The Bloodline got on the apron, but before they could do anything, Matt Riddle showed up to attack Solo. That led to a six-man brawl all around the ring. KO and Sami sent The Usos over the barricade, so The Usos ran away. Riddle avoided a Samoan Spike and Riddle hit two knee strikes to Solo. The Usos pulled Solo to safety as the faces stood tall in the ring. Riddle stood on the apron telling Solo he wants to face him tonight.
Analysis: I liked the promos from everybody in the segment with Owens showing confidence, Sami continuing to get under The Usos' skin with his comments and The Usos trying to act like everything is fine in The Bloodline. Matt Riddle joining the fight makes sense in the storyline since Solo attacked Riddle to take him out of action in December (so Riddle could go to rehab), so Riddle should be involved in all of this. They obviously have a great six-man tag team match they can do, but if Backlash is Zayn-Owens vs. The Usos for the titles and Riddle vs. Solo then that's perfectly fine with me too. The problem with wrestlers talking about the WWE Draft is that the rules don't exist for any of those guys in this segment since they are on both shows, but I understand trying to put over the draft as a big deal. I'm just saying in terms of being brand exclusive, WWE has ignored that for a long time.
Looks like @WWESoloSikoa wasn't expecting @SuperKingofBros! 💥

After a HEATED war of words between The @WWEUsos and The Undisputed WWE Tag Team Champions, @SamiZayn and @FightOwensFight, a HUGE BRAWL broke out! #SmackDown! pic.twitter.com/ppp4xrNr7g

— WWE (@WWE) April 15, 2023
A commercial aired for Backlash on May 6th from Puerto Rico.
(Commercial)
There was a quick recap of what happened in the opening segment.
They showed WWE Official Adam Pearce telling referee Jason Ayers to tell Solo Sikoa and Matt Riddle that they will have a match in the main event tonight.
There were social media promos shown from Xavier Woods and LA Knight to promote their match. Knight argued with Woods last week while Woods was playing video games, so now we have a match.
Xavier Woods vs. LA Knight
Woods is the lone New Day member that's currently active since Kofi Kingston is recovering from an ankle injury while Big E has missed over one year with a broken neck.
Knight ran over Woods with a shoulder tackle, but Woods came back with a dropkick. Woods grabbed a headlock, Knight broke free and hit a back elbow. Woods came back with a Russian legsweep. Knight left the ring, so Woods hit a somersault dive over the top onto Knight. Great move. Knight was back in the ring, then he bailed to the floor again, Woods tried a move and Knight avoided it. Knight sent Woods back first into the apron followed by Knight sending Woods into the ring post. That led to a break with Woods selling on the floor.
(Commercial)
The match returned with Woods missing a corner splash and Knight hit a neckbreaker for two. Woods with punches followed by a jumping side kick. They each ran the ropes leading to a nice exchange as Woods hit a forearm on Knight. They did another exchange of moves with Knight hitting a DDT for two. Good nearfall. Knight tried a suplex from in the ring to the floor, but Woods suplexed Knight across the top rope. Knight had to hold himself on the ropes so that Woods could jumped off the top with a double foot stomp. Woods hit a leg drop off the middle rope for two. Woods off the ropes with a kick to the chest, but Knight caught him with a body slam. Knight hit a body slam. Knight went for his finisher, Woods countered that and Knight tried a cover with tights, but he was grabbing it before the referee started counting. Xavier Woods got an O'Conner roll pin sitting on Knight and pulling on his tights for the pinfall win after 12 minutes.
Winner by pinfall: Xavier Woods
Analysis: ***1/2 This was a great match. They had instant chemistry and a lot of fun nearfalls throughout the match while the fans were into it. I don't think Xavier Woods is underrated because I think most fans know how good he is. But I think there's a lot of untapped potential with him as a singles wrestler and he's showing it with LA Knight. I'd like to see Knight get some W's, but I'm all for more Woods in singles action too.
Xavier Woods celebrated the win while shouting that it was his time now and he has waited long enough.
Coming up is a look back at Matt Riddle's history with Solo Sikoa.
(Commercial)
There was some WWE Draft news during a commercial. The WWE Draft begins in two weeks on Smackdown (April 28) and continues the next Monday on Raw (May 1).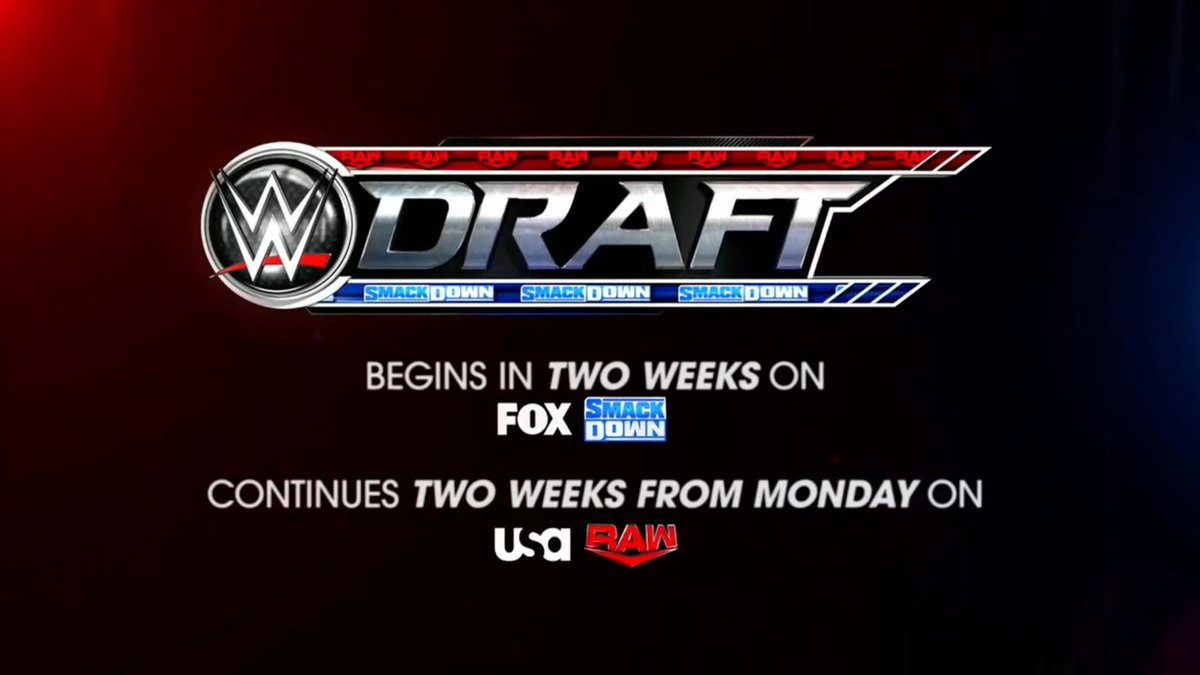 Analysis: It's interesting that it will happen before Backlash instead of after. Perhaps WWE will say the draft results don't start until after Backlash, which is how they have done it in the past.
Imperium was backstage talking with Xavier Woods playing the trombone near them. GUNTHER was annoyed by it so he said he'd defend his title against Woods, who said he's never had a shot at that Intercontinental Title. They agreed to a match.
They showed highlights from last December on Raw when Solo Sikoa took out Matt Riddle for four months with a steel chair attack. Riddle was stretchered out. As mentioned earlier, he went to rehab after a drug test failure suspension.
The trio of Matt Riddle, Sami Zayn and Kevin Owens had a chat. Sami & KO motivated Riddle to kick some ass later.
The Judgment Day's Damian Priest, Smackdown Women's Champion Rhea Ripley and Dominik Mysterio were interviewed by Kayla Braxton. When Kayla mentioned Zelina Vega taking care of Ripley last week, Ripley wasn't happy about it. Priest mentioned Santos Escobar as a tough competitor while saying he'll address Bad Bunny when he gets to the ring. They made their entrance.
Damian Priest did a promo saying that if Bad Bunny puts his hands on Priest's family again, we all know what can happen. They showed Priest beating up Bad Bunny after Dominik tried to start a fight with Bunny. They replayed what happened on Raw on April 3rd with Priest slamming Bunny through the Raw commentary table. Priest called for replays so it was shown multiple times.
Analysis: The obvious direction seems to be Priest & Dominik against Rey Mysterio & Bad Bunny at Backlash, but it's not official yet.
The LWO group arrived with Zelina Vega drawing Ripley to leave the ring while Santos Escobar, Joaquin Wilde & Cruz Del Toro hit Priest & Dominik from behind before leaving the ring. That Priest-Escobar match is next.
(Commercial)
Santos Escobar (w/Cruz Del Toro, Joaquin Wilde & Zelina Vega) vs. Damian Priest (w/Dominik Mysterio & Rhea Ripley)
Escobar was in control early as he sent Priest out of the ring. Escobar wanted a dive, but Priest moved out of the way. Priest hit Escobar with an uppercut much as Escobar tried an attack. Back in the ring, Priest hit a corner splash and a Broken Arrow slam. Escobar came back with chops followed by a dropkick for two. Escobar with running knees two times in a row. Escobar with corner punches, but then Priest pushed him back and Priest kicked Escobar out of the ring. Priest jumped off the steps leading to a double axhandle on the floor as the show went to break.
(Commercial)
Priest remained in control with a flatliner. Escobar hit a jawbreaker, but Priest stomped him down with boots to the chest. With Priest standing on the middle rope, Escobar jumped off the top with a hurricanrana for a two count. That drew a big reaction from the crowd. Escobar hit a ripcord knee, two forearms to the head and a headscissors into the turnbuckle. Escobar hit a jumping kick to the head and Escobar hit a moonsault off the top onto a standing Priest for two. Escobar with a lift, Ripley with a distraction and Dominik saved Priest, so Priest hit a clothesline on Escobar. The LWO guys attacked Dominik on the floor, Cole was loving it (!) and Priest took out the LWO guys. Escobar hit a suicide dive onto Priest onto the commentary table. Ripley grabbed Escobar's leg, so Vegan took out Ripley with a headscissors on the floor. Priest hit a kick on Escobar and a South of Heaven slam by Priest got the pinfall win. It got about 11 minutes.
Winner by pinfall: Damian Priest
Analysis: ***1/4 A good match with the fans getting into it more than I thought they would. That's because there were some smart nearfalls in the match, the people outside the ring got involved and that led to more drama as the match unfolded. Considering Priest is likely in the match at Backlash it makes sense for him to win. It wasn't totally clean since Ripley got involved toward the end of the match, but what they did worked just fine. I like seeing Vega get the upper hand on Ripley just because it can lead to a match with Ripley beating Vega, but at least there's a story instead of just randomly throwing it together.
After the match, Priest cleared off the commentary table. Priest wanted to put Escobar through the table, but Rey Mysterio's music hit and Rey showed up from the crowd wearing an LWO shirt as Rey jumped onto Priest on the floor. Rey gave Dominik a headscissors into the ropes and he wanted the 619 kick, but Priest & Ripley saved Dominik. The heels backed away while the LWO stood tall in the ring.
Analysis: This has turned into a good rivalry. Having a babyface stable like the LWO around is cool to see since they can neutralize the heel groups sometimes.
The Bloodline (The Usos & Solo Sikoa) was shown in the locker room with Paul Heyman saying he got a message from Roman Reigns saying that when Riddle, Zayn & Owens embarrass them then they embarrass the entire Bloodline. Heyman mentioned members of the family. Solo stopped him and told Paul to tell the Tribal Chief that Solo has got this.
Analysis: Solo doesn't speak much, which is fine because that's his gimmick. When he does speak, he speaks with confidence and everybody listens, so that's a good role for him.
Liv Morgan and Raquel Rodriguez made their entrance as the new WWE Women's Tag Team Champions. They get a celebration after the break.
(Commercial)
SummerSlam tickets are on sale for Detroit's Ford Field on Sunday, August 5th. Cole said that never before have they sold as many tickets as they sold today for Detroit. That's also because there was a pre-sale earlier in the week. Anyway, I'll be there. I didn't buy a ticket yet.
The Progressive Match Flo replay was shown of Becky Lynch & Trish Stratus losing the Women's Tag Team Titles to Raquel & Liv on this past Monday's Raw. Trish replaced Lita, who was mysteriously attacked. After Liv pinned Trish to win the titles, Trish turned on Lynch after the match. The replay didn't show Trish's heel turn.
Raquel & Liv Celebrate Their Tag Team Championship Win
Raquel and Liv were in the ring with a red carpet in there. They were in their street clothesline. Raquel talked about how much fun it is for her to throw Liv onto people when they do moves. Liv said they are still getting to know eachother, so she's impressed by how good they are all already.
Sonya Deville & Chelsea Green arrived to complain as usual. Sonya complained about how Raquel & Liv are the champions without beating the actual champions. Deville said it was somebody from upper management that overlooked it and Green said it was that pea-brain Adam Pearce. The complainers were in the ring with Green calling the champions a mediocre tag team. Green tried insulting the fans by comparing them to the champions, which led to no reaction. Sonya & Chelsea kept on complaining while wondering if the champions knew who they were.
Liv said that they know who Sonya and Chelsea are, so after they talk to Adam, they can be the champions' new challengers. Liv and Raquel attacked with Liv hitting a double knee attack. Chelsea and Sonya left the ring while the champions stood tall in the ring.
Analysis: It was okay. There's obviously a lack of depth in the women's tag team division in WWE with so few actual teams. I don't mind Sonya & Chelsea together because they have similar roles as whiny heels. It's also fine for Liv & Raquel to beat a team like them. I assume Ronda Rousey & Shayna Baszler will get into the title picture whenever Rousey is healthy. No women's match on the show this week will probably get Wrestling Twitter angry, so good luck to WWE dealing with that.
Shinsuke Nakamura was up next.
(Commercial)
They showed members of the University Of Nebraska football team at ringside including Matt Rhule. I'm sure Carolina Panthers fans don't want to celebrate him.
Shinsuke Nakamura made his entrance to his classic WWE theme song while wearing a black robe. The fans were signing along to the song as Nakamura made his entrance wearing a black robe and he was in his wrestling gear. Big pop for that Nakamura entrance.
Welcome back @ShinsukeN! 👏👏👏#SmackDownpic.twitter.com/PgWcFEbCEB

— WWE (@WWE) April 15, 2023
Madcap Moss was shown backstage with his girlfriend Emma, who said that Nakamura doesn't compare to him. Emma said that Nakamura has nothing on Moss. Emma said that Moss will prove why he will be a top pick in this year's draft. Moss made his entrance with Emma.
Shinsuke Nakamura vs. Madcap Moss
When the match started, Moss knocked him down and Nakamura looked dazed a bit, but Nakamura came back just fine. Nakamura hit a spin kick followed by a running kick. Nakamura set up Moss on the ropes leading to a sliding German Suplex. Nakamura jumped off the middle rope with a knee smash. Nakamura hit a Kinshasa running knee for the pinfall win after less than two minutes.
Winner by pinfall: Shinsuke Nakamura
Analysis: * Easy win for Nakamura for his return to action after a long layoff. That's exactly how it should have been with Nakamura looking strong.
Post match, Moss tried an attack, but Nakamura was ready with an armbar on the left arm. Moss got out of it and bailed to the floor.
There was a backstage scene with Scarlett displaying a Tarot card that had Shinsuke Nakamura on it. Karrion Kross arrived to say "tick tock" to end that brief scene.
Analysis: It's a new feud for both guys. Kross hasn't had much to do of late, so we'll see how the rivalry goes. I'm all for Nakamura doing well with Triple H booking. I want to see how well Shin does.
This Monday on Raw: Brock Lesnar returns to answer Cody Rhodes' challenge for a match at Backlash. Plus, Bobby Lashley faces Austin Theory. Also, Trish Stratus addresses her attack on Becky Lynch.
(Commercial)
They showed the commercial for the WWE Draft again.
There was a replay of Trish Stratus attacking Becky Lynch from behind on Raw. Trish will address her stunning actions this Monday on Raw.
Braun Strowman & Ricochet were shown walking backstage when The Viking Raiders & Valhalla arrived for an attack. The VR guys attacked with punches and used a steel beam to knock Strowman down. Viking Raiders hit a Ragnarok slam on Ricochet through a table nearby. Viking Raiders left after that.
Analysis: A quick segment to start a random new rivalry. Since neither team had nothing else going on anyway, it sets up a match between them.
Matt Riddle made his entrance for the main event with Sami Zayn & Kevin Owens joining him at ringside.
Solo Sikoa made his entrance for the main event with his brothers The Usos by his side along with the "Wise Man" Paul Heyman.
Paul Heyman did a promo saying he had a historic announcement to make after talking to the "Tribal Chief" Roman Reigns. Heyman said in two weeks from tonight from Smackdown in Corpus Christi, Sami Zayn & Kevin Owens will defend and lose the Undisputed WWE Tag Team Championships by The Usos. Heyman said that Kevin & Sami will lose because The Tribal Chief is losing patience with the two of you (The Usos). Despite the guys being in the ring, we had to wait for another commercial for the main event.
Analysis: A big match for two weeks from now. I thought we would get KO & Sami vs. The Usos at Backlash, but maybe WWE is going the six-man tag team route with Sami, Owens & Riddle against The Usos & Solo. As I have said a few times, there are a few options.
(Commercial)
The graphic was shown for Owens & Zayn defending the Smackdown Tag Team Titles vs. The Usos in two weeks on April 28th.
Next week on Smackdown:
* GUNTHER defends the Intercontinental Championship against Xavier Woods.
* Liv Morgan & Raquel Rodriguez defend the Women's Tag Team Titles vs. Chelsea Green & Sonya Deville.
* Braun Strowman & Ricochet vs. Viking Raiders.
Matt Riddle (w/Kevin Owens & Sami Zayn) vs. Solo Sikoa (w/Jimmy Uso & Jey Uso)
Riddle was aggressive with strikes leading to multiple sleeper attempts. Solo slammed Riddle down, Riddle with a kick and Solo came back with an uppercut. The Usos got involved with Jimmy distracting the referee while Jey tripped up Riddle. The referee Jason Ayers ejected the four guys from ringside. Riddle got a rollup for two, but Solo came back with a Samoan Drop. That led to a break.
(Commercial)
The match continued with Riddle running off the ropes, but Solo stopped him with a back elbow. They got into a slugfest with Solo punching Riddle in the face to knock him down. Solo charged, Riddle moved and Solo hit the turnbuckle with Solo's hand hitting the ring post. Riddle hit an up kick, then forearm in the corner and an Exploder Suplex. Riddle went for a standing moonsault, Solo avoided it and Riddle went for a senton, but Solo got the knees up. Riddle managed to come back with the Floating Bro from the apron for a two count. The Usos showed up at ringside even though they were kicked out, so Zayn & Owens arrived at ringside so that the two tag teams could go brawling to the back. Solo tried a slam, Riddle landed on his feet and Riddle kicked Solo. Riddle hit a springboard Floating Bro onto The Usos on the floor. Riddle jumped off the top, Solo got a superkick to the gut and Solo hit a Samoan Spike for the pinfall win after about ten minutes.
Winner by pinfall: Solo Sikoa
Analysis: *** A good match with Riddle getting a lot of offense leading to him coming close to winning a few times, but Riddle jumping onto The Usos allowed Solo time to recover and get the win. Solo continues to be booked into a dominant manner. There was the slight distraction by The Usos so it's not like Solo easily beat Riddle, but Solo did benefit from the chaos to get the win. Anyway, they worked well together.
Solo gave Riddle a Spinning Solo slam onto the commentary table. The table didn't break, so Solo flipped the table over onto Riddle, who was up against the barricade. Owens and Zayn showed up to pull the table off Riddle. The Bloodline posed together in the ring as replays were shown of what happened after the match. End show.
Analysis: I was a bit surprised that Solo would get the advantage post match as well since he literally won the match as well. It gives us a reason to want to see Riddle try to get revenge.
Since we just got the Solo match with Riddle and the Tag Team Title match announced for Smackdown in two weeks, that makes a 6-man tag team match likely for Backlash. That's fine because it should be an outstanding match with Zayn, Owens & Riddle teaming up against the brother trio The Usos & Solo. It's not official, but that's what it looks like to me.
===
Three Stars of the Show
Xavier Woods/LA Knight
Damian Priest/Santos Escobar
Solo Sikoa/Matt Riddle
Welcome back to Shinsuke Nakamura too.
===
The Scoreboard
7.5 out of 10
Last week: 8
2023 Average: 7.20
===
Final Thoughts
A good show thanks to the match quality of the three longer matches on the show. I really liked Xavier Woods beating LA Knight in a great match. Clever finish with Woods reminding us how great he can be if he gets a chance as a singles wrestler. Damian Priest over Santos Escobar was booked well with a lot of chaos at ringside a fun Solo-Riddle main event match. Looks like we'll get a six-man tag team match at Backlash with The Bloodline brothers against Zayn-Owens-Riddle. Not official, but it seems obvious since we know the Tag Team Title match is coming in two weeks on Smackdown.
The return of Shinsuke Nakamura felt like a big deal, so I hope that he's pushed well. The crowd was into the song just like they were in the past.
There were no women's matches on the show, so that's a bit disappointing. The women's tag team segment to set up a title match with Liv & Raquel defending against Sonya & Chelsea was lacking in terms of excitement. Let's do a better job of having teams earn a title shot. At least Xavier Woods won a match to earn a title shot against GUNTHER's IC Title next week. Let's see that more often. Anyway, from a booking standpoint they also set up future matches and overall I enjoyed the show.
===
Thanks for reading. Please check out my reviews of every WWE PPV ever listed in order. Go Toronto Blue Jays and Toronto Maple Leafs. My contact info is below.
John Canton
Email mrjohncanton@gmail.com
Twitter @johnreport