The John Report: The WWE Raw Deal 03/07/22 Review
This week's WWE Raw featured the Raw Tag Team Titles on the line in the opening match with Alpha Academy defending against RK-Bro and Kevin Owens & Seth Rollins in a triple threat tag team match.
Becky Lynch, who is married to Seth Rollins, posted on Instagram saying she fractured her voice box. Ouch. She wrote it in a way that takes a shot at Bianca Belair too. Anyway, Becky won't be on Raw this week and I guess she hopes to be back next week. Best wishes to her. After Raw ended, she did a promo on Twitter and you can tell her voice is sore. She should be okay.
This is the Raw Deal for episode #1502 of Monday Night Raw. It's taking place at the Rocket Mortgage FieldHouse in Cleveland, Ohio. Follow me on Twitter @johnreport. Let's get to it.
Raw began with footage from the live event at Madison Square Garden in New York City on Saturday. Brock Lesnar retained the WWE Title against Austin Theory, which was not shown, but the post match attack was shown. Universal Champion Roman Reigns attacked Brock Lesnar with a steel chair, the steel steps and more as he got help from The Usos Paul Heyman. Reigns stood over a fallen, bloody Lesnar holding both the Universal and WWE Title. Reigns: "Brock Lesnar, acknowledge me." That was it.
Analysis: A good angle to further the story between Reigns and Lesnar going into WrestleMania.
The Raw opening video package aired. That doesn't happen very often, but we got to see it this week.
The fireworks went off in the arena in Cleveland. It was a pretty good crowd there as the commentary team of Jimmy Smith, Corey Graves and Byron Saxton welcomed us to the show. Kevin Owens and Seth "Freakin'" Rollins entered for a promo before their match.
Let's Hear from Seth "Freakin" Rollins and Kevin Owens
Seth "Freakin" Rollins and Kevin Owens were in their wrestling gear since their title match was up first. Rollins said he was excited because they are about to become the Raw Tag Team Champions. Owens said that things have been happening against them like Royal Rumble, Elimination Chamber and things like that. Rollins said that the deck was stacked against them, but now they are close to be going to WrestleMania. Owens said once they win the Tag Team Titles, they have to compete in the dump known as Dallas, Texas but it's a sacrifice they have to make. Owens said what makes it bearable is that he'll be there with his best friend Rollins.
There were highlights shown of how this Tag Team Title match was set up when they beat RK-Bro. They showed last week on Raw when Rollins/Owens beat Alpha Academy in a non-title match.
Owens said that they are undeniable and they are punching their tickets to WrestleMania. Owens ripped on Dallas, Texas again, then ripped on Alpha Academy (he called Gable "Shorty G" this time) and Orton/Riddle as well.
It was interruption time with Raw Tag Team Champions Alpha Academy making their entrance. The start of Alpha Academy theme song now has Chad Gable saying "Shoosh" and "Shoosh, please." Great. Otis was carrying the Raw Tag Team Titles on his broad shoulders. Gable did his usual promo ripping on the crowd being dumb and some of his phrases that he likes.
Randy Orton & Riddle were interviewed by Kevin Patrick in the backstage area. Riddle spoke briefly and then Orton said that they are going to win by any means necessary saying they have come too far to not take those titles back. Randy Orton & Riddle made their entrance. The match is after a break.
Analysis: They really didn't need to spend that time doing promos for a match that was already advertised, but when you have three hours to fill, you might as well spend about 12 minutes doing promos. Owens continues ripping on Texas since that's his story going into WrestleMania. Anyway, they did a nice job of building this title match to mean something.
(Commercial)
Raw Tag Team Championships: Alpha Academy (Chad Gable & Otis) vs. Seth "Freakin" Rollins & Kevin Owens vs. RK-Bro (Randy Orton & Riddle)
The first pinfall or submission wins the match. No countouts or disqualifications in a triple threat match.
Three guys are legal in the ring in this match with Gable going to the floor right away. Rollins and Owens worked over Riddle a bit with Rollins hitting a Slingblade. Owens tagged in with a senton splash. Gable pulled Riddle out of the ring and hit a suplex on the floor. Back in the ring, Owens got a kick in the head on Gable and Owens hit a splash off the middle ropes. Rollins tagged in with Owens hitting a senton splash and Rollins set up Gable against the turnbuckle. Rollins and Riddle each hit Gable with forearms. Rollins hit a springboard cross body block on both opponents. Owens punched Otis off the apron. Rollins sent Riddle into the middle turnbuckle, Owens with a superkick on Gable and Owens tossed Gable to the floor. Rollins hit a suicide dive onto Gable and Riddle on the floor. Back in the ring, legal man Owens hit a Senton Bomb off the top on Gable for a two count. They went to break there.
(Commercial)
The match continued with Riddle getting some kicks, but then Gable brought in Otis. Otis cleaned house with punches, shoulder tackles, elbows and he tossed Rollins over the top to the floor. Otis stood on Riddle's chest followed by Otis hitting a running splash and then he picked up Riddle before the three count. Gable back in with a clothesline on Riddle and Gable wrenched on Riddle's knee a bit. Otis was back in with a chinlock after he knocked Rollins off the apron. Otis hit a running splash on Riddle. Otis went to the middle rope for a Vader Bomb, but Riddle moved out of the way and Otis hit the floor. Orton got the tag to a big pop as he hit two clotheslines on Gable and a powerslam. Orton with a powerslam on Rollins too. Orton punched Owens off the apron. Orton hit a double draping DDT on Rollins/Gable at the same time. Orton kicked Gable out of the ring. Rollins wanted The Stomp, but Orton avoided that and hit an RKO for the pin attempt. Owens broke up the pin. Orton to the floor, he hit a belly to back slam on Owens on the table. Orton with a belly to back slam on Gable on the table. Orton tried to slam Otis on the announce table, but he couldn't do it, so Riddle hit Otis with a forearm. Orton and Riddle lifted Otis together leading to the belly to back slam on the table. Surprisingly, the table did not break with Otis slammed on it. The fans were cheering as the show went to break there.
Analysis: The crowd was on fire during that flurry of offense from Orton. I know Orton likes being a heel, but he's really popular as a face these days.
(Commercial)
Gable hit Riddle with a forearm, Riddle came back with a rollup sitting on top for a two count. Riddle with a knee to the face. Riddle jumped off the top with a Floating Bro on Gable for two. Owens into the ring, Riddle jumped on his back and Owens slammed Riddle onto Gable in the ring. Orton into the ring with a modified backbreaker on Owens and I guess Orton got the tag because he got a two count. Otis with a powerslam on Orton. Otis slammed Riddle using mainly his left arm. Otis connected with a Vader Bomb on Riddle this time and Gable tagged in with a moonsault off the top on Riddle for two because Rollins broke up the pin. Rollins sent Otis into the ring post. Rollins tripped up Gable on the top rope, Gable fought him off with headbutts and then Rollins popped back up, but Gable dropped to the apron. Otis got back into the mix with Owens/Rollins going for a double suplex, but then Otis got involved with a Powerbomb for the Tower of Doom spot. All six guys were down for a few moments, then they got back up and the six men paired off throwing punches. The show went to break there about 20 minutes into this match.
(Commercial)
The match returned with Gable and Rollins in the ring as Rollins hit a move delivering a knee to the face. They showed a spot during the break with Owens hitting a dive off the top onto wrestlers on the floor. Rollins jumped off the top rope with a double foot stomp on Riddle, who was tied up in the turnbuckle. Riddle with a triangle choke on Rollins, Gable broke it up with a headbutt and Gable hit a German Suplex on Orton. Gable with a rolling German Suplex on Rollins and a rolling German Suplex on Riddle. Gable is awesome. Gable with an overhead suplex on Riddle. Orton shoved Riddle out of the way, Gable with a moonsault and Orton hit a RKO! That was awesome and drew a big pop. Owens kicked Orton out of the ring. Rollins kicked Otis out of the ring. Rollins with a Buckle Bomb on Gable, Owens with a Stunner on Gable and Rollins hit The Stomp on Gable. Riddle tossed Rollins out of the ring and Riddle stole the pin on Gable to win! RK-Bro are champions again. It went 27 minutes.
Winners by pinfall AND NEW Raw Tag Team Champions: RK-Bro
Analysis: ****1/4 This was an awesome tag team match. It's the best Raw match of the year so far. I don't think I've given Raw matches over four stars yet this year. This was really well done with a hot crowd that was going wild for everything in the last few minutes. That Orton RKO on Gable doing the moonsault was incredible. What was cool about the pin is that Riddle sent Rollins out of the ring, and then the other guys on the floor were battling to prevent the save and Rollins/Owens were unable to make the save. I would have liked more consistency in the match because they were doing it like a regular tag team match in the first half, then they just ignored regular tag team rules because it's a No DQ match and you don't need to tag in. Anyway, I'm fine with the title change. I like RK-Bro as a team. I feel bad about AA losing the titles, but I don't think there was a bad choice here about who the champions were.
Riddle and Randy Orton celebrated with the Raw Tag Team Titles. Their second time as champions. Meanwhile, Seth Rollins and Kevin Owens looked despondent with Rollins walking to the back slowly while Owens was seated against the steel steps with his head in his hands.
Riddle and Randy Orton were interviewed by Kevin Patrick in the ring. Riddle said they were going to WrestleMania. Orton said that he's been doing this for over 20 years, he's having the most fun of his career and he called Riddle a friend while adding he doesn't have any friends. That was funny. Orton and Riddle hugged. Meanwhile, Kevin Owens slowly made his way to the back.
Analysis: We know Randy loves being a heel and he'll be most remembered as a heel, but this face run has been fun. The fans are enjoying it. Randy is too.
Dana Brooke, the 24/7 Champion, made her entrance with Reggie. The fans popped when they heard she was from Cleveland. She lives in Miami now I'm pretty sure, but they don't want to tell the fans that.
This Friday on Smackdown, has Ronda Rousey shaken the confidence of Charlotte Flair? They said the road to the "WrestleMania Saturday main event" intensifies. I guess that confirms them as the main event.
(Commercial)
A replay was shown of the tag team title change before the break. That Gable moonsault into the RKO was so amazing.
Kevin Owens was shown backstage looking angry about what happened.
A video was shown of Dana Brooke and Reggie in the backstage area earlier in the day. Dana asked for a good luck kiss, so they kissed on the lips. If you follow her Instagram, all she does is post about her fiancé, but I guess we're supposed to not know that when we watch this show.
Tamina entered with Akira Tozawa. They had an earlier today segment with Tozawa wanting to give Tamina a good luck kiss, so then Tamina aggressively kissed him against a garage door. Tozawa smiled: "That's a lot of luck." Sure.
24/7 Championship: Dana Brooke vs. Tamina
Tamina was aggressive early on by tossing Brooke across the ring. Brooke avoided a corner attack, then she hit a handspring elbow and Tamina came back with a clothesline. Tamina applied a Boston Crab submission on Brooke and Dana was in the hold for a long time, but she was able to power out of it. Brooke sat on top of Tamina for the pinfall win. It was under two minutes.
Winner by pinfall: Dana Brooke
Analysis: 1/2* This story is weak. At least it was a quick match.
Post match, Tozawa claimed that Brooke cheated. Tozawa said that the winner of the match was the love of his life…Tamina. Tozawa wanted a hug, Tamina put his arms down and Tamina was about to leave. Tamina thought about it and blew him a kiss.
Analysis: Riveting storyline. Not really.
Seth Rollins was backstage with Kevin Patrick there trying to ask Rollins for a comment about losing the title match. Rollins said nothing. Rollins simply had a serious look on his face without saying a word.
There was another plug for WrestleMania 38 when Brock Lesnar faces Roman Reigns.
The Miz made his entrance wearing a suit. No Maryse sadly. She's my favorite part of the family. Anyway, Miz has a promo segment after the break.
(Commercial)
There was a replay show of The Miz and Logan Paul attacking The Mysterios.
Let's Hear from Cleveland's Own The Miz and Logan Paul
This is not Miz TV. It's just a Cleveland Homecoming for The Miz. The fans even briefly chanted for The Miz, who said he was home and said that the chant was respect. Miz played a clip of Dominik ripping on Logan Paul in a promo two weeks ago. The Miz introduced Logan Paul, who is also from Cleveland like The Miz and Logan was booed. Logan handed somebody his drink on his way to the ring.
Logan Paul: "What's up Cleveland?" A mix of boos and cheers. Logan said it was good to be home and he was honored to The Miz's tag team partner while also honored to be a part of WrestleMania. Logan said he grew up in Cleveland, he said he went to Westlake High School and his friends were there. Logan said he was a high school wrestler that finished fifth in the state. Miz put over Logan for being a self made man that built what he has. Miz said he respected Rey Mysterio as a legend while saying Dominik got a contract before he was ready. Miz noted that he's done everything that Rey has ever done. Miz asked who would we rather see in the ring – a father/son duo that are losers or pop culture icons standing before you. Logan said that Rey is a legend while Dominik is riding his coattails. Logan said that in Cleveland they set up and kick ass. The Miz introduced the legendary WWE Hall of Famer Jerry "The King" Lawler, who was born and raised in Cleveland. Lawler moved to Memphis in his wrestling career, but he grew up in the Cleveland area and walked out in a Cleveland Browns Myles Garrett jersey.
The fans greeted Lawler with a "Jerry" chant. Lawler said it was awesome to be there and he thanked Cleveland. Lawler mentioned different cities he lived in around the Cleveland area. Lawler said that he was in Cleveland in 1964 when the Browns won the NFL Championship. Lawler said he's looking at Miz standing beneath that WrestleMania and he's just thinking about what it would be like to have WrestleMania in Cleveland, Ohio. The fans cheered. Logan thinks that's an awesome idea. Miz asked if he thinks so? Miz said he loves the city of Cleveland, but it's not a WrestleMania city. That drew boos. Miz said he hasn't lived there in a long time and any time you have an ounce of success, you leave. Miz said it's like the Browns left Cleveland, they won a Super Bowl while guys like Odell Beckham (OBJ from my LA Rams – the Super Bowl Champions!) and LeBron James left Cleveland to win championships. LeBron did actually win one in Cleveland, but he won in Miami. Miz said it was time to leave because winners leave Cleveland. Miz and Paul left together while Lawler stayed in the ring.
Analysis: A cheap heat segment. It dragged on without really doing much other than getting heat on Miz and Paul. It's no surprise that The Miz turned on the crowd since he's a heel. I kept waiting for The Mysterios to show up to interrupt to get the crowd behind them. Nope. No sign of them. That was a bit strange that there was no counter by the Mysterios and then it just ended.
There was a clip from last week on Raw and NXT. Bron Breakker & Tommaso Ciampa beat Dolph Ziggler & Robert Roode in the main event of NXT.
Tommaso Ciampa and NXT Champion Bron Breakker were interviewed by Kevin Patrick. It was noted that this was Bron's Raw debut. Bron said he was grateful to come here and compete on Raw while noting he'll make the most of the opportunity to get his hands on Ziggler/Roode. Ciampa said that Ziggler's won nearly every championship except that NXT Champion. Ciampa said they beat them last week and now they get to do it on Raw.
Dolph Ziggler & Robert Roode entered for tag team action.
(Commercial)
They showed a graphic of Gable Steveson winning the Big Ten NCAA Wrestling Championship for the third straight year. He was drafted by Raw last October, but he still has more college wrestling to do.
The Street Profits were interviewed by Sarah Schreiber with Montez Ford saying they pinned RK-Bro last week, so they should be next in like for a title shot. Angelo Dawkins and Ford mocked Alpha Academy & Owens/Rollins for being sore losers. Dawkins ended it saying that the Street Profits are up and they want the smoke.
Tommaso Ciampa entered for tag team action. This Tuesday on NXT Roadblock it's Bron Breakker defending the NXT Title vs. Ciampa & Ziggler in a triple threat. Bron Breakker made his entrance for his first match on Raw.
A video package aired about Bron Breakker to introduce him to the Raw audience. They showed clips of Breakker in action showing off his power moves as well as his athleticism. Bron said he'll prove why he's the NXT Champion each and every week.
Tommaso Ciampa & Bron Breakker vs. The Dirty Dawgs – Dolph Ziggler & Robert Roode
Bron with a leapfrog over Roode followed by a delayed vertical suplex. Ciampa tagged in with a chop and a running clothesline on Roode. Ciampa fought out of the heel corner with punches, Ciampa punched Ziggler off the apron and then Roode hit a spinebuster. Bron pulled Ciampa to save him from a Ziggler attack. That led to a break.
(Commercial)
The match returned with Ziggler hitting a dropkick on Ciampa. Roode back in for a double back elbow on Ciampa followed by Roode hitting a knee drop. Ciampa created some space, Bron got the hot tag and hit an overhead belly to belly suplex on Ziggler. Bron with a clothesline on Roode. Ziggler sent Bron into the ropes, he went for a leapfrog and Bron turned it into a powerslam. Bron charged, Ziggler got a knee up to block and Bron still came back with a clothesline. Bron lifted Ziggler, Roode with a distraction and Ziggler came back with a rollup for two. Bron with a shoulder tackle, Ziggler moved and Bron hit the turnbuckle. Ziggler hit a Zig Zag on Bron for two as Ciampa made the save. Ciampa with a knee that sent Roode out of the ring. Ziggler went for a superkick. Bron blocked it and Bron hit a press into the powerslam for the pinfall win after about ten minutes.
Winners by pinfall: Tommaso Ciampa & Bron Breakker
Analysis: *** A good tag team match. The match they had on NXT last week was better than this and it was also longer. It was a simple formula with Ciampa working as the face in peril, Bron getting the hot tag and destroying everything in sight. It was the right way to book a match like this. The crowd response for Bron was okay, but it's not like they were popping that loudly for him. I thought the response might be better for him. Anyway, I'm sure Vince McMahon likes what he sees in Bron, who is 24 years old with a bright future as a main event star in WWE. It's only a matter of time.
Post match, Dolph Ziggler congratulated "kid" Bron for beating The Dirty Dawgs. Ziggler said that tomorrow night on NXT there's a triple threat match for the NX Title. Ziggler said when Bron focuses his attention on Ciampa, that's when Ziggler is going to strike. Ziggler said that he'll become NXT Champion while Ziggler will have another trophy for his trophy case.
Analysis: A decent promo from Ziggler although the fans know that he's not going to win the NXT Title. I think Breakker will retain the NXT Title. There's no reason to take the title off him yet although I could see him moving to Raw or Smackdown soon. I just don't think Breakker should lose.
A brief video was shown of Omos destroying people.
Omos was shown backstage staring at a camera that was below him to show how tall he is. Omos said he's not waiting for his WrestleMania moment, he's taking it.
Omos made his entrance for singles action.
(Commercial)
A video aired letting us know that WrestleMania is 26 days away. Stupendous!
They showed a replay of Elimination Chamber two weeks ago when former WWE Champion Bobby Lashley was taken out with a concussion. It was really a shoulder injury.
Omos vs. Apollo Crews (w/Commander Azeez)
Omos pointed at Crews and then he pointed at Azeez on the floor telling him: "You're next." Crews with a dropkick that had no effect and Omos knocked Crews down easily. Omos applied a submission hold with a knee to the back while pulling back on the arms. Omos stared at Azeez on the floor. Omos delivered a forearm that knocked Crews off the apron to the floor. Omos brought Crews back into the ring and whipped Crews into the turnbuckle. Crews came back with a jumping kick to the head. Crews went for a move off the ropes, Omos caught him and Omos delivered a two handed Choke Bomb. It went about three minutes.
Winner by pinfall: Omos
Analysis: 1/2* A dominant win by Omos as expected. Crews got a bit of offense, but it wasn't much and Omos winning was the obvious result.
Post match, Azeez went into the ring to check on Crews. Omos stared at him, laughed a bit at him and Omos left.
Analysis: They are teasing Omos vs. Azeez now. I don't think it would be a good match or a long match, but it's a spectacle to see guys that big in a match. At least it would be a quick match.
Edge is up next at the top of hour three.
(Commercial)
A video aired from last week's main event segment on Raw when AJ Styles accepted Edge's WrestleMania challenge. The match is on, but then Edge attacked Styles. Edge's attack was vicious because he delivered a cheap low blow kick and it ended with the dreaded Conchairto to AJ's head.
Let's Hear from Edge
Edge's music hit and instead of the WWE Hall of Famer running out onto the stage with energy, he did a slow walk to the ring while there was his purple or blue spotlight on him while the crowd was darkened. Edge slowly walked down to the ring while no music was playing. The fans were booing and perhaps there were me boos piped in to make it sound stronger. I don't know, but it's possible.
Edge stood in the ring with that spotlight on him. Edge: "You think you know me? Clearly, you don't, AJ." Edge said he knows AJ is at home right now, so he'll speak directly to him. Edge wanted AJ to put the kiddos to bed and mama doesn't want to see this either. Edge said what he did last week, he did it to help AJ. Edge said he needs the best AJ, that flesh-tearing pitbull and he helped AJ. Edge said that Styles helped him too because it was like Edge's brain cracked open and now the real Edge is free to fly. Edge said it felt so good. Edge said that it was a me that he had never met before and "it was a me that I have fallen in love with." Edge said he feels in control of everything that will ever happen in this ring and in this entire industry. Edge said he was on the mountain of omnipotence and the view is…phenomenal. Edge dropped the microphone and stared into the hard camera. The promo ended there. They faded to black.
Analysis: Great promo from Edge as usual. It was the complete opposite of the smiling Edge that is full of energy and seems happy. Instead, we got a darker Edge that claimed he liked being this way. I like Edge embracing the heel role since he has been such an awesome heel during his career. Styles not being there made sense since he was attacked last week.
The Raw commentary team was on camera with Graves saying he's never seen that side of Edge before. They showed the Tag Team Title match from earlier in the night.
Kevin Owens was interviewed backstage by Kevin Patrick, who noted KO may not have a path to WrestleMania. Owens said he's not as distraught as Seth Rollins and Owens said that he never wants to feel what he felt at the end of Raw. Owens said he had an epiphany that will change his WrestleMania future. Owens claimed he has to iron out some details, he has a plan and he'll share that plan with everyone later tonight.
Analysis: A nice tease for a segment later in the show. It was the main event since there was no other obvious main event match advertised.
Liv Morgan and Rhea Ripley entered for a tag team match.
(Commercial)
They showed the video of Roman Reigns beating up Brock Lesnar at the MSG live event on Saturday with Reigns getting some help from The Usos and Paul Heyman providing a distraction. Heyman to Brock: "I love you." Heels lie. Anyway, Reigns beat up Lesnar after that.
Carmella & Queen Zelina Vega vs. Liv Morgan & Rhea Ripley
This is not for the Women's Tag Team Titles. If Morgan/Ripley win this match then they are added to the Women's Tag Team Title match at WrestleMania.
Morgan hit Carmella with a corner splash. Ripley tagged in with a running dropkick on a seated Carmella. Ripley worked over Carmella with knees. Vega tagged in, knocked Morgan off the apron and Ripley tried for a suplex, but Vega was able to get out of it. Vega hit a Tornado DDT with Ripley bumping to the floor. Carmella with a superkick that sent Ripley to the steel steps. Graves told fiancée Carmella that he's so proud of her. The show went to break.
(Commercial)
Zelina Vega worked over Ripley with a chinlock and then Carmella tagged in with a kick that sent Ripley into the ring post. Morgan broke up a pin attempt. Carmella sent Ripley's face into the mat followed by a chinlock as Morgan got the crowd into it. When Ripley broke free, Carmella did a hair pull. Ripley came back with a jumping kick to the protective mask on Carmella's face with Graves complaining about it since they have a wedding coming up. Morgan got the hot tag against Vega with Morgan kicked her, then a dropkick and Morgan hit a missile dropkick off the middle rope for two. Graves went off commentary to check on Carmella. Vega with a jawbreaker on Morgan, then Morgan got a rollup for two and Vega hit a rolling kick. Vega tried to tag, but Carmella was talking to Graves at ringside. Vega was yelling at Carmella, then Morgan hit two boots to the face and tagged in Ripley. Ripley hit the Riptide slam on Vega for the pinfall win after nine minutes.
Winners by pinfall: Liv Morgan & Rhea Ripley
Analysis: **1/4 An average tag team match where they did a nice job of building to the hot tag and then Carmella lost focus by talking to her fiancé Graves at ringside. That left Vega all alone, so it was easy pickings for Ripley and Morgan.
The means that the Women's Tag Team Championship match is now Carmella & Zelina Vega vs. Sasha Banks & Naomi vs. Rhea Ripley & Liv Morgan.
Analysis: It's a way to get more women on the WrestleMania card. I also know that there will be another team added. I can't say who or when, but trust me on that. It should be announced soon.
A replay was shown from last week's Raw when Finn Balor beat Damian Priest to win the US Title and then Priest attacked Balor after the match.
(Commercial)
There were clips shown of the WWE Hall of Fame 2022 announcement of former WCW Champion Vader being inducted in this year's HOF. They did not show a video package about the late, great Vader. Hopefully we get to see that soon. This was announced earlier on Monday. Very well deserved.
Austin Theory made his entrance. A clip was shown from last Thursday's Pat McAfee Show when Vince McMahon offered Pat a chance to have a match at WrestleMania. Pat agreed to it. On Smackdown this past Friday, Theory said that Vince does everything for a reason and everybody just wants to hear Pat shut up. Theory informed McAfee that he was his opponent at WrestleMania and Austin slapped Pat in the head. McAfee vs. Theory will be on WrestleMania Sunday.
Finn Balor vs. Austin Theory
This is not for Balor's US Title. Theory knocked down Balor with a shoulder tackle. Theory with some shoulder blocks against the turnbuckle and then a snapmare into a kick for a two count. Theory grabbed a chinlock followed by a forearm to the back. Theory went for a sunset flip, Balor rolled through and got a kick to the chest. Theory sent Balor into the edge of the ring apron. Balor hit a Slingblade on Theory on the floor. The show went to break there.
(Commercial)
Balor charged at Theory, who got a drop toe hold into the turnbuckle. Theory hit an impressive roll through into a dropkick. Balor got a takedown leading to a double foot stomp to the chest. Theory to the apron, Balor wanted a suplex, Theory with a shoulder to the ribs and Theory stomped on the chest. Theory with a suplex for two. Theory with an elbow to the head followed by suplex. Theory went for the ATL move, but Balor slipped out of that and got an elbow smash to the chest. Balor with a dropkick into the turnbuckle. Balor went up top, Damian Priest was there to grab Balor by the throat and send Balor into the top rope so Balor was selling a throat injury. The referee saw it, so it was a DQ finish after nine minutes.
Winner by disqualification: Finn Balor
Analysis: **1/2 A pretty good match from these two as usual. They match up well with Balor as the talented veteran while Theory is a heel on the rise. The fans weren't into it that much, but both guys worked hard. I'm not surprised by the DQ finish due to Priest turning heel last week. In order to get more heat, having Priest doing something dastardly like that is an easy way to get fans to hate him.
Priest was dressed in all black and had a serious look on his face. Priest got a hold of Balor and dropped him with a Razor's Edge.
Analysis: It should lead to Finn Balor defending the US Title against Damian Priest at WrestleMania. It makes sense as a title match.
Theory grabbed his cell phone, he went into the ring and then Balor hit the ATL slam into the knee. Theory grabbed the phone and took a selfie with a fallen Balor. Theory left happily.
Analysis: Cheap heat for Theory taking advantage of Balor getting attacked by Priest.
A clip was shown from last week when Bianca Belair did the hair whip to Bianca Belair to Becky Lynch's ribs. Belair won a tag team match by pinning Nikki A.S.H. to win the match.
Bianca Belair was interviewed by Kevin Patrick. Bianca did a basic promo about how she's a WrestleMania main eventer just like Becky Lynch and Bianca will prove she's the EST of WWE as usual.
Kevin Owens made his entrance for a main event promo.
(Commercial)
There were about five minutes left in the show. Next week's Raw is in Jacksonville, Florida.
Let's Hear from Kevin Owens
Kevin Owens said it's official that he doesn't have a match at WrestleMania. Owens said he can accept that now because he thinks he can find a way to get there and it depends on the challenge he's about to issue. Owens said he wants to have the biggest, most stupendous KO Show in history. Owens ripped on Texas people saying he's not going to invite JBL while insulting him. Owens mentioned Booker T while adding that he spent a lot of his career in Harlem Heat and then he was King Booker speaking with an English accent, but he's not going to invite him. Owens mentioned Shawn Michaels, then he ripped on him and said that out of respect for Bret Hart, Shawn is not invited.
Owens said that he's got the perfect guest that is a broken down shell of his former self and living on past glory. Owens said he's probably drinking beer like the redneck he is. Owens ripped on him saying he wore knee braces during his career, so maybe he would need a walker. Owens said nothing would make him happier than giving this guy a Stunner that the world would be talking about for years. Owens said that he'll pour a glass of milk on him. Owens said that the bottom line is Owens is calling you out…"Stone Cold" Steve Austin. The fans cheered that as Owens dropped the microphone.
The announcers talked about it with Grave saying it's been 19 years (since Austin's last match), but this is just for an interview segment. They had the graphic ready and ended Raw showing that the segment is going to be on WrestleMania Saturday. That was the end of Raw.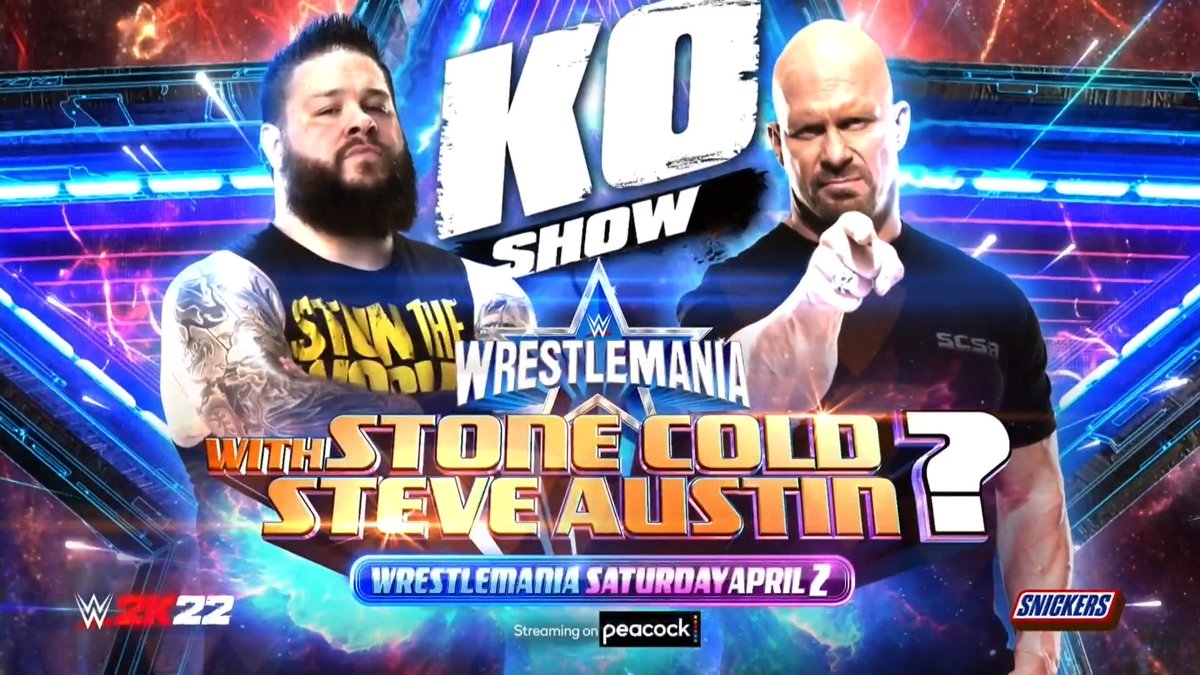 Analysis: It has been rumored for weeks that Owens and Austin would be doing something at WrestleMania. Some people think it might be a match while Owens just invited Austin for a promo segment. It's easy to see why Austin would be hesitant to do a match because it has been 19 years and even though he is in great shape, Austin is 57 years old. If they do end up turning it into a match it could be because Austin is okay with it, but I don't know if it will be. I think advertising it as a promo segment is fine. The fans are going to like it. Austin has always been a part of plans for this WrestleMania since it's in his home state of Texas, so now we know that it's probably going to be a talk show segment with Owens. I can predict Austin will hit a Stunner or two and have a few beers as well. That's to be expected.
Three Stars of the Show
Randy Orton & Riddle
Kevin Owens & Seth Rollins
Alpha Academy (Chad Gable & Otis)
The Scoreboard
7 out of 10
Last week: 6.75
Final Thoughts
A pretty good show carried by that awesome tag team title match in the first hour. Great job by Riddle & Orton winning the titles back in a match with Alpha Academy and Rollins/Owens. That spot where Gable went for a moonsault, but Orton was there and dropped him with an RKO was a thing of beauty. So cool. This was the best Raw match of the year so far. Long match that was fun to watch.
Everything else seemed to have a purpose as we continue on the road to WrestleMania. Some of the matches were short, but a few were good enough. I really don't think there was anything that bad other than 24/7 comedy bits that are barely funny. It was also the night where NXT Champion Bron Breakker made his Raw debut in a tag team match. I think Bron is going to be a huge star in WWE in the years to come.
Kevin Owens ending the show with a challenge for Steve Austin to join him on the KO Show at WrestleMania is a smart way to end Raw. Now the fans that didn't know about Austin's involvement can get excited about seeing Austin kick KO's ass for all of KO's disparaging comments about Texas. It's simple and it works.
The next WWE Premium Live Event is WrestleMania 38 from Dallas, Texas on Saturday, April 2 and Sunday, April 3. Here's the lineup so far:
Winner Take All – Title vs. Title: Universal Champion Roman Reigns vs. WWE Champion Brock Lesnar (Sunday)
Smackdown Women's Championship: Charlotte Flair (c) vs. Ronda Rousey (Saturday)
Raw Women's Championship: Becky Lynch (c) vs. Bianca Belair (Saturday)
Edge vs. AJ Styles (Sunday)
KO Show with Steve Austin (Saturday)
Rey & Dominik Mysterio vs. The Miz & Logan Paul (Saturday)
Women's Tag Team Championships: Carmella & Zelina Vega (c) vs. Sasha Banks & Naomi vs. Rhea Ripley & Liv Morgan (Sunday)
Drew McIntyre vs. Happy Corbin (Saturday)
Sami Zayn vs. Johnny Knoxville (Sunday)
Pat McAfee vs. Austin Theory (Sunday)
WrestleMania 38 is a two-night event steaming LIVE on Saturday, April 2, and Sunday, April 3, beginning at 8 p.m. ET/5 p.m. PT on Peacock in the United States and on WWE Network everywhere else.
===
Check out the WWE PPV Review archive right here. You can contact me using any of the methods below. Go Toronto Raptors and Toronto Maple Leafs. Be safe and smart out there.
Thanks for reading.
John Canton
Email: mrjohncanton@gmail.com
Twitter: @johnreport