The John Report: WWE Hell in a Cell 2019 Review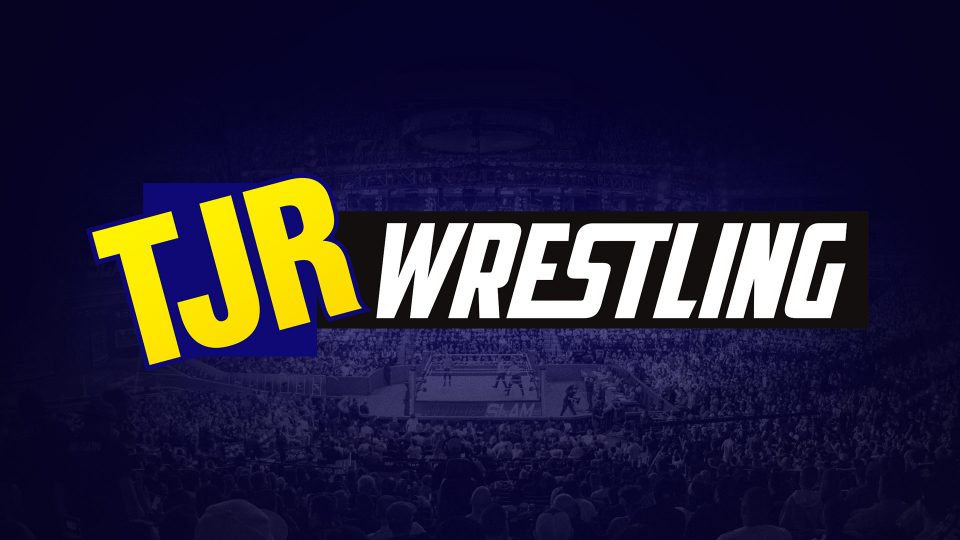 Welcome to the TJRWrestling review of WWE Hell in a Cell for a show that only had four matches promoted going into it. They added more matches to it as expected. I went to see the movie Joker on Sunday night, so I didn't see Hell in a Cell live. Joker is amazing, especially as a movie theatre experience. Great storytelling throughout and some incredible character development too. That's what we want on wrestling shows too. I know people say it will have Oscar buzz or whatever with Joaquin Phoenix doing an awesome job in the lead role. That doesn't matter to me that much. Anyway, I highly recommend Joker. Let's get to this PPV.
The Kickoff show saw Natalya defeat Lacey Evans. That was the only Kickoff show match.
WWE Hell in a Cell
From the Golden 1 Center in Sacramento, CA
October 6, 2019
There was an opening video package about the Hell in a Cell structure where it tried to tell us that it is so evil it changes the lives of the people in the match. The rest of the video package focused on the big matches on the show.
There was a pyro display in the arena because pyro is back. The PPV stage looks similar to the previous stage design that WWE had for a few years, but not exactly the same. There's more lighting present and some of the entrances have pyro, so that helps.
The Raw announce team of Vic Joseph, Dio Maddin and Jerry "The King" Lawler were at ringside. The red Hell in a Cell structure was above the ring because a Hell in a Cell match was up first.
Sasha Banks made her entrance for the Raw Women's Champion match as the heel challenger. The Spanish and German announce teams were introduced to us from their seats at ringside. "The Man" Becky Lynch made her entrance with the Raw Women's Championship looking ready to go. Lynch has some smoke on the stage for her entrance. It was noted by Joseph that this was the 41st Hell in a Cell match in WWE history.
Analysis: Going on first on the PPV is the second best spot you can have on the card because the crowd is hotter in the opening match than at any other point in the show. It's also a good idea to separate the two Hell in a Cell matches by putting them in the opening match and main event.
Banks attacked Lynch before the cell was officially lowered. They left the ring, Banks whipped Lynch into the cell and hit a suplex onto the steel ramp at ringside. Banks whipped Lynch into the side of the cell. Banks rolled into the ring to boos while Lynch was outside the cell. Lynch kicked the cell door into Banks and both women were inside the cell. The bell rang to start the match.
Raw Women's Championship Hell in a Cell Match: Becky Lynch vs. Sasha Banks
Lynch left the ring and grabbed the steel chain from the referee that tried to lock the door. Lynch with punches on Banks using the chain and she knocked her out of the ring. Lynch whipped Banks into the cell. Lynch locked the cell door. Banks came back with a kick and she whipped Lynch into the cell. Lynch sent Banks into the steel steps. Lynch grabbed a steel chair and ladder from under the ring, but Banks came back with a chair shot to the back. Lynch threw the chair at Banks and Lynch hit a chair shot to the back of Banks. Back in the ring, Banks got a few nearfalls and Lynch whipped Banks head first into the steel chair that was opened up in the ring. Banks came back with a dropkick that sent the chair into Lynch's face for a two count. Lynch hit the Bexploder suplex, Banks was set out of the ring, and Lynch hit three running dropkicks that sent Banks face first into the cell. Banks came back with a kick to the face followed by the double knees to the face Meteora that sent Lynch into a ladder that was up against the cell. Banks sent Lynch out of the ring. Banks grabbed Lynch's arm and put it in between the cell door to cause more damage to the arm. Banks used the chair to wrench on the left arm of Lynch and then did an armbar to whip Lynch into the mat. Banks put Lynch on a chair followed by a Meteora double knee attack off the turnbuckle for a two count. Banks was frustrated that it wasn't enough to win the match. Banks grabbed a chair and put it in the rungs of the cell. Banks with another chair, Lynch got a rollup and kicked the chair into the ribs of Banks. Lynch with a dropkick while Banks was on the apron and sent Banks into the cell. They left the ring where Lynch hit the Bexploder suplex into the cell. Lynch hit a drop toe hold into the legs of a chair and a bulldog into the legs of the chair for a two count. Lynch hit a dropkick off the ropes into the chair that Banks was holding to knock Banks down. Banks rolled out of the ring again. When Lynch went out to the floor, Banks had a kendo stick and she hit Lynch repeatedly with the kendo stick. Banks put two kendo sticks up against the cell, Lynch blocked an attack on the floor and Lynch sent Banks into the two kendo sticks. Lynch set up a chair against the kendo sticks and put a third kendo stick by the chair. Lynch put Banks on the chair against the cell, Lynch ran off the apron and hit a dropkick into Banks into the cell. That was a unique spot that drew a big pop from the crowd! There were "Holy Shit" and "This is awesome" chants as well.
They went back into the ring where Lynch hit a top rope leg drop for a two count with Banks getting her right shoulder up. Lynch was shocked by that. Lynch set up a table, but Banks came back with a Backstabber double knee attack to the back of Lynch. Banks teased a superplex through the table that was obviously never going to happen based on their setup, Lynch fought out of it and Banks hit a Meteora double knee attack that put Lynch through the table. That spot was set up really well and it looked great. The crowd popped huge for the spot as well as Lynch kicking out of it. Banks grabbed a kendo stick to use it for assistance for a Bank Statement submission, but Lynch managed to fight her way out of the hold. Lynch hit Banks with the kendo stick. They were outside the ring with Banks whipping Lynch into the steel chair that Banks had placed against the cell earlier in the match. Banks threw seven steel chairs in the ring, then she found some more and I counted about twelve chairs in the ring. Banks hit Lynch with chair shots although it was more like Banks just hitting other chairs to make some noise. Banks went to the turnbuckle, Lynch hit her with a chair and Lynch hit a Bexploder Suplex onto the pile of chairs in the ring. Lynch slapped on the Disarmher submission on Banks and Banks tried to fight it by grabbing a chair, but she couldn't do it. Banks tapped out to give Lynch the win at 21:50.
Winner by submission: Becky Lynch
Analysis: **** That was a very good match that felt like a fight the moment it began because they brought the intensity as soon as the bell rang. The weapons they used were a smart move because it was fitting for a Hell in a Cell match that may be the end of this rivalry for now. They deserve a lot of credit for coming up with some innovative spots with the weapons they used in different spots. We have seen Hell in a Cell matches using chairs, tables and other weapons, but to their credit, they came up with some different uses that worked well for this match. The aggressiveness of Banks was perfect for her heel persona and I have always felt that she was better as a heel. Lynch did an excellent job of being the babyface that was fighting from underneath by matching the intensity of Lynch and finding a way to get the win. The crowd was really into the match, which again shows that it was the right decision to put them on as the first match of the PPV. I thought Banks was going to win because it would have been good for her as a heel, but obviously WWE wants a very long title reign for Lynch.
There were replays of Lynch's win and Lynch celebrated with the title while Banks looked on from the stage. The crowd gave Lynch a nice ovation for a hard-fought victory.
There were commercials for WWE Shop and Total Divas.
The Smackdown announce team of Michael Cole and Corey Graves took over for the first Smackdown match of the show.
A video package aired for Erick Rowan and Luke Harper facing Roman Reigns and Daniel Bryan. It's been a long story over several months with Rowan trying to earn respect.
Roman Reigns made his entrance, which looks better now because he's got a nice pyro display when he puts his fist onto the stage. Daniel Bryan was up next, but Bryan did not do the "YES" chants even though he is back in a babyface role. The fans did "YES" chants at him. Erick Rowan and Luke Harper entered together looking ready to go.
Tornado Tag Team Match: Roman Reigns and Daniel Bryan vs. Erick Rowan and Luke Harper
This was made a Tornado Tag Team Rules match prior to the show. That means there are no tags in the match, the first fall wins and it's essentially Street Fight rules.
Rowan sent Reigns out of the ring with a clothesline. Bryan was on the top rope and hit Rowan with a missile dropkick followed by Bryan hitting a suicide dive on Harper. Reigns came back with a Superman Punch on Rowan. Back in the ring, Rowan hit a dropkick on Reigns, which was a bit of a surprise, but it looked good enough. Rowan missed a splash and Reigns hit a Samoan Drop for two. Harper went back in with a boot to the face of Reigns. The action spilled to the floor with Harper sending Bryan into the barricade and Rowan hitting a running cross body block on Reigns on the floor. Rowan picked up the steel steps and hit Reigns in the head with it. Back in the ring, Harper whipped Bryan into a spinning heel kick from Rowan. Reigns knocked Harper off the ropes, Rowan knocked Reigns down and Rowan hit a shoulder block on Bryan. Bryan slapped on the LeBell Lock briefly, but Harper broke it up. Rowan hit a suplex on Bryan for a two count. Bryan sent Rowan into the ring post, he ran at Harper and Harper hit a Michinoku Driver on Bryan for a two count because Reigns made the save. Reigns with a leaping clothesline on Harper followed by ten corner clothesline. Rowan sent Reigns out of the ring. Bryan kicked Rowan off the apron and Bryan kicked Harper in the arm. Bryan charged and hit a dropkick to the left knee of Harper. Bryan worked over Harper with the Yes Kicks to the upper body, Rowan tripped up Bryan and pulled him out of the ring. Reigns with a Drive By pick on Rowan. Harper hit a suicide dive on Reigns on the floor where Harper's forehead went into a table at ringside. That looked like a rough landing for Harper, but he was okay. All four guys were down on the floor by the announce tables.
Rowan and Harper cleared off the three announce tables at ringside. Rowan and Harper sent Bryan face first onto the side of the ring apron. Rowan with a body slam on Reigns on the floor followed by Rowan hitting a body slam on Harper onto Reigns. Rowan picked up part of the barricade, Graves led by saying it may be a few hundred pounds and Rowan hit Reigns with the barricade to send Reigns over the railing at ringside. Rowan broke a pencil at ringside as well. That poor pencil! Harper and Rowan set up Bryan for a move on the table, but Bryan hit a hurricanrana on Harper. Reigns followed that with a Spear on a table that led to Rowan crashing through another table. That was a really cool spot and the fans popped big for it. Reigns was grabbing his right knee. Back in the ring, Bryan was on offense with three running dropkicks on Harper against the turnbuckle. Bryan went for a hurricanrana off the top, but Harper caught him and hit him with a Powerbomb off the top rope for a two count. Great spot and nearfall. Harper hit a Dragon Suplex two times. Bryan countered a third attempt by landing on his feet. Bryan dodged a Harper charge, Reigns went into the ring with a Superman Punch on Harper, Bryan with a running knee on Harper and Reigns hit a Spear on Harper for the pinfall win at 16:45.
Winners by pinfall: Roman Reigns and Daniel Bryan
Analysis: ***3/4 It was a fun tag team match with Bryan and Reigns doing an excellent job of taking an ass kicking and then finding a way to win like the babyfaces they are. The last few minutes were outstanding especially when they went outside the ring to set up the table spots. That table spot with Reigns and Rowan was set up really well and it looked awesome when they went through it. I thought Bryan was outstanding in the match as he reminded us again that he's probably the best wrestler in the company and in my opinion, Bryan needs to be in main events again. He's so great in terms of always having excellent matches. The result didn't surprise me since Bryan remained a face. It just makes sense to have the faces win to put an end to the storyline. It's also not a shock that Harper was the one that was pinned since he was a late addition to the storyline to set up the tag team match and Harper was sitting at home for five months doing nothing after he asked for his release. I'm glad Harper's back in the ring doing his thing. Bryan and Reigns were the stars of the match, but Harper and Rowan did very well too.
Post match, Bryan slowly got back to his feet as Reigns stared at him. Bryan extended his hand for a shake, but then he pulled the hand away. Bryan opened up his arms for a hug. The fans chanted "YES" for this hug it out moment. Reigns wasn't sure of it, the fans chanted "YES" some more and Reigns hugged Bryan. Reigns and Bryan raised their hands followed by a handshake. The fans loved it.
Analysis: I thought Bryan might go back to being a heel, but it didn't happen. I'm fine with Bryan as a face because he's arguably the best babyface that WWE has had this decade in many ways. I just loved Bryan's heel persona, so I'll miss Bryan as a heel. Bryan has a lot of value as a face too, obviously. I'm just saying from an entertainment standpoint, heel Daniel Bryan has been my favorite WWE character over the last year.
If the show ended here after one hour then it would be considered a great success. Sadly, there were over two more hours to go.
Seth Rollins was interviewed backstage by Charly Caruso. Rollins said he's done a lot in his career, but he's never encountered anything or faced anyone like The Fiend Bray Wyatt. Rollins said that the psychological warfare will be the greatest test of his career. Rollins said when the bell rings, he'll have no choice but to be ready, to survive and no choice but to burn it down…at least he hopes so.
A commercial aired for the WWE 2K20 video game that is out on October 22 and you can pre-order now.
A commercial aired for the Crown Jewel pay-per-view on WWE Network on Thursday, October 31 at 1pmET. I'm all for afternoon shows, but last year's Crown Jewel was terrible and this year's Super Showdown was bad too.
Randy Orton made his entrance for a match. Ali got a decent reaction from the crowd. This was set up during a backstage segment on the Kickoff Show. Orton is the captain of Team Flair in the 5 on 5 match against Team Hogan at Crown Jewel.
Randy Orton vs. Ali
Orton was in control early with a hard chop to the chest. Ali came back with punches, Orton with an eye poke, Ali got in a shot, Ali went up top and Orton tripped up Ali to send him crashing to the floor. Orton gave Ali a front suplex onto the announce table. Orton picked Ali up and gave him a back suplex onto the announce table like he loves to do. Orton stomped on the chest of Ali and dumped Ali out of the ring again. Orton went for another suplex on the table, but Ali hit a dropkick to knock Orton down. Orton whipped Ali into the ring post and Ali sells that bump so well. It's not really the ring post because there are screens covering it, but I'm not sure what else to call it. Back in the ring, Orton got a two count followed by an armbar while the camera zoomed in on Ali's ribs having a big scar due to a table bump earlier. Ali got back up, Orton hit him with a knee to the ribs and Ali connected with a dropkick. Ali with a suicide dive that sent Orton over the announce table. The fans were dead for most of this even as Ali attacked Orton with punches. Orton with a punch to the ribs, then he sent Ali into the ring and Ali kicked Orton in the face. Ali with a kick to the face followed by a roll through into an X-Factor for two. Orton came back with a powerslam for a two count. The fans were chanting "RKO" even though Orton is the heel in the match. Ali with a spinning heel kick to the face. Ali went up top, he jumped off with the splash, Orton moved and Ali managed to come back with a Tornado DDT. Ali went up top and he missed the 450 Splash because Orton moved, so Ali hit the mat hard. Orton connected with a draping DDT off the middle ropes. Orton set up for a RKO, but Ali countered it with a headstand and got a rollup for two. Ali with a kick to the face for two, Ali rolled back into the ring and went for a move, but Orton hit a RKO for the pinfall win at 12:10. After the match, Orton tapped Ali's leg as if to say "good job, kid."
Winner by pinfall: Randy Orton
Analysis: **3/4 Good match with the veteran Orton getting the win since he's a team captain at Crown Jewel, so it makes sense to keep Orton strong. Ali did a great job of selling for most of the match and his offense is exciting. The problem with the match is there was no storyline, so the crowd was dead for a lot of it. The last couple of minutes were great and I liked the innovative RKO counter by Ali before Orton connected with a RKO for the win. I think Ali is a face that could do well if they get him an interesting storyline.
There was a commercial for Raw promoting Tyson Fury going to Raw to confront Braun Strowman based on the angle on Smackdown.
Highlights were shown of Natalya beating Lacey Evans on the Kickoff Show with a Sharpshooter submission. After the match, Natalya decked Evans with a Woman's Right punch of her own. It was announced that Natalya will face Lacey Evans in a Last Woman Standing match on Raw. This feud must continue apparently. Lacey will probably get her win back to end the rivalry.
The Women's Tag Team Championship duo of Alexa Bliss and Nikki Cross entered for a title defense that has no build. The Kabuki Warriors duo of Asuka and Kairi Sane entered as the challengers. The crowd still pops for Asuka's music even though Asuka is not booked well.
Women's Tag Team Championships: Alexa Bliss and Nikki Cross vs. The Kabuki Warriors (Asuka and Kairi Sane)
Asuka started out hot with a running hip attack on Bliss and a running knee on Cross for two. Bliss got the tag with a STO trip on Asuka followed by the knee attacks to the ribs and a hard slap got a two count. Bliss with another hard slap and Cross got a two count. Cross with a jawbreaker, Asuka sent Cross to the floor and Cross did her pull the apron spot to trap Asuka. Bliss joined in on the fun, but Asuka came back with a kick to the head. Asuka whipped Bliss into the barricade to take control. Sane with a hard slap on Bliss, then a kick to the back and Asuka was brought back in. Asuka whipped Bliss into the turnbuckle, flying hip attack and Asuka stretched Bliss' back against the ropes. Asuka slapped on an Ankle Lock, Bliss tried to fight it, but Asuka hooked her leg and then Asuka turned it into a Boston Crab. Asuka let go of that leading to Asuka slamming Bliss' head to the mat. Sane with a plank walk, poke to the eyes on Cross and Sane hit a running kick. Asuka slapped on the Ankle Lock again, Bliss rolled out of it and sent Asuka into the ropes. Cross got the hot tag with punches on Sane, who was legal and a corner splash connected followed by a bulldog. Cross with a kick to knock Asuka down. Cross was up top and hit a cross body block on Sane for two. Sane with an Alabama Slam on Cross. Sane went up top and she went for the Insane Elbow drop, but Cross got the knees up to block. Cross hit a neckbreaker off the ropes and Asuka was there to break up the pin. Asuka tagged in, she worked over Cross with kicks to the chest and Cross blocked a roundhouse kick. Cross came back with a clothesline. Sane went after Bliss on the apron, Bliss kicked her away and Bliss hit a dive onto Sane on the floor. The referee was distracted by that, so Asuka spit green mist into the eyes of Cross. The dreaded green mist! Anyway, Asuka hit a roundhouse kick to the head of Cross for the pinfall win at 10:25.
Winners by pinfall and New Women's Tag Team Champions: The Kabuki Warriors (Asuka and Kairi Sane)
Analysis: **1/2 It was a solid match with a surprising finish due to the title change that came out of nowhere since the champs had no feud going into this show. Asuka stood out as the best performer in this match with some great offense, her facial expressions are always great and I liked the green mist usage. Going into the match, I didn't expect a title change, but the tiles were barely featured anyway. I'm not sure if Asuka and Sane will continue to be more heelish like they were a bit here or if they'll continue to be a face team. Bliss and Cross may be broken up in the Draft, so maybe that's why they lost the titles, but I think they have been good together.
Post match, Asuka and Sane celebrated with the titles. Graves mentioned Japanese legends like The Great Kabuki and The Great Muta using the mist in the past. Tajiri too! Asuka had green mist all over her face. Bliss was at ringside wondering what happened with Cross in the ring. Asuka and Sane left with the titles.
A commercial aired for WWE Smackdown on Fox.
The announce team of Cole and Graves talked about this Friday's Smackdown on Fox in Las Vegas. It's the start of the WWE Draft on October 11th.
A video package aired showing highlights of this past Friday's Smackdown on Fox debut. A lot of the video focused on The Rock. It was mostly a good show that had a fresh look to it, but it wasn't that special either. Let's see how they do long term.
The OC trio of US Champion AJ Styles, Luke Gallows and Karl Anderson entered for a tag team match. The Viking Raiders duo of Erik and Ivar made their entrance with a mystery partner.
The partner of The Viking Raiders was…Braun Strowman. Three dudes with big beards. It might as well be him since he had nothing else to do.
Braun Strowman and The Viking Raiders (Erik and Ivar) vs. AJ Styles, Luke Gallows and Karl Anderson
Ivar with a shoulder tackle on Anderson followed by an armbar. Anderson came back with a punch to the throat, Gallows tagged in and punched Ivar. Erik got the tag with a forearm to Gallows followed by a corner dropkick and an overhead suplex. When Erik tried a running attack, Styles kicked him in the head to give the heels control of the match as Gallows hit a roundhouse kick to the head of Erik. Gallows with a fallaway slam on Erik. Styles tagged in, he tried punching the faces on the apron, but Strowman blocked it and Gallows kicked Strowman after a cheap shot. Styles with a Pele Kick on Erik for a two count. Anderson tagged in with a spinebuster on Erik. Styles tagged in, punched Ivar off the apron and Erik hit a back body drop on Styles. Strowman got the hot tag to a big pop and ran over Styles with shoulder tackles. Strowman with a running corner clothesline on Styles. The three heels were on the floor, so Strowman did his shoulder tackle train to run over Gallows, Anderson and Styles. Back in the ring, Strowman charged, Styles moved and Strowman went running shoulder first into the ring post. Strowman does that bump in nearly every match. Styles slapped on the Calf Crusher submission on Strowman. Erik with a knee on Styles, Erik tossed Anderson out of the ring, Gallows kicked Erik out of the ring, Ivar did his cartwheel spot into a clothesline on Gallows. Styles came back with a Phenomenal Forearm on Ivar. Strowman picked up Styles looking for the Powerslam, but Anderson hit a chop block on Strowman's left leg. Gallows kicked Strowman in the head. Anderson stomped on Strowman leading to a quick DQ call by the referee at 8:15. The fans booed that finish.
Winners by disqualification: Braun Strowman and The Viking Raiders (Erik and Ivar)
Analysis: *3/4 It was just a decent match with a weak finish. I'm not sure why they needed to do the cheap DQ ending and not just have Strowman get the win. It's probably because they'll do the match again on Raw. It's not like there was a storyline going into this.
The Viking Raiders duo went back in the ring. They cleared the ring by sending Styles, Gallows and Anderson to the floor. Erik and Ivar hit suicide dives to take out Gallows and Anderson. Strowman sent Styles into the corner, Styles with a Phenomenal Forearm attempt, but Strowman blocked it with a punch to the face. The announcer Vic Joseph wondered if it was a direct message to boxer Tyson Fury.
It was announced that Tyson Fury will be on Raw to talk about his situation with Braun Strowman.
Styles did a good job of selling the attack by telling Gallows and Anderson that he was fine. Instead, Styles was hobbling around the ring while G&A tried to help him get out of there. When Styles posed with the US Title on the stage, he fell over.
Analysis: The Strowman angle with Fury was set up at Smackdown, so that's why they had Strowman knock out Styles with one punch. It puts over the idea that Strowman has knockout power.
The Street Profits duo of Montez Ford and Angelo Dawkins were there for a backstage promo. Ford was talking about the show while Dawkins was looking at his phone. They said that there's a "Draft Showcase" on Raw this week. Ford asked Dawkins who he has top five in the draft. Dawkins told him he didn't even have a Wikipedia page. There was some commotion as Tamina appeared and gave the ROLLUP OF DEATH~! to 24/7 Champion Carmella to win the title. R-Truth was there and he was knocked down as well.
New WWE 24/7 Champion: Tamina
Tamina grabbed the title, Tyler Breeze showed up and Tamina decked him with one punch. Truth asked what way they went, Street Profits pointed in opposite directions and Truth told Carmella they should go to the stairs. Carmella wondered what stairs.
It was back to the announce team with Cole asking Graves if he'll be okay (because Corey's girlfriend Carmella lost the 24/7 Title) and Graves said he'll be fine.
There was a video package about the feud between Baron Corbin and Chad Gable with Corbin becoming King of the Ring while Gable ruined his coronation ceremony.
They introduced Baron Corbin as "King Corbin" with Corbin wearing the robe, crown and scepter. The fans booed. There were some brief "STD" chants after Rock started that on Smackdown, but it wasn't much. Chad Gable entered as the opponent.
Corbin left the ring for a promo with the fans chanting "STD" (super tough dude) at him. Corbin said he was disappointed that he had to face Gable again especially after Smackdown when put The Rock in his place. Corbin said he's out there to give us all a little glimmer of hope. Corbin said no matter how bad you have it, Chad Gable always has it worse. Corbin said that Gable isn't going to be tall enough to be taken seriously and he said he hopes his career is just like his legs…short. Corbin said that as our king, he now dubs thee as "Shorty Gable."
Analysis: The short jokes are so lame. I know WWE thinks that it will get sympathy for Gable, but it's reached a point where it's just annoying and isn't going to help anybody. Also, there were rumors that WWE may change Gable's official ring name to "Shorty Gable," which would be awful.
"King" Baron Corbin vs. Chad Gable
Gable with a rolling kick on Corbin against the ropes. Corbin came back with a move where he slid Gable under the bottom ropes, which sent Gable shoulder first into the ring post. Corbin whipped Gable hard into the turnbuckle. Graves claimed that the KC Royals are called that name because of Corbin being the King now and Cole noted they have had that name over 50 years. It was a weak joke by Graves. Corbin punched Gable out of the ring after fans chanted "STD" at Corbin. Gable got back into the ring, they exchanged moves and Corbin did his slide out of the ring, go back in spot for a clothesline that Gable sold with a flip. Corbin worked over Gable with forearms to the back. Graves continued the short jokes about "Shorty Gable" with Cole continuing to say Chad. Gable started a comeback with a missile dropkick. Corbin missed a charge, he did his slide back in the ring and Gable tried an attack off the ropes, but Corbin hit a spinebuster for two. Gable hit a headscissors followed by a basement dropkick. Gable hit the impressive Chaos Theory roll into a bridging German Suplex for a two count. Gable with two running kicks into the turnbuckle, he went for another one and Corbin hit a Powerbomb for two. Gable wrenched the left arm of Corbin against the top rope and Gable drove Corbin's left leg into the ring post two times. Gable got a rollup. Corbin hit the Deep Six slam for a two count, which is the usual for that move. Corbin punched Gable repeatedly and told him to stay down. Gable was sent to the apron, shoulder to the ribs, Gable with a kick to the ribs and a flipping neckbreaker. Gable up top and he hit a perfect moonsault for a two count. Good nearfall there. Gable slapped on the Ankle Lock submission, Corbin crawled under the bottom rope and went to the floor. Gable charged, Corbin grabbed him and hit a Chokeslam on the apron. Corbin grabbed his black scepter from ringside, he went in the ring, the referee took the scepter and Gable hit the ROLLUP OF DEATH~! on Corbin for the pinfall win at 12:40.
Winner by pinfall: Chad Gable
It was announced that "Shorty Gable" was the winner of the match. Cole yelled about Greg Hamilton saying Shorty Gable and Graves said that was his name.
Analysis: **1/2 It was fine, but not at the level of their previous matches. That ROLLUP OF DEATH~! is so deadly as we all know. The King of the Ring final match was nearly four stars, so this really wasn't close to what they did there. The booking of Corbin since winning King of the Ring hasn't been good at all. Gable's a tremendous wrestler that sells everything so well and his offense is believable. Corbin usually has better matches with Gable than this, but this just felt like they were off their game a bit. Since WWE loves 50/50 booking so much, Corbin will probably beat Gable on TV this week.
A commercial aired for NXT on USA Network this Wednesday.
A commercial aired promoting the WWE Draft on Smackdown on October 11 and Raw on October 14.
It was back to Cole and Graves at ringside talking about the WWE Draft. They did not specify who is picking the superstars for Raw and Smackdown. Graves said that the battle for brand supremacy will begin anew. It would be nice if they explained some more about it like if they are starting over completely or just moving people around. I guess we'll find out soon enough.
Charlotte Flair made her entrance and she got a brief pyro display for her entrance. Replays aired from Smackdown with Flair making Bayley tap out to the Figure Eight submission in a tag team match. Bayley was up next as the Smackdown Women's Champion. Bayley noted on social media that she's wrestled on every PPV this year, so that's mildly impressive by her.
The international announcer's row was shown: Portuguese, Russian, Mandarin, Hindi, French and Japanese (hey Funaki). They showed Tamina walking around with the 24/7 Title. She went over to where the announcers were and she went over to where Funaki was. Truth teased a martial arts fight with Funaki, who did some posing of his own and Tamina pushed Funaki away. Carmella showed up, hit Tamina with a superkick and Truth pinned Tamina to win the 24/7 Title.
New 24/7 Champion: R-Truth
Truth ran away with Carmella on his back. Graves said that he hopes he can finally get some sleep (since girlfriend Carmella is no longer champion). That means Truth is now a 20-time WWE 24/7 Champion.
Flair and Bayley stood in the ring for the introductions. They were both cheered to some degree. When they said Bayley was from San Jose, fans cheered because it's close to Sacramento. In terms of storylines, Bayley is more of a heel and Flair is back to being a face.
Smackdown Women's Championship: Bayley vs. Charlotte Flair
Flair with a neckbreaker followed by a head whip slam into the mat. Flair with hard chops. Bayley missed a cross body block and Flair slapped on a Boston Crab submission. Bayley got out of it, then Bayley did an eye rake while the referee was keeping Flair back and Bayley took over with punches. Flair with chops followed by an overhead suplex. Flair decked Bayley with a forearm. Bayley grabbed the legs of Flair and pulled her from the apron onto the floor. Bayley drove the left foot of Flair into the LED boards at ringside three times. Bayley continued working on the leg by whipping Flair's left leg into the ring post. The crowd was dead for this match at this point. Bayley hit a neckbreaker off the ropes. Bayley wanted a Figure Four Leglock, but Flair countered into a two count pin attempt. Flair was on the apron and she kicked Bayley in the head to knock her down. Flair drove Bayley's left leg into the ring post two times followed by a chop block to the left knee. Flair kicked the back of the leg of Bayley. Flair hit the Natural Selection neckbreaker for a two count because Bayley got her hand on the ropes. The fans barely reacted to that. Flair with a jumping knee drop to the leg of Bayley. Flair went up top and went for a moonsault, but Bayley got the knees up to block. Flair was bleeding from a lip or a tooth. She had some blood in the mouth. Sometimes it's hard to notice stuff like that considering how big Charlotte's…teeth are. Yeah…teeth. Anyway, Bayley charged at Flair and Flair hit an overhead suplex on the floor. The fans chanted for both women as Flair sent Bayley's leg into the LED board. Back in the ring, Bayley got a small package for two. Bayley got a rollup by the ropes and put her legs on the ropes for leverage, but the referee saw it and correctly stopped the count. Bayley talked to the referee about it. Flair with a boot to the face. Flair slapped on the Figure Four leading to the bridge into the Figure Eight submission and Bayley tapped out for the loss at 10:15.
Winner by submission and New Smackdown Women's Champion: Charlotte Flair
The win means that Flair is a 10-time Women's Champion on the main roster. She has the most title reigns of any woman in WWE history and she's only been on the main roster for four years.
Analysis: **1/2 It was just an average match. Flair has had some great matches with Lynch and Banks, but when it comes to Bayley the matches are just average. That's not a knock on Bayley, who had some great matches against Banks in the past as well, but it's just a comment about the styles of matches these two women have. Each woman worked over the knee of the other, but then they didn't sell that much. Anyway, Flair winning the title didn't surprise me because she has been pushed so heavily on Smackdown in the marketing of the show and in interviews. I can see Bayley being moved to Raw after this, which is why I picked Flair to win the title.
Flair held up the title in the air as Cole and Graves talked about how great Flair has been because she made history again as a 10-time champion. Graves noted it was a bad night for Bayley and Banks after losing their title matches. Flair laughed at Bayley and left with her title. Bayley threw a tantrum at ringside and knocked the ring steps over. Flair's music stopped and the camera focused on Bayley. Bayley: "Why does it always have to happen to me?" Bayley shoved the referee and she cried about the loss…or at least she acted like she was crying.
Analysis: The camera focusing on Bayley after the loss so much is rare. It was likely done because they might make Bayley more of an aggressive heel after she lost the title. Her heel turn has been okay so far, but she hasn't embraced it. This may lead to Bayley doing more of a heel thing where she rips on the fans, stops having the "Bayley buddies" for entrance and maybe changing her look a bit too.
There were commercials for WWE Shop and Crown Jewel on October 31.
Chad Gable was shown walking backstage with a smile on his face. Kayla Braxton showed up and called him "Shorty" and Gable said it's fine because he won the match. Gable told her to find Baron Corbin to ask him how it felt to come up "short" in the match. Gable said that Corbin called him a joke, but tonight we finally saw that Gable is the bigger man. Gable walked down the hallway and Corbin punched him repeatedly for a cheap attack. Corbin tossed him into a door and Gable was down by a stairwell.
Analysis: What I said earlier about Corbin likely getting the win back is probably going to happen especially after this attack.
There was a video package for the Universal Championship match between Seth Rollins and The Fiend Bray Wyatt. Basically, Wyatt scared Rollins repeatedly and Rollins was made to look like a bitch over the last month and WWE wants fans to support a guy like that.
Seth Rollins made his entrance with the Universal Championship around his waist. Rollins got a decent reaction, but it wasn't anything special for a main event champion. Rollins entered the red Hell in a Cell structure looking ready to go.
The Fiend Bray Wyatt made his entrance that looked spectacular with the lights going out in the arena and then there were red spotlights as The Fiend made his entrance. It's very cool to see the entrance for just the second time after he beat Finn Balor easily at SummerSlam two months ago.
WWE Universal Championship: Seth Rollins vs. "The Fiend" Bray Wyatt
The red light remained during the match, which isn't what I hoped they would do, but it was about The Fiend being in his element. Fiend hit a headbutt to the chest with Rollins bailing to the floor. Rollins grabbed a kendo stick, he attacked with it, Fiend no sold it and Fiend hit a uranage slam. Fiend whipped Rollins into the cage two times. Fiend with a running splash on Rollins against the cell. Fiend whipped Rollins into the steel steps at ringside two times in a row. Rollins grabbed the steel steps and hit Fiend with the steps three times. Rollins brought a table into the ring. Rollins with a suicide dive that sent Fiend into the cell and Rollins did it a second time. Rollins set up the table in the ring, he went for another suicide dive, but Fiend caught him and sent Rollins face first into the cell. Back in the ring, Rollins fought off an attack with a kick to the head and a superkick. Rollins went up top and hit a Frog Splash on Fiend through the table. It looked like Rollins nearly jumped too far, but the table still broke. Fiend got up first. Rollins with a kick to the ribs, Rollins hit The Stomp and Fiend stood up from that with the fans cheering. Rollins charged again, but Fiend stopped him with the Sister Abigail neckbreaker for a two count. Good nearfall. Fiend did a necksnap move where he twisted on the neck of Rollins.
The Fiend went under the ring where he grabbed a huge mallet. Fiend used the mallet to drive Rollins back first into the cell. Rollins came back with two superkicks, then another kick and Rollins hit The Stomp on Wyatt's head onto the mallet. Back in the ring, Rollins with a springboard knee to the face two times. Rollins with two more superkicks and The Stomp by Rollins again. Rollins hit The Stomp again, The Stomp again, The Stomp again (the fans were booing) and Fiend got back up as the fans cheered. Rollins hit a Pedigree in the center of the ring and another Stomp for a one count. Fiend got back to his knees, Rollins hit another Stomp, then another Stomp, the Stomp connected again (more booing from the fans) and yet another Stomp from Rollins. Fiend tried getting up, but Rollins hit him with another Stomp. Rollins bailed to the floor where he brought a steel chair into the ring. Rollins stood over Fiend and it looked like a chair to the head, but clearly he hit the mat with the chair. Fiend kicked out at one. Rollins grabbed a ladder, he put the chair on Fiend's head and Rollins drove the ladder into the chair for a two count. The fans cheered for the kickout. Rollins brought a toolbox into the ring. Rollins grabbed the toolbox and hit it against the ladder and chair that was on the head of Wyatt. The fans were booing this even though Rollins was supposed to be the babyface. Rollins grabbed a sledgehammer from under the ring, which was the preferred weapon of choice of Triple H. Rollins wanted to use the sledgehammer, but the referee Rod Zapata told Rollins not to do that. Rollins ended up using the sledgehammer against the ladder and chair that was on Fiend's head. The referee called for the bell right there. It went 17:30. The fans booed loudly for that finish. They HATED it.
Match Result: No Contest (Seth Rollins remains Universal Champion)
(There was a lot of confusion about the finish and the result. A lot of people thought it was a DQ, but PWInsider reported that the "official idea is the bout was stopped" so that would be No Contest. On WWE.com's writeup of the match, they said "match stoppage" was the ending. If I was writing live I would have thought it was a disqualification too. Nothing was announced, though.)
Analysis: -* Brutal. That's negative one star. And I fucking hated the red light. That was a terrible finish to this match. I absolutely hated it. I guess it's a case of WWE not wanting Rollins to lose the title and realizing that The Fiend doesn't need the title. If that's the case then why book the match in the first place? The first half of the match was The Fiend in control for most of it and then the last five minutes was pretty much all Rollins, yet you heard the crowd booing because they hated how the match was booked. I don't blame them. I hated it too. This is one of the worst WWE PPV main event finishes in a long time and I remember them all pretty well. I'm also not a fan of the red light for the whole match. They should have it for Bray's entrance, but it's not needed for the match. This match made Rollins look like such a loser as well and he's supposed to be your top babyface on the show! No wonder the fans were booing the guy while he was hitting his finishing move. What was the point of hitting The Stomp so many times? I guess the story could be that The Fiend kept getting up from it and that showed how tough The Fiend was, but it was terrible for Rollins because it made him look so weak. Perhaps you can say this was a positive match for The Fiend in terms of making him look like a badass that you can't put away, but The Fiend also laid on his back for like five minutes doing absolutely nothing while Rollins tried to beat him. It dragged on as a match and the result didn't help either guy in the long run.
There was no official announcement on the match result. The red light remained around the ring as the Hell in a Cell structure was raised. The fans chanted "Bullshit" for that ending. There were EMTs in the ring checking on Wyatt and there were "AEW" chants. Rollins checked on The Fiend, but then The Fiend got back up and put the Mandible Claw on Rollins. The fans cheered for that. There was blood coming from Seth's mouth to sell the attack. The Fiend hit the Sister Abigail neckbreaker outside the ring. I think the fans were chanting "restart the match" at this point. Fiend pulled the mat off the cement floor, he grabbed Rollins and hit the Sister Abigail neckbreaker on Rollins on the cement.
The Fiend gave Rollins the Mandible Claw submission move again. The lights flickered on and off in the arena again. The fans were booing loudly again.
The Fiend was shown on the stage, the spotlight was flashing on and off him, he laughed and you could still hear fans booing. The Wyatt laugh played. That was the end of the show.
Analysis: The fans were right to shit all over this because if I was there I would be booing too. Clearly, WWE didn't want to book an actual finish and this was the best idea they could come up with, which was a terrible idea after all. I'm pretty sure anybody watching this is going to remember the fans booing and chanting about how much they hated this match more than they are going to remember the storyline WWE tried to tell us. This match did not help The Fiend character at all. It was almost as bad as the House of Horrors match against Randy Orton two years ago too. The fans were strongly behind The Fiend for being different and now because of this match, his character has been hurt.
If we are to blame anybody for this then it's probably on Vince McMahon, who has the final say on everything. I'm not sure if somebody else came up with this idea, but it's up to Vince to approve things. I can't imagine coming up with this idea and thinking that's a great idea. As I have said and many others I'm sure, it was not the right move to do Rollins vs. The Fiend for the Universal Title. It felt like it was too soon and then when you see how this was booked, clearly WWE didn't know how to book a good finish for it.
There used to be some prestige surrounding Hell in a Cell matches to make them feel like a big deal. Instead, for the second year in a row, they had a non-finish to the main event of the HIAC PPV. It's as if WWE wants to kill the gimmick of the cell. Bad booking will do that.
If you turn on closed captioning for the final scene of the PPV, this is what you'll see.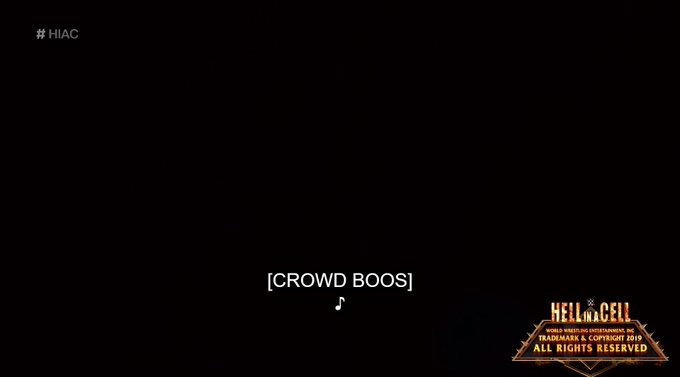 I think that says it all. Crowd boos. And they should.
This event had a run time of 3:17:00 on WWE Network.
If there's a positive thing to say about the show it's that it didn't run too long at just over three hours. They could have cut out some of it and ended before three hours too and I think it would have helped a bit.
Five Stars of the Show
Becky Lynch
Sasha Banks
Daniel Bryan
Roman Reigns
Erick Rowan/Luke Harper
Final Thoughts
It gets a 3.5 out of 10 from me.
This was a bad PPV where WWE only promoted three matches for the last month, added a fourth after Smackdown and everything else was thrown together on the day of the show. Weak effort. You have to be better than this WWE if you don't want fans chanting "AEW" and "refund" during your damn main event! This was the worst of the PPVs that have taken place in America, but I think Super Showdown was worse. The reason I say that is because I really enjoyed the Lynch/Banks and Tornado Tag Team matches. Everything else was just average or awful including the finish to the main event, which was ridiculous. There's probably somebody reading this thinking I am "too nice" for not giving a lower score, but those first two matches were very good and I thought some of the others were decent even though they were not built up at all. Yes, the main event was bad, but I'm not giving a show a score of 2 when there are two strong matches to start the show.
It was a poor effort by WWE's creative team when it comes to this show. I don't blame the talent. They work hard and do the best they can. I realize that WWE's main focus was Smackdown two days before this show, but they still could have done more to make Hell in a Cell feel more important. I'm shocked that WWE can produce a PPV this bad considering how talented the roster is. I don't blame the fans for being negative about Hell in a Cell 2019. It was a shitty show. WWE needs to be better than this.
Here are my rankings of 2019 WWE PPVs so far with a score out of 10:
WrestleMania 35 – 7.5
Elimination Chamber – 7.5
Fastlane – 7.5
Royal Rumble – 7
SummerSlam – 7
Extreme Rules – 7
Stomping Grounds – 6.5
Clash of Champions – 5.5
Hell in a Cell – 3.5
Super Showdown – 3
I'm sure people reading this today will think Hell in a Cell was worse, but read the Super Showdown review again. At least HIAC had two very good matches. Super Showdown had nothing above average.
===
Thanks for reading this review. My contact info is below. I'll be back during the week with Raw and Smackdown reviews as usual.
Email: mrjohncanton@gmail.com
Twitter: @johnreport