The John Report: The WWE Raw Deal 09/05/22 Review
This week's WWE Raw featured Bobby Lashley defending the US Title against The Miz in a Steel Cage match and all the fallout from Clash at the Castle.
The WWE Clash at the Castle event was a huge success because they had a massive show in front of 62,000+ fans in Cardiff, Wales and it was a lot of fun to watch. Check out my review here in case you missed it. The next WWE Premium Live Event (or pay-per-view as we used to call them) is Extreme Rules taking place in Philadelphia on October 8th. Thank you for supporting us at TJRWrestling as we continue to grow, add more content in terms of news posts, feature columns and of course, I'm always doing reviews.
It's the last Raw before the NFL is back for Monday Night Football next week. What that means for me is I'm not going to be doing live reviews of Raw every single week anymore, but I will try to get the Raw Deal posted after I finish watching the NFL game that week. Sometimes it might be early Tuesday morning too. It depends on how tired I am. There might be some weeks where the MNF game isn't appealing so I will do the Raw review live, but most of the time I won't get the Raw review done until after midnight if there's an NFL game. Once we get to 2023 I'll go back to doing Raw live most weeks. Smackdown is usually done live on Fridays and that won't change.
This is the Raw Deal for episode #1528 of Monday Night Raw. It's taking place at the T-Mobile Center in Kansas City, Missouri. Follow me on Twitter @johnreport. Let's get to it.
The Raw intro video aired. After that it was a shot of the KC crowd. Edge made his entrance after that to a big pop. The commentary team of Jimmy Smith, Corey Graves and Byron Saxton recapped what happened at Clash at the Castle when Dominik Mysterio attacked Edge and Rey Mysterio after Edge/Rey beat Judgment Day in tag team action.
Let's Hear from Edge
Edge: "Dominik Mysterio." Edge said that he's known him since he was five years old and they had fun in the backstage area. Edge talked about how he would stay at Rey's house when they would be in the San Diego area. Edge spoke about how he calmed Dominik down last year before his first match in front of a live audience. Edge said Dominik felt like a nephew to him, so what's going on? Edge said he apologized when he accidentally hit Dom with a Spear. Edge said that his heart told him that he didn't need to worry about Dom. Edge spoke about how he didn't come back to get between Rey & Dominik, he came back to help because Judgement Day is his responsibility. Edge talked about how he knows Rey raised Dominik better than that. Edge looked into the camera saying he's looking at Dominik like a WWE superstar and a man's game pays a man's price. Edge told Dom to come down to the ring now while adding that they aren't going to talk, Edge is going to beat his ass.
Rey Mysterio made his entrance with a serious look on his face as he got into the ring with Edge. Rey got into the ring telling Edge saying that he's asking for an apology on Dom's behalf. The fans booed that with Rey saying he Dom is still his son. Edge said that Rey knows that Edge loves him, so Edge reminded Dominik that he's old enough to drive, to drink, to be in this ring and to stand up for his actions. Edge called for Dominik again.
It was Rhea Ripley from The Judgment Day group. Ripley stood by the entrance area telling Edge to calm down because they got what was coming to them. Rhea said that Edge thought he could replace Dominik and Rey thought he could protect Dominik because he was his baby boy. Rhea said that Dominik is not Rey's baby boy anymore because Rhea saw the potential in him and she made Dominik into a man. Dominik walked out from the backstage area in all black attire with his hair slicked back.
Rey told Dominik to snap out of it saying he still had time to make amends with Edge and to make things right. Rhea said that Dominik isn't going to listen to Rey anymore and he can't fight Dominik's battles for him. Rhea told Edge that he is past his time because he can't stop his judgment day.
Rey said he didn't want to be a part of this, so he left the ring and stared at Dominik in the aisle. Rey told Dominik not to do this, but Dom was ignoring his father. Dominik refused to look Rey in the face while some fans chanted "Eddie's son" and Rey walked to the back.
Finn Balor and Damian Priest jumped Edge from behind for a double team attack. Edge fought them off briefly, but then Dominik went into the ring with a chop block to knock Edge down. Balor wrenched on Edge's knee while Balor/Priest attacked Edge. Rey tried to get back into the ring, but Dominik pushed Rey back. Ripley hit Rey with an elbow and sent Rey into the steel steps. Priest hit the South of Heaven slam on Edge. Ripley gave Dominik a chair leading to Dominik giving the chair to Edge. Balor used a steel chair to hit the back of Rey's left knee. Balor placed the chair on the left knee while Priest held Edge and Balor jumped off the top with a double foot stomp on the chair that was on Edge's knee. Rey got back in the ring so Judgment Day. The J-Day foursome of Priest, Balor, Dominik and Ripley walked away together while Edge was down in the ring with Rey checking on him.
Analysis: That was a good angle. It's a bit unrealistic to have nobody try to help Edge like WWE Officials or referees, but I get why it was done this way to get heat on the heels for the attack. They can certainly do Edge vs. Finn Balor as a big singles match since Balor was the one that did the double foot stomp onto the chair on the knee. Maybe Extreme Rules or maybe Crown Jewel for that depending when Edge wrestles again. Dominik joining The Judgment Day will be good for him because he'll get heat and won't have to do so solo promos while also wrestling in tags. They can obviously get to Dom vs. Rey at some point down the road even though Rey will be hesitant to do it.
(Commercial)
The Miz was shown arriving earlier in the day with Tommaso Ciampa (he has the first name back) with Sarah Schreiber asking Miz about last week. Miz claimed nothing happened last week, he flew home and then went on vacation with his wife. They showed a car in the parking lot that was flipped over as Miz/Ciampa walked by it wondering what happened.
Analysis: There's the car flipped over teasing something and that Miz story where he's stalked by Dexter Lumis will continue as well.
The New Day's Kofi Kingston and Xavier Woods entered for a four-way number one contender's tag team match. They are from Smackdown, but we know the brand extension isn't very strict. The other teams were Alpha Academy, Los Lotharios and the Street Profits.
Analysis: The Viking Raiders beat The New Day on Smackdown last week and are not in this match. That's weird. I like New Day of course, but if they just lost last week then the team that beat them should be in the match as well. Street Profits beat Alpha Academy last week as well, but at least both of them are in the match.
Fatal 4-Way Number One Contender's Tag Team Match: The New Day (Kofi Kingston & Xavier Woods) vs. Alpha Academy (Chad Gable & Otis) vs. Los Lotharios (Angel & Humberto) vs. Street Profits (Montez Ford & Angelo Dawkins)
The winners of this match get a Tag Team Title match. Two guys are legal in the ring while the other six are on the apron and the first fall wins.
They started the match leading to Kofi and Woods tagging in, so they had to face off as the two legal men with Woods laying down for Kofi. After Kofi tried to cover, the other teams broke it up. New Day cleared the ring and then Kofi/Woods each hit dives over the top of the guys on the floor. That led to a break.
(Commercial)
Ford was legal with Humberto, then Gable tagged in against Ford and there was an enziguri by Ford leading to Dawkins tagging in. Dawkins with a jumping back elbow on Gable, then a corner splash, Dawkins with a jumping kick on Gable, Dawkins with a double underhook slam, Kofi with a jumping knee and Dawkins launched Kofi over the top onto a few guys on the floor. Dawkins jumped over Gable followed by Dawkins jumping over the top to the floor. That was impressive. Gable was legal against Ford, who landed on his feet and Dawkins launched Gable into a suplex by Ford for two because Otis made the save. Otis with a back elbow on Dawkins. Otis tagged in, Angel back in with a superkick because I guess he tagged in and six of the guys were on opposite corners. Kofi with sunset flip powerbomb on Dawkins, then Woods was superplexed and Humberto jumped off the top, but Gable caught him with a German Suplex. Otis was legal, so he jumped off the middle rope with a splash on Ford and Kofi broke up the pin with a double foot stomp. That led to a break.
(Commercial)
Ford with a jawbreaker on Otis, Gable tagged in and Ford hit a body slam on Otis. The fans popped for that because it was an impressive body slam on a big man. Both of the Lotharios hit moonsaults off the middle ropes onto guys on the floor. Ford hit a Frog Splash off the top on Otis, but Gable was legal and he applied an Ankle Lock. All of a sudden, Braun Strowman's music hit and the former Universal Champion was back in WWE! The fans popped huge for Braun as walked down to the ring shirtless with some red pants. Strowman got into the ring while the referee bailed to the floor and Strowman destroyed Gable with a clothesline. I guess that's it for the match. It was around 14 minutes.
Match Result: No Contest
Analysis: **3/4 It's hard to rate since the match was thrown out without a result, so maybe we'll see it again on Smackdown or next week on Raw. This was about putting over Strowman to show that he is back in WWE.
Strowman punched Angel, Humberto jumped off the top and Braun caught him leading to a Chokeslam. Otis was on the apron, so Braun ran him over to knock him off the apron to the floor. Security went into the ring, Braun with a couple of clotheslines, a body slam and Braun hit a Powerbomb on a security guy. The fans cheered loudly for Strowman, who did the signal to run around the ring. Braun ran over Otis by sending him through the barricade. Braun with a body slam on the floor. Braun cleared off the announce table, Braun picked up Dawkins and gave Dawkins a powerslam through the table at ringside. The fans were going wild for Braun, who appears to be in the best shape I've ever seen him because he's ripped. They went to break. I know they are doing picture-in-picture, but Sportsnet here in Canada doesn't show it.
Analysis: That was an ass kicking. I didn't expect Braun to show up like that, but he was reported as coming back to WWE and there he is. Braun looks like he's in the best shape of his life. If you follow him on social media you know he's eating right, was always training, did some indies obviously post WWE and also was able to rest his body after WWE released him too. Good for him coming back after being released from WWE last year. I always thought Braun was a guy that could come back some day instead of working for another promotion. We know the Control Your Narrative thing existed, but it didn't really take off. Anyway, Braun was released by WWE in June 2021 and now he's back about 15 months later.
(Commercial)
Braun Strowman was shown leaving the ring. Remember the car that was flipped earlier in the show? That was a tease for Braun coming back. They replayed Braun dominating the wrestlers in the tag team match.
The Women's Tag Team Champions Raquel Rodriguez & Aliyah were up next. Speaking of Braun, Raquel used to date Braun and they are still a thing. I don't know, but if they are then I guess it's a good thing he is back in WWE so he can be with her more often. Anyway, they showed Aliyah rolling up Dakota Kai last week to win the Women's Tag Team Titles last week. Graves hinted that the win was tainted to SKY & Kai without saying that Kai was not the legal woman in the match. I guess WWE isn't running with that as an angle. Nikki A.S.H. & Doudrop were the opponents after failing to win the NXT Women's Tag Team Titles at NXT Worlds Collide on Sunday.
Raquel Rodriguez & Aliyah vs. Doudrop & Nikki A.S.H.
This was not a title match. Doudrop worked over Aliyah a bit while Damage Control's Bayley, Dakota Kai & IYO SKY were shown watching on a TV backstage. Jimmy mentioned the illegal competitor being pinned last week. Nikki kicked Aliyah's arm to stop a tag, but then Raquel managed to get the tag. Raquel ran over Nikki with a shoulder tackle, then a shove across the ring and Raquel hit a fallaway slam on Nikki. Raquel went for a slam on Doudrop, who was legal, but that didn't work and Doudrop got a trip followed by a senton splash for two. Aliyah tackled Nikki on the floor, that distracted Doudrop, who was on the middle rope. Raquel picked up Doudrop for an impressive Texana Bomb for the pinfall win after about four minutes.
Winners by pinfall: Raquel Rodriguez & Aliyah
Analysis: ** A quick match to put over Raquel's power by hitting her finisher on Doudrop off the ropes. It was a good spot to do to end the match. Aliyah didn't do much, but at least taking out Nikki on the floor allowed Raquel to focus on Doudrop for the win.
Rey Mysterio was interviewed by Megan Morant, who asked Rey about where things stand with Rey and his son Dominik. Rey said he loves his son Dominik, he needs to speak with his son privately and Judgment Day is trying to ruin his life. Rey said that they just took out Edge, who is like family to him. Rey said that he's not going to put his hands on his son, but he's challenging Damian Priest or Finn Balor to a match. They can take their pick.
A commercial aired for NXT on Tuesday after the NXT & NXT UK Titles were unified at Worlds Collide. Bron Breakker remains the NXT Champion, Mandy Rose is still the NXT Women's Champion and Pretty Deadly won the NXT Tag Team Titles as well. The NXT UK Titles will be gone now.
(Commercial)
There were images shown of Clash at the Castle as well as some media coverage covering the show.
They showed Sheamus getting a standing ovation after his brutal war against Intercontinental Champion Gunther. I think that was an incredible match that is one of the best WWE Matches of the Year (I rated it five stars out of five) and perhaps the best match that Sheamus had. I'm so happy Sheamus got that standing ovation. That was such a fun match to watch and write about.
Let's Hear from Austin Theory
Austin Theory made his entrance with the Money in the Bank briefcase. Theory did a promo about how even though he failed his cash in (because Tyson Fury punched him in the face), he's still holding Money in the Bank and he's going to be the future Undisputed Champion. Theory kept on saying that he was going to end the title reign of Roman Reigns and become the new Undisputed WWE Universal Champion.
Kevin Owens interrupted Theory mocking him for his jaw. Owens also made a joke about how he can call Theory by the name Austin Theory because he has two names again. Owens said that Fury did Theory a favor because if Theory tried to cash in, Drew or Roman would have put him into the ground and would have lost the opportunity forever. Theory said that Owens talks about championships, but he hasn't won one in years. Theory said that he wins championships and he's Mr. Money in the Bank. Theory said Owens can be first in line after Theory becomes the Undisputed WWE Universal Champion. Owens talked about how if it wasn't for Jey Uso and Paul Heyman then he would have ended Roman's title run six months into it. Owens complained about how he wasn't in the Money in the Bank Ladder Match then he would have won Money in the Bank and would have been the guy to take Roman Reigns down. Theory said that sounds like a fairytale, but he thinks this is reality and Owens is trying really hard to stay relevant. Owens said that's why he is where he is today. Owens said that Theory was the hand-picked future of WWE, but not any more. Owens told Theory that any second now, a referee is going to slide into the ring and the next thing that happens is a guy says "enough talking, let's fight" and the match is on.
Analysis: Great promo by Owens as usual. His promos since the Triple H era running creative have been amazing and I like that he's back into a face role for now because the fans want to cheer him. Theory did his usual heel promo that he does all the time about what he's going to do with the briefcase. It's repetitive because that's what heels do to annoy the fans.
Kevin Owens vs. Austin Theory
Theory left the ring right away, so Owens left the ring and hit a clothesline on the floor. Owens chopped Theory a few times. Back in the ring, Theory punched Owens a few times and Owens hit a clubbing clothesline in the corner. Owens hit the cannonball splash against the turnbuckle. Owens hit a Frog Splash off the apron on Theory on the floor.
(Commercial)
The match returned with Theory sending Owens out of the ring, but that was a mistake because Owens sent him into the barricade. Owens sent Theory into the top of the commentary table and back into the ring. Theory was able to come back with the roll through dropkick to knock Owens down. Theory grounded Owens with an armbar following replays of Tyson Fury punching Theory at the Clash show on Saturday. Owens broke free with punches, Theory with a kick to the chest and Owens hit two clotheslines. Owens bounced off the ropes with a clothesline sending Theory out of the ring. Owens went for a senton splash off the apron on the floor, but Theory got the knees up and Owens was selling a back injury.
(Commercial)
There was picture-in-picture action according to some friends tweeting me, but that's not shown here in Canada on Sportsnet. Anyway, Owens shoved Theory off the top rope and Owens hit a Frog Splash for two. Owens to the turnbuckle, Theory picked up Owens on his shoulders followed by a spinning sitout slam for a two count. Theory picked up Owens, but Owens slipped to his back, Owens hit a superkick and Theory avoided the Popup Powerbomb attempt. Theory with a boot up, Owens charged, Theory moved and Owens hit the ring post. They were on the floor with Theory sending the back of KO's head/neck into the steel steps. Owens took that bump great by hitting the steps with his hands to make the noise. Owens got back in the ring before the ten count. Theory hit a cradle suplex into the knee for a backbreaker for a two count. Theory wanted a superplex off the top rope, but Owens blocked it with punches that knocked Theory down. Owens was on the middle turnbuckle, Owens hooked the leg and Owens hit the fisherman's suplex off the middle ropes like he loves to do. The fans were cheering for KO a lot. KO hit a Popup Powerbomb with no pin attempt, then a kick to the gut and Stunner for Owens for the pinfall win. This match went about 18 minutes.
Winner by pinfall: Kevin Owens
Analysis: ***1/2 This was a very good match like all of KO's matches on Raw when he gets a lot of time last week. KO has been getting a lot of time for his matches on Raw since Triple H took over booking and that's not a surprise since we know KO is a Triple H favorite as he should be. Theory came close to winning a few times, but he never hit his finisher while Owens did a nice job of showing that babyface heart to come back. The combo of the Popup Powerbomb followed by the Stunner is a nice way for KO to win matches.
Owens celebrated the win with the fans cheering loudly for him.
Analysis: KO is clearly in babyface mode again, which is cool with me. The long term story will be for him to reunite with Sami Zayn as faces after Roman Reigns and The Bloodline turns on Zayn at some point soon. That should lead to Owens/Zayn beating The Usos for the Tag Team Titles, but I don't know when that might happen.
The Miz and Tommaso Ciampa (name plate confirms the full name is back) were interviewed by Sarah Schreiber. They referenced Dexter Lumis without saying his name. Miz said that he gets to be in a Steel Cage Match with no distractions and he's going to beat Bobby Lashley to become the United States Champion. They were confident as the promo ended.
Analysis: Maybe WWE should create a stable of the guys that got their full names back. I'm kidding. It's just funny how every few days after Matt Riddle, Austin Theory and now Tommaso Ciampa.
(Commercial)
There were images shown from Clash at the Castle. I thought the stadium looked impressive. It was a vocal crowd as usual at a UK show with the Cardiff, Wales fans making a lot of noise.
A video aired recapping the matches and highlights from Clash at the Castle. The announced attendance was 62,296 people. They had comments from Triple H and some superstars, along with Tyson Fury, talking about how great of an event it was. That video took several minutes.
The Damage CTRL (instead of Control) trio of Bayley, IYO SKY & Dakota Kai were shown walking backstage for some promo time after the break.
(Commercial)
They showed some players from the NFL's Kansas City Chiefs at ringside.
A video aired about a Medal of Honor recipient SGT. MAJ. Patrick Payne as he was shown telling his story. It was about plugging the MOH museum.
Let's Hear from Damage CTRL
The trio of Bayley, Dakota Kai & IYO SKY made their entrance in non-wrestling gear. They have the theme song and Damage CTRL logo. They say "control" even though it's spelled as CTRL so we are not calling it Damage C-T-R-L but Damage Control as the name. Just confirming it for you if you are not watching. Bayley bragged about beating Bianca Belair, Asuka & Alexa Bliss at Clash at the Castle. Kai said that they are taking control. IYO said that next week they are taking the Women's Tag Team Titles. Kai said that she wasn't legal last week, so Raquel & Aliyah can pretend to be champions for another week so they can take back what is theirs. Bayley said that they were able to overcome and she pinned Bianca Belair, who wasn't pinned in about 300 days. Bayley bragged about what they did, so here comes Bianca Belair.
Bianca Belair made her entrance with the Raw Women's Title around her waist. Belair said she put her pride aside and showed up. Belair suggested a singles match against Bayley right here tonight. Bayley said "shoosh please" while adding that it's Labor Day so she is not working today and all they are doing is celebrating that Bayley beat Belair. Bianca said that it took the three of them to take Belair down. Belair said that Bayley might have her minions, but Belair has the Raw Women's Title. Belair said that unless Bayley has this title, she is in control of nothing. The trio surrounded Belair in the ring, but then Bayley told her allies to back away without any physicality.
Bayley was on the floor saying she already beat Belair and she has nothing else to prove. Bayley claimed that Belair tried to play "Miss Perfect" all the time and she knows Belair can't handle one loss. Bayley said that they have better things to worry about like her girls getting the Women's Tag Team Titles next week. Bayley said that if and when she wants that title, she'll get it one way or another. Bayley stood behind her friends on the floor while Belair was in the ring.
Analysis: I think they are likely going to announce Belair against Bayley for the Raw Women's Title at Extreme Rules. Maybe Bayley will have to win a number one contender's match to get that title shot, but I think Bayley pinning Belair in the tag is enough to earn the shot. There's no need to announce it yet because they have over one month until Extreme Rules takes place so there is plenty of time. I hope Kai & SKY win the Women's Tag Team Tiles next week as well.
Rey Mysterio was shown walking ahead of his match against Damian Priest.
This week on Smackdown, acknowledge a bigger, badder edition of The Bloodline with Roman Reigns and The Usos welcoming Solo Sikoa (The Usos younger brother and Roman's cousin) to the group after Solo cost Drew McIntyre the Undisputed WWE Championship at Clash at the Castle.
(Commercial)
They showed some highlights from Clash at the Castle when Drew McIntyre was cheered loudly by the Cardiff crowd for his entrance. They sang "Oh-Drew-McIntyre" song to the tune of Seven Nation Army by the White Stripes. Even with that support, Drew lost to Roman Reigns due to Solo Sikoa's surprising debut.
Johnny Gargano was interviewed by Sarah Schreiber, who mentioned Theory warned Gargano about swimming with sharks. Johnny said he's been dealing with that his whole career. Johnny said he was proud of what he accomplished in NXT and he's excited to show what he can do. Austin Theory interrupted saying that since he's come back, Johnny has done nothing but talking. Gargano said that next week on Raw, he's going to make his return to in-ring action. Gargano asked if Theory was okay and told him to be careful.
Analysis: It will be good to see Gargano back in action next week. If you didn't watch Gargano in NXT then you missed a lot because he's such a talented wrestler.
Rey Mysterio made his entrance alone as we saw highlights of Edge being attacked and injured earlier in the show. Damian Priest made his entrance alone.
Damian Priest vs. Rey Mysterio
Priest was dominant in the first couple of minutes including a hard whip into the turnbuckle. Priest charged at Rey, who moved and Priest went shoulder-first into a turnbuckle. Rey hit a springboard cross body block followed by punches to the face. Priest with knees to the ribs followed by a kick to the ribs. Rey came back with a headscissors takedown sending Priest out of the ring. Rey with a dropkick knocking Priest down on the floor. The trio of Finn Balor, Dominik Mysterio and Rhea Ripley went down to ringside, Rey was distracted and when Rey jumped off the apron, Priest punched him in the ribs. Rey was down on the floor as the show went to break.
(Commercial)
Priest was in control of Rey with a chinlock in the ring while Balor, Dominik and Ripley were on the floor watching the match. Rey hit a jawbreaker, Priest with the bell-clap on the head, Rey avoided a corner attack and Rey hit an up kick. Rey sent Priest out of the ring followed by Rey hitting a somersault dive over the top onto a standing Priest on the floor. Great spot that Rey makes look easy even in his late-40s. Rey kicked Priest in the head, then Rey went up top and hit a senton on Priest. Rey hit a Lionsault moonsault off the middle rope for two. Rey stared at Dominik, who had no emotion on his face. Priest launched Rey face first into the top rope. Priest hit a kick to the head for two. Priest charged into Rey, who got a boot up to the face and Rey hit a DDT counter. Rey went up, but Priest was there to stop him with a forearm to the face. They were battling on the top turnbuckle with Rey hitting a hurricanrana (or Frankensteiner) off the top for a two count. Rey sent Priest into the ropes, Priest avoided a 619 kick and Priest hit a spin kick to knock Rey down. Priest tried a move, but Rey countered with a hurricanrana into the ropes. Dominik got in Rey's way to block a 619 attempt, Rey knocked Balor off the apron, Ripley distracted the referee and Priest hit Rey with a clothesline. Priest hit the South of Heaven sitout chokeslam for the pinfall win after 13 minutes.
Winner by pinfall: Damian Priest
Analysis: *** The numbers game helped the big man Priest win. The key spot was when Dominik went on the apron to block Rey's 619 attempt and Priest was able to hit a clothesline after that. Priest's South of Heaven was enough to finish off Rey at that point. It's also amazing how well Rey moves for a guy in his late 40s with many knee surgeries. Doesn't matter if he works with a big guy like Priest. Rey always makes the match fun to watch and moves around the ring like nobody else. Rey sells everything so well too, which is a logical thing to do sine he's a smaller guy.
Post match, they showed Dominik smirking at the sight of his father losing the match.
Rhea Ripley said that now that Priest finished off Rey, Dominik was going to challenge Edge to a match next week on Raw. The Judgment Day continued to taunt Rey down in the ring.
Analysis: That Dominik match with Edge is a maybe since Edge was injured, so we'll see if it happens. The fans were booing this loudly so this is working in terms of getting heat for The Judgment Day
Bobby Lashley, the United States Title, was interviewed by Sarah Schreiber. Lashley said that Miz wants to face Bobby in a cage to stay away from Dexter Lumis, but Miz needs to be afraid of the All Mighty US Champion referring to himself.
(Commercial)
Next week on Raw in Portland, Oregon: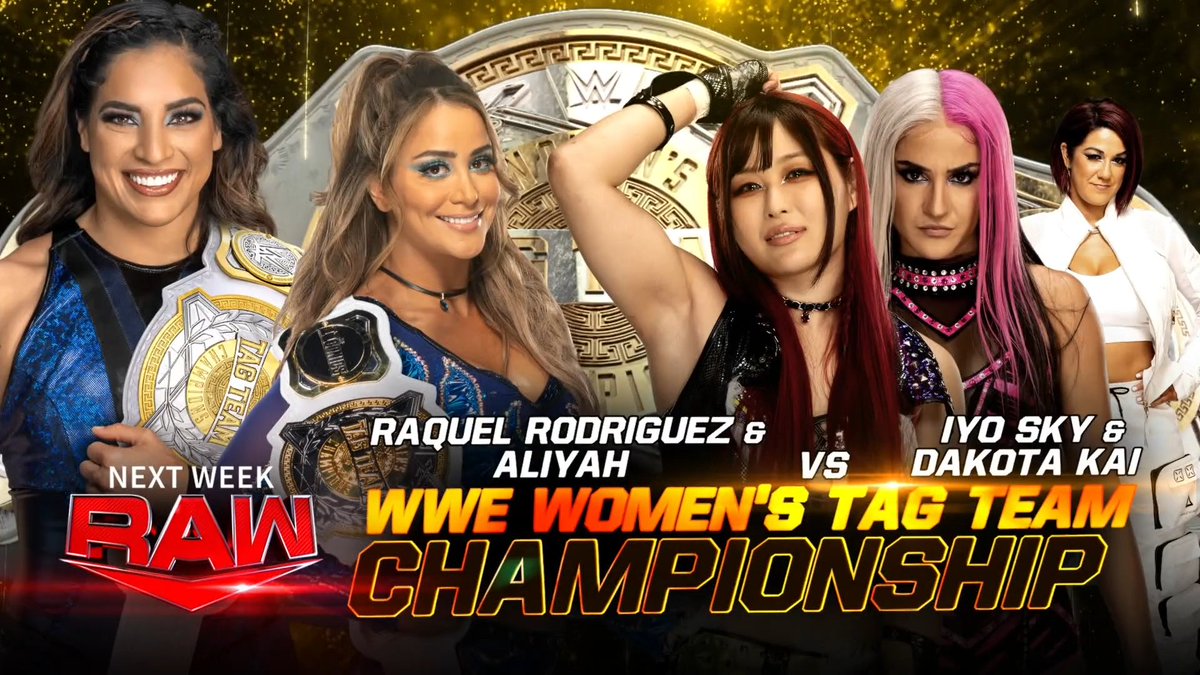 * Women's Tag Team Titles: Raquel Rodriguez & Aliyah vs. IYO SKY & Dakota Kai.
* Johnny Gargano's in-ring return. They did not name his opponent.
* Edge vs. Dominik Mysterio. Edge's left knee was injured by Judgment Day on Raw, so the story is that Edge might not be able to wrestle.
The Miz and Tommaso Ciampa made their entrance for the main event. The Steel Cage surrounded the ring. The All Mighty US Champion Bobby Lashley was up next getting a good reaction from the crowd.
After the in-ring introductions, Miz attacked Lashley from behind with the US Title. The bell didn't ring to start the match. Miz sent Lashley out of the ring leading to Miz & Ciampa sending Lashley into the steel cage. Miz & Ciampa did their self-applause thing. They sent Lashley into the cage again. Ciampa trapped Lashley's left arm against the cage and then Miz hit Lashley's left arm with the steps. Lashley was down selling.
Analysis: It was a way to weaken Lashley by giving him an arm injury going into the match. By doing that, it's a way to give Miz some offense in the match and weaken the more dominant man in Lashley. Good booking tactic to do before the match.
(Commercial)
United States Championship Steel Cage Match: Bobby Lashley vs. The Miz (w/Tommaso Ciampa)
The only way to win the match is by pinfall, submission or leaving the cage with both feet touching the floor.
The Miz was in control while Lashley was selling the left arm injury. Lashley managed to get back up and hit a shoulder tackle using the right arm and driving it into Miz's ribs. Miz got out of a suplex attempt by pulling on the left arm to slam it into the mat. Miz worked over Lashley with his light kicks followed by a kick to the head for two. Lashley prevented Miz from walking out the door. Miz tried to climb to the top of the cage, but Lashley brought Miz down and tripped up Miz on the ropes. Lashley ran over Miz with two clotheslines and a one-arm belly-to-belly suplex across the ring. Lashley with a clothesline, a running shoulder tackle and a neckbreaker while Lashley sold the left arm injury well. Lashley sent Miz into the cage three times in a row followed by Lashley hitting a flatliner for two. Miz tried to get out the door, but Lashley stopped Ciampa from helping Miz. Lashley rammed Miz's back into the cage a few times. Lashley wanted a Hurt Lock, but Miz elbowed the injured left arm and Miz elbowed Lashley in the head. Miz climbed the cage again, but Lashley was there as they stood on the top rope. Lashley sent Miz into the cage and Miz bumped into the ring. Ciampa used a chair to hit the cage, so Lashley went to the mat and Miz was there with a jumping knee attack for two leading to a break.
(Commercial)
Miz was in control grounding Lashley, but Lashley powered back up and drove Miz into the cage again. Lashley charged, Miz avoided it and Miz sent Lashley into the turnbuckle. Miz climbed to the top of the cage, Lashley went after him and had a hold of Miz on the top rope. Lashley gave Miz a superplex off-the-top rope back into the ring. Lashley tried a Spear, Miz avoided it and Lashley hit the cage followed by Miz hitting the Skull Crushing Finale for two. The Miz tried to crawl out the door, but Lashley got a hold of him. Lashley sent Miz into the cage, then Miz took a weak bump. Lashley was going out the door, Ciampa tried to slam it, Lashley stopped it and Lashley sent the door into Ciampa. Miz got back to slam the door on Lashley's head/back repeatedly. The Miz climbed the top of the cage, then he looked down and there was a camera from above showing that Dexter Lumis was under the ring. Miz was terrified by Lumis again, so he went back down into the ring. Lashley hit a Spear on Miz for the pinfall win after 13 minutes.
Winner by pinfall: Bobby Lashley
Analysis: *** It was a solid steel cage match. The Miz working on the left arm allowed them to have a longer match since Lashley had to sell it due to the pre-match attack. I liked the camera angle they used when Miz looked down from the top of the cage to see Lumis. That made it look really cool to get Miz's perspective. Lashley winning was the obvious outcome. I guess the only thing that surprised me was that they went 13 minutes because I thought it would have been a few minutes less. They made the most of their time and Lashley was put over strong. It's going to mean a lot when Lashley loses that title because he's being booked so well as the champion.
After the match, Lumis climbed the cage to get into the ring. Lashley prevented Miz from leaving the cage/ring area. Lumis applied the Silence choke/sleeper and Miz passed out. Graves was screaming about how somebody had to do something to stop this. That's how Raw ended.
Analysis: We still don't really know why Lumis is attacking Miz, but this is the first time where Lumis got a hold of him in the ring. The Silence choke/sleeper is what Lumis used as a finisher in his NXT days. Lumis isn't that exciting of a character, but he is different, so I see why they want to utilize him a bit.
Here's a post-show video of Lumis carrying Miz backstage.
Three Stars of the Show
Braun Strowman – Welcome back.
Kevin Owens
Bobby Lashley
The Scoreboard
7.75 out of 10
Last week: 8
Final Thoughts
It was another very good episode of Raw again this week. The big news is that Braun Strowman is back in WWE (he was released in June 2021) looking like he's in the best shape in his life, so that's great to see. The fans responded to Braun in a big way as he decimated the four teams in a 4-way tag team match. Another big angle was Dominik Mysterio joining The Judgment Day leading to that group beating up Edge and then Damian Priest beat Rey Mysterio in part because Dominik stopped his dad from hitting a 619, so Priest won shortly after that.
The best match goes to Kevin Owens yet again for his match with Austin Theory. Owens has been on a roll and is clearly gaining the support of the fans as a babyface with a chip on his shoulder. The main event with Bobby Lashley beating The Miz in a Steel Cage match thanks to Dexter Lumis (great camera angle to capture that moment) was good as Lashley sold an arm injury and still found a way to win.
I really like how they are featuring people on Raw even if they aren't in a match. Show them in a quick interview, a post match interview from Saturday (like Rollins-Riddle) or other ways. It's what Triple H did well when booking NXT too and we're seeing it on Raw now. Find a way to use talent. Obviously, you can't put every single person on the show, but they are doing a nice job of finding ways to use most of the roster.
The next WWE Premium Live Event is Extreme Rules from Philadelphia on Saturday, October 8th.
===
Check out the WWE PPV Review archive right here. You can contact me using any of the methods below. Go Toronto Blue Jays. Be safe and smart out there.
Thanks for reading.
John Canton
Email: mrjohncanton@gmail.com
Twitter: @johnreport