The John Report: The WWE Raw Deal 08/28/23 Review
This week's WWE Raw saw Becky Lynch face Zoey Stark while the build to Seth Rollins-Shinsuke Nakamura at Payback continues.
It's the final Raw episode before the WWE Payback PLE in Pittsburgh this Saturday night. It's also the second last Raw before the NFL's Monday Night Football is back in two weeks. That means I'm only doing a live review this week and next week before it becomes Tuesday morning reviews again due to me watching NFL games live.
The wrestling world is still reeling from the tragic deaths of Terry Funk last Wednesday and Bray Wyatt at the age of 36 last Thursday. Bray died of a heart attack while taking a nap. A report from TMZ says that it was recommended that he wear a defibrillator after seeing the doctor earlier that same day, but he left it in the car. It's such a sad story in so many ways. Bray was a good man and such a talented performer born to be a WWE superstar. I thought the Smackdown tribute went well last Friday. It wasn't the whole show, but they dedicated parts to it and that's the right thing to do. I'm sure a lot of the WWE roster will be emotional tonight on Raw too. We love you and we will miss you, Windham Rotunda "Bray Wyatt." Rest in peace.
This is the Raw Deal for episode #1579 of Monday Night Raw. It's taking place at FedEx Forum in Memphis, Tennessee. Follow me on Twitter/X @johnreport. Let's get to it.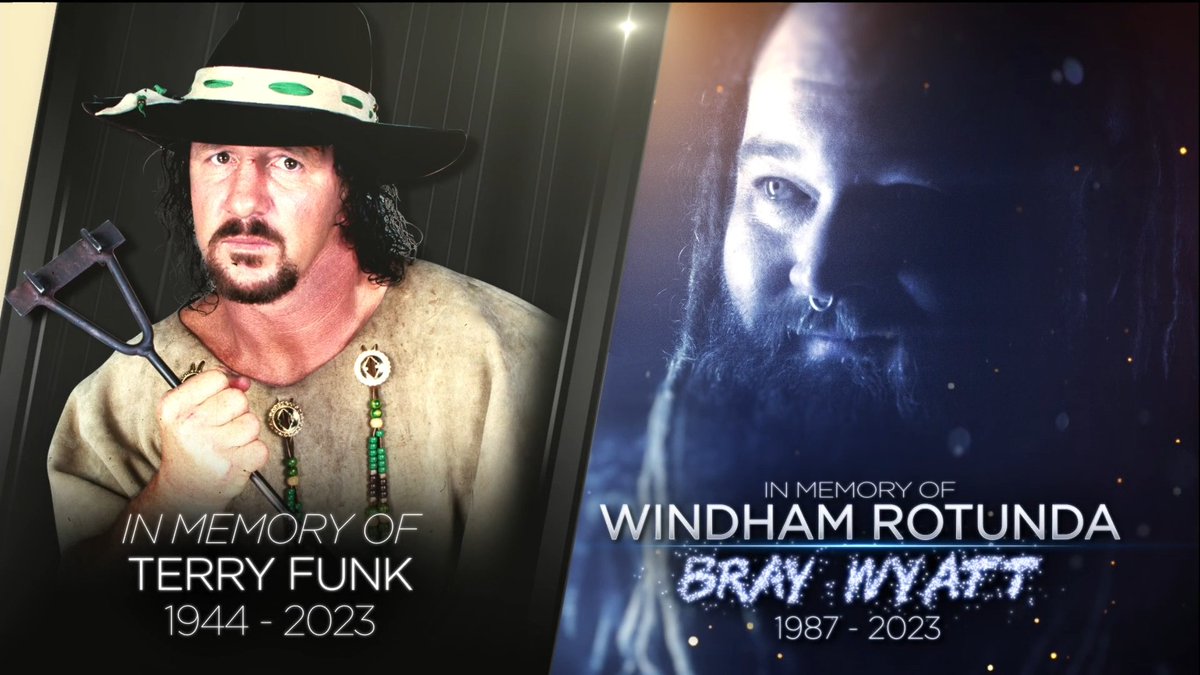 There were graphics saying this show was In Memory of Terry Funk, who died at the age of 79 and Bray Wyatt, who died at 36 years old.
Sami Zayn made his entrance to start the show as one half of the WWE Tag Team Champions. The commentary team of Michael Cole and Wade Barrett welcomed us to the show with Cole mentioning the deaths of Funk and Wyatt while saying those men loved to entertain us. Cole said they will do their best to entertain us while honoring those men.
It was announced that Sami Zayn & Kevin Owens will defend the WWE Tag Team Titles against Damian Priest & Finn Balor this Saturday at WWE Payback.
Damian Priest vs. Sami Zayn
Zayn was in control early as he sent Priest to the floor and Zayn hit a moonsault off the top onto a standing Priest on the floor. Priest managed to slow things down with some punches to the jaw. Priest with a corner splash followed by a Falcon Arrow slam for two. Zayn sent Priest to the apron, then Priest went into the ring post and down to the floor. Zayn tried a leaping attack onto Priest on the floor, but Priest caught him and hit a flatliner onto the hood of the commentary table. The table didn't break as Zayn crumbled to the floor. They went to break.
(Commercial)
The match continued with Zayn hitting a sunset flip Powerbomb off the turnbuckle for a two count. Zayn leapfrogged Priest followed by a clothesline over the top to the floor. Zayn hit a somersault dive over the top onto Priest. Back in the ring, Priest caught a leaping Zayn, but Zayn broke free, Priest hit the turnbuckle and Zayn hit the Blue Thunder Bomb for two as usual for that move. Priest with a kick to the gut. Priest wanted a Razor's Edge, Zayn slipped out of it and gave Priest an Exploder Suplex into the turnbuckle. JD McDonagh showed up at ringside, grabbed Zayn's leg (the referee didn't see it apparently) and Priest hit a South of Heaven Chokeslam for the pinfall win after 11 minutes.
Winner by pinfall: Damian Priest
Analysis: ***1/4 A pretty good match between two upper midcard guys on Raw that are also part of the tag team division currently. It was a cheap ending with JD pulling Zayn's leg to cost him the match, so Zayn has an out while Priest gets some momentum ahead of the Tag Team Title match at Payback. I thought they worked really well together.
After the match, JD McDonagh went into the ring and raised Priest's hand. JD tapped Priest on the chest as if to say good job. Priest shoved McDonagh telling him he didn't want his help. Kevin Owens was in the ring with Zayn with Owens wearing a Windham armband for Bray Wyatt. Owens gave JD a Stunner and Zayn hit a Helluva Kick on JD to knock him down. Priest left without attempting to help Priest at all. Barrett made the point that Priest needs to learn that JD can be an asset for The Judgment Day.
Analysis: A little bit of payback for Zayn since McDonagh cost him the match. It will be interesting to see how this story develops in terms of if McDonagh joins The Judgment Day or if it only causes for the group.
The New Day's Kofi Kingston & Xavier Woods were shown getting ready and so were The Viking Raiders because they have a match later.
There was a commercial for WWE releasing NFL team championships. Available now on WWE Shop. Go LA Rams. We have a story about this on TJRWrestling right here.
(Commercial)
Drew McIntyre was standing backstage looking at a photo of himself with Akira Tozawa saying he looked great. Matt Riddle arrived leading to Drew showing his photo that said "BRO" on the trunks. Drew wasn't open to it, so Riddle said maybe they should get matching kilts. Riddle suggested they watch New Day against the Viking Raiders to scout the competition. Drew said fine because he wants to see those idiots get beat, then Riddle wondered if he meant New Day and Drew said no he meant Viking Raiders. Anyway, we'll see them at ringside.
A video aired featuring comments from Raquel Rodriguez saying that Women's World Champion Rhea Ripley is the most dominant woman in WWE…except for Raquel. They showed highlights of Ripley injuring Liv Morgan, so Raquel will get payback. Raquel said she's been waiting several weeks for this. Raquel said a bully like Ripley will not be able to measure up to Raquel and Raquel will take her title at Payback. Raquel said she will cut her down to size.
Analysis: Good video package that showcased Raquel Rodriguez well. Raquel isn't a strong talker in terms of doing a monologue promo, so featuring Raquel like that is a better way of showing what she's all about.
Becky Lynch was shown stretching backstage ahead of her match later in the show. Barrett said that the Lynch-Stark Falls Count Anywhere Match is the main event.
(Commercial)
John Cena is back on Smackdown this Friday night. It was also announced that John Cena will be in action at Superstar Spectacle in India on September 8th.
LA Knight's music hit and Wade Barrett was excited for the Megastar, but instead, it was The Miz dressed like Knight. Barrett: "I want my money back." It's The Miz against LA Knight at Payback this Saturday night.
Let's Hear from The Miz Imitating LA Knight
The Miz did some LA Knight imitations including shouting "YEAH" and using a deep voice. Miz as Knight said he knows it takes more than a catchphrase to gain your support…yeah. Miz had a bag with LA Knight shirts, then he did a Steve Austin impression since he was suggesting that Knight imitated Austin. Miz tossed the shirts down. Miz took off his LA Knight gear at that point and was shirtless.
The Miz said that the fans are pathetic saying they are pathetic. The Miz said anybody can be LA Knight because it's generic and vanilla. The Miz claimed he doesn't do catchphrases because when he says he's awesome it's because it is the truth. Miz said when he beats LA Knight, everything is done. Miz said that you don't cheer losers because that's exactly what LA Knight will be at Payback in five days. The Miz said you will see whose game it really is…M…I…Z…yeah? Okay. Miz posed to end it.
The announcers were shown with Wade Barrett wearing some LA Knight shades since he is a big Knight fan.
Analysis: That was a good effort by The Miz. I thought The Miz made his points well. The fans know that Knight is about catchphrases and he does remind them of wrestlers from the past, but it doesn't mean the fans are going to turn on him just like that.
Seth "Freakin" Rollins was shown backstage sitting on some equipment cases looking serious. Ricochet walked up to him and just nodded at him.
The New Day entered the arena for tag team action.
(Commercial)
The New Day – Xavier Woods & Kofi Kingston vs. The Viking Raiders – Erik & Ivar (w/Valhalla)
Drew McIntyre & Matt Riddle were at ringside watching the match. Nice yellow fingernail polish, Riddle.
Woods went for an armbar, Erik hit him with a forearm and Woods hit him with a forearm back. Erik caught Woods leading to a sidewalk slam. Ivar tagged in and he was wearing a "Bray" armband. All four guys in this match had armbands on. Drew McIntyre did too. Quick tags by Erik & Ivar with Erik hitting a knee. Cole said Riddle was writing "McRiddle Notes" on the back of the photo that Riddle had. Ivar prevented Woods from tagging out, but then Woods broke free and Kofi tagged in. Kofi was on fire with a jumping elbow smash, a superkick and a rising kick to the head. Kofi hit a top rope cross body block for two on Ivar. Kofi hit a Boom Drop leg drop on Ivar. Riddle was clapping with the fans, but Drew was not. Woods kicked Erik down on the floor. Kofi hit a dive over the top onto Ivar on the floor. This time Drew was clapping for New Day as the show went to break.
(Commercial)
The VR guys were in control, but Kofi hit a dropkick. When Kofi was about to tag out, Woods was knocked off the apron. Ivar hit a splash on Kofi while legal man Erik hit a running forearm to knock Kofi down. The VR guys kept on working over Kofi while Woods was frustrated on the apron. Ivar decked Kofi with a boot to the side of the head. Ivar kept Kofi isolated in their corner with a clothesline along with a forearm to the back. Kofi fought back by hitting a jawbreaker. Kofi avoided a splash by Ivar and Woods got the hot tag with the fans cheering for it. Woods hit a forearm smash, then kicks to Erik, who was in illegally and Woods took out Erik with a Russian legsweep. Woods hit the Honor Roll clothesline on Ivar for two. Kofi got the tag, Woods sent Ivar to the mat and Kofi hit a cross body block on Ivar's back for a two count. Woods jumped onto Erik on the floor. Ivar avoided a Trouble in Paradise kick leading to Ivar tackling Kofi over the top to the floor. They were fighting on the floor with Ivar sending Kofi face first into the steel steps. Ivar picked up Kofi and tackled him onto Drew and Riddle at ringside. Drew was pissed off so he tossed a chair into the ring. Drew threw a chair at Erik, who ducked, so Woods got hit with the chair. Ivar dove onto Drew on the floor. Ivar sent Kofi back into the ring. Erik tagged back in, Ivar hit Kofi with a spin kick and Viking Raiders hit the Ragnarok double team move (a double Powerbomb) on Kofi and Erik covered for the pinfall win. A long match that went 17 minutes.
Winners by pinfall: The Viking Raiders – Erik & Ivar
Analysis: ***1/2 A very good tag team match that was given a lot of time. A lot of the match was all about the heels getting control over the face in peril with both New Day guys in that role in different parts. The final few minutes were chaotic and booked well with a key spot being Drew McIntyre accidentally hitting Woods with a chair. That took Woods out, so Kofi was isolated and the Viking Raiders finished him off. I like having depth in the tag team division, so this match getting a lot of time and booked this way is fine with me.
After the match, Drew McIntyre was frustrated about what he did to Woods. Kofi Kingston checked on Woods on the floor and Drew said he was sorry. Drew said it was an accident.
Finn Balor and Damian Priest were shown talking with Rhea Ripley & Dominik Mysterio in the background. Balor said they needed to be on the same page, especially at Payback. Balor said that Priest wouldn't have won without JD McDonagh's help. Priest said he didn't want JD's help. Ripley said that her and Dominik are the ones handling Judgment Day business. Ripley said people think she's weak and distracted now. Ripley told Balor & Priest to make it right this Saturday at Payback. Ripley said they will show they will win when it matters. Ripley said if they don't all walk out with gold at the end of Payback then there will be changes around here. Ripley and Dominik left while Priest held up Money in the Bank saying that's no problem to him.
Analysis: That was an interesting comment by Rhea Ripley at the end there. It makes me think Balor & Priest might win the Tag Team Titles at Payback, but I don't know my official prediction yet.
Up next is a Bray Wyatt tribute.
(Commercial)
Bray Wyatt Tribute Video
The Bray Wyatt tribute video aired. They first aired it on Smackdown last Friday.
After the video aired, the lights were out in the arena and the fireflies lit up the building with their cell phone light. Bray Wyatt's theme song played as a rocking chair was shown on the stage.
Analysis: I watched that video a few times over the weekend and got teary-eyed. Bray was a unique character that loved entertaining us. We will miss you, Bray.
(Commercial)
A commercial aired for WWE Payback this Saturday with Seth Rollins facing Shinsuke Nakamura for the World Heavyweight Title. That could be the main event.
There was a replay of the ending of the Viking Raiders-New Day tag team match.
Kofi Kingston was shown outside of the WWE Trainer's Room. Drew McIntyre and Matt Riddle walked up asking how Xavier Woods was doing. Drew said it was an accident. Kofi said they know it wasn't on purpose. Drew said he wanted to face The Viking Raiders next week in a match where he didn't have to tag in, so that's probably a tornado tag team match. Drew left and Riddle went after him.
Let's Hear from GUNTHER
The Imperium trio made their entrance for Ludwig Kaiser's singles match. The Intercontinental Champion GUNTHER was there as well as Giovanni Vinci. Last week on Raw, Chad Gable beat GUNTHER by countout, but there's no title change by countout.
GUNTHER did a promo on the commentary table. Gunther said that Gable was the first man to beat him in more than 500 days by countout in a championship match. Gunther said that in reality, Gable has won nothing because Gunther is still our Intercontinental Heavyweight Champion. Gunther said that Gable has achieved one thing – he has pissed Gunther off. Gunther said now Gable has his attention. Gunther said that next week on Raw, Chad Gable will challenge Gunther for the Intercontinental Title. Gunther said Gable will not beat him next week and will not beat Ludwig Kaiser.
Chad Gable interrupted saying Gunther was making some pretty good points. Gable pointed out that he beat Gunther last week. Gable said that last week he handed Gunther his first loss on the main roster in two years (April 2022 is more like 16 months, not 24 months). Gable said he's going to take that Intercontinental Title in three seconds. Gable called for Kaiser to have their match now.
Analysis: A big match for next week's Raw with GUNTHER facing Gable again. That should be an outstanding match like their other matches have been. I thought Gunther did a nice job with his promo.
Ludwig Kaiser (w/GUNTHER & Giovanni Vinci) vs. Chad Gable (w/Otis & Maxxine Dupri)
It was mentioned in 11 days, GUNTHER will set the record for the longest Intercontinental Title reign in WWE history. Gable with an arm drag that sent Kaiser over the top to the floor. Gable hit a cannonball off the apron onto Kaiser on the floor.
(Commercial)
Kaiser was in control briefly, but then Gable tripped him up and applied an armbar on the left arm. Kaiser knocked down Gable with a shoulder tackle. Gable with a hard chop followed by an Ankle Lock, but Kaiser got to the ropes. Kaiser with a kick to the chest along with a clothesline. Gable sent Kaiser across the ring with a monkey flip. Kaiser went for a leaping kick, but Gable blocked it and Gable grabbed the arm for an armbar by the ropes. Kaiser punched Gable to knock him down. Kaiser hi a running uppercut on the floor as the show went to break.
(Commercial)
Kaiser rocked Gable with a punch followed by Kaiser sending Gable's shoulder into the ring post. Kaiser hit a running dropkick knocking Gable out of the ring. Kaiser caught Gable with a tilt-a-whirl slam into the mat. They exchanged some holds leading to Kaiser hitting a running kick to the chest. Gable came back with a running neckbreaker. Gable went for a moonsault off the top, Kaiser moved out of the way and Gable hit a spinning slam that sent Kaiser into the mat for a two count. Gable caught Kaiser leading to an overhead suplex. Kaiser was on the floor, so Gable hit a moonsault off the top onto Kaiser & Vinci on the floor. I think Vinci took a knee to the head. They countered moves in the ring with Gable applying an Ankle Lock submission. Kaiser kicked Gable in the head to get out of it. Kaiser with an uppercut, but Gable came back with the Chaos Theory into a German Suplex, but Vinci went into the ring to break up the pin for the DQ after 16 minutes.
Winner by disqualification: Chad Gable
Analysis: ***1/4 It was another long match on this show that had some great technical wrestling and counters from both guys. The DQ finish isn't what I was hoping for because I think Gable winning decisively would have been the right call. I get that Vinci interrupted right when it looked like Gable had it won. I just think they could have saved the other stuff for after the match and they should give Gable a win in a match like that. I also think it would be a good idea for Gable to beat somebody with an Ankle Lock since he always does it, so if you have somebody tap out to it then it puts the move over.
Otis went into the ring and hit an overhead suplex on Vinci. Otis with a splash on Vinci. Kaiser got back up to send Otis shoulder first into the ring post, which sent Otis to the floor. Kaiser and Vinci pounded on Gable with a punch. Gunther reappeared at ringside and went for a Powerbomb, but Gable countered it into an Ankle Lock, so Kaiser & Vinci were back to go after Gable with more punches. Gunther hit Gable with a Powerbomb. Gunther posed with the Intercontinental Title over a fallen Gable.
Analysis: Imperium had the numbers advantage, so it's not a surprise that GUNTHER stood tall to end this. I think GUNTHER will retain against Gable next week on Raw.
Seth "Freakin" Rollins, the World Heavyweight Champion, was shown walking backstage for some promo time up next.
(Commercial)
A video aired about the late, great Bob Barker, who passed away at the age of 99 this past Sunday. Bob was the long time host of The Price Is Right game show that so many of us loved to watch. They showed when Bob was the Raw Guest Host in 2009. They didn't show his interaction with Chris Jericho, which was the best part of Bob hosting Raw. Cole mentioned that Barker won the Slammy Award for being the Best Guest Host.
Analysis: Bob was one of the best guest hosts ever. I agree with that. Bob was fun in the role. Bob is also my favorite game show host ever along with the late Alex Trebek.
Let's Hear from Seth "Freakin" Rollins
Seth "Freakin" Rollins made his entrance as the World Heavyweight Champion with a "WINDHAM" armband for Bray Wyatt. The Fiend logo is also on Seth's side plate to honor Bray Wyatt. Rollins had on a turquoise colored jacket and pants. The fans sang Seth's song for a long time on his way to the ring and then they sang it in the ring when Rollins posed for them. Barrett made the point that there's a code among the talent that you don't bring up injuries unless a wrestler brings it up publicly on their own, so that's the issue with Shinsuke Nakamura mentioning Seth's back injury.
Seth said "Yowie Wowie" in tribute to Wyatt as well while welcoming us to Monday Night Rollins. Rollins went over his catchphrases. Rollins said it's been a long week, so he wanted to keep this short and sweet. Rollins said he'll give Shinsuke Nakamura a shot at the World Heavyweight Title at Payback, so Rollins wanted Nakamura to give him what he wants. Rollins told Nakamura to come down to the ring. No Nakamura. Rollins mocked Nakamura because the fans don't sing his song anymore. Rollins suggested maybe they should go to Beale Street, pour a stiff drink and let the fans sing Seth's strong all night long.
A video aired about Shinsuke Nakamura saying he wants to dismantle Seth Rollins. Nakamura wants Seth's wife to know that he is the reason Seth can't get out of bed without help. Nakamura wants to be the reason that Seth can't walk his daughter down the aisle on her wedding day. Nakamura was shown training while talking and we saw the translations on the screen. Nakamura said that Rollins has no future.
Seth Rollins wondered if that was all we would get from the legendary Shinsuke Nakamura. Seth wanted to know what happened to the Nakamura that headlined the Tokyo Dome and lit the world on fire in NXT. Rollins said that a month ago, he would have given Nakamura the shirt off his back…the same back that is broken in two places. Rollins said that broken back didn't stop him from becoming World Heavyweight Champion and it won't stop Rollins from beating Nakamura at Payback. Rollins said he'll maul him and won't stop until he is pulled off Nakamura. Rollins said you will not take anything from him. Rollins said you won't take my title, my future and not my family. Rollins was looking into the hard camera, so Nakamura snuck up from behind with a knee to the back.
Nakamura grabbed Rollins in a headlock and said something to him. There was no microphone there. Cole said Nakamura said that he told Rollins to watch his back. Nakamura kicked Rollins to knock him down. Nakamura left to his music playing while Rollins was down in the ring.
Analysis: I like this dangerous version of Nakamura. While I think Rollins retaining is likely at Payback, Nakamura has been made to look like a credible threat that could win the match. Rollins will likely be selling the back injury a lot, so Nakamura can look like a vicious heel in a match like that. I thought the cheap attack was fitting for Nakamura's current character. Rollins can call him names, but Nakamura has won the mind games battle in this story.
Sami Zayn and Kevin Owens were in the locker room staring into the camera for a promo. Zayn said he was sick of dealing with The Judgment Day. Zayn said The Judgment Day got a DQ win over them, so now they get a title match. Owens said that the rules won't play in The Judgment Day's favor this time. Owens said it's not just any tag team match. Owens said it's going to be a Steel City Street Fight in Pittsburgh. Owens he has been thrown off a cage through a table in Pittsburgh. Owens said that they are ending this once and for all.
Analysis: A Street Fight tag team match will have a different feel to it, but it will also make it stand out a lot.
Tommaso Ciampa made his entrance. Bronson Reed attacked Ciampa from behind in the aisle. They fought around ringside with Ciampa getting control back and hitting a knee to the head. They went to break before the match began.
(Commercial)
Bronson Reed vs. Tommaso Ciampa
Ciampa had a "TF BW" armband for Terry Funk and Bray Wyatt. Reed hit a running cross body block to knock Ciampa down. Ciampa jumped on Reed's back, so Reed drove him back first into the turnbuckle. Ciampa sent Reed into the turnbuckle. Ciampa with a powerful lift followed by an Air Raid Crash (White Noise when Sheamus does it) for a two count. Ciampa charged, but Reed did a body attack to knock Ciampa down. Reed hit a running sitout Powerbomb for two. Ciampa came back with the Willow's Bell DDT by the apron and a running knee attack for two. Ciampa jumped on Reed's back and gave him a Crucifix Bomb for the pinfall win. Ciampa wasn't able to hook Reed on the mat, but it was enough to keep Reed down. It went about six minutes.
Winner by pinfall: Tommaso Ciampa
Analysis: **1/2 I liked the mix of styles here with both guys hitting big moves in a fast-paced match for the most part. The finish was a bit sloppy because it's not an easy move to do on a big guy like Reed, but Reed sold it well enough and it worked as a finish to give Ciampa a big win.
Becky Lynch was interviewed by Jackie Redmond. Lynch said this is not the easy way out of her issues with Trish Stratus and Zoey Stark. It ended rather abruptly with Lynch talking about fighting all over Memphis since it's a Falls Count Anywhere match coming up later.
Rhea Ripley, the Women's World Champion, made her entrance with the NXT North American Champion Dominik Mysterio for some promo time.
(Commercial)
Tiffany Stratton, the NXT Women's Champion, was shown at ringside.
Let's Hear from Rhea Ripley
Rhea Ripley was in the ring with "Dirty" Dominik Mysterio. Ripley talked about how she's not going to talk about her accomplishments because it's going to take too long. Ripley said that this Women's World Title around her waist proves absolutely everything. Ripley said that Raquel is an idiot for thinking she will take the championship. Ripley said Raquel is big, tough and strong, but she is not "Rhea Bloody Ripley." Rhea said that Raquel can talk all she likes, but when it comes to Payback, "Mami" is walking out champion.
Raquel Rodriguez made her way down to ringside and Ripley left the ring. Dominik was still in the ring, so Raquel turned to face him. Ripley was back in. Raquel countered a Riptide attempt with a hiptoss. Raquel hit a lefty clothesline to knock Ripley down, so Ripley left the ring with Dominik. Raquel stood tall in the ring.
Analysis: It was a solid segment to build up Raquel Rodriguez as a potential threat toward Rhea Ripley at Payback on Saturday. Raquel is legitimately strong, so it does allow WWE to tell the story that she could overpower Ripley in ways that no other woman can. I don't think Ripley will lose, but I think Raquel will look strong in defeat.
There was a backstage promo from Trish Stratus and Zoey Stark talking trash about Becky Lynch. Stark said she will leave some of Lynch for Trish in the Steel Cage Match at Payback this Saturday. Zoey vs. Becky is still to come.
(Commercial)
The brand new WWE-NFL Legacy Titles were promoted again.
The announcers went over the Payback card for this Saturday, September 2nd.
* World Heavyweight Championship: Seth "Freakin" Rollins vs. Shinsuke Nakamura
* Steel Cage Match: Becky Lynch vs. Trish Stratus
* United States Championship: Rey Mysterio vs. Austin Theory
* LA Knight vs. The Miz
* Women's World Heavyweight Championship: Rhea Ripley vs. Raquel Rodriguez
* Steel City Street Fight for the WWE Tag Team Championships: Sami Zayn & Kevin Owens vs. Damian Priest & Finn Balor
* Grayson Waller Effect talk show with Cody Rhodes as the guest
Terry Funk Tribute Video
A tribute video aired about WWE Hall of Famer Terry Funk, who died at the age of 79 last Wednesday. It was a terrific video that was first shown last Friday on Smackdown. After the video, fans chanted "Terry" for the Funker.
Analysis: Terry Funk was one of the most talented pro wrestlers in the history of the business. A big reason why is because of how believable Terry was as a tough guy. A lot of Terry's old matches hold up very well.
Becky Lynch made her entrance for the main event.
A commercial aired for the new Kurt Angle documentary covering the legendary career of the WWE Hall of Famer Angle, who is one of my favorite wrestlers ever. It premieres this Saturday, September 2nd on Peacock.
(Commercial)
Next week on Raw in Charlotte, NC on September 4th.
* GUNTHER defends the Intercontinental Title against Chad Gable
* Tornado Tag Team Match: Drew McIntyre & Matt Riddle vs. The Viking Raiders – Erik & Ivar
They showed NXT Women's Champion Tiffany Stratton watching in the crowd again.
Falls Count Anywhere Match: Becky Lynch vs. Zoey Stark (w/Trish Stratus)
Lynch had a "Bray" armband on her right arm. Both women started with kendo sticks. Lynch hit Stark with kendo stick shots to the body. Lynch with a legsweep. They left the ring with Trish hitting Lynch with a kendo stick a few times. Lynch fought back to knock both women down and Lynch hit a cross body block onto both women on the floor. Stark sent Lynch in the back with a kendo stick. Stark sent Lynch into the steel steps. Stark blocked a kick to knock Lynch down and Stark hit a springboard dropkick for two. Trish threw a steel chair into the ring and it hit Stark in the head, but Stark didn't sell it because it as an accident. Trish threw about six chairs into the ring for Stark to use. Stark wanted a superplex onto the chairs, Lynch fought back and Trish tried an attack, but Lynch knocked her down. Lynch hit a leg drop to the back of Stark for two. Stark came back going for the Z360, but it didn't hit. Lynch hit a Manhandle Slam for two because Trish broke up the pin. Lynch chased Trish around the ring, Trish grabbed a kendo stick and Lynch managed to get the kendo stick from Trish. Lynch hit Trish repeatedly with a a kendo stick to the back, so Trish went toward the entrance area and backstage. Stark took advantage with a chair to the ribs and a chair to the back. Stark with a superkick leading to a two count pin attempt near the entrance area.
(Commercial)
Lynch was in control with a punch after jumping off the barricade. No sign of Trish at this point. Lynch hit an Exploder Suplex into the LED board barricade. Lynch pulled out a table from under the ring, which led to the fans cheering. Stark did a necksnap across the top rope. They were back in the ring with Stark hitting Lynch with a few chair shots to the back. Stark hit a springboard twisting splash onto Lynch on a chair. Stark went up top, Lynch threw a chair at her and Lynch gave Stark a superplex (Lynch on the middle rope) onto a pile of chairs. Lynch cleared off the commentary table. Lynch wanted a slam, but Trish was back to trip up Lynch on the table. Stark with a running knee for two on the commentary table. Stark went to the barricade, so Lynch shoved her down and Lynch threw Trish down as well. Trish got a hold of Stark on some equipment box and Trish gave Lynch a bulldog through a table. Stark covered for a two count. The three women went fighting into the crowd. They were on some equipment boxes. Stark punched Trish by accident and Trish took a back bump through a couple of table. Lynch gave Stark a Manhandle Slam off the equipment box through some more tables on the other side. Lynch covered Stark on the floor for the pinfall win after about 15 minutes.
Winner by pinfall: Becky Lynch
Analysis: ***1/4 It was a good effort by all three women for what felt like a handicap match. I'm not surprised by Lynch getting the win because she's the bigger star and WWE wants her to look strong going into Payback with a lot of momentum. Considering it was a Falls Count Anywhere match, they didn't fight around the arena that much. The finish was in a unique spot at least with Stark sending Stratus through a table accidentally and that set up Lynch finishing off Stark through another table.
After the match, Becky Lynch celebrated the win. Becky held up her Bray Wyatt armband and she looked like she was in tears. Cole plugged the Lynch/Stratus match at Payback while Stratus looked at Lynch on the equipment crate. The show ended there.
Analysis: That was a touching moment by Becky holding up the "Bray" armband for her late friend.
#ThankYouBray ❤️@BeckyLynchWWEpic.twitter.com/J5o4RDPfjp

— WWE (@WWE) August 29, 2023
===
Three Stars of the Show
Becky Lynch
The Viking Raiders/The New Day
Damian Priest/Sami Zayn
===
The Scoreboard
7.5 out of 10
Last week: 7.5
2023 Average: 7.29
===
Final Thoughts
I will be brief this week by just saying it was a very good show overall. Typical for Raw. It's rarely bad this year with Triple H calling the shots. There were several long matches since there were just five matches over three hours. Some of them went longer than I thought, but the action was really good for the most part.
There were quite a few promos and video packages that were very effective in terms of building up matches at Payback this Saturday. I look forward to Gunther vs. Chad Gable next Monday on Raw too.
The final image of Becky Lynch in tears holding up the Bray armband made me emotional. We will miss you, Bray Wyatt.
The next WWE PLE is called Payback on Saturday, September 2nd. Here's what we know so far.
* World Heavyweight Championship: Seth "Freakin" Rollins vs. Shinsuke Nakamura
* Women's World Heavyweight Championship: Rhea Ripley vs. Raquel Rodriguez
* Steel City Street Fight for the WWE Tag Team Championships: Sami Zayn & Kevin Owens vs. Damian Priest & Finn Balor
* United States Championship: Rey Mysterio vs. Austin Theory
* LA Knight vs. The Miz
* Steel Cage Match: Becky Lynch vs. Trish Stratus
* Grayson Waller Effect talk show with Cody Rhodes as the guest
You can watch WWE Payback on Saturday, September 2, at 8 p.m. ET/5 p.m. PT, streaming LIVE on Peacock in the United States and on WWE Network everywhere else.
===
Thanks for reading. Please check out my reviews of every WWE PPV ever listed in order. Go Toronto Blue Jays. My contact info is below.
John Canton
Email mrjohncanton@gmail.com
Twitter aka X (I guess) @johnreport