The John Report: The WWE Raw Deal 08/21/23 Review
This week's WWE Raw featured The New Day teaming up against Drew McIntyre & Riddle, plus GUNTHER defending the Intercontinental Title against Chad Gable and a whole lot more.
The WWE Payback PLE is on September 2nd. It's time for WWE to start announcing some of the matches at that show since it's less than two weeks away. It should be a vocal crowd in Quebec City, which isn't too far from Montreal, so that means Sami Zayn and Kevin Owens will be close to home. I always enjoy seeing shows in my home country of Canada.
This is the Raw Deal for episode #1578 of Monday Night Raw. It's taking place at Centre Videotron in Quebec City, Quebec, Canada. Follow me on Twitter/X @johnreport. Let's get to it.
A video package aired with highlights of last week's Raw that ended with The Judgment Day looking dominant to end the night.
Sami Zayn made his entrance as one half of the Undisputed WWE Tag Team Champions and received a HUGE pop from the crowd in his home province. Sami is from the Montreal area, which is the biggest city in Quebec, but that's followed by Quebec City and they were going wild for Sami while he soaked in the ovation.
The commentary team of Michael Cole and Wade Barrett welcomed us to the show.
Let's Hear from Sami Zayn
Sami Zayn was in the ring with a microphone as the fans chanted "Ole Ole Ole" repeatedly. Sami was feeding off their energy to get them even more riled up. Zayn soaked in more cheers and "Ole" chants while the fans started a "Sami" chant. It was ten minutes into the show when Zayn finally spoke. Sami welcomed the crowd to Raw while speaking in French.
The Judgment Day foursome of Women's World Champion Rhea Ripley, Finn Balor, Mr. Money in the Bank Damian Priest & NXT North American Champion Dominik Mysterio interrupted before Zayn could say more. The Judgment Day surrounded the ring. Zayn spoke in French and then asked in English if he would come here of all places alone?
Here comes Kevin Owens! He's back after one month. The crowd was going wild for Owens, who is also a Quebecer like Zayn is. Owens beat up Dominik at ringside and threw Balor into the barricade. Priest tried a lifting move on Zayn, but Zayn shoved him off and Owens hit a Stunner on Priest! What a pop for that! They were going wild chanting "Kevin Owens" for KO.
Kevin Owens said it's been too long since he's had a match on Raw, so how about this, Zayn & Owens against any two members of The Judgment Day. Owens spoke in French again to pop the crowd even more.
Analysis: That was fun just for the crowd reactions for Zayn & Owens in front of the Quebec fans. Owens was back on the road over the weekend, so I'm glad to see him back on Raw. Owens had a rib injury, which led to him taking about one month off. A tag team match against The Judgment Day isn't a fresh thing or anything like that, but they always have really good matches together. For what it's worth, I used to speak French decently in my high school and college years, but I don't know it well enough to provide translations of the French words.
He's baaaaaack!#WWERawpic.twitter.com/kupJ1izkDv

— WWE (@WWE) August 22, 2023
The New Day's Kofi Kingston & Xavier Woods entered for tag team action.
(Commercial)
The announcers put over WrestleMania 40 already selling 92,000+ tickets and they set the one-day WWE record for ticket sales. The thing is there's a pre-sale before the on-sale date last Friday. It's still impressive.
Drew McIntyre & Matt Riddle vs. The New Day – Kofi Kingston & Xavier Woods
The team of Drew & Riddle were the ones facing the hard camera, which is normally where the babyface team goes. Both teams are faces, though, so it's not like The New Day are heels. Woods with a dropkick and corner clothesline. Kofi tagged in with a splash off the middle turnbuckle. Kofi dropkicked Riddle, so Drew tagged in. Drew caught a leaping Kofi and hit an overhead belly-to-belly suplex across the ring. Drew hit an overhead suplex on Woods too. Riddle hugged Drew. Since Drew is not much of a hugger, he hit an overhead suplex on Riddle over the top onto the New Day guys on the floor. Riddle and Drew liked that as the fans cheered.
(Commercial)
Kofi and Woods were in control of Riddle with a barrage of tag team moves including a Kofi splash and Woods fist drop for a two count. Kofi was working over Riddle for a bit, Kofi went up top and jumped off with Riddle hit a rising knee strike (with leg slap) to knock Kofi down. Woods tagged in to stop Riddle from tagging out. They fought on the turnbuckle with Riddle hitting a Fisherman's Superplex. Erik of the Viking Raiders pulled Drew off the apron. Riddle didn't see it. Kofi tagged in and hit Trouble in Paradise on Riddle for the pinfall win after 11 minutes.
Winners by pinfall: The New Day – Kofi Kingston & Xavier Woods
Analysis: *** It was a pretty good tag team match with a finish that's rare in WWE because the guy getting beat up for several minutes didn't tag out and then he got pinned. In this case it was because Drew got pulled off the apron by Erik, which led to The New Day capitalizing to win. The New Day guys looked really sharp and worked well together as usual.
Post match, The Viking Raiders (Erik & Ivar) attacked The New Day after the match. Ivar decked Kofi with a spin kick. Drew was back in with a Glasgow Kiss headbutt on Erik, spinebuster on Ivar and Drew clotheslined Ivar out of the ring. Drew's music played to end it.
Analysis: This felt like a way to give The Viking Raiders some momentum after losing to Drew & Riddle last week. More depth in the tag team division is a good thing although I still want to see Drew McIntyre being used better than this.
JD McDonagh and Finn Balor were interviewed by JD McDonagh. JD said that he's known Finn his whole life and he's like an older brother. JD thinks that his presence helps The Judgment Day. Finn said they were so successful last week in part because of JD's presence. Rhea Ripley and Dominik Mysterio arrived to tell Finn they had to talk about who faces Sami & Kevin later. Ripley stopped JD saying it was Judgment Day only, so Finn said he'd talk to JD later.
This Tuesday on NXT it's the NXT Heatwave special with some big matches.
(Commercial)
There was a video package about Shayna Baszler saying she's in a vendetta kind of mood as we saw Baszler beat Ronda Rousey at SummerSlam. Baszler said she isn't here to be a hero, she's here to set it all on fire and your only hope is to survive. Baszler: "Let the world burn."
Analysis: It's a good idea to keep Baszler as a heel. That's what she is as a character. That "burn" thing at the end is a Seth Rollins thing, sort of.
A video aired from earlier today with GUNTHER calling himself the greatest Intercontinental Champion of all time. Gunther said that every day, he keeps building his lifelong legacy. Gunther said that Chad Gable's fairytale story will end tonight.
Chad Gable, Otis and Maxxine Dupri were interviewed by Byron Saxton behind the curtain. Otis said nice things about Gable saying they were Tag Team Champions together, but now Chad can become an Intercontinental Champion. Maxxine Dupri praised Chad for training her. Chad did a "THANK YOU" for the kind words.
Chad Gable entered for singles action.
(Commercial)
John Cena is back in WWE for the September 1st edition of Smackdown. Cena is also going to wrestle at the WWE live event in India one week later as well.
GUNTHER made his entrance as Michael Cole said he is 18 days away from becoming the longest-reigning Intercontinental Champion of all time. GUNTHER was alone without his Imperium buddies. Ring announcer Samantha Irvin did the introductions while both guys were in the ring.
Intercontinental Championship: GUNTHER vs. Chad Gable
Gunther got a takedown using the left arm to wear down Gable. Gable tripped up Gunther using his legs and Gable grabbed a tight headlock, so Gunther tossed Chas over the top to the floor. Back in the ring, Gunther chopped Gable down leading to a break.
(Commercial)
Gunther was in control as he kicked Gable to keep him down on the floor. Gunther slammed Gable onto the barricade at ringside as well. Back in the ring, Gunther hit a double underhook suplex for two. Gunther whipped Gable into the turnbuckle with Chad doing a sternum bump. When Gunther tried another whip into the turnbuckle, Gable collapsed and sold it like he was exhausted. Gable fought back with some kicks and Gable blocked a chop into an armbar by the ropes. Gable jumped off the middle rope, so Gunther chopped him and Gunther hit a big clothesline for two. Gunther decked Gable with another clothesline for two. Gable caught Gunther leading to a crucifix pin attempt for two. Gunther applied a sleeper on the mat, but Gable powered out of it. Gable hit two running forearms, Gunther grabbed a sleeper again and Gable hit a belly-to-back suplex for two. Gunther blocked a suplex attempt. Gable tripped up Gunther with a dragon screw leg whip and Gable applied an Ankle Lock submission. Gunther kicked Gable off him and delivered a chop. Gable tackled Gunther followed by punches. Gable hit a delayed German Suplex for two. The fans chanted "this is awesome" for them and that's true. Gable went up top, but Gunther was there to shove him into the barricade at ringside. Gunther went after Gable with a chop and a boot. Gunther with another chop on the floor. Gunther wanted a hard chop, Gable avoided it and Gunther hit the ring post. Gable caught Gunther and hit a German Suplex over the barricade on the floor. The referee was counting, Gable was back in at the count of 8 and Gunther was still on the floor. The referee reached ten, so Gable won by countout. It went about 14 minutes.
Winner by countout: Chad Gable (GUNTHER remains Intercontinental Champion)
Analysis: ***1/2 A very good match as usual between these guys. It's hard not to get into their matches because they're so talented. Gable took a beating for most of the match, but his comebacks are so great and look believable. I assume they went with the countout to set up another match with a stipulation like no countout or something else to prevent an ending like that again. I thought they did a nice job as usual.
Gable did a big celebration while GUNTHER was freaking out on the floor. Cole said that Gable was the first person to beat Gunther since he arrived on the main roster a year and a half again. Imperium's Ludwig Kaiser & Giovanni Vinci arrived at ringside, so ring announcer Samantha Irvin announced that Gunther was still the Intercontinental Champion.
The Judgment Day was backstage talking about who will team up later in the show. The guys couldn't decide, so Rhea Ripley told them to figure it out or she'll decide for them.
An interview with Cody Rhodes is coming after a break.
This Friday on Smackdown: Jimmy Uso is back and US Champion Rey Mysterio faces Grayson Waller.
(Commercial)
They showed Imperium backstage with GUNTHER ranting about the loss. Ludwig Kaiser asked Giovanni Vinci what he was going to do about it? Vinci was looking around.
Cody Rhodes was interviewed by Byron Saxton. Cody mocked JD McDonagh for being like a Funko Pop because he has such a big head on a small body. Cody said this backstage environment wasn't working, so Cody walked out by the entrance area. Cody said "what do you want to talk about?" in French. Cody gave a shoutout to his friend Wade Barrett on commentary with the voice of WWE, Michael Cole. Cody said that The Judgment Day have had the advantage because of the numbers game. Cody asked the crowd if they will be in the corner of Kevin & Sami tonight. Cody said that we are all going to watch The Judgment Day rise and fall.
Analysis: I like Cody promos a lot, but that wasn't that interesting. There's no obvious rival for Cody now although he's part of this story with KO & Sami against The Judgment Day, so there should be a six-man tag team match again. (I wrote that before I knew what the main event was going to be!)
Shinsuke Nakamura was seated backstage somewhere while he spoke in Japanese and we got to see the translation on the screen. Nakamura: "I know about your back." Nakamura said that Seth's had an injured back for years and he lives in pain. Nakamura said that Seth is in pain even when he's with his wife and daughter. Nakamura said that every day of Seth's life is filled with pain. Nakamura said that Seth knows he can break him. Nakamura: "Are you satisfied, Seth?" Nakamura issued a warning: "Watch your back."
Analysis: That was a have Shinsuke Nakamura share his message. Nakamura's not strong doing in-ring promos, but he looks threatening when it's a promo in a backstage setting like this. Nakamura calling out Rollins for having a back injury is a clever story that they can use for their match at Payback. Seth is a great seller, so it will be a believable story.
It's official for WWE Payback on September 2nd: Seth "Freakin" Rollins defends the World Heavyweight Championship vs. Shinsuke Nakamura.
The Women's World Champion Rhea Ripley entered with Dominik Mysterio for a singles match.
(Commercial)
Rhea Ripley (w/Dominik Mysterio) vs. Candice LeRae (w/Indi Hartwell)
Ripley tried for Riptide, but Candice countered with a DDT. Candice did a moonsault off the ropes. Candice was going for a pin attempt, but Ripley got out of that easily and Ripley applied a submission move on the legs of Candice. Ripley got the win after Candice gave up. It went about two minutes.
Winner by submission: Rhea Ripley
Analysis: *1/4 Easy win by Ripley as expected here.
Raquel Rodriguez appeared with a crutch to help her storyline injury to the left leg. Raquel threw the crutch at Ripley to show that Raquel didn't need it. They fought into the ring with Raquel hitting a clothesline and Ripley bailed.
Raquel Rodriguez revealed that she just got cleared today. Raquel said that she talked to Adam Pearce and said it's going to be Ripley against Rodriguez at Payback. Raquel said she's going to take that Women's World Championship. Ripely shouted at Rodriguez telling her to bring it.
Analysis: It was fine as a way to bring back Raquel, who is cleared from the storyline injury she was dealing with. They should have a good match at Payback. I'll go with Ripley retaining.
The Miz made his entrance. They showed some clips of The Miz's issues with LA Knight of late.
(Commercial)
Tommaso Ciampa did a seated promo talking about championships and knowing what it's like to be a champion. I missed some of it, but I saw when he said "do it yourself" which is a reference to Ciampa's #DIY tag team with Johnny Gargano. Ciampa left with a serious look on his face.
Analysis: That was similar to promos that Ciampa used to do in NXT when he was seated in a chair and stared at the camera. This was yet another tease for the Ciampa/Gargano team reunion, which is certainly fine with me. They were great together.
The Miz did a promo and shut down the fans saying his wife Maryse is from Montreal while saying she would never come to Quebec City. The Miz ripped on LA Knight while bragging about his accomplishments as usual. The Miz said that you'll remember him in 20 years while Knight is just a blip on the radar that won't be remembered in 20 years. Miz claimed he had a tough opponent to face him tonight.
Akira Tozawa walked out to the ring to join The Miz. When Miz asked if this was Tozawa's biggest match of his career, Tozawa said "YEAH" like Knight does. Tozawa said "YEAH" a bunch of times so Miz shouted "Really?" at him a bunch of times. Miz kicked Tozawa to put a stop to that.
The Miz vs. Akira Tozawa
The bell rang. LA Knight's music hit and Knight walked out to ringside. Tozawa dropkicked Miz out of the ring. When Miz was back in, Tozawa sent Miz out of the ring and Tozawa hit a suicide dive onto Miz on the floor. Knight did a "YEAH" to Miz.
(Commercial)
The Miz was in control with his weak looking kicks followed by another kick to the head for a two count. Knight said he brought Miz tissues because Miz was crying a lot. Miz lifted up Tozawa for a move, but Tozawa countered it into a hurricanrana. Tozawa hit a running knee. Tozawa went up top, but Miz kicked Tozawa down. Miz hit a running dropkick knocking Tozawa down on the floor. Miz trash talked Knight on the floor. Miz tried sending Tozawa into Knight, but Tozawa jumped off the commentary table and sent Knight into the steel steps. Back in the ring, Tozawa jumped off the top with a senton bomb attempt, but Miz got his knees up. The Miz went for the Skull Crushing Finale, but Tozawa did a forward roll pin after about seven minutes.
Winner by pinfall: Akira Tozawa
Analysis: ** A surprising win by Tozawa considering the names of the guys in the match, but The Miz rarely ever wins any matches, so Miz losing is something we see quite often. I guess in this case the excuse is that Miz was busy taunting LA Knight. They'll probably do Miz/Tozawa again and have Miz get his win back soon.
After the match, The Miz argued with the referee (who Cole called "Eddie Munster") and Knight went into the ring to drop Miz with a BFT neckbreaker into the mat.
Analysis: Yeah! What? It's catchy. Anyway, this should set up Knight vs. Miz at Payback.
Drew McIntyre talked to Matt Riddle backstage with Drew sounding like he wanted to end their tag team. The New Day walked up to say that Drew & Riddle can be called McRiddle. Kofi & Xavier said they liked Drew & Riddle's work as a team and said they have potential. The New Day said they get The Viking Raiders next, but after that, they'll give Drew & Riddle a rematch. The New Day thanked Drew for having their back. After New Day left, Riddle said he wanted to team with Drew again. Drew didn't say yes, but he didn't say no either since he just left.
Analysis: I hope there's a long term plan for McIntyre. I'm not that excited about a tag team with Riddle, but if it leads to heel drew or something to set up a singles push then I'm all for it.
Becky Lynch made her entrance for a promo. Lynch faces Trish Stratus in a Steel Cage Match at the Payback PLE on September 2nd.
(Commercial)
The return of John Cena was discussed again. John Cena is back on the September 1st Smackdown and then Cena is wrestling in India on the September 8th live event.
Damian Priest was backstage with Rhea Ripley and Dominik Mysterio walking up to them. Priest said that Balor didn't trust him and Balor went to talk with his boy JD McDonagh. Rhea Ripley said she gave them a chance to settle this, so now they will do it Ripley's way. Ripley left.
Let's Hear from Becky Lynch and Trish Stratus
Last week on Raw, Becky Lynch and Trish Stratus had a double countout finish. At Payback, Becky and Trish have a Steel Cage Match to finally settle this.
Lynch talked about how there's been a lot of talk about legacy in her rivalry with Trish Stratus. Lynch said her legacy will be defined by survival. Lynch said you can hurt her, break her bones, tear her ligaments and Lynch will always come back. Lynch said she's unstoppable not because she always wins, but it's because she always fights. Lynch said she still had business with Zoey Stark, so she talked to Adam Pearce…but here comes Trish Stratus.
Trish Stratus arrived with Zoey Stark saying it felt great being in her home country instead of being in the US dealing with those US-Aholes. Trish said "Merci beaucoup, Quebec" which means "thank you very much." Trish said it means absolutely nothing to be in Quebec City because it's not like this is Montreal or even Toronto while adding that at least the Leafs made the playoffs.
Stratus went into the ring with Stark. The fans were chanting something with Stratus saying she couldn't understand what they were saying. Stratus said she will finally prove that she's the greatest of all time when she beats Lynch. Stratus the bad news is that Lynch has managed to trap Trish in a steel cage. Trish said she's never fought in a Steel Cage before. Stratus admitted she was scared. Stratus said she was 24 years old and thrown into WWE, but she killed. Stratus said she killed it in the first women's main event on Raw. Stratus kept on talking about survival and legacy. Stratus said here she is 23 years standing face to face with one of the best in the business. Stratus said she's sick and tired of proving herself to everyone. Stratus claimed we will see a side of her that we have never seen before. Stratus told Lynch to be scared because "you're not going to survive this one, bitch."
Lynch said that next week it's going to be Lynch against Stark in a Falls Count Anywhere match next week on Raw. Lynch: "Welcome to the big time!" Lynch put on Trish's hat as Lynch's music played.
Analysis: I thought it was an effective way of furthering the story by having both women make their points well. No physicality here. Good job by Trish Stratus making the point that she has thrived in every situation she has been put in and she's going to prove why she's the best against Lynch. As for Becky, I liked her comments about how she's unstoppable because she always keeps coming back for more.
Chelsea Green & Piper Niven were interviewed backstage as the Women's Tag Team Champions. Green claimed their chemistry was off the charts. Niven pushed Green and off they went to make their entrance.
(Commercial)
There was a video showing the dominance of Piper Niven.
Piper Niven & Chelsea Green vs. Katana Chance & Kayden Carter
Green delivered a punch to stagger Carter. Niven made the tag, Carter knocked Niven to the floor and Chance made the tag. Chance and Carter did a double team slam onto Green, but no pin because the referee saw Niven make the tag. Niven tossed Carter into the commentary table. Niven knocked Chance down and hit a running cross body block onto Chance for the pinfall win. It went three minutes. Piper carried Green to the back.
Winners by pinfall: Piper Niven & Chelsea Green
Analysis: *1/4 A quick match to put over the story of Niven as a dominant heel champion while Green will probably get her ass kicked during tag team matches. Chance & Carter don't get much of a reaction, but the fans did pop for their double team move.
Kevin Owens & Sami Zayn were shown getting ready backstage.
There's a new Kurt Angle autobiography coming to Peacock. They featured comments from Angle, plus legends like Steve Austin, The Rock and Ric Flair too.
Analysis: There was a good Kurt Angle documentary/biography on A&E recently that I really liked. They covered his life well. This Peacock one should be great too.
(Commercial)
Seth Rollins Interview
Seth "Freakin" Rollins, the World Heavyweight Champion, was interviewed backstage by Jackie Redmond. Seth said "let them sing" so the fans sang Seth's song without it playing in the arena. Redmond wanted to know about Seth's back that Shinsuke Nakamura mentioned earlier. Rollins said that his back injury isn't something he likes to talk about publicly. Rollins said he has two fractures in his lumbar spine. Rollins said that the truth is he doesn't know what the endgame is and he doesn't know how long he'll be able to do this at the level he's at now. Rollins said it's "part of the gig." Rollins said it's part of the gig if Nakamura wants to attack his back and play mind games. Rollins said that if Nakamura wants to bring Seth's family into this while mentioning his wife and daughter. Rollins said that Nakamura better prepare to face him man to man. Rollins said Nakamura wasn't there because he was in a TV studio thousands of miles away. Rollins said next week he'll be in the ring, the World Title around his waist and the whole world singing his song. That was it.
Analysis: That was terrific by Rollins. The back injury for Rollins does have some truth to it, so they can use that in the story and the fans will be emotionally invested in it.
World Heavyweight Champion @WWERollins addresses his current mentality and physical state following comments from @ShinsukeN earlier tonight on #WWERaw. pic.twitter.com/7Uh3jRM0AU

— WWE (@WWE) August 22, 2023
Kevin Owens and Sami Zayn made their entrance as the Undisputed WWE Tag Team Champions with the fans giving them a huge ovation again. That main event match was up next.
(Commercial)
Next week on Raw: Becky Lynch vs. Zoey Stark in a Falls Count Anywhere Match. Chad Gable faces Ludwig Kaiser as well.
Damian Priest of The Judgment Day entered first for the main event. Rhea Ripley pulled Finn Balor by the arm and told the guys to team. Finn and Priest touched fists to show they are united. The four wrestlers were brawling around the ring. Zayn and Priest went into the ring to start the match.
Kevin Owens & Sami Zayn vs. Damian Priest & Finn Balor (w/Rhea Ripley & Dominik Mysterio)
This was not a title match. Zayn knocked Priest out of the ring with a clothesline over the top. Balor got involved, so Priest hit an uppercut punch on Zayn. Balor tagged in and wanted a suplex, but Zayn hit him with a suplex. Owens unloaded on Balor with punches and kicks. Owens ran outside the ring with running clotheslines on both opponents. Owens punched Balor down and hit a cannonball on Priest on the floor. Owens hit a Swanton Bomb off the top onto Balor. Owens wanted a Stunner, Balor countered it and hit a Slingblade neckbreaker. Priest had the MITB briefcase, Zayn attacked Priest and JD McDonagh had a hold of the briefcase. JD tossed the briefcase into the ring Owens caught it and hit Balor in the head with it. The referee saw the briefcase being used so it was a DQ. This went about four minutes.
Winners by disqualification: Damian Priest & Finn Balor
Analysis: *1/2 It was a way to set up the next match.
Post match, Priest yelled at McDonagh for touching the MITB briefcase. The Judgment Day attacked Sami Zayn & Kevin Owens. Cody Rhodes ran out for the save. Cody had a leather belt and he hit Dominik in the ribs with it. The faces stood tall in the ring with The Judgment Day on the floor. Cody said there's three of us and three of you, so let's do this. Adam Pearce, the WWE Official, told The Judgment Day the match is on.
Analysis: That's an easy way to get Cody Rhodes involved. Good booking. It's predictable booking too, but I don't mind that. Teddy Long would be proud. The fans loved it.
(Commercial)
Cody Rhodes, Kevin Owens & Sami Zayn vs. Dominik Mysterio, Damian Priest & Finn Balor (w/Rhea Ripley)
The faces were in control early as Cody hit an uppercut punch on Dominik. Zayn hit a back body drop on Dominik. Balor tagged in and Zayn met him with a clothesline. Balor tagged in and Zayn hit a clothesline. Owens hit Balor with a Russian legsweep, senton and a "Suck It" gesture for J-Day again. Dominik was back in with punches/kicks and then he grabbed a headlock. Owens left the ring and punched Dominik in the gut. That momentum for Owens didn't last very long because The Judgment Day kept attacking Owens and Priest sent Owens into the barricade while the referee was distracted. Ripley even did a body slam on Owens on the floor! Ripley did her own "suck it" to Owens. Priest knocked down Owens with a clothesline for a two count. The heels remained in control going into the break.
(Commercial)
The match continued with Balor in control of Owens, who was out on the floor. Balor went after KO there, so Owens slammed Balor onto the hood of the commentary table like Randy Orton liked to do. Priest tagged in to slow Owens down and Balor was back in, so Owens selling the chinlock that Balor had on him. The fans were chanting "Let's Go KO" for Owens. Owens hit a jawbreaker, a superkick and Owens knocked Cody off the apron by accident because Balor bumped into Cody to knock Cody down. Owens finally got free and Zayn tagged in with a flurry of offense that included a clothesline and elbow smash followed by Zayn hitting a Tornado DDT. Loud "Sami" Chants for Zayn. Zayn went up top, Dominik Mysterio did a distraction and Ripley tripped up Zayn on the top while Balor distracted the referee. Priest hit a South of Heaven on Zayn for two because the pin was broken up by Owens. Owens sent Balor out of the ring and Priest clotheslined Owens. Dominik went up top, jumped off with a Frog Splash that was never going to hit and Zayn got the knees up. Cody tagged in with a Disaster Kick for Dominik followed by a double Cody Cutter on Dominik & Priest. Cody hit Cross Rhodes to Balor and Dominik rolled up Cody for two. Cody hit a Cross Rhodes neckbreaker on Dominik. Zayn tagged in with a Helluva Kick on Dominik and Owens tagged in with a Stunner on Dominik for the pinfall win. It went about 14 minutes.
Winners by pinfall: Cody Rhodes, Kevin Owens & Sami Zayn
Analysis: ***1/2 A typical Raw Tag Team main event match that was very good and fun to watch with a result that felt predictable. It feels like we have seen this match before or at least something similar. Last week it was The Judgment Day standing tall and this week it's the faces turn. There was nothing out of the ordinary here. Dominik was the heel that took the most punishment as Cody hit his finisher followed by Zayn and Owens doing their finishers as well. It made the fans happy, so that's a good thing.
Sami Zayn did a quick promo saying "better luck next time" to The Judgment Day. Zayn said that the red Tag Team Titles were for Canada and the blue Tag Team Titles were for Quebec. He said it in French so you're welcome for the translation. Anyway, the fans cheered Zayn, Owens & Cody. That was the end of the show.
===
Three Stars of the Show
Sami Zayn, Kevin Owens & Cody Rhodes
Chad Gable/Gunther
Akira Tozawa. Sure.
===
The Scoreboard
7,5 out of 10
Last week: 7
2023 Average: 7.28
===
Final Thoughts
It was a very good show top to bottom with a hot crowd in Quebec City for most of the show. The reactions for Sami Zayn & Kevin Owens were pretty special. Some Payback matches were finally made official. The Nakamura/Rollins story was furthered with Shinsuke talking about Seth having a back injury and Seth admitting it, so that should lead to the rivalry getting more heated and a good match at Payback. I liked the GUNTHER/Gable match even with a countout finish because it continues the story and will build to another match.
I thought the main event tag with Zayn/Owens/Rhodes beating The Judgment Day felt similar to matches in the past, but the end result was fine. I mentioned last week when J-Day stood tall that it feels like every other week they look dominant, then they look weak and it's a repetitive pattern.
There was a nice balance of in-ring action and promos while advancing most of the key stories as well. Plus, a rare win for Akira Tozawa too! The Miz is awesome…at losing the majority of his matches. Good show overall.
The next WWE PLE is called Payback on Saturday, September 2nd. Here's what we know so far.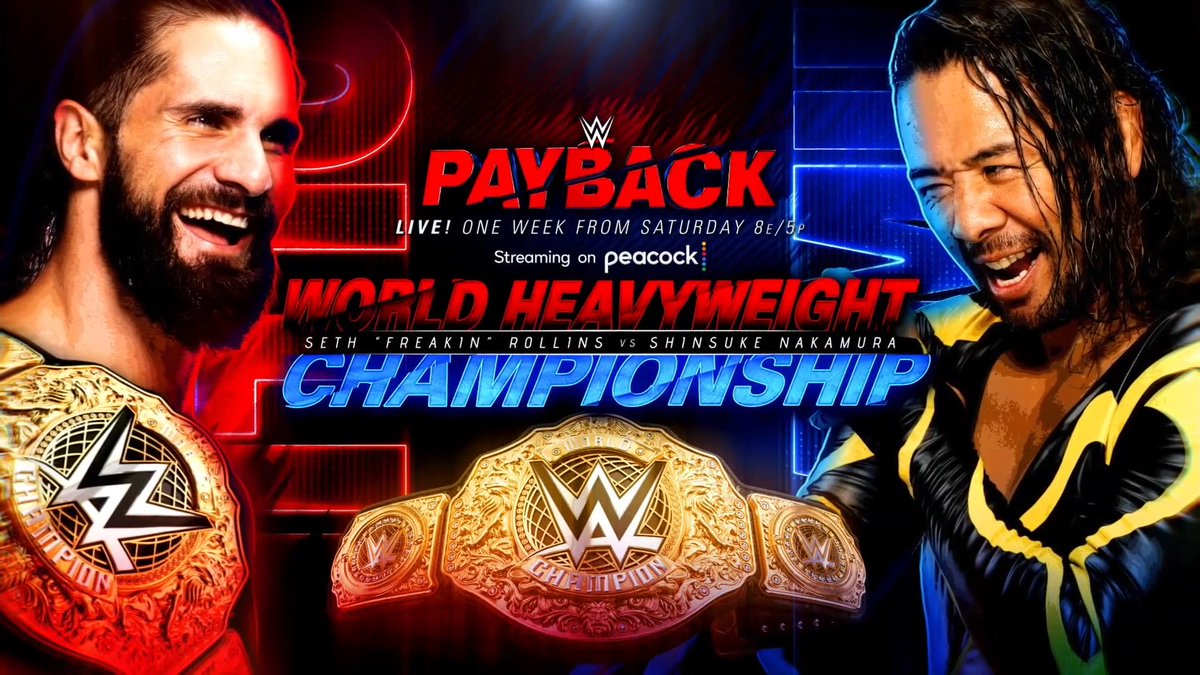 World Heavyweight Championship: Seth "Freakin" Rollins vs. Shinsuke Nakamura
Women's World Heavyweight Championship: Rhea Ripley vs. Raquel Rodriguez
Steel Cage Match: Becky Lynch vs. Trish Stratus
There will be more matches added soon.
===
Thanks for reading. Please check out my reviews of every WWE PPV ever listed in order. Go Toronto Blue Jays. My contact info is below.
John Canton
Email mrjohncanton@gmail.com
Twitter aka X (I guess) @johnreport