The John Report: The WWE Raw Deal 08/08/22 Review
This week's WWE Raw saw Bobby Lashley defend the US Title against Ciampa, Rey Mysterio faced Finn Balor, Seth Rollins battled Angelo Dawkins and the Women's Tag Team Title tournament began.
This is the Raw Deal for episode #1524 of Monday Night Raw. It's taking place at Rocket Mortgage FieldHouse in Cleveland, Ohio. Follow me on Twitter @johnreport. Let's get to it.
The opening video package showed highlights from last week's Raw when Bayley, Dakota Kai and IYO SKY attacked Becky Lynch backstage. They also showed the brawl that ensued after SKY's match with Bianca Belair.
The commentary team was Jimmy Smith, Corey Graves and Byron Saxton as usual. They promoted some of the matches coming up.
Let's Hear from Bayley, Dakota Kai & IYO SKY
The trio of Bayley, Dakota Kai and IYO SKY made their entrance. Kai and SKY had their wrestling gear on since they had a match later in the show. They were booed as they got into the ring.
Bayley said that they are excited to see the fans with their dumb, smiling faces. Bayley said that the fans need them to see what they do next to salvage this division. Kai mentioned how they crashed SummerSlam. Bayley ripped on Becky Lynch playing dress up every week and the fans cheered when Bianca Belair was mentioned. Bayley claimed Belair would benothing without her. Bayley said that they took care of Becky's shoulder while lighting a fire and bringing back what's been missing. Sky said "the hunger" so that was missing. Bayley said that the fans are lost without her and they don't know how to ask for more, but Bayley has learned to ask better questions. Bayley: "How am I the only one to realize what a lethal weapon that IYO SKY is and how is she the only one to realize the benefits of bringing in Dakota Kai?" Bayley said "Dakota Sky" at first, then blamed the fans for it and corrected herself. Kai calmed down Bayley when she was fired up. Kai said that she'll enter the women's tag team tournament with SKY and win.
Alexa Bliss showed up for the interruption with Asuka by her side. Asuka joined Bliss followed by the Raw Women's Champion Bianca Belair. This trio were the women that fought with Bayley's group last week. Those three faces went into the ring with the fans chanting "EST" for Belair.
Bliss told them that they aren't winning the tournament. Bliss and Asuka mentioned they are a team in the tournament. Bliss said that after what happened last week, it gives them incentive to win the titles.
Belair said she wanted to finish what she started with SKY last week. Belair said that they have no problem dealing with them right now. Bayley said they should do a 3 on 3 where it counts, but not here in Cleveland. Bayley suggested a 3 on 3 tag team match between them at Clash at the Castle. Belair accepted the challenge. Bayley did mock handshakes. Belair said Bayley wants to keep control, but she wants to lose control.
Belair punched Bayley and then there was a brawl with the six women fighting around ringside. Belair and Bayley went fighting into the crowd. There were referees that showed up to try to break up the fighting as the six women spilled into the crowd. Bliss jumped off the barricade onto the other women with a cross body block. Some more officials ran down to ringside to stop the fight. They went to break.
Analysis: That was good. I missed Bayley's heel promos. She did mess up Kai's name a bit, but then she corrected herself and blamed the fans for it. Turning this segment into a brawl was what I expected based on what happened last week with these six women. I enjoyed it. Good intensity shown by all of them. I also like the six-woman tag team match at Clash at the Castle because they can build up to it over the next several weeks as well.
WWE also tweeted this graphic about the teams in the Women's Tag Team Title tournament.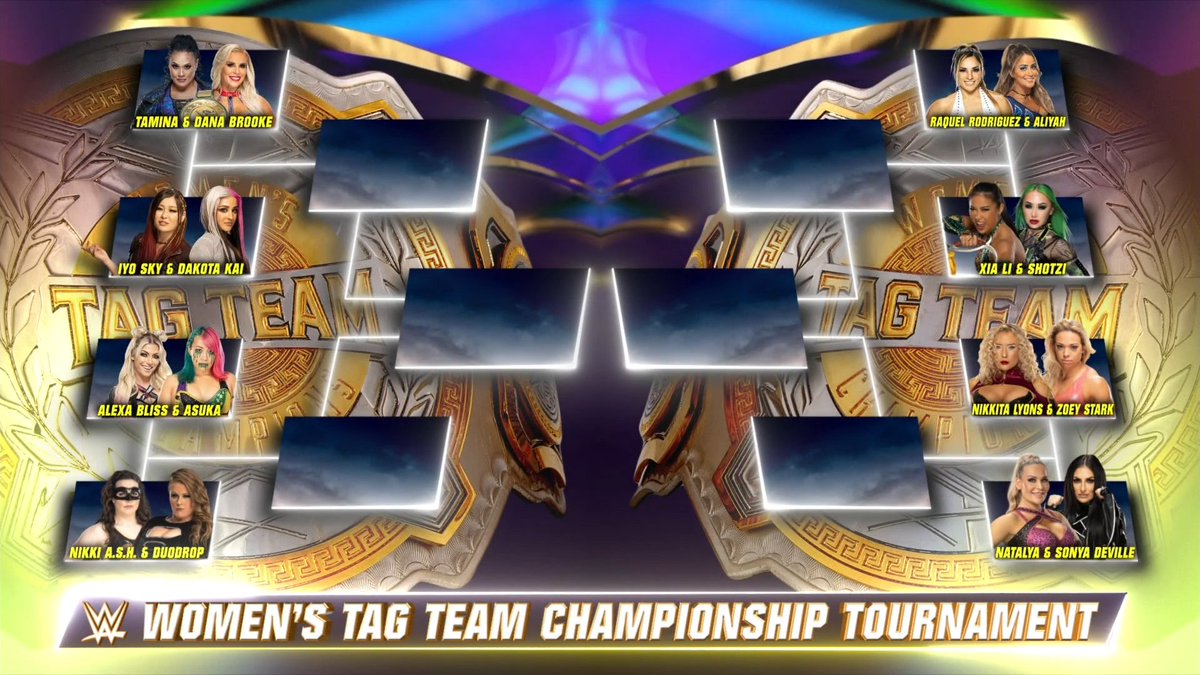 Analysis: I think Kai & SKY will win. Interesting to see the NXT team of Lyons & Stark part of it. I also wonder if/when Sasha Banks & Naomi return or if they will face the champions after there are new champions.
(Commercial)
Seth "Freakin" Rollins made his entrance. Last week he beat Montez Ford of The Street Profits, so this week Seth has to face Angelo Dawkins.
Angelo Dawkins (w/Montez Ford) vs. Seth "Freakin" Rollins
Dawkins showed off his athleticism with a leapfrog leading landing onto his feet followed by a dropkick. Dawkins with a leaping attack with a shot to the face. Ford was mocking Rollins on the floor, so Dawkins ran at Rollins with a running shove over the commentary table. Good bump there heading to a break.
(Commercial)
The match returned with Rollins in control while taunting Ford at ringside. Ford jumped into the ring with a chair, so the referee ejected Ford and Rollins laughed about it. Dawkins with a clothesline over the top along with a dive onto Rollins on the floor. Dawkins with an overhead suplex, corner splash and jumping kick to the head. Dawkins with the Silencer suplex that he does for a two count. Rollins got a rollup for two followed by a forearm to the back. Dawkins avoided two Stomp attempts and Dawkins hit a sitout Sky High spinebuster for a two count. Great nearfall. Rollins was on the floor, Dawkins went after him and Rollins sent him into the steel steps. Back in the ring, Rollins with an arm wringer sending Dawkins into the mat followed by a Pedigree for the pinfall win after nine minutes.
Winner by pinfall: Seth "Freakin" Rollins
Analysis: ***1/4 This was a good match full of action. They made the most of their time. It wasn't about grabbing a headlock to kill time. It was all action in this match with Dawkins getting plenty of offense, Rollins sold well for him to make Dawkins look credible and then Rollins put him away.
Post match, Rollins hit The Stomp on Dawkins. The fans booed that while Ford ran down to the ring to chase Rollins to the back.
There was a video package about Edge's return at SummerSlam helping The Mysterios beat The Judgment leading to Edge's promo on Raw last week. Edge said he was going to end Judgment Day.
They showed Rey & Dominik Mysterio in the locker room. Edge said that he's got their back. Dominik stared at Edge, so Edge apologized for hitting him with a Spear last week. Dominik shoved Edge in the chest leading to Rey trying to calm down his son Dominik. Rey said that he's known Edge for 20 years, he's family and Dominik told Rey that Rey's known Dominik for 25 years. Dominik said he couldn't believe Rey was taking Edge's side. Dominik left while Rey told Edge that he will talk to his son.
Analysis: Some tension between the faces there. Rey and Edge have been close friends for 20 years including a run as Tag Team Champions in 2002 as well. They also feuded after that. There's a lot of history there. It could be a sign that Dominik turns on Rey because of Edge, but I don't know if that's the plan.
This Friday on Smackdown: Karrion Kross attacked Drew McIntyre last week along with a message for Roman Reigns, so we'll see what's next for them. Plus, Gunther defends the Intercontinental Title against Shinsuke Nakamura.
(Commercial)
A video aired about Ciampa getting two wins on Raw last week to earn a US Title match.
The Miz and Ciampa were interviewed by Kevin Patrick. Miz ripped on AJ Styles for costing Miz his SummerSlam match. Ciampa said that if you want somebody to believe in, believe in Ciampa. That led to Ciampa said that a man that believed in him was Harley Race, the man that trained him. Ciampa said that three years ago, Harley passed away and Ciampa is dedicating this match to Race. Ciampa said that Bobby Lashley will feel Ciampa's sacrifice and realize he's already lost.
Analysis: Ciampa is really good at intense promos. I enjoyed it.
Kevin Owens vs. Ezekiel
Ezekiel did not get a televised entrance while Owens did. Owens went after Ezekiel with punches as soon as the match began. They left the ring with Owens sending Ezekiel into the commentary table. Owens gave Ezekiel a Powerbomb on the ring apron. The referee checked on Ezekiel and called for medical attention. This only went about one minute.
Winner: Kevin Owens
Analysis: 1/2* A dominant showing from Kevin Owens. It reminded me of his NXT debut in 2015 when he did the same thing to Sami Zayn with a Powerbomb on the apron and it was sold like a huge move. Clearly the point was to show that KO's feud with Ezekiel was over and KO is going to be a more intense, physical heel again.
After the match, Owens was smiling about it. The medical personnel, referees and Adam Pearce checked on Ezekiel. They were setting up Ezekiel to go on a stretcher.
Analysis: I think that's the end of that feud. Perhaps it will end the run as Ezekiel and bring him back as Elias. I don't know for sure, but it's possible.
(Commercial)
They replayed what happened to Ezekiel while showing him getting taken away on a stretcher. Owens was happy about it as he watched from the ring.
Finn Balor and Damian Priest were in the ring for a promo. Balor talked about how they weren't afraid of Edge. Priest did a promo about how Edge hasn't had a match on Raw in a long time. Priest said he wants to face Edge for a match on Raw in two weeks. Priest said that Edge may have started The Judgment Day, but Priest will end him.
Analysis: I am probably going to be at that Raw in Toronto, so I like that I'll get to see Edge in action. It's a cool idea to have Edge in action against Priest in front of Edge's hometown crowd in Toronto.
Rey Mysterio was shown walking backstage. Edge walked up to him saying he can be there for Rey if he needs him. Rey said that he can't get a hold of his son Dominik, but he knows he'll be there for him. Rey walked on his own for his match.
(Commercial)
Rey Mysterio made his entrance alone with no sign of Dominik. Graves talked about this is dangerous for Rey because he needs to stay focused.
Finn Balor (w/Damian Priest) vs. Rey Mysterio
Balor sent Rey into the turnbuckle, then Rey fought back to send Balor into three turnbuckle pads. Rey with a back elbow, then a headscissors sending Balor out of the ring and Rey hit a baseball slide dropkick. Rey jumped off the apron with a seated senton on Balor on the floor. Back in the ring, Rey jumped off the top with jumping attack off the top rope. Rey missed a cross body block when Balor moved out of the way. Balor stomped on Rey repeatedly while Priest applauded at ringside. Rey got a sunset flip for two, but Balor came back with a revere DDT with an elbow smash for a two count. Balor hit two vertical suplexes followed by an Eddie Guerrero-like shake leading to boos, but Rey hit his own suplex. Rey kicked Balor in the chest, Balor with a sunset flip and Rey hit a low dropkick to the head for two. Rey with punches, Balor had him on his shoulders and then Rey countered a move with a bulldog for two. Rey dropkicked Balor into the ropes, Balor avoided the 619 kick, but Priest took the kick from Rey. That led to Balor sending Rey into the ring post and the show went to break there.
(Commercial)
The match returned with Balor wanting a superplex, Rey managed to trip up Balor to send him into the turnbuckle and Rey hit an armdrag sending Balor out of the ring. Rey hit a sunset flip that sent Balor into the barricade. Rey kicked Balor, who lightly bumped into the referee and Priest tripped up Rey on the apron. Edge's music hit as he ran out for the save. Edge sent Priest into the ring post and then they went brawling into the crowd. Good job Graves saying "fans" there. Rey hit a Code Red sunset flip bomb for a two count. Really good nearfall there. They exchanged punches, Rey hit an enziguri kick to the head and Balor blocked a 619 kick with a running clothesline. Balor hit the shotgun dropkick into the turnbuckle. Balor went up top, he jumped off with the Coup de Grace and Rey avoided it leading to a headlock into a headscissors into the ropes. Rhea Ripley appeared at the entrance area with Dominik on her shoulders. Dominik had scars on his face. Rey wanted to go help Dominik, but Balor hit the reverse suplex 1916 slam followed by the Coup de Grace double foot stomp for the pinfall win after 14 minutes.
Winner by pinfall: Finn Balor
Analysis: ***1/2 A great match with Rey getting a lot of offense and nearly winning a few times, but Balor won thanks to the assist from Ripley. This was better than the last singles match these two guys had in part because they got plenty of time. The fans were really into it the whole way. I continue to be amazed at how athletic Rey still is in his late 40s while looking like somebody that was 20 years younger.
Balor went up to the entrance to stand beside Ripley while Dominik was still on the ground looking beat up. Rey was too hurt in the ring to join his son.
They showed the Women's Tag Team Title tournament graphics.
The team of Tamina & Dana Brooke were interviewed by Sarah Schreiber. Dana said that she wanted to be a double champion in reference to her 24/7 Title. Bayley showed up with IYO SKY and Dakota Kai with Bayley talked about how she was the first one holding the Women's Tag Team Titles. Tamina threatened Bayley and her friends, so Bayley's friends left with SKY saying she didn't like them.
Analysis: There has not been any 24/7 Title shenanigans since Triple H took over the creative team. That's a good thing.
(Commercial)
The team of IYO SKY & Dakota Kai made their entrance joined by their friend Bayley. This was Kai's first match on Raw. The team of Tamina & 24/7 Champion Dana Brooke was up next.
Women's Tag Team Title Tournament Quarterfinals: IYO SKY & Dakota Kai (w/Bayley) vs. Dana Brooke & Tamina
This was Kai's first match on Raw. Dana is from Cleveland, but they never announced it to the crowd. Brooke and Kai did a spot where they punched eachother at the same time. Tamina tagged in with uppercut punches on Kai and Tamina hit a suplex on Kai. Brooke tagged in leading to a cross body block on Kai & Sky on the floor. That led to a break.
(Commercial)
The heels were in control as Kai delivered a kick to Brooke followed by Sky hitting a running dropkick after she made a tag. Sky hit a running cross body block on Brooke in the corner. Sky delivered double knees to Brooke in the corner. Kai grabbed a headlock followed by a head slam into the mat. The fans chanted "Bayley sucks" as Brooke caught a running Kai leading to Brooke hitting a Powerbomb for two. Sky tagged in, Tamina got the tag and sent Sky into the turnbuckle a few times. Tamina with a clothesline, then she kicked Kai off the apron to the floor and running back attack on Sky in the corner. Sky with a kick to the face, then an uppercut, but Tamina hit a kick followed by a Samoan Drop for two. Kai made the save leading to Brooke going after Kai on the floor. Bayley pulled Kai out of the way so that Brooke hit the LED boards against the barricade. Kai tagged in while Tamina shoved Sky off the top rope. Tamina jumped off the top, she landed on her feet because Sky got her knees up. Kai with a scorpion kick, then a running kick in the corner and Sky tagged in with a top rope moonsault for the pinfall win after about nine minutes.
Winners by pinfall: IYO SKY & Dakota Kai
Analysis: **3/4 It was a solid match with the heels obviously getting the win. I don't think anybody thought they would lose here. The team of Brooke/Tamina got more offense than I expected and it went a bit longer than I thought, but that's fine. Good job by the heels using Bayley to take out Brooke on the floor leading to the finish.
The US Champion Bobby Lashley was shown warming up for his title match.
(Commercial)
A replay was shown of Kevin Owens beating up Ezekiel earlier in the show.
They showed Kevin Owens leaving the building with Kevin Patrick asking for a comment about what Owens did earlier in the show. Kevin Owens said he's been gone a little while, but he knows there are more eyes on this show than there has been in a while. Owens said that this is still the Kevin Owens Show. It's also worth noting that while Owens was interviewed, there was a car shown in the parking lot where it looked like car crashed into some object there.
Analysis: It's the heel Kevin Owens that I love with a lot of confidence instead of the guy that was worried about if Ezekiel was Elias. This is the best use of Owens as a heel.
A replay was shown of Finn Balor beating Rey Mysterio.
They showed Dominik Mysterio getting looked at by a trainer, who was probably an indy wrestler. Rey was there watching.
They showed a video aired about the history of the US Championship going back to the NWA/WCW and obviously WWE days. It was narrated by John "Bradshaw" Layfield while showing images and clips of great US Champions. It's the same video they showed last week.
Ciampa made his entrance with The Miz joining him. Ciampa made his entrance wearing a Harley Race robe since Ciampa was trained by the late, great WWE Hall of Famer Harley Race, who was the first US Champion. That match is next.
(Commercial)
Bobby Lashley made his entrance as the US Champion. Good ovation for him as one of the top faces on Raw. The wrestlers stood in the ring for the championship introductions while Miz took off Ciampa's robe for him.
United States Championship: Bobby Lashley vs. Ciampa (w/The Miz)
Lashley ran over Ciampa with a shoulder tackle followed by a delayed vertical suplex. Lashley worked over Ciampa with elbows in the corner. Lashley ran the ropes, Ciampa with a leap and Lashley caught him. Ciampa with a shoulder tackle to the left knee. Ciampa with chops, then Lashley caught a boot and hit a back elbow knocking Ciampa down. Miz was on the apron, Lashley was distracted a bit, but then Lashley knocked Ciampa off the apron to the floor. Miz stood in the way of Lashley ramming Ciampa into the ring post, so Lashley tossed Ciampa onto Miz. They went to break there.
(Commercial)
The match returned with Ciampa in control as he stomped on Lashley to keep him down. Ciampa grabbed a headlock, Lashley broke free with a shoulder tackle, then a clothesline and another shoulder tackle. Lashley charged in, Ciampa got a boot up and Lashley hit a slam off the shoulders for a two count. Ciampa slipped out of a press slam by Lashley leading to a reverse DDT for two. Ciampa kicked Lashley in the knee followed by a DDT for a two count. Lashley got back into it with a Spear near the ropes, but Miz put Ciampa's left foot on the bottom rope. The referee saw the foot on the bottom rope, so it was just a two count. AJ Styles showed up to attack Miz with a forearm. Miz went running into the crowd while Styles chased after him. Ciampa got a cradle for two. Ciampa ripped the padding off a turnbuckle while Lashley came back with a flatliner. The Miz went into the ring, Styles chased after him and Ciampa sent Lashley into the steel that was exposed. Ciampa sent Lashley shoulder first into the ring post and Ciampa with a knee for a two count. Great nearfall there. Lashley went for a Hurt Lock, but Ciampa got out of it with a crossface submission that looked like Johnny Gargano's submission known as the Gargano Escape Graves said sometimes you have to do it yourself (a reference to the #DIY team in NXT, which was Ciampa/Gargano). Lashley got back up, Ciampa sent him out of the ring and Ciampa hit a Willow's Bell DDT off the apron for one…two…and Lashley got a shoulder up. Lashley blocked a running knee leading toa spinebuster. Lashley applied the Hurt Lock submission leading to Ciampa tapping out to give Lashley the win. It went 13 minutes.
Winner by submission: Bobby Lashley
Analysis: ***3/4 Great match. Lots of nearfalls with Ciampa looking like he was going to win after that one where he sent Lashley into the steel and hit that running knee. There was another big nearfall when Lashley kicked out of the Willow's Bell DDT. That got the crowd going and really into the match as Lashley made the comeback for the win. I think Ciampa winning was believable in this match. We know Ciampa was a Triple H favorite in NXT and he'll be that on Raw now, but Lashley's reign continues for now. This was also good for the US Title because they had an awesome match that made the US Title feel important.
Omos and MVP were shown walking backstage because Omos was in action up next.
(Commercial)
They showed AJ Styles and Miz fighting in the backstage area. They announced a No Disqualification Match between the two of them later, so that's the main event.
Omos (w/MVP) vs. Two Guys With No Chance
Omos hit the first guy with a shoulder tackle. Omos backed the guy named Slade into the turnbuckle. Omos with a press slam along with a toss across the ring. Omos with a running back splash on both guys. Omos sent one guy into the top turnbuckle followed by a boot to the face. Omos with a Choke Bomb on one guy followed by a one foot pin for the win. It was under two minutes.
Winner by pinfall: Omos
Analysis: 1/4* A win by Omos to remind us how dominant he is. They don't feature him on TV that much anymore, but it was a way to have him show off a bit with power moves. It only took a few minutes, so no harm down.
The announcers talked about WrestleMania tickets going on sale this Friday. It's really early to put tickets on sale, but if you're going you can get a chance to get tickets already.
Seth "Freakin" Rollins was interviewed by Kevin Patrick, who mentioned that Riddle will give us an injury update next week on Raw. Rollins said he was done with Riddle. Rollins imitated Riddle saying "dude, bro, Randy" while reminding us he's the gatekeeper. Riddle said that as good as Riddle could be, he also flushes his own potential down the title. Rollins said you can ask Dana White (a reference to Riddle no longer being in the UFC). Rollins said that maybe Riddle will retire for good next week and if he doesn't do that, he'll "Cody Rhodes his ass" out the door. Seth said if Riddle has something to say next week then so does Rollins. Seth left.
Analysis: The plan is for Rollins to face Riddle at Clash at the Castle, so they might have Riddle say he's going to be cleared soon and he's able to face Rollins at Clash at the Castle.
Shoosh please because here comes Chad Gable joined by Otis for Gable's match against Dolph Ziggler.
A commercial aired about Degeneration X on A&E Biography next Sunday. That should be a lot of fun. I have enjoyed the other Biography shows.
(Commercial)
Dolph Ziggler made his entrance. He's another person the roster from the Cleveland area.
Chad Gable (w/Otis) vs. Dolph Ziggler
They did some amateur wrestling takedowns early on leading to each guy getting a pin attempt. Ziggler got a cradle for a two count. There was a sunset flip attempt, then Ziggler bridged out of a pin attempt and Gable did a roll through into a German Suplex for two. Gable with a dragon screw leg whip, then a knee drop onto the left knee and Gable wrenched on the knee. Gable gave Ziggler a monkey flip across the ring. Ziggler jumped off the top with a moonsault, Ziggler avoided it and Ziggler hit a jumping DDT for two. Gable came back with an Ankle Lock submission. Ziggler fought back going for a Fameasser, Gable avoided it and applied another Ankle Lock submission. Ziggler kicked Gable to break free, then Ziggler was selling left leg injury and Gable hit a Powerbomb for two. Gable gave Ziggler the Ankle Lock again, Ziggler got out of it and Gable was on top of Ziggler for a two count. Ziggler avoided a move leading to a superkick for the pinfall win after about six minutes.
Winner by pinfall: Dolph Ziggler
Analysis: **3/4 A competitive match with Ziggler only needing to hit his finisher to put Gable away. After some good mat wrestling to start the match, Gable kept going for the Ankle Lock, Ziggler survived that and got the win. The crowd wasn't into the match that much since it was a cold match with no story while fans are still getting used to Ziggler as a face.
Next week on Raw: Alexa Bliss & Asuka face Nikki A.S.H. & Doudrop in the Women's Tag Team Title tournament quarterfinals. They showed a promo from Nikki and Doudrop talking about they get to crus the hopes & dreams of Alexa Bliss and Asuka. Alexa Bliss and Asuka did a promo together with Asuka saying nobody was ready for them. Bayley showed up with friends to laugh at Bliss/Asuka while wondering if Asuka is Alexa's new toy. In the background, they showed a car getting taken away, so something was going on there in terms of an angle. Somebody went running by with security, then they showed AJ Styles walking backstage for his match up next.
Analysis: I think Bliss and Asuka should beat Nikki and Doudrop next week.
(Commercial)
They plugged Raw Talk on Peacock/WWE Network with Edge, Omos and the trio of Bayley, IYO SKY & Dakota Kai as the guests.
It was main event time with AJ Styles making his entrance first followed by The Miz, who is from the Cleveland area. Miz moved to Los Angeles many years ago, but he's a big Cleveland sports fan.
No Disqualification Match: The Miz vs. AJ Styles
They left the ring quickly with Styles clearing the commentary table, but Miz sent Styles into the steel steps. Styles hit a knee while on the apron. Styles grabbed a kendo stick and chair from under the ring then threw them down and wanted a table (the fans cheered that), but Miz kicked Miz into the barricade. Miz jabbed Styles in the ribs followed by a kendo stick shot to the back. Miz was seated on the chair, Styles hit him with strikes and a running forearm. Styles gave Miz a clothesline over the top to the floor. They were on the commentary table with Miz hitting Styles in the throat followed by Miz tossing Styles off the table onto the barricade at ringside. Styles bumped off the barricade onto the floor as the show went to break.
(Commercial)
There were less than ten minutes left as Styles grabbed a table from under the ring. When Styles walked toward Miz, it led to Styles hitting Styles with the kendo stick to the ribs. Back in the ring, Miz hit Styles with more kendo stick shots to the body. Styles came back with a Pele Kick to the head. Styles got a hold of the kendo stick leading to body shots (slow down with the camera cuts) and even a low blow with the kendo stick. Styles with a legsweep for a two count. Styles countered a Miz pin attempt for a two count. Miz sent Styles to the apron, Styles hit a forearm to the face and Miz hit a Phenomenal Forearm to the face. Styles covered Miz, but Ciampa was there to pull the referee out of the ring. It's legal since there are no DQ's here. Styles sent Ciampa into the steel steps. Styles sent Ciampa onto the apron, Ciampa teased a suplex through the table, but Styles gave Ciampa a forearm that put Ciampa through the table. Miz got a rollup for two. Styles stunned Miz a bit and Styles went for the Phenomenal Forearm again, but Miz threw a chair at Styles. Miz hit the Skull Crushing Finale for one…two…and no. Styles kicked out at two. Miz hit Styles with a few kendo stick shots, then Miz wanted a Figure Four Leglock and Styles kicked Miz into a steel chair wedged against the turnbuckle. Styles hit the Styles Clash for the pinfall win after 13 minutes.
Winner by pinfall: AJ Styles
Analysis: ***1/2 It was a fun match between two former WWE Champions. Styles nearly got screwed out of the win by Ciampa, but he was able to come back from that, put Ciampa through the table and get the clean win over The Miz. They really didn't use a lot of weapons for a No DQ match although I would say it was booked well. Miz hitting the Skull Crushing Finale for just a two count was ab it of a surprise since it is Miz's finish, but a top guy like Styles kicking out is okay. AJ has lost a lot this year, so getting a win like that was cool.
While AJ Styles was celebrating in the ring, they showed security grabbing a guy at ringside. It was former WWE NXT superstar Dexter Lumis, who obviously is back in WWE now that Triple is running creative. The announcers didn't name him, but Graves said "what the hell" when he saw him. They showed replays of Styles getting the win.
They mentioned what's coming up next week for Raw in Washington including the women's tag team match with Bliss & Asuka facing Doudrop & Nikki A.S.H. and a Riddle interview. Styles celebrated a bit more. That was it.
Here's the Lumis clip.
Looks like #WWERaw had an unexpected visitor…. 👀 pic.twitter.com/iPqxXNF02u

— WWE (@WWE) August 9, 2022
Analysis: They had a car in the background a few times during the show, so the idea was that it was Lumis trying to get into the building somehow. They showed him on camera at ringside. I don't know if this will lead to Johnny Gargano returning to WWE since he's been an ally of Lumis, but there were rumors of that being the case. I'm certainly fine with a slow build to it.
Three Stars of the Show
1. Bobby Lashley
2. Ciampa
3. (tie) AJ Styles
3. (tie) Kevin Owens
3. (tie) Rey Mysterio
The Scoreboard
7.5 out of 10
Last week: 7.75
Final Thoughts
This was another show that was great with some entertaining matches throughout the show. Several of them got over ten minutes, so that always helps the talent. I thought Bobby Lashley beating Ciampa to keep the US Title was the best match. Lots of good nearfalls there with Ciampa looking like he might win, but Lashley kept the title. The main event with AJ Styles beating The Miz was a good match as well. Seth Rollins and Angelo Dawkins had a shorter, fast-paced match that was a lot of fun to watch. I also enjoyed Rey-Balor a lot too. There's definitely more in-ring action since Triple H took over creative.
I thought the booking of Kevin Owens as an aggressive, dominant heel was one of the best parts of Raw even though it was just a short segment with KO beating up Ezekiel. That's the KO I want to see. They also progressed the story of Bayley/Kai/SKY vs. Belair/Bliss/Asuka because it's going to lead to a match at Clash at the Castle on September 3.
It was cool that they featured three Cleveland area wrestlers on the show with two of them losing matches (Dana Brooke & The Miz) while Dolph Ziggler got a win. There was no sign of Johnny Gargano in his hometown, but Dexter Lumis appeared in the crowd at the end of show, so that may lead to Gargano back in WWE. I think it will happen, but they are waiting for the right time.
The next WWE Premium Live Event is Clash at the Castle in Cardiff, Wales on Saturday, September 3rd. Here's what we know so far.
* Undisputed WWE Universal Championship: Roman Reigns (c) vs. Drew McIntyre
* Smackdown Women's Championship: Liv Morgan (c) vs. Shayna Baszler
* Bianca Belair, Asuka & Alexa Bliss vs. Bayley, Dakota Kai & IYO SKY
===
Check out the WWE PPV Review archive right here. You can contact me using any of the methods below. Go Toronto Blue Jays. Be safe and smart out there.
Thanks for reading.
John Canton
Email: mrjohncanton@gmail.com
Twitter: @johnreport