The John Report: The WWE Raw Deal 03/13/23 Review
This week's WWE Raw featured Edge-Finn Balor, Brock Lesnar-Omos face-to-face, Cody Rhodes against LA Knight, Kevin Owens facing Solo Sikoa in a Street Fight and more.
There are less than three weeks to go until WrestleMania 39, so the build to that big two-night event should continue this week on Raw.
This is the Raw Deal for episode #1555 of Monday Night Raw. It's taking place at the Amica Mutual Pavilion in Providence, Rhode Island. Follow me on Twitter @johnreport. Let's get to it.
On this day I see clearly there are 19 days to WrestleMania 39 and Edge is starting off Raw. The commentary team of Kevin Patrick and Corey Graves were on commentary to run down the card for the show.
Let's Hear from Edge and Finn Balor
Edge said you all know why he is here, so Finn Balor finally should get out here so we can be done with this.
Finn Balor appeared with his friend in The Judgment Day – Damian Priest, Dominik Mysterio and Rhea Ripley. The fans were booing Balor, who said he wants to hear what Edge has to say. Edge said he came here to end this. Edge said a few weeks ago Balor challenged Edge to a match at WrestleMania, so Edge said "fine, you got it." Balor tried to speak, but Edge told him to shut his mouth.
Edge said he's wasted the last year with them and a year before that he was wrestling in front of screens. Edge said that Balor made The Judgment Day and now they are like an Irish-Mexican-Australian-Puerto Rican Emo Delight group. Edge said it has worked. Edge said Balor made Edge say something he thought he would never say – "I Quit." Edge said they bashed Beth's skull in with a Conchairto. Edge said there's only one way that this can end. Edge said at WrestleMania inside…Hell in a Cell. Balor said that he's been in hell and it couldn't handle his demons, so he'll see Edge at WrestleMania. Edge had an interesting facial expression reaction to the demon mention – a bit of a shocked look.
The Judgment Day's Priest, Dominik and Ripley went into the ring to punch and stomp on Edge. Johnny Gargano, Dexter Lumis and Candice LeRae ran out for the save. They cleaned house, so the show went to break there. Gargano and Lumis are in a match against Judgment Day up next.
Analysis: We all knew Edge-Balor was coming at WrestleMania and having a Hell in a Cell match should be outstanding. Balor made a reference to his Demon persona, so that likely means he'll bring it back for the match. Edge's promo was great as usual. The save was random at the end, but since Gargano/Lumis are against Judgment Day after the break then it makes sense at least a bit.
(Commercial)
Johnny Gargano & Dexter Lumis (w/Candice LeRae) vs. The Judgment Day – Damian Priest & Dominik Mysterio (w/Rhea Ripley)
Gargano and Dominik started the match with Gargano getting the advantage with a rolling kick. Priest tagged in against Lumis with Priest hitting a shoulder tackle. Priest with a headbutt followed by a hard whip into the turnbuckle. Lumis with a kick to the chest and dropkick that sent Priest out of the ring. Gargano was back in, Priest with a forearm and Priest sent Gargano face first into the top turnbuckle. Gargano got knees up, then a headscissors sending Dom out of the ring and Gargano kicked Dom while he was on the floor. Gargano hit a somersault dive off the apron onto Dom/Priest on the floor.
(Commercial)
Priest was in control of Gargano with an elbow smash in the corner, a Falcon Arrow and Dom tagged in with a senton on Gargano. Dominik did the rolling vertical suplexes three times with the fans booing that as Gargano kicked out at two. Dominik dropkicked Gargano in the back, Gargano avoided a 619 attempt and Gargano hit a Spear from the apron into the ring. Lumis tagged in against Priest with Lumis hitting spinebusters on both opponents, a bulldog, a belly-to-back suplex and a leg drop for two. Lumis clotheslined Priest out of the ring, Dominik made the tag before that and got a pin attempt with feet on the rope for two because Candice stopped it. Lumis and Dominik did a spot to knock eachother down. Ripley sent Candice into the barricade. Priest clotheslined Lumis on the floor. Back in the ring, Priest with a lifting flatliner and Dominik tagged in with a Frog Splash off the top for two because Gargano made the save. Gargano knocked Priest out of the ring and Gargano hit a suicide dive into the commentary table. Dominik dropkicked Gargano. Priest applied the Silence submission, Priest was able to tag in, kick to the head and Priest hit the South of Heaven slam on Lumis for the pinfall win after 14 minutes.
Winners by pinfall: The Judgment Day – Damian Priest & Dominik Mysterio
Analysis: ***1/4 This was a pretty good match that got a lot of time. The Judgment Day didn't even have to cheat to win because they won clean. Lumis and Gargano aren't pushed as a team, so the result is certainly fine. I liked how they booked the finish with Priest making the blind tag that Lumis didn't see and two moves from Priest got the win. It made Priest look smart while Dominik benefitted from it as well.
The graphic was shown for Edge facing Finn Balor in a Hell in a Cell match at WrestleMania 39.
Analysis: I feel like Edge should win since it makes sense for the story, but Balor as the younger guy winning is fine with me too.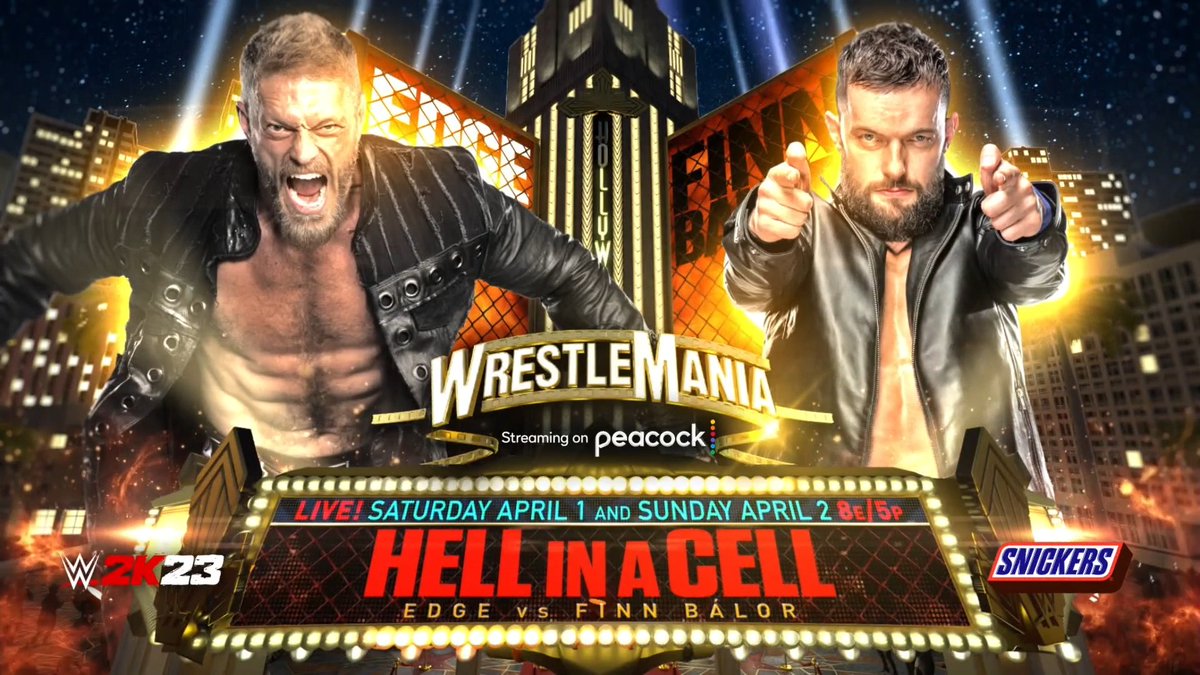 The Miz was interviewed by Cathy Kelley earlier in the day. Chad Gable asked if Miz had seen Otis and Miz said he just got there. Miz told Gable to put flyers, so Gable said that was a great idea. Miz was asked if he would have a co-host, then they showed something in the distance as the Damage CTRL trio of Bayley, Dakota Kai & IYO SKY beating up Trish Stratus on the floor. The three women kicked Trish repeatedly to put her down until help arrived.
Analysis: Damage CTRL looked weak for three straight weeks, so it was about making them look strong with some revenge here. It sucks for me wanting to see Trish do more this week, but it's effective in terms of advancing the storyline.
Omos and MVP made their entrance.
(Commercial)
Brock Lesnar and Omos Face-To-Face
Omos and MVP were standing in the ring together. MVP said that Brock Lesnar made a mistake putting his hands on MVP and made a mistake agreeing to face Omos at WrestleMania. As MVP continued, Brock's music hit to a big pop.
Brock Lesnar made his entrance wearing his jean jacket and cowboy hat look. The Beast Incarnate walked around the ring with a grin on his face as he stared at Omos in the ring. Lesnar got into the ring with Omos. The fans chanted "holy shit" for the staredown.
Lesnar looked up at Omos, who is about a foot taller than Lesnar. Omos put his giant fist and hand toward Lesnar's face. The fans chanted "Suplex City" as Omos extended his hand. Lesnar shook the hand. Omos wouldn't let go of the handshake, so Lesnar stomped on his foot. Lesnar tried a German Suplex, Omos got out of it and Omos shoved Lesnar over the top to the floor. It was not a smooth shove over the top, but Lesnar was flipped over to the floor. Lesnar had a shocked look on his face. Lesnar walked to the back as the announcers put over Omos looking dominant.
Analysis: There was a bit of a botch in terms of Brock not going out of the ring smoothly, so that will get some negative attention. It was a simple, yet effective way to make Omos look strong in their first interaction together. Lesnar has 20 years of dominance and credibility in his career, so it's important to make Omos look like a threat against Lesnar. We saw Lesnar unable to lift Omos, so the question becomes can Lesnar do it? We will see at WrestleMania. That's the appeal of the match – can Brock lift Omos? He probably will at WrestleMania, but it's important that they don't give it away before that. Did you hear the "holy shit" chant before they did anything? The fans want to see it.
There were highlights shown from last week's Smackdown when Cody Rhodes and Sami Zayn fought together against The Usos to end the show.
Cody Rhodes made his entrance for singles action. Huge pop for Cody as usual. The fans love singing along to the theme song and shout the "Whoa-oh" part of the song leading to the pyro.
(Commercial)
The graphic was shown to remind us that Cody Rhodes will challenge Roman Reigns for the Undisputed WWE Universal Title at WrestleMania 39.
Cody Rhodes vs. LA Knight
This was set up after some tweets by them. Knight was aggressive with punches, Cody got an armbar takedown and a punch to the jaw. Cody hit a knee to the jaw while Knight was seated. Cody went for a dive to the floor, but Knight punched him to stop that. Cody sent Knight into the barricade. Knight sent Cody's left arm into the ring post. Cody sent Knight into the steel steps and Cody sent LA's left arm into the steps/ring post. Cody went up top, but Knight jumped up leading to a superplex. Nice move.
(Commercial)
Cody went for a delayed vertical suplex, Knight with an eye gouge and a DDT. Knight grabbed a chinlock, Cody broke free leading to a powerslam and Cody jumped off the ropes with a Disaster Kick for two. Cody went for a move off the ropes, but Knight caught him with a belly-to-back suplex into a slam for two. Cody got out of a Knight move leading to Cody jumping off the ropes with a Cody Cutter. Cody hit the Cross Rhodes neckbreaker for the pinfall win after about ten minutes.
Winner by pinfall: Cody Rhodes
Analysis: *** A good match with a result that was obvious because we know Cody isn't going to lose a match like this on the road to WrestleMania. Cody's signature moves all looked great leading to the decisive win. Knight did a nice job in the match. I hope Knight gets a spot at WrestleMania because he deserves it.
Cody Rhodes did a promo saying that he gets warnings from Paul Heyman about how he should stay out of The Bloodline's business. Cody said he doesn't listen to them, so if he wants to fight with Sami Zayn or Kevin Owens then he can do that. Cody said he's also heard Heyman say "don't make this personal." Cody said it has been personal since he appeared on this show at 21 years old in front of these same cameramen. Cody spoke about how he wears a tailored suit because he wants to be somebody. Cody said he acknowledges Roman Reigns while adding that Reigns needs to acknowledge him. Cody said he has been undefeated since coming back to WWE. Cody grew up thinking he was a Prince in this industry, but he doesn't have the Undisputed WWE Universal Champion. Cody said on April 2nd (night two of WrestleMania), the sun will go down in Hollywood and go down on Roman's title reign. Cody said he has waited his whole life, on April 2nd he will pin Roman Reigns and become the first Rhodes to be the Undisputed WWE Universal Champion. Cody ended his promo there with the fans cheering him a lot.
Analysis: Excellent promo from Cody. I thought he nailed it. Lots of passion, confidence and Cody continues to come across as a genuinely likable guy every time he does a promo like that. Cody made a great point that he does acknowledge Roman, but Roman has to acknowledge Cody as a threat to the championship. It was really well done.
A recap was shown of the Seth Rollins-Logan Paul segment on Raw last week. While Rollins was tossing The Miz out of the ring, Logan did a cheap attack on Seth to put him down.
Seth "Freakin" Rollins was interviewed by Byron Saxton. Rollins talked about how Logan landed the shot of a lifetime by knocking Rollins down. Rollins said that you can't keep him down. The Miz walked up to Rollins saying that Seth was jealous that Logan knocked him out cold. The Miz said that Logan Paul will be back next week on Raw hosting his Impaulsive talk show. Baron Corbin walked in saying that he was available. Miz said that Logan was all booked. Corbin asked Miz if he could co-host WrestleMania with him and Miz shut that down. Corbin suggested coaching Rollins on boxing with Rollins saying he would rather take boxing lessons from his daughter. Corbin said that Seth's daughter is only 2.5 years old, Corbin ranted and Seth said it sounded like Corbin wanted a match. Rollins left while Miz told Corbin if Corbin takes care of Seth then Miz will put in a good word with Logan.
Analysis: A lot of moving parts there to set up a Rollins-Corbin match, which is fine.
Bronson Reed was up next.
(Commercial)
Elias (w/Rick Boogs) vs. Bronson Reed
Elias is something of a life coach for Boogs. Reed with a running body splash, elbow drop and a running cross body block on a seated Elias. Reed with a running splash in the corner and a lefty clothesline while Boogs was taking notes. Elias with a back elbow, boot to the head and a jumping knee. Reed with a clothesline. Reed hit a powerslam. Reed went up top and it was the Tsunami splash for the pinfall win after two minutes.
Winner by pinfall: Bronson Reed
Analysis: * A squash match to put over Reed. Elias got a bit of offense, but it wasn't much. This was all about putting over Reed strong.
They showed Cathy Kelley outside the trainer's room. Chad Gable had flyers about his missing buddy Otis. Becky Lynch and Lita walked into the trainer's room to check on Trish.
A recap of John Cena and Austin Theory on Raw last week.
This week on Smackdown: Drew McIntyre faces Sheamus with the winner getting an Intercontinental Title shot at WrestleMania. Plus, The Bloodline continues to deal with Sami Zayn and others.
(Commercial)
Kevin Owens was interviewed by Cathy Kelley, who asked about why Kevin didn't want Sami Zayn to work with him. Owens said he is not interested in Sami's help. Owens said he didn't want or need Cody Rhodes' help while referencing their talk last week. Owens told Cody to focus on Roman Reigns. Owens said he'll fight Solo and whoever he has with him. Owens said he'll fight on his own.
Analysis: Owens keeps wanting to fight on his own. We know at some point Owens and Sami will be together against The Usos leading to a WrestleMania match, but we don't know how they will get there or when.
A replay was shown of last week's promo exchange between John Cena and Austin Theory setting up their WrestleMania 39 match. Cena trashed Theory in the promo telling him that he wasn't ready. They eventually agreed to the WrestleMania 39 match.
There was a clip from earlier in the day with The Street Profits laughing at Austin Theory, the US Champion, from earlier in the day. Theory said he was the most important thing in WWE while The Street Profits are not. Theory wondered who is the toughest of The Street Profits, then he wondered who has that backbone and desire while saying it's Dawkins. Theory said that Montez Ford is a big bag of jokes that falls flat on his face. Theory told Ford that all he does is choke. Dawkins stepped up issuing a challenge to Theory, who agreed to it. Theory laughed at them for doing nothing at WrestleMania.
Analysis: Theory really trashed Ford a lot there. Hopefully that leads to something for Ford because he just stood there and took it without saying much in return. (Later in the show, they said Ford faces Theory next week.)
Austin Theory made his entrance as the US Champion.
There was a commercial for the WWE 2K23 video game, which is available this week (pre-oder people get it on Tuesday).
(Commercial)
Austin Theory vs. Angelo Dawkins
Dawkins got a waistlock takedown, Theory with a back elbow and he sent Dawkins into the turnbuckle. Dawkins showed off his athleticism with a cartwheel, a dropkick and a spinning slam. Theory with shoulder tackles to the ribs against the turnbuckle. Dawkins with an uppercut punch that rocked Theory, but Theory pulled Dawkins out of the ring. Theory sent Dawkins into the barricade two times. That led to a break.
(Commercial)
Theory worked over Dawkins with punches. Dawkins came back with an Exploder Suplex. Dawkins with two clotheslines, then he jumped over Theory and hit a back elbow. Dawkins with a corner splash, an enziguri kick and Theory got a rollup for two. Dawkins hit a double underhook suplex for two. Dawkins with a running pounce to knock down Theory. There was a necksnap by Theory against the rope leading to a dropkick for two. Dawkins got a cradle pin attempt for two and a sunset flip for two. Dawkins with an enziguri kick. Dawkins charged, Theory with a punch to the face and Theory hit the A-Down slam onto the knee for the pinfall win after nine minutes.
Winner by pinfall: Austin Theory
Analysis: **3/4 A clean win for Theory after that punch and his finisher for the win. I thought Dawkins did a nice job. The crowd wasn't into it that much because they knew Theory would win and he did. A lot of matches this week like that with the obvious result.
Post match, Theory attacked Dawkins with the STF submission move that John Cena uses. Montez Ford ran out to the ring, so Theory escaped. Theory did Cena's "you can't see me" hand gesture.
Analysis: A nice way for Theory to taunt Cena there.
Rey Mysterio is up next.
(Commercial)
Paul Heyman was interviewed by Cathy Kelley with Heyman talking about The Bloodline's Kevin Owens problem. Heyman said that Solo Sikoa will solve that problem. Heyman said that Cody Rhodes has made a mistake by thinking it's personal against Roman Reigns. Heyman called Cody a "schmuck." Heyman told Cody he'll give him a chance to acknowledge Roman Reigns because Roman will be on Raw next week. Heyman said that Cody will decide at that moment if he's a challenger or a problem. Heyman talked about how Cody is a problem that Roman Reigns would love to personally solve.
Analysis: Roman Reigns on Raw next week for a rare appearance by the Tribal Chief.
A video aired about Rey Mysterio in the WWE Hall of Fame, which we found out about last week on Smackdown.
This week on WWE The Bump this Wednesday, Ric Flair will announce the next inductee in the 2023 WWE Hall of Fame class.
Let's Hear from Rey Mysterio
Rey Mysterio made his entrance at the top of hour three. Rey was in the ring for a promo thanking the fans as they chanted "you deserve it" at him. He sure does. Rey said it felt damn good to be back on Raw. Rey said last year they were celebrating 20 years together and now we are celebrating the biggest honor of his life. Rey said that this isn't just his award – it's for the people that helped build up his career while mentioning the fans connecting with him for all of these years. Rey said this award is for all of us.
The Judgment Day's Dominik Mysterio, Rey's son, made his entrance to boos. Dominik congratulated his dad for finally making the WWE Hall of Fame and he deserves it. The fans chanted "you suck" at Dominik. Dominik said that Rey earned the honor at the expense of Dominik, who got into the ring with his father.
Dominik said that Rey put his entire life into this business instead of being there for Rey's kids. Dominik asked how it felt knowing that Dominik spent all those nights without his father. Dominik talked about how his dad ditched him in 8th grade for a celebration so that Rey could go to WrestleMania. Dominik mentioned that at 16 years old, Rey got him a BMW while Dominik's friends all got Mercedes cars and Rey didn't even get him an M series. Poor Dom. Dominik said Rey is afraid because he sees Rey as a sad, ugly excuse for a father and man. Dominik said he'll let Rey enjoy his Hall of Fame weekend in LA, but he'll make it better by challenging Rey to a match at WrestleMania. The fans chanted "yes" to that.
Rey told Dominik that he is not going to fight his own son. The fans booed. Rey said whether Dominik believes it or not, Rey still loves him and he always will. Rey said there will be no match at WrestleMania. Rey left the ring. Dominik told Rey he ran away from Raw, he ran away from his family and he ran away from Dominik. Dominik told Rey that the only thing he taught Dom is what not to be. Rey slowly made his way to the back.
Analysis: It was another Rey promo interrupted by Dominik. This time it included a WrestleMania challenge with Dominik wanting the match with Rey, who continues to refuse to hit his son. Now we get to see how they finally get to the match. Dominik had some good lines in his promo and the BMW/Mercedes thing made me laugh. Dominik has grown so much as a performer in the last six months as a heel. Good job by him.
The trainer's room was shown again with Cathy Kelley talking to Lita, Becky and Trish. Becky said that Damage CTRL will get their head kicked in. Trish said they should have finished the job because Trish has been hit a lot harder than that. Trish said they should have finished the job. Becky, Lita and Trish walked away.
Analysis: The feud still needs more interactions, but I liked the quick dialogue here.
The Miz entered to be on commentary for the next match.
There was a WrestleMania movie commercial with Rhea Ripley while John Cena was the narrator in it.
(Commercial)
The WWE Backlash PLE will be on May 6th with Bad Bunny as the host in Puerto Rico.
Baron Corbin was in the ring for a match while The Miz was on commentary. Seth "Freakin" Rollins got a big ovation while the crowd sang his theme song.
Seth "Freakin" Rollins vs. Baron Corbin
Corbin attacked Rollins with punches before the bell. Rollins got some punches, then a clothesline, a forearm and a running clothesline over the top to the floor. Rollins hit a suicide dive to knock Corbin onto the commentary table. Rollins hit a running knee off the apron to Corbin's face. Rollins tossed Corbin onto Miz at ringside. Back in the ring, Rollins hit a superkick to Corbin. Miz on the apron, so Rollins kicked Miz in the head. Miz was in the ring, Rollins jumped off his back and Rollins hit The Stomp on Corbin for the pinfall win after three minutes.
Winner by pinfall: Seth "Freakin" Rollins
Analysis: *1/2 Easy win for Rollins to keep him strong going to WrestleMania while Corbin continues to nearly every match he has. That finish was cool.
Chad Gable was shown with a Missing photo looking for Otis. Mustafa Ali walked into the scream saying that you have to be more positive. Otis was shown with the Maximum Male Models doing a photoshoot. Gable mentioned Mansoor had a match, Mansoor complained about a nail issue and Gable wanted to join the photoshoot, but Mansoor said Gable broke the camera. Maxxine and Mace had some silly lines. Gable wanted Otis to go with him, but Otis passed and went with the MMM group.
Analysis: Just a comedy bit to show Otis is with MMM now I guess and maybe Gable will go on his own. There are some people that love this. I don't mind comedy in wrestling. I'm just not that impressed by it yet. Maybe I will be in the future.
Bianca Belair, the Raw Women's Champion, made her entrance for a match.
(Commercial)
Bianca Belair vs. Chelsea Green (w/Carmella)
This is not for the Raw Women's Title held by Belair. Green tried a shoulder block, but Belair knocked Green down instead. Belair with a shoulder tackle, backbreaker and a standing moonsault for two. Green tripped up Belair on the apron, the referee was distracted and Carmella hit a superkick leading to Green getting a two count.
(Commercial)
Belair got a rollup sitting on top of Green for two. Green tripped up Belair by the turnbuckle followed by Green doing knees to the back. Belair sent Green into the turnbuckle along with a sidewalk slam. Belair with clotheslines, a dropkick and a delayed vertical suplex. Carmella on the apron, Belair knocked her off the apron with a cartwheel, Green with double knees and an inside cradle for two. Green wrenched back on the right arm. Belair countered a move and hit the KOD slam for the pinfall win after eight minutes.
Winner by pinfall: Bianca Belair
Analysis: **1/4 A clean win by Belair. It went a few minutes longer than I thought it would go, but it's yet another obvious match result on this show.
Post match, Carmella tried an attack, Belair blocked it and Green knocked Belair down. Carmella and Green attacked Belair. Asuka went down to the ring for the save with a kick to Green while Belair hit a spinebuster. Asuka held up the Raw Women's Title while dancing around with it and playing some air guitar. Belair wanted the title back, but Asuka started laughing while some blue liquid was pouring out of her mouth. Asuka put the title on the ground and left. Belair just looked at Asuka from a distance.
Analysis: There isn't much of a story here other than Asuka laughing with the blue liquid in her mouth. I'm sure they have a good match. I just think a better story would be nice.
A replay was shown of Omos manhandling Brock Lesnar earlier in the show.
Solo Sikoa made his entrance for the main event.
(Commercial)
A commercial aired for Austin 3:16 merchandise on Thursday since it's 3/16 Day aka March 13th.
Next week on Raw:
* Logan Paul hosts Impaulsive TV.
* Austin Theory vs. Montez Ford
* Bianca Belair & Asuka vs. Carmella & Chelsea Green
* Roman Reigns returns to Raw.
Kevin Owens made his entrance for the main event with the fans cheering for him as usual.
Street Fight: Kevin Owens vs. Solo Sikoa
They started brawling on the floor. Back in the ring, Owens with a knockdown and a running senton splash on Solo on the mat. They left the ring with Solo tackling Owens into the barricade. Owens came back with a clothesline as they fought on the floor. Solo came back with punches and sending Owens into the hood of the commentary table. Owens sent Solo's head into the hood of the commentary table as well. Back in the ring, Owns ran right into a Samoan Drop by Solo. Solo with a headbutt to the arm as Owens rolled out of the ring. Solo brought two chairs into the ring. Owens sent Solo into the steel steps. Owens pulled a table out from under the ring, which the fans loved. Solo superkicked Owens and tossed Owens toward the commentary table. Solo put the table under the ring, so that drew boos.
(Commercial)
Owens was tossing chairs into the ring. There were several chairs in the ring. Owens hit Solo with a chair to the back. Owens opened up six chairs in the ring. Owens kicked Solo onto the chairs, Solo got back up and Solo headbutted Owens several times. They fought on the turnbuckle a bit leading to Solo tossing Owens off the top leading to KO taking a hard back bump onto the chairs. Ouch. Solo got a two count after that. The match spilled to the floor again with Owens hitting a cannonball against the barricade. They went into the crowd and were fighting by the entrance area. When Owens followed Solo backstage, The Usos were there for a double superkick on Owens. The Usos pulled Owens down to the ringside area. The Usos were in the ring with Solo as The Usos hit a double superkick. Solo did the Samoan Spike to Owens for the pinfall win after 12 minutes.
Winner by pinfall: Solo Sikoa
Analysis: *** A cheap win for Solo thanks to the cheap attack by The Usos. Owens put up a fight and it was even the whole way until The Usos appeared to back up their brother. Nobody helped Owens because he told the others that he wanted to do it alone. The lesson is Owens can't do it alone and needs help, so maybe we'll see him working with Sami Zayn soon.
The Usos and Solo celebrated the attack while Owens was spitting up in the ring to sell the attack. The Usos and Solo left the ring to do some final posing. End show.
Three Stars of the Show
Cody Rhodes
Kevin Owens-Solo Sikoa
The Judgment Day
The Scoreboard
7 out of 10
Last week: 7.5
2023 Average: 7.25
Final Thoughts
I'll keep this brief since I'm tired as I write this. It was mostly a good show as they advanced WrestleMania stories. Most of the matches had obvious winners with people that are in WrestleMania matches beating others that are not. The main event with Solo Sikoa beating Kevin Owens was cheap with The Usos involved, so that should lead to KO finally realizing he needs some help against The Bloodline.
I liked most of the promos. They felt like the best parts. Edge did a great, Cody Rhodes as well and Dominik Mysterio with Rey too. There were others, but those ones stood out the most.
WrestleMania 39 takes place on Saturday, April 1 and Sunday, April 2 at SoFi Stadium in Los Angeles with these matches advertised so far:
* Undisputed WWE Universal Championship: Roman Reigns (c) vs. Cody Rhodes
* Smackdown Women's Championship: Charlotte Flair (c) vs. Rhea Ripley
* Brock Lesnar vs. Omos
* Raw Women's Championship: Bianca Belair (c) vs. Asuka
* Seth "Freakin" Rollins vs. Logan Paul
* United States Championship: Austin Theory (c) vs. John Cena
* Damage CTRL – Bayley, IYO SKY & Dakota Kai vs. Trish Stratus, Becky Lynch & Lita
* Hell in a Cell Match: Edge vs. Finn Balor
The Miz will host WrestleMania.
WrestleMania goes Hollywood for a special two-night Premium Live Event, Saturday, April 1, and Sunday, April 2, at 8 p.m. ET/5 p.m. PT, streaming live on Peacock in the United States and on WWE Network everywhere else.
===
Check out the WWE PPV Review archive right here. You can contact me using any of the methods below. Go Toronto Blue Jays, Toronto Raptors and Toronto Maple Leafs. Be safe and smart out there.
Thanks for reading.
John Canton
Email: mrjohncanton@gmail.com
Twitter: @johnreport