The John Report: The WWE Raw Deal 02/27/23 Review
This week's WWE Raw featured Damage CTRL defending the Women's Tag Team Titles against Becky Lynch & Lita, Cody Rhodes in action and more.
We continue on the Road to WrestleMania with tonight's Raw taking place less than five weeks until WrestleMania 39 takes place on April 1st and April 2nd.
This is the Raw Deal for episode #1552 of Monday Night Raw. It's taking place at the Van Andel Arena in Grand Rapids, Michigan. Follow me on Twitter @johnreport. Let's get to it.
Becky Lynch and Lita were shown arriving earlier in the day ahead of their title match.
The opening video package showed highlights from Smackdown last week with Sami Zayn talking to Jimmy Uso about Roman Reigns being a bad guy while Jey Uso watched from a distance. Zayn dropped Jimmy with a Helluva Kick and left while Jey didn't get involved.
Let's Hear from Jimmy Uso with Solo Sikoa
Jimmy Uso arrived with his two Tag Team Titles with younger brother Solo Sikoa joining him. Jimmy said that he knows what people think about The Bloodline right now, but family fights all the time. The fans were chanting "Sami" at him in support of Sami Zayn. Jimmy said if you come for one member of The Bloodline then you come for all of it. Jimmy talked about how The Bloodline beat Kevin Owens and Sami Zayn. Jimmy mentioned Cody Rhodes leading to "Cody" chants from the crowd. Jimmy asked the fans if they think Cody will get by Roman Reigns and Jimmy said "hell no." Jimmy said Roman Reigns will be back on Friday to remind everybody who runs Smackdown. During all of Jimmy's speech, Solo Sikoa stood there with his arms crossed.
The Street Profits made their entrance as the opponents. No red cups for their entrance. Montez Ford and Angelo Dawkins talked about how they were seeing The Bloodline in the ring. They mocked the fact that Jey Uso wasn't there. After the Profits mentioned Roman Reigns, Jimmy told them not to mention him and The Street Profits started the fight at that point. The Profits brought the fight to The Bloodline and knocked Jimmy/Solo out of the ring leading to the break.
Analysis: It was fine for an opening segment to get to a match that was already announced on social media a few hours earlier. I thought Jimmy did a good job with his promo trying to suggest that there are no issues with The Bloodline even though we can obviously see they have problems in the group. The Street Profits are always fun to watch, so it's certainly fine to have them in a spot like this.
(Commercial)
Jimmy Uso & Solo Sikoa vs. The Street Profits – Montez Ford & Angelo Dawkins
Jimmy rocked Dawkins with an uppercut leading to Solo tagging in with a hard chop. Dawkins broke free leading to a dropkick on Solo, Ford tagged in and the Profits hit a double dropkick. Solo drove Ford into the corner leading to Jimmy tagging in with a punch and a clothesline. Dawkins was back in with another dropkick, a spinning splash in the corner and a jumping kick that barely connected. Jimmy grabbed a side headlock, sent Dawkins into the ropes, Solo made the tag and hit a jumping clothesline as the show went to break.
(Commercial)
Solo hit a Samoan Drop on Dawkins as the heels remained in control. Solo hit a running hip attack on Dawkins against the turnbuckle. Solo superkicked Ford while he was standing on the apron to knock Ford down. Dawkins was back up with a jumping back elbow. Ford tagged in with punches, a belly-to-back suplex and a standing moonsault for a two count. Ford punched Jimmy, kicked Solo on the floor, Ford kicked Jimmy to knock him down and Ford went up top, but Jimmy was there to punch him. Jimmy with a rising kick to Ford while he was on the turnbuckle. Ford headbutted Jimmy to knock him down and Ford hit a Frog Splash cross body block for a two count. The slow motion replay of that was cool. Ford with kicks, Jimmy with a kick, Ford with a jumping kick and Solo tagged in. Ford hit a spinebuster on Jimmy. Dawkins tagged in, legal man Solo shoved Ford down and Jimmy hit Dawkins with a superkick. Solo did the Samoan Spike to Dawkins for the pinfall win after 11 minutes.
Winners by pinfall: Jimmy Uso & Solo Sikoa
Analysis: ***1/4 It was an entertaining match with the heel brothers working very well together especially towards the finish with Solo shoving Ford down and Solo destroyed Dawkins at that point. The Street Profits are not being pushed much even though they are a talented team. Ford is really thriving while Dawkins is talented too. I'd like to see them get a title push again.
Post match, The Bloodline continued the attack by knocking Dawkins out of the ring. Solo put the steel chair around Ford's neck, but Kevin Owens showed up with a superkick on Solo. Owens hit a Stunner on Jimmy as well. Owens celebrated that in the aisle while the fans were cheering for it. Owens was wearing a black sweater.
Analysis: A good spot to have Owens make the save. Owens was dressed similarly to how Sami Zayn has dressed in recent weeks with a sweatshirt and black pants. The WrestleMania plan is still likely Sami & Kevin vs. The Usos, but the story isn't there yet.
The Raw commentary team of Kevin Patrick and Corey Graves were on camera to talk about what's coming up.
There was a recap of last week when MVP told us that Omos was challenging Brock Lesnar to a match at WrestleMania 39.
A video aired promoting the movie Creed 3 while also featuring Edge talking about his WWE comeback over the last three years.
(Commercial)
There was a commercial for A&E Biography about Chyna this coming Sunday. The Rivals episode is about John Cena and The Rock. Those shows are always well produced.
Brock Lesnar Guests On The VIP Lounge
Brock Lesnar's music hit as The Beast made his entrance with jeans, a jean jacket and a black cowboy hat. Lesnar walked around the ring and got a huge ovation from the crowd since Brock is in babyface mode these days. There was a black carpet, couches and champagne in the ring because it's supposed to be the VIP Lounge hosted by MVP.
MVP (Montel Vontavious Porter) made his entrance wearing a suit with a cane in his right hand. MVP said this isn't how he envisioned Lesnar accepting the challenge. Lesnar said that he was sorry for being early. MVP stood on the floor saying he's okay standing there. The fans chanted "Suplex City" for Lesnar so MVP said he shouldn't listen to them. Lesnar said he's there for business in this VIP Lounge. Lesnar wanted MVP to sell these people and Lesnar a fight. MVP got into the ring, Lesnar assured him of no suplexes and MVP made his way into the ring.
Lesnar and MVP were seated on couches. Lesnar said he had to hear this first hand since he's a coward. Lesnar said MVP can't insult him and Lesnar wanted MVP to sell these people on this fight. MVP talked about how Lesnar was the Beast Incarnate and when Lesnar puts his hand on somebody, they have no chance and if Lesnar hits somebody with an F5, that man is done for. MVP said that Lesnar had his hands full with Bobby Lashley, yet for some reason, Lesnar thinks he can have his way with Omos. MVP warned Lesnar about Omos. MVP said that a Giant can subdue and conquer a Beast. MVP told Lesnar he couldn't hit an F5 on a 416-pound Nigerian Giant like Omos. Lesnar gave him a high five for that hype speech.
Lesnar told MVP that was damn good. Lesnar: "I accept your challenge." Lesnar said that not only does he accept the challenge, but they should also shake on it and drink on it. Lesnar even announced the match. They even shook hands. MVP had champagne. Lesnar said no champagne because Lesnar grows the good stuff and Lesnar said they'll drink the good stuff. Lesnar had a drink in his jacket pocket, Lesnar drank some of it and MVP said he wanted the champagne instead. Lesnar made MVP drink some. MVP asked what it is. Lesnar said it's called: "White Lightning." MVP had a drink of the White Lightning, he didn't like it and he spit it on Lesnar accidentally. The fans chanted "you f**ked up" at MVP. Lesnar cleaned up with a handkerchief, put it back in MVP's suit and Lesnar hit MVP with an F5. Lesnar promised no suplexes, but there was an F5. The fans popped for it while Lesnar left triumphantly.
Analysis: That was an okay segment with Lesnar showing off his personality more as he tends to do in the babyface role. I was surprised that there was no sign of Omos at all, but they have over a month to go until WrestleMania. MVP was hesitant about getting his ass kicked and that's what happened because he spit his drink on Brock. I think the story will be about if Lesnar can hit the F5 on Omos at WrestleMania and I think Lesnar will do it.
Becky Lynch and Lita were interviewed by Cathy Kelley asking them how they have been preparing. Lita said that some of her career highlights have been by some of the most legendary teams and said she's been making history for over two decades, but it's not done yet. Lynch said that she doesn't work too well with others, but there is no other woman she would rather fight side by side with. Lynch said they are walking out with those Tag Team Titles. Lynch said that they are the future, most groundbreaking Tag Team Champions of all time.
Analysis: A lot of confidence shown by the challengers that have a lot of championships in their history as individuals.
Cody Rhodes was shown walking backstage in his wrestling gear for a match up next.
This Friday on Smackdown, Roman Reigns is back. What does Roman have in store for Jey Uso? Find out on Smackdown.
(Commercial)
Cody Rhodes made his entrance to a big ovation while handing his white leather belt to a young fan at ringside.
Cody Rhodes vs. Chad Gable (w/Otis)
Cody drove Gable to the turnbuckle, Gable with a punch and Cody got a sunset flip. Gable tried an Ankle Lock, Cody sent him into the turnbuckle and Gable went up top, so Cody went after Gable there. Cody hit an inverted superplex off the middle rope leading to a break.
(Commercial)
Gable was in control with a dragon screw leg whip working on the left leg. Gable went up, jumped off with a headbutt attempt and Cody moved so Gable hit the mat. Cody with forearms, then a powerslam and Cody hit a Disaster Kick off the ropes while selling the knee injury. Cody tripped up Gable leading to Figure Four Leglock submission, but Gable managed to get to the bottom rope. Cody went for a move off the ropes leading to Gable catching him and hitting a German Suplex for two. That was great. Gable with a Cliffhanger DDT followed by Gable going up top and hitting a moonsault off the top for two. Cody fired up with strikes followed by a hiptoss over the top to the floor. Cody hit a suicide dive onto Gable into the commentary table while Otis was looking at something in the crowd. Cody talked to Otis saying she was over there in the crowd. Otis charged at Cody and Cody sent him over the barricade. Cody jumped off the top with a Cody Cutter! That was great. Cody hit the Cross Rhodes spiking Gable on the head for the pinfall win after 11 minutes.
Winner by pinfall: Cody Rhodes
Analysis: ***1/4 That was a great match with a hot finish. Cody is looking sharp and hitting all of his incredible moves perfectly. That Cody Cutter was so awesome while the Cross Rhodes also looked impressive. Cody winning was obviously going to be the result here. We have seen Gable have a bunch of great singles matches in this Triple H Era of booking. Gable doesn't win these matches, but he makes it interesting. I liked that match quite a bit.
Cody Rhodes did a promo saying they are 33 days away from WrestleMania. Cody said he has yet to stand in the ring with his opponent, Roman Reigns. Cody talked about how Roman Reigns is back on Smackdown this Friday and Cody is ecstatic because "I'll be there too." The fans cheered that.
Analysis: It's great that we'll finally get that Reigns-Rhodes face-to-face this Friday on Smackdown. I don't know if it will be a lengthy promo, but I think the fans are ready for a face off. I know I am ready for it.
What say you, @HeymanHustle?

Undisputed WWE Universal Champion @WWERomanReigns AND @CodyRhodes will be in the same building this Friday on #SmackDown! pic.twitter.com/KIT10jYwh5

— WWE (@WWE) February 28, 2023
Baron Corbin was interviewed by Byron Saxton, but before it could get anywhere, Byron left to interview Kevin Owens instead. Corbin was mad about that. Kevin said they are suffering from the consequences of their actions. Owens said he doesn't want or need any help taking down The Bloodline.
Analysis: Owens wants to be alone against The Bloodline, but at some point hopefully soon, Owens and Zayn will be together against them.
There was a WrestleMania 39 parody commercial featuring Montez Ford and Bianca Belair doing their version of The Titanic. Ford wanted to take a selfie photo, but dropped his phone in the water. Belair: "You're backed up on the Cloud though, right?" Ford: "No." Poor guy." Always got to back it up.
Analysis: It was okay, but also very brief. Funny line at the end there.
(Commercial)
The Judgment Day did a backstage promo with Dominik Mysterio trashing his father Rey Mysterio that is a coward. Dominik mentioned Rhea Ripley being in action on Smackdown and he'll be there too. Rhea Ripley said she can tell Charlotte Flair was shook being in the ring with her. Ripley said that Charlotte can't escape her own fate while adding that she will walk out as Smackdown Women's Champion. Finn Balor trash talked saying Edge doesn't get to decide when this is over. Finn said it's over when he says it is over. Balor said that Edge is playing checkers while Balor is playing chess. Balor challenged Edge to a match at WrestleMania.
Analysis: There's the obvious Finn Balor-Edge match at WrestleMania. It'll be interesting to see how the Dominik-Rey story advances to where Rey finally hits his son because it hasn't happened yet.
Otis was shown outside the trainer's room. Maxxine Dupri, Mace and Mansoor showed up to talk to Otis. Maxxine said they'll be in Otis' corner if he had a match, so Otis left to go find Adam Pearce to get a match.
Asuka made her entrance for singles action.
This week on NXT: Carmelo Hayes faces Tyler Bate. That should be an outstanding match.
(Commercial)
Asuka will challenge Bianca Belair for the Raw Women's Championship at WrestleMania 39. Carmella made his entrance with Graves screaming in excitement about his wife.
Carmella vs. Asuka
Asuka with a kick to get a knockdown. Asuka went for the ankle lock, but Carmella slipped out of it and kicked Asuka away. Carmella with elbow smashes to the head. Carmella hit a bronco buster in the corner for two. Asuka sent Carmella into the ropes leading to a rising knee to the face. Carmella bailed to the floor, Asuka chased her back in the ring and Asuka went for a charging attack, but Carmella moved, so Asuka bumped to the floor. Carmella superkicked Asuka on the floor leading to a break.
(Commercial)
Carmella was in control with trash talk, so Asuka shut her up with a backhand to the face. Asuka delivered some kicks followed by a German Suplex and a roundhouse kick to the head. Asuka with a sliding knee on the apron while Carmella was on the floor. Back in the ring, Asuka jumped off the top, Carmella moved and Carmella hit a superkick for two. They exchanged some holds with Carmella going for the Code of Silence, but Asuka got out of that and Asuka applied the Asuka Lock submission. It went nine minutes.
Winner by submission: Asuka
Analysis: **1/2 It was a solid match with Asuka picking up the win as expected to give her some more momentum going into WrestleMania. Carmella delivered a lot of superkicks and came close to winning, but this was all about making Asuka look strong.
After the match, Asuka ranted in Japanese and told Raw Women's Champion Bianca Belair to come out right now, so Bianca walked quickly down to the ring.
Bianca said she hoped Asuka came out here to tell everybody that they are going to tear the house down at WrestleMania. Belair said you can't spell WrestleMania without EST…which is factual information. Carmella went back into the ring and shoved Asuka into Belair to knock Asuka/Belair down. Carmella left saying that "Mella is Money" while Belair stared at her.
Analysis: Carmella just put over Asuka, so I guess she'll lose a match against Belair too.
Piper Niven entered for singles action.
(Commercial)
There was a video that aired about Bronson Reed while also promoting the Creed 3 movie. Reed rhymes with Creed at least.
Candice LeRae vs. Piper Niven
Nikki Cross walked out to ringside to watch the match since she tends to follow Candice around. Candice avoided a splash attempt by Piper and Candice hit a neckbreaker. Piper caught a charging Candice leading to a slam followed by a senton splash. Piper sent Candice into the turnbuckle, but Candice sent a charging Piper into the turnbuckle. Candice went to the turnbuckle, Piper knocked her down to the apron and the floor. Piper also tossed Nikki into the barricade just for fun. Candice did the ROLLUP OF DEATH~! on Piper for the pinfall win after three minutes.
Winner by pinfall: Candice LeRae
Analysis: *1/2 A shorter match with a quiet crowd for most of it. Nikki Cross helped Candice win just by going near Niven, who tossed Cross into the barricade. That allowed Candice time to recover and apply the always deadly ROLLUP OF DEATH~! for the win. It might lead to Candice and Nikki as allies soon, but I'm not sure.
Johnny Gargano was interviewed by Byron Saxton with Gargano talking about how Otis wanted a match. Damian Priest and The Judgment Day interrupted the promo. Priest said that the last time he saw Gargano, he laid him out in the Elimination Chamber. Balor said that Otis will flatten Gargano like a pancake. Balor said that if Otis doesn't do it tonight then Balor will finish him off next week. Gargano said he'll see him next week.
Analysis: If you know your NXT history then you might say Gargano and Balor are the two favorites of Triple H as a booker. That's a nice match for next week.
The Miz entered for his Miz TV talk show with Miz wearing a suit.
(Commercial)
Miz TV Hosted By The Miz
The Miz talked about how Maryse has given him two beautiful daughters and this gift is life changing. The Miz said he was also going to introduce the host of WrestleMania…it's himself. So we are to assume that Maryse got him this job? I guess that is the assumption. The Miz talked about how of course he was going to be the host because it's in Hollywood. The Miz went over the confirmed matches so far at WrestleMania this year.
Seth "Freakin" Rollins interrupted the promo while wearing a unique outfit as usual including some very large sunglasses.
The Miz complained about Seth Rollins bothering him for the last three weeks. Rollins talked about stomping Miz with his boots, then he hit The Stomp on Miz because he was being a b-hole, then Miz said he's the "A" Lister instead and the fans chanted "A**hole" right on cue.
Seth Rollins said that he's been trying to get a hold of Logan Paul and since Miz taught Logan everything he knows, Rollins said maybe Miz should just call Logan right now. The fans wanted Miz to do it, but Miz said that he won't do what Rollins wants. Miz said he's the A-Lister, Seth is a goofball in a stupid jacket and Rollins ended up hitting Miz with a superkick. Rollins picked up Miz's phone, then with Miz knocked out, Rollins used the Face ID feature to unlock the phone. There was even a sound effect for it. Miz was selling that superkick a lot.
Rollins was shown in the ring with the phone and Logan Paul on the other end of the Facetime call. Rollins mocked Logan for his brother Jake Paul losing his boxing match. Rollins invited Logan to Raw next Monday on Raw. Logan accepted it saying that he would love to see Rollins next week on Raw. Rollins said, "bye bye, bitch." Seth ended the call. The Miz was crawling in the ring, so Rollins hit him with The Stomp. Rollins left happily.
Analysis: It was a fun way to put over Rollins as a crafty babyface that used Miz to get what he wants by reaching Logan Paul. It's another showdown for next week's Raw to set up the Rollins-Paul match at WrestleMania. Congrats to The Miz on hosting WrestleMania. The Miz is great at doing interviews for WWE and promoting the company, so he's a smart choice for that role. Plus, Miz loses most of his matches at this point in his career. Might as well put him as the show host instead of in a match at WrestleMania this year. That's fine with me.
Damage CTRL was interviewed by Cathy Kelley with Bayley saying she's glad that Becky and Lita are confident, but IYO and Dakota are the greatest champions in WWE. Bayley said that this is their story and their legacy.
Austin Theory walked into the picture with the US Title on his shoulder. Theory said he's the greatest champion in WWE. Theory is shocked that he's not being talked about while saying that everybody is talking about John Cena. Theory said he's got the hustle by winning at Elimination Chamber, loyalty by keeping the US Title against Edge and respect for John Cena. Theory said he'll give respect to John Cena and he wants Cena to give him the same treatment.
Analysis: That should lead to the Theory-Cena match being set up for WrestleMania. It'll be good to see Cena on Raw again next week.
Bobby Lashley entered for singles action.
(Commercial)
Elias vs. Bobby Lashley
Lashley with a body slam and clothesline that sent Elias out of the ring. They fought on the floor with Elias sending Lashley into the ring post. Elias sent Lashley jaw-first into the barricade followed by a running knee. Rick Boogs was watching and taking Elias notes. Back in the ring, Lashley hit a flatliner and Spear. Lashley applied the Hurt Lock submission leading to Elias tapping out quickly. It went one minute.
Winner by submission: Bobby Lashley
Analysis: * A squash win by Lashley. Elias rarely wins, so no surprise by that.
Bobby Lashley said he owned Brock Lesnar at the Elimination Chamber. Lashley said that Lesnar resorted to the low blow, so he won the match, but he wanted more. Lashley mentioned Bray Wyatt playing kiddie games. Lashley said he doesn't play kid games. Lashley warned Wyatt to keep his name out of Bray's mouth or Lashley will hurt him.
Analysis: A warning by Lashley to Wyatt.
As Lashley left the ring, Bray Wyatt appeared in a video doing the Muscle Man Dance with clips of Bobby Lashley flexing while Wyatt was laughing about it. It ended with Wyatt saying: "You should run." Lashley watched it on the big screen.
Analysis: It's a fresh matchup for both guys. This was more of a direct build compared to what they have done the last few weeks. It's a weird story because Wyatt and Lashley are both faces right now, but they are both former WWE Champions, so at least there's a lot of star power there. I'm not that excited about it as a match although if the build improves in the weeks ahead then that will help.
Chelsea Green was complaining to Adam Pearce in his office. Green complained about being in Ottawa, Illinois last week instead of Ottawa, Ontario, Canada. Pearce mentioned she was from Canada so she should know the difference. Carmella arrived to complain about something, so Pearce said she can face Bianca Belair next week. Pearce left while Carmella and Green complimented eachother for looking beautiful.
Otis entered with the Maximum Male Models joining him.
(Commercial)
Johnny Gargano vs. Otis (w/Maximum Male Models)
Otis with an elbow smash followed by a splash. Gargano sent a charging Otis into the ring post. Gargano with two straight dropkicks, a kick to the head and a superkick that knocked Otis out of the ring. Otis was checking out Maxxine at ringside. Gargano jumped onto Otis, who slammed Gargano onto the hood of the commentary table. Dexter Lumis showed up to save Mace and Mansoor from grabbing Gargano. Johnny superkicked Mace. Gargano jumped up with a kick on Otis followed by a DDT. Gargano jumped over the top rope and hit One Final Beat (DDT) for the pinfall win after three minutes.
Winner by pinfall: Johnny Gargano
Analysis: *1/2 A short match to put over Gargano while showing that Otis really isn't on the same page with the Models group. The finisher looked good.
They replayed Cody Rhodes saying he'll be on Smackdown this Friday with Roman Reigns.
Paul Heyman was interviewed by Cathy Kelley, who asked about Cody being on Smackdown. Heyman said he loved it. Cathy said Cody wasn't there to confront Reigns. Heyman claimed that Cody was going to invade Smackdown, crash the gates of the Island of Relevancy and said that Cody will confront Roman Reigns…or Cody will be confronted by Reigns.
Analysis: There wasn't much to it other than Heyman repeating what we already knew.
The Women's Tag Team Title match was next.
A video aired for Black History Month showing WWE superstars as community leaders.
(Commercial)
The updated Smackdown commercial aired showing that Cody Rhodes is coming to Smackdown this Friday.
A recap was shown of Brock Lesnar agreeing to face Omos at WrestleMania 39. Poor MVP spit a White Lightning drink onto Lesnar, so Lesnar dropped MVP with an F5 slam.
Next week on Raw in Boston:
* Kevin Owens vs. Solo Sikoa
* Seth Rollins & Logan Paul go Face to Face
* Johnny Gargano vs. Finn Balor
* Bianca Belair vs. Carmella
* John Cena returns on Raw
Analysis: That's a good lineup. They will make some WrestleMania matches official as well.
Becky Lynch and Lita made their entrance for the main event.
(Commercial)
Damage CTRL made their entrance with Bayley supporting Dakota Kai & IYO SKY as the Women's Tag Team Champions. Graves kept on going on about how Lita inspired superstars.
WWE Women's Tag Team Championships: Dakota Kai & IYO SKY vs. Becky Lynch & Lita
Lynch ran over Sky with a shoulder tackle as the fans chanted "Becky" for Lynch. Lita tagged in against Kai with Lita hitting a shoulder tackle. Kai broke free, Sky tagged in and the redheads hit a double team suplex on Sky for two. Lynch and Lita with double team armdrags on both opponents, Lynch and Lita each got in some punches against their opponents. Lita teased a moonsault off the top, but the heels were both on the floor. Lynch tagged in and hit a somersault attack onto both opponents on the floor. That led to a break.
(Commercial)
Lynch was in control of Kai with forearms and a kick to the chest. Lynch hit a leg drop to the back of the head. Sky into the ring illegally so that Lynch could hit a DDT/reverse DDT combo for a two count on Kai. Lynch with a boot on Kai followed by a Diamond Dust neckbreaker for two. Lynch with the Disarm-her armbar on Kai, but Sky dropkicked Lynch to knock her out of the ring. Sky slammed Lita into the hood of the commentary table. Sky got the tag and hit a springboard moonsault onto Lynch on the floor. Back in the ring, Sky got a two count. Sky hit a running dropkick on Lynch. Kai was back in, DC did some double team moves and Sky hit a dropkick for Kai getting a two count. Kai with a Scorpion Kick for a two count. Lynch fought out of the heel corner leading to a double clothesline. Bayley threw a title into the ring, the referee got rid of the title and Bayley knocked Lita down on the apron. Sky with an uppercut on Lynch and Sky/Kai hit a double team slam. "Oh, it's time to rock n roll!" Here comes Trish Stratus to come to the aid of Lita and Lynch. Stratus tackled Bayley and punched her. Lita got the tag leading to the headscissors on Sky. Lita countered a move and drove Sky face first into the mat. Sky stopped Lita from trying a moonsault. Sky went for her Over the Moonsault, but Lita moved out of the way. Lita hit the Twist of Fate neckbreaker. Lita went up top, Bayley tried to stop it and Trish took care of Bayley. Trish Kick by Trish to Bayley. Lynch tripped up Kai to prevent her from interfering. Lynch put the Disarm-her on Kai. Lita hit the moonsault off the top on Sky for the pinfall win after 14 minutes.
Winners by pinfall AND NEW Women's Tag Team Champions: Becky Lynch & Lita
Analysis: *** The match was pretty good by the end with Lynch selling in the second half, Bayley preventing the Lita tag and that was the perfect spot to bring Trish back. That led to faces being able to neutralize the cheating by Damage CTRL and Lita finished off Sky for the win. I thought there would be a title change in this match. It made sense to do it and having Trish there to stop the cheating was a smart way to book the finish.
Becky and Lita celebrated with the titles with Trish joining them. The pyro went off in the building. The show ended there.
Analysis: I assume we get Becky & Lita vs. Ronda Rousey & Shayna Baszler at WrestleMania for the Women's Tag Team Titles. Maybe a triple threat with Kai & Sky added to it. I'm interested to see if they go with Stratus vs. Bayley too because that would be great to see. Trish looked amazing, as usual. Of course, she did. Trish is my favorite of all-time because I'm loyal to my fellow Canadian-Greek, but she's damn hot also that helps also. Anyway, I hope we get that Bayley-Trish match also.
Three Stars of the Show
Becky Lynch & Lita
Cody Rhodes
Solo Sikoa & Jimmy Uso
The Scoreboard
7 out of 10
Last week: 7.25
2023 Average: 7.28
Final Thoughts
It was a solid show this week. It had some dull moments with some predictable matches, but it was still an enjoyable show for the most part. I liked the Jimmy/Solo win over Street Profits because that was a fun match along with Kevin Owens making the post match attack. The Cody Rhodes-Chad Gable match was great also. That Cody Cutter in that match was outstanding.
I liked the main event with Becky Lynch & Lita beating Damage CTRL for the Women's Tag Team Titles. Bayley tried to interfere, so Trish Stratus showed up (as most of us probably expected) and neutralized the cheating attempt to allow Lita to get the win. A happy way to end the show. If they give us Bayley vs. Trish at WrestleMania out of this that would be great to see too.
Some of the matches were kept short and there were some of them that were very predictable too. I didn't love the Brock Lesnar-MVP segment, but it was funny at the end at least. Seth "Freakin" Rollins outsmarting Miz to get a face-to-face with Logan Paul next week was okay. John Cena is back next week with Austin Theory ready to confront him. WrestleMania season is here.
WrestleMania 39 takes place on Saturday, April 1 and Sunday, April 2 at SoFi Stadium in Los Angeles with these matches advertised so far: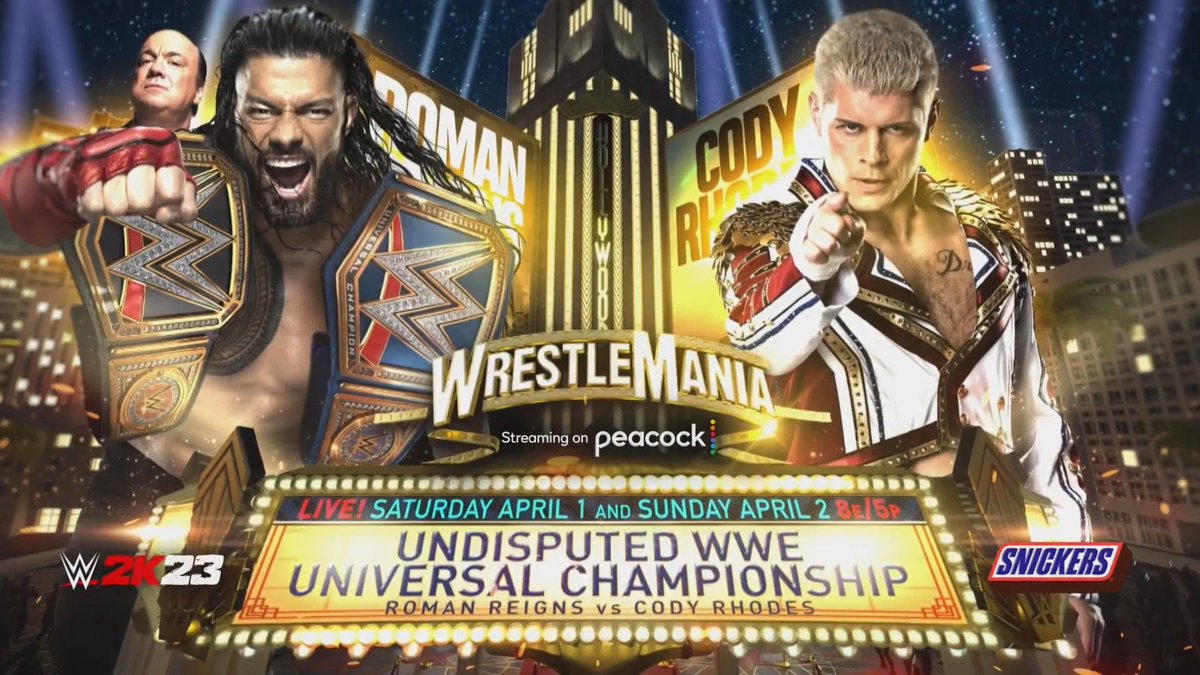 * Undisputed WWE Universal Championship: Roman Reigns (c) vs. Cody Rhodes
* Smackdown Women's Championship: Charlotte Flair (c) vs. Rhea Ripley
* Brock Lesnar vs. Omos
* Raw Women's Championship: Bianca Belair (c) vs. Asuka
===
Check out the WWE PPV Review archive right here. You can contact me using any of the methods below. Go Toronto Raptors and Toronto Maple Leafs. Be safe and smart out there.
Thanks for reading.
John Canton
Email: mrjohncanton@gmail.com
Twitter: @johnreport