The John Report: AEW Revolution 2021 Review (Omega vs. Moxley, Young Bucks vs. Jericho/MJF)
Welcome to the TJRWrestling review of the first AEW PPV of 2021, Revolution. I ordered it on Fite TV. Let's get to it.
There was one "Buy-In" Pre-Show match that saw Dr. Britt Baker and Maki Itoh defeat Riho and Thunder Rosa. That was it for the pre-show.
AEW Revolution
March 7, 2021
From Daily's Place in Jacksonville, Florida
The show began with a graphic in memory of Jim Crockett Jr. 1944-2021.
Jim Ross began the show saying: "It's Sunday night and you know what that means." Well played for Brodie Lee. There was a shot of the crowd and the wrestlers surrounding the ring. They have said over 1,000 fans in attendance for this show, so that's pretty cool. The announce team of Jim Ross, Excalibur and Tony Schiavone were on hand to call the action as usual. JR is dealing with a sore throat.
The Inner Circle's Chris Jericho and MJF entered with Wardlow as the challengers for the Tag Team Title match. The crowd sang along with Jericho's "Judas" song. The Young Bucks entered as the champions. It was noted by Tony that Jericho has 30 years of experience (Jericho is 50 years old) while I will note that MJF is only 24 years old.
AEW World Tag Team Championships: The Young Bucks (Matt and Nick Jackson) vs. Chris Jericho and Maxwell Jacob Friedman (w/Wardlow)
The action spilled to the floor quickly with the babyface Bucks going after the heels aggressively. The referee Aubrey Edwards wasn't counting them out of the ring because it's AEW where the refereeing is bad. Jericho and MJF thought they were in control, then the Bucks went into the ring and hit dives on them. Both Young Bucks put on Sharpshooter submission holds. The Bucks kept on illegally double-teaming, sent MJF out of the ring and there was a senton bomb onto Jericho. MJF held Nick's leg on the apron and Jericho hit the springboard dropkick that he has done many times. MJF choked Nick while Wardlow got some stomps in while the referee was distracted by Jericho. Why do you have to distract referees that don't do anything? After a flapjack by the heels, they did some Young Bucks flex posing to taunt the champions. Matt tagged in with chops on MJF followed by a DDT. Matt ran the ropes with Wardlow pulling the rope, so Matt bumped to the floor where Jericho hit a suplex on Matt. The announcers talked about Wardlow being a force in the future. They don't even book him in matches, so he can't be much of a force. Jericho with a suplex on Matt across the ring. Jericho and MJF did a delayed vertical suplex that led to two for MJF. There was a trip by MJF leading to a front headlock. Jericho pulled Nick off the apron to prevent a tag and MJF sent Matt into the turnbuckle for a two count. You could tell Jericho told Matt what to do on the next spot, which was Matt hitting a double DDT on both opponents.
Nick got the tag with punches, kicks and a spinning kick. Nick hit a bulldog/clothesline combo with Tony shouting "yeah" as Nick gave the middle finger to his rivals. Nick with a kick to Jericho, then a jumping attack into the ring with a bulldog. Nick hit a moonsault onto Jericho and then a Canadian Destroyer on MJF for a two count. That used to be a finishing move in wrestling, but not here. Nick with a superkick while Matt was holding MJF. Matt and Nick hit a double team neckbreaker off the shoulders for a two count. Jericho was back in, Matt got an inside cradle and Matt hit a superkick. Matt held Jericho upside down, MJF held Nick's foot on the apron. Jericho countered Matt into a Tombstone by Jericho. Nick went for a flipping attack off the ropes, but he came up short and Jericho slapped on the Liontamer submission. Matt tagged back in, Jericho tripped him up and slapped on the Liontamer on Matt. Matt twisted his legs to break free, but then Matt sent Jericho into the turnbuckle. MJF tagged in with a backslide pin for two. MJF caught Matt and hit a sitout Powerbomb for a two count. MJF did some crotch chops to Matt, then Matt tried setting up for a double team move, but Jericho took out Nick with a Codebreaker. Matt set up for a move on MJF, but Jericho grabbed him and Jericho hit Matt in the back with the baseball bat. MJF hit the DDT off the ropes for just two. I thought that was the finish, but only a nearfall. Matt can kick out of weapons, I guess. Nick saved Matt from a charging Jericho, Matt sent MJF out of the ring and Nick got the tag. Nick jumped onto Jericho with a cross body block in the ring while Matt hit a cross body block on MJF on the floor. Wardlow was holding Nick on the apron, the referee wasn't looking and Jericho hit the Judas Effect on Wardlow when Nick moved. Nick got a rollup on Jericho for two. Jericho went for a Lionsault, but both Bucks hit a superkick. The Bucks hit the double knees known as the BTE Trigger on Jericho for two as MJF made the save. Young Bucks did repeated superkicks on MJF and then a double superkick. Young Bucks with a double superkick on Jericho as well. Matt held Jericho upside down and Nick jumped off the ropes with the Meltzer Driver (spiked Tombstone piledriver) for the pinfall win over Jericho to retain the titles. It went 17:51.
Winners by pinfall: The Young Bucks (Matt and Nick Jackson)
Analysis: **** This was a great tag team match for the most part. I say for the most part because the bad refereeing hurts my appreciation of the matches, but once things got settled it was very exciting. There were a few moments where I thought that there might be a title change, but I didn't expect Jericho/MJF to win here. Some of the things that guys kicked out of were really over the top like Matt Jackson kicking out of a bat shot to the back and then a signature move from MJF. Kicking out of too many big moves is something some fans like because it shows how tough the guys are, but to me, it weakens some of these moves too. This was the Young Bucks's first PPV title defense, so it made sense for them to win here. I expected that.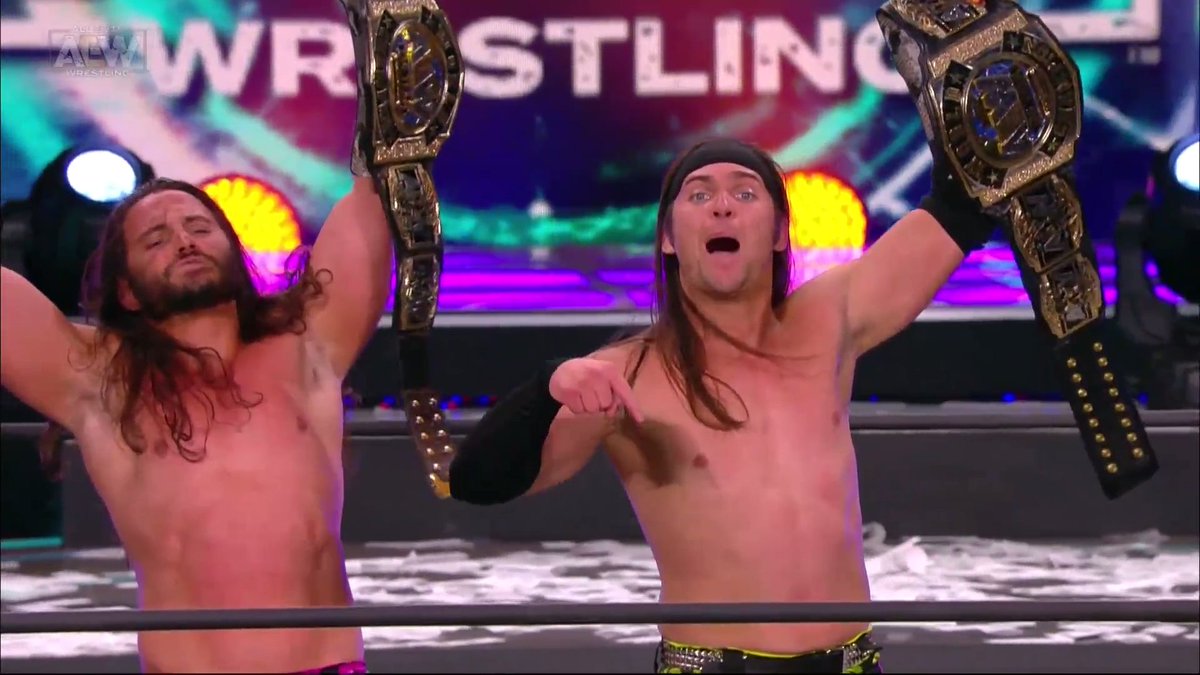 The announcers talked about what's to come on the show.
The tag teams entered for the tag team Casino Battle Royale. It starts with two teams and then others join.
Casino Tag Team Battle Royale
It's a battle royal with new teams entering every 90 seconds after two teams start the match. For a team to be eliminated, both wrestlers have to be sent over the top to the floor like in a battle royal.
I'm not sure if I will go full by play for this because it's going to be a lot of people in the ring. The first two teams were the Natural Nightmares (Dustin Rhodes and QT Marshall) and Dark Order's Five & Ten. There was a 90-second countdown. Dark Order guys dominated most of it and then Dustin hit a double bulldog. Santana & Ortiz were the next team with a double team suplex on Marshall. Ten booted Ortiz to the turnbuckle and Five hit a running splash on Ortiz. Marshall with a Cutter on Five and tossed him out of the match. Ten nearly eliminated Marshall with Tony screaming as if this is a big deal. Matt & Mike Sydal were the fourth team. Matt with a double knee attack off the ropes. Matt and Mike hit a combination neckbreaker on Ten. There wasn't much else going on there. Dark Order's Stu Grayson & Evil Uno were next as they took control with Grayson hitting a uranage slam on Matt Sydal and Uno hit a flatliner on Mike. Santana sent Mike Sydal over the top to the floor. Uno with a sitout Powerbomb on Ortiz and then Ten with a spinebuster on Ortiz. Santana cleared house with kicks and a clothesline. Dustin with a slam on Grayson. Austin and Colten Gunn were next as the sons of Billy Gunn. The Gunns were on fire with dropkicks and a neckbreaker, but Ten hit a Spear. Matt with a spin kick, then he was sent to the apron and Santana hit a pump kick on Matt Sydal to eliminate him. The Sydal brothers were both eliminated. Peter Avalon and Cesar Bononi were next as more jobbers joined this match. Bononi hit a reverse body slam and then Avalon hit a dropkick. There wasn't much else going on for the next minute. The Varsity Blonds duo of Brian Pillman Jr. and Griff Garrison were next. They hit a clothesline on Bononi, but then Bononi hit a double suplex. Austin Gunn hit the Fameasser like his dad and tossed Avalon from the match. Colten with a Fameasser and then Marshall eliminated both Gunn Club guys. Dustin argued with QT while Tony told us that they were part of the Nightmare Family. QT eliminated himself and spit at Dustin, so QT was out too. Bear Country duo were next. I don't know much about them other than they are really big guys, and they hit slams on multiple guys. Grayson picked up the big Boulder dude, but then Bear Country eliminated Grayson together. The announcers tried making a big deal about QT Marshall's heel turn as if anybody cares. QT Marshall is almost never on Dynamite, so nobody is going to care about it. The Jurassic Express team of Luchasaurus and Jungle Boy were next. Double Chokeslam by Luchasaurus while Boy did a headscissors and clothesline on Ortiz to eliminate Ortiz. Luchasaurus hit Bononi with a spin kick and a clothesline. Luchasaurus lifted Garrison over the top to the floor to eliminate him. Boy hit a headscissors to eliminate Santana, so Santana and Ortiz were eliminated. Marko Stunt went into the ring to eliminate Evil Uno, which didn't look smooth at all. That was one of the worst bumps ever because Uno basically ran into the ring post. It was stupid. The Butcher & The Blade with The Bunny were next. The Butcher & The Blade eliminated Pillman and Jack Evans showed up to eliminate Ten. Boulder of the Bear Country team nearly eliminated Dustin, then Butch and Blade joined in to eliminate Dustin while Bunny pulled Dustin off the apron as well, That meant that Dustin was eliminated. Private Party's Marq Quen and Isaiah Kassidy were next as they hit a double kick on Boy to knock him down. Lots of standing around after that. The SCU duo of Frankie Kazarian and Christopher Daniels were next with a sitout slam and a neckbreaker. SCU did a neckbreaker/clothesline combo. Luchasaurus was attacked by both Bear Country guys, who dumped out Luchasaurus. The Butcher lifted out both Bear Country guys to eliminate them. Rey Fenix & Pac were in next. They were my pick to win. They quickly eliminated Quen and Blade at the same time. Butcher decked Fenix & Pac from behind with a double clothesline. Daniels with an STO trip on Fenix, who managed to hang on to avoid elimination. Dark Order's John Silver & Alex Reynolds were next. Silver hit an impressive spinning slam on Daniels and Reynolds hit a piledriver on Boy on Daniels. Dark Destroyer by Silver/Reynolds on Kassidy and then they eliminated Kassidy so both Private Party guys were out. SCU dumped out The Butcher to eliminate him. All teams have entered the match.
There were seven guys left: SCU, Silver/Reynolds, Pack/Fenix and Jungle Boy. Fenix with an incredible springboard attack where he used his legs to send Daniels over the top to the floor. Reynolds and Boy were battling on the apron where Boy sent Reynolds over the top to the floor. Pac ducked a Kazarian punch and then hit a belly-to-back suplex over the top to the floor.
The final four guys were Pac & Fenix as a team against John Silver and Jungle Boy. Silver worked over Pac with punches, then Fenix hit a jumping punch onto Silver, who managed to hold on to avoid elimination. Boy dumped Fenix over the top with Fenix managing to hang on. Pac and Silver exchanged forearms, Silver worked over Pac with repeated kicks to the chest and then Pac hit a snap German Suplex. Pac sent Silver to the apron, Silver with a boot to the face of Pac, but Fenix walked the top rope and kicked Silver to eliminate him. Jungle Boy was left alone against Pac & Fenix. Pac charged at Boy, who managed to duck and sent Pac over the top to the floor. Fenix faced off with Jungle Boy as the fans cheered this showdown. Fenix and Boy exchanged chops. My feed was messing up a bit, Fenix hit a spinning kick on Boy and then Fenix hit a clothesline to send Boy over the top to the floor. Fenix won it for his team. The replay showed that Fenix hit a somersault suicide dive onto Pac on the floor, which was an awesome move too. It went 26:45.
Winners: Rey Fenix & Pac
Analysis: *** It was pretty good for a battle royal although it felt like there were too many teams and it took too long. I say this as somebody that's watching a show that might run up to four hours, so I don't know if we really need to see this match go this long. I'm happy with the result because not only Fenix & Pac my favorite team in the match, but they were my picks to win as well. I don't think this needed to be nearly 30 minutes. I find myself saying that for most of the AEW PPV where they go too long for several matches.
The team of Fenix & Pac celebrated the win. They have earned a shot at the AEW World Tag Team Champions The Young Bucks.
Analysis: That's going to be an outstanding match. Whenever AEW chooses to do it, that's going to be a match that every fan should want to check out. Four great athletes that will put on an entertaining match for sure.
Paul Wight was interviewed by Dasha in the backstage area. Paul claimed that his friends were asking him about who AEW had signed, but there weren't a lot of people that knew about it. Paul teased the big surprise signing saying he didn't think anybody there can outwork this guy.
There was a shot of wrestlers like Diamond Dallas Page and Al Snow in the crowd.
There was a video setting up the AEW Women's World Title match with Hikaru Shida defending against Ryo Mizunami. Shida is the long-time champion while Mizunami won a tournament to earn the title shot.
The women made their entrance for the title match. Shida has been champion for 288 days with 13 straight wins. Excalibur noted that these women have met three times and each time the matches ended in a draw. Tony noted that Shida has won more matches than anybody else in AEW.
AEW Women's World Championship: Hikaru Shida vs. Ryo Mizunami
Shida with a hurricanrana followed by a running knee across the ring. The wrestlers were out on the floor, Shida grabbed a chair and Shida used it as a launching point for a running knee, but Ryo caught Shida and sent Shida over the barricade onto some random group of wrestlers at ringside. They were back in the ring quickly with Ryo hitting repeated leg drops. Shida got some offense going with a knee and then a double knee stomp into the turnbuckle. Shida went up top and connected with the missile dropkick for two. Ryo with a clothesline over the top onto the ramp and then Shida sent Ryo into the turnbuckle. They were battling on the turnbuckle, Shida had Ryo on her shoulders and then Shida dropped to her knees with a Crunchie (I guess that's the name) where she spiked Ryo into the ramp or at least that's the idea. Shida with a suplex back into the ring for a two count. The wrestlers exchanged strikes with Shida delivering a big forearm to knock down Ryo. Arm capture by Ryo leading to headbutts, Shida with a knee, Ryo with chops and multiple clotheslines. Ryo with a running clothesline and then a sitout slam off the shoulders for a two count. Shida with a running forearm, then a knee to the face, Ryo back up quickly with a forearm and Shida with another running knee, but she was too hurt to cover. Shida and Ryo took turns exchanging forearms/elbow shots and Ryo hit a belly-to-belly overhead suplex. Ryo hit a Spear. Ryo went up top, she jumped off with a leg drop like what she did to beat Nyla Rose, but Shida kicked out at two. Ryo went for a sitout slam, Shida was supposed to counter with a cradle, but Ryo slipped out and then they had to regroup. The announcers tried to cover. Shida with a jumping kick, a German Suplex and Ryo hit a clothesline to the back of the head. Shida hit a Michinoku Driver sitout slam, then a knee and a forearm. Shida with the running knee to the back of the head. Shida with a Falcon Arrow slam for a two count. Shida ran the ropes right into a clothesline by Ryo. Shida with an eye poke into the inside cradle. Shida with the running knee, Ryo got an inside cradle and Shida hit an enziguri kick for a two count. The fans chanted "this is awesome" as the match continued. Shida picked up Ryo for something and it looked like Shida dropped her without doing a move. Shida hit another knee strike for just two. Shida hit a corkscrew knee strike on Ryo for the pinfall win at 15:10.
Winner by pinfall: Hikaru Shida
Analysis: *** The match was hard-hitting at times and intense, but I felt like it went on too long. It seemed like they had a shorter match planned and they had to stretch a few minutes. They probably went five minutes more than they need to go. It just seemed like Shida kept going for the running knee strikes, then they seemed to be off at times and Ryo didn't know what was next. They still got through it and the match was good overall.
Post match, Nyla Rose showed up for a cheap attack on Ryo Mizunami. Shida tried to save Ryo, but then Britt Baker and Maki Itoh showed up to join the heel attack. Thunder Rosa ran out for the save, so it should set up a 3 on 3 women's tag team match soon. Later in the show, we found out the six-woman tag match is on Dynamite on Wednesday.
There was a commercial for the AEW Double or Nothing PPV on Sunday, May 30. That's also going to be in Jacksonville, so they have no plans to try to leave the home venue.
The babyface team of Chuck Taylor and Orange Cassidy were about to be interviewed, but then Miro and Kip Sabian attacked them. Sabian slammed Cassidy onto some equipment case. Miro sent Chuck Taylor into a door with Chuck's head hitting the glass on the door. Miro looked into the camera: "Play my music." That match is next.
Miro tossed Taylor into the ring and Chuck was bleeding from the arm because he was sent into that glass. Miro told "Charles" he gave him an option to get out of this and Miro told Chuck he'll give him the option to make it stop. Taylor told the referee to ring the damn bell, so the referee did ring the bell.
Miro and Kip Sabian (w/Penelope Ford) vs. Chuck Taylor and Orange Cassidy
Miro worked over Taylor with punches and kicks. Sabian tagged in with a shotgun dropkick off the ropes. I missed a bit as Sabian ran right towards Taylor, who hit a jumping knee to the face. Taylor was crawling to the turnbuckle, which was the cue for Orange Cassidy to show up and stumble on the ramp before he could get to the apron. Cassidy did a kip-up and hit the Orange Punch on Miro. Taylor with a uranage slam on Sabian. Cassidy hit a suicide dive onto Sabian on the floor. Cassidy went up top and hit a diving DDT on Sabian for a two count with Cassidy selling a lower back injury. Cassidy lifted Sabian, who got out of it and Sabian hit a knee strike. Sabian with a gutbuster driving his knee into the ribs. Sabian with a running kick for two. Sabian had Cassidy on the shoulders, Cassidy got out of it, Taylor tagged in, Cassidy with a DDT and Taylor jumped off the top with a Stomp/Beach Break combination. Taylor with a piledriver on Sabian for two as Miro punched Taylor in the face to break it up at the last moment. Cassidy did his shin kicking routine, the referee was arguing with Ford and Miro with a kick, but Cassidy hit the Stundog Millionaire. Cassidy with the Orange Punch that rocked Miro, then Fordo the apron, so Cassidy stopped. Miro shoved Cassidy into Ford, who bumped into the barricade. Miro with a roundhouse kick and a spinning slam. Taylor was legal after all that and Miro decked Taylor with a clothesline. Kip was back in because he was legal, Miro tagged in and Taylor got a two count. Miro with a superkick and Miro slapped on the Game Over submission with Taylor tapping out. It went 7:50.
Winners by submission: Miro and Kip Sabian
Analysis: **1/4 It was a dominant performance from Miro. They have finally booked him right after many months of being booked like a loser. Since Miro knocked Ford off the apron on purpose, that could lead to Miro splitting from Sabian, which is probably the best thing for Miro anyway because it would make him a solo act. Since Taylor and Cassidy were beat up earlier, it made sense for them to lose. Cassidy really hasn't been elevated that much since the Jericho feud. He's where he was before. I just hope this leads to success for Miro and that he goes after one of the major titles soon. It took AEW too long to book Miro right, but maybe they will get it right now.
Miro celebrated the win while Sabian checked on his wife Penelope on the floor. The announcers pointed out Miro knocked Penelope off the apron by shoving Cassidy to her. That's a way of foreshadowing the Miro split from Sabian/Ford.
Chris Jericho and MJF were interviewed backstage by Alex Marvez. Santana and Ortiz were also standing backstage. Jericho got mad at Marvez for saying they failed in their title shot. Jericho said that like a great army, they need to change their battle plans in the middle of a war. Jericho said that this Wednesday, there will be some changes in the Inner Circle with Chris calling it the Inner Circle War Council. MJF said that he's been thinking about this a whole lot and he thinks a change will make the Inner Circle a whole lot better.
Analysis: I have no idea what that means, but the group is always evolving. Maybe there's a turn coming with MJF turning on Jericho and leading the group, so Jericho would go face after being attacked. It would seem a bit rushed at this point although it makes sense after a title loss.
The video package aired for "Hangman" Adam Page facing Matt Hardy. They were briefly allies, but Matt wasn't genuine and Page outsmarted Matt when Matt wanted to be Page's agent.
Matt Hardy entered first. Nice ovation for the babyface "Hangman" Adam Page, who is 6-0 in 2021. It's called a "Big Money Match" because the winner will receive the loser's income in the first quarter of 2021 (meaning the first three months). That makes it feel like a personal feud.
Big Money Match: Matt Hardy vs. "Hangman" Adam Page
Page with a belly-to-back suplex. Hardy charged, but Page caught him and hit a fallaway slam across the ring. Hardy bailed to the floor, Page followed him and sent him over the barricade. Page with a double axehandle on the floor. Hardy left the ring, Page followed and Page ended up punching the ring post. Hardy pulled on the fingers of Page and then slammed the right hand of Page into the ring post. Hardy sent the hand of Page into the steel steps. Hardy kicked the steel steps into the right hand. Back in the ring, Hardy pulled on the fingers and even bit the hand of Page a bit. Page tried to get some momentum going with a punch, but Matt countered into a Side Effect attempt, which led to Hangman getting a nearfall. Page hit a Death Valley Driver slam for a two count. Page kicked Hardy back, but Hardy hit a punch and Page dumped Hardy to the apron. Page jumped off the middle ropes leading to a forearm on Hardy. Page went for a diving attack outside the ring, but Hardy moved and Hardy hit a Twist of Fate on the floor. The referee counted Page out until nine as if countouts matter now when the same referee Rick Knox didn't count at all earlier in the match. All I want is some consistency. Page with a boot that stunned Matt a bit, but Matt ended up hitting a German Suplex off the turnbuckle. They did a double clothesline spot, Page with a discus forearm and Page hit a clothesline that sent them both over the top to the floor. Page went up top leading to a great moonsault onto a standing Hardy on the floor. That was impressive. Back in the ring, Page hit a diving cross body block onto a standing Hardy for a two count. Page with a corner clothesline, then a sliding clothesline and Hardy managed to avoid a slam by grabbing the top rope. Hardy with a neckbreaker. Hardy went to the middle rope, Page went after him, Hardy slipped out and hit a Powerbomb for a two count. Hardy blocked a lariat, Page avoided a slam attempt and hit the Deadeye. Hardy's buddies Marq Quen and Isaiah Kassidy were at ringside for a distraction, Page knocked them both down and Page went for the Buckshot Lariat. Hardy caught Page, he hit a Side Effect and Hardy hit the Twist of Fate for a two count. The Dark Order guys went to ringside to help Page. Hardy sent Page to the apron, Hardy with a forearm to the face, but Page landed in the arms of the Dark Order guys, who caught him. Page hit the Buckshot Lariat for the pinfall win at 14:40.
Winner by pinfall: "Hangman" Adam Page
Analysis: ***1/4 This was pretty good with a clever ending where the Dark Order guys played a major factor by saving Page and that led to Page getting the win. Hardy is looking like a guy in his late 40s that is moving around the ring slowly, but he's terrific as a heel using cheap tactics to try to find ways to win. I think they worked well together. I actually thought that Hardy might win although I certainly have no problem with Page winning since he's the younger guy.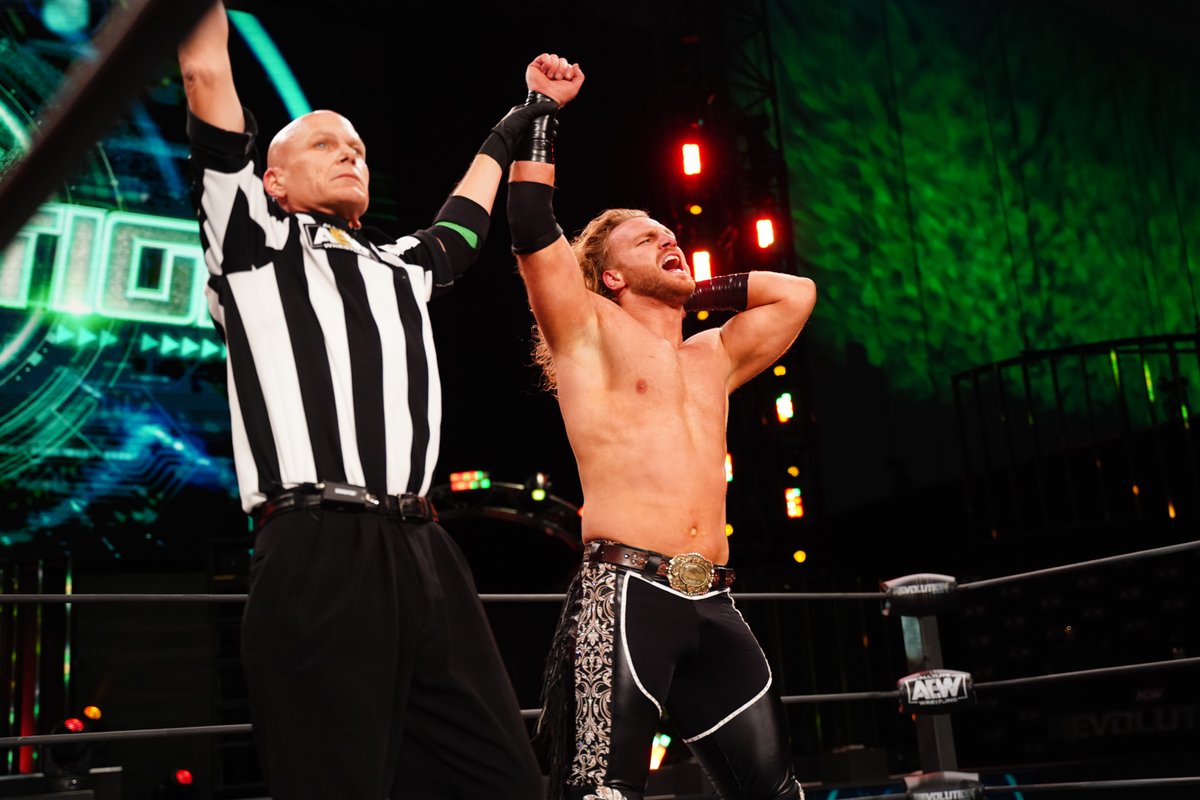 Post match, Page celebrated the win while the Dark Order guys celebrated with him. Page agreed to give them a group hug, which led to cheers from the crowd. Dark Order had a couple of beers for Page as well, so Page drank some beer to celebrate the win.
Analysis: This could lead to Page embracing the Dark Order as allies and maybe Page becomes the leader of the group. Since there are so many heel factions in AEW, it makes sense to have these guys as a babyface group.
There was a video about the Face of the Revolution Ladder Match. The winner gets a shot at the TNT Title. There wasn't much of a storyline, but the video did a nice job of putting over the physicality of ladder matches.
Max Caster made his entrance doing one of his raps and he called people jobbers. He also had some topical lines in there about Dr. Seuss and Governor Cuomo, so he pays attention to the news of the world. Lance Archer with Jake "The Snake" Roberts was next with Archer knocking some guy down that was around the ring. The talented Scorpio Sky was up next noting that he had dealt with an injury, but he's back in action now. Penta El Zero Miedo with a lot of confidence since he's a man of zero fear. Cody Rhodes got the dramatic entrance as usual and he's a two-time TNT Champion with the coach Arn Anderson by his side. Cody had tape on his left shoulder due to injuries in the tag team match with Shaquille O'Neal last week.
The last man was the debuting "All Ego" Ethan Page. He was a free agent that has signed with AEW. Excalibur claimed he was shocked by this while talking about Page being a Tag Team Champion in Impact Wrestling and PWG in the past.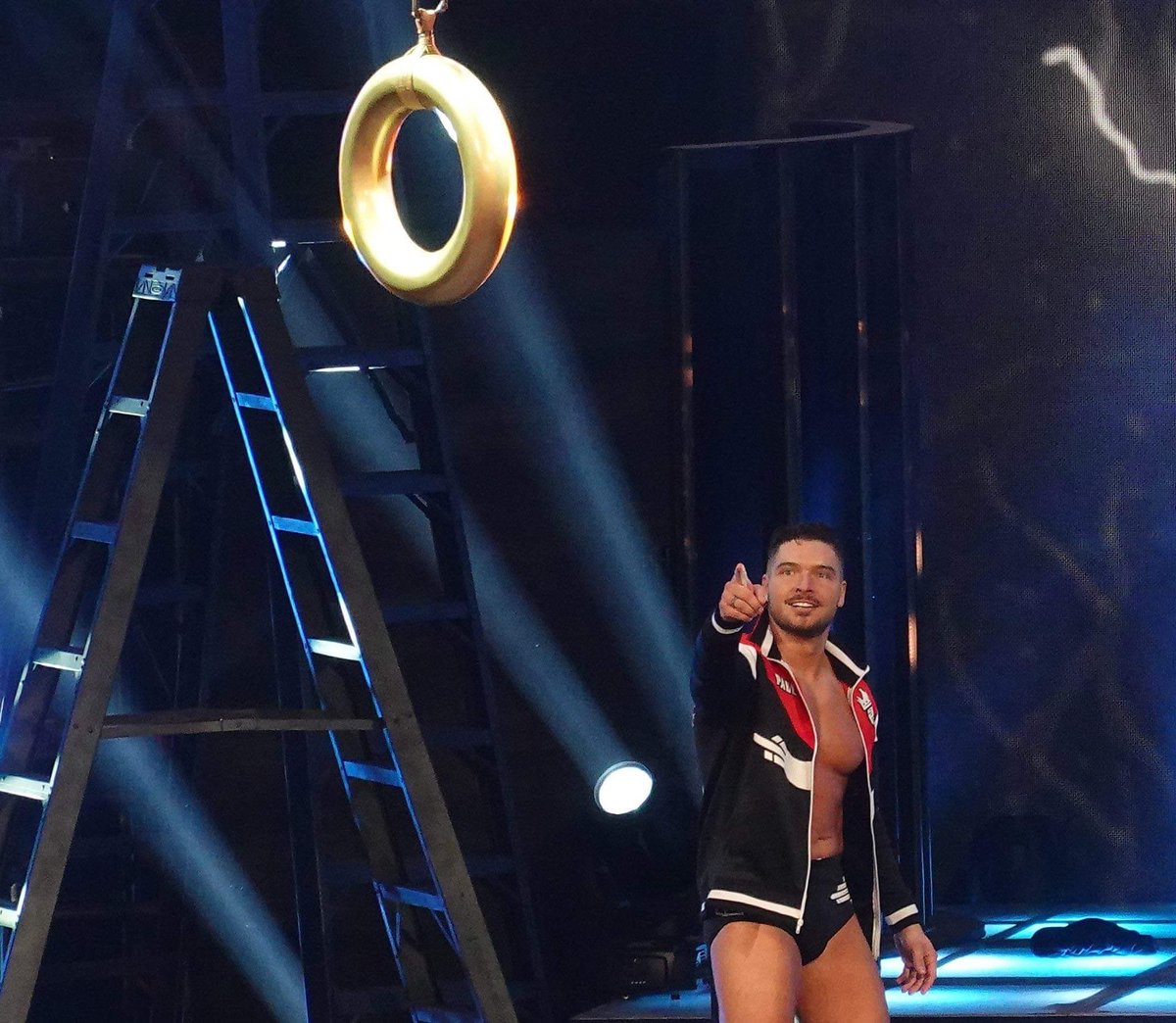 Analysis: Ethan Page was who I mentioned in our Revolution preview. He was a free agent at the start of the year, he's a close friend of Cody Rhodes and I figured he would end up here. Page is a talented Canadian wrestler (he lives about one hour from me in Hamilton, Ontario) that's also booked his own promotion in the past and he's 31 years old with a very bright future. Page was part of the very successful Impact Wrestling tag team called The North (with Josh Alexander) and now he'll be on his own to show what he can do. I think it's a great signing. People might get confused if he feuds with Adam Page at some point, but we'll figure it out when we get there.
Face of the Revolution Ladder Match: Max Caster vs. Lance Archer (w/Jake "The Snake" Roberts) vs. Scorpio Sky vs. Penta El Zero Miedo vs. Cody Rhodes (w/Arn Anderson) vs. Ethan Page
There was a big brass ring above the ring. The winner has to climb a ladder to retrieve it to win the match. The winner gets a TNT Title match against Darby Allin.
The six guys paired off with Penta throwing Caster into the ring post and Archer gave Cody a clothesline over the top onto the ramp. Sky battled with Page in the ring as Archer used a ladder to hit Cody in the shoulder. Archer threw the ladder at Sky and Page. Archer jabbed the ladder into the ribs of Penta and then Penta did a Slingblade with the ladder landing on Archer. Sky avoided Penta and hit a German Suplex. Caster hit an impressive dropkick on Sky. Jack Evans went out to the ring with the boombox for Caster, but Ten of the Dark Order hit a spinebuster on the ramp. Cody kicked Caster, who had grabbed the boombox. Page tried a ladder climb, Cody joined him and Cody/Page whipped Archer into the ladder. Cody wanted a handshake, so Page kicked him and hit Cody with the ladder. Caster used the boombox to knock three guys down. Penta ran across the ladder and hit a somersault dive onto Caster/Rhodes on the floor. Archer dropkicked Penta off the apron. Page was back in with a Cutter onto the ladder. Page rammed the ladder onto the back of Archer, then Archer had to wait between the ladder while Page/Sky did spots that included a slip on a side slam. Page with a release Powerbomb onto the ladder on Archer. It ended up looking impressive, but Archer had to wait there for like ten seconds, so it looked silly. Penta hit a backstabber on Page. Penta went for a climb, but Cody hit a springboard dropkick. Penta with a superkick. Penta battled on a ladder bridge outside the ring and Penta hit a Destroyer on the ladder! That was pretty wild although when you do that move the guy taking the move is just touching the thighs while Penta takes the bump on the ladder, but Cody sold it like a big deal. Cody was getting looked at by trainers. Sky suplexed Page on the floor. Caster was climbing up the ladder, but Sky knocked him down. Cody was helped to the back due to the left shoulder injury. Caster climbed up again and Sky pulled him down by the leg. Sky and Caster were each climbing ladders, but then Archer showed up. Page also climbed a ladder, so four guys were fighting on ladders. Archer got knocked down first, Caster knocked down Page and then when Sky was close, Penta showed up to stop him. Penta tried a climb, but Sky went up and drove Penta down with a neckbreaker of sorts. Cody was standing by the entrance on the ramp with doctors checking on him. Page climbed up, Caster stopped him and hit a sunset flip Powerbomb. It didn't look smooth, but it was effective.
Sky sent Caster into the vertical ladder followed by Sky slamming Caster on the ladder. Sky went up top and hit a Frog Splash on Caster on the ladder that was in the ring. Archer was back in to dropkick, then a catapult that sent Sky onto the ladder and Archer stopped Sky. Archer hit a running knee to the face of Sky, who took a bump off the ropes onto a ladder bridge. Ouch. Penta suplexed Caster into Page and then Penta hit a springboard cross body block on Archer. Penta did a slow climb, Page went after him and Cody was back from his break. Cody whipped two of the guys with his leather belt and favored his left arm. Cody hit the Crossroads neckbreaker on Page. Archer was back up with punches for Cody on the ladder and Archer hit a superplex off the ladder on Cody. Caster jumped ff the ladder with an elbow drop on the back of Cody. Caster and Penta did their climb to the top of the ladder, Penta did his posing like a dumbass and Archer shoved them both down. Archer with Chokeslams for Page, Rhodes and Penta. Archer hit his Blackout slam finishing move onto Caster on a ladder. More stalling in this match this time from Archer, who was smiling and took a long time to try to climb the ladder. As Archer reached the top, Page punched him, so Archer punched him. Page hit a low blow on Archer and hit a Razor's Edge on Archer. Jake Roberts went into the ring and hit a short-arm clothesline that drew a pop with Page selling it like it was a deadly move. Penta with a superkick on Jake to knock him down. Cody went for a Cody Cutter on Penta, it didn't connect at all and Penta still sold it. The announcers tried to cover for it. Penta with a chair shot to the left arm of Cody. Sky was back in after he went through a ladder and Sky hit Penta with multiple chair shots to knock him down. Sky and Cody were at the top of the ladder, Sky yanked on the left arm against the ladders and Sky shoved Cody down. Sky pulled down the brass ring to win the match. It went 23:15.
Winner: Scorpio Sky
Analysis: *** The match was pretty good, but not necessarily great for a ladder match. I thought it dragged on too long. There were too many moments where guys could have climbed up the ladders faster, but they were doing taunts or waiting for somebody to stop them. Scorpio Sky winning the match is fine with me because he's an underused wrestler that deserves more chances in big matches. Sky took one of the biggest bumps in the match when he was slammed through a ladder bridge, but then he was able to come back a few minutes later and put an end to this match. Cody did a nice job of selling the left arm injury. I liked the way Archer was booked, Penta was posing way too much throughout the match and Ethan Page had a pretty good showing.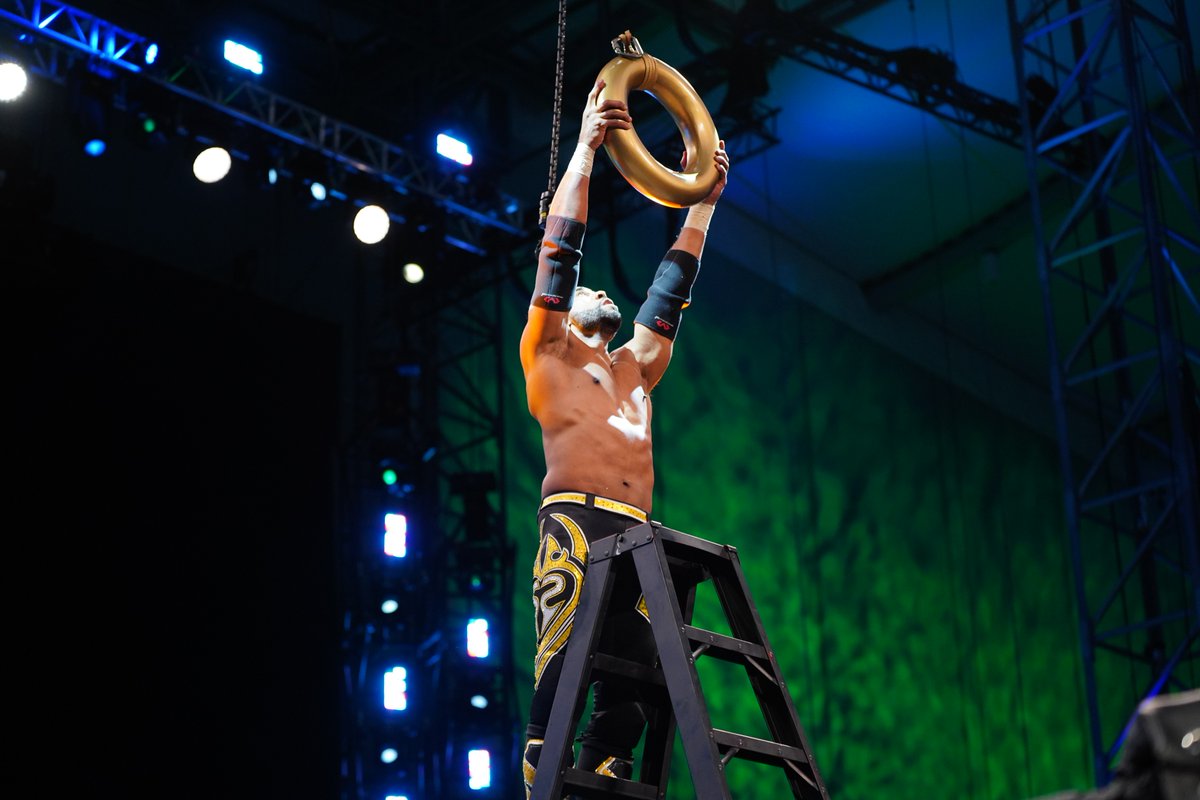 Scorpio Sky left with the brass ring that has earned him a TNT Title shot this Wednesday on Dynamite. Cody was being helped to the back by Arn Anderson and Dr. Sampson with Cody selling the left arm injury.
AEW Contract Signing Moment
It was time for the mystery contract signing. There was a podium that was placed on the stage that had a contract on it. Justin Roberts introduced the wrestler who was here to sign a contract with All Elite Wrestling.
There was a countdown on the screen leading to a graphic that said "Outwork Everyone" and it was Christian Cage. JR wondered who the hell would have thunk it? A lot of people. Anyway, Christian received a big ovation from the crowd and the fans applauded him. The theme song sounded like his TNA Theme song. Christian Cage grabbed the contract, posed in the ring and signed the contract. Christian left the contract in the ring and revealed his new shirt: "Out. Work. Everyone." Christian left to a nice ovation. The announcers oversold it of course, but that's what they do.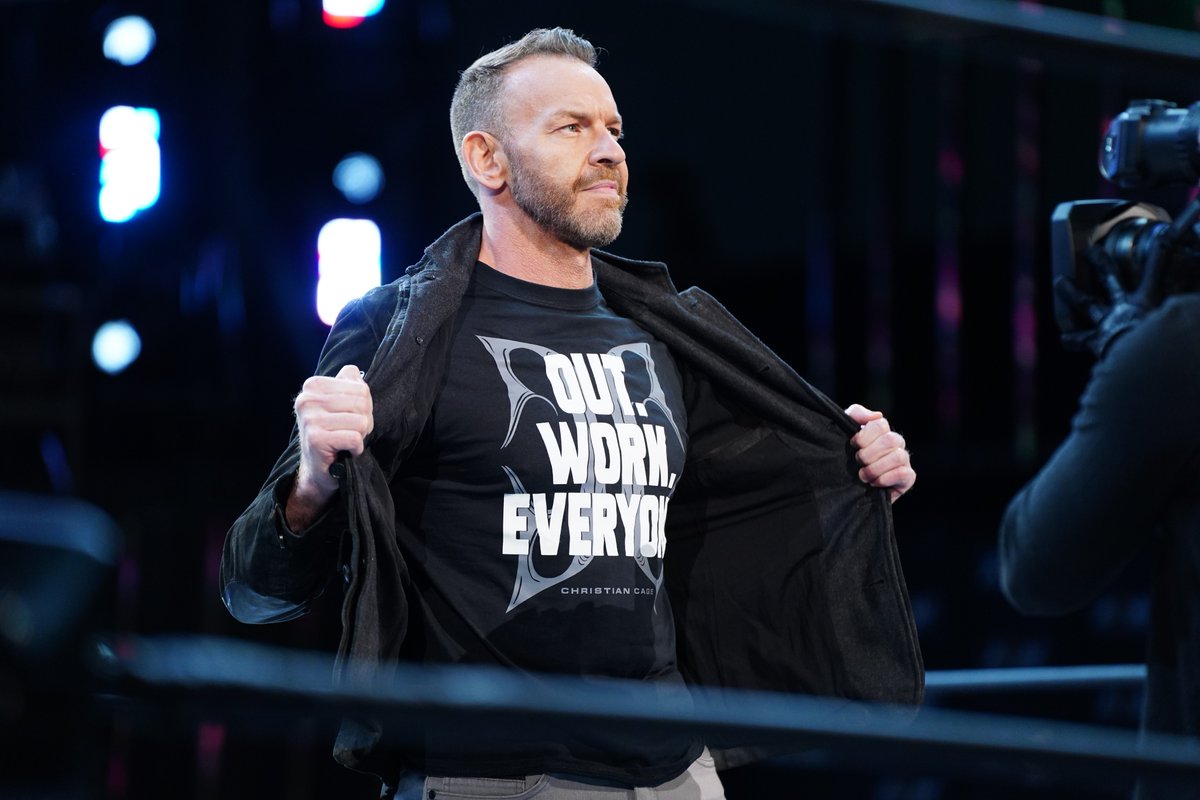 Analysis: That was my main prediction that I mentioned in the preview. There was information that came out a few days ago that even though Christian appeared in WWE's Royal Rumble for his first match in seven years, he was not signed to a WWE wrestler contract. That made him a free agent, so it made sense that he would end up in AEW. Christian is a favorite of mine especially since I saw him in the indies in 1997 before he even started in WWE a year later and he's a local guy to me. At 47 years old, he wants to end his career on his terms after having to sit out for about seven years due to concussions as well as other injuries. He's all clear now, so I would expect him to perform at a high level in AEW. It does feel similar to when he joined TNA in the mid-2000s although he was much younger at that point. Still, Christian is in great shape and I have no doubt he'll do his best to outwork everyone as his shirt says. Is the signing as big of a deal as AEW made it out to be? Probably not. Christian isn't a blockbuster name like guys that were main eventers elsewhere although he is a talented wrestler that can make everybody around him better. I can see Christian being like a player-coach in AEW that can help the younger talent the same way that Chris Jericho, Paul Wight and other older wrestlers can help out. If people are disappointed that Christian isn't a big enough name then that's okay. He was the most realistic choice in this spot and was a popular choice as well because a lot of us predicted that it would be him.
The video package aired for the Street Fight featuring Sting and TNT Champion Darby Allin facing Brian Cage and Ricky Starks. There was a long-term build here where Team Taz attacked Allin repeatedly, then Sting made his AEW debut in December and then four months later we have this match.
Taz joined commentary for this match saying he'd rather be at the fight, but said that his men don't need him. The fight took place at an undisclosed location.
Analysis: AEW taped this match earlier. I don't know what day it was, but they taped it earlier as a cinematic street fight. Part of the reason was to make it feel different. Another reason is they had to set up for the Deathmatch main event in the building, so this took up a lot of time that allowed the crew to set up for the main event. I feel bad for the fans that were there live that didn't get to see Sting in action. Other than that, I understand why AEW did it this way.
There was a scene where Brian Cage and Ricky Starks drove up to some abandoned warehouse-style building. The announce team spoke over the scene. Cage and Starks got into the building where there was a ring along with a referee in an AEW shirt.
Darby Allin was shown on his skateboard in the street and then an army of hoodlums were shown walking into the building. Sting drove in a truck while Allin was on the skateboard. Taz mocked Sting for not arriving in a better car. Allin caught up to Sting's truck and they arrived at the building together. Sting and Allin walked into the ring with Darby/Sting masked friends surrounding the ring.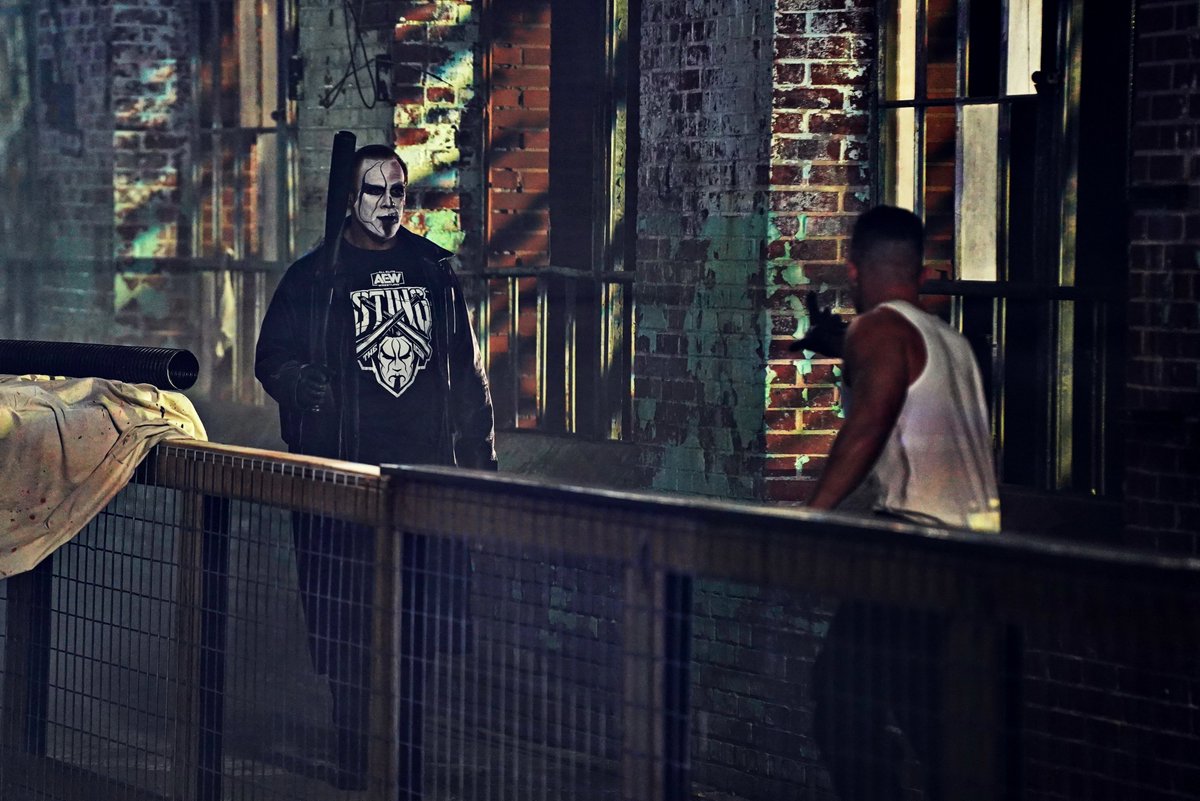 Street Fight: Sting and Darby Allin vs. Ricky Starks and Brian Cage
Allin tried jumping off the wall onto Cage, but Cage caught him with a suplex. Cage stomped on Sting and Starks joined in on the fight. Cage beat up some of the small masked guys including an apron Powerbomb. Cage drove Allin back first into the ring post. Cage sent Allin rib first into some steel railing that was there. They had multiple cameras in the area and were filming from different angles. Back in the ring, Sting with two clotheslines on Starks and a Stinger Splash. Sting press slammed Starks into the turnbuckle. Cage teased a Powerbomb on Allin, but Allin fought back and Cage sent Allin back first into a wall. Cage press slammed Allin into some doorway that broke down. Meanwhile, Sting with a Stinger Splash on Starks and then a running clothesline that sent Starks out of the ring. Sting had the bat, then Starks told him he was nothing without the bat, so Sting threw the bat away. Sting sent Starks into the brick wall repeatedly. Sting walked over towards wherever Cage was. Cage picked up Allin in a suplex position and he walked up a flight of stairs with Allin. Cage suplexed Allin onto a trash can. Sting saved Allin from Cage and then Allin hit a running dropkick. Taz said that his team was prepared. Starks tackled Allin into a wall. Allin shoved a steel barrel into Sting while Taz said his guys are winners that are "kicking the shit out of people." Starks threw the barrel at Sting's legs. Cage went to attack Sting, who moved and Cage hit Starks with a trash can lid or whatever it was. Allin jumped on Cage's back, but Cage powered out of it. Sting used a fire extinguisher to save Allin from a move and then Allin hit Cag with some glass container. Allin and Sting hit a double team slam on Cage through a table. Starks and Allin exchanged strikes, Allin charged and Starks hit a knee to the ribs. Starks charged in, Allin avoided and sent Starks into a pole. Allin hit a Coffin Drop onto Starks. Powerhouse Hobbs showed up in an orange mask and Hobbs sent Allin into a pole. Hook (son of Taz) did an arm wringer on Allin to take him down. Cage drove Sting back first into a wall and then whipped him into some barricade. Hook was punching Allin and then Cage joined in on the fun. Hobbs and Cage swung Allin into a glass window. Sting was getting beat up by three guys at once while Starks was crawling way from his position. Cage hit Sting in the back with a shovel. Allin was shown getting back up with Sting's bat and Sting used the bat to beat up Cage, Hobbs and Hook. Sting broke the bat over the back of Cage. Sting hit Cage in the head with a shovel. Allin jumped off a higher level in the building and gave Cage an elbow drop through some platform. I don't know how to describe that, but it was a big fall.
Sting and Starks were in the ring again. Starks pulled the turnbuckle pad off and when Sting went for a splash, Sting hit the exposed turnbuckle. Starks hit a Spear on Sting to get a two count. Starks with a low blow on Sting. Sting escaped a Powerbomb attempt and then hit a sunset flip for a two count. Sting blocked a back elbow and hit the Scorpion Death Drop for the one…two…and three. That's it after 13:40.
Winners by pinfall: Sting and Darby Allin
Analysis: ***1/2 This was an entertaining Street Fight. It's hard to rate these sorts of things compared to a regular wrestling match. I thought it was fun with some unique camera shots, they did a lot of big spots especially with Allin taking out Cage and then the story of Sting's bat leading to him really taking control of the match. I'm happy that the 61-year-old Sting is fine after the match and it should lead to more matches for him whether they are regular matches or cinematic matches. I think it made sense for Sting/Allin to win as the babyface team just based on the long terms story they told here.
After the match, they showed some of the replays of the carnage of the match. Sting stared into the camera. That was it.
There was another commercial for the Double or Nothing PPV on Sunday, May 30, 2021. Tony noted it was two years of Double or Nothing, so it will be the third time they are doing the Double or Nothing PPV.
The announcers ran down matches on Dynamite this Wednesday including Darby Allin defending the TNT Title against Scorpio Sky. They're also doing the six-women tag that was set up and Matt Jackson faces Rey Fenix. The Inner Circle War Council will also take place.
The video package aired for the main event match featuring the two-year AEW history between World Champion Kenny Omega and the former champion Jon Moxley.
Jon Moxley made his entrance in the back part of the arena. Moxley was wearing a black leather jacket. The referee Bryce Remsburg was wearing a ridiculous-looking bomb suit. There were barbed wire boards all around the ring, there was barbed wire on the ropes and some land mines/mortars around the ring. The ring also had tables with barbed wire on them.
Kenny Omega made his entrance as the AEW World Champion. Don Callis joined commentary for the match. Omega was wearing jeans similar to Moxley. Omega had on a white shirt and Moxley had on a black shirt. Moxley did a pre-match prayer, plus a shot of whiskey as Justin Roberts did the championships introductions. Kenny Omega was introduced next as the World Champion. Referee Bryce Remsburg held up the title. This match started 3 hours, 11 minutes into the show.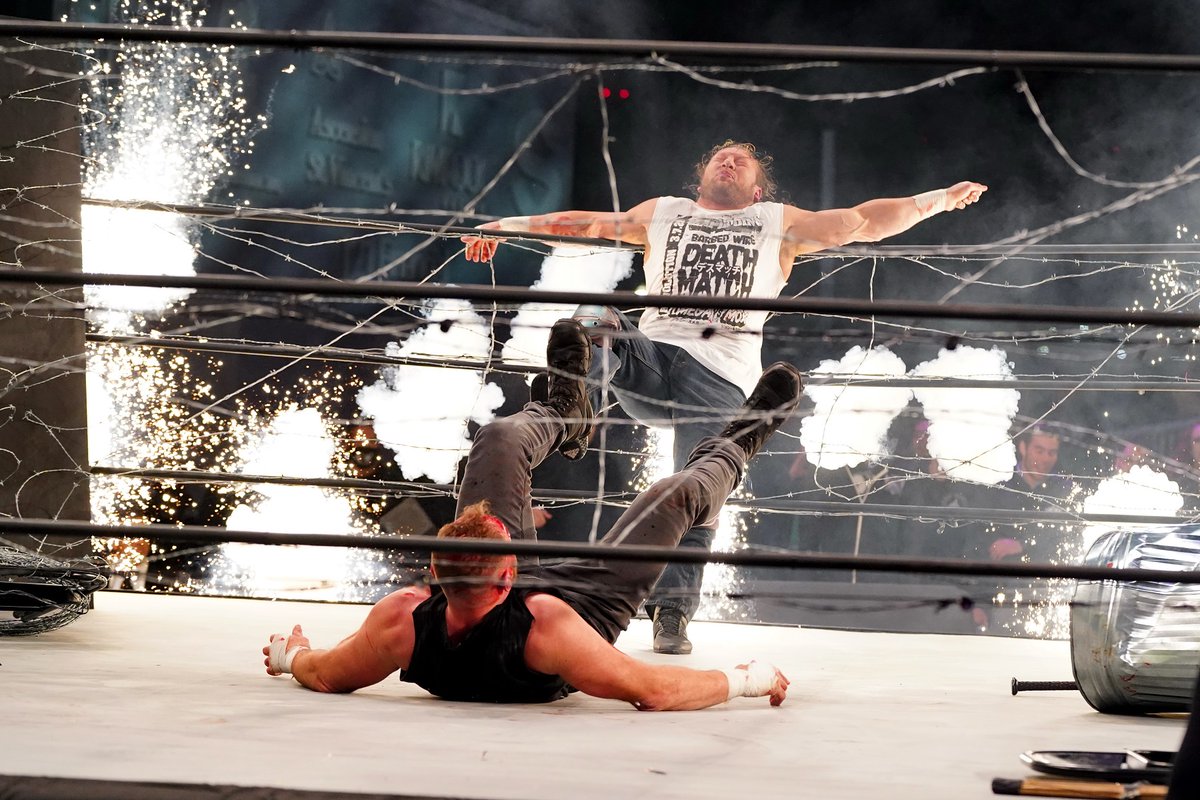 Exploding Barbed Wire Death Match for the AEW World Championship: Kenny Omega (w/Don Callis) vs. Jon Moxley
The wrestlers slowly walked around the ring with Excalibur noting that after 30 minutes, all of the explosives will go off. Whoever survives that will win the match apparently. Something like that anyway. Omega tried to put Moxley's head into the barbed wire, but Moxley held him off. Omega slapped on a tight headlock with Moxley turning it into a belly to back suplex and Kenny continued to hold onto the headlock. Callis correctly pointed out you can't use the ropes in a match like this since there was barbed wire everywhere. Moxley tried a suplex into the barbed wire, Omega blocked that and they each tried to send eachother into objects, but neither guy could do that. Omega got in some strikes, but Moxley gave him a clothesline over the top onto the ramp. The ropes by the ramp was the only side of the ring with ropes that were free. Moxley got a barbed wire bat leading to a legsweep on the stage. Moxley with kendo stick shots to the back of Omega, who went back into the ring. Omega tossed some white powder in the eye, Moxley couldn't see anything and Omega whipped Moxley into the barbed wire as some sparks went off. Callis laughed about it while fans chanted "holy shit" for it and Omega covered for a two count. Omega attacked Moxley with kendo stick shots to the body and a trash can to the head. Omega drove Moxley knee first into the trash can. Omega choked Moxley with a kendo stick and then Omega hit the kitaro crusher legdrop onto the trashcan for two. Moxley came up bleeding heavily, so he did a blade job after going into the trashcan. It took about eight minutes for the blood to begin. Omega slapped on the Figure Four Leglock, so Moxley used a barbed wire chair to hit the knees of Omega to break free. Omega managed to send Moxley back first into a barbed wire board that was against the turnbuckle. With the board out of the way, Omega hit a moonsault off the middle ropes. Moxley was a bloody mess. Omega teased going for a Figure Four Leglock, so Moxley kicked Omega face first into the barbed wire and an explosion went off! Moxley with a dropkick that sent Omega back first into the barbed wire for another explosion. Ouch. The crowd popped big for it.
Moxley hit a shoulder capture suplex across the ring. Moxley's face was full of blood. Omega teased a suplex into a barbed wire board, Moxley fought out of it and Moxley hit an exploder suplex into the barbed wire board. Omega took a rough landing into the board and was cut on the left arm after that bump. Moxley wanted a move, Omega broke free and punched Moxley in the face. Moxley with a release German Suplex onto the bat that was in the ring. Moxley with a side slam onto the barbed wire chair. Moxley put barbed wire around his right arm, Omega fought back with punches and Moxley hit a lefty clothesline. Omega with a Snapdragon Suplex two times in a row, Moxley was back up, Omega with a V-Trigger knee and then Moxley hit a clothesline with Omega doing a flip bump. They were about 15 minutes into the match. Moxley went for a Paradigm Shift, but Kenny countered by sending Moxley into exploding barbed wire ropes. Moxley's back went into the barbed wire while Omega was selling an eye injury with something going in his eyes. It could be just selling, but there could be something in the eye too. Referee Remsburg called for water for Kenny, who put the water in his eye to help with his vision. Moxley and Omega battled on the apron with Moxley gouging at the wound on the head of Moxley. They were fighting on the apron with barbed wire explosives on the floor. Moxley with a blatant eye gouge, then a knee to the face and Moxley hit a Paradigm Shift DDT off the apron onto the barbed wire explosives on the floor. When they landed, some sparks and smoke went off. Moxley was laying in the barbed wire while Omega landed off of it. When Omega got back up after that bump, he was bleeding from the head as well. They both did big blade jobs as you would expect for this match. They were at the 20-minute mark.
They were back in the ring with Moxley putting some barbed wire around his right hand and he punched Omega repeatedly with the barbed wire on his hand. Moxley with a piledriver for the two count. Omega used the referee to help steady himself leading to Kenny hitting a V-Trigger knee. Omega with another running V-Trigger knee. Omega teased going for the One Winged Angel, Omega went for a cover and Moxley kicked the rope that led to an explosive going off and Omega sold it like he was blinded by it. Moxley was back up with a barbed wire baseball bat leading to Karl Anderson and Doc Gallows going down to the ring. Moxley beat up Anderson and Gallows, but while Moxley was fighting them off, Gallows gave Omega weapon. Omega swung the exploding Barbed Wire Baseball Bat and hit Moxley in the face with it. Omega covered for just a two count. Gallows and Anderson remained around the ring, Omega lifted Moxley and Omega hit the One Winged Angel on the steel chair. Omega covered Moxley and got the pinfall win after about 25 minutes.
Winner by pinfall: Kenny Omega
Analysis: **** This was insane. I don't really know to rate it because while I have seen some of these types of exploding ring matches before, I've never reviewed one. With that said, they did a nice job of inflicting offense on eachother, they sold all of the bumps well and the visuals put over how physical of a match it was. Like their other matches, it was outstanding because they told the story well with the blood, the big bumps, the crowd was into everything and all of it made sense to me. I think the ending was a bit lame because Anderson & Gallows' presence was the deciding factor while nobody in the company seemed to care that Moxley was getting attacked by two guys at once. They could have been more creative with the ending is what I'm saying.
Post match, Omega celebrated with Anderson and Gallows by his side. Don Callis went into the ring to talk to Omega. The announcers noted that the clock was still ticking and everything was going to explode if they reach the 30-minute mark. Anderson and Gallows handcuffed Moxley in the ring. Callis mentioned that nobody is going to beat Omega when he has this much backup. Omega used the barbed wire bat against the forehead of Moxley. Schiavone noted it was about two minutes before the explosives went off. Omega continued to attack Moxley with a barbed wire bat in the back. Moxley was bleeding from the head again.
The countdown clock appeared on the screen letting us know there was one minute left until the explosives go off. Omega left the ring with Gallows and Anderson. There were about 20 seconds left. Eddie Kingston went out to the ring and tried to get Moxley out of the ring. There were less than ten seconds left. Kingston covered Moxley in the ring as the clock went down to zero. There was some explosion around the ring that really didn't look like that big of a deal, but Kingston and Moxley were selling it.
There were doctors that went into the ring along with AEW official Jerry Lynn. They checked on Moxley and Kingston in the ring. Those guys were selling the small explosion as if it was a big deal. I don't know how to describe it. The show signed off there.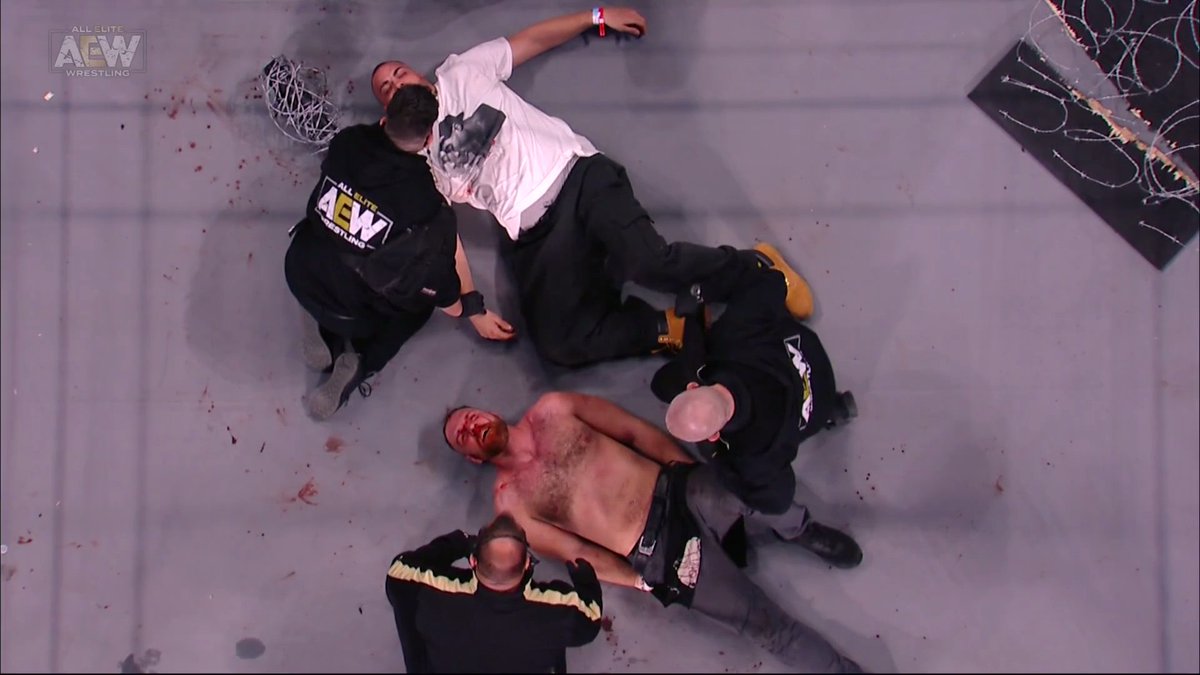 Analysis: They spent all this time warning us about this big explosion and then when it happened there was just a small amount of pyro that went off that really didn't seem like much at all. The ending was a huge letdown. I sent out a tweet after it happened and people are ANGRY about how weak of an explosion it was. They're mad at me for not criticizing it more in one tweet. I'm not an expert in explosives. Should it have looked more impressive? Sure. I think so. The match was great, but this post match explosion moment sucked. With that said, it's all about the sell and Moxley/Kingston sold it like it was a big deal. This could be what turns Kingston face by making him an ally of Moxley since they have a history as friends.
Anyway, once the show was over, Jon Moxley had fun with it by mocking the light impact of the explosion.
.@JonMoxley didn't regain the belt tonight but he regained a friend in Eddie Kingston! King came to save Mox from the final blast, which wasn't enough to keep Mox & Eddie down for good!
"Kenny Omega may be a tough son of a b____, but he can't make an exploding ring worth a s___!" pic.twitter.com/AHJCYVu3pw

— All Elite Wrestling (@AEW) March 8, 2021
Well said by Mox.
Analysis: Even though the match was great and Omega/Moxley deserve a lot of credit, I can already see that all people want to do is mock the lame explosion instead of praising the match. That's a lesson for AEW. If you're going to promote something like an exploding ring, you need to get people talking in a positive way, not a negative way. At least make it look better than what happened here. They should have had the ring explode or do something to feel like a big deal. Even if you had some pyro go off that made it look like a big deal, that would have worked too. I know Tony Khan on the media conference call said that the idea was that Kenny did a poor job of rigging the explosions, so the story is that Kenny is bad at rigging explosions. The problem is that Eddie Kingston, Jon Moxley and the announcers were treating this as a big deal. It made them all look foolish. It's a laughable ending instead of an ending where people are going to talk about it as if it was really cool. Basically, this post match explosion sucked and they deserve to be criticized for it. Let's see how they follow up on Wednesday to try to explain it.
AEW Revolution had a runtime of 3 hours, 44 minutes.
Five Stars of the Show
Kenny Omega
Jon Moxley
Young Bucks
Chris Jericho/MJF
Rey Fenix/Scorpio Sky
Final Thoughts
It gets a 7.25 out of 10 from me.
This was a good show that wasn't at the same level as AEW's best PPVs. They didn't have a Match of the Year contender type match, but there were plenty of good things. Unfortunately, what is grabbing the most headlines after the show is how lame the explosions were after the Omega/Moxley match. The explosions that they kept on hyping up after 30 minutes were lame to the point that people are making jokes that it was comparable to sparklers during the comedic Gillberg entrance. I get it. The criticism is deserved. I still think Omega/Moxley had a very good match in a tough setting in an Exploding Barbed Wire Death Match. Very good match, but due to the poor execution of the post match angle, people are going to shit all over this and it's justified.
The surprising debut was Christian Cage, who a lot of us predicted including me in the preview. Christian Cage isn't some all-time big name, so if fans are disappointed in that then I can understand that. That's the second on the show where they promoted things like big deals, but they didn't deliver to the expectations of the fans.
I found myself thinking "this match went too long" for a lot of the show because they want to give the wrestlers time to get their stuff in, but that can be something that hurts the matches. The ladder match is a good example because if they went 15 minutes instead of 23 minutes then it would have been way more exciting. The women's match felt like it went on too long and they seemed to be lost towards the end of it.
With all of that said, there was still a lot of good in-ring action on this show, which you can usually expect on an AEW PPV. Most of the booking decisions made sense. They finally booked Miro right! I liked the Young Bucks vs. Jericho/MJF match the most although the refereeing sucked during most of it. That match and Omega/Moxley got my highest ratings. The Street Fight was shot in a creative way with Sting/Allin looking good in victory. I'm glad that Sting got through it okay. Everything else was solid.
Despite the positives on the show, what most fans are going to remember is the lame ending with the weak explosion. That's something AEW needs to learn from and I think they will.
===
Thanks for reading this review. My contact info is below.
Email: mrjohncanton@gmail.com
Twitter: @johnreport