The John Report: AEW Dynamite 06/08/22 Review
This week's AEW Dynamite featured a battle royal to open the show with the winner facing Jon Moxley in the main event with the winner of that match having a shot at becoming the Interim AEW World Champion later this month.
This was AEW Dynamite episode #140 at the Cable Dahmer Arena in Kansas City, Missouri.
It's Wednesday night and you know what that means. Jim Ross was on commentary joined by Excalibur and Tony Schiavone.
The winner of the Casino Battle Royal gets to go on to the main event to face Jon Moxley.
Casino Battle Royal
It's a battle royal that started with five guys: Daniel Garcia, Eddie Kingston, Darby Allin, Tony Nese & Lance Archer. They were the "Clubs" group. Nese wanted Archer to work with him, but Archer gave Nese a Chokeslam instead. Allin used his skateboard to hit Archer in the back. Allin hit a dive on Archer on the floor. Allin battled Kingston in a matchup of two popular guys. Kingston knocked down Allin with punches.
The next group of five wrestlers made their entrance with Ricky Starks, Jake Hager and Starks hit a Spear on Allin. Rey Fenix was the third guy in this group, Swerve Strickland was next and his buddy Keith Lee was the fifth guy in this "Diamonds" group. Lee and Swerve did a double team punch/kick to Nese. Lee splashed Nese in the corner and Swerve hit a jumping elbow smash to Nese's back. Lee eliminated Nese shortly after that. Swerve appreciated the help. Archer hit a cross body block on Lee in a matchup of big dudes. Archer choked Lee and tried to send him out of the ring, but Lee managed to eliminate Archer.
The next suit was up with John Silver from the Dark Order and he hit German Suplexes. Konosuke Takeshita was next followed by Max Caster of The Acclaimed group with the Gunn Club. Caster claimed he would break Fenix's arm again like he broke Punk's foot. The Gunn Club go the cities wrong because that's their gimmick and then Anthony Bowens said Kansas City correctly. Anyway, that led to Caster, Austin & Colten all going into the match. They were part of the "Hearts" group. They went to a picture in picture break.
(Commercial)
When they came back from break it was time for the "Spades" group. It was Powerhouse Hobbs, Bobby Fish, Kyle O'Reilly, Dante Martin and Wheeler Yuta. Allin hit a Coffin Drop off the top onto Fish & O'Reilly on the floor. Martin hit Fenix with a dropkick that nearly eliminated Fenix. The ring was full of people, so there weren't a lot of eliminations. Fenix eliminated Caster with a kick while Caster was seated on the top rope. Fenix hit a double Stunner on the Ass Boys and then Lee clotheslined both Ass Boys out of the ring. Swerve dumped Lee after that. Swerve smiled about it as he turned on his friend.
The 21st entrant was the Joker…and it's Andrade El Idolo back from his honeymoon. Kingston battled Garcia on the apron, Garcia bit him in the head and then they showed Hobbs eliminating Silver. Kingston got knocked out by Hager, then Hager was eliminated by Yuta and the fans were booing because they didn't like that Kingston was eliminated. Hobbs battled Takeshita, then Takeshita was sent to the apron and Hobbs/Starks knocked Takeshita off the apron to the floor. Martin was eliminated by Hobbs and Starks. Fenix sent Starks to the apron followed by Fenix hitting a jumping kick to eliminate Starks.
There were about seven guys left as things slowed down a bit. Allin managed to dump Fish out. Allin went after Kyle with a corner splash, but Swerve got a hold of Allin and eliminated him. Andrade kicked Swerve over the top to the floor. Fenix with a DDT on Andrade. Fenix with an armdrag on Andrade and a Stomp on the body. Fenix superkicked Andrade into the ropes. Hobbs hit Fenix in the back with a forearm. Hobbs hit a spinebuster on Fenix. Hobbs tried to dump Fenix out, but Yuta snuck up behind Hobbs and eliminated him.
The final four were Andrade, Yuta, Kyle and Fenix. Kyle with a sweep kick on Fenix, then he knocked down Yuta. Yuta was sent to the apron, Yuta fought back and hit a missile dropkick on Andrade. Yuta with a German Suplex on Kyle, but Kyle came back with a clothesline. Fenix tried a dive off the top, but Andrade kicked him in the ribs. Fenix with a spin kick to the head. Andrade with a low blow to block a Fenix attack and Andrade eliminated Fenix. It was down to Andrade, Kyle and Yuta, so Yuta was the only face left. Yuta with aback body drop to eliminate Andrade. Kyle pulled Yuta to the apron where they exchanged strikes. Yuta kicked Kyle back into the ring, Kyle wrenched the knee and Kyle kicked Yuta off the apron to the floor. Kyle was the winner after about 21 minutes.
Winner: Kyle O'Reilly
Analysis: *** It was a good battle royal. I thought Andrade would have been a better choice as a winner because he hasn't been around for a while and it would be a nice way to make him look impressive. I have nothing against Kyle, who I like, but I just think Andrade would have been a better option. I was surprised at how early they eliminated the likes of Kingston and Allin since they were the most beloved guys in the match, so you would think AEW would know that and try to keep them in the match longer. I thought Swerve Strickland was booked well by eliminating Lee and Allin, but then he was taken out earlier than he should be. Anyway, it was fine as a battle royal.
The win means that O'Reilly will face Jon Moxley in the main event.
Jon Moxley did a promo backstage talking about how for three years he's been big game hunting in NJPW and blazing the trail AEW. Moxley said it hasn't been an easy year. Moxley said that tonight it's like Wednesday Night Wars come to life while telling Kyle that he's in the ring with the wrong guy at the wrong time. Moxley said that June 26 will be Forbidden Door saying that New Japan and AEW belong to him. Mox: "Love ya, mom." That's nice.
(Commercial)
The announcers talked about how surgery has been completed on CM Punk's lower leg and everything went well.
A video aired announcing a new championship coming to AEW. Tony Schiavone narrated a video where he had to call Tony Khan a "visionary." I LOL'd at that. I like Tony, but he's basically a guy that has a lot of money because of his father. I don't know about a visionary. The new championship is called the All-Atlantic Championship. They showed the brackets briefly, but it was so quick. The winner will be crowned in a Fatal 4-Way match at Forbidden Door.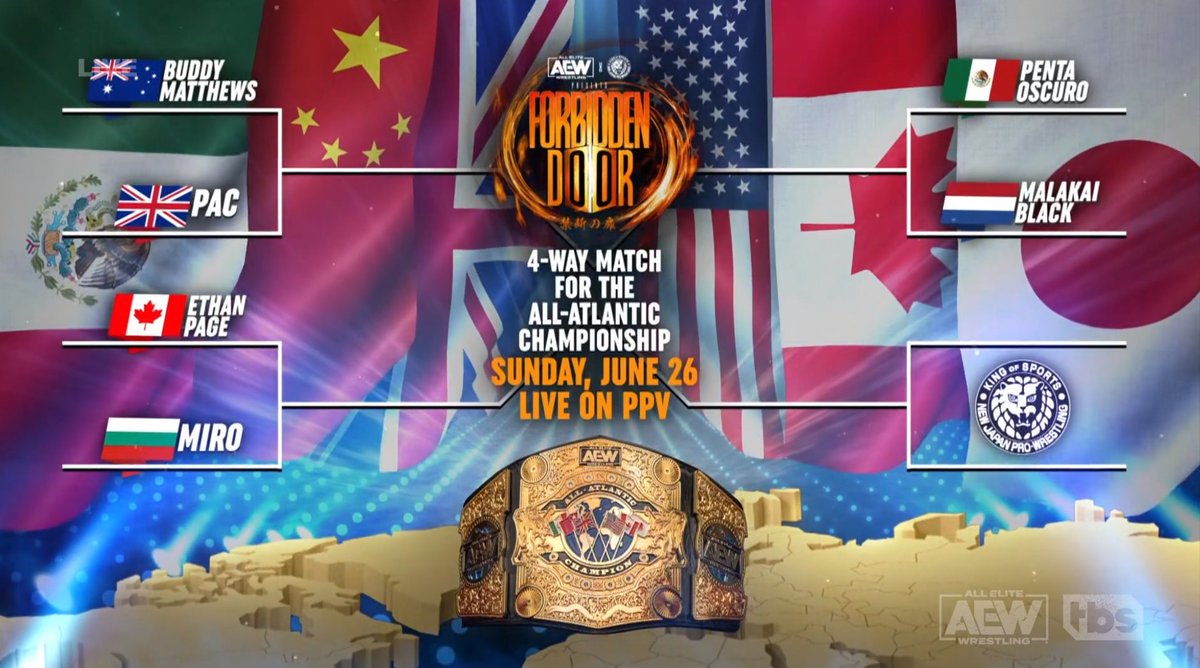 Analysis: I don't think they need more titles when they already have ROH titles on the show and the made up FTW Title as well. I'm sure there are Trios Titles coming or six-man tag team matches too.
Buddy Matthews of the House of Black group made his entrance. This is Buddy's first singles match in AEW. Pac was up next as the opponent with Pac as the babyface although he's not a guy that plays to the crowd.
Pac vs. Buddy Matthews
It's a matchup between two guys that were stuck in WWE's midcard doing nothing that are now doing nothing in AEW's midcard. Why wasn't Malakai Black in the battle royal? He should have been.
The fans chanted for both guys as they did some basic mat wrestling with neither guy getting the advantage. Pac with a headscissors that sent Buddy out of the ring. Pac left on the other side of the ring, then they kept going for moves on the floor and avoiding eachother. They went to a picture in picture break.
(Commercial)
Buddy was on offense on the apron with shoulder tackles to the ribs, but Pac was there with a knee lift. Tony was telling us they were the number one wrestling promotion in the UK because of the TV audience even though they have yet to do a show there. Anyway, Pac avoided a Buddy move and hit a DDT. Buddy with a kick to the gut, then a stomp to the foot and Pac came back with some kicks to the body. Buddy with a running forearm. Buddy with a kick, Pac avoided it and Pac hit a superkick. Buddy hit a jumping knee smash followed by Pac hitting a German suplex and a clothesline. Both guys were down selling while the fans cheered. Buddy and Pac each delivered strikes (a knee along with a kick). Buddy did a front suplex to Pac off the turnbuckle, then Buddy got a hold of Pac and hit a Ligerbomb for a two count. Pac jumped off the middle ropes and hit a Poison Rana (reverse hurricanrana) that spiked Buddy on his head. Pac with a running kick to the head. Pac up top and hit a Black Arrow splash for the pinfall win after 12 minutes.
Winner by pinfall: Pac
Analysis: ***1/2 A tremendous match by two talented athletes who were given a lot of time to have a competitive match. The sad thing is that Buddy has been in AEW for so many months and this is the first time he had a singles match on television. Pac is the more established guy, so having him win is certainly fine with me. It could have gone either way.
Pac moves on to the 4-way match for the All-Atlantic Championship at Forbidden Door on Sunday, June 26. Pac's buddies from Death Triangle celebrated with him. Buddy Matthews was joined by House of Black on the stage.
Eddie Kingston was backstage doing a promo complaining about how they only gave him a minute to talk. Eddie said that Jake Hager cost him a chance to be World Champion. Eddie complained about Daniel Garcia, 2.0 whatever their names are and he's still going to get Jericho. Eddie said that he wants Jake Hager on Rampage and he's going to fight him. Eddie told the truck he is done and this is his out line.
Analysis: That was funny. Eddie has a way with words, that's for sure.
(Commercial)
Let's Hear from Trent Beretta
Trent Beretta was in the ring for a promo saying he was bummed out because it was National Best Friends Day, but his friends aren't there. Trent said that him and Rocky Romero lost the ROH Tag Team Titles and while they didn't win the match, they didn't lose it either. Trent wanted FTR to make things right. The FTR duo of Dax Harwood & Cash Wheeler entered with the ROH Tag Team Titles. There were "FTR" chants.
Wheeler said that Trent was right that they are fighting champions. Cash said that they want to show that they are the absolute best tag team on this planet. Dax said that Trent's partner is in Japan right now, so they can't do the match. Dax said that Trent should be mad at Will Ospreay's bitch boys.
The NJPW logo appeared on the screen and Will Ospreay appeared on the AEW stage for the first time. Ospreay is the leader of the United Empire and his buddies attacked from behind. Some fans chanted "holy shit" as Excalibur screamed about how Aussie Open is one of the greatest tag teams of the last five years. Trent fell victim to a double-team slam. Ospreay hit a running back elbow to the head of Trent. Ospreay and friends celebrated in the ring.
Analysis: Will Ospreay is a very talented wrestler. I don't watch NJPW regularly anymore, but I've certainly seen enough to know how good he is. I don't know as much about the other guys he is with. I doubt a lot of casual fans know much about Will or the other guys, but doing a cheap heel attack like this is a smart way of getting some attention on them.
There was a backstage interview with Kyle O'Reilly, Bobby Fish & Adam Cole standing by with Tony Schiavone, who interviewed William Regal. Regal asked Kyle if he was ready for Jon Moxley and Regal said it would hurt him to be on commentary to see Kyle get his cracked open. Kyle talked about how he came to fight in AEW to be the best and now he has a chance to do that. Excalibur mentioned "a lot of history" between Regal and those three men without specifically saying NXT. Kyle faces Moxley in the main event.
Analysis: I miss black and gold NXT. That's what I thought of there.
Adam Cole made his entrance to join commentary for this match. Cole had the Owen Hart Cup title with him. It's not a title belt that is defended. Excalibur called it a trophy. Actually, there's a different trophy. This is a title belt.
David Finlay was next making his AEW debut. David is the son of Fit Finlay and works for NJPW. There was no reaction for him. The former AEW World Champion "Hangman" Adam Page made his entrance to a good pop.
"Hangman" Adam Page vs. David Finlay
Page hit a running shoulder tackle while Finlay came back with a dropkick. Page hit a body slam, then he avoided a dropkick and Page hit a running boot to the face. Page sent Finlay to the apron, Page ran over Finlay to knock him to the floor and Page hit a suicide dive that sent Finlay into the barricade. Page had a sip of beer from a fan. Back in the ring, Finlay wrenched on the foot to the shoulder and then a chop block to the back of the left leg.
(Commercial)
Finlay was in control while Page was selling a left knee injury. Page caught Finlay in his arms and hit a fallaway slam across the ring. Cole was rooting for Finlay as Page hit a springboard clothesline onto Finlay on the floor. Page jumped over the top with a cross body block on Finlay to the floor and Page was holding his knee. Page hit a Powerbomb for a two count. Finlay came back with a backbreaker for a two count. Finlay got an inside cradle for a two count. Finlay went for a German Suplex, Page landed on his feet and Page hit a clothesline. Page to the apron, then he hit the Buckshot Lariat with Finlay doing a flip bump and Page got the pinfall win after 11 minutes.
Winner by pinfall: "Hangman" Adam Page
Analysis: ***1/4 A good match with an obvious result. Page spent much of the match selling the left knee until it was time to make the comeback with his big moves. Finlay has a lot of talent and he's going to get better at 29 years old for sure. Page's offense always looks great.
Post match, Hangman stayed in the ring for a promo as the fans chanted "cowboy shit" for him. Hangman said there's a lot he wants to say about the AEW World Championship, but tonight is not the night. Page said that he wasn't in the little battle royal (no reason given for that) and it doesn't look like he'll get a title shot any time soon. The fans booed. Page talked about how there's not only one World Championship in professional wrestling. Page said that at Forbidden Door, he wants the IWGP World Heavyweight Championship and "I want Okada!" The fans cheered.
Adam Cole interrupted telling Page he was delusional. Cole said that his good friend Jay White might be the champion. Cole reminded Page that he isn't a champion any more. Cole said that he won the Owen Hart Foundation tournament and nobody will stop him. Cole said he should get the IWGP World Heavyweight Championship match while Page's time has come and gone. Cole said that AEW is all about Adam Cole, bay bay. Cole told Page to stay out of his way.
Analysis: It seems like the logical thing is for Page and Cole to have yet another match together to see who will face the IWGP World Heavyweight Champion Okada, who I assume will beat Jay White to keep the title. I think Page vs. Okada would be great to see.
There was a Thunder Rosa interview from earlier today with champion Rosa issuing a challenge and Marina Shafir confronted her, so that set up a match.
Let's Hear from Wardlow
Wardlow entered the ring with Tony Schiavone, who said that Wardlow opted not to be in the battle royal because there was something on his mind. There were "Wardlow" chants as he welcomed us to Wardlow's World. Wardlow said he asked not to take part in the battle royal because CM Punk is our champion. Wardlow said if he is not making him tap or pinning his shoulders then he doesn't want it yet. Wardlow said he'll be waiting for Punk when he gets back.
Wardlow said there is a title he does want, a title he nearly won three months ago, he wants the TNT Title. Wardlow said it's time for a change around here…and here's TNT Champion Scorpio Sky. Dan Lambert and Ethan Page walked out to the ramp to keep Sky from going to the ring. Wardlow said if Sky has a bummed knee, Wardlow will be happy to wait until he's 110%.
Analysis: That sounds like a future title match and Wardlow will probably win it.
Smart Mark Sterling did a promo with the AEW security staff standing behind him. Sterling ranted about a lawsuit by the security staff where Wardlow can face them in court or face 20 of them in an elimination match. Thrilling.
Analysis: So Wardlow ill get to beat up 20 "security" guys next week. Congrats to the indy wrestlers that get paid a few hundred bucks to take those bumps.
(Commercial)
The Young Bucks did one of their promos in the locker room with Brandon filming them. They talked about beating the current AEW Tag Team Champions (in a tag team match) and then beat The Lucha Brothers on Rampage. Matt Jackson said he wants their World Tag Team Titles. The Hardys walked in talking about winning matches while reminding them that The Hardys beat The Young Bucks at Double or Nothing. Christian Cage walked in with Jungle Boy & Luchasaurus, the AEW Tag Team Champions. Christian did point out that they pinned Jungle Boy in LA in front of his family (Jungle Boy didn't love Christian saying that). Christian said that he had a challenge for both teams. Christian suggested a match that made them household names – next week on Dynamite: Jungle Boy & Luchasaurus defend the AEW Tag Team Titles vs. The Hardys vs. The Young Bucks. Jungle Boy wasn't a huge fan of that while the challengers liked it.
Analysis: That will be an awesome match. I think there will be a title change too. I'll go with The Hardys to win, but Young Bucks winning would be fine too. I just think they will want The Hardys to have a title reign before they retire. I also think that it will lead to Christian Cage turning heel on Jungle Boy/Luchasaurus after they lose the titles.
AEW Women's Championship: Thunder Rosa vs. Marina Shafir
The announcers said that they have the same win-loss record this year, but I don't think Marina has wrestled on TV much because I only remember maybe two matches. Lots of Youtube winning, I guess. Shafir worked over Rosa with knees to the body. Rosa drove Shafir to the corner, Rosa with chops to the chest and forearms to the face. Rosa with kicks to the body followed by a punch. JR saying the Rosa/Deeb match at Double or Nothing was as good as anything he remembers calling. That's called overrating a match for a company you work for. Shafir hit a suplex. They went to a picture in picture break.
(Commercial)
The match returned with Rosa kicking Shafir to the mat. Rosa hit a running corner clothesline and a driving knee attack in the corner. Rosa tried to wake up the crowd as Rosa hit a running dropkick to the back. Rosa hit a Northern Lights Suplex for two. Shafir hit a spinning slam for a two count. Rosa came back with a Death Valley Driver for two. Rosa countered a move into a sunset flip for two. Shafir went for a move, Rosa rolled through and sat on top for the pinfall win after nine minutes.
Winner by pinfall: Thunder Rosa
Analysis: ** Just an average match without much of a story. Shafir was not a threat to win at all, so Rosa winning was an obvious result and made it tough to get into the match. It was a flat finish to the match. AEW needs to do a much better job of setting up Women's Title matches that mean a lot more than this one did.
Post match, Rosa celebrated by turning her back, which meant the cheap attack was coming. Shafir kicked Rosa in the back. Shafir applied a head/arm submission. Toni Storm ran out there and made the save with a dropkick to Shafir. Rosa picked up Shafir and hit her Fire Thunder Driver finisher. Storm held up the AEW World Title, had a staredown with Rosa and Rosa celebrated with the title.
Analysis: That should set up a future title match with Rosa and Storm.
There was an interview with TBS Champion Jade Cargill, The Baddies and Stokely Hathaway conducted by Tony Schiavone. Hathaway said that Red Velvet would beat Kris Statlander on Rampage. Jade told Tony to "cut the shit" because that's her catchphrase.
This Friday on a taped AEW Rampage:
* Red Velvet vs. Kris Statlander.
* FTR & Trent Beretta vs. Will Ospreay & Aussie Open.
* The Debut of Satnam Singh and Jay Lethal in action.
* Hear from Hook & Danhausen.
* Eddie Kingston vs. Jake Hager.
Next Wednesday on AEW Dynamite Road Rager:
* Hair vs. Hair: Chris Jericho vs. Ortiz. Sorry Ortiz.
* AEW Tag Team Championships Ladder Match: Jungle Boy & Luchasaurus vs. The Hardys vs. The Young Bucks.
* Plaintiffs vs. Wardlow in a 20-on-1 "Handicap Elimination Match"
* Ethan Page vs. Miro.
Stop screaming, Excalibur. Just calm down and breathe a bit, pal.
(Commercial)
Kyle O'Reilly made his entrance for the main event. Jon Moxley got a big ovation for his entrance from the back part of the arena. William Regal joined commentary to support his Blackpool Combat Club buddy Jon Moxley.
Interim AEW World Championship Eliminator Match: Jon Moxley vs. Kyle O'Reilly
The winner of this match will be in the Interim AEW World Championship Match at Forbidden Door on Sunday, June 26th. They will face the winner of a match between Tanahashi and Goto. That should be Tanahashi.
Moxley with a trip into an armbar, but then Kyle came back with a kick to the back of the leg. Moxley was in control of the wrist of Kyle along with some finger snapping for fun too. Moxley got a hold of the arms and stomped on Kyle's face. They exchanged forearms/elbows to the head with no attempt to block anything and Kyle kicked Moxley in the chest a few times. Moxley with three corner clotheslines, then a charge and Kyle dropkicked the knee. Kyle wrenched the left knee against the middle rope. Moxley was tied up in the rope, Kyle jumped off the top and hit a knee drop to the body. Excalibur screamed about the "grotesque angle" of Moxley's knee as they went to a picture in picture break.
(Commercial)
Moxley delivered a superplex off the top rope although it was more of a head/arm suplex. Kyle with kicks to the body, Moxley with headbutts, then they did double kicks and both guys fell down at the same time. Moxley with a submission, Kyle used his mouth to get to the ropes (so Moxley kicked the ropes to cause more pain) and then Moxley hit stiff clotheslines. Moxley with knees to the body, Kyle came back with a running kick or knee to knock Moxley down. Moxley popped back up and hit a Cutter. Moxley went for a move, but Kyle caught him in a triangle choke sleeper, but then Kyle let go and applied a kneebar submission. Moxley got out of that with a punch, then Moxley hit a piledriver and that got a two count. They exchanged forearms, Moxley with a knee and forearm. Kyle with a suplex on the head, Moxley no-sold it and hit a suplex of his own. They did a couple of double clothesline as both guys collapsed a bit. Moxley with a sleeper, then he turned it into a Bulldog Choke submission and he leg go. Moxley with a running knee to the head. Moxley hit the Paradigm Shift for the pinfall win after 14 minutes.
Winner by pinfall: Jon Moxley
Analysis: ***3/4 A great match between two of the best wrestlers in AEW. It's one of those matches where again it's obvious that Moxley is going to win, so it's tough to get that excited when Kyle got a nearfall or submission. I did like some of the submissions for sure, but they need to do a better job of making us believe that it might end the match. The finish felt like they were told to go home, so Moxley hit his three big moves and that was enough for the win. I liked the physicality of the match. It was fun to watch.
Jon Moxley celebrated the win. End show.
Three Stars of the Show
Jon Moxley
Kyle O'Reilly
Pac
The Scoreboard
This Week: 7.5 out of 10
Last Week: 9
Final Thoughts
It was a very good show for the most part, but it was tough to top last week with that memorable MJF promo. They didn't mention MJF this week in case you were wondering.
The battle royal to open the show was okay, but also lacking in star power for something that is supposed to put you one step away from the AEW World Title. AEW books these things where they don't want top guys to lose, so they are kept out of matches that are supposed to be important. Anyway, Kyle O'Reilly won and then lost a competitive match to Jon Moxley as you would expect. It was the best match on the show.
Some of the other matches were solid as usual. I just don't think it was as good of an episode as their better shows.
—
Thanks for reading. Go Toronto Blue Jays. You can contact me using any of the methods below.
John Canton
Email: mrjohncanton@gmail.com
Twitter: @johnreport