The John Report: AEW Double or Nothing 2022 Review
AEW Double or Nothing 2022 is headlined by "Hangman" Adam Page defending the AEW World Title against CM Punk, plus many more exciting matches like the Anarchy in the Arena 10-man tag, Young Bucks vs. The Hardys and a whole lot more.
There are 13 advertised matches for the show including the "BUY IN PRE-SHOW" before the 8pm ET start time. I ordered the show on Fite TV here in Canada. I'm happy to support AEW. Earlier on Sunday, I wrote about MJF's situation with AEW since he's apparently unhappy with things in the company, so I decided to write about it. Check out my past AEW PPV reviews right here on TJRWrestling. Let's get to it.
The pre-show match saw Hook & Danhausen beat Tony Nese & "Smart" Mark Sterling. It went about five minutes. I missed it.
AEW Double or Nothing
May 19, 2022
From T-Mobile Arena in Las Vegas, Nevada
It's Sunday night and you know what that means. The commentary team of Jim Ross, Tony Schiavone and Excalibur welcomed us to the show. Some pyro went off while showing the crowd. They aired a commercial for Draftkings, which is a presenting sponsor that they will mention many times.
Maxwell Jacob Friedman made his entrance to being the show. He took a bit of time to get out there and was greeted with an "Asshole" chant from the crowd. MJF did some arm motions like he was a plane ready to fly thanks to the rumors of him possibly flying home on Saturday. Whether it's true or not, I don't know. Anyway, Wardlow made his entrance with the short security guys with Wardlow having his hands cuffed. Wardlow got a huge ovation from the crowd as he walked out there with no music. As soon as Wardlow entered the ring, MJF left the ring.
Wardlow vs. Maxwell Jacob Friedman
The bell rang, so MJF bailed to the floor to stall. Wardlow was dealing with the referee, so MJF hit Wardlow with a forearm to the back. Wardlow wanted a Powerbomb leading to MJF bailing to the floor. Wardlow got his hands on MJF, then MJF did a shot to the face and MJF tried a sunset flip that was blocked. Wardlow wanted a Powerbomb, MJF bit the head to counter and then MJF did an eye poke. MJF was able to get a hurricanrana for a two count. MJF screamed in pain while holding his left leg with fans chanting "bullshit" for this. MJF got the Dynamite Diamond Ring from his trunks, but Wardlow and referee Bryce Remsburg saw it. MJF told Wardlow he'll double his pay and even quadruple it. Wardlow shook his hand, but then he held onto the hand. Wardlow with a kick to the gut leading to a Powerbomb with the fans cheering loudly for it. Let the Powerbomb Symphony begin as Wardlow hit a second Powerbomb. Wardlow faced another side of the ring to hit a third Powerbomb. There's a fourth Powerbomb by Wardlow, then a rollup until a fifth Powerbomb. Wardlow covered with his foot on the chest for a two count, but then he said that's not it. Wardlow hit a sixth Powerbomb, then a pickup and a seventh Powerbomb. Wardlow hit eight, nine and a tenth Powerbomb. Wardlow finally pinned MJF for the win at 7:30.
Winner by pinfall: Wardlow
Analysis: *1/2 It was not about star ratings. It was about telling the story of Wardlow getting his revenge on MJF. This was the right way to book it with Wardlow dominating the match while MJF got his ass kicked. Ten Powerbombs for the win is impressive. That's for sure.
After the match, MJF was placed on a stretcher with oxygen over his mouth. He was wheeled out of the building.
Analysis: What is MJF's future after this? I don't know. I don't think the reports of him being unhappy are false. I don't even know what's next other than he probably takes some time away to think about his life and career. I'm assuming he'll be in AEW for the remainder of his contract until early 2024 and then things might change.
The win means that Wardlow no longer has a contract with MJF and can "sign" with AEW now. The fans cheered as if they didn't know he worked for AEW for the last three years.
It's official! @RealWardlow is All Elite!#AEWDoN#AEWDoubleOrNothingpic.twitter.com/ltPPUjTCSE

— Tony Khan (@TonyKhan) May 30, 2022
Analysis: I get that it's a storyline, but it's so weird how people react to this like he is really under contract with AEW now. I did a tweet about that, which was very sarcastic and I had a bunch of stupid people replying to me, so I deleted it. Anyway, Wardlow has a very bright future. I'm excited to see what he can do.
Tony Schiavone was on the stage to congratulate Wardlow and shared the word from Tony Khan that Wardlow is now "All Elite." That led to the graphic being shown.
A video package aired about The Young Bucks and The Hardys talking about their match. A bad Elvis impersonator sang "superkick party" for them.
The Hardys (Matt & Jeff Hardy) vs. Young Bucks (Matt & Nick Jackson) w/Brandon Cutler
They had Caprice Coleman from ROH on commentary for this match. This will be confusing in terms of using names due to two Matt's in the match, so I'll use MH for Matt Hardy and just Matt for Matt Jackson. The two Matt guys started it with an even exchange of moves. The younger brothers Jeff and Nick tagged in with Jeff knocking him down. Nick knocked down Jeff with Nick mocking Jeff's dancing. Jeff knocked Nick out of the ring while The Hardys mocked the Bucks posing. Both Hardys hit a double clothesline on Nick. The Hardys knocked down Matt followed by a double splash combo as the Bucks regrouped on the floor. The fans chanted for Cutler, so Nick shoved him. That was funny. Nick slapped MH in the face, Matt tagged in and MH hit a clothesline followed by a suplex. The Hardys suplexed Nick onto Matt on the mat. Jeff went for the Poetry in Motion, but Matt avoided it and Nick kicked Matt. MH picked up Matt, but Nick superkicked MH out of the ring. Matt Jackson tossed Jeff into the turnbuckle. Nick tagged in with a senton splash on Jeff. The Bucks went for a double team attack, but Jeff hit a double clothesline. Cutler pulled MH off the apron while Matt distracted the referee, so the referee did not see it. Nick went for a twisting attack off the ropes, but Jeff avoided it and Jeff jumped off the top with a twisting attack onto a standing Nick. MH tagged in, MH sent Nick into the turnbuckle, then he did it to Jeff as well and Jeff was down in the corner for some reason. MH hit Cutler's head into the turnbuckle repeatedly. Matt pulled the top rope down, so Jeff sent Matt over the top to the floor. Nick kicked Matt, who was on the floor. Nick hit slammed Jeff's head into the mat. Jeff was back up with a dropkick on Matt to knock him down. Jeff stood on the middle ropes and Nick hit him with a superkick that knocked Jeff off the ropes onto the two guys on the floor. Nick went up top and jumped off the top with a somersault dive onto both Hardys on the floor. Back in the ring, Nick hit a running knee to MH's head. The Bucks hit a double team splash with Nick jumping off the top and Matt doing a standing splash for a two count on MH. Jeff was still on the floor. Nick hit his brother Matt with a knee after MH moved out of the way. Nick kicked Cutler in the face after MH moved out of the way of that too. Matt knocked down Nick on the floor, Jeff jumped off the apron onto Nick with a clothesline. MH hit Matt with the Side Effect on the apron. I don't know what's wrong with Jeff, but he looked like he was hurting.
Jeff was legal against Matt with Jeff taking his time before hitting the Poetry in Motion attack in the corner. Matt with a catapult to MH which led to Nick hitting a double foot stomp. Matt was on the top rope with Jeff, who managed to hit a jawbreaker on Mat on the top rope. Jeff jumped off with a Swanton Bomb off the top, but Matt moved and Matt hit a Twist of Fate and Nick jumped off the top with a Swanton Bomb leading to Matt covering Jeff for a two count. Great nearfall there. Bucks went for the BTE Trigger, Jeff moved and hit a knee attack, but then the Bucks were up with double superkicks for both Hardys. Matt encouraged Jeff to try to get up and the Hardys slowly got back up. The Young Bucks delivered about eight superkicks in a row. The Hardys dared them to do more superkicks and the Bucks hit more double superkicks for two counts. Matt ramped Jeff into the steel steps and wanted Nick to jump off the top, but MH was back up. MH hit a BT Bomb like a Powerbomb off the shoulders on Nick. Jeff set up Matt on the top of the steel steps, MH punched Matt on the steel steps a few times and then Jeff went up top. Jeff jumped off the top onto Matt on the steel steps. Ouch. It landed perfectly at least for Jeff. MH hit a Twist of Fate for a two count. Good nearfall there. Nick with a pin attempt for two, MH with a Side Effect and a Twist of Fate. Jeff tagged in and Jeff jumped off the top with a Swanton Bomb for the pinfall win at 19:15.
Winners by pinfall: The Hardys (Matt & Jeff Hardy)
Analysis: ***3/4 The match was pretty good even though it looked like Jeff was hurt early in the match. I don't know if it was a possible concussion or a body part, but it looked like Jeff was out of it at times. Then as the match went on, Jeff was able to get through it. I just thought it was concerning at one point when Jeff had a tough time standing and it didn't look like selling. Anyway, the Young Bucks were on point as usual with a lot of cool moves. I liked some of the nearfalls in the match. The fans were into it too. I think Hardys are going to win Tag Team Titles soon.
Jeff went into the crowd after the match like he did in his last WWE match, but this time he walked around the crowd and walked back towards the ring to celebrate with brother Matt.
There was some video of Gunn Club and The Acclaimed partying in Las Vegas. They showed Billy Gunn in the hotel after the partying and all the guys were passed out in the room. Mildly funny.
TBS Championship: Jade Cargill vs. Anna Jay
Cargill is 31-0 in her AEW career. Cargill hit a fallaway slam. Cargill went to the turnbuckle with a double axhandle to the head. They must have forgot a spot since Cargill was climbing the ropes, then changed her mind and hit a running corner elbow. Cargill went up top again, Jay blocked that and Jay hit a superplex off the middle rope. Cargill charged, Jay hit a back elbow and a spin kick in the corner. Jay hit a clothesline that staggered Cargill a bit. Jay hit a weak heel kick to the head and Jay jumped off the top with some kind of neckbreaker, but Cargill went to the floor. Jay shoved Cargill into the steel steps. Kiera Hogan and Red Velvet, who are Cargill's "Baddies" were at ringside, so Jay hit a double DDT on them. Back in the ring, Cargill hit a jumping kick. Jay countered a Jaded attempt and hit a superkick. Smart Mark Sterling went down to the ring with a neckbreaker and a crutch. Sterling distracted the referee, Jay got the crutch, hit Cargill in the ribs and hit a legsweep for two after the referee turned around. John Silver went down to ringside and gave Sterling a brainbuster on the floor. Back in the ring, Cargill hit the spinning Eye of the Storm slam for two. Jay applied her Queen Slayer submission, but Cargill got back up and drove Jay into the turnbuckle. Cargill hit the turnbuckle after going for a corner attack. Jay went up top and there was Stokely Hathaway (former Malcolm Bivens in WWE) while Jay was distracted by that. Cargill hit the Jaded slam off the ropes for the pinfall win at 7:25. Cargill is 32-0 now.
Winner by pinfall: Jade Cargill
Analysis: ** It was an average match with little heat, but not much. They had some good spots in the match. It was obvious that Cargill was going to win, but at least they had a nearfall spot for Jay after using the crutch to do a move. While I like Stokely Hathaway as a performer, it was a weird spot for him to debut and for Jay to be distracted by it. Why would she care? Anyway, the finish was a strong win for Cargill.
Post match, Stokely Hathaway celebrated with Cargill and her group. Cargill wanted to attack Anna Jay, but Kris Statlander ran down to the ring for a save. A video aired with the graphic "Fallen Goddess" and it was Athena (former Ember Moon in WWE), who got a big pop from the crowd. Athena got in the ring with Statlander and Jay having a staredown with Cargill and The Baddies while Stokely tried to keep them apart.
Analysis: Good to see Athena in AEW. She will do well there. I thought she was a dumb release by WWE. It also sets up some fresh matchups.
A video aired about AEW-NJPW Forbidden Door taking place on Sunday, June 26th.
House of Black was up next with the lights off for most of their introduction. Death Triangle were the opponents.
Death Triangle – Pac, Rey Fenix & Penta Oscuro vs. House of Black – Malakai Black, Brody King & Buddy Matthews
The House of Black trio all had face paint on. Fenix with a hurricanrana on Black and then they each avoided spin kicks. Fenix and Black each sat down in the ring. Buddy tagged in with a double foot stomp on the arm of Fenix, who came back with a superkick. Penta tagged in, Buddy sent him out of the ring and they had a taunting staredown. Penta with a superkick followed by a headscissors out of the ring leading to another staredown. Pac made a blind tag at that point leading to a dropkick. King tagged in against Pac with a punch to the head. King with a hard chop, Pac with a boot to the face and King chopped him. Fenix with a springboard attempt, but King hit him with a forearm. All six guys went into the ring at the same time for a staredown leading to a brawl. Black with a kick on Pac and King hit a huge clothesline. Fenix with a double foot stomp on King. Black with an elbow. Pentagon with a springboard Slingblade, Buddy off the top with the Meteora knees, a pump kick for Pac and Pac hit a Poison Rana. Pac hit a clothesline that flipped Buddy over. That was a chaotic sequence where they ignored tag team rules for about a minute, but the fans loved it with "AEW" chants. King was back in for his team with a Bossman Slam on Pac followed by a hard chop. Black with a chinlock, a boot to the face of Pac, King with a shoulder tackle and Buddy tagged in with senton splash on Pac. King hit a running corner splash on Pac, but the cannonball missed because Pac moved. Fenix tagged in with some kicks for Buddy while Penta joined in. Fenix and Penta each hit somersault dives over the top onto Black and King on the floor. Death Triangle hit three splashes on King at the same time and they covered with three guys (which should not be legal), but King kicked out of that. Fenix jumped off King's leg with a kick to the head. Fenix sent Buddy out of the ring. Fenix went for a dive, but Buddy caught it and hit a suplex on the floor. That led to a dive from Pac, a moonsault from Black onto Pac, Penta hit a dive over the top onto Black and then King thought about his own dive. King barely got over the top with a somersault dive. The three heels were in the ring with Black hitting the Dante's Inferno for the pin attempt, but the other guys broke up the pin. JR noted the referee lost control because they went a few minutes without any tags and all six guys involved. The Death Triangle trio all delivered kicks, then Penta/Fenix did three double superkicks in a row, Pac with a spin kick to Black and a brainbuster for two with Buddy breaking up the pin. Penta hit a Canadian Destroyer on the apron! Holy shit. Fenix kicked King, who Penta held on the floor and Fenix stomped on King's back (barely touched him) and Penta hit a DDT on King on the floor. Black was surrounded by Pac, Fenix & Penta, so there were three straight superkicks to Black's head. Black with a spin kick on Penta, then a spin kick on Fenix and Pac avoided a spin kick leading to an enziguri kick by Pac. Pac went up top and Buddy was there, so Pac jumped over Buddy with a 450 Splash on Black. Pac with a German Suplex on Buddy, who Pac tossed onto King on the floor. Pac with a German Suplex on Black. Pac with a kick to the groin while Alex Abrahantes distracted the referee. Pac was about to hit a Black Arrow splash off the top, but the lights went out in the building. When the lights came on, Julia Hart spit the black mist into the eyes of Pac. Black hit the spinning heel kick to the head for the pinfall at 15:35.
Winners by pinfall: House of Black – Malakai Black, Brody King & Buddy Matthews
Analysis: **** That was a crazy match (in a good way) with House of Black getting the cheap win thanks to Julia Hart making her presence felt with the black mist. There was a long-term story there going back several months, so there's the payoff with Hart joining the group. It was hard to keep track of some of the action with all of the quick tags, the spots where all six of them were in the ring and the referee lost control a lot. I thought Death Triangle might win, but I don't mind being wrong about that. Chaotic match, but I enjoyed it. I'm glad to see Black get the win since he should be getting a big push going forward.
Post match, Julia Hart smiled with Malakai and friends on the floor.
#AewDoubleorNothing2022 Vegas = House Of Black. pic.twitter.com/HepNeFRLzZ

— Malakai Black (@malakaiblxck) May 30, 2022
A video aired about the Men's Owen Hart Foundation Tournament final with Samoa Joe facing Adam Cole for the first time.
Adam Cole was wearing pink tights. They had two belts and a trophy on the stage. Samoa Joe is undefeated in AEW with a 5-0 record. The referee was former WWE referee Mike Chioda.
Men's Owen Hart Foundation Tournament Finals: Adam Cole vs. Samoa Joe
There were some "Owen" chants after the first lockup. Joe worked over Cole in the corner with punches. Joe hit a running back elbow in the corner followed by a jumping kick. Joe with headbutts, Cole with an elbow strike, Cole off the ropes and Joe hit a running back elbow to knock Cole down. Cole left the ring, Joe with chops while on the floor, Joe charged and Cole hit a superkick. Cole shoved Joe's left shoulder into the ring apron and Cole sent Joe's shoulder into the ring post. Chioda actually counts wrestlers out when they are on the floor unlike most AEW referees, so Cole had to break the count and then send Joe back into the ring. Joe tried to get offense going with jabs, but Cole stopped the momentum by wrenching on Joe's arm against the middle rope. Cole hit single arm takedown. Cole went for Panama Sunrise, but Joe caught him and hit a powerslam that sent Cole's knees into the mat. It was basically Joe's butt hitting the mat on that move. Cole with a kick while Joe was by the ropes, then Cole charged and Joe hit a uranage slam. Joe with an atomic drop, boot to the face and a senton splash for a two count. Cole charged at Joe, who hit a tight powerslam. Joe wanted a Powerbomb, Cole slipped out of it and kicked Joe on the back of the head. Cole ran the ropes leading to Joe hitting a huge clothesline followed by Cole taking a hard bump on the back of the neck. Cole to the turnbuckle, he jumped over Joe and Cole hit a running high knee for a two count. Cole with a kick to the chest, then a Backstabber double knees to the back and that got a two count. Cole with a Crossface submission, but Joe's boots were under the bottom rope to break the hold.
Cole went for a superkick, Joe intercepted and hit a Powerbomb for two. Joe applied the STF submission in the middle of the ring. Cole got his foot on the bottom rope after Joe hooked on the limbs of Cole to try to keep him down. Bobby Fish showed up at ringside to wrench Joe's arm against the top rope. Cole went for the Boom knee, but Joe avoided it and went for a choke. Joe knocked Fish off the apron with a punch. Joe hit a huge chop to Cole. There were four straight superkicks by Cole and the running Boom knee to the back of the head for the pinfall win at 12:31.
Winner by pinfall: Adam Cole
Analysis: ***1/4 A pretty good match here, but I wouldn't call it great. Joe's offense always looks impressive and he got a lot of it here. The finish felt a bit flat because even though Fish got involved a bit, it just didn't feel like the end of the match. I didn't think Cole was going to hit the Panama Sunrise on a bigger guy like Joe, so I'm fine with the Boom ending. I just thought they could have set it up a bit better. I don't know. It just didn't feel that impactful to me. This match was a tossup to me. I thought a face like Joe should win, but there's nothing wrong with Cole winning.
Adam Cole celebrated the win with Bobby Fish at ringside. They said there would be a trophy presentation later in the show.
The Women's Owen Hart Tournament Foundation final was up next so there was a short video featuring Ruby Soho and Britt Baker talking about their match. Britt talked about how Ruby can't beat her while Ruby said that Britt is the "ghost that haunts me." Both women thought they were going to win.
Dr. Britt Baker DMD's entrance featured guitarist Rich Ward, who is from Fozzy, which is Chris Jericho's band. Baker told Jamie Hayter and Rebel to go to the back. Rancid was there to play Ruby Soho's theme song. That's cool that both women had some musical introductions for them.
Women's Owen Hart Foundation Tournament Finals: Dr. Britt Baker D.M.D. vs. Ruby Soho
The women locked up with the fans chanting for both of them as wrestling fans tend to do sometimes. Baker grabbed an armbar, Ruby got an armbar of her own and Baker hit Ruby with some forearms. Ruby held onto Britt's hand until Baker broke free with a knee to the ribs. Baker sent Ruby into the turnbuckle. Ruby with an armdrag leading to a clothesline and a rising knee to the face. Baker was on the floor, so Ruby jumped off the apron with a dropkick on the floor. Baker drove Ruby back first into the barricade followed by a suplex. Back in the ring, Ruby was on the top where Baker tripped her up so that Ruby went ribs first onto the turnbuckle. Baker stomped on the lower back a bit. Baker rammed Ruby ribs-first into the ring post. Baker grounded Ruby in the ring while pulling back on the arm. The fans chanted for both women again. They were each going for strikes, they avoided eachother and Baker hit a forearm to the jaw. Baker to the middle rope, Baker hit her with a forearm and a punch to the face. Ruby hit a superplex off the middle rope. They exchanged forearms for about a half minute, Baker hit a forearm back and then they collapsed. It led to a light applause, but really wasn't that dramatic. Baker blocked a kick, then did a superkick and Ruby got a rollup for two. Baker with more kicks, Ruby with a rising kick and a belly to back suplex. Ruby went up top and jumped off the top with a Senton Bomb for the two count. Ruby was selling an injury to her ribs. Baker countered Ruby on the top rope with a front suplex. Baker ran the ropes leading to The Stomp into the mat for a two count. Good nearfall there.
Baker put the black glove on while doing her "DMD" hand taunt. Baker went for the Lockjaw submission, Ruby countered out of it and Baker got an armbar takedown into the Lockjaw submission attempt, but Ruby countered it into a pin attempt. Ruby hit the No Future kick to the head. Ruby applied the Sharpshooter (Owen Hart's finisher), but it wasn't locked in well since Ruby was on her knee instead of a standing position. Baker was near the bottom rope, Ruby pulled her back to the middle and Baker crawled to the bottom rope. It was not a great looking Sharpshooter, but it was still a dramatic spot. Baker avoided a corner attack, Ruby with a kick and Ruby got a victory roll for two, but then Baker countered it to sit on top for the pinfall win at 14:50.
Winner by pinfall: Dr. Britt Baker D.M.D.
Analysis: ***1/2 It was a very entertaining match that was even from the start with the fans rooting for both women equally even though Baker's a heel. Baker is so popular, though, so it's not a surprise for the fans to cheer for Baker a lot. Ruby came close to winning a few times. It was really an even match. I picked Baker to win, but it could have gone either way. The finish showed that it was a very even matchup, but Ruby was frustrated that she failed to win a big match while Baker found a way to get the big win.
Baker celebrated the win with her parents shown at ringside. Baker lifted up Ruby and shook hands with her as a sign of respect.
When Britt Baker got up to the stage, she hugged Tony Schiavone. Adam Cole was there looking not thrilled about that and then Cole kissed his girlfriend Britt. Cole and Britt were wearing t-shirts as the winners of the tournament.
Presentation of Owen Hart Foundation Tournament Winners
Tony introduced Dr. Martha Hart, who runs the Martha Hart Foundation. AEW President Tony Khan walked her onto the stage and thanked her for being there. There were "Owen" chants from the crowd.
Dr. Martha Hart thanked the crowd for the warm welcome while Cole and Baker stood on opposite sides of the stage. The fans chanted "Thank You Martha" to her. Martha talked about the determination and sheer talent of the competitors similar to her late husband Owen Hart. Martha said Owen was the most incredible wrestlers of all time and now we can once again celebrate him in the squared circle. More "Owen" chants from the crowd. Martha thanked Tony Khan, Chris Jericho, the Producers of the Dark Side of the Ring, the entire AEW crew, Pro Wrestling Tees, their legal teams, her sister Virginia, her kids Oje & Athena and her fantastic Owen Hart Foundation committee that are here with her tonight. Martha thanked the fans for making this event possible. Martha congratulated Cole and Baker, who wrestled to victory and have earned a place on the royal throne. Martha said that the Owen Cup is theirs to enjoy and next year she wants everyone to wear a beautiful hat like she has.
Martha presented the impressive Owen Hart Foundation Tournament belt that she handed to Cole first. Martha hugged Cole. Cole held it up in front of him. That was cool. It looks great. Martha handed the second Owen Hart Foundation Tournament belt Dr. Britt Baker and they hugged on the stage. Martha also presented the Owen Cup that looked pretty big. Since Cole and Baker are a couple that lives together, I guess they can take it home. Martha thanked the fans and left.
Analysis: That was a cool moment with the fans showing a lot of respect. The belts look great. It took a bit of time, but it was a necessary thing to wrap up the tournament. It's cool with me.
There were highlights shown of some of the matches in the first two hours of the show.
Scorpio Sky, Ethan Page & Paige Vanzant (w/Dan Lambert) vs. Frankie Kazarian, Sammy Guevara & Tay Conti
Sky is the TNT Champion. Page with punches followed by a back elbow on Sammy along with some punches. Sammy with a hurricanrana, then a backflip and a dropkick that sent Page into the corner. Page hit a press powerslam for a two count. Kazarian with an arm drag on Sky, but then Sky came back with a dropkick. Kazarian came back with a springboard leg drop. Sammy tagged back in leading to Sky working over Sammy with corner punches. Conti with a cheap shot to the back of Sky leading to Sammy hitting a clothesline. Sammy hit a double jump Cutter off the top rope. No pin attempt. Conti went into the ring for a double suplex with Sammy for a two count on Sky. Kazarian with a legsweep on Sky followed by a chinlock. Page held onto a Kazarian, who hit a leg drop on Page and then Sky hit a flatliner on Kazarian. Conti with a cheap shot punch on Paige. Kazarian was mad at his teammates not being on the apron. Kazarian had a chicken wing locked on Sky, Sammy tagged himself in and Kazarian got mad about it. Sky shoved Sammy into Kazarian for a collision. Paige tagged in for the first time against Conti with Paige doing a leg trip, then some punches and two clotheslines. Paige hit a belly to back suplex. Paige hit a handspring into a back elbow in the corner. Sammy saved Conti, so Paige punched Sammy in the ribs. Paige hit an impressive DDT on Sammy as well. Paige with a drop toe hold on Conti into Sammy's groin, so that's a comedy spot for the couple. Paige hit a Michinoku Driver on Conti for a two count. Conti with a judo takedown, then a running kick a two more running kicks to the face. Conti with a pump kick and Paige kicked out of a pin attempt. Conti hit a spinning slam on Paige, Sammy was so proud of her and kissed Conti in the ring. Kazarian was sick of Sammy, so he gave him the middle finger and left. That led to Paige doing a head whip to Conti. Page wit ha shoulder tackle on Sammy and Sky hit a Cutter on Sammy. Kazarian hit a DDT on Sky, then Kazarian tagged himself in and hit a Cutter for a two count. Conti got mad at Kazarian tagging himself in, then Sammy went to superkick Kazarian, who ducked and Sammy superkicked Conti. The fans chanted "you f**ked up" at that. Sammy was sent out of the ring, Page with a kick on Kazarian and Sky hit a TKO on Kazarian for the pinfall win at 12:28.
Winners by pinfall: Scorpio Sky, Ethan Page & Paige Vanzant
Analysis: **3/4 That match was decent and put together very well with some good comedy spots in there. The girls did well with Paige looking very competent in her first match. Conti is still not a natural heel, but she did okay in her role. Sammy and Kazarian did their parts well as a dysfunctional team that didn't get along well. Sky and Page are both awesome workers with Sky getting a good run as the champion while Ethan Page is one of the most underused guys in AEW.
Love your job so much, you never work a day in your life #AEWDoN felt like a day off 😄👈 pic.twitter.com/85L3XexJ7C

— "All Ego" Ethan Page (@OfficialEGO) May 30, 2022
The win by Sky's team means that Sammy and Kazarian can't challenge Sky for the TNT Title again.
Darby Allin vs. Kyle O'Reilly
I missed a few minutes to start the match due to needing a bathroom break. Allin hit a kick to the body followed by a Code Red into a pin attempt for two. Allin hit a reverse DDT (Scorpion Death Drop) for a two count. Allin with repeated knees followed by a flipping Stunner. Allin went for a dive to the floor, it looked like he came up short and I think Allin's legs kicked Kyle into the barricade. That looked rough but they got up looking fine. Allin was bleeding from the mouth. Kyle went to the floor on the other side of the ring, Allin went for a suicide dive and Kyle applied a tight headlock on the floor to choke out Allin. The replay showed that on the first dive, Allin's feet hit the middle rope, so he didn't get as far as he could. Back in the ring, Allin did the Last Supper pin attempt for a two count. Kyle came back with strikes along with a kick to the leg. Kyle got a brainbuster for two. Kyle applied an ankle lock leading into a heel hook submission, but Allin turned it into his own submission hooking onto the legs. Kyle managed to get to the bottom rope. Allin wrenched on the left knee against the middle rope. Kyle was hung up on the apron, so Allin went to the turnbuckle and hit a Coffin Drop onto Kyle on the apron! That was pretty wild with a rough landing for Allin on the floor. Back in the ring, Allin wanted a Coffin Drop, but Kyle caught him and got an armbar submission. Allin countered it into a pin attempt for two. They exchanged strikes leading to both men going down to the mat. Kyle with a hard slap to the jaw and Kyle used Allin's chain as a weapon to put into Allin's mouth. Kyle with three PK kicks on Allin. Kyle went up top and jumped off with a knee drop to the back for the pinfall win at 9:51.
Winner by pinfall: Kyle O'Reilly
Analysis: ***1/2 This was a very physical match as JR said after it was over. I don't know what to say sometimes after writing about so many matches, but I think JR nailed it when he said that. I was surprised by the outcome since Allin is usually pushed as a singles wrestler while Kyle has been primarily a tag team wrestler, so I thought Allin was going to win. I liked the story of the match with Kyle using his strikes to wear down Allin, then three straight kicks to the body and a knee drop got the win. I think the finish surprised a lot of fans since they probably assumed Allin would win as well.
A video package aired about AEW Women's Champion Thunder Rosa facing Serena Deeb. It featured comments from both women along with the AEW talking heads talking about it being a big match.
AEW Women's Championship: Thunder Rosa vs. Serena Deeb
They spent the first two minutes doing some holds without either woman getting the advantage. Rosa held onto Deeb's arms while pulling back. Deeb managed to shove Rosa away, Rosa ran the ropes and hit a shoulder tackle. Rosa with an armdrag takedown followed by a pin attempt for two. Rosa with a Dustin Rhodes-style uppercut and then she did a Goldust gesture followed by Rosa hitting a dropkick that sent Serena out of the ring. Deeb did a whiplash on the neck against the top rope. Deeb sent Rosa into the turnbuckle followed by a neckbreaker against the ropes. Deeb with a swinging neckbreaker for two. Deeb did a submission stretching Rosa across her own back. Deeb did an abdominal stretch, Rosa powered out of it and they exchanged forearms again. Rosa hit two clotheslines followed by a body slam. Rosa sent Deeb face first into the middle turnbuckle. Rosa hit a corner clothesline, then a double foot stomp in the corner and a running dropkick. Rosa hit a Northern Lights Suplex for two. Deeb came back with an Octopus Hold submission, Rosa got out of that and Deeb got a back elbow. Deeb clutched the neck leading to a diving neckbreaker for a two count. Rosa with a legsweep into a crossface submission. Deeb wrenched the leg around the neck for the Stretch Muffler submission, Rosa rolled through and Rosa smashed Deeb's knee into the mat a few times. They ran the ropes for a double clothesline. Deeb charged in, Rosa with a boot the face and a double foot stomp to the back. Rosa with a Death Valley Driver for a two count. Deeb came back with a chop block to the back of the left leg followed by the Figure Four Leglock. They exchanged slaps while on the mat, Rosa turned it over and they tumbled off the apron to the floor. Rosa had to wait on the apron for Deeb, who delivered a knee wrench against the ropes. Deeb hit a Deebtox sitout slam and then she had to move Rosa near the ropes and Rosa got her foot on the ropes for the kickout. That spot did not work because of how silly it looked. Deeb hit a Powerbomb. Deeb went for the Texas Cloverleaf, but it wasn't applied right and Rosa got her hand on the bottom rope. They battled over a pin attempt. Rosa with a roundhouse kick to the head, but then a running knee missed when Deeb moved out of the way. Rosa hit a top rope superplex and the Fire Thunder Driver for the pinfall win at 16:54.
Winner by pinfall: Thunder Rosa
Analysis: ***1/4 I thought it was really good by the end, but it took a while for me to get into it. The crowd wasn't into it the whole way either, but by the end of it they cared, so that's a good thing. Some of the submissions didn't look good and then they really drove home the point that it was a personal matchup between them. I liked the finish. Rosa winning was the obvious outcome since she won the title a few months ago and I didn't think there was any chance for Deeb to win.
A video package aired for the 10-man tag match called Anarchy in the Arena.
The ring announcer Justin Roberts said that "shit's about to the hit fan." Justin said that anything goes in the arena and the only way to win is by pinfall or submission in the ring. Basically, it's a Street Fight with different rules since Street Fight matches end in the ring.
The Jericho Appreciation Society group had matching all-white outfits with white pants, jackets with the JAS logo and white hats. The announcers said that they looked like a dance troupe. The fans sang along with the "Judas" song like they usually do for Jericho matches.
The babyface team entered to "Wild Thing" song that Jon Moxley uses. They all walked in from the upper part of the arena, so they were in the crowd and then the JAS guys went to meet them to start the match.
Anarchy in the Arena Match: The Blackpool Combat Club (Bryan Danielson & Jon Moxley), Eddie Kingston, Santana and Ortiz vs. The Jericho Appreciation Society (Chris Jericho, Daniel Garcia, Jake Hager, Angelo Parker & Matt Menard)
They kept playing Wild Thing during the match. I thought there would be blood early in the match and there was when Kingston used a fork on Menard's head, so Menard was a bloody mess. Moxley was fighting Jericho in the back part of the arena. Jericho used some weapon to hit Moxley in the head and Moxley was beating from the head. Santana & Ortiz were beating up Hager in the ring going for some pin attempts. Jericho pulled the plug to stop the music from playing, which is a good thing. Moxley with a double axhandle on Jericho. Bryan was working on Parker in the aisles as they went up the steps. Kingston was going after Menard where they fought into concession stand area. Santana & Ortis hit a double team Street Sweeper neckbreaker that put Hager through two tables at ringside. Two guys were tackled onto the commentary table. Bryan sent Parker into a camera. Garcia was on the apron and gave a piledriver to Ortiz onto the steel steps. Ouch. Bryan sent Parker into the camera that was near him. Kingston tossed Menard into an area with t-shirts. Moxley and Bryan made their way to ringside with Jericho and Parker, who was bleeding. Parker hit Bryan with the ring bell. Meanwhile, Garcia was beating up Kingston by the concession stand area. They replayed a spot where Jericho suplexed Moxley onto a pile of chairs in the crowd. Moxley tossed a full cooler at Jericho. Tony Schiavone said this was better than Stadium Stampede, but that's Tony, who always thinks that everything is the best thing ever. Garcia put a belt around Kingston's neck and pulled on the belt to try to drag Kingston on the floor. Jericho had a bloody Moxley on the timekeeper's table and the table broke due to the weight. Ouch. Garcia sent Kingston into the wall. Menard was a bloody mess as he walked back towards the ring and Moxley hit a suicide dive on Jericho. Garcia hit a running knee on Kingston in the backstage area. Bryan was a bloody mess now as he worked over Hager with kicks to the chest. Moxley unscrewed one of the turnbuckles as Hager hit Bryan with a suplex on the bottom of the ramp.
Moxley was in the ring with Jericho with Moxley using a steel part of the top turnbuckle to hit Jericho in the ribs. Moxley hit Jericho with a low blow using the steel turnbuckle. The referee Aubrey Edwards was talking to Jericho to set up whatever they had to do. Moxley hit Jericho lightly with a turnbuckle steel, then Bryan worked over Hager with a steel piece of the turnbuckle. The fans chanted "this is awesome" for them. Garcia and Kingston were in a freight elevator for some reason. Santana had Parker set up on a double table that was in the crowd. Moxley punched Jericho in the ribs to stop an attack. Santana & Ortiz grabbed a ladder in between Menard and Parker, who were on tables. Moxley hit Jericho with a running knee. Moxley got a barbed wire board from under the ring. Hager applied an ankle lock on Bryan. Santana & Ortiz each jumped off the ladder with splashes on to Parker and Menard on tables that were broken after the fall. Jericho sprayed some fire extinguisher spray into the face of Moxley. Jericho and Hager were in the ring with Moxley and Bryan as the four former WWE/World Champions got into a slugfest in the ring. Bryan and Moxley took control as each of them delivered hammer elbows on Jericho and Hager. Bryan with a Lebell Lock on Jericho while Moxley had a Bulldog Choke on Hager. A bloody Kingston walked down to the ring wit ha can of gasoline. Kingston poured gasoline on Jericho, Bryan didn't like Kingston attempting to do that and Kingston fought Bryan, so Moxley tried to break it up. Moxley was on the apron with Hager shoving Moxley onto the barbed wire board that was on a table. Jericho hit a Judas Effect elbow on Kingston. Jericho used the ring apron to wipe some of the gasoline off his body. Jericho hit Bryan with a steel piece of the turnbuckle and Bryan kicked out at two. Bryan fought back against Hager and Jericho with Bryan delivering punches and kicks. Bryan worked over Hager with kicks, Hager missed a clothesline and Bryan hit a Busaiko Knee on Hager. Jericho held the chair in front of him as Bryan hit a running Busaiko Knee to Jericho's face and Bryan got a two count on Jericho. Bryan with more kicks to Jericho including a roundhouse kick to the head. Bryan said "now I'm going to kick his f**king head in." That led to Hager using the bat to hit Bryan in the back of the knee. Jericho applied the Walls of Jericho on Bryan while Hager used a cable to choke Bryan and there was nobody on Bryan's team around, so referee Aubrey Edwards called for the bell since Bryan passed out. This went 22:40.
Winners by submission: The Jericho Appreciation Society (Chris Jericho, Daniel Garcia, Jake Hager, Angelo Parker & Matt Menard)
Analysis: ****1/4 What a f'n crazy brawl that was. That was fun. I liked watching it. It was a bloody, chaotic mess that I expected it to be. It's hard to really rate a match like that, but I enjoyed it for the most part and loved the story they told over 20 minutes. I understand Jericho's team winning since they are a heel group that's going to get more airtime while the faces were a mix of guys. I'm a bit surprised that Bryan was the one that was beat, but I didn't mind it because it made Jericho/Hager look like badasses for making Bryan pass out like that.
Then. Now. Forever. #JerichoAppreciationSociety#AEWDoNpic.twitter.com/cWKjvty6F5

— "Cool Hand" Angelo Parker (@TheAngeloParker) May 30, 2022
Andrade El Idolo was seated with Jose the Assistant. Andrade said that he was sick of losing. Andrade asked Jose if he had the contract. Andrade said that it's a contract for a top wrestler in the world. It was Andrade's good friend Rush, who was in ROH and Andrade welcomed him to AEW.
The trio of Scorpio Sky, Ethan Page and Dan Lambert were interviewed by Lexy Nair. Page said that they feel golden and pretty great. Page said that it felt even better to be finished and done with those pieces of trash. Page said that they can finally move on to bigger and better things. Sky said that the book is finally closed since Sammy and Frankie will never challenge for his title. Sky wondered who was next to challenge him. Dante Martin walked into the picture to challenge Sky, who said that Martin looks great and has a hell of a future. Sky said he'll give Martin a shot in So Cal, so that match is on.
There were two more matches left with the triple threat Tag Team Title match up next.
AEW Tag Team Championships: Jungle Boy & Luchasaurus (w/Christian Cage) vs. Ricky Starks & Powerhouse Hobbs vs. Swerve Strickland & Keith Lee
Taz joined commentary for this match. Two guys are legal in the ring while the other four guys are on the floor. I missed a few minutes at the start of the match. Sorry, but writing for four hours straight is a lot and a bit of a break is needed. Hobbs was legal against Boyd with a delayed suplex into a slam. Starks hit a backbreaker on Boy. Starks did a rope walking routine that involved some showboating, but then Boy tripped him up and Starks was crotched on the top rope. Hobbs tagged in, then Swerve tagged himself in and Swerve hit a running forearm on Hobbs. Swerve hit an uppercut to the back of Hobbs. Swerve sent Starks over the top to the apron and landed on a couple of guys. Lee held onto Swerve's hand as Swerved jumped off Lee's chest with a moonsault onto three guys on the floor. That was impressive. Swerve hit a running kick on Hobbs in the corner. Lee into the ring, he lifted Hobbs and Hobbs fought his way out of that. Hobbs gave Swerve a belly to belly suplex across the ring. Luchasaurus tagged in with punches and kicks. Luchasaurus hit a corner clothesline on Swerve, then he slammed Starks into Hobbs in the corner. Luchasaurus hit a double clothesline on Hobbs/Starks at the same time. Luchasaurus kicked Hobbs into the corner, so Lee tagged himself in and Hobbs mouthed a swear word. Lee, Luchasaurus and Hobbs were in the ring with Luchasaurus kicked both guys in the head. Lee and Hobbs worked together to give Luchasaurus a double Chokeslam. That was a cool spot. Lee faced off with Hobbs even though I'm pretty sure Luchasaurus was legal with Lee. Anyway, Lee suplexed Hobbs over the top to the floor. Lee ran the ropes leading to a somersault dive over the top onto three guys! That was so great. Good job by Keith Lee!
Lee sent Luchasaurus back into the ring. Lee with a back elbow, Luchasaurus with a headbutt and Luchasaurus hit a sloppy slam for a one count. Luchasaurus and Lee exchanged punches, then Hobbs went up top and hit a Blockbuster neckbreaker to take out both guys. Starks tagged in against Boy, who went for a DDT and Starks got a pin attempt, but Christian stopped Starks from putting his feet on the ropes. Hobbs sent Christian into the steel steps. Boy hit a suicide dive on Hobbs on the floor. Boy checked on Christian, who told him to go into the ring and Starks hit a Sper on Boy for a two count. That was a great nearfall. Starks hit the slingshot Rochambeau for a two count because Luchasaurus broke up the pin. Hobbs with a spinebuster on Luchasaurus, Swerve tagged in and hit a Swerve Stomp on Hobbs. Swerve was legal with Boy, but then Luchasaurus kicked Boy by accident when Swerve moved out of the way. Lee picked up Boy, Swerve was up top with a doble foot stomp on Boy for the one…two…and no because Hobbs broke up the pin. Awesome nearfall there. Starks hit Lee with one of the title belts and the referee never saw it. Swerve sent Hobbs into the ring post. Boy hit a superkick with Swerve, Starks had the title belt in the ring, but Christian pulled him out of the ring. Swerve with a rollup on Boy for two. Swerve with a kick to the head, Boy avoided a stomp and Luchasaurus saved his partner. Luchasaurus launched Swerve into the air leading to Boy hitting the Thoracic Express for the pinfall win at 17:15.
Winners by pinfall: Jungle Boy & Luchasaurus
Analysis: **** It's another great match on this show. I'm running out of things to say about some of the matches because it's such a big card with so many matches. I liked the nearfalls for all three teams throughout the match and in the end, the champs retained. I think that one spot with Lee & Strickland nearly winning was the best nearfall of the match. I have no problem with the champions retaining. As I said in the past, I think The Hardys are probably going to be the next champions unless it goes to FTR first. Anyway, I enjoyed this match too.
The video package aired for the AEW World Title match with champion "Hangman" Adam Page defending the title against CM Punk. It's past the four-hour mark in this show meaning past 12am ET here in the Eastern time zone, but that's only 9pm PT in Las Vegas where the show is.
CM Punk made his entrance with the fans cheering him for the most part. "Hangman" Adam Page made his entrance showing a lot of confidence and got a big pop from the crowd. They did the in-ring introductions by Justin Roberts for the championship match.
AEW World Championship: "Hangman" Adam Page vs. CM Punk
The fans were chanting for both guys since they seem to enjoy the "chant for both competitors" theme for the last four hours. They did a lockup in the corner with Punk doing a bit of a cheap shot after they let go. Page unleashed with some strikes, but Punk was able to come back with an elbow smash for a two count. JR and Tony were doing their "everything in AEW is wonderful" bit that they do all the time. We get it. Anyway, Punk whipped Page into the corner followed by a legsweep for a two count. Punk hit two body slams while staring at the crowd, who did a mix of cheers and boos. Punk hit a third body slam. Punk jumped off the top with a cross body block, Page rolled through and hit a fallaway slam across the ring. Punk was on the apron, so Page hit a springboard clothesline followed by a slingshot cross body block over the top onto Punk on the floor. Page whipped Punk into the barricade followed by Page ramming Punk's face against the top of the steel steps. Back in the ring, Page decked Punk with a rolling elbow that rocked Punk, who sold it like he was down. Page was playing to the fans with JR saying that Page was wasting time. Page whipped Punk into the corner with Punk doing the sternum bump like Bret Hart with JR making the Calgary reference for it. Punk reversed a corner whip, Page hit a clothesline and Page went to the apron to set up for his finisher. Punk was down until he got up quickly and hit Page with a forearm that knocked Page into the barricade. Punk charged at Page, who caught him and hit a Powerbomb on the ring apron. Back in the ring, Page jumped off the top with a flying clothesline for a two count. Page sent Punk out of the ring, Page went up top and Punk was there with punches. They battled on the turnbuckle with Punk hitting a superplex. Lots of superplexes on this show.
Punk with punches, then a kick to the gut and Punk hit a leg lariat on a running Page. Punk hit the rising knee strike followed by the bulldog, which is a sequence of moves that Punk has done many times in his career. Punk hit a springboard clothesline. Page came back with punches, but Punk was back up with a neckbreaker for a two count. Punk was on the turnbuckle, Page knocked him down with a punch and Page went up top. Page jumped off with a moonsault onto a standing Punk on the floor. Page was selling a left knee injury after that landing. When Page went for the Buckshot Lariat, he stumbled a bit due to the knee injury and Punk went for a Sharpshooter. It wasn't executed that well, but Page had to sell it until he got to the ropes. Punk went for his own Buckshot Lariat, then he stopped, Page caught him they went for it again. Punk got a kick to the head, then Punk did the Buckshot Lariat, he stumbled and Punk hit a clothesline, but it was not the Buckshot Lariat the right way. Excalibur covered for Punk saying that Punk hasn't perfected that move the way Page does it. Punk signaled for the GTS, Page got out of it and Page tried doing it himself. Punk got out of it. Punk went for a running knee in the corner, Page blocked that and hit a Powerbomb. Page hit the Deadeye slam where he takes the whole bump on the knees, but Punk had to sell it. Page covered for a two count although it was very close to three count. Page signaled for the Go To Sleep the way Punk does. Page picked up Punk, who managed to get to the ropes and Punk hit a roundhouse kick. Page came back with the Go To Sleep for the one…two…and no! They almost missed the pin because they were going to crowd shots.
They slowly got back up to their feet doing the exchange of strikes that we saw in nearly every match on this show. Page hit a running boot to the face while selling the left knee injury. Page had trouble running, so Punk kicked him in the face and then Page ran at Punk with a clothesline over the top to the floor. Page tossed Punk over the table at ringside. Page told Punk that he will never have the AEW World Title. The referee took the title and it was put on the apron (that's no accident). Page set up with the Buckshot Lariat, Punk picked up Page on his shoulders and the referee went down with Page's legs hitting referee Paul Turner in the head. Page got to his feet leading to a huge clothesline. Page was back up, he realized the referee was down and Page grabbed the AEW World Title that was left on the apron. Page wanted Punk to get up, Punk was on his knees and Page looked like he was conflicted. Page threw the belt down. Page went to the apron, Punk avoided a Buckshot Lariat, Punk lifted up Page to the shoulders and Punk hit the GTS for one…two…and three to become the AEW World Champion at 25:45.
Winner by pinfall AND NEW AEW World Champion: CM Punk
Analysis: ****1/2 It was an excellent match. The key spot in the match was Hangman thinking about using the AEW World Title, which he didn't end up using, but that allowed Punk to recover and Punk was able to hit the GTS for the pinfall win. If you know you're wrestling history then it's the Bret Hart-Roddy Piper finish from WrestleMania 8 when Piper wouldn't use the ring bell and then Bret beat him shortly after. We know CM Punk does the Bret tribute spots and now they did a Bret finish too. Anyway, it's easy to focus on negatives like Punk slipping on a Buckshot Lariat twice or the Sharpshooter that didn't look that great, but I really enjoyed the story of the match with Page dealing with the knee injury and then being apprehensive about cheating to win. That led to Punk getting the win, so I think it worked well.
CM Punk was emotional as he was handed the AEW World Champion. Punk held the AEW World Championship above his head while the announcers put him over with Excalibur saying that Punk proved he was the best in the world. They showed replays of the key spots in the match. Punk continued to pose with the AEW World Title in his hands while saluting the crowd. Punk was kissing the AEW World Title as well. They signed off there during Punk's celebration.
Analysis: Page had a good run as champion, but I expected a title change. It's nothing against Page. I just figured they were going to put the title on Punk as soon as he got a title shot and that's what happened.
AEW Double or Nothing had a runtime of 4 hours, 40 minutes.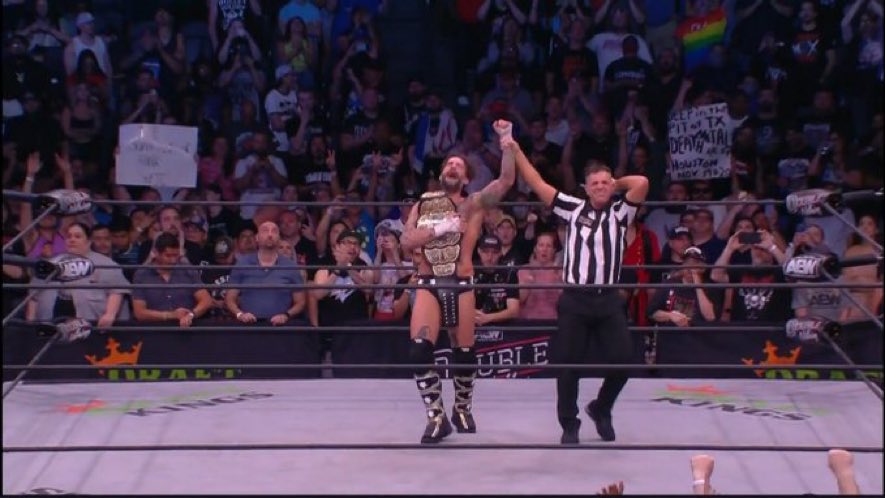 Hey guys. We're doing alright. pic.twitter.com/rPgSHpUV4j

— Uncle Dax FTR (@DaxFTR) May 30, 2022
Five Stars of the Show
CM Punk – Just don't try the Buckshot Lariat again, pal.
"Hangman" Adam Page
Jericho Appreciation Society and their opponents
House of Black
Wardlow just for the story because it was booked well.
Final Thoughts
It gets an 8.5 out of 10 from me. I went 8.75 out of 10 for Revolution in March.
It's been nearly five hours since I started writing, so I'm exhausted. That's not a knock on the show or anything like that. I just think it was a very long show. I liked most of it. The Vegas crowd was great for most of it although the dueling chants at the start of nearly every match felt repetitive by hour three. I'm kidding. Look at my ratings throughout the review where you can see so many ratings around four stars or higher. That means I liked it a lot.
I liked a lot of the matches. I think Punk vs. Page was my favorite although Punk should probably never do a Buckshot Lariat again. I enjoyed the Anarchy in the Arena match a lot as an old-school bloody brawl, plus the triple threat Tag Team Title match and so many others. It was an enjoyable show overall.
===
Thanks for reading this review. My contact info is below.
Email: mrjohncanton@gmail.com
Twitter: @johnreport