Ring of Honor TV for 8/30/21 (Episode #519) – Review
In the latest Ring of Honor TV review for 8/30/21, episode #519 featured three matches on what was the fall out of the Glory By Honor Weekend.
Ian Riccaboni begins the show as he says he is filling in for Quinn McKay. He shares the two remaining quarterfinals matches of the Ring of Honor Women's title tournament and the ROH TV Title up for grabs in the main event. We then hear from Angelina Love, who boasts about her time in the business. She shared of the past between The Allure and Amy Rose & Max The Impaler. Additionally, she spoke of how she will be the first-ever ROH Women's champion.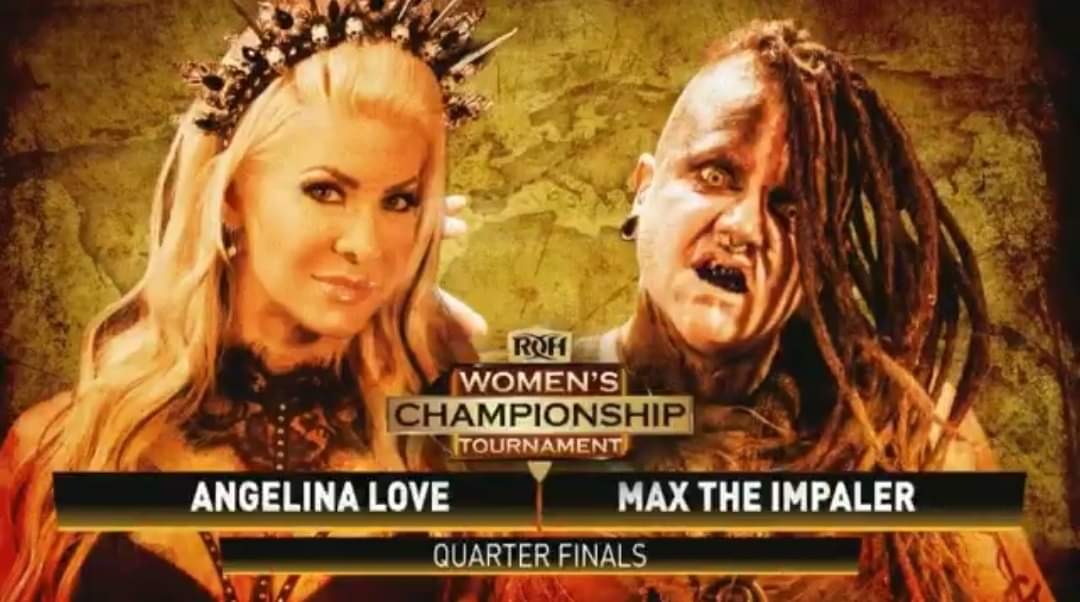 Angelina Love vs. Max The Impaler with Amy Rose
Love came to the ring, appearing to be looking over her shoulder. The commentary mentioned that she likely misses Mandy Leon, who is not at her side for this matchup. Max The Impaler makes their way to the ring accompanied by the beauty in Amy Rose. The immediate vibe that this match gives me is Love facing Awesome Kong from her TNA days. Rose asks Love if she is sure she wants to go through with it. To which Max attempts to attack Angelina. Once outside the ring, Love is caught and whipped into the barricade.
After the break, the vision of Max's face is right in the camera. Max is in pursuit of Angelina and is like a shark in search of blood. Riccaboni makes the connection that Love loves horror movies, but she could be the victim in one in this match. With each strike, Love isn't doing any damage to Max. Max then picks up Angelina Love, who has her in a torture rack and is wrenching on her back while she is on Max's shoulders. For every attempt Angelina makes to gain the advantage, Max is able to toss her around the ring. Love is whipped into the corner ring post—Max conferences with Amy Rose at ringside, who tells her to finish the match. Max refuses to release Angelina, who is in the ropes leading to a disqualification.
Winner via disqualification: Angelina Love
Love is the winner but is pointing to her left shoulder as she is recovering outside. Max is the loser of the match, but it doesn't appear that way as she leaves the ring with Amy Rose smiling at the damage she caused. This match didn't hurt Max in the slightest and left a weakened Angelina to advance.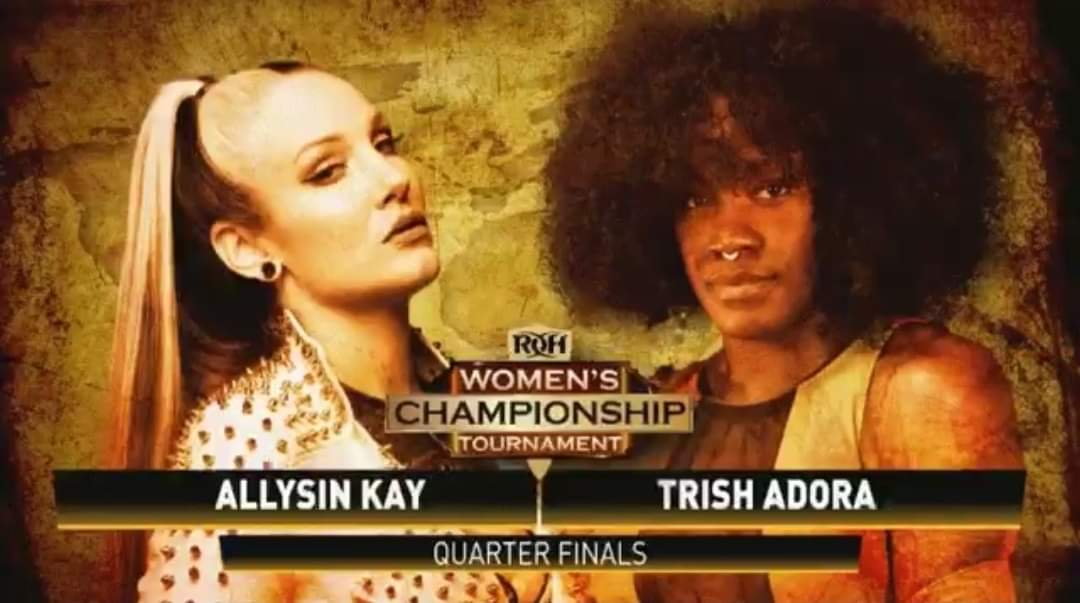 Allysin Kay vs. Trish Adora
Kay comes to the ring next, and we then hear her speak. Allysin spoke of how it is 'lariat vs. lariat'; both women are known for their clotheslines. Chelsea Green joins the commentary team for this final quarterfinals matchup. Adora said Kay has never met the Afro-Tech, and she has no idea what is coming to her in this match. Unlike the earlier quarterfinals match, this one is likely to go the distance. Both women lock up in the middle of the ring. Adora has a rear shoulder lock up, but Kay reverses it with a side headlock. Kay then has Adora down on the mat but is then caught in a head scissors.
Both women get back to their feet and recover. Kay then brings Adora down to the mat and has a front face lock. Adora recovers and turns it into a rear hammerlock. She then has a headscissors on Kay but is dropped on the mat as Kay then attempts to lock in a cross-arm breaker.
During the break, we see how both women went counter for counter. Once we are back from the action, Kay is able to drop Adora to the floor over the top rope. She then hits a penalty kick on Adora on the floor. While outside, Kay works over Adora, attempting to gain an advantage in this match. She then begins to hit Adora with a series of kicks to the chest. Kay then pins Adora but only for a count of two. Kay then brings Adora back into the corner.
Allysin Kay is relentless in working over Adora. Technically, Kay is sound and really cutting off Trish each time she tries to make a comeback. Kay is trying to get Adora upset, and it works. Adora then hits a series of forearms and a high crossbody. Trish then hits a splash in the corner, followed by a sidewalk backbreaker. Adora then has a front face lock on Kay, followed by a DDT. She goes for the pin, but Kay kicks out at two. Trish Adora is caught with a German suplex once, but Adora blocks a second attempt and then gets caught with an attempted Kimora. Kay then is able to counter with a rear-naked choke but is able to get to the ropes. Kay hits Adora with a kick and attempts another pin. But Adora kicks out a two. Adora avoids a discuss but is hit with a series of elbows. Adora then hits the Lariat Tubman wiping out Kay in the process. She makes the pin for the three count and the win.
Winner: Trish Adora
Adora will face Miranda Alize in the semi-finals next week. Rok-C will then face Angelina Love in the other semi-finals match. Before the final match of the show, we see all the matches slated to take place at Death Before Dishonor on Sunday, September 12th.
Ring of Honor Wolrd Television Title
Eli Isom vs. Dragon Lee (c)
Isom makes his way to the ring first as we then hear about his desire to become the World Television champion. He says with the win that he will fulfill his promise to become champion. Lee makes his way to the ring next. He addresses Isom and how he will defend what he never lost. Dalton Castle joins Caprice Coleman and Ian Riccaboni on commentary and fields a phone call at the beginning of the match. The commentary team makes a point of saying that Dragon Lee wearing white suggest he respects his opponent. Coleman goes as far as to say it's not unlike a business suit.
Both champion and challenge tie up in the middle of the ring. After the break, Lee shows he is tranquile. However, Isom then kicks Lee after not making a clean break. It was a surprise to see the face in the match not do that. Lee then hits a tope over the top rope onto Isom below. Lee brings Isom back into the ring has a rear chinlock on the challenger. With his foot on the back of the head of Isom, Lee also has a one-leg crab on him. Isom then gets to the corner turnbuckle. He then avoids a charge by Dragon Lee. Isom, too hits a tope over the top rope as well. Eli then hits a high cross body on Lee, but the champion kicks out at two!
Both men exchange chops and forearms with one another in the middle of the ring. They follow this up with drive boots in the other one's face until they both collapsed. Lee hits an array of kicks on Isom, who is seated in the cover. Isom then hits a German suplex, to which Lee gets up right away! A poison hurricanrana by Lee leads to a clothesline on Isom and a pinfall attempt. Both men are on their feet, and Lee wipes out the challenger with a clothesline.
Isom hits a combination backbreaker/neckbreaker. Dragon then drops Isom across the rope and gets hit with a dropkick on the draped Isom. Lee's knee is caught by Isom but is caught by Lee with a knee to the back of his head. The TV champion is using a series of knees to take out the challenger. The commentary team believes Isom has wone with a brainbuster, but Lee recovers. Lee hits a ripcord knee and then another knee to drill Isom again. Finally, Lee comes with the incinerator to finish off Isom.
Winner via pinfall: AND STILL ROH Television Champion, Dragon Lee.
What a match! These two hit each other with everything and nearly anything. It was a battle that these two were able to come together and put on a match like this. Kudos to the energy of the commentary team that helped to elevate the quality of this match.
_____________
Follow me on Twitter @TheMarcMadison or @ProWrestlingPST.
Follow our site on Instagram @prowrestlingpost
Feel free to like our Facebook page Pro Wrestling Post
Lots of interesting information is on our site ProWrestlingPost.com including interviews with IMPACT Wrestling's Tenille Dashwood, Sami Callihan, and Madman Fulton, AEW's The Blade (Formerly Braxton Sutter of IMPACT Wrestling), Chris Sabin, and our podcast, ProWrestlingPost Podcast.