Ring of Honor TV for 8/23/21 (Episode #518) – Review
In the latest Ring of Honor TV review for 8/23/21, episode #518 featured three matches on what was also the Glory By Honor Weekend.
The show began with a replay of what took place the previous week. First, we see the events of the 10-man tag that took place the previous week. We see then see the finish of Flip Gordon pinning Homicide. Next, Ian Riccaboni spoke of the beginning of the Quarterfinals of the Ring of Honor Women's Championship and the match between Demonic Flamita and Rey Horus. We then hear a backstage interview between Rok-C and Quinn McKay before the match began.
'The Prodigy' Rok-C vs. Quinn McKay
Rok-C makes her way to the ring while Riccaboni, Lenny & Caprice Coleman on commentary for the match. McKay then makes her way to the ring, giving Rok-C credit while she makes her way to the ring. Both women shake hands, and Riccaboni also pointed out that it was a match between two fan favorites. They are both very young, with Rok-C being 19 years old and trained under Booker T and Quinn McKay, who is 22 years of age. They both aren't afraid to take the fight to the mat. Several exchanges and counters between them both take place. There were a series of headlocks followed by headscissors to counter each other. One of the most interesting things to note is there isn't much film on Quinn who is a backstage interviewer.
Quinn takes Rok-C down with a series of shoulder tackles. The two lock up in a test of strength. Rok-C is brought down to the mat but has a bridge on as she fights off being pinned. Both women hit counter nip-ups and show mutual respect for one another as they go to commercial. It's been an impressive match from two relatively inexperienced women coming in. When we consider the age and in-ring experience, they have a nice chemistry between them, with no one having a clear advantage. Quinn goes down in what appears to be a knee injury. Rok-C backs off. Once given a chance to recover, Rok-C went over where the injury became evident. It opens up another side of Rok-C, who had to going after the injured knee.
However, Quinn recovers and is then taken down with a drop toe-hold by Rok-C. Quinn was attempting the Tangerine Dream, but Rok-C fought it off. She then follows up with a Lou Thesz press on Quinn. Quinn is then caught but counters Rok-C's attempted side Russian leg sweep. Both women are giving it their all in this match.
Rok-C is caught with a bear hug and then a spinebuster. Quinn makes a pinning attempt, but Rok-C kicks out. Both women counter each other with pinning attempts. Rok-C then hits Quinn with the Code Red and finishes it with a three-count and win.
Winner: Rok-C
Ian Riccaboni, Chelsea Green, and Lenny are the commentary trio for the match.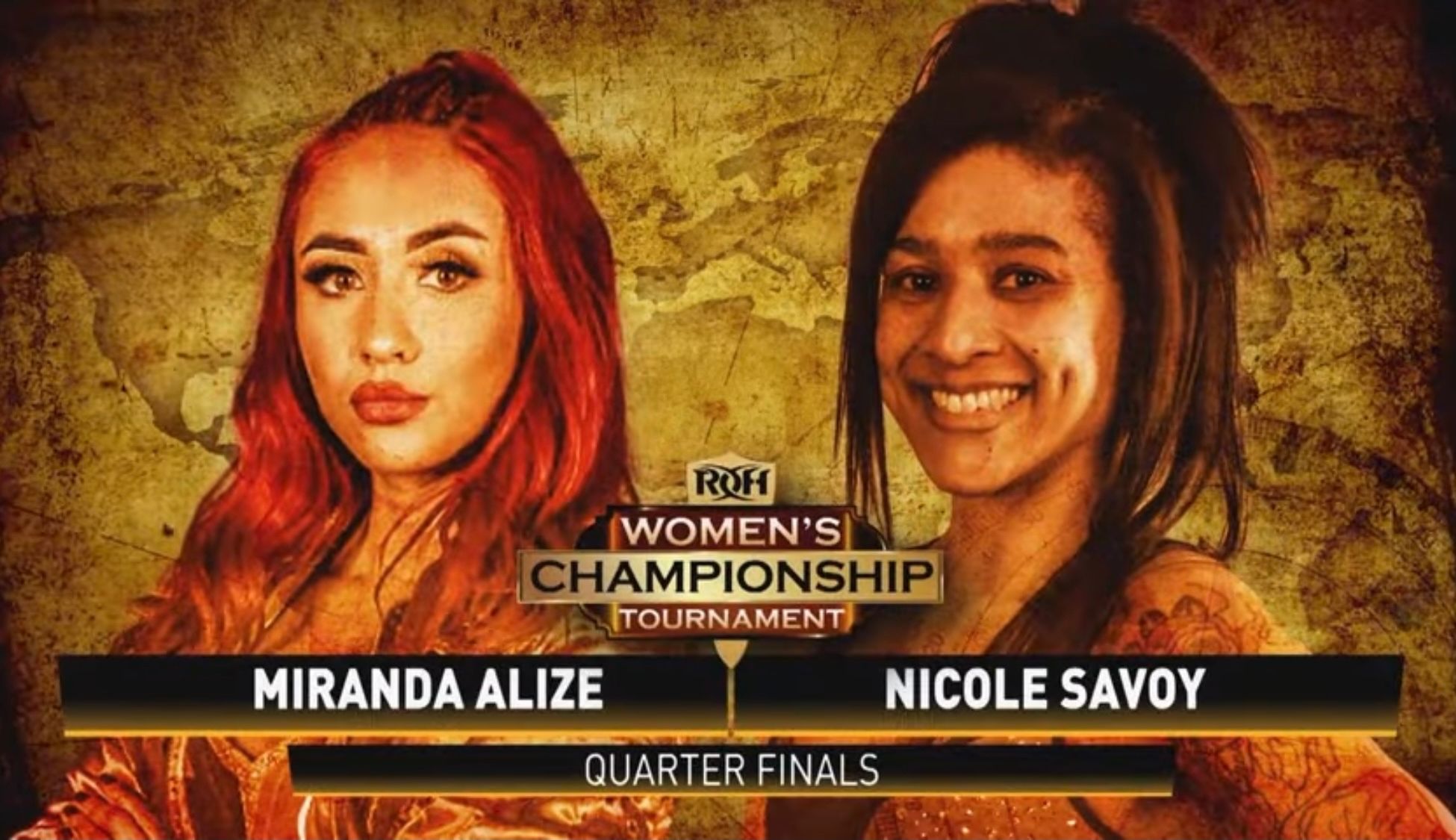 Miranda Alize vs. Nicole Savoy
Before the match, we hear from Alize, who defeated Alex Garcia previously in the tournament. She says that despite how she respects Nicole Savoy, that she doesn't stand a chance against her. Savoy shares how she and Alize had a history with one another and that she is putting friendship aside for this match. We hear from their history with one another and how they teamed together and were roommates with one another.
Savoy has a hammerlock on Alize and follows that up with a float over bridge while it's on her. Alize counters and is willing to bite Nicole in the process. Both women separate and then tie up with one another. Savoy is caught in a La mahestra cradle. Alize forces Savoy to retreat in the match to the outside. With Savoy down on the floor, Miranda tries to pace herself against her but gets caught by Savoy, who recovers quickly. Every time it appears one woman has the advantage, the other is able to find the counter.
After the commercial break, we see both women in the ring, with Alize holding the advantage. Savoy demonstrates a series of kicks and a back elbow to take down Alize. Savoy then hit a fall-away slam. Both Alize and Savoy are back on their feet and bring the fight to one another. Strike after strike on one another. Nicole Savoy is hitting butterfly suplexes followed by floating over. We then see an attempted cross armbreaker reversed into a cross face by Alize. Savoy then hits a Michinoku Driver on Alize but only for a count of two. Nicole then gets caught with a superkick by Alize, who then stops her attack and hits a DDT off the middle rope. She drags her to the middle with a cover but only for a count of two. She then hits a driveby knee and finishes off Savoy. Miranda Alize makes a cover for the three count and the win.
Winner: Miranda Alize
After the match, both women show each other respect, with Miranda Alize celebrating the win.
There is a backstage promo between the Bouncers and how they have Ken Dixon as part of their team. The key is that they share how when they are on the same page and that they are unstoppable.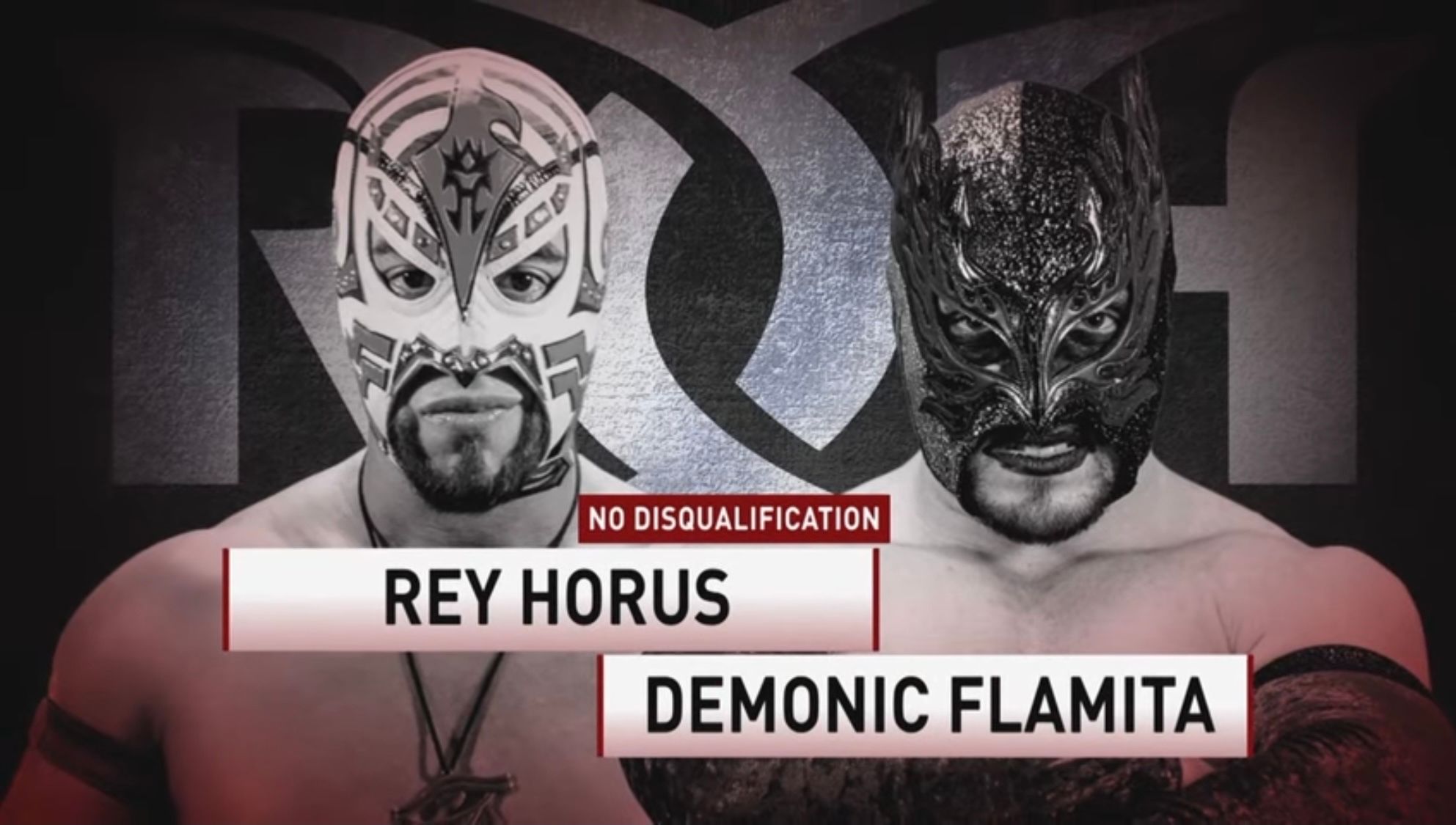 No-Disqualification
Demonic Flamita vs. Rey Horus
We hear from Demonic Flamita and how he is going to bury the rest of MexiSquad one by one. After Demonic Flamita makes his way to the ring, Rey Horus makes his way to the ring. When then hear from Horus, who spoke in Spanish, that he will prove to be better than Flamita. As soon as the bell rings, both men brought the fight to one another. Horus manages to make the first pinfall attempt on Flamita for a count of two. With Horus down in the ring, Flamita is caught with a chair as he is dropkicked in the process. Flamita then throws a chair at the head of Horus. Both men battle outside the ring, with Flamita tossing Horus face-first onto a chair resting on the ring apron. Flamita then sets up a table outside the ring.
Flamita tosses Horus back in the ring, and he continues his assault on Horus. As the showed the tale of the tape of both men earlier, there is a slight weight advantage by Flamita, but it's so small. It is so different to see Flamita be willing to do the damage he is willing to do with chairs and tables. As a luchador, it tends to be typical to see a high-flying style, but he has shown a darker side here. Horus appears to be woken up by this attack, and he comes alive with a tornado DDT on Flamita on the floor! Horus then crushes a chair across the back of Flamita. Flamita's back has a series of welts all across his shoulders and upper back. The censors kick in as Horus hits a belly-to-belly on Flamita into the turnbuckle.
If there was ever a shroud of friendship between them, it's gone here. Flamita hits a butterfly backbreaker on Horus. He then makes a cover but only for a count of two. Flamita is calling for Horus to get up. AS he gets up, Horus fights off Flamita's attack. He hits a ball of flame twice and then a tilt a whirl DDT. Both men were down as the referee counts them down. Flamita makes his way to the apron, and Horus makes his way to his feet. They are then battling one another on the ring apron, exchanging chops. Horus hits a pump kick and then climbs the top turnbuckle. Flamita then is trying to suplex Horus onto the table below.
They continue to battle, and Flamita hits a Spanish fly onto the table to the floor. Flamita gets to his feet and then tosses Horus into the ring. He makes a pinfall attempt but only for a count of two. Flamita then sets up Horus and hits a Phoneix Splash. Demonic Flamita makes the pinfall for the three count and the win.
Winner: Demonic Flamita
After the match, Flamita calls for Bandido, the Ring of Honor World Champion, to be next on his list.
It was a night of three solid matches, each one better than the last. Savoy and Alize was the best technical match of the night, with Flamita and Horus having the most spots and creating the most excitement for fans.
_____________
Follow me on Twitter @TheMarcMadison or @ProWrestlingPST
Follow our site on Instagram @prowrestlingpost
Feel free to like our Facebook page Pro Wrestling Post
Lots of interesting information is on our site ProWrestlingPost.com including interviews with IMPACT Wrestling's Tenille Dashwood, Sami Callihan, and Madman Fulton, AEW's The Blade (Formerly Braxton Sutter of IMPACT Wrestling), Chris Sabin, and our podcast, ProWrestlingPost Podcast.