The John Report: WWE Smackdown Live Review 02/27/18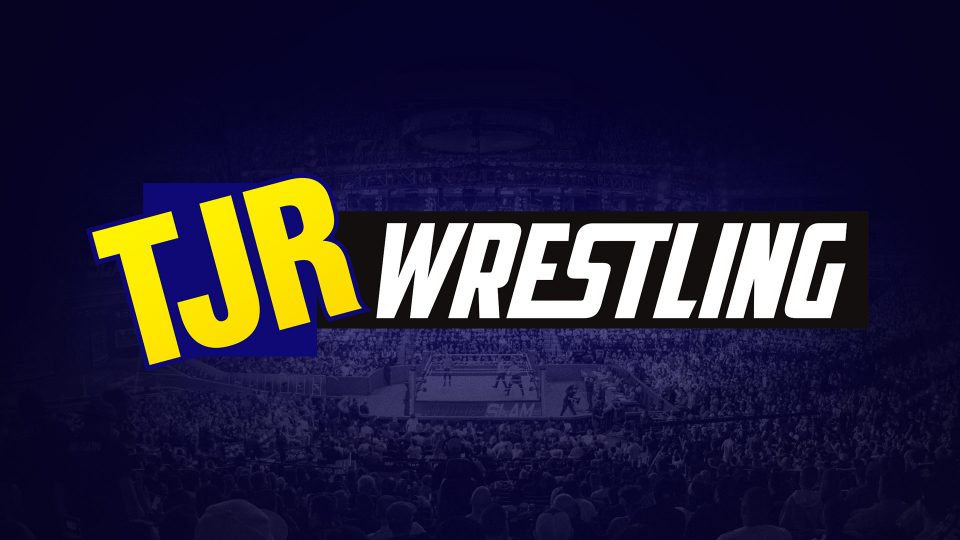 Live from Los Angeles, California (go Rams), this is Smackdown Live for episode #966. Follow me on Twitter @johnreport. Thanks to Melo Man for the banner up top.
There was a shot of the live crowd and then John Cena's music as the man in green made his entrance. Cena gave his "Never Give Up" towel to a young fan. Cena ran down to the ring looking fired up like usual.
The announce team of Tom Phillips, Corey Graves and Byron Saxton welcomed us to the show. They noted it was Cena's first time on Smackdown in about six months.
Let's Hear From John Cena
Cena said there are mixed emotions, but it's electric none the less and this is Smackdown. Cena said "I am John Cena" leading to some boos. Cena said that he's there for the same reason that 99% of the Smackdown superstars are there. Cena said the only person there that's guaranteed a spot at WrestleMania (sign point) is Shinsuke Nakamura because he won the Royal Rumble. Cena said at Fastlane in two weeks there's a Fatal 5-Way match and he wants in. Cena said he is not there for a hand out. Cena said he wants to do whatever it takes to earn a spot in that match to find out what he has to do to make it to WrestleMania (sign point).
Here comes Smackdown Commissioner Shane McMahon to a good ovation. Shane entered the ring doing his skip around the ring. Shane stood across the ring from Cena.
Shane did his cheap pop asking Los Angeles what's up. Shane called Cena one of the most decorated superstars in WWE history standing in the ring on Smackdown Live. They shook hands. Shane talked about how superstars try to find a path to WrestleMania, which led to fans chanting "Let's Go Cena/Cena Sucks" to cut Shane off, so Shane paused and Cena said it would be a great idea to put him in the WWE Title match at Fastlane. Shane said that Cena's pathway that he has proposed puts him in the middle of the WWE Title match at Fastlane in less than two weeks. Fans chanted "Rusev Day" and Shane paused, but didn't acknowledge it.
Shane said that if Cena won that WWE Title match, he would make history because he'd walk into WrestleMania as the 17-time World Champion. Shane said this is the land of opportunity. However…and here comes Daniel Bryan.
Daniel Bryan, Smackdown's General Manager, made his entrance and entered the ring. Bryan, as we know, is married to Brie Bella, the sister of Nikki Bella, who is Cena's fiancée. Loud "yes" chants for Bryan like usual as he shook Shane's hand in the ring and he shook John's hand. Fans chanted "Daniel Bryan" before Bryan could say a word.
Bryan said that tonight they are on the same page because Smackdown is the land of opportunity. Bryan talked about how everybody in the Fatal 5-Way match earned their opportunity to be in that match. Bryan told Cena they can give him an opportunity. Bryan said that if Cena wins the match in the main event, they will put Cena in the WWE Title match at Fastlane. Cena said fine and asked his opponent. Bryan said it's somebody Cena is familiar with. Bryan told Cena he will go one on one with the WWE Champion AJ Styles. The crowd cheered. Bryan did the "yes" chants while Shane joined in, so he approved. Cena had a serious look on his face and he stared at the WrestleMania sign as he backed out of the ring.
Analysis: A huge match for later. I like the way it was set up with Cena making it clear that he wants in on the WWE Title match. It was weird to have Shane go out there because it didn't feel necessary since Bryan was the one that made the match and Shane agreed with it. They just brought Shane out there to give him something to do because they really don't need two authority figures. The crowd was hot for the segment, which is no surprise considering the star power involved.
Coming up: Naomi vs. Ruby Riott and Sami Zayn vs. Baron Corbin is up next.
(Commercial)
Sami Zayn entered for his match. His heel entrance is great. The announcers were joined by Kevin Owens, who insulted Phillips, which makes me like Owens even more.
Baron Corbin made his entrance. Owens talked about the WWE Title match at Fastlane and said it was good that Byron Saxton wasn't talking.
The WWE Title match at Fastlane is currently AJ Styles vs. Sami Zayn vs. Baron Corbin vs. Kevin Owens vs. Dolph Ziggler.
Sami Zayn vs. Baron Corbin
Corbin took control early with a shoulder tackle. Owens: "Corbin, if you're looking for your hairline it's on top of your head." That was brilliant. They left the ring with Zayn sending Corbin into the announce table. When they went near the ring, Corbin punched Zayn out of the ring. Zayn hit a back body drop that sent Corbin over the barricade. Daniel Bryan and the sweaty man Shane McMahon watched on a television backstage. Shane complained about Kevin Owens on commentary and Bryan said that Owens was entertaining. Zayn rolled Corbin back in the ring as the show went to break.
(Commercial)
The action returned with Corbin missing a corner attack as Zayn moved and Corbin hit the ring post. Shane went up to Bryan with popcorn while Bryan noted that Owens has provided insightful commentary. Corbin hit a backbreaker on Zayn to take control again. Corbin blocked a DDT, Zayn shoved him, Corbin did his slide out of the ring and slide back in clothesline with Zayn flipping to sell it for a two count for Corbin. Owens credited Zayn and said that if Saxton kicked out like that maybe he'd still be wrestling. Corbin was sent out of the ring, Zayn jumped onto him and Corbin sent Zayn face first onto the announce table. Owens told Corbin to concentrate on his match. Back in the ring, Zayn got a two count on a rollup. Zayn with a kick followed by a sweet Tornado DDT for a two count. Owens was on commentary and Dolph Ziggler jumped the railing and nailed Owens with a superkick that Owens didn't see coming. Corbin took advantage of a distracted Zayn by hitting the End of Days to win the match after about ten minutes.
Winner by pinfall: Baron Corbin
Analysis: **1/4 It was a competitive match with a cheap finish since Zayn was distracted by what happened to Owens and Corbin took advantage of it to win the match. I thought Zayn could have used a win because he has also put over Ziggler in the build to the PPV match, but I guess WWE felt like Corbin needed it more. Since it's a cheap win, it doesn't mean that much anyway.
Corbin had his hand raised as the winner, but Ziggler went into the ring and Ziggler hit the Zig Zag to put Corbin down as well. Ziggler's music played and he left standing tall.
There was a replay of the Ziggler surprising attack with Graves saying Ziggler should be arrested for assault. Owens, Zayn and Corbin were all mad around ringside.
Shane and Daniel were in their office with Shane saying maybe Daniel should check on his guys out in the ring. Daniel said Shane can do it. Daniel asked if he could go home to his wife and daughter, so Shane said sure and Bryan left.
Analysis: A long night at the office for Bryan this week! Not really.
Naomi vs. Ruby Riott is up next.
(Commercial)
Kevin Owens and Sami Zayn were backstage whining about what happened with Dolph Ziggler. Shane McMahon walked to them. Shane let them know that Daniel Bryan left and said they should go with him because Brie doesn't like it when they are late for dinner. Shane laughed and left. Sami yelled: "It never ends with this guy!"
The Riott Squad trio of Ruby Riott, Liv Morgan and Sarah Logan made their entrance.
The match at Fastlane is Charlotte Flair vs. Ruby Riott for the Smackdown Women's Championship.
Becky Lynch made her entrance and Charlotte Flair also made her entrance. Naomi made her entrance as the opponent of Riott.
Naomi (w/Becky Lynch & Charlotte Flair) vs. Ruby Riott (Sarah Logan & Liv Morgan)
Naomi nailed Riott with a punch, so Riott bailed to the floor with her buddies. Naomi walked up to Riott on the floor with her buddies beside her and they went to break one minute into it.
(Commercial)
Back from break, Riott had Naomi in a headlock as Carmella was shown in the locker room answering questions from fans. Naomi got back to her feet and both women hit kicks to the head at the same time, so they collapsed to the mat. Naomi kicked Riott repeatedly followed by a dropkick, back elbow a whip into the ropes followed by a springboard kick off the ropes by Naomi for a two count. Riott decked Naomi with a forearm to the back followed by a kick. Naomi with a kick to the head. Naomi up top, she jumped, Riott moved, Naomi kick and Riott sent Naomi into the turnbuckle. Riott nailed her leaping Riott Kick for the pinfall win after 7 minutes.
Winner by pinfall: Ruby Riott
Post match, Riott had a staredown with Charlotte telling her it's "two down, one more to go." The story is that Charlotte has beat Morgan and Logan, so Riott beat Lynch and Naomi in back to back weeks. In other wrods, their friends are all losers.
Analysis: *1/2 The match was just decent with only about four minutes of action airing. They seemed off a bit at times. Riott getting the win was obvious since she's facing Charlotte at Fastlane. I doubt Charlotte will lose that match.
Still to come is Styles vs. Cena.
There was a shot of the Fashion Police duo of Fandango and Breezango in the locker room when actor Josh Duhamel showed up in the locker room. They plugged Duhamel's new show on USA Network called "Unsolved" about Tupac Shakur and Notorious B.I.G. Breeze told him that they solve all their cases. Duhamel said they don't do actual cases, they just do parodies of movies and TV shows. The New Day trio showed up with the pancakes. Fandango thought it was Biggie aka Biggie Smalls. Big E did a "notorious" rap that wasn't very good, but Kofi and Xavier thought it was great. Duhamel said he's not an actual detective, which led to Fandango and Breeze acting shocked. Woods told Duhamel they are looking forward to his show.
Analysis: Some decent comedy there. It was good enough as a plug for Duhamel's TV show.
(Commercial)
Let's Hear From The New Day
The New Day trio of Big E, Kofi Kingston and Xavier Woods made their entrance. The words of Big E's entrance were displayed on the screen as if fans at home need to see the words on the screen. It's very annoying. The trio had pancakes with them, of course.
The New Day will challenge The Usos for the Smackdown Tag Team Titles at Fastlane on March 11.
The fans chanted "New Day Rocks" before they said a word. Woods said they are looking to secure their position at WrestleMania on the grandest stage of them all (sign point). Kingston said at Fastlane, they take on their greatest rivals from Money in the Bank to Hell in a Cell, we know who they are talking about: Jey and Jim the Usos. Big E said that rivalry is hotter than Big E's thighs in the summer and the winter. That was funny. He told Kingston "spritz" him, so Kingston sprayed some water on Big E's thighs. There's a sentence I thought I'd never type in my life. Big E asked for it three times. Woods continued talking about how they earned the opportunity to face The Usos after beating Gable and Benjamin. Kingston said they respect The Usos, but this isn't about respect, it's about winning. Kingston said they are going to go to WrestleMania because New Day Rocks.
The Usos, Smackdown's Tag Team Champions, made their entrance to a nice ovation. Jimmy and Jey made their way down to the ring with Jimmy talking about how they have had their battles with one team standing tall, The Usos. Jey said they used to be like them dancing, singing, wearing rainbow colors, looking like a box of Skittles, but it didn't take them to the next level. Jimmy said for the last nine years they have been grinding, a whole bunch of blood, sweat and tears and they have tried to prove to everybody that The Usos belong on WrestleMania. Jey said year after year they have been getting passed over at WrestleMania. Jey said nine years in the game, zero WrestleManias. Jimmy counted down the WrestleManias (27 to 33) and Jey kept saying "sideline." Jimmy said "this year" and Jey said, "…is our time." The fans cheered. They spoke with a lot of passion.
Jey said that at Fastlane, this year they can't get beat and Jimmy said this year they are the all-stars, the starters and The New Day are the sideline. Jey said they evolved and moved to the game. Jey said that while New Day is stuck in the past five years, the future is standing in front of them.
Big E fired up talking about how for the past five years they have been at the top where they belong, breaking barriers and setting records. Big E said last year they hosted WrestleMania when The Usos were in the back eating catering. Big E said they didn't get there because of their daddies. Big E said they didn't stand on the sideline because they rushed the field and took what was theirs. New Day said that at Fastlane, they take what is currently The Usos…and they become the five-time Tag Team Champions. Big E said there wasn't a damn thing either of them can do about it. The Usos got in their face.
The Bludgeon Brothers music hit to interrupt this. Harper and Rowan slowly walked down to the ring with their mallets in their hands. The New Day and The Usos were still in the ring, so Harper and Rowan brought their mallets in the ring. After a staredown, The Usos and New Day left.
Analysis: That was a very good promo from the best teams at Smackdown. I loved the intensity that both teams showed. There was truth in what The Usos said because they haven't been on the main card at a WrestleMania. They have wrestled on pre-shows several times, but not on the main card. I think maybe they should have specified that a bit better here although the audience likely got the point. Big E was great talking about what The New Day have done. As for the Bludgeon Brothers interruption, it looks like it will set up a match against the winners of the Fastlane match. Looking ahead to WrestleMania, I can see a 3-Way Tag Team match or maybe a 4-Way with Gable/Benjamin added to it too.
There was a clip from "Earlier Today" with Shane McMahon in his office. He was joined by Aiden English and Rusev. English said it should be a Happy Rusev Day, but Shane doesn't want to see Rusev in action for the last two weeks. Shane said today is a lucky Rusev Day because English will be in a match. Shane sang the name of the opponent: "Shinsuke Nakamura."
Analysis: It is pretty bad that Rusev isn't being used more. He wasn't even on the show the last two weeks and this week he's just there to support English.
(Commercial)
Dolph Ziggler talked about how he didn't come back to Smackdown Live to be lost in the shuffle. Ziggler talked about how great he was and he's going to main event WrestleMania.
Bobby Roode was interviewed by Renee Young backstage. It's Roode vs. Orton for the US Title at Fastlane. Roode said he wants to be the best US Champion ever and put over Orton as one of the best WWE superstars ever. Roode mentioned that he was ranked higher than him on the Smackdown top ten list. Orton showed up to say it's not about the list. Orton said that the US Title is the only title he hasn't got his hands on in 16 years, so Roode just happens to be the guy he has to run through to take it.
Analysis: That was simple enough. It's a basic story. It should be a good match.
Aiden English did a promo with Rusev in the ring with him. As Rusev did his song, the words appeared on the screen with English talking about how there's only one true Artiste. The fans chanted "Rusev Day." English said that it's shocking to him, but he must say that none of you deserve to celebrate Rusev Day.
Analysis: Happy Rusev Day indeed. I don't see how they have barely used Rusev in the last three weeks. The fans are fully behind the guy. Listen to the people, WWE.
Shinsuke Nakamura made his entrance to a huge ovation. Nakamura has barely been visible on this show since he won the Royal Rumble one month ago, so it's nice to see him in a match again.
Shinsuke Nakamura vs. Aiden English (w/Rusev)
The fans were chanting "Nakamura/Rusev Day" as Nakamura told English to come on, Nakamura hit a knee to the gut and a knee drop. English bailed to the floor, Nakamura went after him. English back in the ring, the ref was there and Rusev hit a kick to the head on Nakamura to knock him down. They went to break there although I think it continued in the US. Not here in Canada.
(Commercial)
Back from break, English set up Nakamura on the top rope. Rusev distracted, English hit a splash in the corner and English hit a slam off his shoulders for a two count. English yelled at Nakamura: "It's Rusev Day." It sure is. English set up Nakamura in the corner, Nakamura countered and Nakamura charged in the corner with a knee, but English moved and Nakamura's knee hit the turnbuckle. Running kick by Nakamura took down English as both guys were down. Nakamura worked over English with kicks to the chest followed by a kick to the head. Nakamura with a running knee against the turnbuckle. Knee lift by Nakamura against the turnbuckle. Nakamura hit the Kinshasa running knee and pinned English to win the match after about 7 minutes.
Winner by pinfall: Shinsuke Nakamura
Analysis: **1/2 A solid match to put over Nakamura, who we know is challenging for the WWE Title at WrestleMania. There was no doubt about the result here.
John Cena's music hit right after the bell rang. Cena made his entrance. He walked right past Nakamura on his way to the ring. Cena stared at Nakamura, and both guys pointed at the WrestleMania sign.
Analysis: It is sign pointing season, that's for sure.
(Commercial)
Back from break, Cena was fired up in the ring.
AJ Styles, the WWE Champion, made his entrance for the match. Great ovation for him like usual.
Analysis: I have loved reviewing Styles vs. Cena matches over the past two years. The Royal Rumble 2017 match was five stars and my match of the year. Their SummerSlam 2016 match was outstanding as well.
AJ Styles vs. John Cena
This is not for Styles' WWE Championship. That's not a good sign for a champion.
The crowd was chanting for both guys as the match began. Sami Zayn and Kevin Owens were shown watching on a TV backstage. Cena grounded Styles with a headlock early on. Running shoulder tackle by Cena. They battled by the turnbuckle with Cena hitting a kick and Cena hit a Tornado DDT out of the corner that didn't connect perfectly. Cena got a two count out of it.
(Commercial)
Back from break, Cena hit a spinning slam followed by the five knuckle shuffle. Cena wanted the AA, Styles grabbed the ropes and Styles hit the Ushigoroshi fireman's carry into a neckbreaker for a two count. Cena with a catapult that sent Styles into the turnbuckle. Cena hoisted Styles up into a cutter for a two count. Cena put Styles on his shoulders, but Styles fought out of it, Styles put Cena on his shoulders and hit a spinning slam for a two count. That was sweet. Dolph Ziggler was shown watching on a TV backstage. Cena had Styles on his shoulders and slammed him down face first for a two count. Cena had a very intense look on his face. Cena charged in with a stiff clothesline for a two count. Cena charged in again, but Styles kicked him in the head to knock him down. Both guys were down.
(Commercial)
They showed a clip of Styles hitting a Styles Clash during the break for a two count. Cena also hit an Attitude Adjustment for a two count. Why do those spots during a commercial? I don't get that.
Back to live action, Styles decked Cena with a clothesline for two. Styles went for a Lionsault, Cena moved and hit a Code Red (sunset flip into a Powerbomb) for two. Cena transitioned in the STF submission hold. Styles countered into a pinning attempt for two. Cena missed a corner charged and his ribs hit the turnbuckle. Styles off the top with the Phenomenal Forearm for a two count. Styles went for a 450 Splash off the top, but Cena got his knees up to block it. Cena hit the Attitude Adjustment. Cena rolled through for another one, but Styles got to the apron and left the ring. Cena charged at Styles outside the ring, Styles moved and Cena went crashing into the steel steps. Styles got back in the ring first. Styles went back out, told the ref to stop counting and Cena hit Styles with an Attitude Adjustment through the announce table. There's a question about if that is legal during a match without disqualifications, but I guess it's fine. The ref counted Styles out. Styles grabbed a fan's hand to get back to his feet and Styles rolled back into the ring to break the ten count. Cena was frustrated that Styles was still in the match. When Cena went for the AA, Styles rolled through and slapped on the Calf Crusher submission. Cena nearly tapped, but he looked back at the WrestleMania sign and kept fighting. Cena countered by putting Styles on his shoulders and Cena hit the Attitude Adjustment again to win the match. It went 22 minutes.
Winner by pinfall: John Cena
Analysis: **** It was the usual great match between these two guys although not at the level of their best PPV matches. That's a testament to how good they are because this was a four-star (out of five) match, so it's one of the better matches you're ever going to see on WWE TV. We don't get matches that good very often. They busted out all their big moves although I didn't like how they did the Styles Clash and AA during a break because it takes away from the match a bit. The table spot AA was well done with Styles dramatically making it back into the ring just in time. The spot with Styles putting on the Calf Crusher leading to Cena staring at the WM sign was a bit cheesy as if staring at the sign would give Cena these superpowers and of course it worked because Cena pinned Styles shortly after. It just seemed a bit too much. Anyway, I enjoyed the match a lot although I'm sick of the "champ loses non-title" formula leading to a title shot. It is done way too often.
The win means that Cena will join the Fastlane main event for the WWE Title: Styles vs. Cena vs. Owens vs. Zayn vs. Corbin vs. Ziggler. It went from a 3-Way to 5-Way to 6-Way, which WWE likes to call a 6-Pack Challenge.
There was no time for a celebration or replays because Kevin Owens and Sami Zayn entered the arena. Baron Corbin also entered as he attacked Cena from behind with a forearm. Owens and Zayn joined Corbin in the attack with stomps. The shaky camera was running wild. I hate it so much. Dolph Ziggler's music hit as Ziggler ran down to the ring with a superkick for Corbin. Ziggler punched Owens out of the ring. Ziggler superkick on Zayn looked nasty. Ziggler celebrated with Styles and Cena. Ziggler punched Styles and Cena picked up Ziggler with the Attitude Adjustment. That's when the show went off the air.
Analysis: It was a wild scene as they went off the air in a hurry. This was one of those weeks where they needed five more minutes, but unlike Raw they don't get that extra time on Smackdown. I'm so tired if multi-man matches. We just had Elimination Chamber and now it's another 6-way match. Enough already.
I'm assuming they will do a 6-man tag match next week featuring the six guys in the Fastlane main event. It will probably be Owens, Zayn and Corbin vs. Styles, Cena and Ziggler if I had to guess.
Who wins at Fastlane? Styles. I would be very surprised if Styles lost because Styles vs. Nakamura is the right way to go.
As for Cena, the potential match with The Undertaker is out there and Sports Illustrated reported last night that Rey Mysterio might be Cena's WrestleMania opponent. I don't know what the plan is, but obviously Cena will be in a big match.
Three Stars of the Show
John Cena
AJ Styles
Shinsuke Nakamura
The Scoreboard
6.5 out of 10
Last week: 6.5
2018 Average: 5.89
Last 5 Weeks: 6.5, 6, 6.5, 5.5, 7.5
2018 High: 7.5 (January 23)
2018 Low: 4.5 (January 2 and January 9)
Final Thoughts
It gets a 6.5 out of 10.
That's the same score I gave it last week and Raw this week too.
My favorite parts of the show were the Cena/Styles match and the Usos/New Day promo. Those were clearly the highlights. It was good to see Nakamura back in action after too much time off TV.
As for the Shane/Daniel stuff, they really didn't make any progress with it. It would be nice if things evolved a bit.
It's officially a SIX PACK CHALLENGE for the @WWE Championship at #WWEFastlane as @JohnCena DEFEATS #WWEChampion@AJStylesOrg on #SDLive! pic.twitter.com/32sBOlPp77

— WWE (@WWE) February 28, 2018
The next Smackdown PPV is Fastlane on March 11 and here's what we know so far.
WWE Championship Six-Pack Challenge: AJ Styles vs. Sami Zayn vs. Kevin Owens vs. Dolph Ziggler vs. Baron Corbin vs. John Cena
Smackdown Tag Team Championships: The Usos vs. The New Day
United States Championship: Bobby Roode vs. Randy Orton
Smackdown Women's Championship: Charlotte Flair vs. Ruby Riott
There should be more matches added in the next few weeks.
—
That's all for now. Go Toronto Raptors and Toronto Maple Leafs.
My contact info is below. Thanks for reading.
John Canton
Email mrjohncanton@gmail.com
Twitter @johnreport
Personal Facebook and TJRWrestling on Facebook