The John Report: The WWE Raw Deal 01/23/17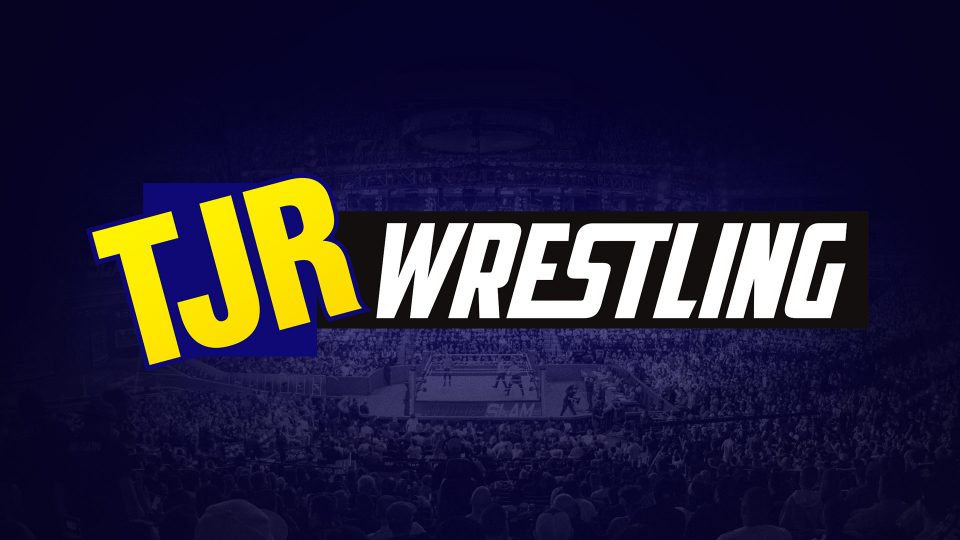 It's the last edition of Raw before Sunday's Royal Rumble event. It would have been nice if WWE advertised some big matches for the show, but going into it they advertised nothing except Bill Goldberg will be there. Brock Lesnar is expected as well although they didn't promote him as hard as Goldberg this week. Let's get to it.
Live from Cleveland, Ohio this is the Raw Deal for episode #1235. Follow me on Twitter @johnreport. Thanks to my friend Melo Man for the "Ready to Rumble" movie poster inspired banner this week. He was pretty proud that he came up with it and I think it's pretty clever too.
The show started with a video package showing clips of Chris Jericho and Kevin Owens having success in the last couple of weeks with Jericho winning the US Title from Roman Reigns two weeks ago. It ended with Owens and Jericho holding up their titles mentioning it was the Kevin and Chris Show.
Promo City Begins Raw
Roman Reigns entered for the show opening promo. Lots of boos for him with some cheers as well. There was a reminder of Reigns facing Owens at the Royal Rumble for KO's Universal Title with Jericho locked in a shark cage. The shark cage was in the ring when Reigns got in there.
Reigns said that in six days the Rumble rolls into the Alamodome and there will be over 40,000 people going nuts. In the middle of that storm, Jericho will be locked into that shark cage, which means Reigns will be holding the Universal Championship over his head. Loud boos. Here comes Owens.
Kevin Owens, the Universal Champion, entered along with best friend Chris Jericho, the United States Champion. Owens wondered if something happened to Reigns that got him confused because last week, Owens did something he had coming for a long time when Owens put him through a table. Owens bragged about how he was the only guy to put Reigns through the table with a Powerbomb. Reigns told Owens he'll be the one that gets his ass whooped.
Jericho called Reigns a "stupid idiot" and it drew cheers. Jericho said that even though Reigns thinks it's funny that Jericho will be hanging above the ring like a piece of salami, Jericho told him that it was funny when Jericho beat Reigns for the US Title. Jericho said even though he's going to be hanging above the ring like a "very sexy piñata" that's on Sunday and there's nothing stopping him from beating up Reigns right now. Reigns wondered if Jericho just gave him a rematch. Some fans chanted "yes" and some chanted "no." Reigns invited Jericho to come down to the ring for their rematch for the US Title tonight. Owens told Reigns that he's got the match and Jericho wasn't pleased about it. Owens re-assured Jericho he's going to beat Reigns. Owens said he's got a psychic vision that Reigns is going to be the one locked inside that shark cage. Reigns said he's got a feeling that he'll win the US Title tonight in Cleveland and a feeling that he'll beat Owens at the Royal Rumble for the Universal Championship. Reigns said he'll do it because he's something Owens will never be around here: "The Guy." Reigns' music started to end the segment.
Analysis: Basic stuff there to set up a big match for later. Reigns didn't get his rematch last week, so it makes sense to do it here. I'd mention the crowd booing Reigns as a big deal, but it happens nearly every week. I don't think WWE cares. It's not a fresh match by any means because we've seen Reigns vs. Jericho many times. However, it's fine to do it because former champions usually get rematches for titles in WWE. That's just how it goes. No sign of any authority figures for that segment, but usually if guys agree to a match it's a go, so that's what we got this week.
Later on Raw: Bill Goldberg is there.
(Commercial)
PLUG TIME: I wrote an article for The Comeback about this year's Royal Rumble match and tried to explain why my choice to win the match is Braun Strowman. Could I change my mind before writing a final preview on Friday? Maybe, but I did my best to break it down as best I could while taking a closer look at the top contenders.
Cesaro & Sheamus vs. Luke Gallows & Karl Anderson is set for Royal Rumble Kickoff Show with two referees.
Analysis: Only the Kickoff Show? That's a shame.
Cesaro (w/Sheamus) vs. Luke Gallows (w/Karl Anderson)
Cesaro dropped Gallows with a gutwrench suplex for a two count early on. Gallows with a back body drop. Cesaro came back with a great uppercut in the corner. Anderson distracted, so Gallows nailed a boot to the face for a two count. They went to break one minute into it.
(Commercial)
There was a clip of action during the break where Sheamus chased Anderson to the back. Cesaro blocked a suplex attempt and hit a delayed suplex of his own. Cesaro came back with a series of uppercuts and a Tornado DDT. It looked a bit awkward since Gallows is so big, but it got the job done for a two count. Gallows fought out of a swing attempt. He shoved Sheamus on the floor. The ref told Sheamus he'll get disqualified if he hits Gallows. Cesaro boot to the face while Gallows was on the apron. Ref looked at Cesaro, so Sheamus hit a clothesline on Gallows on the floor. Cesaro with a sunset flip into a Sharpshooter. Anderson back at ringside with a dropkick on Sheamus that knocked him down. Gallows was tapping out, but Anderson distracted the ref. Gallows capitalized with a boot to the face of Cesaro and a one man Magic Killer for the win after eight minutes.
Winner by pinfall: Luke Gallows
Analysis: ** It was an okay match. The interference was part of the story from the beginning, so it was obvious they would have a controversial ending. That's why they are doing the two-referee thing for the title match on Sunday. It didn't matter who won, but the victory for Gallows gives some momentum for the challengers.
Raw GM Mick Foley was backstage on the speaker phone with Commissioner Stephanie McMahon. Sami Zayn walked in to ask how he can declare himself in the Royal Rumble match. Stephanie interrupted to say that Sami has to beat Seth Rollins to be in the Royal Rumble. Zayn left. Foley picked up the phone and said he'll deliver some message to Rollins from Stephanie. Foley looked frustrated about it.
Analysis: It doesn't make a lot of sense that Zayn has to qualify while so many others are already in the match, but that's the storyline with Stephanie being the heel authority figure that makes things difficult for Zayn.
(Commercial)
The announce team of Michael Cole, Corey Graves and Byron Saxton were shown on camera shilling the Royal Rumble on WWE Network this Sunday starting at 7pmET. It's a four hour show.
Bayley Interview with Corey Graves
There was a pre-tape interview with Bayley conducted by Graves. Bayley said she's always wanted to be a WWE superstar, so "wow" is the best word to explain her feeling being in WWE. She said it still gives her goosebumps to be on Raw. Bayley doesn't see her lifelong fandom for WWE as a negative because that's what got her there. She said now this Sunday her family gets to see her getting a shot for the Raw Women's Championship at the Royal Rumble. Bayley said she's just herself and when she can give a fan a hug or high five she remembers being on the feeling of the other side of the barricade. She admitted to being nervous backstage, but once she's in the ring the crowd makes her feel like she can do anything. Bayley said that some people think that she can't beat Charlotte, but they've trained for years at the Performance Center, they've had matches before and she bragged about having two victories over Charlotte. She spoke with confidence in saying that she'll walk out of that ring with the Raw Women's Championship.
Analysis: She's a good talker most of the time. Sometimes they give her stupid material to say like that awful poem last week, but this was better. She was able to speak from the heart with a mix of who the real woman is and pushing the Bayley character. I don't think she'll win on Sunday and I think the build could have been better, but it should be a good match.
It was mentioned by Cole that Charlotte is 15-0 defending her title on pay-per-views.
Seth Rollins was in the locker room. Foley showed up. Rollins was informed that he has a match with Zayn up next. Foley said that they want to play up the friend vs. friend aspect. Foley said that if Zayn wins then Zayn gets Rollins' spot in the Royal Rumble. Zayn said that he's got to beat Zayn tonight and win the Royal Rumble match on Sunday so he can go on to WrestleMania to send a message to Stephanie and her coward husband's face.
Analysis: I'm not a fan of that stipulation assuming it means one of them is not in the Rumble match. Of course that's the point WWE is trying to make. Upset the fans to make Seth or Sami's rise to the top more difficult.
(Commercial)
Seth Rollins made his entrance for his match. The announcers hyped up the Rumble match and put over the idea that it may be the largest Royal Rumble field ever in terms of size. Sami Zayn made his entrance.
Seth Rollins vs. Sami Zayn
If Zayn wins he gets Rollins' spot in the Royal Rumble. The loser is apparently out of the Rumble match.
Two of my favorite performers in WWE and two of the best in-ring performers. Saxton noted they were roommates before they were in WWE. Rollup by Rollins early. Cole busted out his "electric" word with the crowd chanting for both guys. Rollins went for a cradle, but Zayn covered him for a two count. They exchanged some punches and then Zayn nailed a clothesline. Rollins came back by sending Zayn out of the ring and hit a suicide dive to knock down Zayn on the floor as the show went to break.
(Commercial)
Rollins was still in control with a jumping kick to the head. Zayn avoided a knee attack and hit a Blue Thunder Bomb for a two count. Zayn came back with a Michinoku Driver for another two count with Cole freaking out about how Zayn almost got him. Two big nearfalls for Zayn. They did a nice exchange where they avoided moves and Rollins came back with a Blockbuster off the ropes for a two count. Zayn avoided a move, got a rollup, Rollins got out of that and hit a standing side kick to the head for a two count. Rollins nailed the Falcon Arrow for another two count. They exchanged forearm strikes with the crowd getting into it. Rollins nailed a running knee strike followed by Slingblade. Zayn was dazed. Rollins went for a Pedigree, but Zayn slipped out of it and hit a Tornado DDT. Zayn went for the Helluva Kick, Rollins moved and Rollins wanted Pedigree, but Zayn hit a back body drop that sent Rollins over the top rope to the floor. The fans chanted "this is awesome" for them. Rollins went back into the ring while Zayn was on the top rope and Rollins hit a jumping kick to the head. Rollins teased a top rope Pedigree, but Zayn fought out of it and hit a sunset flip Powerbomb off the ropes for a two count. Back to their feet, Rollins with an enziguri. Zayn came back with an Exploder Suplex. Rollins was on the apron. Zayn charged at him, Rollins kicked him in the gut and Rollins hit him with a Pedigree on the apron. Triple H's music hit. The crowd popped huge for it. No sign of Triple H. That led to Rollins being distracted, so Zayn did an inside cradle and pinned Rollins to win after 16 minutes.
Winner by pinfall: Sami Zayn
Analysis: ***1/2 Great match from two of my favorites. It was very competitive with some awesome nearfalls I'm not a fan of theme songs distracting a wrestler during a match, but in this case it fit the storyline because we haven't seen Triple H on Raw for nearly six months. It builds up to the eventual Rollins vs. Triple H match that we know is coming at WrestleMania, so I'm okay with it. As for their work in the ring, it was excellent. The crowd bought into everything they did so well, they cheered both guys and thought it might end at any moment. Raw needs more great matches like that, which are also fresh and interesting.
After the match was over, Rollins left angrily. Zayn celebrated the win.
Analysis: It's weird that Rollins isn't a part of the Rumble match. That could change, but for now he's out.
Up later: Jericho vs. Reigns for the US Title. Goldberg is also on Raw.
It was announced that Shawn Michaels will be a part of the Royal Rumble Kickoff Show this Sunday night with a start time of 5pmET.
A clip aired of Michaels winning the Rumble match in 1995 from the #1 spot. Great moment although it was a poor Rumble with a weak roster.
(Commercial)
This week on 205 Live it's Neville vs. Cedric Alexander. That should be great and also a win for Neville.
Rollins was backstage. He was backstage looking angry. Foley was there. He knew nothing about it, but he said somebody in production must have known something. Rollins left angrily.
There was a brief video about Mustafa Ali leading to a cruiserweight match. Austin Aries is on commentary replacing Saxton for this match.
Mustafa Ali, TJ Perkins & Jack Gallagher vs. Drew Gulak, Tony Nese & Ariya Daivari
Gallagher and Gulak started in a battle of guys that don't wear knee pads. Gallagher did a handspring in a corner leading to a headlock. Aries said he loves knee pads. Perkins tagged in with a cross body block off the top on Gulak followed by a nearfall for two. Gulak with a headbutt to the gut sent Perkins to the mat. Nese tagged in a and was greeted with a neckbreaker from Perkins. Nese tripped him up on the top rope to slow down Perkins. Gutbuster by Nese on Perkins. Nese missed a springboard moonsault on Perkins. Ali tagged in with a headscissors on Gulak followed by a spin kick. Ali boot to the face followed by a neckbreaker for a two count. All six guys were in the ring with the faces hitting a headbutt and kick to the face to clear the ring. Ali went to the top and hit a reverse 450 Splash on Gulak for the win after five minutes.
Winners by pinfall: Mustafa Ali, TJ Perkins & Jack Gallagher
Analysis: ** It's no surprise that the guy that got the win was the one that had a video about him before the match. It was fine for the time given. Ali looks like he's a guy that they're interested in pushing at least mildly to see how the crowd reacts to him. He's got some cool moves such as the reverse 450 finisher, but we will need to see more.
The New Day trio were backstage, so they're up next. They did a backstage prank on Mikazi the costume guy that is married to Sasha Banks. He was fooled by Xavier Woods hiding in a cart.
A commercial aired for Holey Foley returning to WWE Network for five more episodes that will be on WWE Network after Royal Rumble.
(Commercial)
The New Day trio made their entrance to a good ovation. Woods has a green trombone. Xavier Woods started off the promo saying they are going to win the Royal Rumble to become the WWE Universal Champion. The music of Enzo Amore & Big Cass hit to cut them off.
Enzo & Cass did their usual intro with the crowd chanting along. Cass said that this Sunday he's going Stallone in 87 because he's going to eliminate 29 other guys to win the Royal Rumble match. He was about to say "SAWFT" but was
Rusev and Jinder Mahal with Lana interrupted. Rusev said Big E and Big Cass are big goofs. Rusev wondered why they had to put "big" in front of their name. Rusev wondered why Big E & Big Cass had to put "big" in front of their name. He said it's like putting "Handsome" in front of his name, but he doesn't do that. Rusev said he's in the Rumble match.
Titus O'Neil showed up to say that most of them are in the Rumble match, but he's not. Big E complained about how Titus promised not to bother them again. Woods said it's just disrespectful. Woods said "go on and catch met outside." Crowd cheered. Kingston said it means he'll go outside to do what he has to do.
O'Neil said there's going to be an eight-person tag match. Woods pointed out that there's five of them and three of them with Lana. They joked about Lana not being in the match although the crowd cheered the idea. Woods wondered who their fourth man would be. Braun Strowman made his entrance. It's up next.
Analysis: The most shocking thing about this is that O'Neil and Mahal might actually win a match because they are on Strowman's team. It was a standard Raw promo segment that dragged on too long to set up a match after a break.
(Commercial)
Braun Strowman, "Handsome" Rusev, Jinder Mahal & Titus O'Neil vs. Kofi Kingston, Big E, Big Cass & Enzo Amore (w/Xavier Woods)
The heels worked on Woods early on with Saxton saying Mahal has gone through some different bodybuilding workouts to build his physique. O'Neil slammed Kingston with a Dominator like slam and yelled about how he's like LeBron James to get heat in Cleveland. O'Neil missed an attack that sent him over the top to the floor. Cass got the tag against Mahal with Cass tossing him across the ring, splash in the corner and a big boot knocked own Mahal. Enzo got the tag and they hit the Bada Boom Shaka Laka splash on Rusev. Big E and Rusev got in there with Cass nailing Rusev with a boot that sent Rusev out of the ring. Kingston hit a dive over the top to the floor to take out a few guys. Enzo with an enziguri on Mahal and Strowman tagged in against Mahal. Big reaction to Strowman in the match. Enzo tried to attack, but Strowman took him down with a shoulder tackle. Enzo fought back with a boot to the face and went for his DDT, but Strowman blocked it. Strowman hit a Running Powerslam for the win after four minutes.
Winners by pinfall: Braun Strowman, "Handsome" Rusev, Jinder Mahal & Titus O'Neil
Analysis: *1/2 It was a rushed match that was given less time than the promo they did to set it up. As soon as the match was announced it was obvious that Strowman was going to win for his team. It was noticeable that Strowman received a big reaction when he tagged in. The guy is going to be a big star and it's going to happen soon. Win streak for O'Neil and Mahal! What a run.
Big Show's music hit and the crowd cheered wildly for him. Show is in great shape wearing some USA colored singlet along with some black. Show went into the ring. Strowman stared back at him. Somewhere, Vince McMahon is marking out at these two really men having a stare down. Strowman backed away since he's the heel. Crowd cheered for Show.
Analysis: It was simply a staredown to tease the confrontation during the Rumble match. Show is a legit 7'0" tall while Strowman is about 6'9" so he's close to Show's height. Last year's Royal Rumble saw Strowman eliminate Show, but it's not like WWE is going to remind you of that.
The announcers shilled the WWE Network. The New Day trio showed up with Big Show shaking their hands. New Day trio were selling from the bumps they took.
Jericho vs. Reigns for US Title is up next.
(Commercial)
The shark cage is above the ring for the next match.
Jericho made his entrance with best friend Kevin Owens. Oh yeah, Jericho also has a sweet scarf on. Once again they reminded us that Owens defends the Universal Title against Reigns at Royal Rumble with Jericho in a shark cage above the ring. Roman Reigns made his entrance to a mixed reaction like usual.
United States Championship: Chris Jericho (w/Kevin Owens) vs. Roman Reigns
Reigns was aggressive early on. They were outside early in the match with Reigns hitting his Drive By dropkick. The show went to break about one minute into the match.
(Commercial)
The great Kevin Owens joined the commentary team for the remainder of this match.
Jericho had Reigns grounded in a chinlock. Owens mocked Saxton for not being good enough as a wrestler, so he has to be an announcer. Owens is great. Reigns tried a comeback, but Jericho hit a dropkick. Jericho hit a long distance high five with Owens on commentary. That was funny. Jericho jumped off the top with an attack and Reigns hit an uppercut. Owens mocked Saxton some more about not being a commentator. Reigns nailed a couple of clotheslines. They went for a Samoan Drop spot, but there was a slip and they just turned it into some kicks from Jericho. Back to their feet, Jericho bounced off the ropes right into the Samoan Drop by Reigns for two as they wanted to do before. Jericho came back with a dropkick for two of his own. Reigns blocked a Codebreaker and nailed a running Powerbomb for a two count. Owens took off the headset and went down to ringside. Jericho avoided the Spear, but Reigns nailed a Superman Punch. Owens went into the ring to nail Reigns with a punch leading to a disqualification. It went ten minutes.
Winner by disqualification: Roman Reigns (Chris Jericho is still US Champion)
Analysis: **1/4 It was a standard Reigns vs. Jericho match like we've seen several times over the past few months. I expected the disqualification finish because it would have made no sense to put the title back on Reigns. Owens was hilarious on commentary mocking Saxton. That drew a lot of laughs with me.
Post match, Owens continued to beat on Reigns with some punches. They called for the shark cage to come down. Jericho shoved Reigns into the cage. Jericho had the key. Reigns fought his way out of the cage before they could lock him in. Reigns stunned both heels and shoved Owens in the shark cage. Reigns locked Owens in the cage with the crowd cheering. Owens freaked out about being in the cage. The cage went above the ring. Jericho held onto it and Reigns knocked Jericho down with a Superman Punch. Owens was freaking out in the cage above the ring. When Jericho got back up, Reigns nailed Jericho with a Spear.
Analysis: The visual of Jericho hanging onto the cage while Owens was going up was pretty funny. Reigns getting the advantage was predictable because last week he was put through a table and the week before he lost the title to Jericho. It made sense to give him some momentum. I'm still picking Reigns to win the Universal Title on Sunday. I'm going against the "look strong on TV, lose on PPV" theory for this one. It's actually something that WWE has done less often in the last few years.
Later on Raw: Goldberg will be there.
(Commercial)
When the show returned from break, Owens was lowered down to the ring and Jericho had the key. Jericho unlocked him.
Owens and Jericho were mad in the ring. Charly Caruso showed up in the ring to say that Mick Foley is making the Owens/Reigns match a No Disqualification match at Royal Rumble. Owens bitched about how it was unfair and the match should be cancelled. Jericho: "Cancelled!"
Analysis: The No DQ stipulation makes me second guess my Reigns pick a bit. It could lead to something where Jericho drops an object to Owens to help him win, but I think it's better to book it so Reigns outsmarts them and finally wins the title. The story seems to be calling for a title change.
Charlotte Flair Interview With Corey Graves
They were seated during a pre-tape interview. Charlotte said that one of her first memories was her dad winning the Royal Rumble 1992 because that's what they do while Bayley's family was home watching on the couch. Charlotte said she could be doing other things like playing volleyball or basketball, but she's there. Charlotte claimed that last week she wanted to inform the WWE Universe who they were getting behind when she mocked Bayley. She got mad when Bayley looked at her title and when Bayley thought she was in the same league as Charlotte, that's when things changed. Charlotte said that every eye in the Alamodome is going to be looking at her, she's going to punish Bayley and she's going to look down at Bayley crying because after the Royal Rumble she (Charlotte) will continue to be the queen of pay-per-view while Bayley is just a fan.
Analysis: It was a confident promo by one of WWE's best heels. She didn't really say anything that was new because it's the same stuff she always says in her promos. I don't mind sitdown interviews like that. It's better than losing non-title matches.
Nia Jax is up next.
(Commercial)
Nia Jax vs. Ray Lyn
Jax tossed her into the corner. Jax won with a Banzai Drop like splash in the corner. It was done in under 20 seconds.
Winner by pinfall: Nia Jax
Analysis: DUD It was just a squash match win for Jax.
Jax was interviewed post match, but she told Caruso to leave. Jax dedicated her victory to the recently deceased career of Sasha Banks. She noted that last month Banks was the Women's Champion and now Banks is largely forgotten. Jax said that ESPN should do a 30 for 30 on Banks, but nobody would watch it. Sasha Banks walked out with a crutch and a brace on her left knee. Banks hit Jax with the crutch. Banks hit her with the crutch repeatedly. When Jax charged at her, Banks moved and Jax went to the floor. Banks hit a double knee attack on the floor.
Analysis: It made sense for Banks to finally get some revenge on Jax after getting beat up repeatedly for weeks now. It will probably set up a match between them at the Royal Rumble.
A replay aired of Seth Rollins' loss earlier in the night meaning he's not in the Royal Rumble match.
Still to come: Goldberg on Raw.
Rich Swann was shown backstage because he's up next.
(Commercial)
The Emmalina photo collage aired telling us she's premiering soon. Perhaps 2018? Sure.
Rich Swann entered. He's defending the Cruiserweight Title against Neville on Sunday. Noam Dar has Alicia Fox with her. What a brutal storyline.
Rich Swann vs. Noam Dar (w/Alicia Fox)
This is not for Swann's Cruiserweight Title.
Swann was in control early. Dar bailed to the floor. Swann nailed a kick to the face of Dar while he was on the floor. When Swann got back in the ring, Dar hit a dropkick for two as the show went to break two minutes into it.
(Commercial)
Back from break, Swann hit a double stomp to the back. The crowd didn't seem to care at all. Swann with a headscissors takedown out of the corner. Swann with the spin kick for the win after five minutes.
Winner by pinfall: Rich Swann
Analysis: * It's hard to rate the match since they got five minutes and only two minutes of it were actually shown because of the commercial mid-match. I hate when they time matches like that where such a brief amount of action is actually shown. Good finish by Swann, but the crowd doesn't care about these guys.
Post match, Swann called out Neville. Neville went down to the ring, stood on the apron and was about to leave. Swann jumped on him with a suicide dive. Swann rolled him back in the ring, Neville left the ring and Swann didn't chase after him.
Analysis: Swann wanted him so bad that he jumped on him the first time he was out of the ring, but then he was too lazy to keep going after him? Make us believe there's some hate there by having him continue the attack. I think Neville will win the title on Sunday.
Up next is Goldberg.
(Commercial)
This week on 205 Live it's Neville vs. Cedric Alexander.
Cedric Alexander was interviewed backstage by Charly Caruso. Alexander said with the Dar and Fox stuff behind him, he can focus on becoming the Cruiserweight Champion. Fox showed up with Dar and she yelled at him about how he's going to be nothing without her. Dar said he'll be a winner as long as he has Fox in his corner. Dar wondered if they had no hard feelings, so Alexander shoved down Darn because Dar attacked him last week. Fox screamed about how Alexander almost made him cry. Alexander just left.
Analysis: This angle is bad. The acting of Alicia Fox is even worse because it's too over the top.
New match announced for Royal Rumble Kickoff Show: Sasha Banks vs. Nia Jax. Shawn Michaels will also be on the Kickoff Show. The other Kickoff Show match is Cesaro/Sheamus vs. Gallows/Anderson for the Tag Team Titles.
Royal Rumble Hype With Goldberg
Bill Goldberg's music hit and he was shown backstage making his entrance.
Goldberg entered the ring. Loud ovation from him along with the "Goldberg" chants from the crowd. There was another mention about the Royal Rumble match.
Goldberg said "here we go" and the crowd chanted "Goldberg." His head was cut open after hitting the door before he walked to the ring- Graves mentioned how he does that. He laughed about how the fans have made him screw up due to the chants. He said let's go for the third time. He struggled through a promo talking about how he's going to stop at nothing to obtain that Universal Title and if he has to spear and Jackhammer 29 guys then dammit that's what he is going to do. Goldberg tried to send a message to the guys in the back, but here comes Paul Heyman.
Heyman stood on the ramp. Heyman put over some of the possible scenarios in the Rumble match such as Goldberg vs. Randy Orton, Goldberg vs. Strowman, Goldberg vs. Strowman or you might just see a scenario of that man Goldberg facing off with the man, the Goldberg eating carnivore…Brock Lesnar.
Lesnar stood behind Heyman on the ramp. Heyman talked about how Goldberg was going to be humiliated and Goldberg by Lesnar. Heyman said that he's not going to be eliminated by just anybody on the roster – he will be eliminated by his subjugator Brock Lesnar. Goldberg wondered if Lesnar will come down to the ring like a man or stand there like a dumbass. Goldberg tossed his watch to his wife at ringside and waited for Lesnar.
Lesnar circled the ring while Goldberg was inside. Fans chanted Goldberg. Lesnar went into the ring for a staredown with Goldberg. The gong hit, the arena went dark and The Undertaker was in the ring. The crowd was really loud for it.They had a staring contest, the ring was covered by purple light and Raw went off the air that way. It was 11:05pmET when they signed off.
Analysis: That promo by Goldberg was brutal. Goldberg forgot some of his lines and it was awkward to watch. I'm not sure if he was dizzy after hitting the door too hard or was rattled by the crowd chants. I didn't really get all of what he said because it was so disjointed too.
As for the staring to end the show, it was very good. I would have preferred to see them start brawling with the roster emptying out of the back to try to break it up and have the show go off that way. I understand wanting to tease the idea of this three-man confrontation at the Royal Rumble match as a selling point of the show. I just think fans would go crazy if they saw these three guys brawling to end Raw. Like I said, what they did was cool. Leave us wanting more and make the fans want to tune into the Royal Rumble to see what might happen.
My Royal Rumble pick is still Braun Strowman, but I think it's possible that Goldberg or Lesnar wins now. It's a tough call. That's why I'm excited about the match on Sunday.
*GONG* The #Undertaker is HERE!!! #RAW#RoyalRumble@BrockLesnar@Goldbergpic.twitter.com/rTOdq5IkFI

— WWE Universe (@WWEUniverse) January 24, 2017
Three Stars of the Show
1. Sami Zayn
2. Seth Rollins
3. Chris Jericho
The Scoreboard
6 out of 10
Last week: 5
2017 Average: 5.13
Average since brand split starting July 25/16: 5.78 (Smackdown is 6.52)
Last 5 Weeks: 5, 4.5, 5.5, 5, 4.5
2017 High: 6 (Jan. 23)
2017 Low: 4 (Jan. 9)
Final Thoughts
I give it a 6 out of 10.
I thought it was better than the first three episodes of 2017 although not by that much. The Zayn/Rollins match was the highlight. I liked the ending segment as well.
There are still a lot of dead segments on the show and things that make me want to hit fast forward, except I can't because I have to write this review.
A positive about the show is that I think they did a good job of promoting the Raw matches at the Royal Rumble as well as the involvement of Raw people in the Rumble match. That's the main reason why I gave it a slightly above average score. Was it better than Smackdown has been? No, but it was a step in the right direction.
—
That's all for now. See ya next time for the Smackdown review.
Thanks for reading. Go Toronto Raptors. Go Toronto Maple Leafs.
John Canton – mrjohncanton@gmail.com
Twitter @johnreport