IMPACT Wrestling: Sacrifice 2023 Review
Despite being ravaged by injury this week, Impact returned to Canada for the first time in over three years for their monthly special: Sacrifice
Impact Wrestling 24/3/23 from St. Clair College in Windsor, Ontario, Canada
On Thursday's edition of Impact, we learned that Knockouts' Champion, Mickie James, had suffered an injury and would be out for the short-term, missing tonight's Sacrifice event. No sooner had I posted that review, then I read that Impact World Champion, Josh Alexander, had suffered a triceps injury and would be having surgery immediately. Alexander would vacate the title straight away and is out of action for up to six months or more. The #1 contender, Steve Maclin, has taken Alexander's place in the now 6-man tag team main event and the main event for Rebellion has now been changed to Kushida vs Maclin for the vacant Impact World Championship. Maclin could have very well been winning the title from Alexander at the PPV, but now it seems a formality that he will become the next Impact World Champion at Rebellion.
John Alexander's championship reign was record-breaking for Impact, lasting 335 days. He will be sorely missed as the best talent in Impact and a consistently excellent main-event-level talent.
For tonight's event, I will go summary style and then play-by-play for the main event. It is my birthday this Sunday so I am trying to knock this over on Saturday night to have a free day to relax.
Countdown to Sacrifice (YouTube pre-show)
The countdown to Sacrifice saw Eddie Edwards defeat Bhupinder Gujjar. There was no storyline to this, but they're both more talented than some of the wrestlers on the main card. Edwards won with the Boston Knee Party in around 8 minutes.
In the second match of the pre-show, Rosemary of the Death Dollz defeated Knockout's Tag Team Champion KiLynn King in around 9 minutes with the spear.
Sacrifice Main Show
Despite the devastating injury news of the last 24 hours, Impact had put together a usually-impressive video package hyping up the main bouts of the evening.
Match #1: Mike Bailey vs Jonathan Gresham
This is the second match of a little series that they are in the middle of, and it's the first match on the main card of a live show. Thank goodness. Gresham showed a few heel tendencies early in the match, such as an accidental thumb to the eye and being unable to untangle his legs from Bailey's whilst Bailey had reached the rope. As always, Gresham worked a technically clever match, grounding Bailey where he could and trying to take Bailey's strength away, which is in his leg strikes. The way he manipulated the toes of Bailey at certain points reminded me of the NXT version of Pete Dunne. The match was such an even contest with ebbs and flows of momentum throughout. Gresham continued to not allow Bailey to use his strikes to his advantage, so Bailey had to find another way to win. In a surprising finish, Bailey reversed the Figure-4 Leg Lock and got the win by submission after a fantastic match that went 19:30.
Winner by submission: Mike Bailey (Rating: ***3/4)
Match #2: Impact Digital Media Championship: Joe Hendry (c) vs Brian Myers
This feud has been on and off-again over the last few months and has included Matt Cardona and Moose. The match was a solid one as you'd expect from these two. Myers got a few close near falls; one off a spear and the other from his Implant DDT. The finish came when Hendry caught Myers in mid-air with a cutter and then nailed the pop-up Standing Ovation for the win at 8:51.
I'm looking forward to Hendry's next opponent and hopefully it's a fresh feud, although with Moose banned from ringside I feel there's one more match left for those two.
Winner by pinfall AND STILL Digital Media Champion: Joe Hendry (Rating: ***1/4)
Mickie James addresses the Knockouts' Title situation
Gia Miller was backstage with Directory of Authority, Santino Marella, and injured Knockout's Champion, Mickie James. Miller asked how James was and what her status was. James says she has a broken rib and while she's not going to be out for a long time, she will not be able to defend the title for a short period. She is also out of Multiverse United but is hopeful of defending at Rebellion. Miller asked what happens if James can't wrestle at Rebellion. Marella then spoke and said that at Rebellion it will be Jordynne Grace vs the winner of the scheduled Multiverse United match for the Knockouts Title. That is now Masha Slamovich (replacing James) vs Deonna Purrazzo vs Gisele Shaw vs Miyu Yamashita. If James is cleared to compete, then the match will be a Triple Threat. Again, Miller asked what happens if James isn't cleared by then. Mickie is hopeful to compete and if she can't, then she will be at Rebellion to hand over the title to the winner of the Knockouts' match.
Analysis: There was a lot to take in there and they've done well to reshuffle things on short notice. Even though the injury with James occurred a little while ago at a taping, rib injuries are tricky (I've broken mine twice) and you can't really do anything but wait it out. I thought they would just move James vs. Grace straight to Rebellion, but I'm glad they're sticking with the Multiverse United match. Hopefully, James heals in time and we wish her well.
.@MeanGiaMiller caught up with an emotional @MickieJames who can't compete tonight at #Sacrifice due to injury.@milanmiraclepic.twitter.com/PoXhQqlBm9

— IMPACT (@IMPACTWRESTLING) March 25, 2023
Match #3: Gisele Shaw vs Deonna Purrazzo
I have been impressed throughout this feud. There has been a good intensity to it and plenty of TV time dedicated, even though there have been no titles involved. Impact continue to invest plenty into Shaw, and we all know how great Purrazzo is so it's not a surprise that they mesh well. This was another hard-hitting match between them. I enjoyed the way Shaw worked really hard to fight out of the submission holds and turn them into pinfall attempts. In the end, though, she was trapped in the Venus de Milo and had to tap. It went 9:41.
Winner by submission: Deonna Purrazzo (Rating: ***)
After the match, Shaw and Savannah Evans beat Purrazzo down until a returning Tasha Steelz made the save. That feud was on the cards until Steelz took a break from wrestling. It's great to have her back and straight into a storyline.
Match #4: Kenny King w/ Eddie Edwards vs PCO
I'm glad King has aligned with Edwards again and he was just floating around the roster after his really good feud with Mike Bailey. It also adds another layer to this increasingly interesting feud between Edwards and PCO. I have written a number of times that I am surprised that I have continued to enjoy this rivalry which has lasted a number of months and they're still yet to pull a trigger on a one-on-one match up. Yes, the desert scenes have been silly but the slow burn of the feud has been well done. Edwards was a constant presence in this match and paraded around ringside with a kendo stick. The 'monster' element of PCO kicked in and at one point he ran the ropes and did a suicide dive to the outside and crashed and burned all by himself. King's selling was first-class throughout, which is so important when you're facing someone who is a little limited physically, in PCO. He does take crazy bumps as we know, and at one-point King slammed him spine-first from the top rope to the ring apron! King then exposed the concrete under the floor matting and hit a Blue Thunder Bomb on the exposed floor! King then hit a Frog Splash in the ring but PCO kicked out. Edwards slipped King the chair but PCO punched the chair into King's face and scored the pinfall win at 10:38.
A solid match up, that better suited PCO as King couldn't really wrestle his usual style against a bigger and slower opponent. I thought they could've done a little bit more toward the end too, as PCO got beat up for the last 5 minutes and then won with one punch to the chair.
Winner by pinfall: PCO (Rating: ***)
.@PCOisNotHuman just GLITCHED!?#Sacrificepic.twitter.com/SSgueLZymy

— IMPACT (@IMPACTWRESTLING) March 25, 2023
There was a promo video for 'The Wild Child' Jody Threat, who I've never heard of but will be debuting soon. I look forward to learning about her.
The team of Frankie Kazarian, Steve Maclin and Rich Swann were discussing Josh Alexander's injury in the locker room. Maclin was complaining that Alexander was injured conveniently before having to face him at Rebellion. Swann and Kaz teed off on him and told him to get in line because they are partners tonight. Maclin said that this is his time to scout Kushida before he faces him at Rebellion and he will take care of business tonight.
Analysis: I'm not really excited by this main event. There's nothing on the line and the Motor City Machine Guns wrestling style is starting to annoy me.
Match #5: X-Division Championship: Trey Miguel (c) vs Lince Dorado
Dorado is Santino Marella's handpicked opponent for Miguel and he wrestled in WWE for 5 years before being released in November 2021. This felt like another match for Miguel where the opponent was just 'there' and really didn't stand a chance of winning. Dorado had a couple of good spots in the match though where he hit a Super Hurricanrana and a 450 Splash, however Miguel was able to roll out of the ring to avoid the pinfall. The finish kind of came out of nowhere, as Miguel hit an uppercut and a hurricanrana to barely score the three count. It felt like a flat finish in a match that went 11:49.
Winner by pinfall AND STILL X-Division Champion: Trey Miguel (Rating: ***)
Match #6: Impact World Tag Team Championships: Bullet Club (Ace Austin & Chris Bey) vs TMDK (Shane Haste & Bad Dude Tito)
This match was only added this week. Haste has been in Impact for a couple of weeks to continue the crossover between NJPW and Impact. I am not familiar with Tito, as I seldom watch NJPW (there's only so many hours in a week!) so I'll watch him closely during this match. Austin and Bey have been on fire this year and are having a terrific run together as a team. This was a perfectly fine tag team match and, just like the previous match, the result was never in doubt. That can hurt the engagement as a viewer at home, but the live crowd were still fully invested in the action. I was impressed with the athleticism of Tito, especially his Frog Splash from the top rope. The end came where Haste copped a double-team kick from Bullet Club, Tito missed a corner splash and Austin & Bey hit the Art of Finesse/Fold finishing combination which was a bit sloppy but got the job done at 12:25.
Winners by pinfall AND STILL Impact World Tag Team Champions: Bullet Club (Rating: ***)
Match #6: Busted Open Match: Bully Ray vs Tommy Dreamer
This should be a violent contest between two 50-year-old men who have been friends for a long time. It's essentially a First Blood match but their podcast is called Busted Open so that's a clever play on words. I feel like going play-by-play for this match so here we go. They face-off in the ring with a steel chair each. Dreamer got the first shot in and Bully bailed to the outside. Dreamer nailed Bully with a replica title belt to the skull. Dreamer drank a can of soft drink at ringside and spat it all over Bully. He tried cutting Bully's forehead open with the can. Bully nailed him with a back suplex onto the guard rail. Dreamer disappeared into the crowd so Bully took a beer from someone in the crowd and threw it on an ice-hockey player, Darren McCarty, who was a guest of Impact. I'm Australian- we don't do ice hockey. Bully then nailed him with a cheap shot and got a ladder from underneath the ring. He also tossed a step ladder into the ring and nailed Dreamer in the head with it. Bully yelled at the referee to check Dreamer for blood. He made the referee hold the step ladder (poking fun at an AEW spot where a referee on Dynamite the other week held a ladder for a wrestler) and he missed a splash. Dreamer hit a DDT and then went outside searching for more weapons. He returned with a bag of thumb tacks which he tipped out in the ring. Dreamer wanted the piledriver but Bully dropped him over his back. Bully went underneath the ring and got the cheese grater. Dreamer blocked it and hit the Bionic Elbow then got the grater himself. Bully shoved the referee in the way and Dreamer took him out with a clothesline in the corner. Dreamer hit a flying shot with the cheese grater to the head of Bully. The fans were chanting for tables as Bully staggered around the ring. The camera showed that he was bleeding profusely, however the referee was still incapacitated. The Good Hands then came down to the ring to attack Dreamer. John Skyler gave Bully a towel to clean up the blood. Back in the ring, Dreamer hit a cutter on Jason Hotch. Bully was still bleeding but grabbed a handful of tacks and threw them in the face of Dreamer. Bully rubbed Dreamer's face in the pile of tacks on the ring mat. Bully went for an elbow but missed and landed on the tacks. Bully was bleeding from the face and arm now and Dreamer was busted open on the forehead. Dreamer got the grater again but Bully blocked it. Bully was screaming how sorry he was and I think he was yelling that Dreamer should be thinking what his daughter would think about this (the audio wasn't great) so Bully took advantage with a low blow. Bully dragged Dreamer over to the tacks and slammed his arm in the pile of tacks. The camera zoomed in and you could see a bunch of tacks sticking out of Dreamer's arm. Bully was a bloody mess and the referee was still down. The other referees must be in catering. Hotch woke the referee up as Dreamer rolled in the ring and because he was bleeding, Bully was deemed the winner at 11:14.
Winner: Bully Ray
Analysis: ***1/4 This was well booked. The hardcore-style match works well with their physical limitations, especially that of Dreamer. It also fits the emotional side of the storyline as they're trying to do whatever they can to inflict maximum pain onto each other. We all knew Bully was winning, but it was creatively booked in a way that doesn't hurt Dreamer, even though he's a very sympathetic (also pathetic at times) face character.
After the match, Hotch and Skyler got a table. Yuya Uemura came down for the save but he got beaten down quickly. The ice hockey legend Darren McCarty tried to jump into the ring but security stopped him. Bully grabbed a mic and told security to let him go so McCarthy stepped into the ring. The commentators put him over as a fighter on the ice. McCarty and Bully went toe-to-toe with McCarty getting the upper hand with some weak-looking strikes. Hotch and Skyler attacked him from behind and overpowered him. They power-bombed him through the table and then Scott D'Amore's music hit and he's back! D'Amore took of his glasses and looked ready for a fight. D'Amore looked like he had lost some weight in his time off. D'Amore wasn't alone as he was joined by Rhino, Heath, Joe Hendry, Jonathan Gresham and Mike Bailey. Bully and friends weren't looking so tough now and bailed to the outside. Hotch tried to attack D'Amore from behind, which was utterly stupid as there were 5 other guys in the ring with him. D'Amore blocked a strike and nailed the Canadian Destroyer! Wow, that looked great. The crowd went nuts and Bully looked stunned. The Impact face wrestlers helped McCarty to his feet and he was smiling so he was probably happy to be a part of it. Cool moment, even though I had no idea who he was.
Analysis: Good post-match angle here. It looks like they're heading towards D'Amore vs. Bully or maybe a multi-man tag match. I think Bully should have a heel stable moving forward, so he should keep Hotch and Skyler close on a regular basis. They only seem to turn up randomly.
OH CANADA! @ScottDAmore CANADIAN DESTROYERS @TheJasonHotch and Windsor EXPLODES! #Sacrificepic.twitter.com/iqqpiH0tMZ

— IMPACT (@IMPACTWRESTLING) March 25, 2023
There was a video highlights package for the main event. As mentioned earlier, Steve Maclin replaces Josh Alexander in the match.
Match #7: 6-Man Tag Team Match: Steve Maclin, Rich Swann & Frankie Kazarian vs Time Machine (The Motor City Machine Guns & Kushida)
Kushida's scheduled championship match is now off at Multiverse United and he gets his shot against Maclin for the vacant World Title now at the Rebellion PPV in a few weeks. He will still appear at MU on Thursday in some capacity. Shelley and Swann start the match with plenty of counter wrestling. Shelley gets the first offensive move with a shoulder block and tries an STF but Swann makes the ropes. Swann targets the left arm and Shelley avoids a kick, then they have a face-off in the middle of the ring. They high-five out of respect and then tag out to Sabin and Kaz. Sabin hits an arm drag and also targets the left arm of Kaz. Kaz flips out but Sabin sweeps his feet out from under him. Sabin with another takedown and again they show a sign of sportsmanship. Kushida wants the tag in and Kaz slaps Maclin hard on the chest to tag him in. Here's a preview of Rebellion, which I firmly expect Maclin to win and have a long title reign until Alexander returns. There's your next 6 months booked; you're welcome! It's been great to see wider camera shots tonight because they haven't been embarrassed to show shots of the crowd size. We have seen different camera angles and vantage points- something I hope they do moving forward, just not during big moves as happened in one of the earlier match ups. Shelley tagged in as I was rambling along and Maclin caught him up in the ropes, throat-first. Kaz tagged in and grounded Shelley but Shelley turned it into a pin for a 1 count. Swann tagged in and Kaz hip tossed him into Shelley for another 1 count. Swann hit a snapmare and a step-up kick to the back of Shelley. Kick to the mid-section by Swann then he misses a corner attack so Shelley tries a single-leg Boston Crab. Kushida comes in and locks in a Crossface so Maclin points that out and the referee goes over to admonish him so that Sabin can hit some more illegal manoeuvres. Sabin bounces off the ropes and connects with a dropkick on Swann. Maclin has had enough and takes out all 3 members of Time Machine with right hands. Shelley and Kaz now face-off and Shelley hits his Flatliner into the top turnbuckle. Shelley tosses Swann into Kaz and then dropkicks Swann in the corner. Kushida is now legal and dumps Swann to the outside. Shelley tags in and Sabin tosses Swann back into the ring. Shelley targets the right arm and rips at the fingers of Swann. He turns it into a schoolboy and Swann kicks out at 2. Shelley ties Swann in the Tree of Woe and nails a low dropkick. All 3 members of Time Machine nail Swann with a dropkick in the corner. The referee just stands there and watches, which is now starting to get to me. I was keeping it in but it's now effecting my enjoyment of the match! Shelley tags in and takes too long targeting the arm so Swann is able to fight him off. He takes out Kushida and Sabin from the apron. Swann rolls over to his corner at last and tags in Kaz. Kaz takes down Shelley with a number of clotheslines and then a flying forearm. He nails Sabin with his legdrop against the ropes and then a Russian Legsweep on Shelley. This is the face team that is letting two illegal competitors try and interfere in the match up. Kaz hangs Kushida in the middle rope and hits a Backstabber. Kaz with a springboard legdrop on Shelley and then one for Sabin. There's one for Kushida, too. This is the first time in the night that I have noticed the crowd noise being quiet. I think that they are generally confused on who to support. They know they hate Maclin, but then there are 5 faces. Kaz is busted open slightly on the nose as he tries the Crossface Chicken wing on Shelley. Shelley backs out of it and Sabin makes the blind tag. Sabin takes down Kaz with a clothesline then a backbreaker on Swann. The commentators then praise Maclin for trying to interfere because he has done nothing to help his team so far, but he gets tossed to the outside. Shelley and Sabin hit a Flatliner/Missile Dropkick combination on Kaz for a 2 count. Kaz tries a surprise roll up and gets a 2 count. He rolls over to his corner and tags in Swann. Swann hits a rolling clothesline and then an enziguiri. Swann his a hurricanrana off the middle rope for 2. Maclin tags himself in and tried a reverse suplex but Shelley made the blind tag. Sabin hit a big cutter on Maclin. Then they hit a Dragon Screw/enziguiri combination on Swann. Maclin hit a series of forearms but Shelley still had hold of his left hand. He wrenched down on Maclin's arm as well as Kaz who tried to interfere. Kushida tagged in and sent Kaz to the outside. He hit a seated senton from the top rope on Maclin. Kushida with a running crossbody then a Pele on Maclin. Maclin backed into the corner but Kushida hit a running palm strike. Kushida targeted the left arm with kicks. Maclin lifted him up but Kushida tried to lock in the Hoverboard Lock as he was suspended in the air. Maclin overpowered him with a power slam against the turnbuckle. Kushida was hung up in the Tree of Woe so Maclin nailed his running spear. Maclin tagged in Kaz who hit a springboard cutter. He tagged in Swann who hit a springboard cutter. Swann went up top at hit the 450 but Kushida just kicked out. Good nearfall there. Swann went to the opposite corner and missed a Phoenix Splash so Kushida went straight for the armbar. Sabin had an Octopus hold on Maclin and Shelley had the Motor City Stretch on Kaz. Maclin fought Sabin off and broke up the other two submissions. Maclin ran the ropes but was cut off by a double-dropkick from the Guns. Maclin tagged himself in and Kushida was already on the top rope. Maclin tried for a back suplex but Kushida wrenched at the left arm. Kushida hit a moonsault on Kaz but it looked like he landed on Kaz's arm. Shelley hit Sliced Bread on Swann. Maclin was back in and hit a double clothesline on Kushida and Shelley. Maclin avoided the Tanaka Punch, then Kushida got out of the KIA. Shelley hit Maclin with Shell Shocked. Kushida locked in the Hoverboard Lock and Maclin tapped quickly out of self-preservation. The match went 21:57.
Winners by submission: Time Machine
Analysis: ***1/2 The last 5-10 minutes were really good, but it was hard to get into when they are two face teams and an ultra-heel Maclin. At times it felt like Time Machine was wrestling as the heels with all their double team moves. I wonder if I am the only one that gets annoyed by their constant flouting of the rules. Swann was the usual face-in-peril for most of the match. The ending made sense because Maclin couldn't have cared less about the match result and wants to keep healthy for the Rebellion main event in a few weeks. I didn't think Maclin would lose, let alone be the one to submit, however after the match you saw that he was okay and was saving himself from injury. It was clever. That match with Kushida will be really good. Kushida's offense is always so great. He flips from striking to submissions to aerial moves so easily and is just fun to watch.
Kaz and Maclin were arguing after the match as Time Machine's music played to end the show.
#KUSHIDA, @fakekinkade and @SuperChrisSabin are beating the hell out of @SteveMaclin!#Sacrificepic.twitter.com/ixcyp7B2Or

— IMPACT (@IMPACTWRESTLING) March 25, 2023
Final Thoughts
As always, Impact put on a solid show, despite losing their two main champions to injury over the past 24 hours. That certainly had an effect on my investment in the show going in tonight but it still followed the regular formula of the Impact monthly specials: 7-8 decent matches that are around the 3-star rating, where the champions usually retain. The match outcomes are usually predictable (I went 8/8). They save the big matches for the PPVs and these monthly specials, whilst they always deliver, usually don't have the same calibre of wrestling. It was certainly nicer to type double-digit figures for most match lengths though. Gresham/Bailey was a great opener, I enjoyed the work of Purrazzo/Shaw and the post-match angle with Tasha Steelz and Bully/Dreamer had some clever booking as well as the return of Scott D'Amore with some allies. The 6-man tag felt like it's been done a lot in Impact lately and was mostly about Maclin and Kushida facing off before Rebellion.
Final Rating: 6.5/10

I enjoyed the show but if you missed it, then there was nothing must-see that you need to catch up on. I'd recommend Bailey vs Gresham as it was the best match on the show.

Impact vs NJPW Multiverse United is on Thursday night. I will watch it, but I'm not sure if I will review it as it's a mid-week show. I'm not super-knowledgeable with my NJPW talent. Here's the card nonetheless.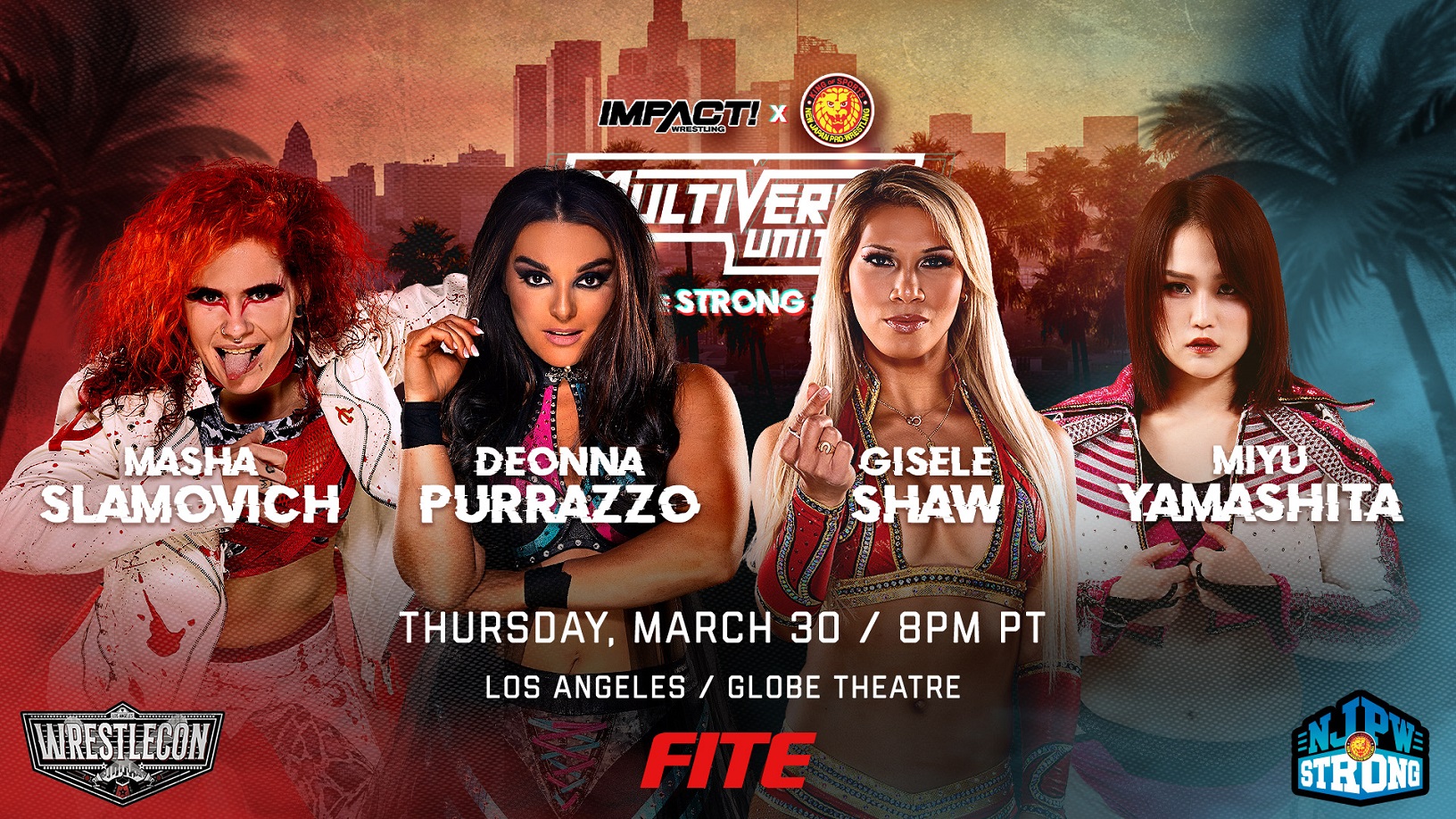 * 8- Man Tag Team Match: Alex Coughlin, Callihan, Fred Rosser & PCO vs. Team Filthy (JR Kratos & Tom Lawlor), Eddie Edwards & Joe Hendry
* Hiroshi Tanahashi vs. Mike Bailey
* Jeff Cobb vs. Moose
* Impact X-Division Title Match: Trey Miguel (c) vs. Rocky Romero vs. Frankie Kazarian vs. Rich Swann vs. Clark Connors vs. Kevin Knight
* Impact World Tag Team Title Match: BULLET CLUB (Ace Austin & Chris Bey) (c) vs. Motor City Machine Guns (Alex Shelley & Chris Sabin) vs. Aussie Open (Kyle Fletcher & Mark Davis) vs. TMDK (Bad Dude Tito & Shane Haste)
* NJPW STRONG Openweight Title Match: KENTA (c) vs. Minoru Suzuki
* Impact Knockouts World Title Four Way Match: Masha Slamovich vs. Miyu Yamashita vs. Deonna Purrazzo vs. Gisele Shaw (winner gets added to the Rebellion title match)
Any feedback or comments are welcome. My email address is kristian.l.thompson@gmail.com in case anybody wants to get in touch with me and my Twitter handle is @thomok6 as well. Thanks for reading!