IMPACT Wrestling Review – May 11, 2023
The Impact World Championship and the Knockouts' Tag Team Championships were on the line this week, along with a return to the Impact ring for Nick Aldis.
Impact Wrestling 11/5/23 from Cicero Stadium in Chicago, IL
The opening video focused on Trinity's debut on last week's show and immediately setting her sights on Deonna Purrazzo and the Knockouts' Championship. There was also a highlights package of Rhino's achievements in Impact history, ahead of his World Championship match later tonight.
Tom Hannifan and Matt Rehwoldt welcomed us to the show and we are straight into the opening contest.
Match #1: Masha Slamovich vs Killer Kelly
Kelly tried an early rollup but only scored a 1 count. Masha didn't like that and hit a spinning heel kick to the face for 2. She hit a series of snapmares and a hard kick to Kelly's spine. Slamovich missed another kick so Kelly hit a Penalty Kick to the face and then another to knock Masha off the ring apron. Back in the ring, Kelly pummelled Slamovich with forearms in the corner and hit a Pump Kick but Slamovich kicked out at 2. She hit a series of short-arm clotheslines to continue her offense. Kelly hit a stalling suplex but again Slamovich kicked out at 2. She rolled to the outside for a breather but Kelly followed her and attempted another kick from the apron but missed. Slamovich caught Kelly and dropped her face-first on the hard ring apron. Slamovich tossed Kelly backed into the ring and stomped on her. She threw Kelly into the corner and nailed a running kick to the head, covering for another 2 count. Slamovich locked in a Camel Clutch close to the ropes and was biting the forehead of Kelly so the referee broke it up. Kelly fought back with right hands, that Masha matched with her own and then scored with a backfist and two kicks to the back of the head. Kelly kicked out of another cover at 2. Slamovich used Kelly's own right arm to choke her out and then tried another chin lock but Kelly slammed her back-first into the turnbuckle. Kelly trapped Slamovich's arms and nailed a series of headbutts and then an underhook suplex, sending her hard into the bottom turnbuckle. Kelly hit a hesitation dropkick and a German Suplex for another 2 count. Slamovich ducked out of the Killer Clutch and flipped from the ring apron through the middle rope for a roll up. Kelly kicked out at 2 and reversed the pin, then Slamovich lifted her up out of the pin and hit a devastating piledriver variation but Kelly kicked out! Kelly blocked the Snow Plough and nailed a Death Valley Driver for another close 2 count. Kelly almost locked in the Killer Clutch but Slamovich got to her feet and used the ropes to springboard and land on top of Kelly. The referee counted to 3 with Slamovich still locked in the submission hold!
Winner by pinfall: Masha Slamovich
Analysis: ***3/4 Fantastic opening contest that had a lot of action in it for a 9-minute match. At times, I may have been critical of some of Kelly's offense over the past year, but when she is in the ring with someone who makes her moveset look credible and as stiff as Masha, then she performs. The ending sequence was particularly good, with Kelly refusing to break the hold which meant Slamovich could score an almost fluky win. Really strong opener.
After the match, Kelly refused to break the submission so Slamovich passed out. The referee finally got Kelly off and she was laughing about it as she headed up the ramp.
Analysis: Kelly lost the match but had the last laugh. Hopefully they have another match soon.
Kenny King was motivating his new protégé Sheldon Jean backstage, ahead of his match with Nick Aldis later. King said Jean had a star-making opportunity tonight. He said Aldis will be looking right past him on his way to the World Championship. King said Aldis will have his eye off the ball tonight and Jean can capitalise.
Analysis: Nice try, Kenny but your man isn't winning tonight.
Tom Hannifan hyped up the Impact tour to Australia that is happening in June. They're performing 2 shows in a town named Wagga Wagga, which isn't known for anything special in particular and isn't a major city. It is about an 8-hour drive from where I live. It's pretty cool that they are coming to Australia and I hope they do well as the stadium they're performing in holds 10,000 people.
There was a recap of Trinity being confronted by Deonna Purrazzo and Jordynne Grace from last week. Gia Miller interviewed her and Trinity confirmed that she has an open contract for a match at Under Siege in 2 weeks' time. Trinity said she will be watching Purrazzo and Grace in tag action later on tonight. Trinity said she was here to take on the best in the world. Jay Vidal, Gisele Shaw's buddy, came over and took a selfie with Trinity and welcomed her.
Analysis: Good to see immediate follow up with Trinity. That's easy to do when you're taping a few weeks at once, but so often a wrestler appears in Impact and you don't see them again for a while.
Match #2: Nick Aldis vs Sheldon Jean
Kenny King joined the commentary booth for this match. It looks like he could be the first feud for Aldis which would be great. This is Aldis' 1st match in Impact in 6 years. Jean came out to no reception. He is an up and comer and has shown some good signs over the last month. He went for a Pump Kick right after the bell but Aldis avoided it. Aldis took Jean down with 2 shoulder blocks and a headlock takeover. Jean rolled out of the ring for a break. Aldis cut him off from the other side of the ring with a knee to the ribs. King got in Aldis' face and Jean poked Aldis in the face and sent him into the ring post. Jean tossed Aldis into the ring and took him down with a leg lariat for a 2 count. Jean choked Aldis out in the middle rope and taunted the fans to boos. They exchanged right hands and Aldis got the advantage with a series of clotheslines. Aldis missed a clothesline in the corner and Jean tried to follow up but Aldis hit a Michinoku Driver for a 2 count. Aldis went to the top but Jean cut him off quickly. Jean wanted a superplex but Aldis sent him crashing to the mat with a headbutt. Aldis hit his flying elbow from the top to a good ovation. Aldis locked in the Kingslynn Cloverleaf submission and Jean tapped out. The match lasted 3:30.
Winners by submission: Nick Aldis
Analysis: ** Just a basic match to remind the viewers what Aldis is all about. Jean had no chance but got in some offense.
Dirty Dango and Joe Hendry confronted Ziggy Dice and Johnny Swinger backstage. They are still looking for who took out Santino Marella. Hendry reminds them that Swinger finally won a match and then Marella ruled it void. Now that Marella was taken out, that looks like a coincidence. Dango challenges Swinger to a match tonight and then calls Marella who asks who is calling. Marella makes the match as tells Dango not to call him again. Dango asks Hendry if he wants to come to his birthday party and there is a long, awkward pause.
Analysis: Lame comedy but at least they kept it short. Dango is cheesy but I don't hate it.
Part 3 of Frankie Kazarian's Sit-Down Interview
Gia Miller recaps Kaz's return to Impact, which has included an X-Division Title win but then he lost a World Title challenge to Josh Alexander. Kaz says that will always eat away at him and that's his goal still. Miller lists the tag matches Kaz has been in later which doesn't really seem that the World Championship is on his horizon. He says when he sees a fight worth fighting, he goes for it and is a man of his word. Kaz says he's a leader and wants to give back to the company that's given him so much.
Analysis: It was only a brief clip of the interview but these kinds of things come of effective in terms of character development and allowing the audience to feel like they're behind the scenes in the wrestlers' lives. They don't do it very often so it works well.
Match #3: Decay (Crazzy Steve & Black Taurus) vs The Good Hands (John Skyler & Jason Hotch)
Skyler took a mic and reminded them of who they are and trashed Chicago, before entering the ring.
(Commercial break)
The match started as we came back from the break. Skyler and Steve began the match. Skyler wanted a Test of Strength but Steve got the upper-hand with a snap mare and a kick to the back. Steve took Skyler down with a clothesline and tagged in Taurus. Taurus went to the top and he hit a dropkick to the extremities of Skyler, similar to the Dudley Boyz Wassup' flying headbutt. Taurus hit a running hurricanrana and a powerslam for 2. The fans were chanting for Taurus as he tagged in Steve. Steve teed off with forearms and tried to bite Skyler, but he was able to back him into the corner and Hotch clawed at his eyes. Hotch tagged in and went over to taunt Taurus in his corner. He tagged Skyler back in and they hit a double Russian Legsweep on Steve and then a double elbow drop. They shook hands in the centre of the ring, then Steve sat up and bit both of their hands! Steve reached for the tag but Skyler held onto his leg and nailed a back suplex. Steve avoided a clothesline in the corner and hit a Flatliner on Skyler. Taurus tagged in as Brian Myers randomly walked down to ringside. Taurus hit 2 Slingblades on Hotch and then hit a devastating double-team move on both the Good Hands, choke-slamming Skyler on top of Hotch. Taurus hit a pop-up Samoan Drop on Hotch but Skyler broke up the pinfall. Steve tossed him out of the ring and hit a springboard crossbody over the top rope. Myers took him down with a clothesline on the outside. Taurus grabbed Myers by the hair but Myers hung him up on the top rope, throat-first. Skyler tagged in and they hit a double-team Samoan Drop for the win after 6 minutes.
Winners by pinfall: The Good Hands
Analysis: **3/4 That was a solid match with an outcome I wasn't expecting. The Good Hands should be getting more wins but Taurus rarely loses so it felt like a big deal. Myers aligning with them gives him something to do, that doesn't involve Moose for a change. I don't mind it.
Steve Maclin was backstage and was furious with Champagne Singh and Shera, because they're banned from ringside from Maclin's title match against Rhino tonight. Maclin said their business arrangement was over. Singh told Shera they can't let this opportunity slip away and said they would work something out. The camera then cut to footage of them attacking Heath backstage to get in Rhino's head and rattle him before the match.
Analysis: Simple storytelling but a good way to use a few minutes before the match to add to it.
Match #4: Impact World Championship: Steve Maclin (c) vs Rhino
Hannifan stated that it was almost 18 years since Rhino had held a World Championship in Impact. I'm afraid that drought isn't ending tonight. He was out first to a good ovation. Maclin was next and they did the big-match introductions in the ring. The fans chanted for the Gore as the bell rang. Maclin targeted the left arm of Rhino in the beginning. Rhino worked through it and hit a clothesline. Maclin took a cheap shot after Rhino wanted a Test of Strength. Maclin chopped Rhino hard against the corner and then the opposite turnbuckle. Maclin taunted the fans so Rhino fought back with chops. Maclin bounced out of the corner and Rhino hit a hip toss. Rhino wanted the Gore but Maclin rolled out of the ring. Rhino cut him off with right hands and suplexed Maclin onto the guard rail. Rhino rolled into the ring to break the count out and Maclin hung him off the top rope by the throat as he got back into the ring. Maclin hit a chop block on Rhino's left knee, which was the knee he injured last year. Maclin worked over the knee, using the bottom rope. He went for a cover but Rhino powered out at 2. Maclin locked Rhino's left knee in a modified leg-lock and then tried another cover but Rhino kicked out at 2 again. Maclin missed a headbutt off the top rope and Rhino took advantage with a flurry of right hands and a big clothesline. Rhino followed up with another clothesline and a spear in the corner. Maclin fought back with forearms but Rhino lifted him to the top rope. Rhino wanted a superplex and Maclin tried to fight out of it but Rhino did enough to power him down to the mat. Rhino draped his arm over for a cover but Maclin kicked out at 2. Maclin tried for the KIA but Rhino fought out and hit a spinebuster for another 2 count. Rhino called for the Gore but his leg gave out so Maclin chop blocked him again viciously. Maclin mocked Rhino and nailed the Gore for the win after 9 minutes.
Winner by pinfall AND STILL Impact World Champion: Steve Maclin
Analysis: **3/4 That was fine for a match where the winner was very obvious. The crowd is always right behind Rhino so it was a good choice as a first defence for Maclin. They worked the knee angle well and it cost Rhino in the end.
After the match, Maclin attacked Rhino with a steel chair. He choked Rhino with the chair and then smashed it over Rhino's knee, which was wedged against the steel steps. Maclin went crazy and kept smashing Rhino with the chair in the knee. Maclin locked Rhino's knee in the chair and mocked PCO by grabbing a shovel. Some referees tried to stop Maclin but he chased them off with a shovel which looked funny. Maclin went berserk and smashed Rhino about 10 times with the shovel to his knee. Heath was taken out before the match so no one came down to help Rhino. The fans booed as Maclin walked up the ramp. They showed Rhino being taken out by EMTs and loaded into an ambulance. Scott D'Amore said he would see Rhino at the hospital then Steve Maclin showed up and got in D'Amore's face, telling him that this was all his fault. Maclin said D'Amore wanted to punish him by making him fight Rhino and now look what's happened. D'Amore said he would really punish Maclin by making the Under Siege match with PCO a No-Disqualification match. PCO surprised Maclin by jumping out of the ambulance. Maclin and PCO brawled in the parking lot but Maclin got away. PCO was screaming his name.
Analysis: Great heel attack by Maclin on Rhino- an easy way to get some heel heat. Making his match with PCO a No-DQ is a good decision as they can brawl and it hides PCO's in-ring limitations.
Match #5: Dirty Dango w/ Joe Hendry vs Johnny Swinger w/ Ziggy Dice
Hendry has a broken nose from his match against Sheldon Jean two weeks ago, so he's not wrestling currently. Hendry humorously put over his nose injury as something monumental. He said that he had been warned not to do his promo because it was too dangerous. Hendry introduced Dango for the match. Dice had a hideous pink turtleneck on as he pushed Swinger to the ring in the mini-wrestling ring. I hope this doesn't go for long. Dice got up on the apron and tried to distract Dango so Swinger could sweep his legs out from under him. Swinger choked Dango in the middle rope and then again against the mat with his foot. Swinger was strutting around like Ric Flair. Dango caught his leg and nailed a Falcon Arrow for the win after 90 seconds.
Winner by pinfall: Dirty Dango
Analysis: * At least it was short. The backstage stuff and entrances took longer.
Deaner cut a pre-taped promo, ripping on Sami Callihan for his choices. Deaner said that Callihan needs to find people that have his back. Deaner said he has a family and an army of men who will follow him to the ends of the earth. All of a sudden some of the yellow violence army started attacking The Design and the other hoodie-wearers. Callihan and Rich Swann removed their hoodies and kept attacking Kon and Angels. Security stepped in to break up the fight.
Analysis: Callihan still needs to find one more partner for their 6-man tag match at Under Siege
Brian Myers was confronted by Moose backstage. Moose thought they were a tag-team so he's wondering what Myers is doing with The Good Hands. Myers said that Moose and Myers can be a team and he can mentor The Good Hands. Moose said Myers needs to get his priorities straight. Myers said he would mould Hotch and Skyler into the next Tag Team Champions.
Analysis: I thought Moose and Myers were done but apparently not.
Next week:
* Trey Miguel vs Laredo Kid
* Moose, Eddie Edwards and Frankie Kazarian vs Alex Shelley, Jonathan Gresham and Yuya Uemura
Analysis: Those teams for the 6-man tag match seem odd but there are 4 faces and 2 heels so someone had to be on the heel team!
Match #6: Impact Knockouts' Tag Team Championships: The Coven (c) (Taylor Wilde & KiLynn King) vs Deonna Purrazzo & Jordynne Grace
Purrazzo and Grace entered separately. They face-off for the Impact Knockouts' Championship at Under Siege in two weeks' time. King and Purrazzo square off to start the match. King tried to take down Purrazzo with a shoulder block but the champ wouldn't go down. Purrazzo hit a running head scissors and an arm drag, locking King's left arm under her. King got to her feet but Purrazzo backed her into the corner and tagged in Grace. Grace and Purrazzo hit a double-team hip toss and then Grace flipped Purrazzo over so she could moonsault King. King powered out after one. She backed Grace into her corner and tagged in Wilde. Wilde hit a running elbow in the corner and tagged King back in. Wilde rammed Grace in the corner and then King took her turn doing the same. King had Grace up on her shoulders but Grace powered out. She wanted the Grace Driver but King broke free. Grace sent her into the turnbuckle and she hit a running knee and a diving uppercut. Grace hit a Vader Bomb on King for a 2 count.
(Commercial break)
Purrazzo was battling Wilde as we returned to the action. King took Purrazzo down with a Flatliner on the ring apron, as Wilde had the referee distracted. Wilde choked Purrazzo down on the mat and covered her for a 2 count. Wilde picked up Purrazzo and whipped her into the corner. Wilde hit a clothesline and tagged in King, who choked Purrazzo using her long legs. King chopped Purrazzo in the corner a number of times. She tossed Purrazzo across the ring but missed another chop in the corner. King pulled Purrazzo by the hair and then hit a Northern Lights suplex for a 2 count. King taunted Grace, who tried to get into the ring. King rammed Purrazzo chest-first against the top turnbuckle and then she tagged in Wilde. Wilde stood on Purrazzo's back as she was hung against the middle turnbuckle. She distracted the referee, so King started choking Purrazzo against the middle rope. Wilde grounded Purrazzo on the mat with a headlock and then nailed her with a knee to the face as she tried to get to her feet. King tagged in again and stomped away on Purrazzo in the corner. Purrazzo got to her feet so Wilde tried to interfere but she crashed into King and then Purrazzo could tag Grace in. Grace hit a scoop slam on Wilde and a messy spinebuster on King. Grace nailed Wilde a Jackhammer on Wilde who kicked out at 2. Grace dumped Wilde to the outside and tried to catch Wilde with a dropkick but King and Wilde caught her and slammed her hard on the ring apron. King threw Grace back in the ring and Wilde hit a big kick to the face. King slammed Wilde on top of Grace for a 2 count. Wilde hit a big forearm but missed an attack in the corner. Grace dumped Wilde on the top turnbuckle and hit an uppercut. Grace hit the Muscle Buster on Wilde but King broke the pin up at the last moment. Purrazzo brawled with King and they spilled out the outside area. Grace pummelled Wilde with shots to the back. They set up a ridiculously obvious spot where Purrazzo stood against the ropes for about 10 seconds so Grace ran against the ropes and knocked her off. Wilde rolled Grace up for a close 2 count. Grace tried the Grace Driver but King prevented it. They hit their double-team Big Boot/spinebuster finisher for the win after 13 minutes.
Winner by pinfall AND STILL Impact Knockouts' Tag Team Champions: The Coven
Analysis: *** That was a solid main event with the age-old story of incidental contact between the face opponents turned team mates, costing them the match. There were a few clumsy moments, just because King is a big taller so some of the moves on her didn't look as smooth as they might on a smaller opponent.
After the match, The Coven continued the beatdown on Grace. Trinity's music hit (no Tron) and she took down Wilde with a Thesz Press. Trinity hit King with the Rear View and Trinity and Grace shook hands in the middle of the ring. The show went off the air with Trinity posing for the fans.
Analysis: An easy way to get Trinity on the show and push her as a babyface. The crowd reacted well to her again and Impact are putting her in a prominent spot early in her run, to show that she's a big deal.
Final Rating: 7/10
It was another solid episode this week. The middle of the show is still proving to be more filler than storyline advancement lately, which shouldn't be happening when you have the names including Bullet Club, Jonathan Gresham, Mike Bailey (stint in Japan, I know), Eddie Edwards, The Motor City Machine Guns etc. on the roster. Again, I know it's a taping but in 2023 you can't have a comedy match and a squash on your only TV of the week. That being said, the wrestling that was given time on tonight's show delivered. The best match on the card was the opener. Kelly and Masha's style meshed really well and they brought a fight to the Impact Zone. I especially liked the ending of the contest, to show how even it was. Rhino challenging for the World Title had its moments and Hannifan should be credited for his commentary here as he made it seem that Rhino stood a chance. Impact are good at mentioning history; something that the WWE commentators have either never wanted to do much or never been good at doing. The main event Tag Team Championship match was a decent encounter with another predictable outcome. It is tricky to book these matches where they throw the champion and challenger in together to cause tension- every company does it in wrestling and it can feel repetitive. Next week, we should see a confrontation between Grace and Purrazzo. I felt like they needed a definitive heel/face in this feud because of the last encounter, but with the stipulation being if Grace loses she doesn't get another shot at Purrazzo, then that doesn't feel as necessary anymore.
The next Impact Plus special, Under Siege, is on May 26th. Here is the card so far: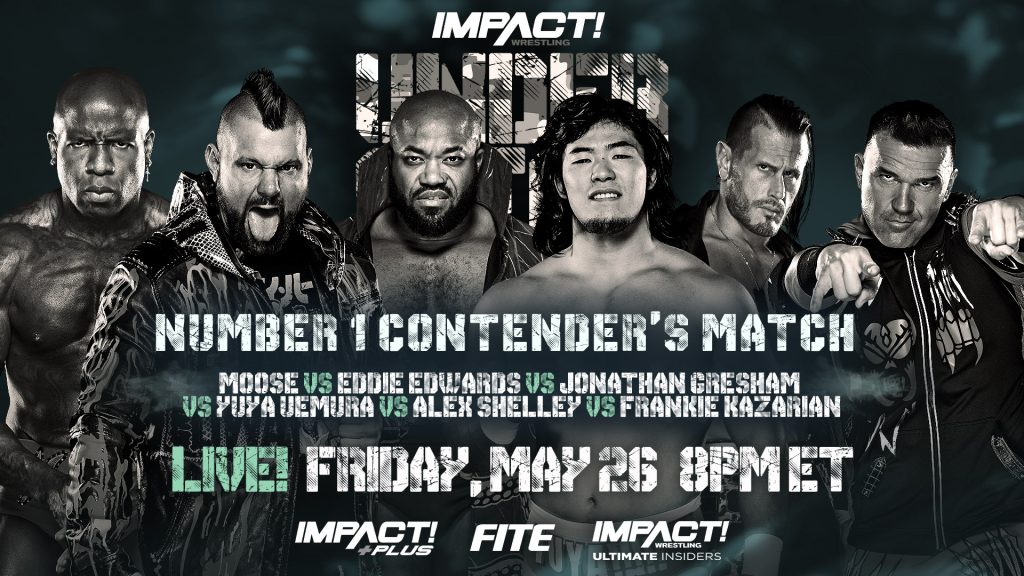 * Impact World Championship: No Disqualification Match: Steve Maclin (c) vs PCO
* Knockouts' World Championship: Deonna Purrazzo (c) vs Jordynne Grace: If Grace loses, she can never challenge Purrazzo for her championship again
* X- Division Championship: Trey Miguel (c) vs Chris Sabin
* #1 Contender's Match for the Impact World Championship: Moose vs Eddie Edwards vs Jonathan Gresham vs Yuya Uemura vs Alex Shelley vs Frankie Kazarian
* Kenny King vs Nick Aldis
* Open Challenge: Trinity vs ?
* I read online that they announced the debut of Subculture (formerly of NXT UK) to take on Bullet Club for the Tag Team Championships. This could've been done in person or using a match to crown a #1 contender. Instead, it feels like an opportunity missed but I am looking to see Webster and Andrews in action in 2 weeks' time.
Any feedback or comments are welcome. My email address is kristian.l.thompson@gmail.com in case anybody wants to get in touch with me and my Twitter handle is @thomok6 as well. Thanks for reading!