Impact Wrestling Review – March 9, 2023
The Knockouts Title was on the line as Mickie James defended the gold against Gisele Shaw in the main event of this week's Impact.
Impact Wrestling 9/3/23 from Sam's Town Casino in Las Vegas, Nevada
The show opened with a recap of last week's main event which saw Bullet Club defeat the Motor City Machine Guns for the World Tag Team Championships.
Let's Hear from Bully Ray
Bully slowly made his way to the ring as the crowd showed their displeasure towards him. They showed clips from the Busted Open Radio live show from No Surrender. Bully ended up throwing 'hot coffee' in Dreamer's face after feigning an apology. Bully can't get past Dreamer's "someone like me" line that he used in his promo. Bully wondered if he meant the two-time Hall of Famer or two-time Impact World Champion 'someone like him'. Bully said he wish he knew what Dreamer meant. What he does know is that he took hot coffee and threw it in Dreamer's face. Bully reminded us that Dreamer challenged him to a Busted Open match at Sacrifice. Bully said he didn't know what that means and it doesn't matter because Dreamer's retina is burnt and he won't even make it to Sacrifice. He said that Dreamer knows he can't fight so he's trying to look tough to impress the fans. Bully says there's no way this match will happen but here comes the Director of Authority, Santino Marella with the interruption. Again he calls Bully 'Bobby Ray' and Bully starts to lose it. The fans start chanting 'Bobby Ray' which is great. Marella says that Dreamer has a minor scolding of his eye and he's making the match official for Sacrifice. Bhupinder Gujjar's music hits next and he's out to confront Bully after being embarrassed in a match against him a few weeks ago. Gujjar says something in Hindi and the fans give him the 'What?' treatment even though he's a face. Marella said that his Hindi is pretty rusty but he's pretty sure he called him a Son a ma gun (yes, I had to type that). Gujjar challenges Bully to a match and it's on now.
Analysis: A decent, yet silly, opening to the show. Dreamer vs Bully doesn't scream instant classic but if there are weapons involved it will be passable. Gujjar has been fronting up to Bully Ray since his loss, so his interruption fits the recent story.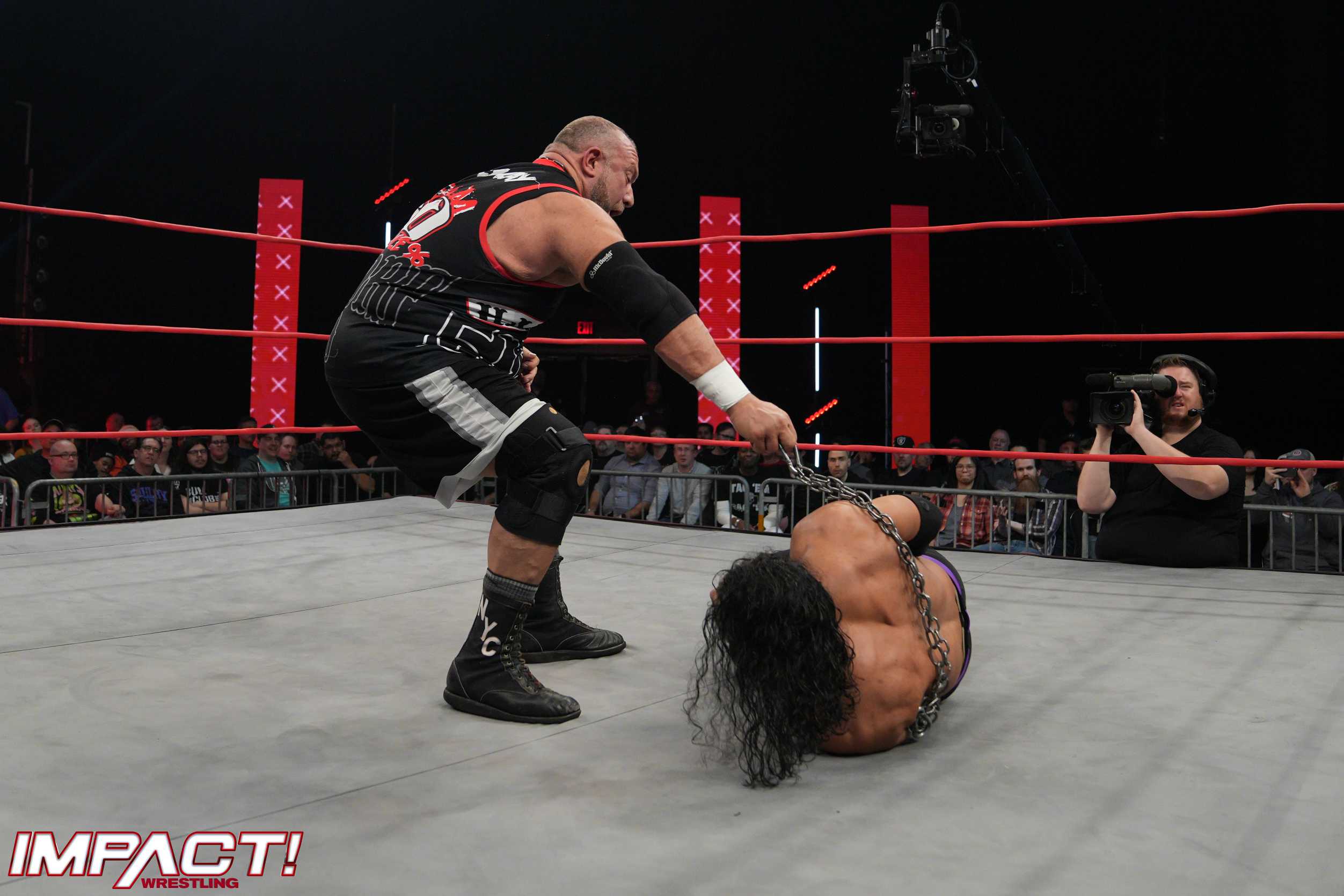 Match #1: Bully Ray vs Bhupinder Gujjar
Bully won't start the match until Gujjar lets him take his jacket off. While Bully is putting his jacket on the floor, he grabs his chain and tries to nail Gujjar like he did a few weeks ago but Gujjar is aware this time and avoids it. Bully takes Gujjar down with a big clothesline. He mocks Gujjar as he chops his down to the mat hard. Gujjar gets up and yells in Bully's face but Bully chops him hard again. Bully nails him for a third time. Gujjar blocks the next one and gets a dropkick in. He takes Bully down with a clothesline and a standing dropkick. Gujjar pumps up the crowd and climbs to the top rope but Bully cuts him off quickly. Bully gets his chain again but Gujjar levels him with a single-leg dropkick. He grabs the chain but Bully nails him with a low blow and the referee calls for the bell after nearly four minutes.
Winner by disqualification: Bhupinder Gujjar
Analysis: **1/2 Just a short match to show that Gujjar had the testicular fortitude to stand up to Bully Ray and that Bully got frustrated so resorted to the low blow because he didn't want the match.
After the match, Bully beat down Gujjar with the steel chain. Dreamer ran in, with Hannifan screaming "Dreamer's here in Vegas" even though they've been taping all the shows there. Dreamer went for the Death Valley Drive but Masha Slamovich snuck in from behind and nailed Dreamer with a low blow. Slamovich handed Dreamer to Bully, who was about to give him the piledriver but Mickie James ran down to the ring. James hit Bully in the back with a kendo stick which did no damage. Bully went for a big boot, but James ducked underneath and took down Slamovich. Bully pulled James off and started choking her with the steel chain until Dreamer chased him away with a steel chair.
Analysis: That was wild. I don't mind adding extra people to this feud because Dreamer is obviously very limited in the ring.
There was a vignette that showed PCO in the desert with a shovel. He was screaming for Eddie Edwards. PCO was screaming that the monster was alive and that he wanted a fight with Edwards.
Analysis: PCO vs Edwards should finally come to a head at the Rebellion PPV in April. It's been much better than I expected.
Rich Swann was chatting with Josh Alexander in the locker room and asked if he wanted to join his team at Sacrifice. Swann said he always has Alexander's back and agreed. Steve Maclin came in and wanted to be on the team too, to ensure Alexander made it to Rebellion in one piece. Alexander declined and said that he has his second partner right here and in walked Frankie Kazarian. Maclin walked off in disgust.
Analysis: Time Machine vs. Alexander, Swann and Kazarian at Sacrifice should be great. Kushida challenges Alexander for the Impact World Championship at Multiverse United, a week later.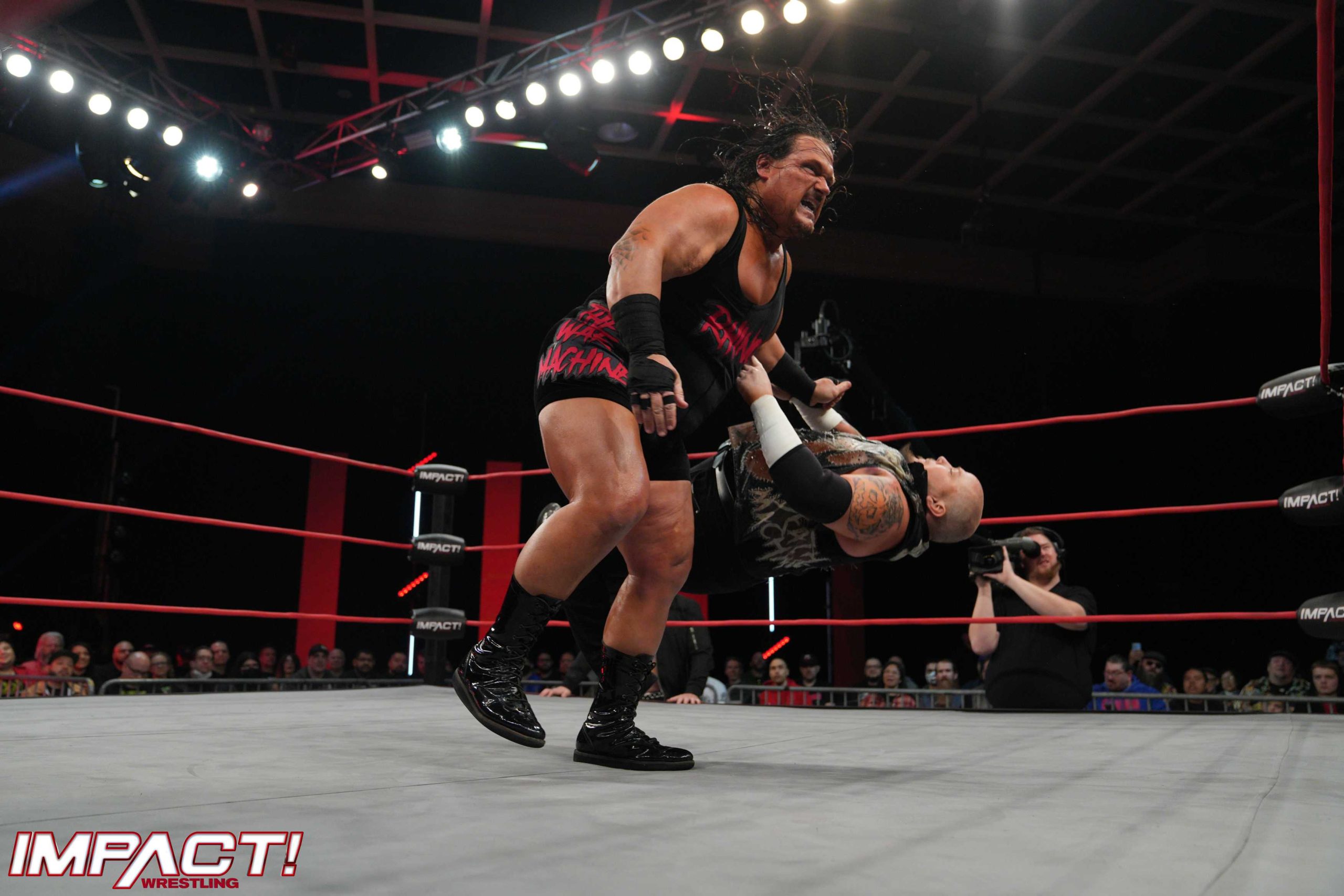 Match #2: Callihan w/ The Design vs Rhino w/Heath
They advertised this as Step 6 in Callihan's initiation but by now I'm confused where he's up to, apart from the fact that he just keeps messing up and costing The Design matches. Rhino and the Gore are still very over with the crowd and he always comes out to a good reception, despite him being almost 50 years of age. They exchanged right hands as the match began. Callihan got the upper hand by raking Rhino's eyes. Rhino shook it off and hit a clothesline, which sent Callihan to the outside. They brawled around the ring and Callihan went back to the eyes. Callihan started chopping Rhino but Rhino tried returning the favour and hit the ring post. Callihan reset the 10 count and then went back outside to brawl with Rhino. Rhino hit a back suplex on Callihan onto the ring apron. He tried for a Russian Legsweep on the ring ramp but Callihan reversed it into one of his own. The referee had to step in and make sure Heath and The Design didn't clash as we went to a break.
(Commercial break)
Callihan was still on top as we returned to the action. He ran at Rhino who caught him with a TKO. Callihan just kicked out at 2, which was the first pinfall attempt in the match. Rhino missed a spear attempt in the corner so Callihan pulled him down to the mat by his hair and Rhino landed hard. Callihan covered but Rhino kicked out at 2. Callihan backed Rhino into the corner. He chopped Rhino and then ran to the opposite corner to prepare for a running attack but Rhino cut him off with a belly-to-belly suplex. Callihan cut off Rhino's Gore attempt with a kick to the face and a clothesline. Rhino kicked out at 2. Rhino blocked the Cactus Driver so Callihan hit him with 3 stiff forearm shots to the chest. Callihan then started biting Rhino's forehead! The referee was checking on Rhino, so Callihan ran against the ropes but Angels tripped him up. Kon nailed Callihan in the head with a steel chair. Rhino hit the Gore for the win after 7 minutes.
Winner by pinfall: Rhino
Analysis: **3/4 It was a slower match as you'd expect between these two. It was more about the finish, which was used to teach Callihan a lesson after his recent mistakes.
After the match, The Design faced Callihan in the ring but then the segment was over. That seemed odd.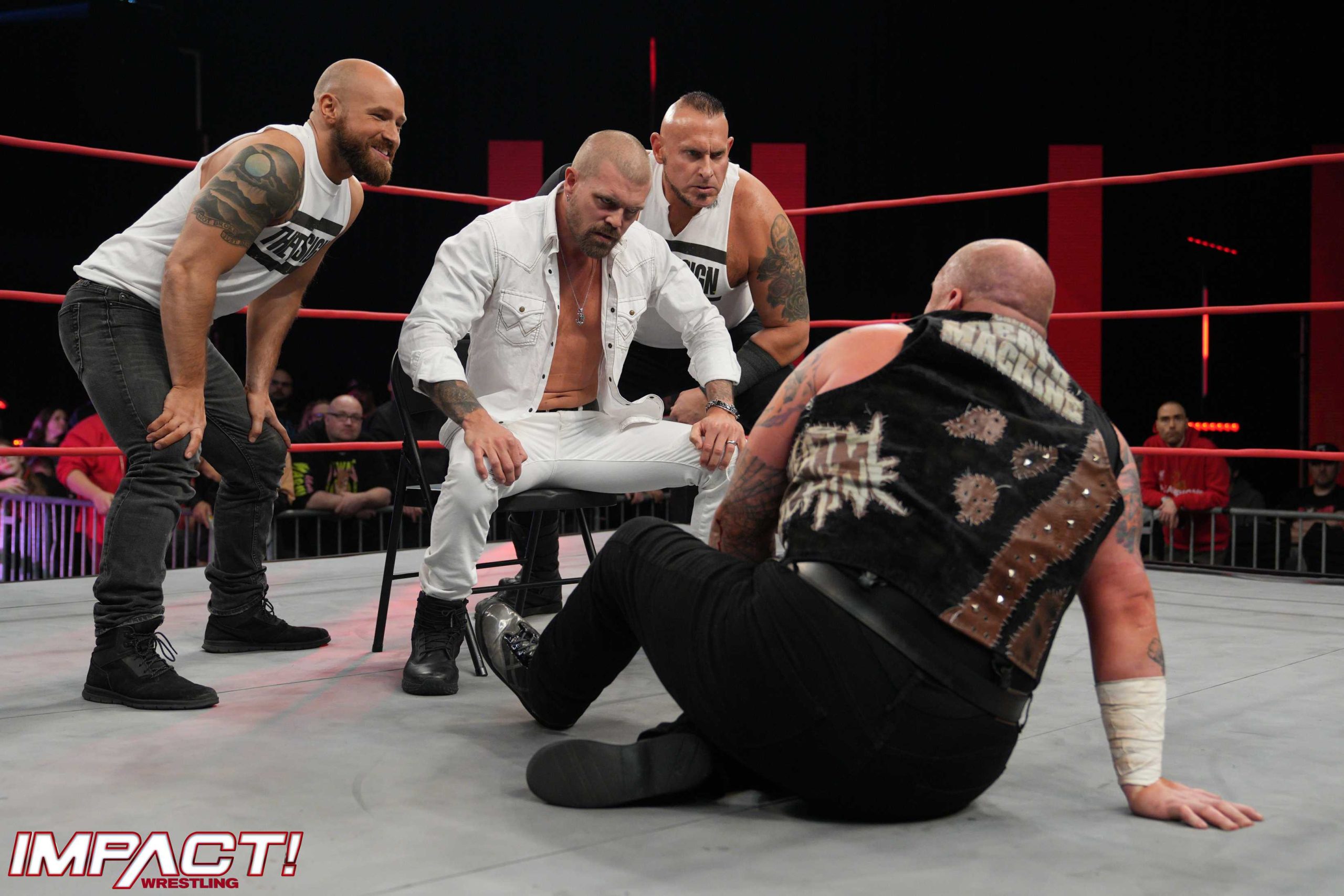 Santino Marella was backstage with Dirty Dango, who still thinks he is Santino's right-hand man. Trey Miguel walked up to them and asked what they were doing for him lately. He says he's done a lot for Impact lately as X-Division Champion. Marella said that at Sacrifice Miguel will have a handpicked opponent. Then at Multiverse United if Miguel is still champion then he will compete in a 6-man match for the title against Clark Connors, Rich Swann, Frankie Kazarian, Kevin Knight and Rocky Romero. Miguel started to mouth off again until Impact's resident buffoons Johnny Swinger and Ziggy Dice crashed into them. Swinger was looking for someone to do the job against him, in order to build up to his 50 wins. Dango told them to back off and that was it.
Analysis: Some good news there for Miguel who needs to be on TV a lot more. That 6-man match will be fantastic.
They showed what happened during the break between Callihan and the Design, which makes sense now after they just seemed to leave the segment right in the middle of it. Deaner held up 6 fingers, showing him that Step 6 in his initiation was complete.
Analysis: Step 6 was punishment I guess!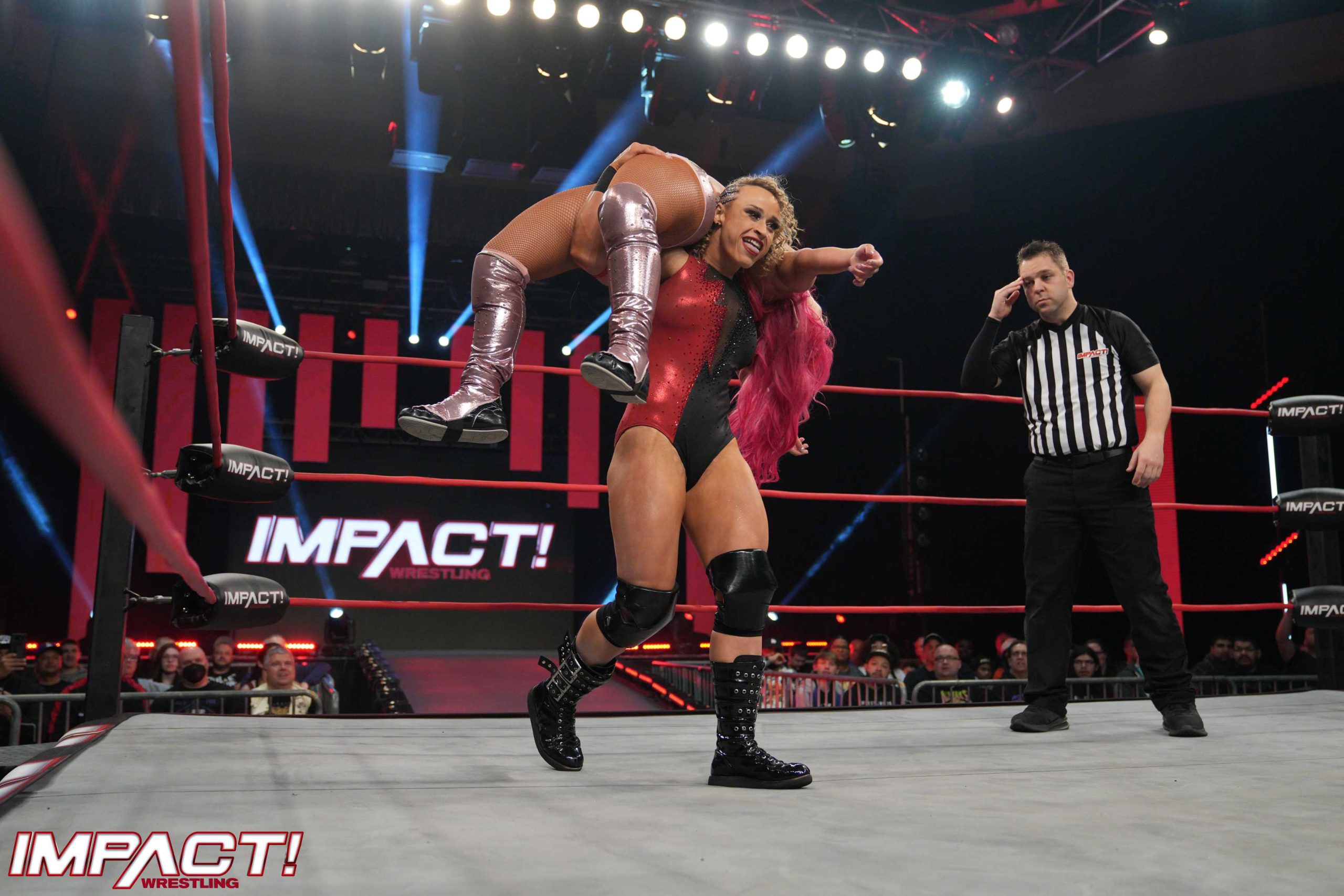 Match #3: Jordynne Grace vs Alex Gracia
Grace will take on the winner of Mickie James vs Gisele Shaw at Sacrifice. Gracia tried a few forearms to start the match but Grace took her down easily with a shoulder tackle. Gracia hit a dropkick and Grace kicked out before 1. Grace whipped Gracia hard into the turnbuckle then caught her mid-air and nailed a German Suplex. Gracia kicked out at 2. Gracia blocked the Grace Driver and backed into the corner. Grace landed a hard right hand and then hit a spinning powerbomb. Grace nailed the Grace Driver for the win after 3 minutes.
Winner by pinfall: Jordynne Grace
Analysis: *3/4 Just a quick match to put over Grace as a dangerous challenger for James. There were a few sloppy moments and maybe some miscommunication but they got there in the end. It has not been a good wrestling night so far.
Joe Hendry was cracking jokes with some fans when Moose walked in looking serious. Hendry introduced him as Dancing Moose and the fans chanted for that. Brian Myers attacked Hendry from behind and they double-teamed him. Moose bounced Hendry's head off the locker. Myers asked if Hendry wanted to play games and smashed his head against the locker again. Myers said the Digital Media Championship belonged to him.
Analysis: The Moose/Myers off and on-again alliance continues.
Bullet Club were entering the building and were congratulated by some wrestlers including Shane Haste, and then Alexander, Swann and Kazarian. Ace Austin said that after they beat Time Machine at No Surrender, that should be a walk in the park for Alexander and co. Austin wondered why they didn't challenge Bullet Club to a match. Kazarian said why don't they get some preparation in before Sacrifice and challenged Bullet Club to a 6-man tag next week. Bey put them over as the best faction in wrestling and said they aren't a warm-up act.
Analysis: That's a bigger match than the Sacrifice match. Hopefully there's a dodgy finish because neither team should lose that. They won't book Alexander's team to lose, but Bullet Club shouldn't take a loss after just becoming champs.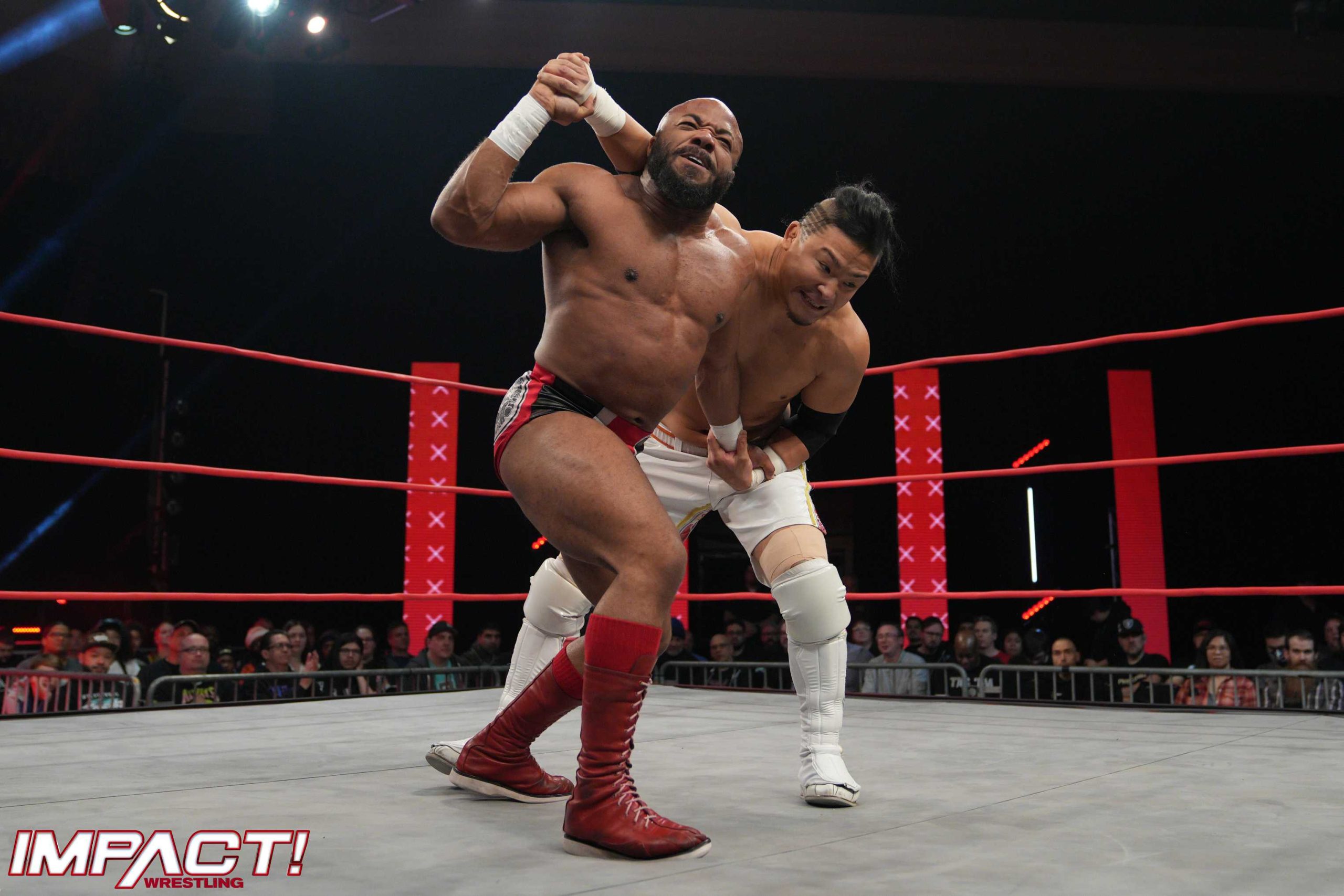 Match #4: Jonathan Gresham vs Kushida
Surely the wrestling quality on the show will pick up now! They shake hands as the match begins. There's a lot of grappling and countering at the beginning of the match. Hannifan lets us know that Gresham is 9-1 since he returned to Impact. Gresham avoids a kick, as they continue to feel each other out. Kushida rolls through for a 1 count and tries a Half-Nelson, then turns it into an arm lock. Gresham avoids the Kimura and reaches the ropes. Gresham applied his own arm lock in the centre of the ring and was able to hold Kushida's shoulders down for a 1 count. Kushida got to his feet and Gresham applied the pressure even further. Gresham countered the reversal and continued to wrench at the left arm. Kushida countered with a leg sweep and then a head scissors. Kushida stomped on Gresham's hand as the first offensive move of the match. Kushida hit an awesome stalling German suplex but Gresham absorbed the move and tried to lock in his own Kimura Lock. Kushida tried to break the grip and apply the arm bar. Gresham tried to roll his weight over and put his foot on the rope to break the hold. The fans were appreciating this very technical match. Kushida hit a running dropkick to the arm of Gresham. Gresham caught Kushida by surprise with a cradle pin for 2. Gresham hit a knee drop and another roll up for 2. The referee did a great job at checking that the shoulder of Kushida was up for the next pinfall attempt. Both men were struggling at this point. They both used forearms to the injured left arms of their opponents. Kushida hit a big kick to the back and tried a running shoulder tackle but Gresham wouldn't go down. Gresham tried to bounce off the ropes but his shoulder was giving him too much grief. Kushida locked in the Hoverboard Lock and Gresham tapped out immediately. The match went a bit over 10 minutes.
Analysis: ***1/4 That was a very technical match that won't be everyone's cup of tea but I enjoyed how even it was and the counter wrestling that was involved. Kushida winning was obvious since he has a championship match at Sacrifice. Even though he targeted the left arm throughout, I thought Gresham tapping out immediately made him look weaker than it needed to. Have him fight for at least a few seconds. The commentators kept calling it a technical masterpiece which is a stretch. Another 10 minutes and they could've delivered something special.
We went to 'live action' with Eddie Edwards who was being driven out in the desert to confront PCO. They're going to show us more of that later.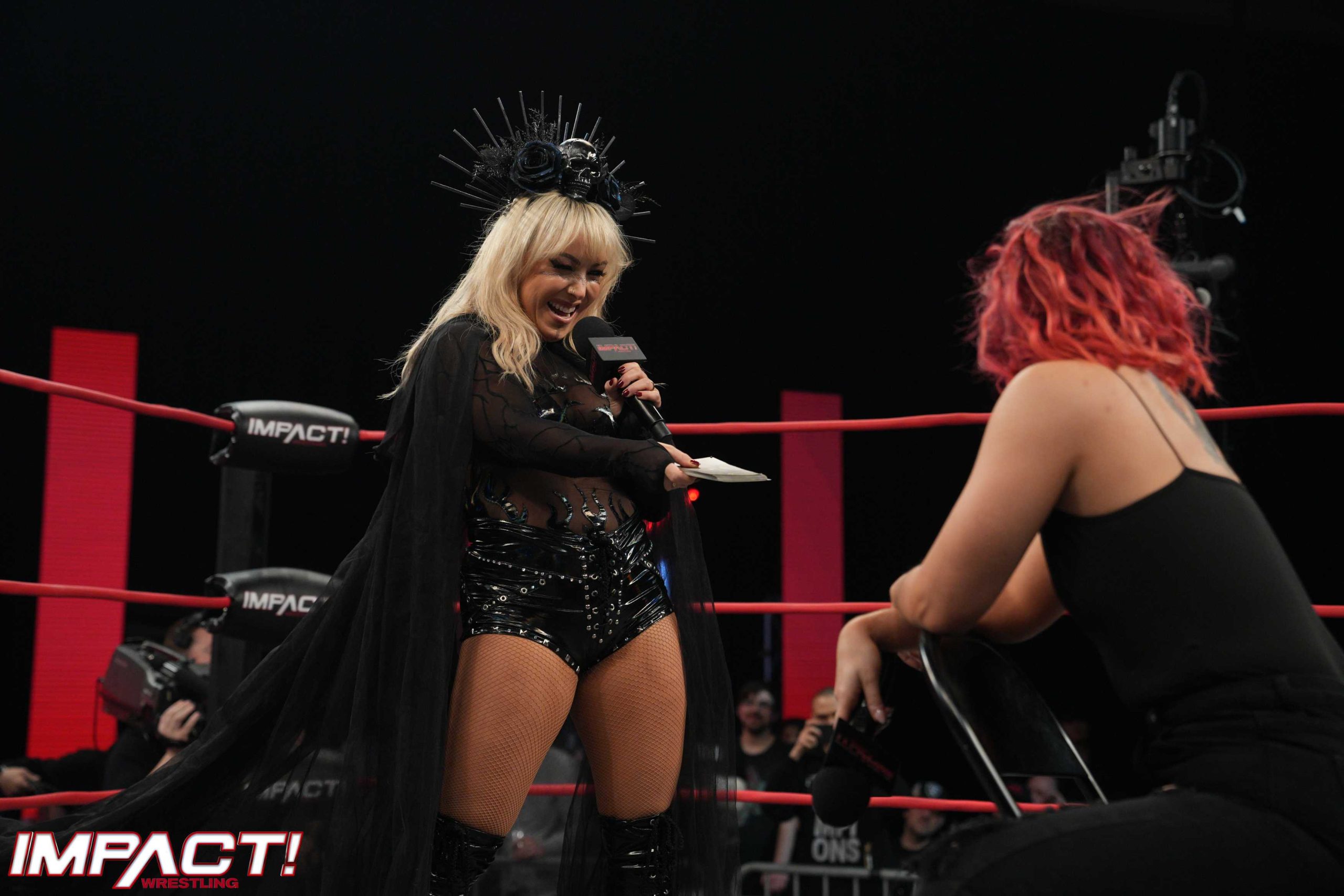 Killer Kelly was in the ring for a promo. We haven't seen much of her lately. She sat down on a steel chair for it. She was holding the microphone too far away from her mouth which made it hard to hear the start. Kelly didn't appear to have an accent, which I thought she had previously. She said she was sick of Taylor Wilde and her tarot cards. Wilde came out and said she wasn't here to play games. She asked Kelly to pick a card, but Kelly wasn't interested in that. Kelly threw the steel chair away and got fired up. Wilde said if Kelly doesn't choose her own fate, Wilde will for her. She showed her the tower card which signifies big change and chaos. This led to KiLynn King hitting the ring and nailing Kelly with the steel chair in the back. King has had some stints in NJPW, AEW and NWA. King nailed Kelly with a reverse Death Valley Driver.
Analysis: It's clear that they're pushing Kelly as the face in this feud now. King is an impressive figure and that was a good way to debut her. Her one match in Impact was actually a loss to Wilde on the YouTube pre-show just before Christmas. Fun fact.
PCO was shown smashing his shovel on a rock in the desert. Intimidating!
Killer Kelly was backstage looking sore after what just happened in the ring. The Death Dollz showed up and told her that witches can't be trusted. Rosemary said Kelly needed to know better. She said that if Kelly needed help, she could find them. Kelly said she appreciated that, but she's not afraid of Wilde and King. Wilde then walked in and asked if Rosemary was jealous. She said that Rosemary could always stop them if she wanted. Rosemary challenged King and Wilde to a tag match for the Knockouts' Titles. King accepted.
Analysis: That was painful. I wouldn't have minded a Death Dollz-free episode but it's not to be.
Eddie Edwards was shown walking in the desert with a weapon in hand. It was shown in the cinematic-style that we saw from the no-audience era. PCO crept up behind him like the famous Undertaker-AJ Styles meme and tried to take Edwards down. They fought over the lead pipe and then PCO missed with a shovel shot. Edwards choked PCO with the shovel. PCO fought him off and nailed a reverse DDT on the ground. PCO sat up like a madman and dragged Edwards over to a hole that he had dug. PCO told Edwards that he was going to bury him now. They showed Edwards in the hole which was barely even a puddle. PCO was about to destroy Edwards with the shovel when PCO got run over by a car. Edwards got in the passenger side and told the driver to go. PCO was left in the desert.
Analysis: That was silly but I still liked it. I'm not sure if they will run with a whodunit angle or align Edwards with the driver, or if it was just his driver who Edwards told to take him out. They still haven't announced a match yet.
Next week on Impact:
– Steve Maclin vs Heath
– Mike Bailey & Jonathan Gresham vs Crazzy Steve & Black Taurus
– Knockouts' Tag Team Championships: Death Dollz (c) vs The Coven (KiLynn King & Taylor Wilde)
– Bullet Club vs Josh Alexander, Frankie Kazarian & Rich Swann
Analysis: A big positive about tapings is that there is no excuse not to promote next week's show and this looks like a good one. The Hex had one match and we are already onto a new women's heel stable in The Coven.
Deonna Purrazzo is joining the commentary team for the main event. She's had her issues with Gisele Shaw as of late.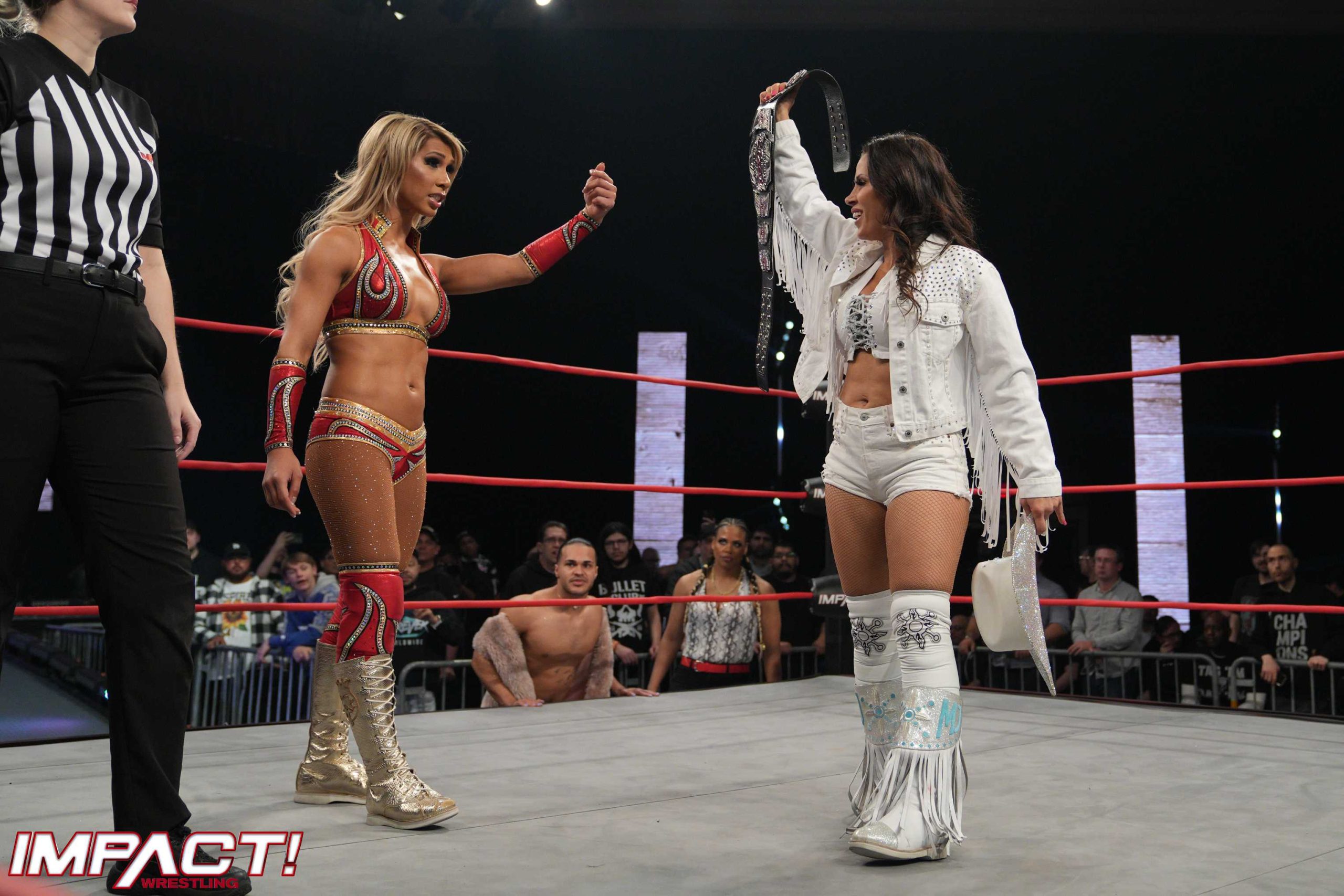 Match #5: Impact Knockouts Championship: Mickie James (c) vs Gisele Shaw w/ Jay Vidal & Savannah Evans
The winner of this match will defend against Jordynne Grace at Sacrifice in two weeks. James took the advantage early on with a headlock takedown. Shaw countered into a grounded headlock, which James kipped up out of. They squared off again but Shaw need some counsel so backed off into her corner for a bit. James targeted the left arm but Shaw used her athleticism to reverse it. Shaw pulled James down by the hair and taunted her. Shaw threw James out of the ring and tried for a baseball slide but missed. James hit a neckbreaker on the outside as we went to a commercial.
(Commercial break)
Mickie was choking Shaw out in the corner as we returned to the action. James with a hard kick on Shaw, but then Shaw turned it around and chopped James hard in the corner. James fought back with forearms. Shaw whipped James across the ring and hit a double stomp in the corner. She covered for a 2 count. They exchanged forearms and then slaps. James hit a Thesz Press and mounted Shaw with right hands. James was distracted by Vidal so Shaw hit a big forearm to the face of James. Shaw chopped Mickie hard in the corner and then rubbed her face all over the mat. Shaw taunted the fans and there were a few cheers for her over the boos. James fought back after Shaw spent too much time taunting. Shaw was able to lock in a modified Camel Clutch, close to the ropes. Shaw pulled James up by the hair and hit a knee to the ribs. James avoided an attack in the corner and hit a head scissors and a clothesline. James hit a flying forearm and a flapjack as she took control. She went to the top rope but Shaw rolled out of the ring. James quickly launched herself off to take out Vidal and Evans. Shaw got up and nailed a big boot on James. She rolled her back in the ring and covered for a 2 count. Shaw backed James into the corner and started chopping away. She hit her running uppercut in the corner. Shaw hit another one and then bounced off the ropes for a third uppercut. Shaw covered but James kicked out at 2. Shaw was starting to get frustrated so she grabbed James by the hair and slammed her down hard to the mat. Shaw stomped down hard on the lower back of James. James tried to fight back with forearms but haw hit a hard slap to the face. James took offense to this and returned serve. They ran at each other and clashed heads. Both women got to their feet around the 8 count. Shaw recovered first and hit a hard right hand. They exchanged rights and James hit a sequence of kicks, then a flying forearm. James hit a thrust kick to the face of Shaw and another flapjack. James headed back to the top and hit the Thesz Press with a cover for a 2 count. James measured Shaw for the Mick Kick but she moved and hit a superkick. Shaw went for a running knee but James ducked. James set up for the MickDT but Vidal got up on the apron. Purrazzo left commentary and took Vidal down. Evans got into the ring so Shaw tried to sneakily roll up James but Purrazzo jumped in and reversed the pin and the referee counted the 3. James retained after 13 minutes.
Analysis: *** It was a solid main event with a chaotic ending. James probably had Shaw pinned for about a 10 count so the referee was a little slow in getting over there. This made Shaw look like a little bit of a loser, being pinned for so long, but I think they just got their timing off. Purrazzo assisting James was her getting her revenge against Shaw.
After the match, James held up her title whilst Shaw looked furious. Purrazzo looked pleased with herself.
Final Rating: 6/10
It was a pretty average episode of Impact this week. The first half of the show was promo and backstage heavy, with 3 short matches that were just okay. The show picked up in the second half with Gresham/Kushida wrestling a very technical match and then the women's main event was good enough but probably underwhelmed for my expectations. It was pleasing to see KiLynn King as another addition to the women's division, possibly now that The Hex are gone. I'm not sure if they were on a short-term deal or not. It can get frustrating trying to keep up with the random appearances of some talent, as they tape a few episodes at once then they disappear for a while. The build to Sacrifice continued and now we know Josh Alexander's team mates and that Dreamer vs Bully Ray is set. I'm looking forward to the Multiverse United show on March 30th where Alexander will defend against Kushida. The next Impact-Plus special is Sacrifice on March 24th. Here's what we know so far:
* Knockouts Championship: Mickie James vs Jordynne Grace
* 6-Man Tag match: Josh Alexander, Rich Swann & Josh Alexander vs Time Machine
* Busted Open match: Bully Ray vs Tommy Dreamer
Any feedback or comments are welcome. My email address is kristian.l.thompson@gmail.com in case anybody wants to get in touch with me and my Twitter handle is @thomok6 as well. Thanks for reading!