Impact Wrestling Review – March 16, 2023
The Knockouts Tag Team Titles were on the line and a big 6-man tag team match headlined this week's episode of Impact Wrestling.
Impact Wrestling 16/3/23 from Sam's Town Casino in Las Vegas, Nevada
The show opened with a recap of last week's showdown in the desert between PCO and Eddie Edwards, which ended up with PCO being run over by Edwards' driver. There were also highlights of Impact World Champion Josh Alexander assembling his team for Sacrifice, as well as Mickie James successfully defending her Knockouts' Title against Gisele Shaw.
We are straight into the action tonight with tag team action.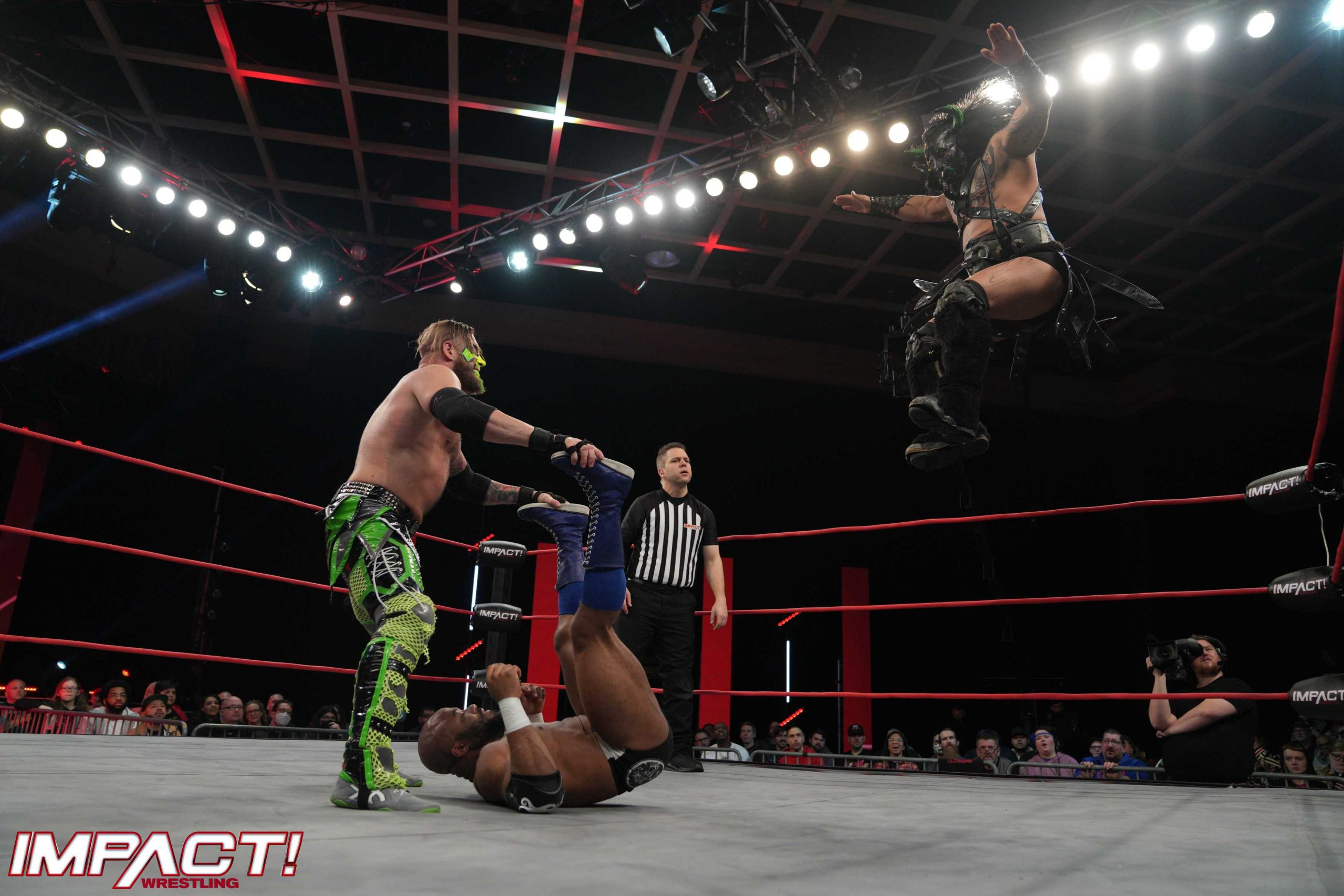 Match #1: Mike Bailey & Jonathan Gresham vs Decay (Black Taurus & Crazzy Steve)
Gresham and Bailey faced each other on the No Surrender pre-show, which saw Gresham pick up the win. This is a randomly put together tag team match, however. None of these wrestlers are currently on the Sacrifice card, which is live next Friday in Windsor, Ontario, Canada. Steve and Gresham kick things off in the ring, with Gresham trying to apply the Octopus immediately. Steve battles to the ropes and starts biting Gresham's hand. Bailey runs in to help out but is cut off by Taurus who tosses him over the top rope. Taurus and Steve stomp away on Gresham in the corner and Taurus tags in. Steve hits a Russian Legsweep and Taurus nails a diving legdrop which was perilously close to a low blow on Gresham. Taurus targets the left arm and tags Steve back in, who goes back to biting Gresham. Gresham avoids a corner attack and tosses Steve out to the ring apron. Steve holds on and gets kicked in the face by Taurus, who was aiming for Gresham. Gresham crawls to his corner but Taurus tries to cut him off and takes a dropkick for his troubles. Steve tags back in and Bailey goes to work on him with a series of kicks and a running Shooting Star Press for a 2 count. Steve catches a kick and bites the toes of Bailey, as he wrestles barefoot. Steve nails Bailey with a hard clothesline in the centre of the ring. He makes the tag to Taurus but Taurus takes out Gresham before Bailey can tag him in. Taurus unloads on Bailey in the corner with clotheslines. He hits a huge backbreaker and then a Samoan Drop but Gresham breaks up the pin. Gresham dumps Steve out of the ring but Taurus nails him with a huge headbutt. Gresham pulls Bailey out of Destination Hellhole and connects with a springboard moonsault on Taurus. Bailey hits a springboard moonsault to the outside to take out Steve. Back in the ring, Bailey hits a double-knee stomp on Taurus and then a big kick to the head for only a 1 count. Gresham nails a huge forearm to the back of Taurus' neck but Steve tackles Gresham to break up the pinfall. Gresham tosses Steve to the outside. Bailey lines up Taurus in the corner and nails the Tornado Kick. Bailey nails Ultima Weapon on Taurus for the win after 7 minutes.
Winners by pinfall: Mikey Bailey & Jonathan Gresham
Analysis: ***1/2 That was a hectic match, where a lot happened in 7 minutes of action. I would've really enjoyed another 5 minutes. The ending seemed to just happen out of nowhere so I'm not sure if there was some miscommunication or something but it felt rushed.
After the match, Bailey and Gresham shook hands after having a brief face-off.
Backstage, Gia Miller was with Impact World Champion, Josh Alexander, and his Sacrifice teammates, Frankie Kazarian and Rich Swann. They face Bullet Club tonight, before taking on Time Machine at Sacrifice. Alexander defends his championship against Kushida at Multiverse United. He lists all of the titles that the trio have won. He says they're more successful than the two other teams. Steve Maclin arrives for another interruption. Maclin calls Alexander's team the Pity Team because they're no longer threats to the World Title. Maclin says he's the #1 contender and the main threat, which he will prove at Rebellion. Alexander tells Maclin that he's all talk and Maclin walks off.
Analysis: Another interruption for Maclin, which we are used to now. He continues to try and get under the skin of Alexander and friends. Alexander will face Maclin at Rebellion, if he can get past Kushida first.
Gisele Shaw is interviewed backstage with her entourage. Shaw says she wasn't unsuccessful last week, she was screwed over by Deonna Purrazzo. Shaw says Purrazzo is jealous because Shaw beat her and Purrazzo doesn't have a Head of Security like Jay Vidal. Shaw begins to challenge Purrazzo to a match at Sacrifice but Johnny Swinger and Ziggy Dice interrupt. Dice is looking for an opponent for Swinger's first victory on his road to 50 wins. He looks at Evans and decides she's too tall. Dice tells Shaw that she's too mean then asks if Gia Miller is ready to lace up the boots for a match? Miller looks terrified then Vidal takes a shot at Swinger's dress style so Dice proposes Swinger vs Vidal. Swinger says he can beat Vidal in less than a minute.
Analysis: Ugh. They should've just focused on Shaw vs Purrazzo. I'm so over the 'comedy' of Dice and Swinger. It's cringe-worthy at the best of times.
Match #2: Steve Maclin vs Heath
At Rebellion, Maclin will face the winner of Kushida vs Alexander at Multiverse United for the Impact World Championship. They lock up and Maclin traps Heath in the corner. Heath applies a side headlock and takes down Maclin with a flying forearm. He hits another one in the corner and then the opposite corner. Maclin fights back with a back elbow and then chops away at Heath in the corner. Maclin bounces Heath's head off the turnbuckle but Heath fights back with a chop and some right hands of his own. Maclin ties up Heath in the ropes with another chop then a knee smash. Maclin grounds Heath with a big clothesline. He runs at Heath but is launched over the top rope, to the outside.
(Commercial break)
Back from the break and Maclin hits a knee which sends Heath to the outside. Maclin bounces Heath's head off the steel steps at ringside. Maclin mouths off to the crowd about being the #1 contender. He goes back into the ring to break the referee's count. Back on the outside, Maclin kicks Heath and then rolls him back into the ring and gets a 2 count. Maclin chokes out Heath in the ropes and then hits a running knee. Maclin slingshots Heath against the bottom rope and scores another 2 count. Maclin wrenches at the face of Heath. Heath gets to his feet and fights back with right hands. Maclin ducks one and nails a back breaker for a 2 count. Maclin continues to target the back with a couple of knee drops off the middle rope. He tries to apply an Abdominal Stretch in the middle of the ring. Heath starts to fade but manages to turn it into a hip toss. Heath hits a leg lariat and a powerslam. He covers but Maclin kicks out at 2. Heath avoids a back suplex then hits a spinebuster of his own to get a close 2 count. Heath tries the Wake Up Call but he's too close to the corner so Maclin ties him up in the Tree of Woe. Maclin hits a spear in the corner and then the KIA for the win after 8 minutes.
Winner by pinfall: Steve Maclin
Analysis: ***1/4 A good competitive match between two of the more consistent wrestlers in Impact. I liked the ending sequence which showed that Maclin can win a match quickly and out of nowhere. His KIA is what Moxley's Dirty Deeds used to be, before he ruined it in AEW.
The Death Dollz were backstage, ahead of their Tag Team Title defence later on in the show. They discussed how easily they got rid of the Hex and now it's time to rid Impact of Taylor Wilde. Valkyrie was a little more worried about the Coven and thought that Jessicka should stay out of the match. She was worried about Jessicka finding out that she's really Havok.
Analysis: Thankfully, I know how this story ends!
PCO was shown staggering around Las Vegas screaming for Eddie Edwards. That was it.
Analysis: He's (STILL) alive! The feud continues.
Mikey Bailey and Jonathan Gresham were backstage discussing their tag team victory earlier in the night. Gresham calls Bailey his sidekick. Bailey hasn't forgotten his loss at No Surrender and challenges him again at Sacrifice. The match is on.
Analysis: Hopefully it's not on the pre-show and they get 20 minutes.
Match #3: Johnny Swinger w/ Ziggy Dice vs Jay Vidal w/ Gisele Shaw & Savannah Evans
How they think this is a good way to use part of their only TV-time of the week, I'll never know. Swinger wants a test of strength but Vidal dropkicks him right in the face. Vidal hits an atomic drop and a scoop slam. Vidal hits a running elbow and feigns a dropkick in the corner, then slaps Swinger in the face. Swinger pulls Vidal face-first into the top turnbuckle. Vidal quickly fights back with a flurry of turnbuckle shots of his own. He climbs to the top but Dice grabs him by the leg. The referee sends Dice to the back. Swinger hits a running knee to the back of Vidal, whilst he's distracted. Swinger locks in the Camel Clutch but Evans pulls Vidal out of the ring, so the referee sends Shaw and Evans to the back too. Deonna Purrazzo runs down to the ring and takes out Shaw. Evans tosses Purrazzo around the ringside area and then security came and broke it up. Inside the ring, Vidal hits a running kick to pin Swinger after 4 minutes.
Analysis: *1/2 At least it featured Purrazzo vs Shaw a little more. That match is official for Sacrifice now. I would much rather watch Vidal fight than some of the other jobbers they line up.
The Design are shown on a pre-taped promo. Deaner said that Callihan joined because he wanted to become something bigger than himself. For 5 deadly steps, Callihan has earnt their trust. Deaner said that since day one, he has heard people say that this has all been a ploy of Callihan to infiltrate the Design. Callihan interrupts and asks how he's supposed to progress with them screwing him over. Deaner says step 6 was about Callihan taking his punishment like a man. They haven't forgotten Callihan costing Kon the match against Kazarian at No Surrender. Callihan says that if taking his punishment is what it takes, then so be it.
Analysis: The (very) slow burn continues.
PCO is shown walking the streets of Vegas again, still holding the shovel in his hand. He is shown at the entrance of Sam's Town and continues to scream for Edwards.
Analysis: PCO is here and he's coming for Edwards.
Mickie James was backstage with Tommy Dreamer. It's James and Dreamer vs Masha Slamovich and Bully Ray next week. James doesn't think that's a good idea, seeing as Dreamer faces Bully the next night at Sacrifice. #1 contender Jordynne Grace enters the conversation and asks James if it's a good idea for James to be in match seeing as Grace faces James the next night, too. Grace says if James isn't careful, she's going to wind up tapping out…again.
Let's Hear from Eddie Edwards
Edwards takes the mic and discusses what's happened since the disbanding of Honor No More. He has made a conscious decision to leave the past in the past. Edwards says that it's time for him to focus on himself and his future in Impact Wrestling. He has been trying to do this but he says the people and PCO will not let him move forward. Edwards says it's time for everything with PCO to come to an end. He says that after last week's rundown of PCO, he can safely say that things with PCO are officially over. Obviously, Edwards hasn't been in the arena to see the PCO vignettes that have aired tonight. Edwards played the video of 'the death of PCO' from last week and bragged about taking him out. The lights went out and the thunder and lightning of PCO played. PCO's music hit and he made his way to the ring. Hannifan was going berserk. Kenny King jumped PCO from behind and smashed him in the back with the shovel. King choked out PCO with the shovel. King and Edwards gave PCO a suplex on the entrance ramp. PCO sat up and tried a double chokeslam but they blocked it. PCO choke-slammed King on the ring apron. He went to chokeslam him on the steps but Edwards nailed PCO in the back with a steel chair. PCO turned around and punched the chair into the head of Edwards. King nailed PCO with a few kicks to the head from the apron then Edwards nailed him with a superkick. They threw PCO into the steel steps. PCO was bleeding from the back of the head now. Edwards ripped at the wound of PCO. They trapped PCO against the ring post with the steel steps and hammered away at him. PCO powered out and clotheslined Edwards. He went after King in the ring and tossed him out. He went after Edwards again but Edwards had a kendo stick and nailed PCO in the head. King hit the Blockbuster off the top rope to take PCO down. King choked PCO with the kendo stick and then Edwards nailed him with the Boston Knee Party, as King held the chair against PCO's head. King held the chair against PCO's head and Edwards smashed it with the kendo stick. King mocked PCO with some funny monster walking. Edwards' music played as he and King celebrated.
Analysis: I guess we can assume that King was the driver of the vehicle from last week. I think this was a pretty good segment. PCO kept fighting back and showed why he is so popular with the fans. Call me crazy, but I continue to enjoy this storyline even though it has been going on for months. Having King and Edwards back together again gives King some purpose for once.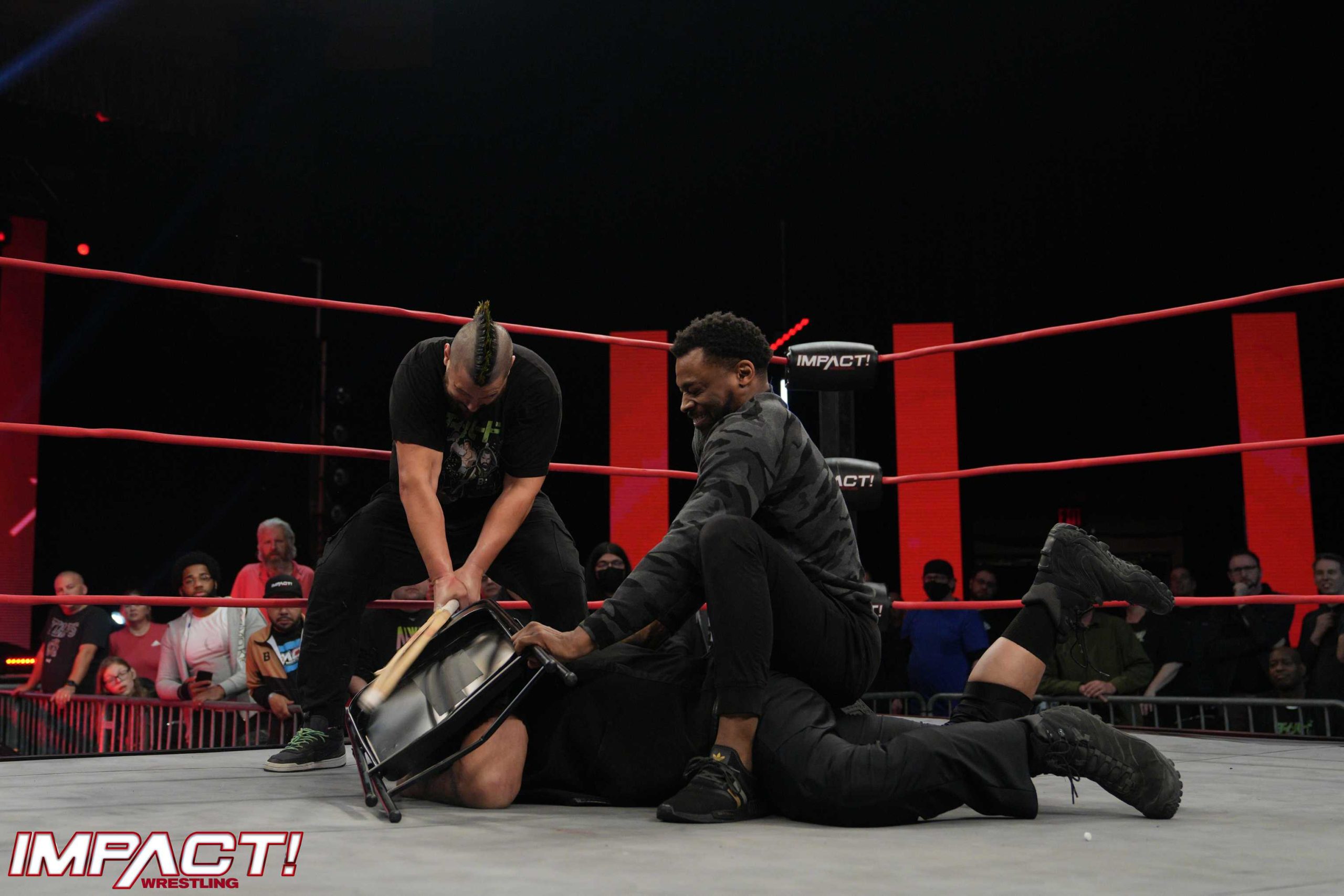 Director of Authority, Santino Marella, was backstage hanging out with his old-tag team partner Vladimir Kozlov (!) when Dirty Dango walked in. Dango wanted to know who that was and Marella said that he couldn't 'say his name' and Joe Hendry popped up with entrance music. Marella asked if Hendry was standing there the whole time. Hendry wants to invoke Brian Myers' rematch clause so that Hendry can get revenge on Moose and Myers at Sacrifice. It's Myers vs Hendry for the Digital Media Championship at Sacrifice. Dango said it was an honor to meet Hendry and rambled on about being there for Hendry if he needed a partner against Moose and Myers. Dango said he was nervous about meeting Hendry. Marella makes the tag match for next week. Dango was trying to play it cool but he was very excited. Dango tried to hang out with Hendry later on but Hendry said he had plans.
Analysis: More lame comedy but it seems to work with Marella. That's 3 more matches made for Sacrifice tonight.
Match #4: Impact Knockouts' Tag Team Championships: The Coven (Taylor Wilde & KiLynn King) vs Death Dollz (Rosemary & Taya Valkyrie)
The Coven are out first, looking confident. Jessicka accompanies Valkyrie and Rosemary, but will not be wrestling tonight. King and Valkyrie face-off as the match begins. King dumps Valkyrie to the mat early, with her strength. Valkyrie comes back with a hip toss but misses a corner attack. She bounces off the ropes and hits a crossbody for a 1 count. Valkyrie hits a back elbow in the corner and tags in Rosemary, who hits an exploder suplex. Wilde tags in and hammers away on Rosemary. Rosemary starts biting Wilde on the face, which seems to be a theme in a few matches tonight. King intervenes and breaks it up. Valkyrie and Rosemary work together to dump both King and Wilde out to the floor.
(Commercial break)
King is hammering away on Rosemary as the action returns. Rosemary fights out of a headlock, but King pulls her down by the hair. King backs Rosemary into the corner and tags in Wilde. Wilde chokes Rosemary against the top rope, which looked rather painful. Wilde chops Rosemary against the ropes. She whips Rosemary hard against the corner turnbuckle and then hits a big forearm. Wilde follows up with another one. She taunts the crowd too much and runs into a Tarantula from Rosemary. Wilde makes it to King for the tag. Rosemary kicks King off and tags in Valkyrie. Valkyrie takes down King with a clothesline and a modified Blue Thunder Bomb for 2. They exchange strikes until Valkyrie whips her into the corner and hits a running elbow. Valkyrie with a hip attack in the corner and then a running double knee strike. Valkyrie covered and got another 2 count. Valkyrie missed a running attack so Wilde attacked her in the ropes. King capitalised with a stalling German suplex, but Rosemary broke up the pin. Wilde got into the ring so Rosemary speared her. Valkyrie and Rosemary set up for a double team on King, but Wilde pulled Rosemary to the outside. Valkyrie went for the Road to Valhalla but King reversed it and almost scored the 3 count. Wilde got up on the apron, so Valkyrie knocked her down. King with a big kick to the head of Valkyrie and a Pumphandle suplex for the pinfall win after 7 minutes.
Winners and NEW Impact Knockouts' Tag Team Champions: The Coven
Analysis: **3/4 That result was obvious if you've seen the news this week that Taya Valkyrie joined AEW this week. She was on Dynamite this week (Wednesday) then dropped the titles on Impact (taped; Thursday). It's probably a good move for her in terms of money, but I don't think it's a great move career-wise. I think she will just get lost in the shuffle in AEW's women's division, that isn't on TV much to begin with. The match was fine, with lots of interference, and I'm happy that the reign of the Death Dollz is finally over.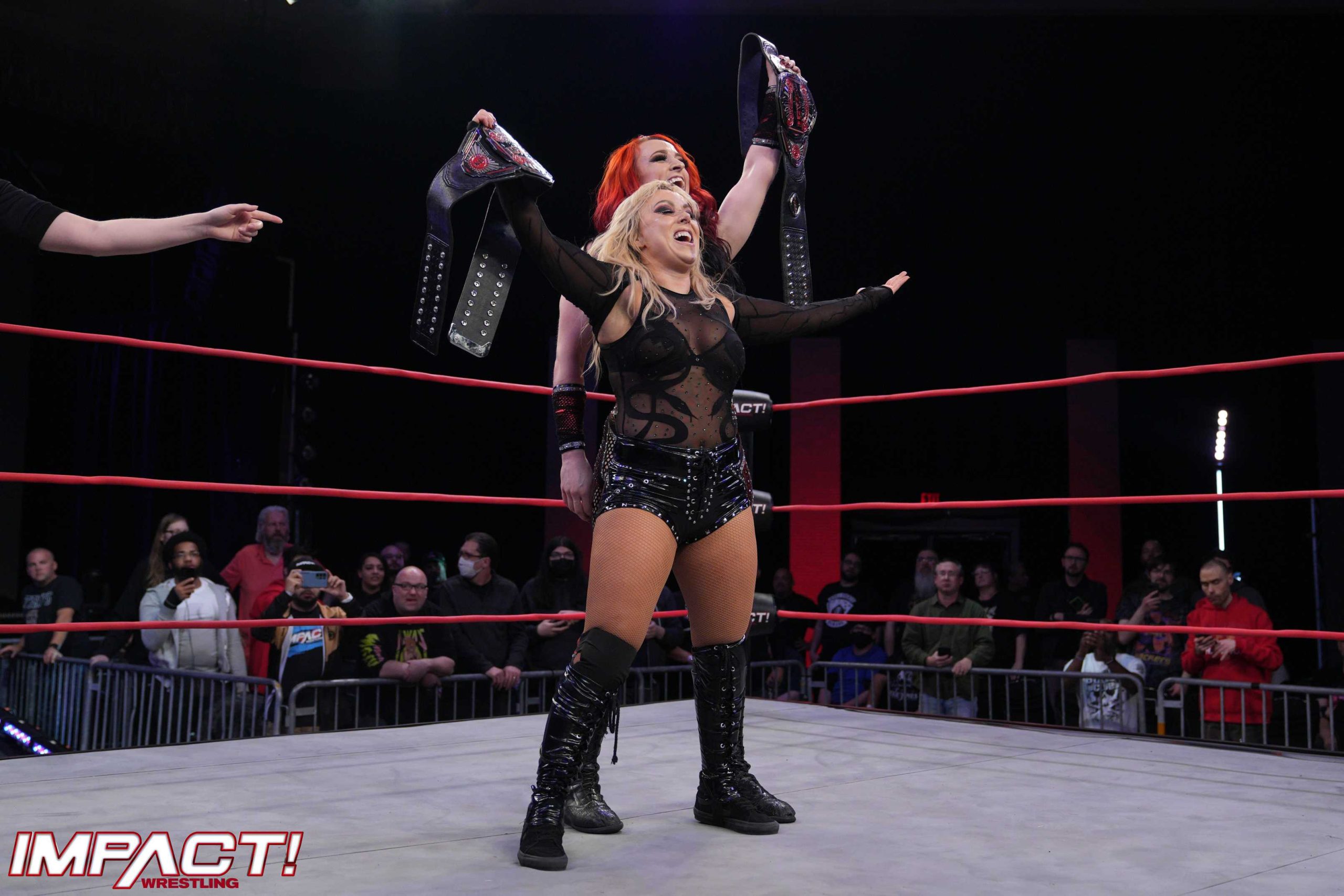 Hannifan and Matt Rehwoldt ran down the card for Sacrifice, which is Friday night.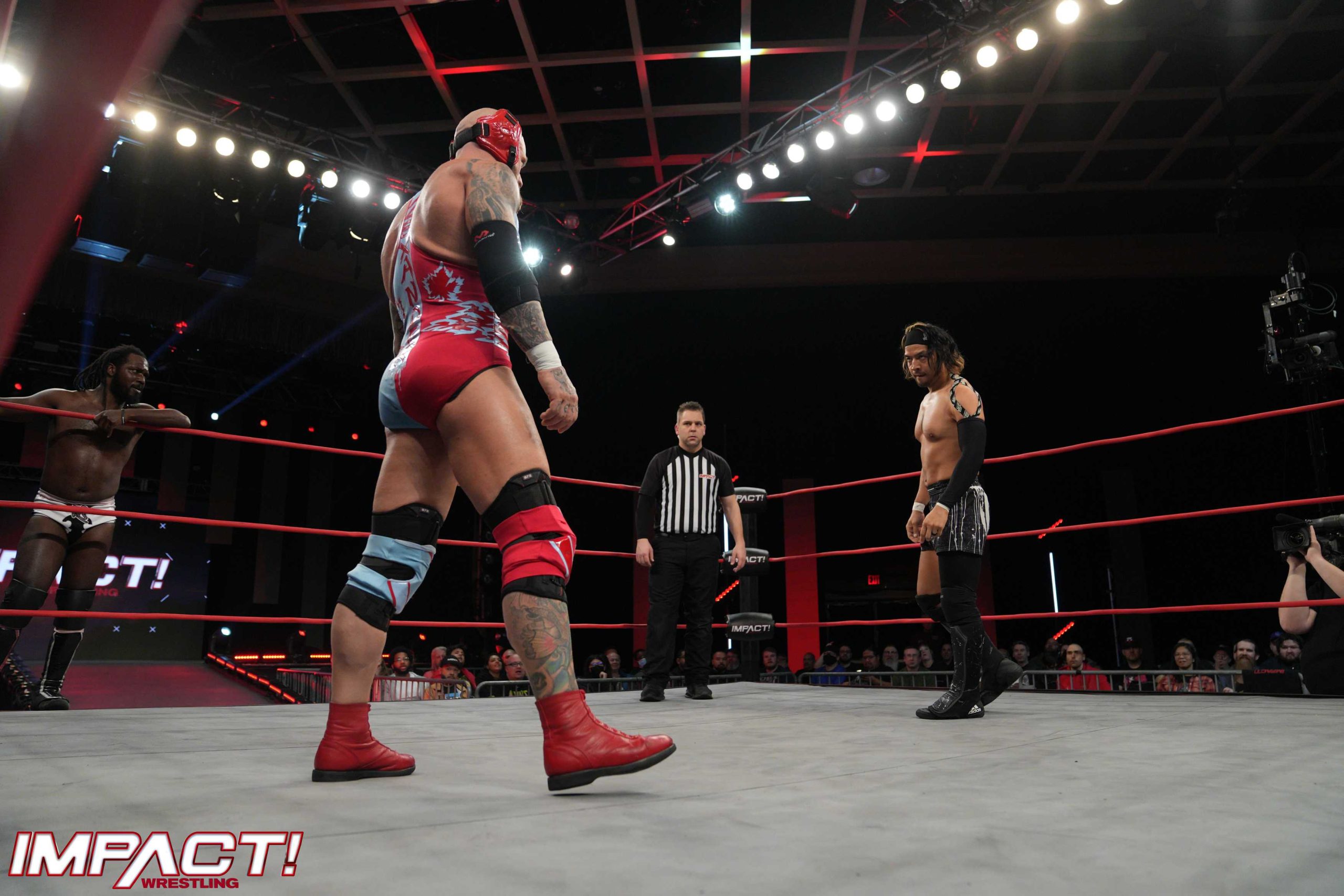 Match #5: 6-Man Tag Team Match: Bullet Club (KENTA & Impact World Tag Team Champions: Chris Bey & Ace Austin) vs Impact World Champion Josh Alexander, Frankie Kazarian & Rich Swann
The face team all entered separately, followed by Bullet Club who entered as a trio. Kaz will start for his team and he's up against Bey to begin with. They locked up and Bey surprised Kaz with a couple of quick pin attempts. Kaz got a 1 count with a schoolboy, then Bey rolled him up for another 1 count. Bey with a head scissors and then kipped up. He hit a big chop in the corner but Kaz whipped him hard into the turnbuckle. Bey backed Kaz into his corner and tagged in Austin. Austin ran into a hip toss and Kaz tagged in Swann. Swann and Kaz hit a double team clothesline on Austin then Kaz back dropped Swann on top of Austin. Austin fought back with right hands and a flying dropkick after Swann flipped him to the ring apron. Austin had a side headlock applied but Swann slipped out and nailed a dropkick of his own. Alexander tagged in next but Austin tagged KENTA straight away. These two locked up against the ropes. KENTA tried a cheap shot but Alexander was ready and ducked. KENTA got a forearm shot in and nailed a kick. They exchanged forearms and KENTA took control with a series of kicks. KENTA ran against the ropes but Alexander caught him with a rolling senton. Bey and Austin tried to interfere but Kaz and Swann cut them off and dumped them to the outside.
(Commercial break)
Back to the action and Bey was in the ring against Swann. Bey nailed Swann with a dropkick and scored a 2 count. Austin tagged in and they double-teamed Swann in the corner with a running forearm and double knee attack. Austin covered but Swann kicked out at 2. Austin targeted the left arm of Swann and used the playing card to cut the webbing of Swann's hand. Austin backed Swann into his corner and stomped away. Bey tagged in again and he and Austin double-teamed Swann with a Legsweep/legdrop combination, which Swann kicked out after 2. Bey went for another legdrop but Swann rolled out of the way. Bey mounted Swann and pummelled him with left hands. Bey with a big kick to the ribs of Swann and then rammed him into KENTA's foot that was leaning against the top turnbuckle. KENTA tagged in and kicked the chest of Swann repeatedly. KENTA covered and scored another 2 count. KENTA went for a cocky cover and Swann rolled off in disgust. Swann tried to fight back with right hands but KENTA caught him with a knee in the ribs. They both tried to clothesline each other and crashed to the mat. KENTA reached his corner to tag in Bey and Swann made the tag to Kaz. Kaz came in with a flurry of offense and took down Bey with a flying forearm. Kaz with a springboard legdrop off the middle rope that he does so smoothly. He covered but Bey kicked out at 2. Austin came in to help Bey but Kaz nailed them with a double DDT. Kaz measured Bey for the Chicken Wing submission but Bey fought out with an elbow to the face. Kaz rolled to the corner to tag in Alexander. Alexander took down Bey with a backbreaker and tagged in Swann. Swann went to the top rope and hit the 450 but Austin pulled the referee out of the ring as the hand was coming down for 3. Alexander took out Austin with a diving crossbody out of the ring. KENTA kicked Alexander off the ring apron but the champ fought back and swept KENTA's legs from underneath him. This allowed Austin to hit a superkick to Alexander, who then ate one from Swann. Bey took out Swann and then went for a springboard crossbody over the top rope, but Kaz caught him in mid-air with a cutter. They both landed comfortably on the pile of wrestlers on the floor area. The referee's count made to 9 before Swann and Bey made it back inside the ring. Swann hit a spiking scissors kick on Bey and then Austin nailed him with a springboard kick to the head. Kaz launched inside the ring and nailed Austin with a DDT. KENTA followed up with a running knee strike to the face of Kaz. Alexander battled with KENTA and Alexander rocked him with a forearm to the head. He set up Austin for the C4 Spike but Steve Maclin walked out to the entrance area which distracted him. KENTA nailed him with a knee to the head, which sent Alexander out of the ring. Swann battled KENTA with a spinning kick then fell immediately into the Art of Finesse/ Fold combination as Bullet Club picked up the win after 14 minutes.
Winners by pinfall: Bullet Club
Analysis: ***3/4 Great action here in the main event, with all 6 men given time to shine. It followed the very tried-and-true formula of a 6-man tag team match, with plenty of face-in-peril moments and lots of brawling. I enjoyed it as all of the wrestlers involved are very entertaining. The ending surprised me a bit, as Alexander was worried about Maclin's potential interference, which cost his team the win. The story will be about his focus and the multiple threats to his title in the coming weeks. I'm glad Bullet Club got the win, as they are the established team and are fresh of winning the Tag Team Titles. I thought it would end in a No-Contest or brawl to the backstage area style finish but it didn't and I'm happy with that.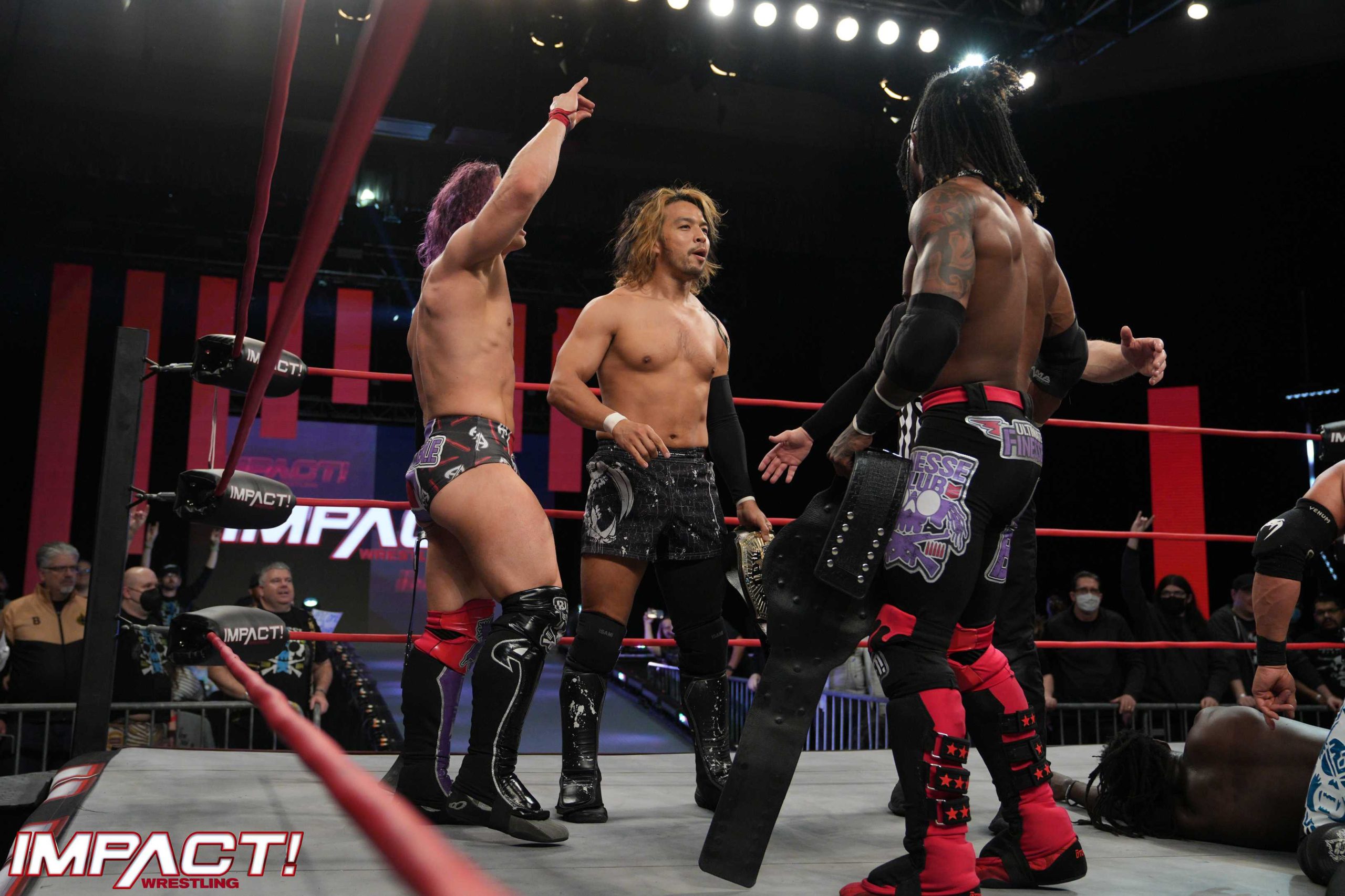 Final Rating: 7.5/10
It was a much better episode of Impact this week. There were four matches that were either solid to very good, plus the one comedy match which might appeal to some people. There were also a few matches added to Sacrifice, plus significant build on storylines moving toward the Rebellion PPV in mid-April. They're holding off most of the title matches until Rebellion, which of course makes sense. We also have Multiverse United in between, so there's plenty of action for Impact wrestlers over the next 4 weeks. Tonight, we saw the story between PCO and Eddie Edwards continuing to develop and now he has added Kenny King back to the mix. We also crowned new Knockouts' Tag Team Champions, which made sense with Taya Valkyrie heading to AEW. That division is looking very light so I'm hoping that's a focus as the year moves on.
The next Impact-Plus special is Sacrifice on March 24th. Here's what we know so far: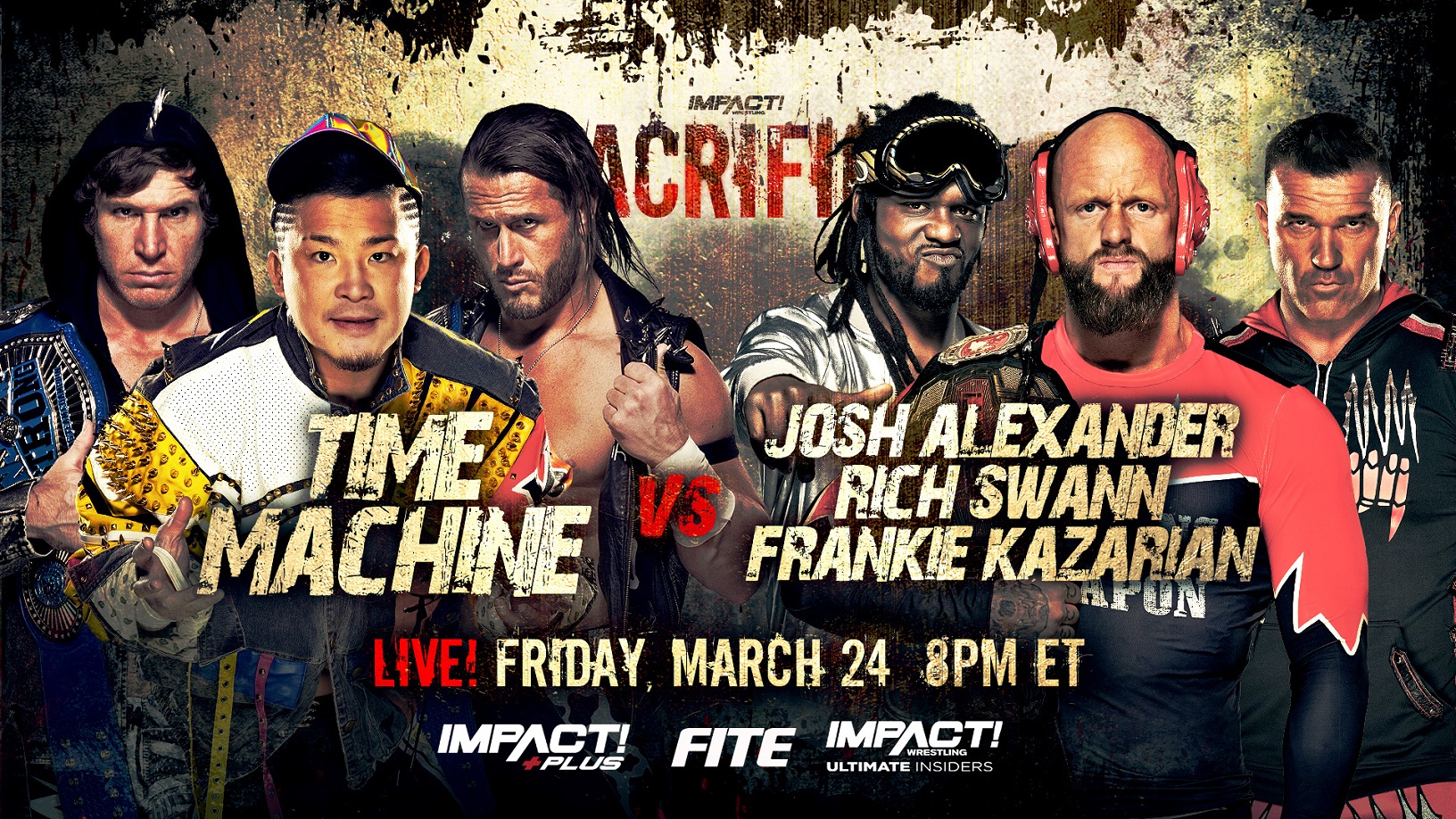 * Knockouts Championship: Mickie James vs Jordynne Grace
* Impact Digital Media Championship: Joe Hendry (c) vs Brian Myers
* 6-Man Tag match: Josh Alexander, Rich Swann & Josh Alexander vs Time Machine
* Busted Open match: Bully Ray vs Tommy Dreamer
* Jonathan Gresham vs Mike Bailey
* Deonna Purrazzo vs Gisele Shaw
Any feedback or comments are welcome. My email address is kristian.l.thompson@gmail.com in case anybody wants to get in touch with me and my Twitter handle is @thomok6 as well. Thanks for reading!