IMPACT Wrestling Review – June 1, 2023
A big tag team main event headlined this week's Impact, as we head towards Against All Odds.
Impact Wrestling 1/6/23 from Western Fair District Agriplex in London, Ontario, Canada
Firstly, my apologies for missing my weekly column last week. It was the first one I have missed since joining TJR in July last year and with all the wrestling on last weekend, one more show was just too much. I am still yet to catch NXT Battleground, but that can wait. We are back on deck this week after a terrific Under Siege event, which saw Steve Maclin retain over PCO, then Maclin and Bully Ray put Impact President, Scott D'Amore, through a flaming table!
The opening video focused on the above events and reminded us that Against All Odds is next weekend- only 2 weeks between Impact Plus specials- so there are bound to be plenty of matches set up tonight.
Tom Hannifan and Matt Rehwoldt welcomed us to the show and here comes Bully Ray.
Promo Time with Bully Ray
Bully asked the crowd if they knew who he was, in customary fashion. He said he was by far the most-hated man in wrestling. Bully said that he has been putting people through tables his entire career and that no one does it better. He boasted about putting old ladies (hello Mae) and women through tables (hi Dixie). Bully said when someone really gets under his skin, then he will set that table on fire, which is what Scott D'Amore did. He said that Under Siege was one of the greatest nights of his career and his life. Lighting D'Amore on fire gave Bully great pleasure. Bully said there's no getting rid of him. He put over the 8-4-1 match at Against All Odds, where two teams of 4 will face off then the winning team will have a Fatal-4-Way to crown the challenger for Slammiversary. Here comes Impact World Champion Steve Maclin with the interruption. Maclin faces Alex Shelley at Against All Odds, after Shelley won a 6-man match at Under Siege. Maclin had his head taped up as he entered the ring. Maclin said he loved what they did to Scott D'Amore. He said the only reason that happened is that Maclin allowed it to. Bully got in Maclin's face. He said Maclin doesn't allow him to do anything. Bully started to fire up and then he stopped himself and put Maclin over as champion, saying it was his ring. Maclin said he is the man around here. Maclin asked what if he and Bully ran Impact as a team. He said he would be more than happy to face Bully if he was to make it to Against All Odds. The Motor City Machine Guns were next out to interrupt. They couldn't save D'Amore from the flaming table at Under Siege. Shelley told Bully that he wasn't the number 1 contender, he is. He said he will walk out of Against All Odds as champion. Bully said normally he would take this opportunity to bury Shelley on the mic, but he can't tonight because he is the most honest person in the entire wrestling industry. Bully put over Shelley as a great professional wrestler. He wondered why Shelley's name is mentioned in the same breath as some of the other great wrestlers around the world. Bully put over the Guns and Team 3D rivalry. He said Shelley shouldn't be happy at just being one the best who has never won the big one. Bully knows that bugs Shelley. Sabin said all this rubbish sounds very familiar. He said Bully said all this about him 10 years ago and then he beat Bully for the World Title. Bully got in Sabin's face and reminded him that a month later he won the title back. Maclin said Shelley stands no chance at Against All Odds. He said that after 2 years of hard work, he's not going to let the title slip through his grasp. Maclin asked what makes Shelley think he can beat him. Bully asked Shelley if he can beat Maclin, to which Shelley just replied with "Yep". Maclin reminded Shelley that he had his shot at Alexander and failed. He told him it would end the same way as then. Shelley said Maclin was no Josh Alexander and that if he never got hurt, he would still be World Champion. Bully started laughing so Shelley reminded Bully that he tapped out to Alexander. Sabin said Against All Odds is set, but they have unfinished business from Under Siege and proposed a tag match for tonight. Bully said that was the first great idea Sabin had in his career, but they aren't fighting tonight. Here comes Subculture now. Webster, Andrews and Luna made their way to the ring. They were unsuccessful at capturing the Impact World Tag Team Titles at Under Siege. Andrews said if this is an open challenger, then they accept. He said that this would be a dream match. Shelley accepted and said that Maclin better watch out because he's going to beat him at Against All Odds.
Analysis: That was very long. Impact doesn't do the long opening promo segment often so I'm okay with it. I liked how Bully started off feeding Maclin's ego but you could tell all he cared about was the World Championship. Maclin and Bully both bringing up Shelley's failure to capture the championship in his career add a nice layer to the Against All Odds match and make you want to see him succeed. Subculture vs the Guns should be a terrific main event.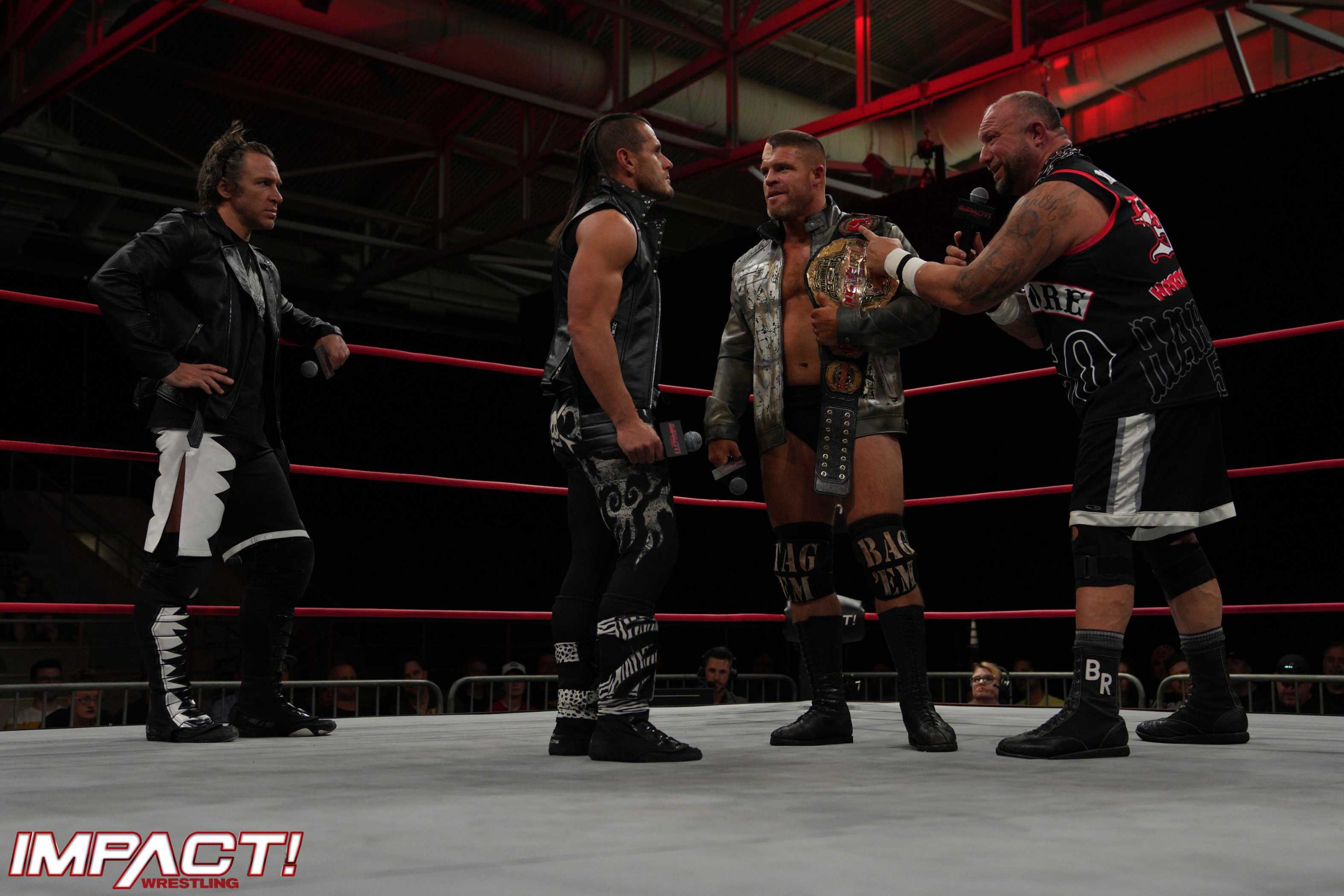 Eddie and Alisha Edwards were walking backstage. Edwards faces Yuya Uemura next.
Jimmy Jacobs interviewed Nick Aldis. Jacobs congratulated Aldis on beating Kenny King at Under Siege. Aldis said he has momentum behind him now. He acknowledged King to taking him to the limit and next time they face-off the standard will be even higher. In 8 days' time, the 8-4-1 match debuts. Aldis said it will be hard to find chemistry with his team mates, but as a former World Champion he will be able to adapt to the situation. Aldis said he will win and go on to Slammiversary.
Analysis: The 8-4-1 match is Bully Ray, Jonathan Gresham, Heath and Nick Aldis vs Moose, PCO, Rich Swann and Mike Bailey (8). No Eddie Edwards there or Kaz there as they might fight at Against All Odds. The winning team then face each other in a Fatal-4-Way later in the show (4). The winner of that will gain a championship match at Slammiversary (1). I'd be pretty confident that Aldis will win that. Aldis vs Maclin has been in the background for a little while.
Match #1: Eddie Edwards w/ Alisha vs Yuya Uemura
Edwards was out first, followed by Yuya. Uemura took the fall in the 6-man match at Under Siege. The bell sounded and Edwards was hesitant to lock up. Uemura tried an armbar but Edwards backed into the ropes. Edwards nailed Uemura with a cheap shot and then knocked him to the canvas. He bounced off the ropes and Uemura caught him with two arm drags. He continued to focus on the left arm. Edwards backed him into the corner with a series of chops. He held Uemura by the hair and slammed him into the top turnbuckle Edwards lit Yuya up with more chops in the corner. He missed one and Uemura fought back with some of his own. Edwards gouged his eye and hit him with a hard kick to the head. He bounced Uemura's head off the turnbuckle again. Uemura avoided a corner attack and tossed Edwards over the top rope. He hit a slingshot crossbody to the outside area.
(Commercial break)
Edwards had Uemura mounted and hammered him with right hands as we returned from the break. They showed a replay of Alisha grabbing Yuya's leg during the break, which allowed Edwards to gain control. Edwards grounded Uemura with a headlock. Uemura got to his feet and hit a series of chops and uppercuts. He ran off the ropes but Edwards caught him with a big boot. Edwards covered for the first nearfall of the match. He continued to stomp on Uemura on the mat. Edwards pulled Uemura's hair and taunted the fans. Uemura caught him with an uppercut against the ropes and a running forearm. Uemura hit a crossbody in the corner and a running bulldog. He hit a back suplex and Edwards kicked out at 2. Uemura tried to trap the arms but Edwards scored with a headbutt. He sent Uemura into the corner and looked for the Backpack Stunner. Uemura countered into an arm drag. He nailed an overhead belly-to-belly. Uemura went to the top rope but Alisha got on the ring apron to distract him. Edwards cut Uemura off and nailed a superplex. Uemura avoided the Boston Knee Party and hit a modified Uranage. Uemura tried a diving crossbody but Edwards nailed him with a knee in mid-air. Ouch. Edwards hit a Tiger Driver but Uemura kicked out right before 3. Edwards with the Boston Knee Party for the win after 9 minutes.
Winner by pinfall: Eddie Edwards
Analysis: ***1/4 That was a solid match, even though Uemura really didn't stand much of a chance. He is really good at putting up a fight against bigger names, but he hasn't really been given a big win since he came to Impact. That hurts his credibility even when he's wrestling against top stars like Edwards.
Alisha raised Edwards' hand after the match as they showed a replay of the ending. Eddie pulled his hand away as he offered a hand shake to Uemura. Frankie Kazarian's music then hit and he had a mic. Kaz said Edwards goes out of his way to tell everyone that he's the locker room leader, yet he doesn't show young talent respect. Kaz said that's not how they were raised to conduct themselves in Impact Wrestling. Edwards tried to walk away so Kaz nailed him with a right hand. Alisha jumped on Kaz's back but Kaz tossed her off. Kaz walked over Edwards and walked up the ramp as his music played.
Analysis: Tossing the lady to the ground was not very gentlemanly, but this sets up a match between the two at Against All Odds.
Match #2: Decay (Black Taurus & Crazzy Steve) vs Sami Callihan & Jake Crist
Crist made his return to Impact at Under Siege, where he joined Callihan's team as they defeated The Design in 6-man tag action. He's starting off the match with Steve. Steve started off by biting the forehead of Crist. Crist backed into his corner and Callihan tagged in. They hit a double Alabama Slam on Steve. Callihan hit a big kick to the face of Steve, then Taurus came in and hit a double clothesline on Callihan and Crist. He picked up Steve and tossed him over the top rope, so that he took out Callihan and Crist with a crossbody. Steve threw Crist back into the ring and Taurus held him. Crist slipped out and hit a superkick on Steve and one on Taurus. Callihan and Crist hit a superkick in stereo on Taurus. Crist hit a Crist Cutter on Steve and Callihan tossed Taurus to the outside, then covered Steve for the win after 4 minutes.
Winners by submission: Sami Callihan and Jake Crist
Analysis: ** There wasn't much to that but it showed that after a few years apart, Callihan and Crist can still work as a team.
Kon showed up after the match. Deaner and Angels were directing him at ringside. Kon hit a double chokeslam on Callihan and Crist. Angels hit a big spinning kick to Callihan. Deaner nailed Crist a DDT as Kon held Callihan and made him watch. Rich Swann ran to the ring with a steel chair. The Design backed away and left the ringside area.
Analysis: It seems that Callihan vs The Design is not over yet. I'm not sure where they can go next.
Trinity was shown stretching backstage. She faces Savannah Evans up next.
Sami Callihan was fired up backstage. Swann said that he was happy to help out thought but now has to deal with the 8-4-1 match. Callihan told Crist it's time to find someone else.
Analysis: It looks like there will be another 6-man tag match with Callihan and Crist finding a new partner.
Match #3: Trinity vs Savannah Evans w/ Gisele Shaw & Jai Vidal
Trinity defeated Gisele Shaw at Under Siege and now she is facing her stablemate, Evans. Evans got the upper hand early with her power. She backed Trinity into the corner and tossed her across the ring. Trinity tried a headlock take down but Evans caught her and threw her into the top turnbuckle. Trinity avoided a corner attack and hit a running forearm. Trinity hit kicks to the mid-section and then avoided a clothesline. She hit a hard kick to the face and ran the ropes but Evans nailed her with a pop-up powerbomb. Evans covered with her foot and only got a 2 count. Evans choked Trinity out using the middle rope. Evans stood on Trinity and put all her weight on Trinity's ribs. She speared Trinity in the corner using the middle turnbuckle. Evans tossed Trinity across the ring by her hair. Trinity caught a break and hung Evans up in the middle ropes with a jumping Pedigree. Trinity kicked out after 2. Trinity hit a springboard kick and rammed Evans into the middle turnbuckle. Trinity went to the top rope and hit a crossbody although Evans moved too close and Trinity only grazed her. Evans fought back with sidewalk slam. Trinity avoided a corner attack and tried for sunset flip pin, but locked in the Starstruck submission move and Evans tapped out. The match last 5 minutes.
Winner by submission: Trinity
Analysis: **1/2 That was fine for a shorter match to put over Trinity. I like how she is using the submission finisher. There was no interference from Shaw or Vidal in the match, so that was surprising.
Trinity took a microphone and addressed the Impact Zone. She wasn't even puffing. Trinity said she would be waiting for the winner of Deonna Purrazzo vs Jordynne Grace, so here she is and here comes the champ. Purrazzo reminded Trinity that she's still the champion after Under Siege. She said she was sure Trinity had a question so go ahead. Trinity proposed Purrazzo vs Trinity for Slammiversary for the Knockouts'' World Championship. The crowd quite liked that idea and so did Purrazzo. The match is on. Evans and Shaw assaulted them both from behind after the match. Vidal nailed Purrazzo with the dreaded 'Loaded purse'. He tried to take out Trinity but she blocked it and sent him crashing outside. Trinity went after Evans so Shaw smashed Trinity in the back with the purse. Shaw slapped Trinity but here comes Jordynne Grace to make the save. Grace hit a clothesline on Vidal. She hit a big chop on Evans and pummelled here in the corner. Shaw nailed her with the bag in the back. Vidal and Evans held Grace so Shaw hit her running knee. Shaw hit the move again and a third time.
Analysis: Shaw lost at Under Siege so that gives her some revenge and keeps her relevant. This might lead to a 6-person tag soon. I'm guessing there was a brick or something in the handbag. I thought Grace was done but maybe she hung around for these tapings. Trinity vs Purrazzo is the big match announced for Impact's big summer PPV so I'm glad to see that.
Match #4: Dani Luna w/ Flash Morgan Webster & Mark Andrews vs Jody Threat
This is Luna's first match in Impact which I find odd that they are just going to feed her to Jody, who is unbeaten. Luna grounded Threat early on. She backed her into the corner with a spear. She tried a sunset flip pin but Threat kicked out at 1. Threat hit a running kick and a clothesline in the corner. Threat hit a series of clubbing clotheslines in the corner. Threat hit a nice Northern Lights suplex for a 2 count. Luna rolled to the outside and sat on the apron. Threat tried to dropkick her in the back but Luna moved out of the way and wrenched the knee of Threat. Luna covered for a 2 count. They exchanged right hands and Luna hit 2 suplexes but Threat blocked a third. Luna overpowered her and was able to nail the third won for another nearfall. Threat blocked a German suplex attempt. Luna clobbered her with a forearm against the ropes. Threat reversed the Irish Whip and hit a hard back elbow. Threat clotheslined Luna over the top rope but got her neck caught against the bottom rope, which could have been nasty but she looked okay. Threat hit a running senton off the apron and took Luna out on the floor. Threat tossed her back into the ring and scored with a cannonball off the top rope. She launched Luna into the middle rope and hit a running double knee shot. Luna used the middle rope to block a German suplex attempt. She ran off the ropes and Threat caught her with a Michinoku Driver for another close 2 count. Good nearfall! Luna blocked another suplex attempt so Threat kicked her in the head. Luna bounced off the ropes with a Clothesline from Hell. Luna hit a powerbomb for a 2 count. Luna nailed Threat with an STO but Threat kicked out just before 3. Luna launched Threat up on her shoulders but Threat countered with a hurricanrana. She scored with a straight right and a German suplex. Threat nailed the F Bomb for the win after 7 minutes.
Winner by pinfall: Jody Threat
Analysis: ***1/2 That was really good and easily Threat's best match in Impact so far. I wasn't familiar with Luna's wrestling quality but she was powerful and impressive. Threat had to win with a modified version of her finisher, due to the damage that Luna had caused. I hope Subculture stick around because Luna could be another great addition to the world's best women's roster.
Joe Hendry was backstage with Santino Marella, who has returned to Impact after being taken out by a mystery attacker (now revealed as his former friend, Dirty Dango). Marella thought he and Dango had a level of respect that was on par with being friends. Hendry said Dango showed no respect when he hit him with a low blow at Under Siege. Hendry wants a rematch with Dango at Against All Odds. Hendry said Marella should get some revenge too, but Marella said he had his fun at Rebellion. Kenny King and Sheldon Jean walked in. King reminded Marella that Jean broke Hendry's nose. King told Marella to make Hendry vs Jean, so Marella made the match for next week. Marella made Hendry vs Dango for Against All Odds official.
Analysis: Good to see King has some continuation in his storyline as a mentor for Jean. Hendry vs. Dango again makes sense and will be fine.
There were highlights of Masha Slamovich and Killer Kelly brawling in the crowd at Under Siege. Killer Kelly cut a pre-taped promo with a chain and proposed a Dog Collar match for Against All Odds.
Analysis: They had a fantastic match on Impact a fortnight ago and this one should be brutal.
They ran down the card for Against All Odds (below) and next week's line up which is:
* Moose & Rich Swann vs Nick Aldis & Jonathan Gresham
* Knockouts' Tag Team Championships: The Coven vs Courtney Rush & Jessicka. I put myself through all that horrible Death Dollz storyline rubbish and the one week I miss it they kill off Rosemary it seems!
Match #5: The Motor City Machine Guns vs Subculture
It's Andrews and Shelley starting off. Shelley focuses on the left arm and nails an arm drag. Andrews takes in Webster and Shelley tags in Sabin, who grabs a quick headlock. Webster hits a flipping hip toss and another from the top rope. Webster with an awesome inverted senton for a quick nearfall. Shelley makes the blind tag and Sabin takes Andrews out off the apron. The Guns hit a double kick on Webster. Andrews comes in and Shelley takes him down with a big boot. Shelley backs Webster into the corner and tries a wristlock. He stomps down hard on the trapped wrist of Webster on the mat. Shelley uses Wester's arms in a crossed position to try and choke him out. Webster reverses the move and Andrews tags in. Andrews traps Shelley in the corner and hits a 619 then a Dragon Screw on the ring apron to the left leg of Shelley. Webster targets the left leg with a drop kick. Subculture hit stereo suicide dives to the Guns on the outside. Andrews pummels Shelley in the corner with kicks. They miss with stereo clotheslines which allows Shelley to hit a bulldog/clothesline combination on Andrews and Webster.
(Commercial break)
Shelley has Andrews locked in the corner and tags Sabin back in. Double clothesline on Andrews and Sabin covers for 2. Sabin stretches Andrews out near the corner and tags Shelley back in. Shelley traps Andrews on the mat with a stretch, which allows Sabin to hit a running bulldog. Shelley covers but Andrews kicks out at 2. Shelley tries to lock a headlock in on the mat but Andrews blocks it with his arm. Andrews hits some forearms but Shelley wrenches down on the left arm. Tag again to Sabin but Andrews avoids a double team in the corner, slides under Sabin and tags in Webster. Webster hits a clothesline on Sabin and a moonsault that takes both the Guns out. Shelley falls to the outside area and drops Webster face-first on the apron. Sabin goes for a running pun but Webster moves and Sabin nails Shelley! Webster uses the ring post to swing around and hit a hurricanrana on Sabin. Webster flies through the air and nails a crossbody on Sabin for a 2 count. Webster tries for a Tiger Driver but Sabin blocks it and flips him over. Andrews tags himself in and they hit a double Falcon Arrow on Sabin for a 2 count. Subculture try another double team on Sabin, but Shelley breaks it up. Shelley with the rolling forearm on Webster and then they take out Andrews with a double-team swinging neckbreaker. Magic Killer by the Guns but Webster breaks up the pinfall. Shelley tossed Webster to the outside and they turned their attention to Andrews in the middle of the ring. Shelley hit a hard clothesline on Andrews in the corner. Sabin climbed to the top and they delivered a Doomsday Dropkick but somehow Andrews landed on his knees. Incredible spot. Webster came back in and they hit a double headbutt on Sabin. Sabin broke out of a double team move and hit his own double clothesline. Sabin and Shelley hit a double kick in the corner on Andrews. Sabin tried for the Cradle Shock but Andrews turned it into the Stundog Millionaire. Webster tagged back in and missed a 630. Sabin hit a cutter but Andrews came in to eat a double dropkick. The Guns hit the Dirt Bomb for the win after 12 minutes. Great main event.
Winners by pinfall: The Motor City Machine Guns
Analysis: ***3/4 That was a terrific tag team match between two really exciting teams that go full throttle 100% of the time. There were a lot of double team moves but I'll allow it as it wasn't the cheating version of The Guns that we have seen a few times this year. They're at their best when they're showing off their moveset and athleticism, which is what we got here. Andrews and Webster are so good as a team, but they've now lost their opening two matches in Impact. I know they've been in high-profile matches, but it would be nice to see them chalk up some wins if they're hanging around. Shelley and Sabin build momentum, as they both head towards championship matches at Against All Odds.
Impact went off the air with Shelley and Sabin celebrating their victory.
Final Rating: 7.5/10
I enjoyed this week's Impact for a lot of reasons. Before tonight's show, we only knew one match for Against All Odds. But by the end of the night, we have a stacked card with 10 matches, all of which have the potential to be PPV-worthy. I have been somewhat critical of Impact not taking time to build up some matches for their monthly specials (especially in the tag divisions) but with only two weeks between Impact-Plus specials, they focused the whole show on building to that show including the exciting 8-4-1 concept. A minor gripe there could be that there could've been qualifying matches, but I like the fact that the teams are mixed so the winning team have to overcome the animosity between members on their team. As far as the wrestling goes, it was a solid night. The opener between Edwards and Uemura did its job, although Uemura could do with some wins in the near future. Trinity/Evans and the OVE tag match were fine as they continued to build stories there. Trinity continues to be featured heavily and now she has a huge championship match at the next PPV. I was pleasantly surprised by the quality of Luna/Threat in Knockouts' singles action. Threat hasn't really been given a credible opponent here but I was really impressed with Luna's power and athleticism. What a great women's division they have. The main event tag was really fun and set a cracking pace. Hopefully, in the near future Subculture can build up some wins and challenge for another title show, if they're going to be Impact regulars. I'd rather see them in that spot again over The Good Hands.
The next Impact Plus special, Against All Odds, is on June 9th. Here is the card so far:
* Impact World Championship: No Disqualification Match: Steve Maclin (c) vs Alex Shelley
* 8-4-1 match for the number 1 Contendership for the Impact World Title at Slammiversary: Bully Ray, Jonathan Gresham, Heath and Nick Aldis vs Moose, PCO, Rich Swann and Mike Bailey
* Impact World Tag Team Championships: Bullet Club (c) vs The Good Hands w/ Brian Myers
* Impact Digital Media Championship: Joe Hendry (c) vs Dirty Dango
* X- Division Championship: Trey Miguel (c) vs Chris Sabin
* Dog Collar Match: Masha Slamovich vs Killer Kelly
* Frankie Kazarian vs Eddie Edwards
* Deonna Purrazzo & Trinity vs Gisele Shaw & Savannah
The next Impact Wrestling PPV is Slammiversary on July 15th. Here's what we know so far:
* Impact Knockouts' World Championship: Deonna Purrazzo (c) vs Trinity
Any feedback or comments are welcome. My email address is kristian.l.thompson@gmail.com in case anybody wants to get in touch with me and my Twitter handle is @thomok6 as well. Thanks for reading!