Impact Wrestling Review – July 7, 2022
This week on Impact Wrestling, we look at the fallout from last Friday's Impact Plus special 'Against All Odds'. It was a solid showing once again for Impact, as we saw Josh Alexander retain his World Championship in a bruising encounter with Joe Doering.
The event also saw Jordynne Grace retain her Knockouts' Championship against Tasha Steelz, Moose defeated Sami Callihan in a violent hardcore match and the team of the Good Brothers, America's Most Wanted and Heath defeated Honor No More in a 10-man tag team match. My Against All Odds review is here.
Hopefully we will get some direction on Josh Alexander's next opponent, as we head towards the next Impact Plus special Emergence, and an explanation from Steve Maclin who cost Sami Callihan his match on Friday night at Against All Odds. It will be interesting to see what's next for Honor No More too, after PCO's mistake led them to lose their 10-man tag match.
Impact Wrestling 7/7/22 from Centre Stage, Atlanta, Georgia
The opening video package for this week focused on the 10-man tag team match and the World Championship match from Against All Odds. Tom Hannifan and Matthew Rehwoldt welcomed us to the show as the debuting Alan Angels entered for the opening contest.
Analysis: Angels was a former member of the Dark Order in AEW and is from the Atlanta area so it makes sense to use him here. It's always good to see new talent on Impact Wrestling and hopefully Angels can make a good run of it in Impact after getting lost in the shuffle amongst AEW's gigantic roster.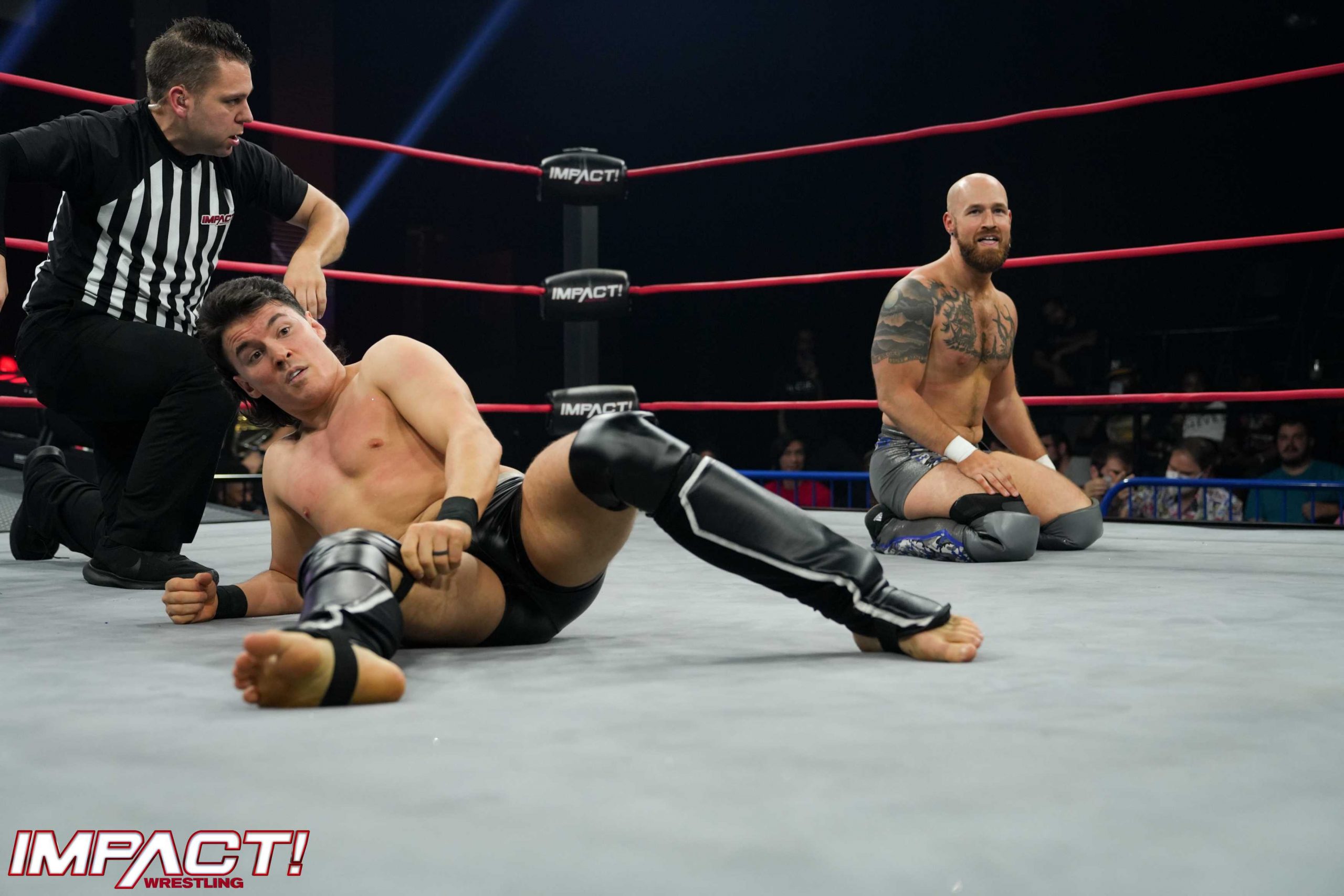 Match #1: X-Division Championship: Mike Bailey (c) vs. Alan Angels
The match starts off with a handshake but Angels gets the upper hand after a slap to the face of Bailey. Bailey regains the ascendancy with a stiff left-foot kick and an enziguiri, taking Angels to the outside. Bailey follows up with a Moonsault on the outside from the inside middle rope. Both men battle on the apron before Angels takes down Bailey with a clothesline. Angels hits a Frog Splash on Bailey who is on the floor. Angels rolls Bailey back into the ring for the first 1 count of the match. Angels takes the champion down with a hard elbow for a 1 count. He continues to dominate with hard chops before Bailey fights back with a chop of his own. Angels gets a 2 count after a Northern Lights Suplex. The fans are right behind Angels here with "Alan" chants. He dives from the top but is taken out by a huge Superkick from Bailey. Bailey follows up with a barrage of kicks and a running modified Shooting Star Press for 2. Bailey tries a Shooting Star Press from the top but Angels avoids it. They trade enziguiris and Bailey gets the upper-hand again with a running Spanish Fly which looks so impressive. Both men are slow to get to their feet as this hard-hitting match is taking its toll. They exchange forearms and chops, back and forth, then Angels connects with his Halo Breaker (Aeroplane Spin into a neckbreaker) for a close 2 count. They exchange unique pinning combinations before Bailey tries to hit the Flamingo Driver, Angels counters into the Wind Snapper for 2. Angels goes to finish Bailey off with a Frog Splash from the top but misses and Bailey hits a running kick in the corner before hitting Ultima Weapon (Shooting Star Press into a double knee stomp) on Angels for the 3 count after 8:37.
Winner by pinfall and STILL Impact X-Division Champion: Mike Bailey
Analysis: ***3/4 A terrific opening match that showcased Angels as a serious singles competitor whilst continuing to book Bailey as the fighting champion who has an impressive array of moves. I doubt Angels had a singles match in AEW that went passed the 5-minute mark so he was given time to show what he could do here and had a good array of striking and aerial moves that pushed the champion all the way. A great way to start the show!
After the match, Angels looked on frustrated but shook hands with Bailey and Bailey raised his hand. Joe Doering and Deaner from Violent by Design stormed the ring and Doering took out Angels with a Death Valley Driver and Lariat combination. Deaner whipped Bailey into Doering who hit a hard elbow to the face of Bailey. Deaner finished off Bailey with a DDT then took the microphone. He said that the battle with Josh Alexander isn't over yet. Deaner called out Alexander but Eric Young's music hit and he made his way to the ring. Young hasn't been seen since Slammiversary.
(Commercial)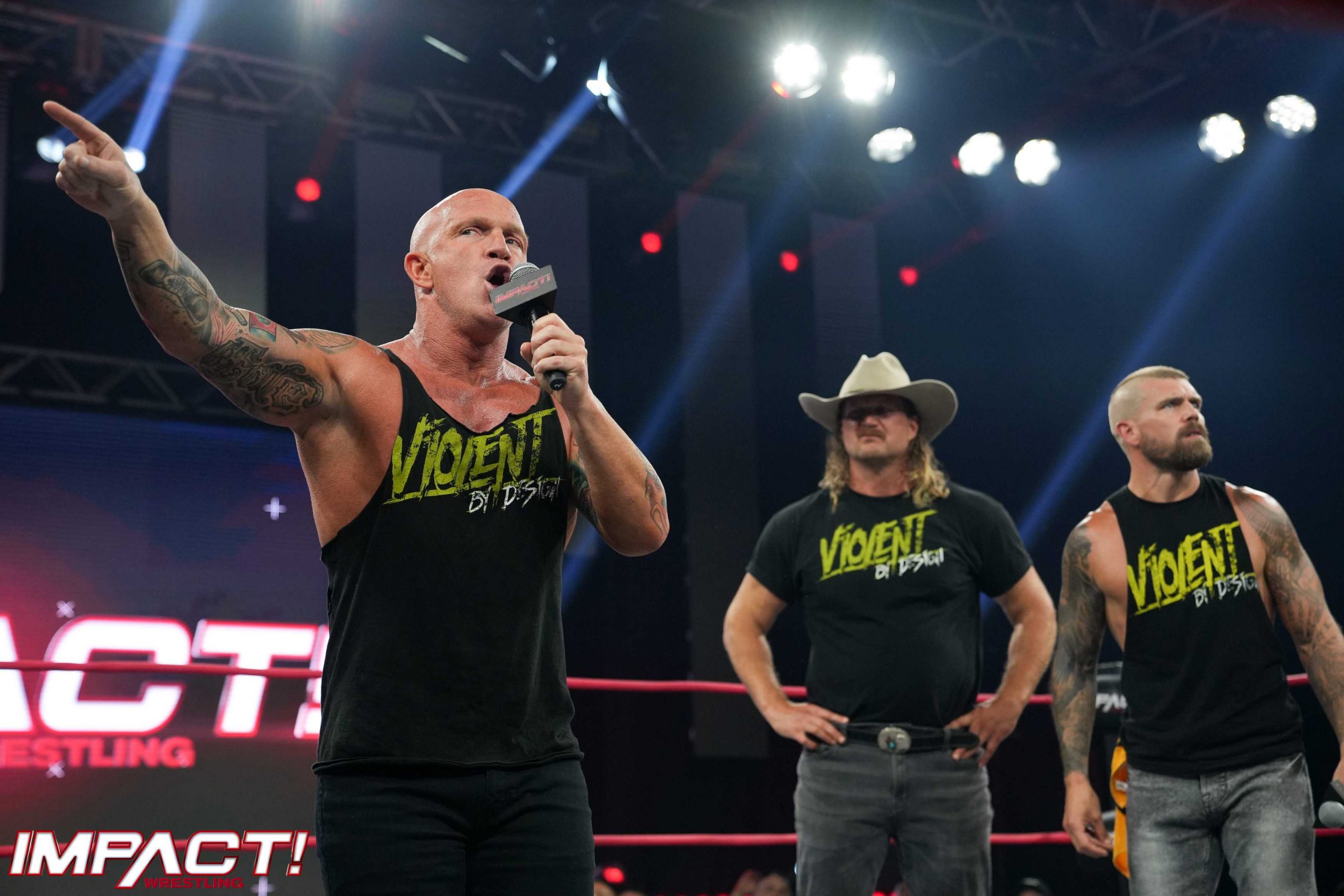 Eric Young was in the ring with a microphone in hand. He asked Deaner how Violent by Design has ended up at this point. Deaner explained that he was trying everything they could do bring the Impact championship to the family. He said when Young couldn't do it (big response from the crowd) that maybe Joe Doering could get the job done. Young asked how that went. He said that under his watch, Doering was undefeated and now look at him. Young said he's now stuck with a difficult decision, that he might have to purge them both. Deaner tried to suck up to Young and asked for another chance for him and Doering to prove themselves. Young accepted and said moving forward everyone has to be clear that this world belongs to him.
Analysis: Strong promo work from Young, teasing a bit of tension in the group. I was hoping that Alexander was done with Violent by Design but it might be stretched out until the next Impact Plus special in August.
The commentators ran down some of the matches still to come including Mia Yim vs Deonna Purrazzo, PCO vs Black Taurus, and Laredo Kid vs Trey Miguel.
Backstage Mike Bennett was complaining to his Honor No More stablemates that they got screwed over at Against All Odds. Kenny King joined in and said that Impact doesn't deserve Honor No More. Maria Kanellis-Bennett said that even though they have suffered a setback, they cannot accept failure. Eddie Edwards asked PCO how badly he wants to be in the group. He didn't want to hear his excuses but see results in the ring later on tonight.
Analysis: There was more teasing of tension in the Honor No More group, especially leaning towards a PCO face turn.
Gia Miller was backstage interviewing Deonna Purrazzo and Chelsea Green. The winner of the main event between Purrazzo and Yim will face Jordynne Grace for the Knockouts Championship at Emergence. Purrazzo said Mia Yim will find out what happens when she messes with the Virtuosa. Green chimed in and said when you mess with Deonna, you mess with her. Gail Kim interrupted congratulated Green and Purrazzo on their tag team win at Against All Odds. She announced that it will be Green vs Mickie James next week and everyone is banned from ringside, as well as for tonight's match between Purrazzo and Yim.
Analysis: Some good developments there in the Knockouts division. I think Purrazzo will beat Yim, although Yim has been booked quite strongly since her return. It feels like the time for Purrazzo to get a title shot though. Green vs. James has been coming as a grudge match and has a really personal feel to it.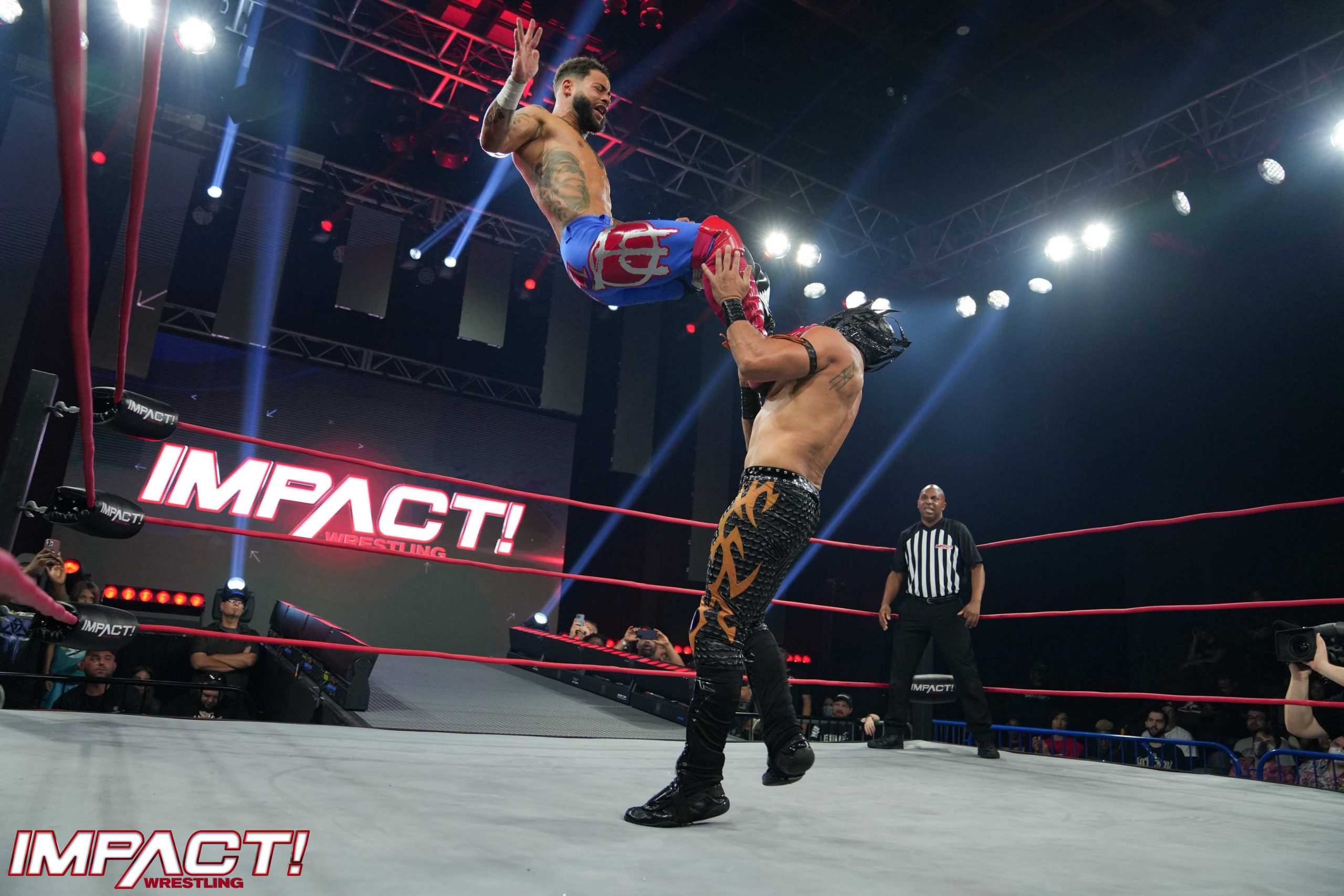 Match #2 Laredo Kid vs. Trey Miguel
It's X-Division action for the 2nd match in a row as Miguel looks to bounce back from his loss to Mike Bailey in the Championship match on Friday. Miguel has his left leg heavily taped up after Bailey targeted it at Against All Odds. Kid took the earlier advantage as Miguel retreated to the floor. Miguel avoided a suicide dive and Miguel tried a Moonsault but it was too painful so he improvised and flipped off one leg to deliver the move.
(Commercial)
Back to the action and Kid had Miguel trapped in the corner. Single leg crab by Kid by Miguel crawled to the ropes to break the count. Miguel went to the top rope but Kid swept the legs out from under Miguel who crashed hard to the mat. Kid locked in the Figure Four Leg Lock in the centre of the ring. Miguel was screaming in pain but reached out and touched the rope, breaking the hold. Kid lifted Miguel to the top and hit an enziguiri. Miguel fought back and knocked Kid to the mat. He hit a Missile Dropkick but was still holding his left knee after delivering the move. Kid kipped up but so did Miguel on one leg! Miguel hit a combination of kicks on Kid for a 2 count. Miguel hit a neckbreaker with a bridge for a 2 count. Miguel was still in a lot of pain as he tried to get the fans into the match. Miguel climbed to the top but his leg gave way. Kid capitalised with a Michinoku Driver for a close 2 count. They exchanged near falls and Kid chopped Miguel a few times before Miguel hit a spinning neckbreaker (Cross Rhodes) out of nowhere for the win at 8:20.
Winner by pinfall: Trey Miguel
Analysis: ***1/2 Another impressive showing here in the X-Division. They were a bit limited as they were pushing the injury angle with Miguel, but it showed his fight and toughness to get through that and win the match. It was booked similarly to Bailey vs Miguel from Friday, where they targeted body parts, but Miguel was a bit more hampered by the left knee on this occasion. He showed a great fighting spirit and still made Kid look good in defeat.
With Ric Flair's last match at Starrcast on July 31, Impact is featuring classic Flair moments from Impact history. This week it was Flair debuting from 2010 and Tazz and Mike Tenay losing their minds on commentary.
Analysis: I wasn't watching Impact too regularly at this period of time and didn't love that they were putting the veterans in most of the top spots instead of the younger talent. Will this really be Flair's last match? At 73 years old, I really hope so!
Backstage, Joe Doering and Deaner were screaming, looking for Josh Alexander. They confronted the Motor City Machine Guns and began to brawl with them. Security were quick on the scene and broke up the fight.
Analysis: It continues to put over the unstable nature of this heel group and maybe points to a fresh feud between VBD and the Guns which would be fine.
A vignette played for Killer Kelly who hasn't been seen in Impact Wrestling since 2020. She returns soon.
Analysis: I'm not too familiar with her work, but the division always needs bolstering so that's a positive.
Gia Miller was backstage with America's Most Wanted. Harris said that Against All Odds, where he picked up the win for his team, was a special night for him and gave him some closure. Storm said he had some unfinished business to attend to. Storm was looking for Moose but ran into Steve Maclin, who helped Moose beat Sami Callihan at Against All Odds. Maclin said that Against All Odds should've been Storm's retirement match. Storm challenged Maclin to a match next week.
Analysis: That should be a good match for next week. Maclin has been impressive in Impact but he needs to get some big wins on the board.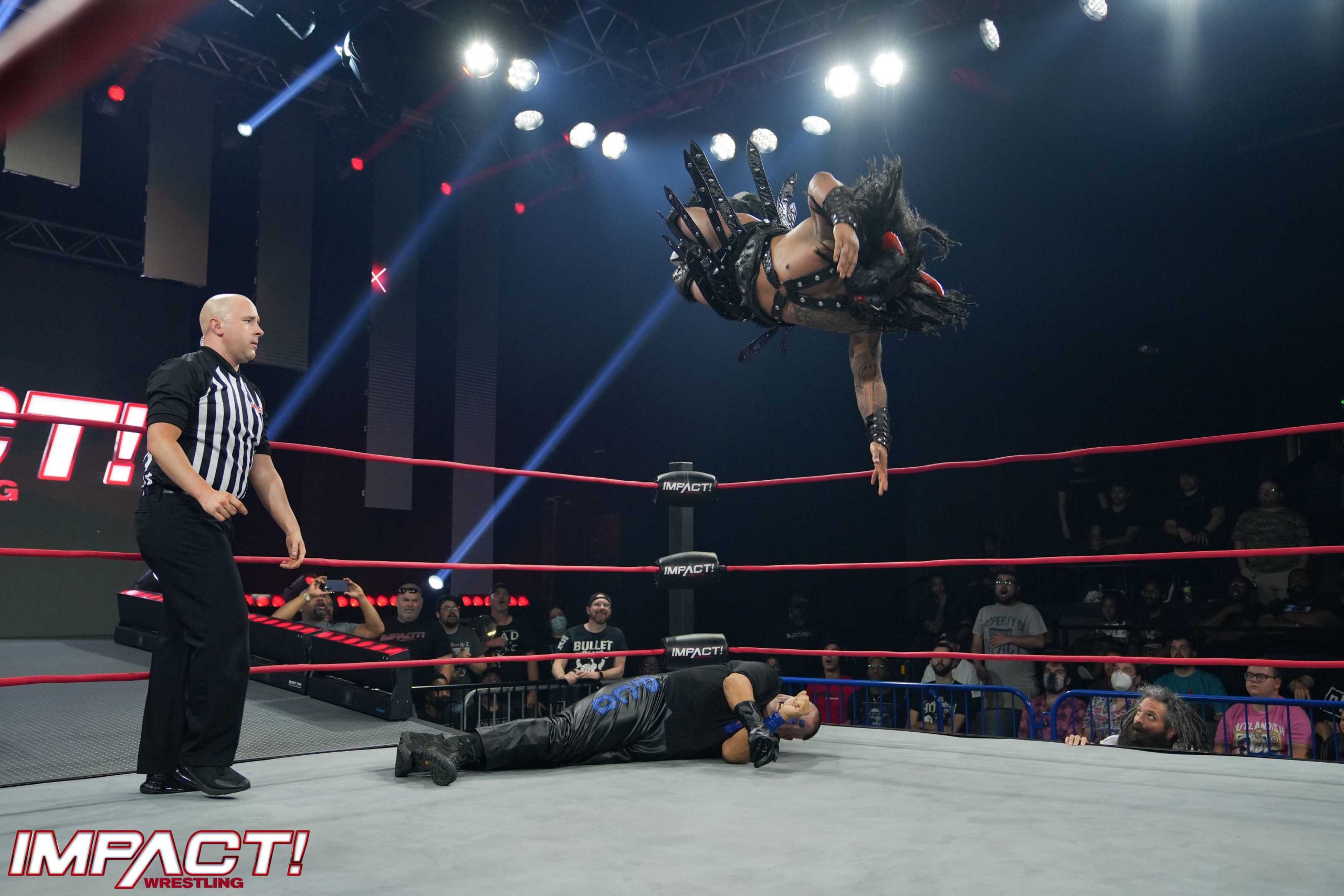 Match #3: PCO w/ Vincent vs. Black Taurus w/ Crazzy Steve
It was an even contest as both men tested their strength early on. Taurus hit an arm-breaker to gain the advantage early. He then went low, taking out the knee of PCO for a 2 count. Taurus tried to hit a top rope clothesline but PCO caught him and sent him over the top rope. They got back into the ring and PCO clotheslined Taurus over the top rope on the other side. PCO hit a running Cannonball through the middle rope, taking out Black Taurus. Impressive for a 54-year old man. PCO put Taurus on the ring apron and delivered a few elbows to the chest. He climbed to the top and hit a Deanimator but it only really brushed Taurus' right shoulder. Back in the ring and Taurus put his foot on the bottom rope to stop a 3 count. Taurus hit 2 running Slingblades and climbed the ropes. Taurus hit a big diving elbow and scored a close 2 count. PCO avoided a Moonsault and hit a Reverse DDT. PCO hit the PCOsault, but it didn't quite connect and Taurus had to roll towards him mid move. PCO covered for the 3 count after 6 minutes.
Analysis: **1/2 There were some good big-man moments but also some sloppy ones in there. The fans are right behind PCO but if he is going to continue with his top-rope moves, he has to either slow down and get them right or just leave them for special occasions. Taurus was smart enough to protect himself on both the moves but it could be unsafe if the opponent is not aware during the move.
Post-match, Honor No More walked to the ring applauding PCO. They backed Crazzy Steve into the corner, who was protecting Black Taurus. All of a sudden Heath ran into the ring and nailed Kenny King with the Wake Up Call and ran into the crowd.
Analysis: Heath said he was going to take out Honor No More and he has started tonight. The crowd loved that.
Backstage Gia Miller was with the Bullet Club. The Good Brothers said that Honor No More are really good at starting fights, but not so good at finishing them. Ace Austin wanted some competition. Chris Bey proposed Bullet Club vs Honor No More for next week.
Analysis: I'm not sure in what capacity that match will be, but I assume another multi-man tag team match
Backstage the Digital Media Champion Brian Myers snatched a photo from a fan and signed it, asking him for $30. He walked into Johnny Swinger and Zicky Dice. Swinger was keen on a title match but Myers said he wasn't in his league. Myers brushed them off and bumped into Bhupinder Gujjar, who also wanted a Championship match. Myers said he would face the winner of Gujjar vs Swinger which will take place next week.
Analysis: The Digital Media Championship hasn't been featured much lately, and the quality of competitors is a bit of a step down from what the challengers had been previously, but at least it's a storyline to get them on TV.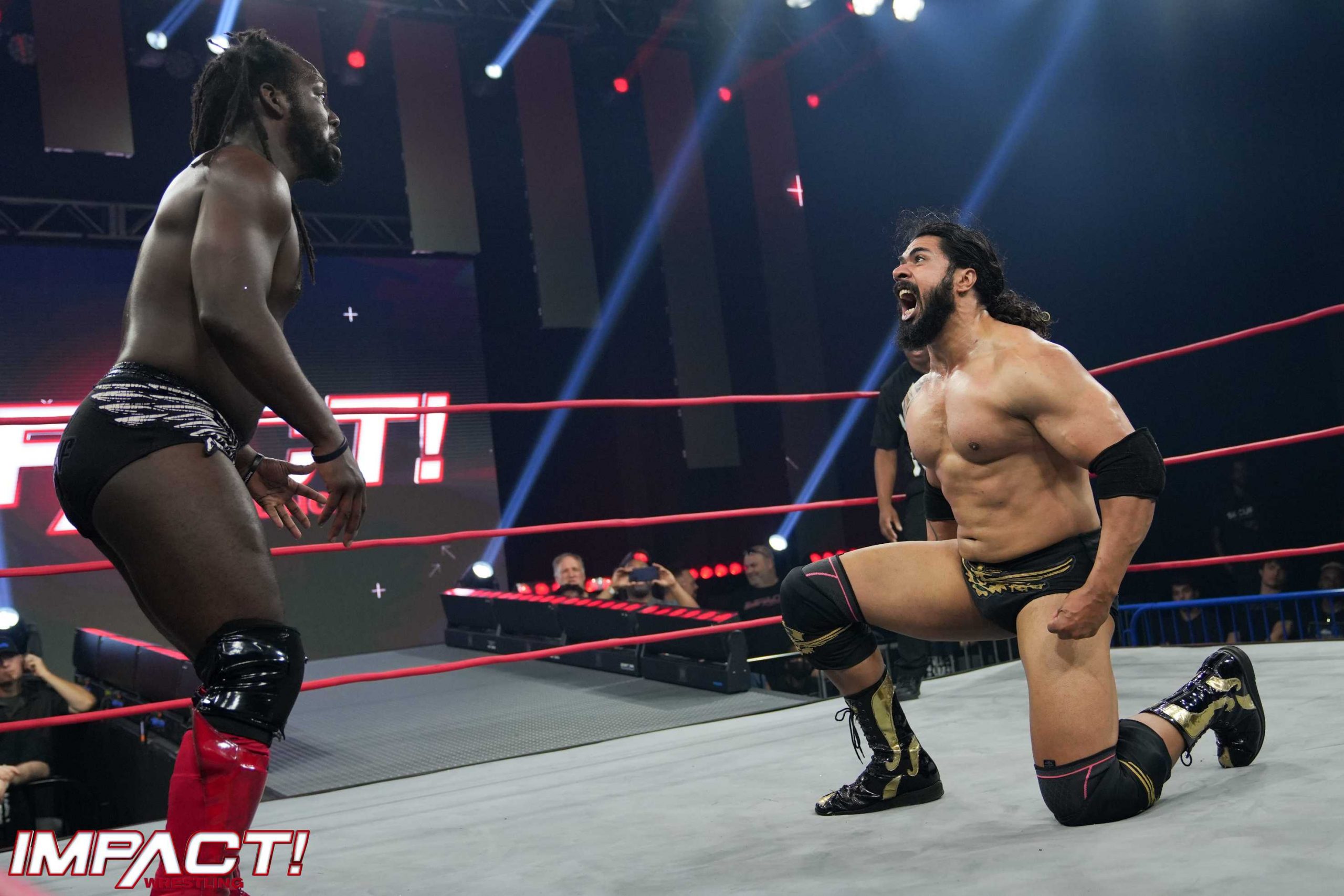 Match #4: Shera w/ Raj Singh vs. Rich Swann
This match came about because Shera and Singh got into Swann's face backstage, immediately after he lost the Digital Media Championship on the Against All Odds preshow. Shera is a big man that isn't used that match as of late, whilst Swann was a poorly booked World Champion last year, who lost the championship to Kenny Omega during a crossover period which left Impact with no champion until Josh Alexander defeated Christian Cage. Swann has mostly been in tag team matches this year so hopefully he can re-establish himself as a singles star here. Shera showed his power early on in the match, throwing Swann around the ring. Shera whipped Swann hard into the ring post then took him down hard with a right hand. Shera hit 2 spears in the corner on Swann then tossed him across the ring. Shera missed a splash in the corner and Swann tripped him into the middle rope. Swann hit a 619 and then took out Singh with a Senton. Swann went back into the ring and hit Shera with 3 big kicks to take him to a knee. Shera absorbed the kicks and tried to fight back but Swann levelled him with another kick to the head. Swann with a huge 450 splash for the win after 3:58.
Analysis: ** An easy win for Swann after overcoming the big man. Swann needed the win after losing the title on Friday and hopefully he gets a main show feud soon.

Backstage Tenille Dashwood confronted Gisele Shaw, asking Shaw what the photo with Dashwood's face with a bloody X meant. This was given to her by Masha Slamovich after their tag team match at Against All Odds. Shaw said that it probably meant that Masha wanted to kill Dashwood. Madison Rayne said Shaw was on thin ice now.
Analysis: The storyline of Shaw trying to impress the Influence and failing continues.
An advertisement for Emergence on August 12 from Chicago aired.
Taya Valkyrie was backstage with Rosemary, who was angry about getting taken out after their tag title match on Friday. Rosemary said it's still 2 against 3 and they need to go to retrieve Havok from the Undead Realm. Rosemary said it wasn't safe for Taya to go but Taya convinced her.
Analysis: Silly stuff here, as has been Rosemary's gimmick for a long time, but at least it furthers the storyline.
Hannifan and Rehwoldt ran through the matches for next week:
– Chelsea Green vs Mickie James
– Steve Maclin vs James Storm
– Tenille Dashwood vs Masha Slamovich
– 8 man tag team match: Honor No More vs Bullet Club
– Violent by Design vs The Motor City Machine Guns and Josh Alexander
Analysis: On paper that is a stronger lineup than this week so it should be a great show. It's smart to advertise the matches ahead of time.
Deonna Purrazzo and Mia Yim made their entrances for the main event, with Chelsea Green and Mickie James banned from ringside. The winner of this match will face Jordynne Grace for the Knockouts Championship at Emergence on Friday, August 12th in Chicago.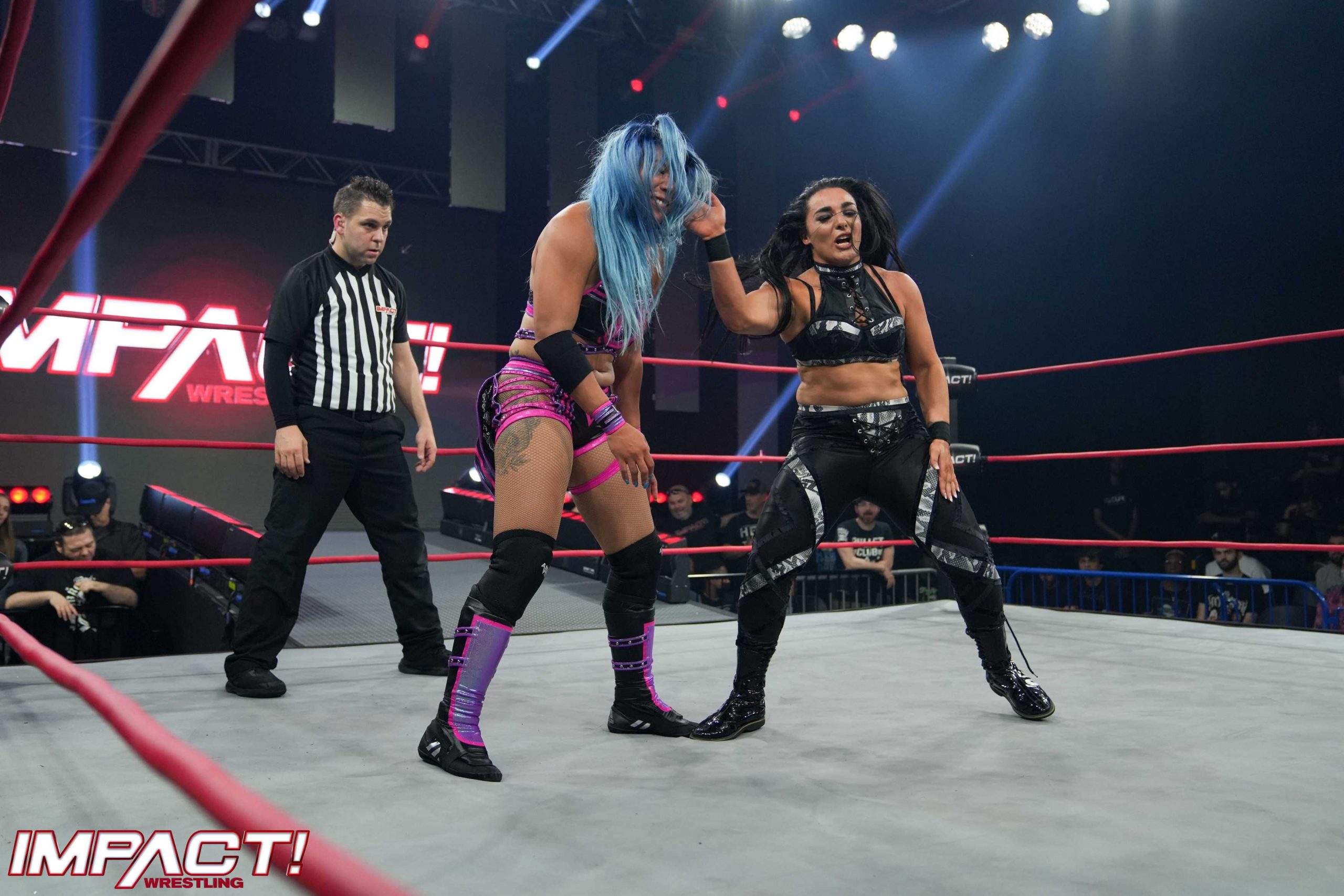 Match #5: #1 Contenders Match for the Impact Knockouts Championship: Deonna Purrazzo vs. Mia Yim
Both women got in each other's faces as they talked trash to start the match. Purrazzo tried to bail to the outside but Yim hit a dropkick followed by a suicide dive. Yim threw Purrazzo back into the ring for a 2 count. She flipped her over for a roll up for another two count, then a backslide of which Purrazzo kicked out again. Yim avoided Purrazzo and hit a running hurricanrana. Purrazzo avoided an attack in the corner and began targeting Yim's arm.
(Commercial)
The action returned and Purrazzo was in control, still targeting Yim's left arm. Purrazzo stomped down hard on Yim's arm and covered for a 2 count. Purrazzo tried to lock in the armbar but Yim was trying to block it. Yim got to her feet and took down Purrazzo with an arm drag. Both women ran at each other and Yim hit a headbutt, sending them both to the mat. The referee made it to a 9 count before both women made it to their feet. They exchanged right hands before Yim took control with a clothesline and a dropkick into the corner. Yim hit a hard running kick followed by a Cannonball for a close 2 count. Yim pulled up Purrazzo and hit Eat Defeat but Purrazzo was able to roll out of the ring. Yim was looking for a Package Piledriver but Purrazzo wriggled free and hit a big kick for a 2 count. Purrazzo called for the end as she set up for the Queen's Gambit but Yim flipped her over. Yim climbed to the top but was stopped in her tracks and Purrazzo tossed her hard down to the mat. Purrazzo missed a Spear in the corner and went shoulder first. Yim hit Code Blue for a close 2 count. Both women were slow to their feet in this physical match up. They exchanged right hands and chops until Purrazzo took control with an elbow against the ropes. She ran against the ropes but Yim cut her off with a Big Boot. Purrazzo tried the Fujiwara Armbar but Yim turned it into a roll up for 2. Purrazzo hit the Queen's Gambit Piledriver for a very close 2 count. The fans thought that was the end of the match right there. Purrazzo screamed at the referee. Yim backed into the corner and hit a headbutt on Purrazzo followed by a Powerbomb. Yim hit the Package Piledriver but Purrazzo kicked out at 2! Both women were spent at this point but willed themselves on. Yim hit Purrazzo with a barrage of forearms and kicks to the face. She hit a Package Piledriver and Eat Defeat for the 3 count after 14:42.
Winner by pinfall and #1 Contender: Mia Yim
Analysis: **** I thought that was an excellent, back-and-forth match between two of the top stars of the Knockouts division. I was surprised that Yim won, as Purrazzo is always booked quite strongly, but pleased that Yim will get the shot at Grace at Emergence. I think they will have a great match in Chicago in August. The match was really hard-hitting, especially since they both hit variations of Piledrivers during the match. As long as you can trust your opponent to do this safely, which they obviously did, then it can be shown to be effective and looks even more devastating in a women's match. I thought they both worked really hard, the selling and timing of the match was great and it was the best match of the night. That's also only the second match I have rated at 4 stars since I began reviewing Impact last month. Either well done ladies or I'm too harsh a critic!
Post-match, Grace went to the ring to congratulate Yim. Grace left the ring so Yim could celebrate her victory as Impact went off air.
Final Rating: 7/10
A good episode of Impact this week that started off really strongly with the 2 X-Division matches and then closed out well with a terrific main event. I enjoyed the debut of Alan Angels and he looks like he can play a regular part in Impact, as opposed to a bit-part in AEW. They lost a little bit of momentum in the middle of the show but had some effective backstage segments to set up some matches for next week and some new feuds. I noticed that they utilised their backstage segments a lot more effectively this week, rather than having longer in-ring promo segments. There were no signs of Moose or Sami Callihan, as they sell the brutality of their match from Against All Odds, or Impact World Champion Josh Alexander. Next week's card is stacked so I look forward to reviewing that already.
Any feedback or comments are welcome. Here's my email address kristian.l.thompson@gmail.com in case anybody wants to get in touch with me and Twitter is @thomok6 as well. Thanks for reading!