Impact Wrestling Review – January 5, 2023
The first Impact show of the year featured the continued tension between Bully Ray and Impact executive Scott D'Amore, a face-off between Moose and Joe Hendry, as well as singles action between Matt Cardona and Chris Sabin.
Impact Wrestling 5/1/23 from Charles F. Dodge City Center, Pembroke Pines, Florida
The show opened with a memorial tribute to Don West, former (TNA) Impact commentator who passed away on December 30th after a lengthy battle with cancer. West was the definition of a 'colourful commentator' and always brought so much energy to the Impact shows. Last week's show was a 'Best Of' special so they showed highlights of the final taped show of 2022 where Bully Ray got the upper hand on both Impact World Champion Josh Alexander and Bully's former friend, Tommy Dreamer. Scott D'Amore then ordered both Bully and Alexander to stay home until next week's Hard to Kill PPV.
Deonna Purrazzo joined the commentary table for the first match of the evening.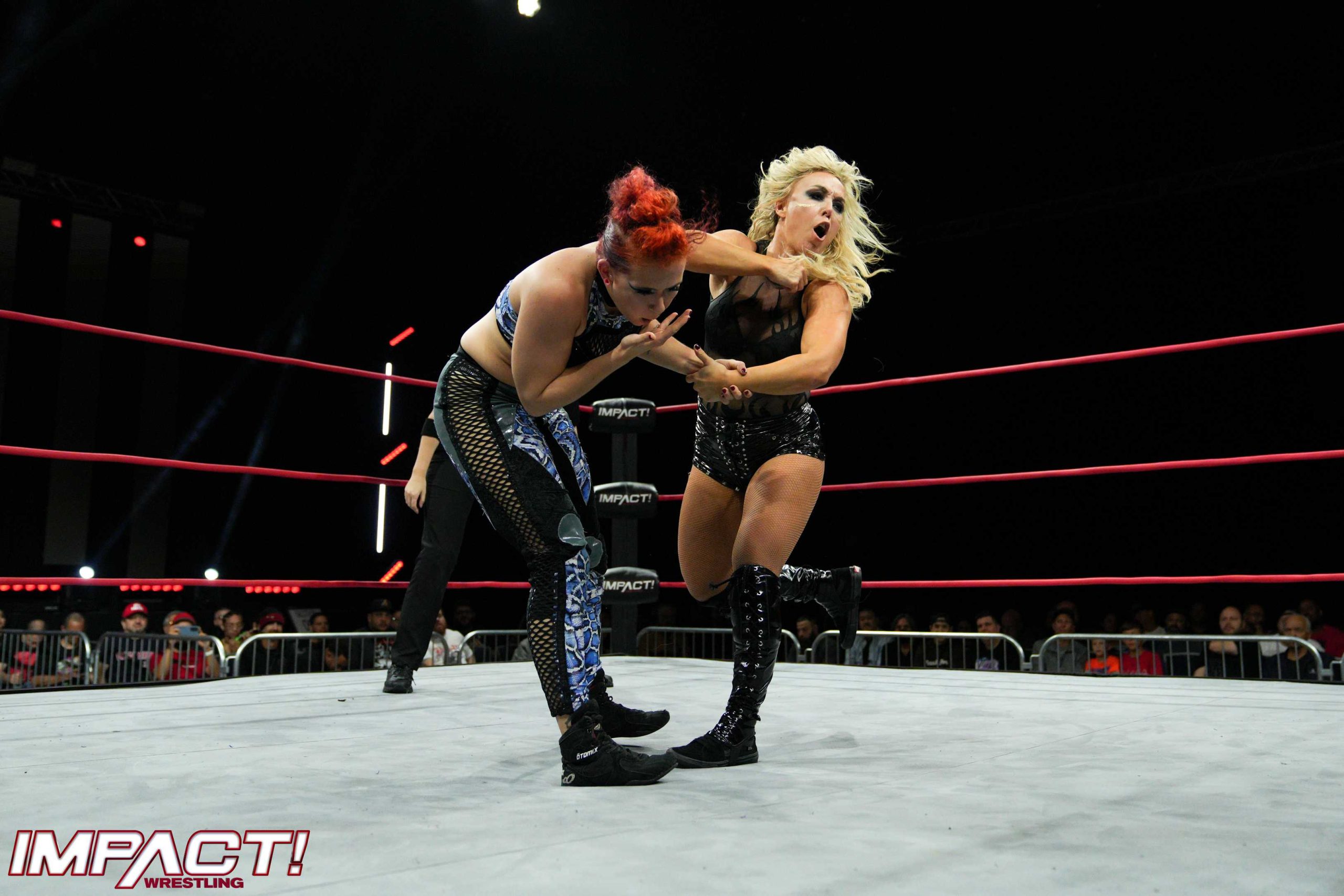 Match #1: Masha Slamovich vs Taylor Wilde
This is Slamovich's first match since the Over Drive monthly special in mid-November, where she failed in her quest to gain the Knockouts' World Championship against Jordynne Grace. Taylor Wilde made her way to the ring next, sporting a darker side as per her latest vignettes. Wilde, Slamovich, Purrazzo and Killer Kelly compete in a Fatal-4-Way for the #1 Contendership for the Knockouts' Championship next Friday at Hard to Kill
They lock up and Slamovich gains the upper hand with a headlock takeover. Wilde quickly gets free and tries to target the left arm. Slamovich is able to athletically reverse this and they exchange forearm shots. Slamovich sends Wilde to the corner with a headbutt. Wilde avoids a running attack and hits a nice backbreaker and then a running kick. Wilde chokes Slamovich in the corner using her leg and the top rope. Slamovich runs at Wilde who slams her face-first using her legs into the mat. That was a creative move. Slamovich hits a double stomp to regain the ascendency in the match. Slamovich repeatedly rams Wilde's face into the ring mat and then wrenches at her face. Wilde reverses a suplex attempt and nails a slow releasing German suplex for a 2 count. Slamovich hits a combination of strikes and a snap suplex. She holds onto the move and connects with another one, then moves over to the corner and suplexes Wilde into the bottom turnbuckle. Wilde kicks out at 2. They exchange strikes and head butts, then Wilde chops Slamovich hard against the ring ropes. They both attempt a clothesline but the landing looked a bit awkward. Wilde hits a clothesline, then a back elbow and takes Slamovich down with a dropkick and a modified Codebreaker for 2. Slamovich is whipped outside onto the ring apron but is able to hang Wilde up by the throat. Slamovich then abuses Purrazzo at the commentary table and spits at her. She gets back into the ring and Wilde surprises her with an inside cradle for the pinfall win after 9 minutes.
Winner by pinfall: Taylor Wilde
Analysis: *** It was booked as a very even match-up, due to the fact that they're participating against each other in a Fatal 4 Way in a week's time. Some of the spots were not as crisp as they could have been, but I liked the aggression of both women and they legitimately looked like they wanted to fight.
After the match, Slamovich went to ringside and grabbed the ring announcer, Dave Penzer. Slamovich then destroyed one of the 'security guards' with the Snow Plow on the ringside padding. Impact referees told her to get to the back and the fans were actually booing them rather than Slamovich (poor security!).
Analysis: Even though Slamovich lost, she still left looking like a big threat.
There was a video of Sami Callihan, that was shot as if it was him doing the recording himself. He recapped the last few weeks where he has been beaten down by The Design. Sami reminded us that he even offered to join the group. He wants an answer by the end of the night.
Analysis: Sami is certainly an unstable character, but even him offering to join this heel stable is a little bizarre.
There was a recap of the intense Rich Swann vs Steve Maclin match that ended in a double count out. Rich Swann cut a quick promo challenging Maclin to a Falls Count Anywhere match at Hard to Kill.
Analysis: The last match was great even with the non-finish but this one will top it.
Crazzy Steve was in the ring and cut a quick promo hyping up Black Taurus ahead of this next match.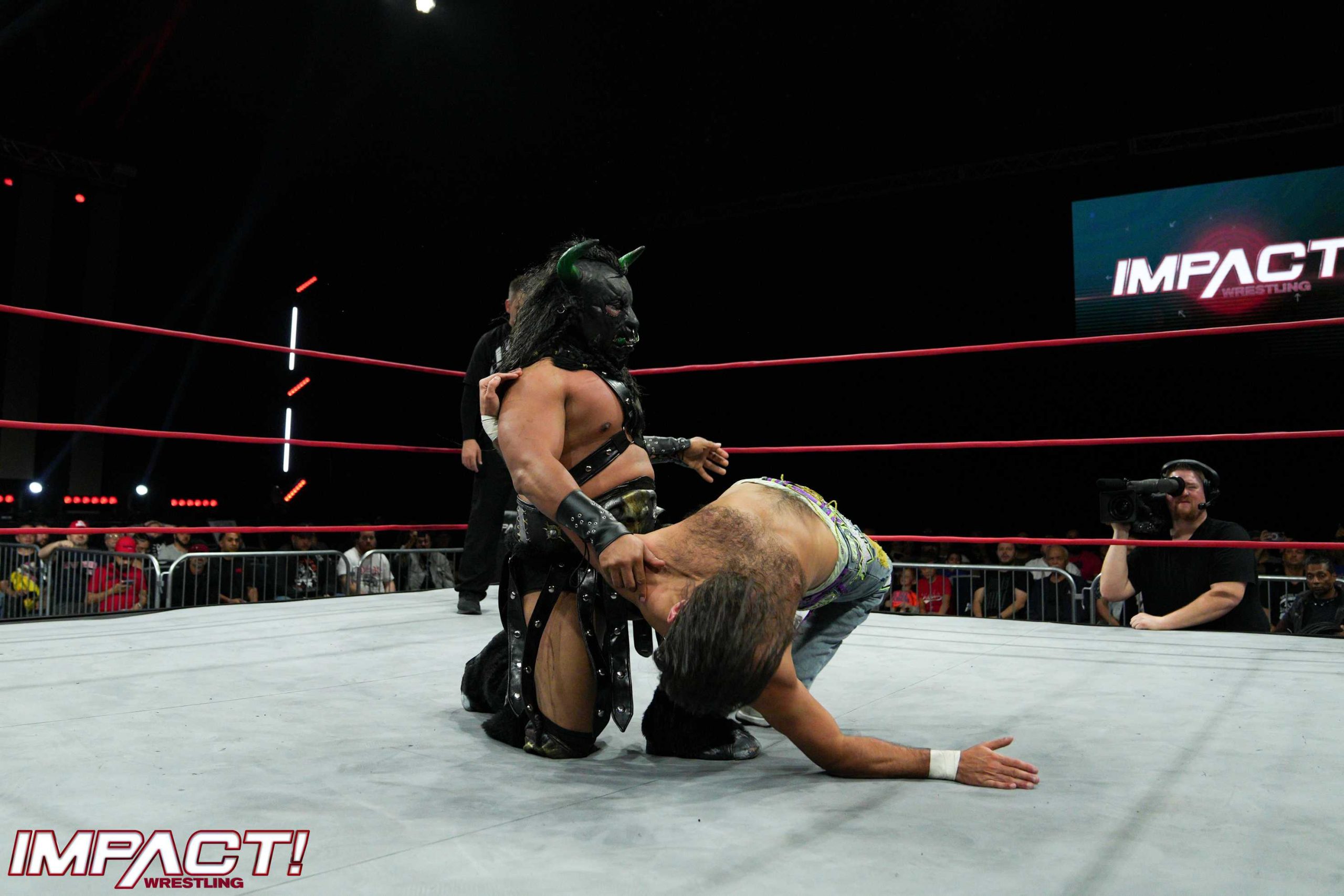 Match #2: Black Taurus w/ Crazzy Steve vs Anthony Greene
This was the debut of Greene but it's not going to end in a victory. Taurus faces Trey Miguel at Hard to Kill for the X-Division Championship. Greene used his athleticism to frustrate Taurus early on in the match up. He connected with a hurricanrana but then missed a corner attack so Taurus took advantage. Taurus hit a powerslam for 2. Taurus hit a hard chop that sent Greene into the corner. Greene fought back with some chops of his own, as Taurus was up against the ring ropes. Taurus ran at Greene but tumbled to the outside. Greene spent too much time stalling on the ring apron so Taurus took his legs out from under him. Greene recovered and sent Taurus into the ring post as we went to a commercial break.
(Commercial break)
Greene was on top as the action returned. He hit a series of elbow drops and scored a 2 count. Greene hit a dropkick for another 2 count. He continued the attack with clubbing blows to the back of Taurus, then taunted Steve at ringside. Greene attempted a back suplex but Taurus blocked it. Greene walked across the top rope like a tightrope and connected with an impressive spinning crossbody. He nailed Taurus with a release back suplex for a close 2 count. Greene whipped Taurus into the corner but Taurus met him with a huge headbutt and then a bulldog. Taurus connected with a slingblade and a pop-up Samoan Drop. Taurus was building momentum but Greene blocked a kick attempt and nailed a running knee. Greene ran at Taurus who caught him with a big back breaker and then Destination Hellhole for the 3 count after 6 minutes.
Winner by pinfall: Black Taurus
Analysis: **3/4 The winner was certainly obvious, but Greene got a lot more offense in than I expected and was impressive on debut. He played the cocky heel quite naturally. I thought it would be a quicker and more decisive win for Taurus with a championship match on the horizon at the PPV but it's fine to allow Greene to look competitive in his first match.
Kenny King was shown at Mike Bailey's dojo in Montreal. King wanted to know where Bailey was but one of Bailey's student told King to leave. King attacked all 5 of the students and laid them out. Bailey was interviewed by Gia Miller. Bailey was angry at what King just did. Bailey challenged King to a Pit Fight.
Analysis: This has been bubbling away for quite a while with Bailey happy to dismiss King's verbal antics. Attacking his students was too much for him though, so King got under his skin which was the plan all along. This has been a well-built undercard feud.
Both competitors were already in the ring for the next match.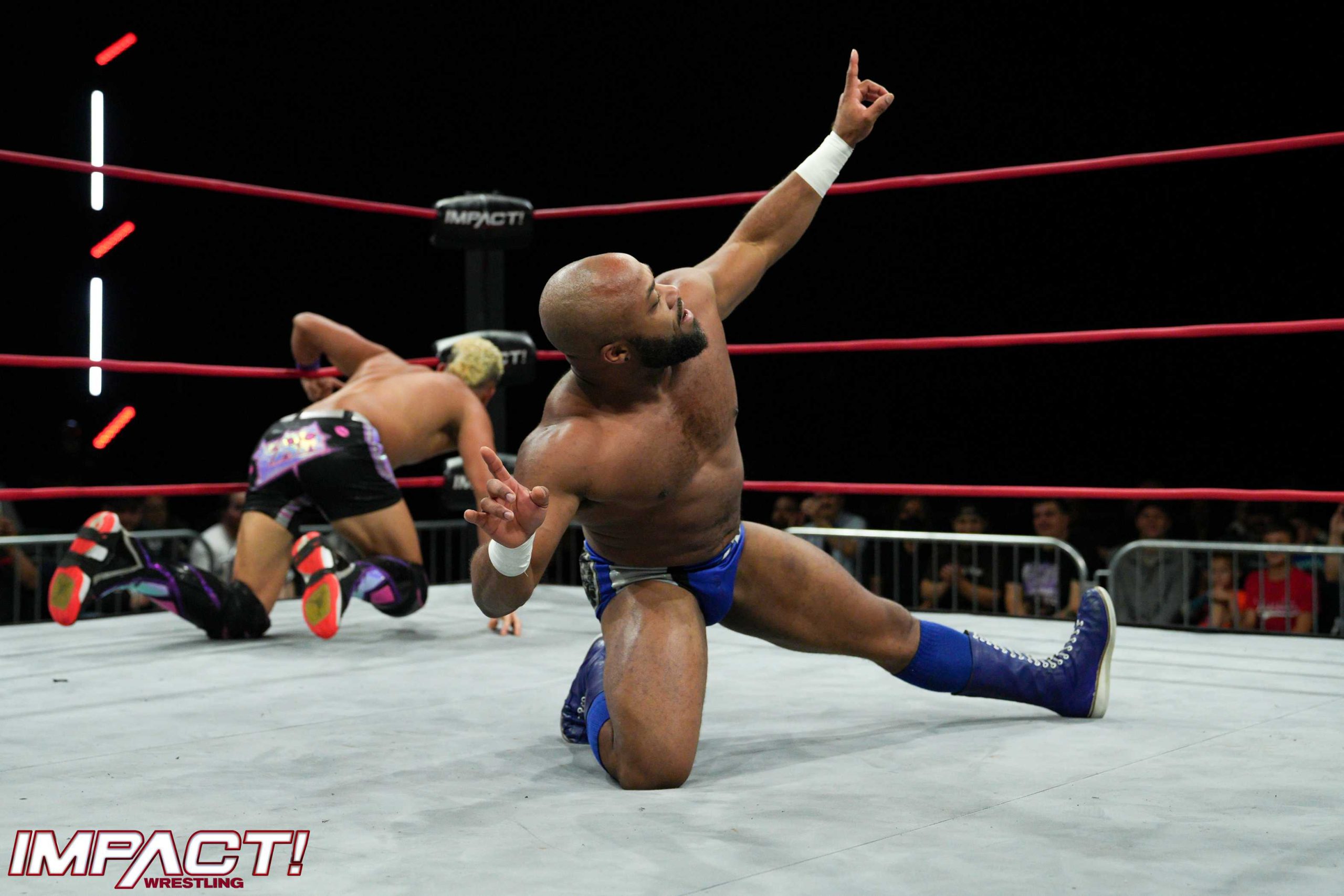 Match #3: Jonathan Gresham vs Ernest R Anthony
I'm not sure if a name generator came up with that or maybe someone at NXT offered the name, but Ernest R Anthony is not a good wrestling name. Gresham faces Eddie Edwards at Hard to Kill. He hit an impressive springboard head scissors and a drop kick. Anthony avoided a corner attack and hit a smooth sunset flip roll up. However, Gresham quickly turned it into an anklelock. Anthony made it to the ropes but was hampered by the ankle. Gresham hit a hard dropkick to the left knee and then locked in a submission where both arms were pinned and he manipulated the ankle into a very unnatural position. Gresham turned it into a pinfall for the 3 count and an easy win after 3 minutes.
Winner by pinfall: Jonathan Gresham
Analysis: *1/2 An easy win for Gresham who toyed with his opponent. This feud needs some interaction between Edwards and Gresham in a hurry.
Backstage, Tasha Steelz was frustrated at another loss with Savannah Evans on the last episode of Impact. Gisele Shaw and her stylist walked into the conversation. She offered her help to Steelz and Evans. Steelz wondered why they would want her help when she just lost against the Death Dollz. Shaw said that the numbers are always against them as the Death Dollz have 3 members. Shaw whispered something to Evans as the camera cut away.
Analysis: Shaw is a solid competitor but they aren't helping her cause by having her lose with lots of different opponents. I'd rather her just stick with one group or go out by herself.
Deaner cut a pre-taped promo on Sami Callihan. He told him to join the movement. Deaner said Callihan's identity needs to be stripped away and that's a process. He said he can start that next week by cutting his hair.
There was a video package of some of Josh Alexander's title defenses over the past year. He has been a stellar champion with many 4-star matches as rated by me. I expect the match with Bully Ray to be more of a fight than a classic match, but it will still be of very high-quality because of the excellent build up and personal feel.
Promo Time With Moose
Moose made his way to the ring to cut a promo on Joe Hendry. Moose is not happy that Hendry is always happy, smiling and singing. Moose understands that this is because Hendry has never faced adversity and everything has been handed to him. He says he has now found his true calling, as a scumbag. Moose calls himself the greatest champion that Impact has ever seen. He says that he will take Hendry's championship and wipe the smile off his face. Moose 'says his name' and out comes Hendry. Hendry says there's nothing worse than an angry moose. He says the real Moose is in here (in his heart) and that the people would like the real Moose. Hendry says to let the Moose loose (yes, I have to write that sentence) and has written Moose new entrance music. Hendry plays a ridiculous video with Moose's name dubbed over the top of Hendry's music. There are some humorous clips of Moose dancing, being trapped in a trash can and removing thumb tacks from his backside in matches against Sami Callihan. The fans start chanting "Dancing Moose" and Moose is not impressed. Moose says he believes that he is going to shove his size 13 boot up Hendry's ass at Hard to Kill and nobody will believe in Joe Hendry anymore. Moose demands that his music be played and the mock music plays again as Moose yells at the Impact staff at ringside.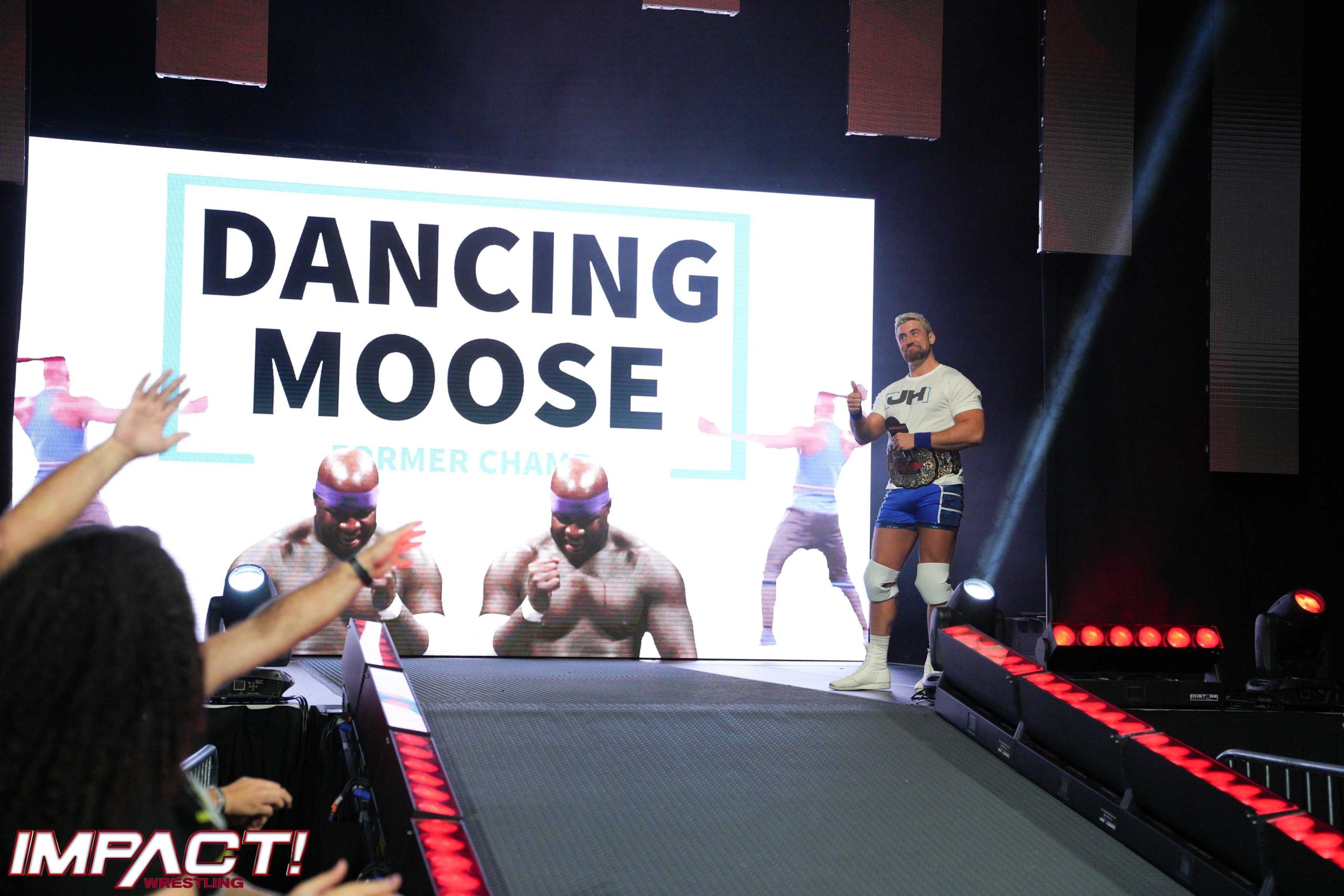 Analysis: That was ridiculous and over the top, but that's the Hendry gimmick and it works for me. Moose was good as the serious heel who wants to put Hendry in his place.
There was a 7-minute video of Mickie James, who talked about her career highlights and working for different companies over the journey. It was really well done and adds to the build for her match at Hard to Kill, where again her career is on the line.
After that, there was a video tribute to Don West. Different Impact personalities recalled their fondness for West, such as Gail Kim, Chris Harris and Josh Alexander. He will be sadly missed, not just by Impact but all of the wrestling world.
Match #4: Matt Cardona w/ Brian Myers vs Chris Sabin w/ Alex Shelley
These two teams, along with Bullet Club and Heath & Rhyno, face-off for the Tag Team Championships at Hard to Kill. This singles match is the main event for the evening but isn't closing the show. Sabin takes down Cardona with an arm drag early on in the match. Cardona overpowers Sabin with knees in the corner. He runs at Sabin who hits a series of hip tosses and then goes back to targeting the left arm. Cardona backs into the ropes to break the hold and knees Sabin hard in the ribs. Myers grabs the leg of Sabin, so Cardona takes advantage of the distraction with a drop kick which sends Sabin to the floor. Cardona is looking for a powerbomb on the ramp but Sabin reverses it into a back body drop and Cardona lands hard on the steel.
(Commercial break)
We return to the action with Cardona in control with forearms to the face of Sabin who is in a seated position. Cardona gets a 2 count. Sabin fights back with chops that send Cardona into the corner. Cardona reverses an Irish Whip and sends Sabin hard into the turnbuckle. Cardona hits a series of neck-breakers and gains another 2 count. Cardona locks in a sleeper temporarily as Sabin breaks free quickly. Sabin attempts a sunset flip pin and gets a 2 count. Cardona levels him with a hard clothesline. Sabin fights back with some jabs to the face and surprises Cardona with a backslide for 2. Sabin hangs Cardona in the Tree of Woe and nails a jumping dropkick. Sabin lifts Cardona up on his shoulders but Cardona sends him hard into the ring post. Cardona goes for the Reboot but Sabin moves, allowing Cardona to tumble to the outside as we go to another commercial.
(Commercial break)
Sabin hits a Tornado DDT from the top rope and goes for a pinfall but the referee is distracted by Shelley and Myers fighting outside the ring. Cardona launches himself at Sabin but flies over the top rope to the floor. Sabin connects with a suicide dive to take out both the Major Players at ringside. Sabin throws Cardona back into the ring and nails a crossbody for 2. Cardona pulls the referee into his path just as Sabin is about to nail him with a kick. Cardona suplexes Sabin hard into the bottom turnbuckle. Cardona nails the Reboot in the corner and follows up with another one. Cardona covers and gets a 2 count, but as he is counting along with the referee Sabin rolls him up for a 2 count. Cardona hits a missile dropkick off the top rope. Sabin bounces straight back up with a dropkick of his own and then lands the Cradleshock for the win after 10 minutes.
Winner by pinfall: Chris Sabin
Analysis: ***1/2 A fun match with the usual shenanigans as to be expected during a match involving the Major Players. I thought it might be a smart idea to give Cardona the win ahead of the PPV but it was not to be. The Championship match at Hard to Kill should be excellent.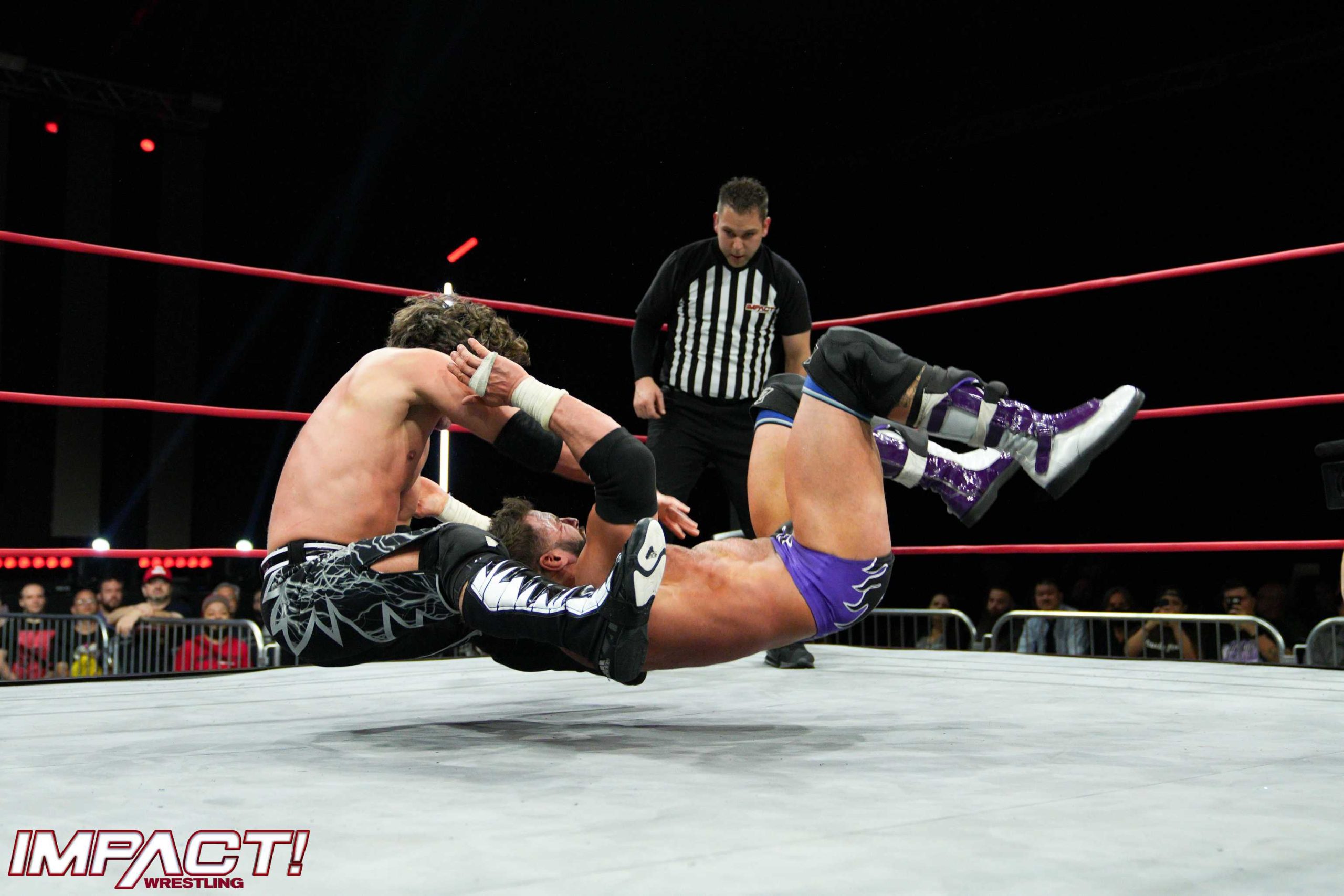 Tom Hannifan and Matthew Rehwoldt were hyping up the Hard to Kill card when Bully Ray appeared at ringside. Bully is supposed to be at home until the PPV. He picked up a steel chair which made the commentators very nervous. Bully called for a microphone as the fans told him that he sucked. Bully said he wanted Josh Alexander in the middle of the ring now and if he doesn't come out then he is going to start cracking skulls at ringside. Out comes Executive VP of Impact, Scott D'Amore, who does not look impressed.
(Commercial break)
Main Event Promo With Bully Ray And Scott D'Amore
D'Amore confronts Bully in the ring, looking dismayed. D'Amore calls Bully really tough for calling Alexander out, knowing that he's not here. D'Amore reiterates that he ordered Bully and Alexander to stay home until Hard to Kill. Bully says he doesn't respect anything D'Amore has to say. D'Amore believed Bully when he said he had changed when he returned to Impact. He wanted to give him a chance, even though he knew in the back of his mind Bully would probably stab him in the back. D'Amore recalls leaving Impact 12 years ago and taking a long, hard look at himself in the mirror, then deciding what kind of man he wanted to be. D'Amore thought that's what Bully had come back to Impact for- to change his story. D'Amore says Tommy Dreamer is lying in a hospital bed, all because of Bully, and that at Hard to Kill Alexander is going to give him the beating of a lifetime. D'Amore asks what happens to Bully after that match? He doesn't go back to a locker room full of peers who respect him or an adoring family, like Alexander does. Bully will go back to his hotel room, sad, pathetic and lonely. Bully tells D'Amore that this doesn't make him sad and pathetic. It will make him a 3-time Impact World Champion. Bully tells D'Amore that his opinion means nothing to him and that he's only out here because Bully is sharing the spotlight with him. D'Amore knocks Bully's microphone out of his hand and the two go face-to-face. Bully shoves D'Amore, who takes his jacket off. Bully tells D'Amore to punch him because everyone wants him to. Bully gets in D'Amore's face so D'Amore knocks his microphone out of his hand again. D'Amore said he has spent 5 years cultivating a locker room to do the right thing, but there's no reason why he should and he decks Bully with a right hand! D'Amore spits at Bully who is down in the corner. Jason Hotch and John Skyler, who helped Bully take out Dreamer and Alexander two weeks ago, run down to the ring and hold D'Amore by the arms. D'Amore tries to break free but Bully kicks him in the gut. Bully gives D'Amore a (really safe) Piledriver in the middle of the ring. Bully instructs Hotch and Skyler to get a table. They lift him onto Bully who powerbombs D'Amore through the table! Shades of Bully powerbombing Dixie Carter through a table in 2014. Bully asks if D'Amore knows who he is? The next Impact World Champion. Impact goes off the air with D'Amore down in the ring and Bully standing ringside with Hotch and Skyler, who admire their dirty work.
Analysis: That was another effective segment that builds up the evil figure of Bully Ray and the dastardly lengths he will go to on his World Title quest. He knew Alexander wasn't going to be there and he knows D'Amore won't punish him because D'Amore wants to see Bully get his ass whipped at Hard to Kill. D'Amore is a confident talker and the animosity between them is believable; they have good chemistry together. It was another week where Bully Ray stood tall but I think Alexander will retain at Hard to Kill, which is shaping up to have a very solid card (read below).
Final Rating: 6.5/10
It was an interesting show this week where nothing wrestling-wise really stood out, but there was enough progression in storylines for Hard to Kill to keep us invested as well as a few matches being officially added. Cardona vs Sabin was really good as expected, and it was good to see Gresham back in the ring. I hope there's a confrontation between him and Edwards next week as I think the feud does need a face-off. The Hendry/Moose stuff was goofy but it gets Moose back on PPV where he belongs and it makes the Digital Media Championship feel like a big-deal with a former World Champion challenging. There were a number of video packages this week which were respectfully done. It was fitting to have a tribute to Don West and then the career highlights video with Mickie James was not only unique but it keeps you guessing on the match outcome at Hard to Kill when she faces Jordynne Grace.
Impact also added Maclin/Swann (Falls Count Anywhere) and the Fatal 4 Way for the Knockouts' #1 Contendership, either on this episode or throughout the week. Bailey vs. King got announced for the January 19th taping. Maybe something with Callihan and the Design, although in the past Impact have often done a few big angles or matches on the night before the monthly special or PPV, for those wrestlers not on the main card.
The next PPV, Hard to Kill on January 13th, looks like this so far:
– Impact World Championship: Full Metal Mayhem: Josh Alexander (c) vs Bully Ray
– Knockouts' World Championship: Jordynne Grace (c) vs Mickie James (if Mickie loses she must retire)
– Impact World Tag Team Championships: Fatal 4 Way Elimination Match:
The Motor City Machine Guns (c) vs the Major Players vs Bullet Club vs Heath & Rhino
– X-Division Championship: Trey Miguel (c) vs Black Taurus
– Impact Digital Media Championship: Joe Hendry (c) vs Moose
– Knockouts' Championship #1 Contendership: Killer Kelly vs Masha Slamovich vs Deonna Purrazzo vs Taylor Wilde
– Falls Count Anywhere: Steve Maclin vs Rich Swann
– Jonathan Gresham vs Eddie Edwards
Any feedback or comments are welcome. My email address is kristian.l.thompson@gmail.com in case anybody wants to get in touch with me and my Twitter handle is @thomok6 as well. Thanks for reading!