Impact Wrestling Review – January 19, 2023
This week's Impact focused on the fallout from Hard to Kill and featured the rivalry between Kenny King and Mike Bailey coming to a head in a Pit Fight.
Impact Wrestling 19/1/23 from Center Stage Theatre in Atlanta, Georgia
The show opened with an 'In Memory' graphic to the late Jamin Pugh (Jay Briscoe). Jay died in a car accident earlier this week at the young age of 38. I did a US trip in March and April on 2015 and we caught an ROH show on WrestleMania weekend, headlined by Jay Briscoe vs Samoa Joe, so I can say that I had the privilege of watching him perform live at least once. I don't watch a lot of ROH, but always enjoyed their tag team especially as they appeared in Impact over the last six months or so. My condolences go out to his family and friends.
There was a video package highlighting the main matches from Friday's Hard to Kill PPV. If you missed it, you might like to read my review here. I thought it was a really good show (7.5/10) with the best matches being Eddie Edwards vs Jonathan Gresham and Mickie James vs Jordynne Grace. The big moment of the night was James winning the Knockouts' Championship and ending the storyline where her career was on the line in each match. Josh Alexander also retained the Impact World Championship in a brutal Full Metal Mayhem match against Bully Ray.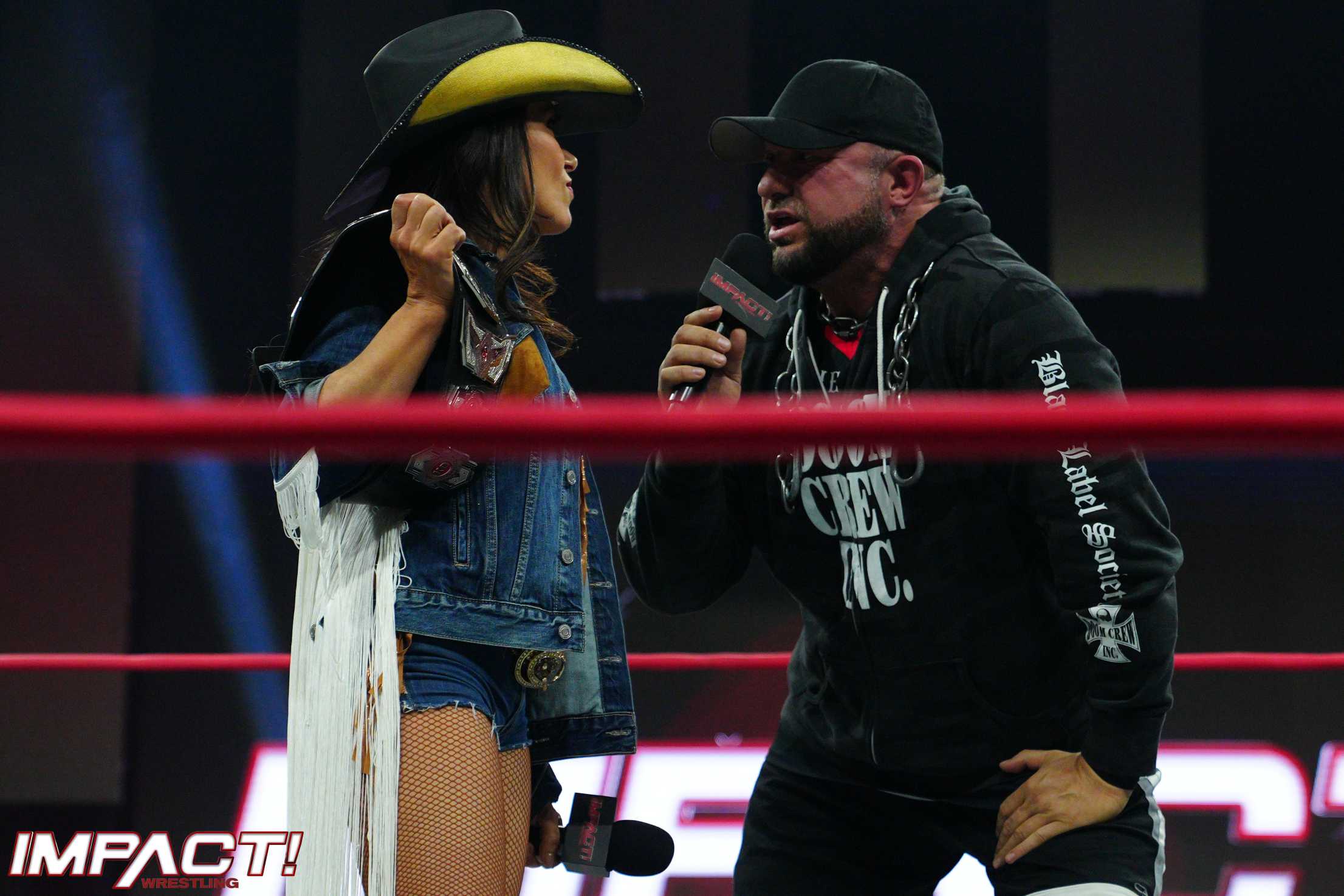 Promo time with Mickie James
Mickie James made her way to the ring with her Knockouts' Championship. James looked elated and the fans gave her a great ovation. James took a microphone as the fans chanted her name. She thanked the fans in Atlanta for their warm welcome. James put over her main event match with Jordynne Grace. She told the fans that there was a new champ in the house and that she loved the fans. All of a sudden, Bully Ray's music hit and he ambles down to the ring looking menacing. The fans chanted "You tapped out" to further annoy Bully. Bully tells them to shut his music off. He points to the back and tells Mickie to leave the ring. Mickie tries to cut him off but Bully repeats himself. James says Bully should listen to the fans, because they're pretty clear on who they want out of the ring. The fans chant "Get out Bully" next. James tells him to get out of her ring. Bully says he's had enough of her talking and wasting time. He tells her it's not her ring and tells the fans to shut up. Bully tells the fans that he was the main event of Hard to Kill, just him and not him and Josh Alexander. Bully said he was the one who sold the arena out, yet the fans cheer for Mickie. Bully says that before he came back to Impact in September, nobody wanted to talk about Impact Wrestling. Bully says he put Alexander up in headlines on social media and all the wrestling websites. Mickie asks if Bully is finished talking about himself. Mickie says the only headline she sees is 'Bully Ray Taps Out'. Bully gives Mickie one last warning to get out of the ring. He threatens Mickie to choose her words carefully. Mickie says Bully has shown his true colours: "A bitter bully who politics his way to getting what he wants, throwing a temper tantrum whenever he doesn't get what he wants'". Mickie says she won't back down from Bully and if he wants her out, he will have to remove her. Bully takes off his hat and getting ready to do so, when Tasha Steelz comes out with Savannah Evans. Steelz says she wants a front row seat when Bully throws Mickie out of the ring. Steelz asks what Mickie is really celebrating. She says Mickie started this whole rodeo because she knows that she still can't beat Tasha Steelz. Mickie pushes Tasha out of her way. Bully tells Tasha not to take that. Steelz says she doesn't care about Jordynne Grace's rematch or Masha Slamovich becoming number 1 contender. Steelz wants to be first in line to face James. Evans takes out James from behind. Steelz and Evans stomp away at James so Bully Ray leaves the ring to get a table. Frankie Kazarian and Jordynne Grace run down to the ring to make the save. Santino Marella, the new Director of Authority, makes his way to the ring. He is still wearing his ridiculous badge. He introduces himself again and tells the fans that this situation is calling him to do something (make a 6-person tag) but he can't quite work out what that is. Ernest 'The Cat' Miller's music then hits and he makes his way to the ring next, in a random turn of events. Miller reminds Santino that he used to be the Commissioner of WCW Nitro. He says it's time to make a big match so Santino begins to announce a tag match when Bully Ray starts to walk up the ramp. I think Santino called him Bobby Ray so the fans chant that and he tells Bully that he has the power to fire him, so he better get back in the ring. Santino says it's Kaz, Grace and James vs Steelz, Evans and Bully right now.
Analysis: That was a long, random segment to kick off the show. We know Bully gets heat easy, but I would've just been happy to let Mickie James have her moment and then be confronted by Steelz. Santino is going to be a goofy authority figure it seems, so the appearance of Miller (who lives in Atlanta) to help Santino make a decision was fine. Grace running down to save James makes sense because of the respect they built up during their feud, but Kaz's appearance was random so perhaps a program with Bully is on the cards.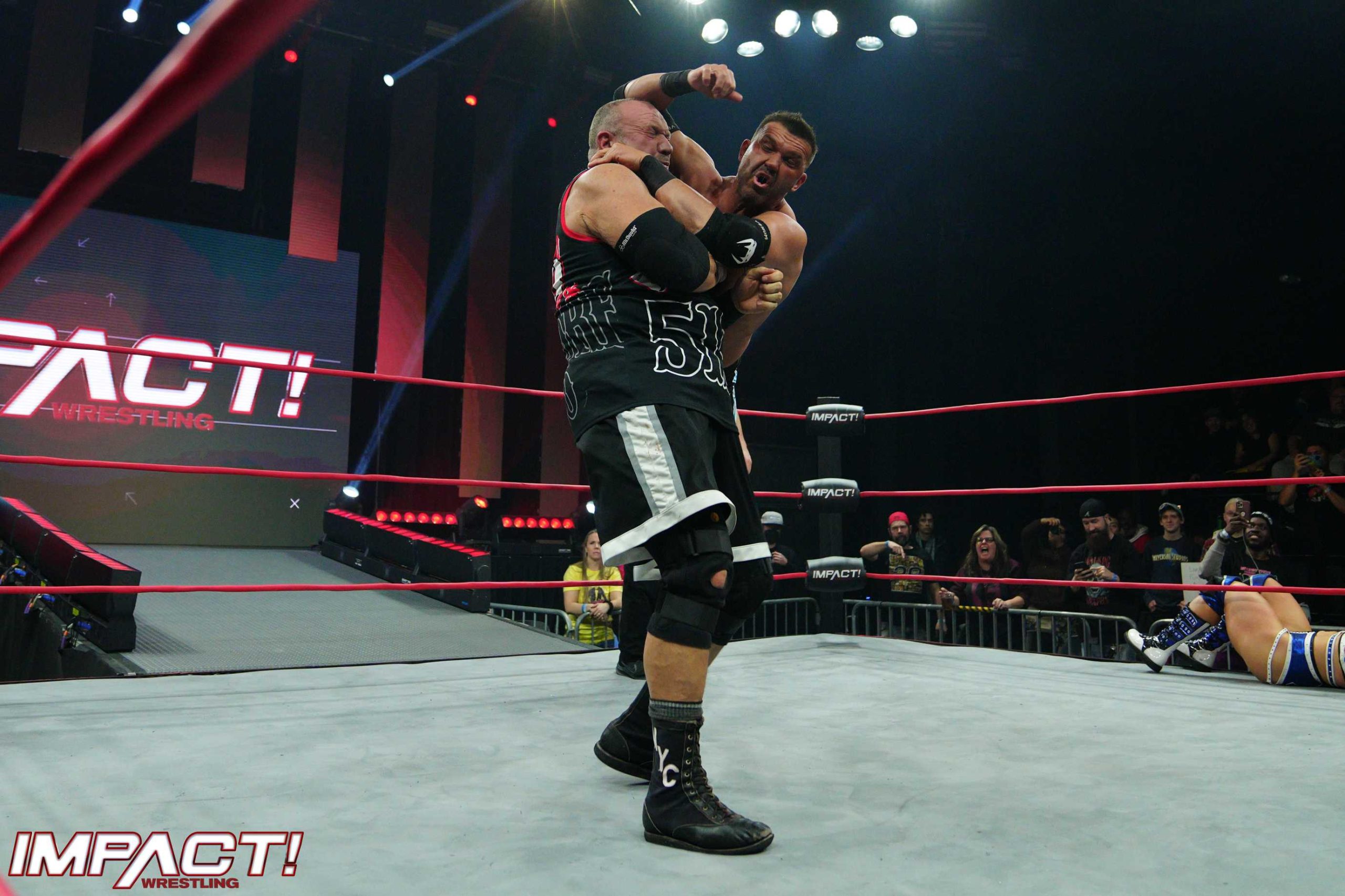 Match #1: 6-Person Tag Team Match: Mickie James, Jordynne Grace and Frankie Kazarian vs Tasha Steelz, Savannah Evans and Bully Ray
Male vs female interaction is permitted in this match. Grace and Steelz start the match and Steelz jumps the former champion early on. Grace fires back with a scoop slam and begs Evans to tag in, which she does. Grace hits an impressive scoop slam on Evans and Grace wants a piece of Bully. Bully laughs it off and turns his back on Grace. The fans chant "Bobby Ray" again which is amusing, so Evans attacks Grace from behind. Evans spears Grace in the corner and chops her hard against the ropes. Evans tries to lock a Full Nelson in but Grace fights back with a big elbow to the face and tags in James. Mickie is fired up and hits an upper cut then a hard kick in the corner. James chokes Evans out in the corner with her foot. Evans whips James hard into the opposite turnbuckle and then stands on her back. Mickie bounces off the ropes but Evans takes her down with a hard clothesline for a 2 count. Evans spears Mickie against the middle turnbuckle and hits a Butterfly Suplex. Evans takes her time to throw Mickie into the corner but Mickie recovers with a hurricanrana from the top. James takes down Evans with a Thesz Press. She runs the ropes but Bully pulls her down to the mat by the hair.
(Commercial break)
Steelz is in control of James in the corner. She tags in Bully who hits a hard powerslam on James. Bully gets down to the mat and talks trash in James' face. James slowly gets to her feet and slaps Bully. Bully allows James to get close to her corner to make a tag, then pulls her back and scoop slams her hard to the mat. He tags Evans in who connects with a big right hand. Evans chokes James with her foot in the corner. She tags Steelz in who clubs away at James then tries to lock in a crossface. James gets to her feet and fights back with forearms. Steelz runs at James but is met with a hurricanrana. James reaches for a tag but is cut off with a pump kick by Steelz. James kicks out at 2 then tags in Evans. Evans hits a big right hand and then tags Steelz back in quickly. They try a double team move but James tosses Evans to the outside, then evades a pump kick from Steelz to tag in Grace. Grace connects with a backfist and hits double knees in the corner on Steelz. Grace with the Vader Bomb and Bully breaks up the pin. Grace faces up to Bully and impressively gets him up on her shoulders but Bully breaks free and chops her down hard. Kazarian has had enough and finally gets into the match. He sends Bully to the outside with a flying forearm. Bully Ray walks up the ramp and disappears. Grace clotheslines Evans to the outside and tags in James. James hits the Thesz Press off the top and stacks her up for the win after 11 minutes.
Winners by pinfall: Mickie James, Jordynne Grace & Frankie Kazarian
Analysis: ***1/4 It was a pretty basic 6-person tag but it was interesting in the fact that the men and women could interact. You would rarely see that in WWE but in Impact some of the women, especially Jordynne Grace, have wrestled the men in the past. They even had a female World Champion in Tessa Blanchard 3 years ago. Mickie getting the win was no surprise after her big title win at the PPV. Her and Grace look to be on the same page and Mickie vs Tasha can also happen at some point. Kazarian was in the match for about 10 seconds which was disappointing.
After the match, Masha Slamovich's music hits and she gets in Mickie James' face. Slamovich gives Mickie a marked photo to say she's next. Mickie puts the photo back in her face and Slamovich leaves the ring.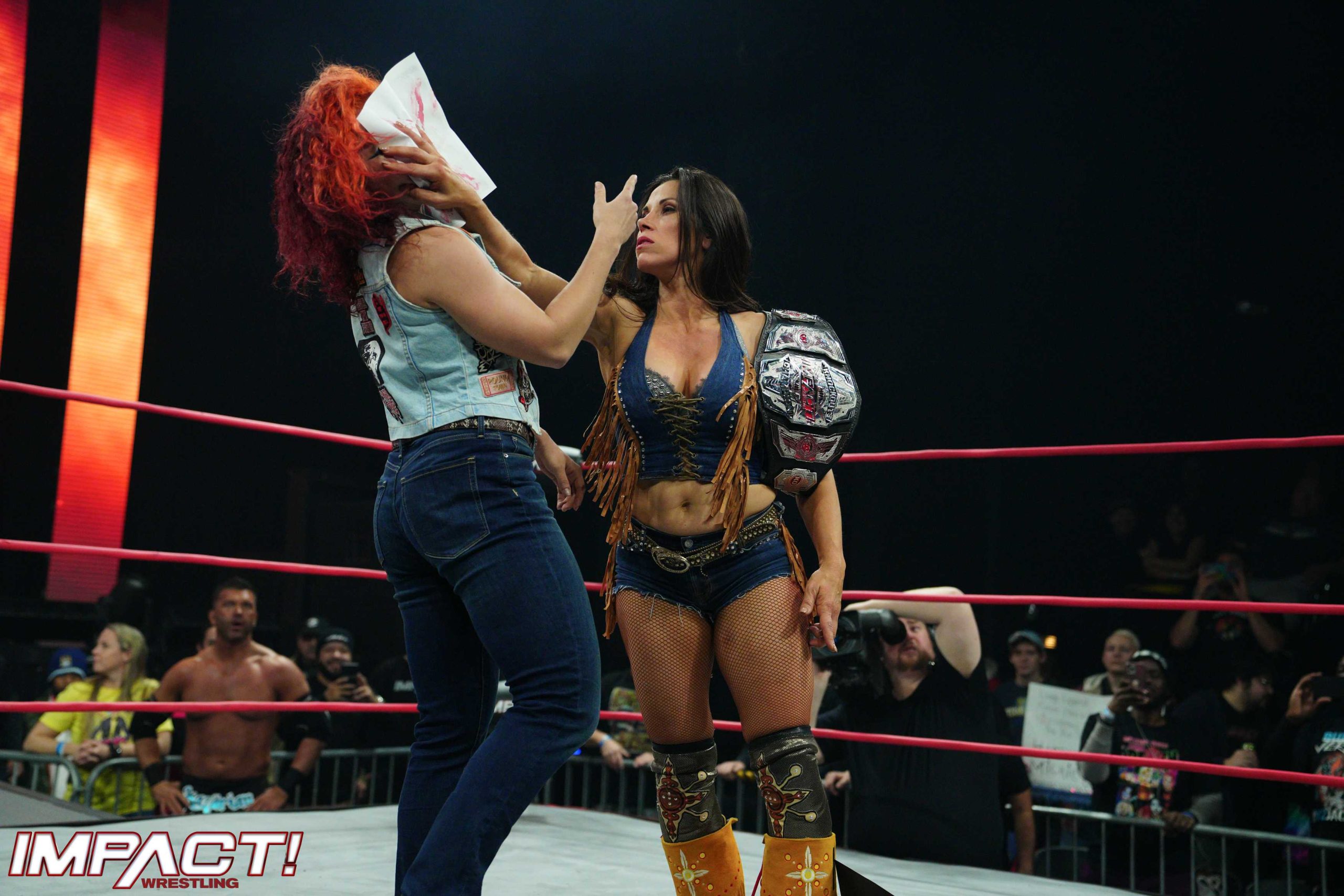 Analysis: Just a short interaction to remind the fans that Slamovich is the new #1 contender. James wasn't backing down so she shows that she's a fighting champion.
Santino and Miller are backstage. Miller said that Santino is doing a great job. Santino tells Miller that he has an idea called the Golden Six Shooter tournament, which will feature 6 former champions to crown a new #1 contender. He says the winner will face "Josh Alessandro" at No Surrender. It will be Chris Sabin, Eddie Edwards, Rhino, Rich Swann, Moose and Sami Callihan. Steve Maclin confronts Santino and he's angry because Rich Swann is in the #1 contender match, despite Maclin beating him at Hard to Kill. Dirty Dango is there chatting to Santino and Santino asks his advice. Dango says put him in a match tonight with Maclin. Santino makes the match for later on.
Analysis: I chuckled at the next Santino gaffe. Because these shows are taped, I guess they're intentional mistakes as that fits his character. I'm entertained.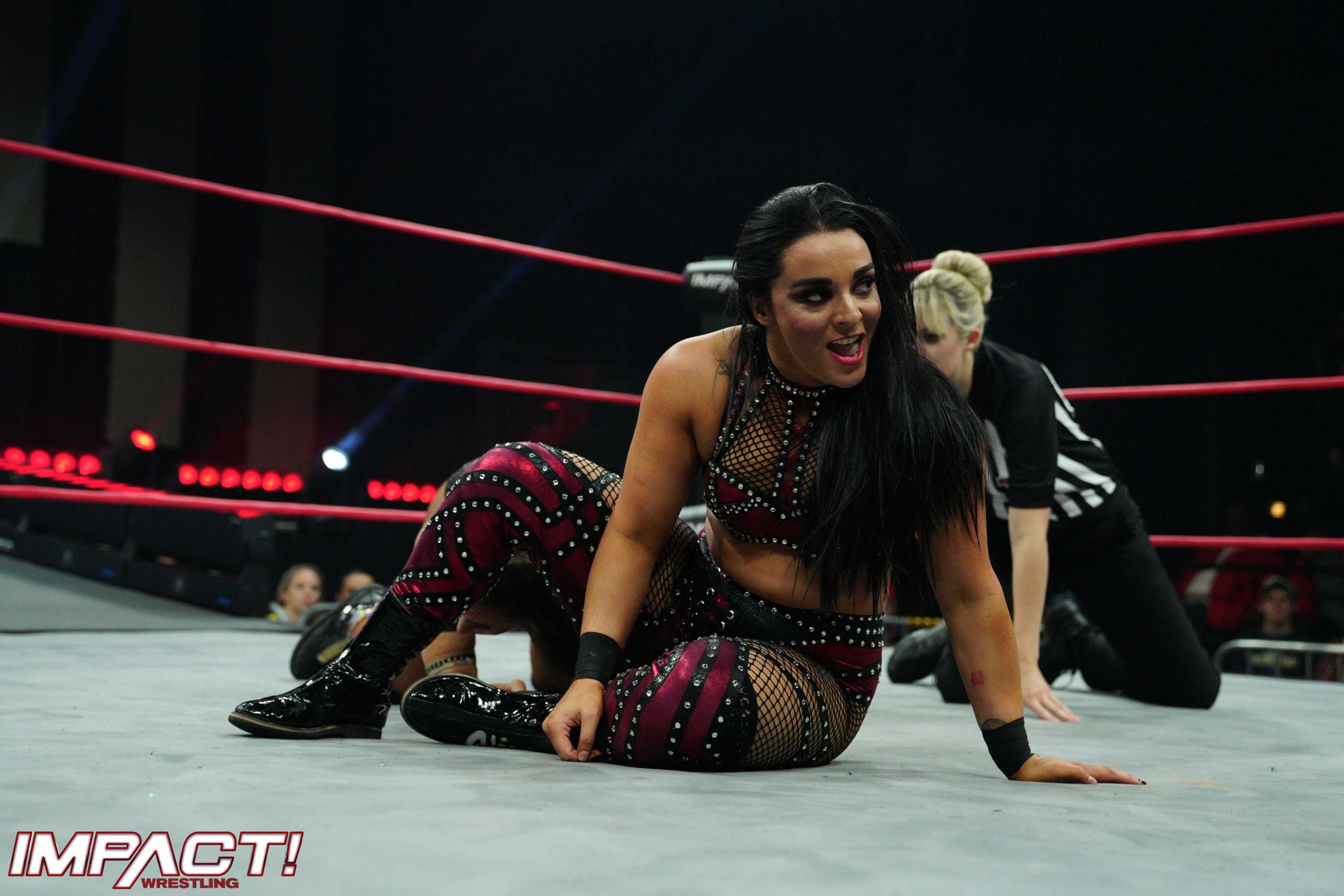 Match #2: Deonna Purrazzo vs Ashley D'Amboise
Purrazzo had her entrance televised whereas D'Amboise predictably did not. Purrazzo takes down D'Amboise with a headlock takeover early. D'Amboise tries a pin whilst she's locked in the hold but Purrazzo kicks out. Purrazzo focuses on the left arm but D'Amboise fights back with a few arm drags and tries a sunset flip pin but Purrazzo is too strong and stomps on the left arm of D'Amboise. Purrazzo locks her in modified stretch submission then nails a suplex for 2. Purrazzo hit a backbreaker for another 2 count. She ran at D'Amboise in the corner who moved out of the way. D'Amboise hit a rolling neckbreaker for 2. Purrazzo levelled her with a stiff kick and then hit a powerbomb. Purrazzo with the Queen's Gambit for the win after 5 minutes.
Winner by pinfall: Deonna Purrazzo
Analysis: ** D'Amboise got more offense than I would've thought but in the end Purrazzo put her away quickly. I'm interested to see what they have in store for the Virtuosa next.
Gia Miller was backstage looking for PCO. She recaps Hard to Kill where PCO returned to confront Eddie Edwards after Edwards' match with Jonathan Gresham. Miller was acting nervous because the backstage area was dark and creepy. She found PCO standing against a cage. PCO started screaming "Eddie" and Miller ran off scared.
Analysis: A quick segment to put over how strange PCO was. Miller was really over-acting here.
X-Division Champion Trey Miguel is backstage giving Ashley D'Amboise some tips after her loss to Deonna Purrazzo. Miguel says with a few more squats, D'Amboise will be able to pull off more athletic moves. D'Amboise thanks Miguel sarcastically. Miguel asks if that was disrespect from D'Amboise. D'Amboise asks if defacing the X-Division title with spray paint is disrespectful. Mike Jackson (73) then confronts Miguel. Jackson says Miguel might win a lot but he has no respect for women. Miguel makes some old jokes so Jackson challenges him to a title match. Miguel accepts and walks away.
Analysis: Finally, some on-screen time for Miguel. Jackson is 73 and is getting a title match. At least the fans will be behind him.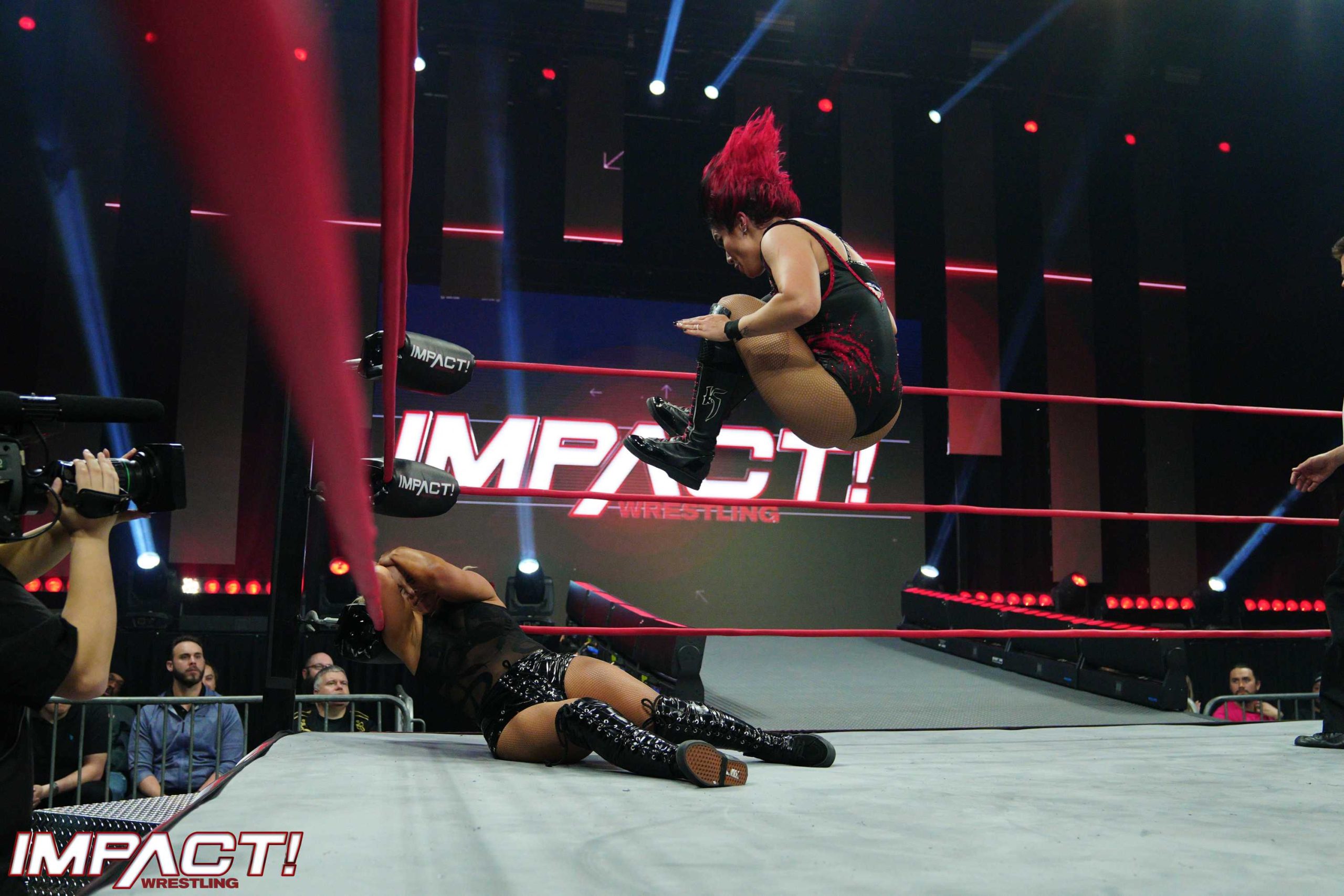 Match #3: Taylor Wilde vs Killer Kelly
There are lots of Knockouts on tonight's show which is great as the talent pool is deep in Impact. Kelly and Wilde both came up short in the Fatal-4-Way #1 Contender's match at Hard to Kill. There are duelling chants to start the match which is a good sign. Kelly kicks the match off with a hard back suplex. Wilde avoids a legdrop and they lock up in the middle of the ring. Wilde takes down Kelly with an arm drag. She focuses on the left arm but Kelly reverses it. Wilde escapes the Killer Clutch but runs into a forearm. She gives one of her own but Kelly follows up with a knee to the ribs. Wilde hits a suplex and floats over to attempt a Guillotine choke. Kelly gets to her feet and slams Wilde against the turnbuckle. Kelly nails a pump kick for 2. Kelly mounts Wilde and hammers away with right hands. Wilde backs Kelly up against the turnbuckle and chops her hard. Kelly fights back with clubbing blows to the back of Wilde. Wilde retaliates with hard forearms but Kelly locks both arms. Wilde turns this into a suplex and then hits a Codebreaker. Wilde with a dropkick for 2. She goes outside to the ring apron and Kelly runs at her, so Wilde spikes her on the apron with a double knees, almost in a pedigree-type move. Wilde follows up with a sunset flip pin for 2. Wilde hammers Kelly with hard forearms but Kelly starts laughing. Kelly blocks it with a series of headbutts. Kelly hits a suplex against the bottom turnbuckle then a dropkick in the corner. Kelly covers and gets a nearfall. Kelly goes for the Killer Clutch but Wilde hits the Wilde Ride for a close 2 count. Kelly goes for a German suplex but slips down to lock in the Killer Clutch. Wilde fights it for a bit and then taps out at 6:50.
Winner by submission: Killer Kelly
Analysis: *** That was really good for a shorter match. Wilde's offense has never looked better, in my opinion. Kelly could do with a striking finishing move to accompany the Killer Clutch, as some of her offense (which is supposed to look really devastating) falls flat at times.
They showed a recap of earlier in the night on the Before the Impact YouTube show where Deaner ordered Sami Callihan to take Delirious out. Callihan nailed him with the Cactus Driver 97 in the middle of the ring to show The Design that he was willing to take orders. Callihan now has a fully-shaved head after last week's initiation ceremony. He was backstage with The Design. Deaner reiterated that joining the Design was going to be a 7-step process. At each step, Callihan needs to make the right choice. Next week, Callihan is on to step 3 when he enters the #1 contender match. Kon said if Callihan loses, there will be consequences.
Analysis: It's good to see some storyline development here. It would've been better to see the first part which was only on YouTube, occur on the show instead. They could've cut down the opening segment by 5 minutes or so and this would've been more engaging.
Santino was backstage with Impact World Champion Josh Alexander (not Alessandro). Santino was explaining why he named the match Golden 6 Shooter. It seems it will be an elimination match next week. Gisele Shaw approached Santino complaining about being stabbed in the back by all her tag team partners. Santino said they will have to find her a tag team partner, if she is owed a title match. Alisha Edwards walks past and Santino asks if she wants to be Shaw's partner. She declines. Another women walks by but also refuses. Shaw isn't very impressed that Santino isn't trying very hard.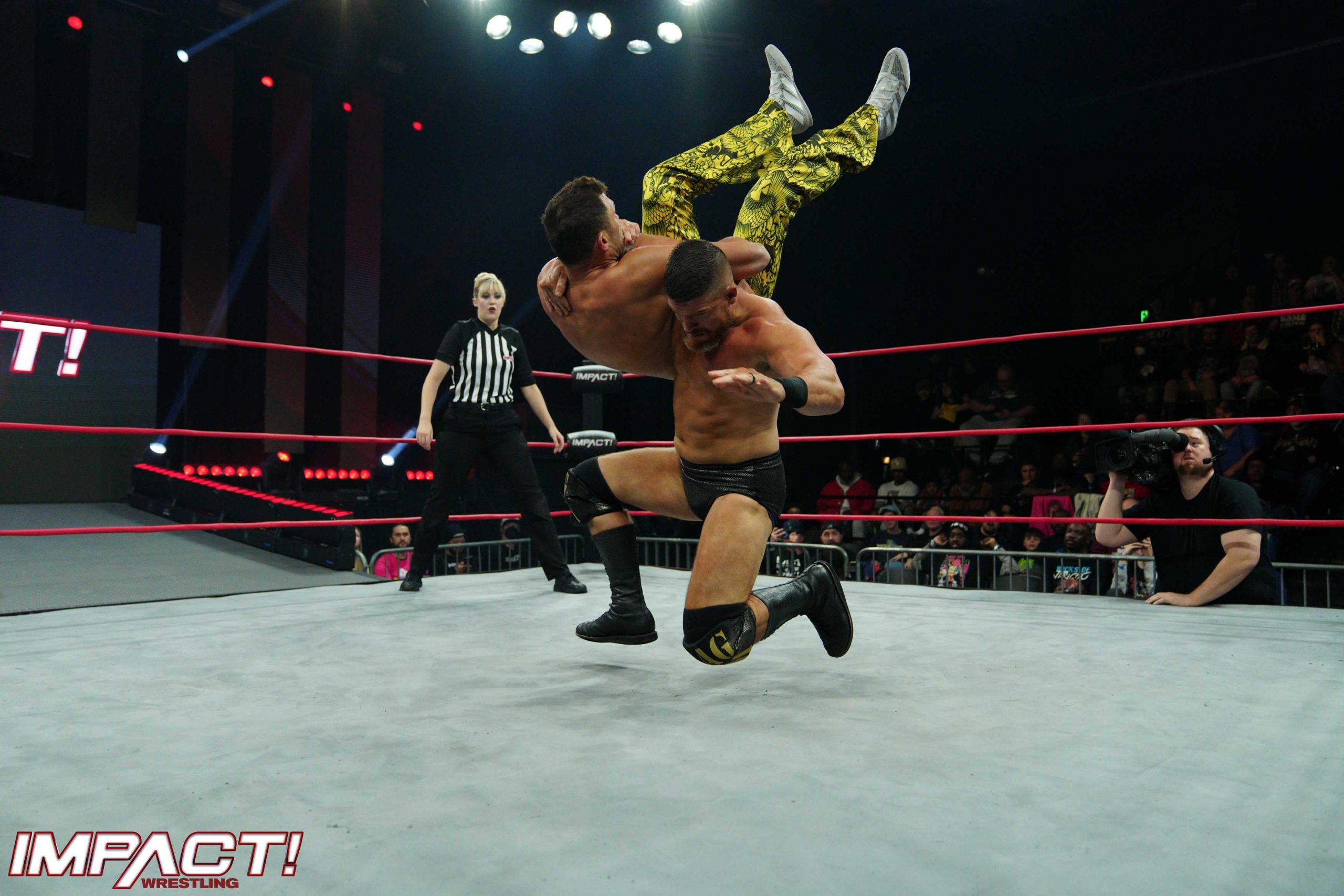 Match #4: Steve Maclin vs Dirty Dango
Maclin beat Rich Swann in a fun Falls Count Anywhere match at Hard to Kill. Dango danced to the ring and got a good reception. Maclin tosses Dango into the turnbuckle pad early on. He hits a hard running elbow which takes Dango to the mat. Maclin tries a sunset flip pin but Dango holds on and hits a legdrop. Dango hits a suplex but Maclin kicks out at 1. Dango chops away hard at Maclin against the ropes. Maclin takes him down with a hard clothesline and covers for 2. Maclin connects with a suplex and then chokes Dango against the ropes with his knee. Maclin tries a pin again but Dango kicks out at 2. Dango fights out of a side headlock but runs into a backbreaker. Dango kicks out again at 2. Maclin hits a running knee drop to the back of Dango. Maclin tries a side headlock but Dango turns it into a back suplex. Dango hits a running uppercut in the corner and hits another one. Dango with a side Russian Legsweep and hits a legdrop for 2. Dango hits the Falcon Arrow and climbs to the top but Maclin rolls to the outside. Dango connects with a right hand from the top. He tries for a springboard Tornado DDT on the ramp but Maclin blocks it and tosses Dango back into the ring. Maclin hangs Dango in the corner and hits a spear. Maclin with the KIA for the win after 6 minutes.
Winner by pinfall: Steve Maclin
Analysis: **3/4 This was similar to his wife's match earlier in the night, where the lesser-pushed wrestler got more offense in than I envisioned but Maclin was able to put Dango away easily enough at the end. I'm not sure what Dango's deal is in Impact (if any) but he's shown his popularity in his few appearances, judging by the crowd response.
Gia Miller was backstage with the Major Players who said they had bad luck at Hard to Kill. Miller says that they will face Bullet Club next week in tag action, after costing them the Tag Team Titles at Hard to Kill, by helping to eliminate them. Moose shows up and wonders if Myers noticed that their bad luck began when he lost the Digital Media title to Joe Hendry. Cardona says he and Myers are the greatest Digital Media champions of all time and when they have finished with Bullet Club, they're coming for Hendry.
Analysis: Moose was trying to get Myers and Cardona to do his dirty work so we will see what happens next in the Digital Media Championship picture. I'm glad it gets prominent time as a secondary title in Impact.
Dave LaGreca from Busted Open Radio was having a sit-down interview with his co-host, Tommy Dreamer. LaGreca said it's been hard to host with both Dreamer and his friend Bully Ray. Dreamer cuts him off and says he's not Bully's friend anymore. LaGreca asks Dreamer if there's any way that their relationship can be healed. Dreamer complains that Bully takes credit for all of Dreamer's success. Dreamer says he's lost a lot of matches, but he never loses the war and that right now he is in a war with Bully Ray.
Analysis: That was short and furthered the storyline between Bully and Dreamer. I think they thought it was edgy having an outside podcast host on the show but it was nothing special and over rather quickly. Any exposure that Impact can get in the world is good though!
Next week on Impact:
* X- Division Championship: Trey Miguel (c) vs Mike Jackson
* The Major Players vs Bullet Club
* Knockouts' Tag Team Championship: Death Dollz (c) vs Gisele Shaw and a mystery partner
* Golden Six Shooter Elimination match where the winner faces Josh Alexander for the Impact World Championship at No Surrender: Moose vs Eddie Edwards vs Sami Callihan vs Rich Swann vs Rhino vs Chris Sabin
Analysis: Great card for next week. I'll pick Callihan to win there. That would make for a new interesting storyline, however they might want to build that slowly. We will see.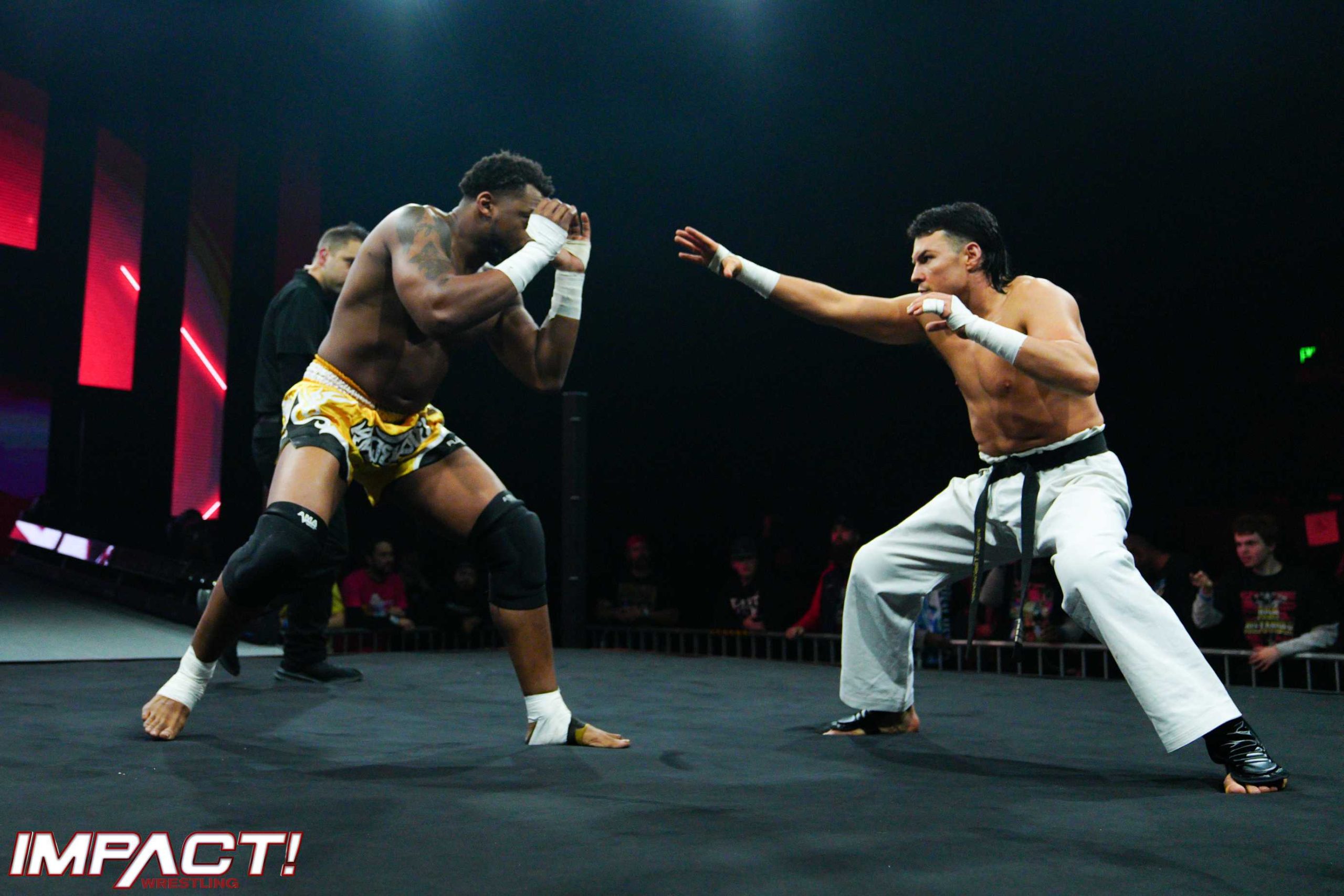 Match #5: 'No Rope' Pit Fight: Mike Bailey vs Kenny King
It's victory by submission or knockout only in this match. The ropes had been taken away so it was just the wrestling mat. Bailey had taekwondo gear on as opposed to his usual wrestler gear. King is fighting barefoot. Referee Daniel Spencer announced the rules as the fans did the stupid 'What?' chant. Bailey takes King down early and blocks right hand attempts. Bailey with another takedown, which King tries to block with his legs. Bailey clubs King on the back of the neck. King backs Bailey up so he nearly falls off the ring. Bailey hits an arm drag which tags King out of the 'ring'. King takes Bailey off his feet and kicks Bailey to the outside. Bailey gets back to the apron and King kicks him hard again. King tosses Bailey into the steel ring steps then taunts the fans with a bow. King tries a Triangle submission but Bailey gets out quickly and hits a palm strike to the chest. King trips a running Bailey up so he goes face-first into the steel ramp. King hit a running knee strike to the face of Bailey then taunted the fans some more. Bailey was bleeding from the forehead so King targeted the wound with right hands.
(Commercial break)
Back from the break and King hit an overhead suplex then a big kick to the ribs. King connected with knees to the ribs of Bailey and a Dragon Screw. Bailey blocked a Scorpion Kick and responded with one of his own which sent King to the outside area. Bailey hit a number of strikes and a big kick to the chest of King that sent him down. Bailey locked in the armbar. King tried to roll out of it but couldn't, so he lifted Bailey up and turned it into a powerbomb. Bailey locked in the armbar again, draped over the side of the ring. He relinquished the hold as he was falling out of the ring, then went back to striking King with kicks. King caught him and hit a Dragon Screw so that Bailey went flying out of the ring. King hit a Blockbuster on the floor and then brought a steel chair into the ring. King tried for a suplex on the steel chair but Bailey fought out. He went for a kick but King evaded, so Bailey kicked the steel ring post which was no longer protected by the turnbuckle pads. King locked in the Figure 4 Leg Lock. Bailey reversed the pressure for a moment and then they rolled over again to fall out of the ring. Bailey hit a thrust kick to the face of King. Bailey walked up the ramp so that he had a run up and hit a single-leg dropkick which sent King out of the ring. Bailey climbed the turnbuckle post and nailed a twisting splash to King who was on the floor. Bailey went for the Ultima Weapon on the outside but King stopped it with a kick to the face. King hit a spinebuster on the ring apron. He tossed Bailey back into the ring and hit a spinning kick. King wanted the referee to check for a KO. He locked in a single-leg lock. Bailey reached for the steel chair and hit King in the head with it. He locked in a quick armbar and then hit a double knee stomp. Bailey set the chair up against King's head and stomped on it. The referee called for the Knockout after 15 minutes.
Winner by Knockout: Mike Bailey
Analysis: ***1/2 It was hard to get into at the start because they were just focusing on mat-based wrestling which isn't that interesting, but when they utilised the outside of the ring then it felt like a fight that the rivalry deserved. The story was that Bailey had to abandon his traditional way of winning with strikes and athleticism, to go to a darker side and win by using a steel chair to the head twice. I thought they might give the win to King who definitely needed it, but Impact are high on Bailey and continue to push him which is fine. As far as the match type is concerned, it was pretty basic. They just took the ring ropes and turnbuckle pads away and left the turnbuckle pole standing which Bailey utilised. Throughout 2022 I said that he has improved his selling, but tonight it was lacking a bit as he kicked the ring post and then not long after was doing high-risk moves and kicks again. Little things like that stick with the fans. Anyway, it was a fitting main event and closure to the rivalry. I look forward to what's next for both wrestlers, but I feel King might be waiting a while for his next singles rivalry as he continues to lose.
Final Rating: 6.5/10
It was a solid follow-up show after the PPV. Impact was straight on the front foot by putting in a number of new storylines and build-up for matches looking towards the next monthly special. It was pleasing to see the Knockouts featured prominently and not just in a feud that involves the championship. There were a few matches where the winner was obvious which sometimes affects the quality of the match, but in those cases both Ashley D'Amboise and Dirty Dango got plenty of offense to show what they could do. The Fight Pit was slow to kick off, but built towards an entertaining match and another win for Mike Bailey. Mickie James continued on her winning ways and we saw there are plenty of challengers as we kick off her 5th title reign.
Any feedback or comments are welcome. My email address is kristian.l.thompson@gmail.com in case anybody wants to get in touch with me and my Twitter handle is @thomok6 as well. Thanks for reading!