Impact Wrestling Review – February 23, 2023
With just 24 hours until No Surrender, Impact put on a big show with Monster's Ball for the X-Division Championship, a Beat the Clock Challenge and two No Surrender foes teaming up in tag action.
Impact Wrestling 23/2/23 from Oscela Heritage Park: Kissimmee, Florida
The show opened with a recap of last week's main event between #1 Contender, Rich Swann and Kenny King. After the match, Swann accidentally nailed Impact World Champion Josh Alexander, with a superkick.
Tom Hannifan welcomed us to the show and showed the Monster's Ball competitors, Crazzy Steve and Trey Miguel, locked in separate rooms as per the rules of this match.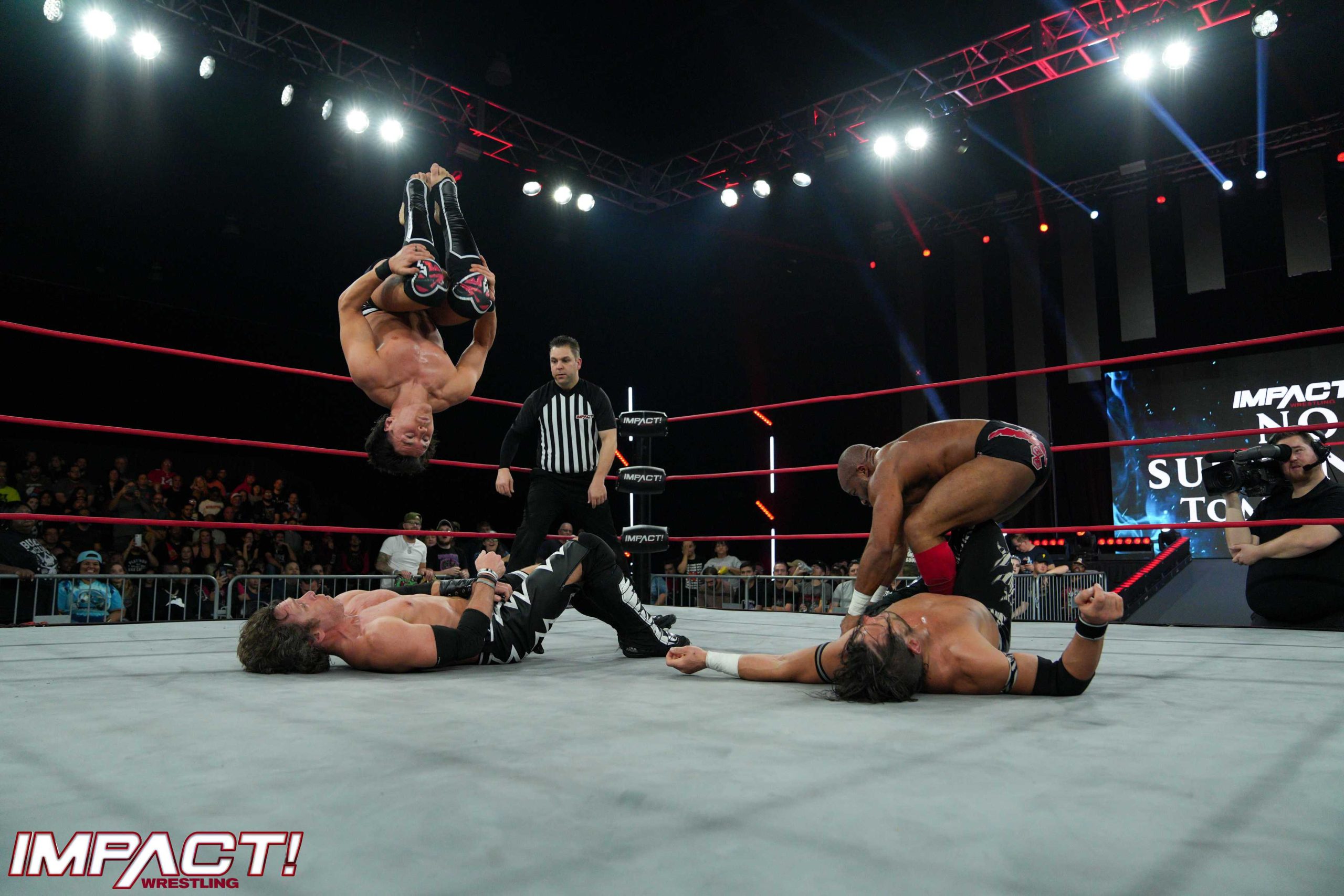 Match #1: Mike Bailey & Jonathan Gresham vs The Motor City Machine Guns
Gresham and Bailey face-off on the No Surrender preshow (boo!) whilst the Guns team up with Kushida to take on KENTA and Bullet Club. Gresham and Bailey are out first separately, followed by the Impact Tag Team Champions. Gresham and Shelley lock up first and Gresham is able to reverse an arm drag and back Shelley into the corner. Shelley has Gresham scouted in the corner and rolls him up for a 1 count. Gresham hits a nasty Dragon Screw and tags in Bailey. Bailey targets the left knee of Shelley with kicks. He backs Shelley into the corner and tags Gresham back in. Gresham hits a back suplex and tags Baiely in again. Bailey hits his own Dragon Screw and whips Shelley off the ropes but Shelley reverses it and Sabin blind tags in. Sabin comes in and clotheslines Bailey down to the mat. The Guns try a double team move but Gresham is there to stop them. Sabin tosses Gresham to the outside and focuses back on Bailey in the ring. Sabin hits a neckbreaker and scores a 2 count. Sabin tags Shelley in and they take down Bailey with a double clothesline. Shelley nails Bailey with a hard elbow to the neck. Sabin is in again and Shelley blindsides Gresham on the apron. Bailey hits a Pump Kick on Shelley and an enziguiri on Sabin, as they tried the double team attack. Bailey finally gets to Gresham and tags him in. Gresham and Sabin exchange forearms, back and forth. Gresham leapfrogs Sabin who tried an attack in the corner. He sends him flying into Shelley, who tumbles out of the ring. Gresham tries a unique rolling pin with a bridge but Shelley is back in to break it up before the 3. Bailey comes to the aid of Gresham but cops a knee to the face from Shelley. Shelley puts Gresham on his shoulders whilst Sabin does a running neckbreaker. Nice double team move there. Sabin held on to Gresham and they performed the Magic Killer for a 2 count. Gresham blocked a suplex attempt and nailed one of his own, holding Sabin up in the air for about 20 seconds in an impressive feat of strength. Shelley and Bailey tag back in. Bailey takes him down with a kick and then misses a running moonsault. Sabin holds Bailey's arms but he breaks free and hits a suplex on Sabin whilst locking Shelley in a leg submission! Impressive! Shelley crawls to the ropes to break the hold. Bailey runs at Shelley who catches him with a Flatliner into the turnbuckle. Sabin kicks Gresham off the ring apron and they hit synchronised kicks on Bailey in the corner. Bailey knocks Sabin off the ring apron and hits a moonsault to the floor area. Shelley takes Bailey down with a superkick, then Gresham sweeps his legs out whilst he's standing on the ring apron. Gresham locks the Figure 4 on Shelley. Gresham forgot he wasn't legal, so he dragged Shelley to his corner to make the tag. There was some frenetic counter wrestling between Gresham and Shelley, then Gresham nailed a springboard moonsault. Bailey and Gresham hit combination flying dives out of the ring as they continued to work together. All 4 men were now in the ring together. Bailey hit a big standing moonsault to the ribs of Sabin. Gresham went back to the Figure 4 on Shelley. Shelley reached to the ropes but Bailey held his arm and nailed another standing moonsault. Shelley laid down on the mat so the referee counted and he just got his shoulder up before 3. Sabin rolled Bailey back into the ring and power bombed him on top of Gresham to break the Figure 4! Sabin and Shelley hit stereo superkicks to Bailey and set up for another double team move. Sabin bounced off the ropes but Gresham grabbed his leg and pulled him outside the ring. Gresham jumped up on the apron and held Shelley for Bailey to kick but Shelley moved out of the way at the last moment. Bailey just stopped himself before he hit Gresham, so Sabin launched him into the ring apron face-first. Sabin wnet back into the ring and tried to double-team Bailey but he reversed it. Bailey held Sabin by the arm and Gresham snuck into the ring and rolled up Shelley for a very close 2 count. Gresham went to nail Sabin with a forearm but he moved and Gresham connected with Bailey! Sabin used Gresham's body to launch off for a spinning DDT on Bailey. Sabin spiked Gresham with a cutter. Sabin tagged in and the Guns hit the Dirt Bomb for the win after 13 minutes.
Winner by pinfall: The Motor City Machine Guns
Analysis: ***3/4 That was fantastic action to open the show. I would've rated it higher but a few things about it bugged me. There were so many occasions where the referee just allowed the double-team action to take place, then the ending came where Sabin finally decided to tag in and they won with a double-team move! It felt like I was watching a less-flippy version of an Elite match. Also, apart from it being great wrestling, why put the effort into opening the show with wrestlers that are only deemed good enough to appear on the pre-show. I really don't understand how some of the other matches are on the main card, yet Gresham and Bailey is on the pre-show, when it could be the best match of the night. Scott D'Amore doesn't tweet me back so I'm not sure I'll ever find out. I liked the way they kept teasing Bailey and Gresham accidentally hitting each other. There are not many other ways to create heat in a face vs face match apart from that and running the respect angle.
There was a quick video highlights package recapping promos between Rich Swann and Josh Alexander. Swann put over how much losing to Kenny Omega affected him and how he's fighting for redemption at No Surrender. Alexander said it's up to him to break Rich Swann down all over again.
Analysis: Nothing new here and hopefully we have a face-to-face encounter after how last week's main event ended.
Deonna Purrazzo cut a promo on Gisele Shaw. Purrazzo said she has had enough talking and will let her wrestling do the talking and at No Surrender she will break Shaw's arm.
Analysis: That should be a decent match. Good to see Purrazzo back in singles action.
Match #2: Beat the Clock Challenge: Jason Hotch w/ John Skyler vs Tommy Dreamer
If Dreamer or Bully Ray win their match tonight, then the wrestler who sets the fastest time will get to speak first on Busted Open Live at No Surrender. Huge stipulation tonight! Unfortunately, the wrestler who is double the age is going to win this match. Skyler cut a pre-match promo telling the crowd that Dreamer isn't going to even win the match after Hotch connects with 'One Good Hand', named after their tag team. The clock starts and Hotch attacks Dreamer in the ropes early. Hotch hits a rolling neckbreaker for an early 2 count. He goes to the top rope but Dreamer cuts him off. Dreamer hits a Death Valley Driver from the top rope to win after 1:15.
Winner by pinfall: Tommy Dreamer
Analysis: * Super short to get you thinking how can Bully Ray possibly beat that time. It makes poor Skyler look like a loser, but that was actually a good-looking move from Dreamer.
There was footage from earlier in the day, where Joe Hendry met with some fans. Joe asked if they thought that Moose could beat him at No Surrender. The fans started singing his theme music as Hendry continued to mingle.
Analysis: Just a short segment to show-off Hendry's popularity.
Match #3: Taya Valkyrie w/ Rosemary and Jessicka vs Allysin Kay w/ Martie Belle
I'm really hopefully that Kay and Belle can win the Tag Titles at No Surrender. Valkyrie sidesteps Kay and lands a number of right hands in the corner. Kay turns it around and lands some of her own blows to the mid-section of Taya. They exchange elbow attacks in the ropes and then Valkyrie hits a snapmare. Valkyrie tries an armbar whilst locking Kay's head with her legs. Kay reaches the legs with her ropes to break the hold. Valkyrie avoids a kick and hits a weak-looking spear. Back in the corner, Valkyrie stomps away on Kay. She hits a clothesline in the corner and then a hip attack. Valkyrie ran across the ring and hit a double-knee attack in the corner for a 2 count.
(Commercial break)
Kay was now in control as we headed back to the action. Kay sent Valkyrie hard into the turnbuckle. She took too long taunting Valkyrie, so Valkyrie sent her into the middle turnbuckle pad and followed up with a hip-attack. Valkyrie gave her a version of the Stinkface and the crowd enjoyed that. Kay was embarrassed so she dropped Valkyrie with a big right hand for a 2 count. Valkyrie recovered and hit a clothesline then a sloppy-looking Blue Thunder Bomb for 2. Valkyrie tried to lock in a Crossface, by also trapping Kay's leg. Once again, Kay was able to crawl to the bottom rope to break the hold. Kay blocks a powerbomb attempt and turns it into a Piledriver for a close 2 count. Kay goes for another one but Valkyrie blocks and is looking to set up for the Road to Valhalla, when Martie Belle jumps up onto the apron. Kay takes advantage with a big kick to the head of Valkyrie. Rosemary takes down Belle on the outside. Back in the ring, Kay hits the AK-47 for the win after 7 minutes.
Winner by pinfall: Allysin Kay
Analysis: ** That wasn't great, but they tried hard. It was a bit clunky and they looked a bit lost at times. The win for Kay was obvious as we build to the Tag Team Title match at No Surrender.
Director of Authority, Santino Marella, was backstage with Rich Swann and Josh Alexander. They had just signed the contract for the Impact World Championship match. Swann tried to apologise for kicking Alexander last week, but Alexander stopped him and said he knew Swann didn't mean it because he doesn't have it in him. Swann took offense to this. He said it took everything he had to come back from his injuries and become World Champion. Swann said he had to fight and he's been waiting two years for another chance. Steve Maclin burst in and said he doesn't care what he's interrupting. Maclin says he's winning the #1 contender match and coming for the title. Swann has had enough of Maclin and they start to brawl. Alexander tries to pull Swann away, but Swann pushes him off. Security pulls them apart as the situation rolls out of control.
Analysis: This feud certainly needed some interaction between the two and throwing Maclin in there as the agitator is clever booking. Maclin vs Alexander is the next logical match up but they might leave it for a bigger event later in the year.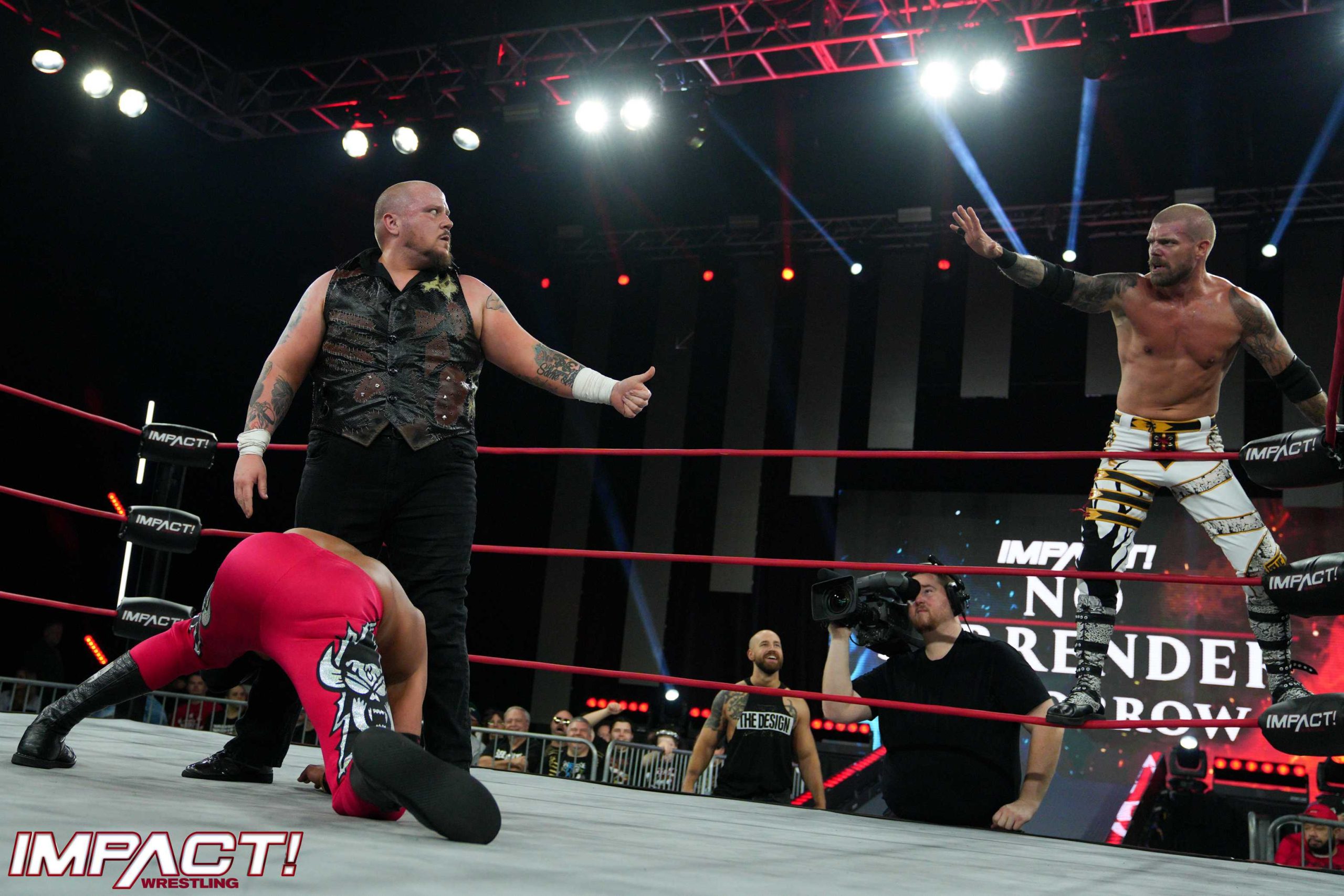 Match #4: The Design (Deaner & Callihan) w/ Kon and Angels vs Frankie Kazarian and Yuya Uemura
Kon faces Kaz at No Surrender. Callihan tries his 'Thumbs Up' routine but Deaner cuts him off. Deaner and Kaz start the match off but Deaner tags Callihan straight in and orders him to get Kaz. Angels screams at Callihan to do the right thing. Deaner distracts Kaz so Callihan jabs him in the face. Callihan's vest is still about two sizes too small and he spends half his time adjusting it. Deaner tags back in but Kaz rocks him with a number of big chops. Kaz hits a couple of arm drags and nails Deaner with a big clothesline, then tags in Uemura. Kaz hits a neckbreaker and Uemura gets a 1 count. Uemura hits a jumping elbow for another nearfall. He tries an arm submission but Deaner pulls him by the chair. This allows Deaner to make his way to his corner to make the take. Callihan comes in and rakes the eyes of Uemura. Uemura fights back with an uppercut and bounces off the ropes but Deaner pulls him down by the hair again. Callihan mounts Uemura and rakes at his face. Deaner tags back in and clubs him across the face, whilst he's tied up in the middle rope. Kaz is pointing out the cheating to the referee so Deaner rakes Uemura's eyes some more. Callihan tags in and tries to lock in a sleeper. Yuya fights back and hits the Pele kick to take Callihan off his feet. Deaner runs into the ring, which allows Kon to sneak around and pull Kaz off the apron as he is about to tag in. Kon hits a big clothesline on Kaz on the outside. Back in the ring, Deaner tags back in and stomps away on Uemura in the corner. Callihan tags in again and hits a scoop slam. Another quick tag into Deaner, who misses a diving headbutt. Uemura kicks Deaner off and makes the tag. Kaz is on fire and takes down Callihan with a flying forearm. He hits a legdrop on Angels who gets up onto the apron. Kaz connects with a scoop slam on Callihan and hits his trademark springboard legdrop for 2. Angels distract Kaz again so Callihan nails an Exploder suplex. Callihan tags Deaner back in and they look to double team Kaz. Kaz flips out of the back suplex attempt and tags in Uemura. He fights anyone that gets in his way and nails an overhead belly-to-belly on Deaner. He connects with a crossbody off the top on Deaner but Callihan breaks up the pin. Callihan tags himself back in and wants the Cactus Driver but Uemura slips out and tags Kaz back in. Kaz nails a slingshot DDT on Callihan but Deaner takes him down with a clothesline. Uemura comes back in and hits a modified spinebuster on Deaner. Callihan tosses him outside and Kaz tries to lock in the Crossface Chickenwing. Callihan powers him off and hits a pop-up powerbomb. Callihan is about to hit the Cactus Driver when Deaner yells out for the tag. Callihan goes to tag him but Deaner jumps off the apron. Kaz rolls him up for a close 2 count. Kaz locks in the Crossface Chickenwing and Callihan taps out. The match went 10 minutes.
Winners by submission: Frankie Kazarian and Yuya Uemura
Analysis: ***1/4 That was frenetic action and the result surprised me. The ending was really odd, especially after Deaner had stressed the importance of winning this match. He left Callihan high and dry, perhaps to teach him a lesson. Anyway, it adds another layer of intrigue to this angle.
There was a pre-taped promo featuring Mickie James and Jordynne Grace. Grace continued to reiterate that James tapped out at Hard to Kill. Masha Slamovich also made some comments after last week's beatdown of James.
Analysis: There is real interest in the Knockouts Division as we wait and see what Grace will do, regarding her rematch. I fully expect James to retain her title against Slamovich at No Surrender. That would make three failed title challenges, though.
Callihan confronts Deaner backstage and asks him how that was considered 'Step Number 5' in his plan. Deaner said that Step 5 was to show Callihan that this is a covenant, not a contract. Deaner makes Callihan decide if he wants to remain loyal to the Design or not. Callihan tells him that he does. Deaner says that he needs to help Kon at No Surrender, because the Design chooses him, not the other way around.
Analysis: A good follow up straight away. Kaz might pull a decent match out of Kon. We will see.
Match #5: Beat the Clock Challenge: Bully Ray vs Bhupinder Gujjar
Bully has to beat 1:15 if he wants to open the speaking on the podcast at No Surrender. Huge stakes here as I have mentioned. Bully taunts Gail Kim's husband at ringside and feigns high-fiving some kids. Jason Hotch and John Skyler run down to ringside as soon as the bell rings. Bully grabs his chain and nails Gujjar in the head, whilst the referee is distracted. Bully pins Gujjar and wins the match after 30 seconds.
Winner by pinfall: Bully Ray
Analysis: * They can have one star because it was booked well enough. Gujjar is much better than this and they could've put some loser like Johnny Swinger here instead. After the match, Bully shoved the referee out of the ring.
Backstage, Gujjar apologises to Tommy Dreamer for losing the match. Dreamer said that he doesn't need to do that but Gujjar should use this moment to be better in the ring next time.
The commentators went through the card for No Surrender, which I will include below as well as my predictions in bold.
Black Taurus released Crazzy Steve from solitary confinement and we are all set to go for our main event.
Analysis: I understand having some big matches on the show, that include the wrestlers that they haven't got a match on the Impact-Plus event, but go-home shows like this should end with build to No Surrender. This match could easily be moved to No Surrender and feel like a big deal, while ending the show with a confrontation between Swann/Alexander or Slamovich/James. They've done this a few times now and it does annoy me.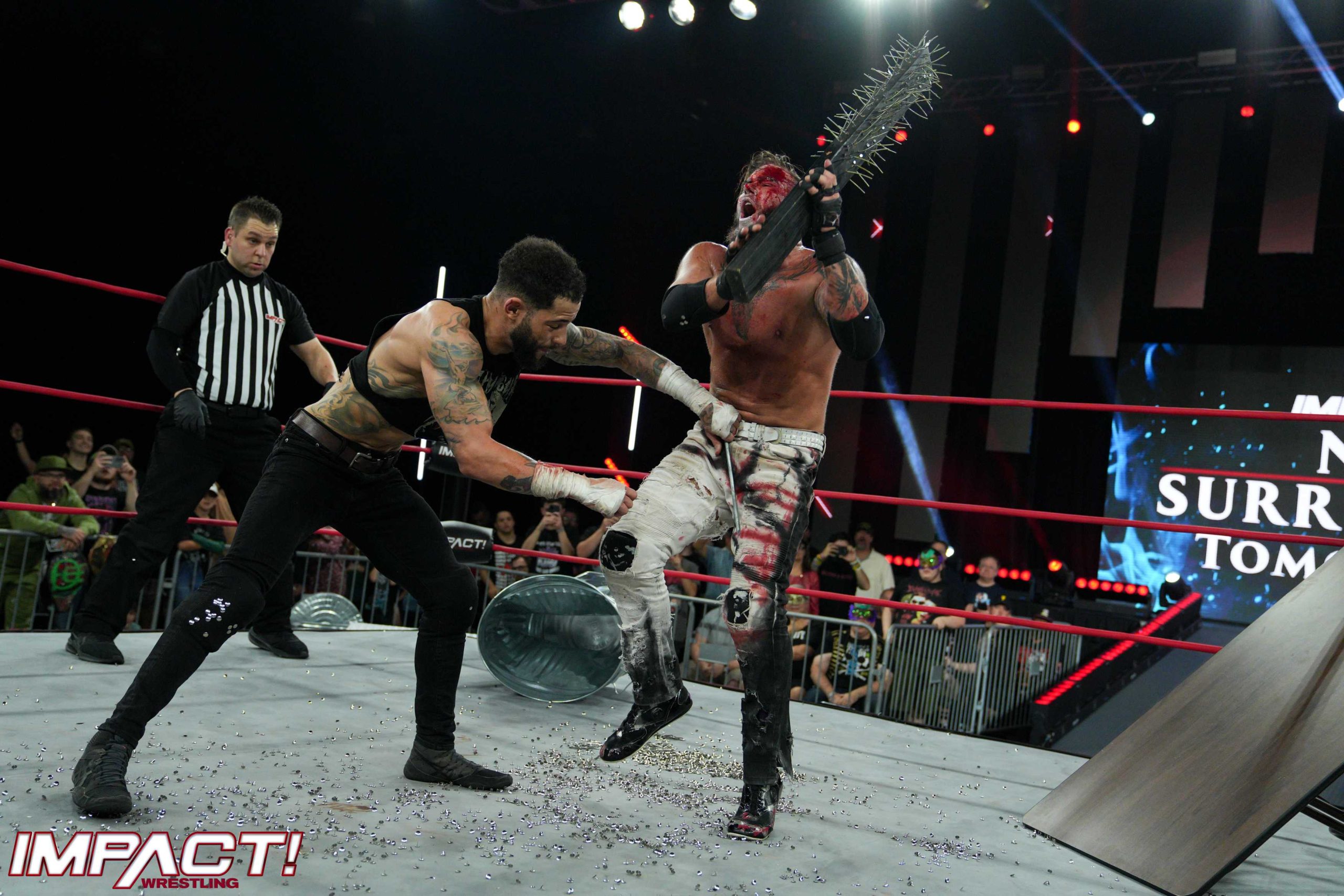 Match #6: Monster's Ball for the X-Division Championship: Trey Miguel (c) vs Crazzy Steve w/ Black Taurus
Steve entered first and licked the barbed wire at ringside. Miguel came down to the ring looking worried and Steve had messed with his music and the lights were going crazy. Steve with a clothesline straight off the bat. Steve clotheslined Miguel to the outside and hit a springboard crossbody to Miguel on the outside. Steve hit a headbutt as we went to a commercial straight away.
(Commercial break)
Steve was still in control as we returned to the match. He had set up 4 chairs on the outside area. He went for a suplex on the chairs but Miguel slipped out the back. Steve ran at him but Miguel tripped him up so that he went face-first into the chairs. Miguel looked under the ring for more weapons but couldn't find what he was after. Miguel choked Steve against the ring apron. He set Steve up against the ring post and took the world's slowest swing so Steve could move out of the way. Miguel ran at Steve who sent him back first into the stack of chairs. Back in the ring, Miguel was somehow first to recover and hit a barrage of right hands. Miguel started throwing weapons into the ring, such as a trash can and a steel chain. Miguel picked up a trash can, that was already dinted after he threw it into the ring (heavy-duty of course!). He went to smash Steve over the back but Steve went low with a staple gun shot! He put the trash can on Miguel's head and set him up in the corner. Steve hit a cannonball into the corner as we headed to another break.
(Commercial)
Steve was bleeding quite profusely from the forehead, which happened during the first commercial I believe. Steve tried to attack Miguel with a fork but Miguel caught him with a neckbreaker. Miguel went to gouge Steve's eyes out with the fork, but Steve blocked so the champ hit him with a double stomp to the chest. Miguel got the dreaded mystery black bag and poured thumb tacks all over the ring. In the meantime, Steve went to the top and tried for a spinning DDT but Trey caught him in mid-air and nailed a superkick. Miguel ran the ropes and Steve nailed him with a Black Hole Slam, which is quite appropriate here. Steve smashed the tacks further into Miguel's back with a trash can. Steve whipped Miguel hard into the top turnbuckle to further damage his back. Miguel fought back with a number of kicks and hit a double-stomp into the tacks on Steve. Miguel covered and got a 2 count. Miguel brought a table into the ring and set it up in the corner. They took turns avoiding moves that collided with the table. They both went for a clothesline and colliding, falling into the tacks again. Steve was smiling as he removed thumb tacks from his head. Miguel retrieved a steel spike (the commentators called it that; it looked like a long nail) so Steve one-upped him by revealing the nail-covered 2×4 that Abyss made famous (Janice). Steve missed so Miguel nailed him with the spike in the ribs. Miguel went for it again but Steve moved and put Miguel through the table in the corner with a Death Valley Driver. Steve covered Miguel amongst the rubble, for a close 2 count. Steve threw a few steel chairs into the ring. He set one up in the corner. Miguel had his own one and levelled Steve in the ribs with it. Miguel tried another shot but Steve moved and started biting Miguel's forehead. Steve lifted Miguel onto the top turnbuckle but Miguel quickly jumped down and kicked Steve in the head. Miguel hit a 619 on Steve who was caught in between the ropes. Miguel to the top but Steve avoided the attack and Miguel got tacks all over his hands. Steve hit a devastating Canadian Destroyer off the middle rope onto a steel chair in the centre of the ring! Wow! Steve celebrated that move by making snow angels amongst the thumb tacks. Steve crawled to a cover but Miguel kicked out just before 3. Steve got Janice and grated Miguel's forehead with the nails. Ouch. Steve pointed to the barbed-wire bed at ringside. He took Miguel to the ring apron and motioned throwing him through the bed. Miguel hit a low blow and then hit the Roll of the Dice through the barbed-wire on the floor! Another insane spot that Miguel actually took more damage. Miguel rolled Steve inside the ring and covered for the win after 15 minutes.
Winner by pinfall AND STILL X-Division Champion: Trey Miguel
Analysis: **** I thought that was great. This is the 37th Monster's Ball so it's hard to invent creative spots all the time but I felt that these two worked really well together and produced a very entertaining match. The ending spot with the table and the Destroyer off the top were the highlights, but it was a brawl that held my attention for the entirety. There are usually bigger men in Monster's Ball so it was fun seeing two wrestlers who are more comfortable going to the top rope perform in a hardcore-style match.
The show went off air pretty much straight away, with Miguel struggling to make it to his feet after receiving his title from the referee.
Final Rating: 7/10
I enjoyed Impact again this week. There were two really good tag team matches, along with a chaotic main event that was given plenty of time. The rest of the show was No Surrender build up and two Beat the Clock matches that didn't last 2 minutes in combined total. More than half of the competitors who are in action at No Surrender didn't even appear on the show, which I understand being taped, but it doesn't do the card justice. I'm still bummed that Bailey/Gresham won't make the main card, but I'll still be watching the pre-show, which doesn't always happen. I'll be back with a review of the show over the weekend.
Here's the lineup for No Surrender so far, with my predictions in bold text: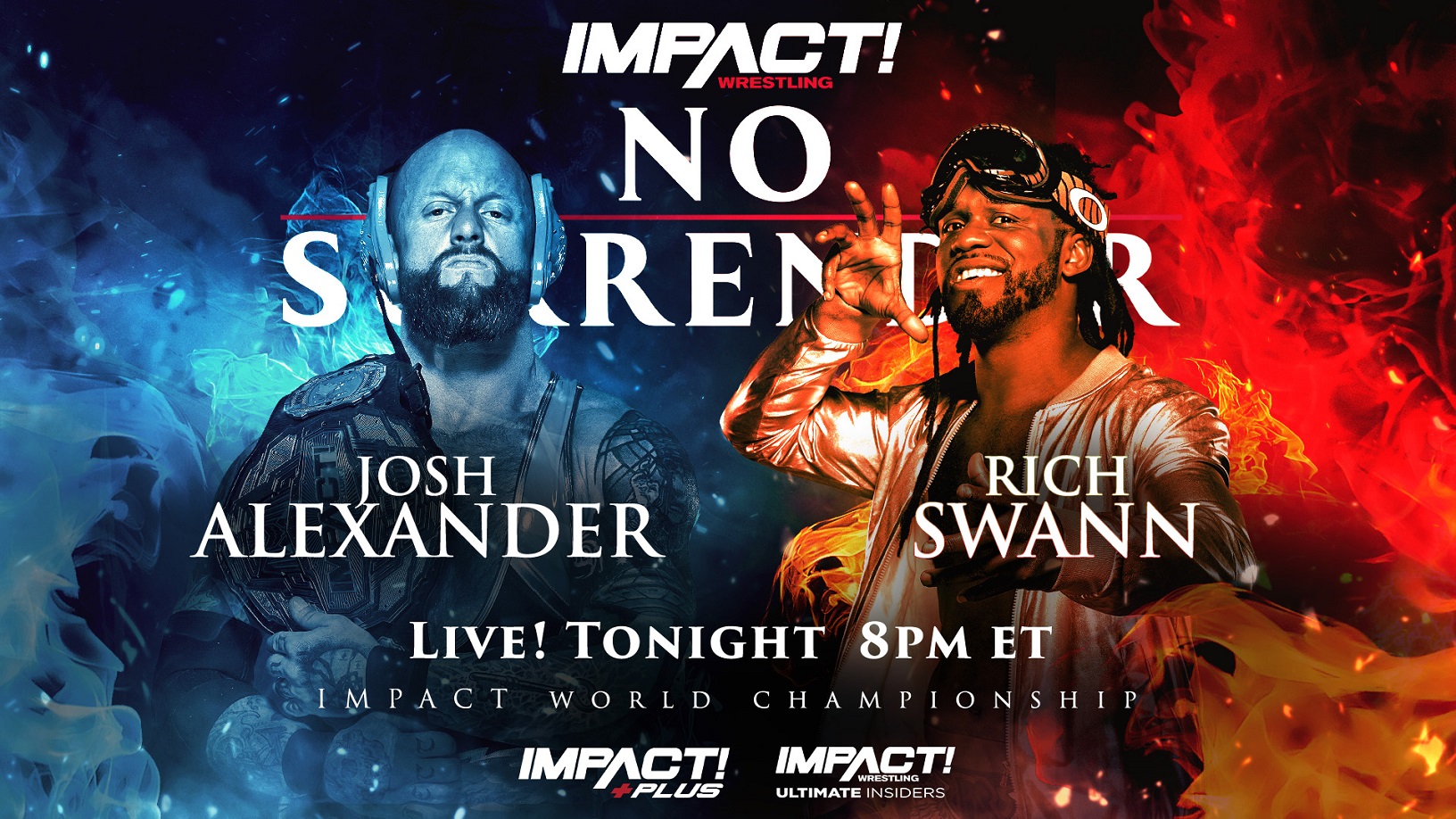 * Impact World Championship: Josh Alexander (c) vs Rich Swann
* Impact Knockouts' Championship: Mickie James (c) vs Masha Slamovich
* Impact Digital Media Championship match: Dot Combat match: Joe Hendry (c) vs Moose
* Impact Knockouts' Tag Team Championship: Death Dollz (c) vs Hex
* 6 Man Tag Team Match: The Motor City Machine Guns & Kushida vs Bullet Club & KENTA
* Fatal 4 Way #1 Contender Match: PCO vs Brian Myers vs Heath vs Steve Maclin
* Frankie Kazarian vs Kon
* Busted Open Radio Live: Bully Ray (speaking first) with Tommy Dreamer
* Pre-Show match: Gisele Shaw vs Deonna Purrazzo
* Pre-Show match: Jonathan Gresham vs Mike Bailey
Any feedback or comments are welcome. My email address is kristian.l.thompson@gmail.com in case anybody wants to get in touch with me and my Twitter handle is @thomok6 as well. Thanks for reading!