Impact Wrestling Review – December 1, 2022
This week's edition of Impact Wrestling was headlined by Deonna Purrazzo facing Mickie James, Bully Ray battled Rich Swann and Frankie Kazarian went up against Steve Maclin on a packed episode, after last week's Thanksgiving break.
Impact Wrestling 1/12/22 from Louisville, Kentucky
The opening video featured highlights from the events leading up to Bully Ray decimating Impact World Champion Josh Alexander after his successful defence over Frankie Kazarian at Over Drive two weeks ago.
The show begins with Bully Ray making his way down to the ring with a very serious look on his face. Bully will face Josh Alexander at Impact's next PPV, Hard to Kill, for the Impact World Championship. Bully threw his broken Call Your Shot trophy into the ring, as the fans booed loudly. Bully started off by abusing some of the fans who were abusing him, including a kid. Bully asks the crowd why they are booing him. He asks what he did wrong. Bully says he told everyone that he would tell Josh Alexander when he was going to call his shot and he did just that at Over Drive. Bully puts over Alexander as a great professional wrestlers and one of Impact's best ever champions. He says the deal is, that as great as Alexander is, he's not smart like Bully. Bully says he's one of the smartest guys in the wrestling industry. Alexander made the mistake of forgetting who Bully was. He lists some of his achievements in Impact from the past, including putting Dixie Carter through a table which was great. Bully asks that after all the terrible things that he has done in the past, why would Josh Alexander even allow his wife to be in the same building as him? Bully said that Josh won't be here for a few weeks after the trauma suffered at Over Drive. He tells Alexander to take all the time he needs, but he better be there at Hard to Kill. Bully says he will be Impact World Champion for a third time but he's cut off by his opponent tonight Rich Swann who starts brawling with Bully. Bully bails to the outside but Swann cuts him off with a crossbody over the top rope. Swann throws Bully's trophy out of the ring and the referee makes his way to the ring. The match will begin after the commercial break.
(Commercial break)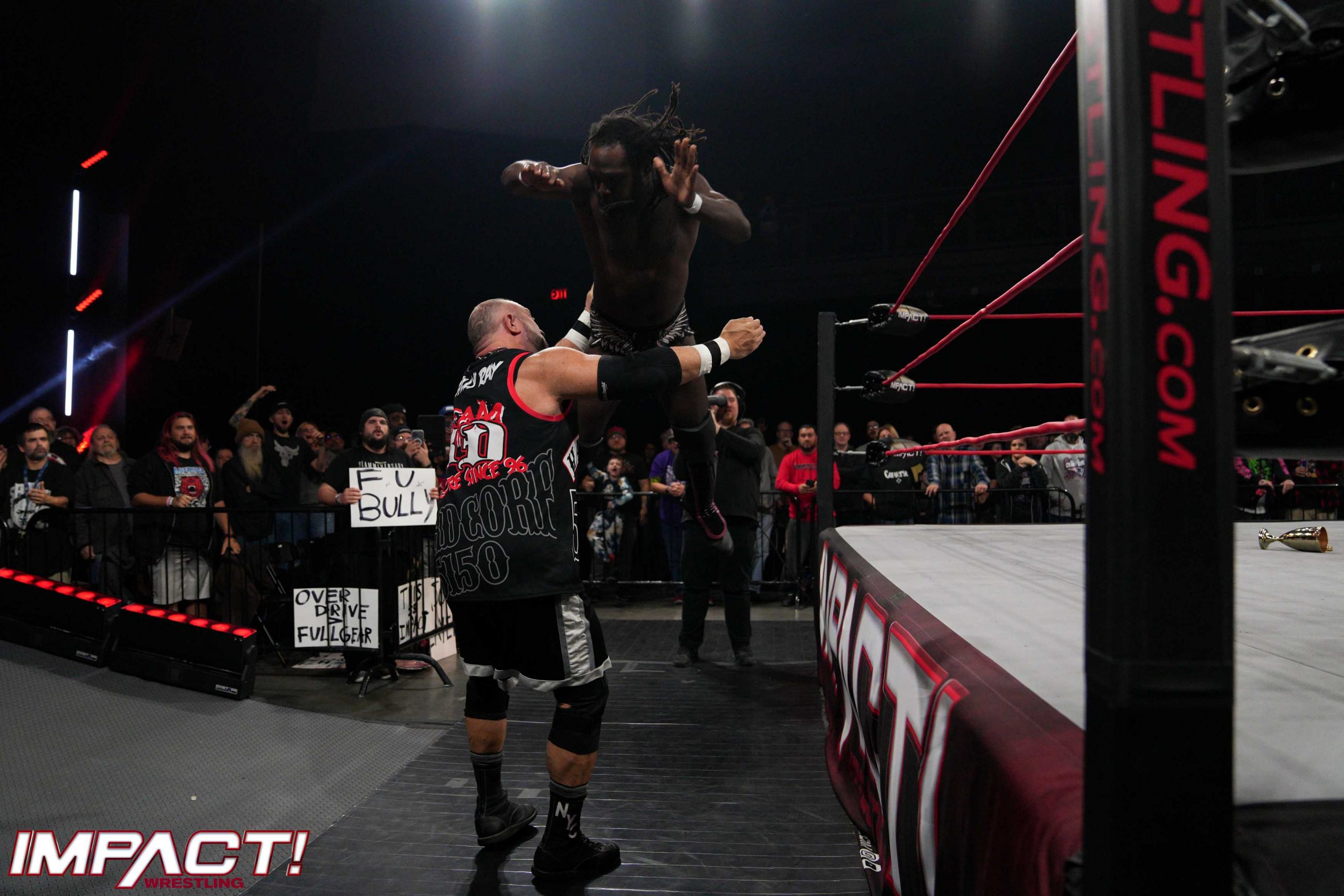 Match #1: Bully Ray vs Rich Swann
Bully is in control as we join the broadcast after the break. Bully backs Swann into the corner and chops him hard in the chest. Bully rakes the back of Swann who is down on the ground. Bully whips Swann against the ropes, hoping for a back body drop, but Swann tries a sunset flip. Bully laughs this off and attempts a senton but Swann moves out of harm's way. Swann hits a step-up kick to Bully's head and then a nice splash off the top rope but Bully kicks out at 1. Bully cuts Swann off on the top rope then puts Swann back onto the top turnbuckle. Bully hangs Swann up in the ropes and slaps him hard in the chest twice. Bully starts abusing the referee and then continues pounding on Swann in the corner. Bully hits a snapmare and starts wrenching at the mouth of Swann. Swann makes it to his feet and nails a jawbreaker. Bully misses a clothesline in the corner and Swann fights back with two drop kicks but they have no effect. Swann goes to the top and hits a missile dropkick which takes Bully off his feet. Swann gets a 1 count. Swann is on the move again but Bully flips him over with a back body drop. Bully misses a senton off the middle rope so Swann quickly climbs to the top and hits a 450 but Bully powers out just after 2. Swann goes to the top again and hits a big crossbody for another 2 count. Swann runs at Bully in the corner, but Bully pulls out his chain and nails Swann in the head for the DQ finish after 6 minutes.
Winner by disqualification: Rich Swann
Analysis: **3/4 They were building to something quite good there but the DQ finish put a stop to that. There was good chemistry between Swann and Bully, and the storyline was there with Swann being Alexander's friend and defending him. This was more about the post-match angle than the match itself which is okay sometimes.
After the match, Swann rolled out of the ring and Bully picked up a steel chair and chased off the referee. Bully hit Swann over the back. Bully grabbed a 'F-U Bully' sign from a fan in the crowd and tore it off. The fan flipped him off so Bully cracked Swann in the back again with the chair. Some more referees came down to the ring so Bully threatened to hit them with the chair. Bully nailed Swann a third time and then got a zip tie from under the ring. Bully tied Swann to the ring ropes and was about to hit him again when Tommy Dreamer intercepted him and asked him what he was doing. Dreamer confronted Bully in the ring and wondered why he had been defending Bully all this time. Bully shoved Dreamer down to the mat and grabbed his steel chain. Bully was about to hit Dreamer when Scott D'Amore got in the ring. D'Amore took off his jacket and threw it at Bully. D'Amore threw his headphones at Bully and got in his face. Bully tried to smack Swann again with the chair but Dreamer blocked him so D'Amore threw a bottle of water at Bully. Dreamer was holding D'Amore back. D'Amore started tossing referees out of the way to try to get to Bully. D'Amore was swearing so they bleeped it out. Bully got a microphone and told D'Amore to remember that he was the guy who hired him. Bully made his way back up the ramp and D'Amore threw the steel chair at him as they continued to yell at each other.
Analysis: There was a lot going on there. That was longer than the actual match. That was a very effective segment in continuing to build Bully's heat. He is a master at the heel craft and showed it here. It was humorous watching D'Amore fire up at Bully because he was very over the top in his actions as an executive but also because Bully would destroy him in a fight. They continued to tease the tension between Bully and Dreamer, too.
Trey Miguel cut a pre-taped promo putting over his new heel persona. Miguel spray-painted his logo on his X-Division Championship. That was about it.
Analysis: It would be good to have an explanation from Miguel to justify his heel turn at Over Drive.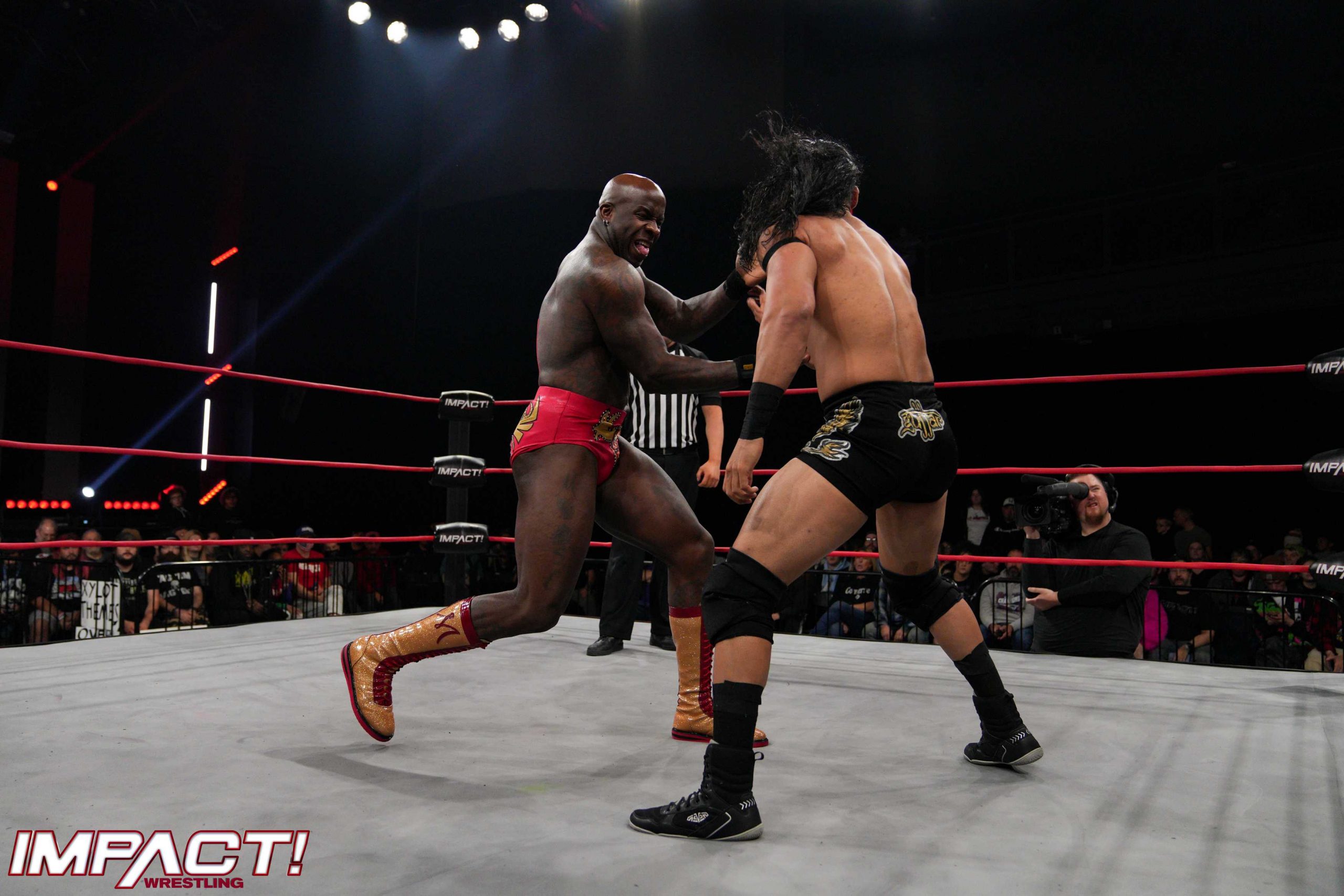 Match #2: Moose vs Bhupinder Gujjar
Moose lost to Bully Ray in a Tables Match at Over Drive. He hasn't had a very successful 2nd half of 2022, since losing the World Championship to Josh Alexander in late April. Gujjar entered next and for the first time, I really noticed his theme music. Not because it was good (it's awful) but because he doesn't have stereotypical Indian-themed music. Sometimes, you just notice things that don't mean much in wrestling! Moose started off the match by backing Gujjar in the corner and nailing a chop. Gujjar fought back with chops of his own and a few running clotheslines, but he couldn't knock Moose down. Gujjar kicked Moose out of the ring and went after Moose. Moose cut Gujjar off with a kick to the face. Moose powerbombed Gujjar on the ring apron. Gujjar just made it back into the ring after the count of 9.
(Commercial break)
Moose was in firm command as we re-joined the action in the ring. Moose whipped Gujjar hard into the corner and then kipped up in an impressive fashion. Moose talked trash to Gujjar so he slapped him in the face. Moose nailed a big Uranage and then went for a spear but Gujjar sent him into the turnbuckle. Gujjar hit a ripcord knee and did a lot of yelling, then his a slingblade. Gujjar set up for the Gargoyle Spear but Moose avoided the attack. Gujjar leap-frogged a Moose spear attempt, but Moose followed up by nailing the spear for the win after 4 minutes.
Winner by pinfall: Moose
Analysis: **3/4 That was a decent match, given there was no story and it was pretty short. Gujjar continues to improve and is working out ways to play to the crowd. Moose is always impressive and needs wins to build him back up as a credible contender.
After the match, Moose threw Gujjar out of the ring and got a microphone. Moose said he was the one who told everyone that Bully Ray was a scumbag. He called the fans 'Kentucky Fried Idiots' because no one listened to him. Moose said he won at Over Drive because he was right. Moose said he never wants to hear Bully Ray's name again and the fans better not say his name again. That was the cue for the new Digital Media Champion Joe Hendry's music to hit. Hendry walked down to the ring and acknowledged a fan who had a huge sign with his head on it. Moose was not impressed at this point. Hendry got in the ring and Moose asked him what he was doing in his ring. Hendry told Moose that he called him out. Moose said he was talking about Bully and that's serious business, unlike Hendry. The crowd started chanting 'We believe' for Hendry. Moose said he doesn't have time for his fun and games and that Hendry should leave before he gets hurt. Hendry goes to leave but tells him that that's not what Moose really wants. Hendry says he knows a cry for help when he sees one. Moose tries to cheap shot Moose but Hendry blocks it. Moose nails Hendry with a pump kick and taunts the fans. Hendry is back to his feet so Moose runs at him but Gujjar is back on the top rope and nails Moose with the Gargoyle Spear. Hendry's music hits as Moose sells the injury on the outside of the ring.
Analysis: That was a fun interaction between Moose and Hendry, and a big first feud for Hendry as champion if that is the direction they're going. I'm all for it.
Gia Miller is backstage with Mike Bailey who is addressing Kenny King and his recent attacks. Bailey says he doesn't intend to remain former X-Division Champion for very long. Bailey says he isn't worried about Kenny King's 'mission' and is still focused on the X-Division Championship.
Analysis: King going after Bailey has been an interesting mini-feud in the recent tournament. I'm interested to see where it goes.
There was a video package leading up to the main event between Deonna Purrazzo and Mickie James. That should be a brilliant match.
Match #3: Steve Maclin vs Frankie Kazarian
Speaking of Purrazzo, here comes her husband, Steve Maclin. Kazarian is out last, two weeks after coming so close to becoming World Champion for the first time. Kaz has had a great run over the last few months and is still a very believable main event talent in Impact. This should be a very physical match up and is the third first-time match up of the evening. The match starts off with a wild brawl as Maclin pummels Kaz against the ropes. Kaz fights back with a springboard elbow and takes control with some chops in the corner. Kaz unloads on Maclin in the corner with right hands. the top rope and took everyone out. Maclin whips Kaz hard into the corner and he goes flying to the outside. Maclin rams Kaz against the ring apron and then chops him hard. Maclin throws Kaz into the ring but Kaz cuts him off with chops and right hands. Maclin takes Kaz down with a running elbow and then mounts him with right hands on the mat. Maclin hits a hard backbreaker and then bounces off the ropes into a knee drop. Maclin ties Kaz up in the middle rope and hits a running knee to the back. Maclin drops Kaz with another right and then backs him into the corner. Maclin whips Kaz into the opposite corner with force. Kaz tries an inside cradle but Maclin bounces out and nails a clothesline. Maclin spears Kaz in the corner and tries it a second time but Kaz rolls him up for the first nearfall of the match. Kaz tries a backslide for 2 and Maclin goes for the Olympic Slam but Kaz escapes into the corner. Maclin misses a clothesline, so Kaz hits two of his own followed by a flying forearm. Kaz hits a running knee attack in the corner and tries for the Crossface Chicken Wing but Maclin cleverly rolls out. Kaz hits a scoop slam and a springboard legdrop for 2. Kaz goes for the submission again but Maclin backs him into the corner then misses a running attack. Maclin misses a splash in the corner so Kaz nails a legdrop which Maclin draped over the ropes. Kaz springboards back into the ring and rolls up Maclin for 2. Maclin catches Kaz and hangs him up in the ropes. He tries a diving crossbody but Kaz pulls himself up, so Maclin rolls to the outside. Maclin tries to get back into the ring but Kaz pulls him back in for a springboard cutter. Maclin gets his foot on the rope just before the 3 count. Maclin rolls to the outside and nails Kaz in the ribs with a steel chair. The referee calls for the DQ after 8 minutes.
Winner by disqualification: Frankie Kazarian
Analysis: ***1/2 I was really enjoying that until another lame finish. That's a DQ finish in 2 out of 3 matches so far this evening. I understand wanting to make both men look strong, but that's lazy writing. Up until then, it was a really physical match that was at an unrelenting pace. At least we will see another match between these two after that result.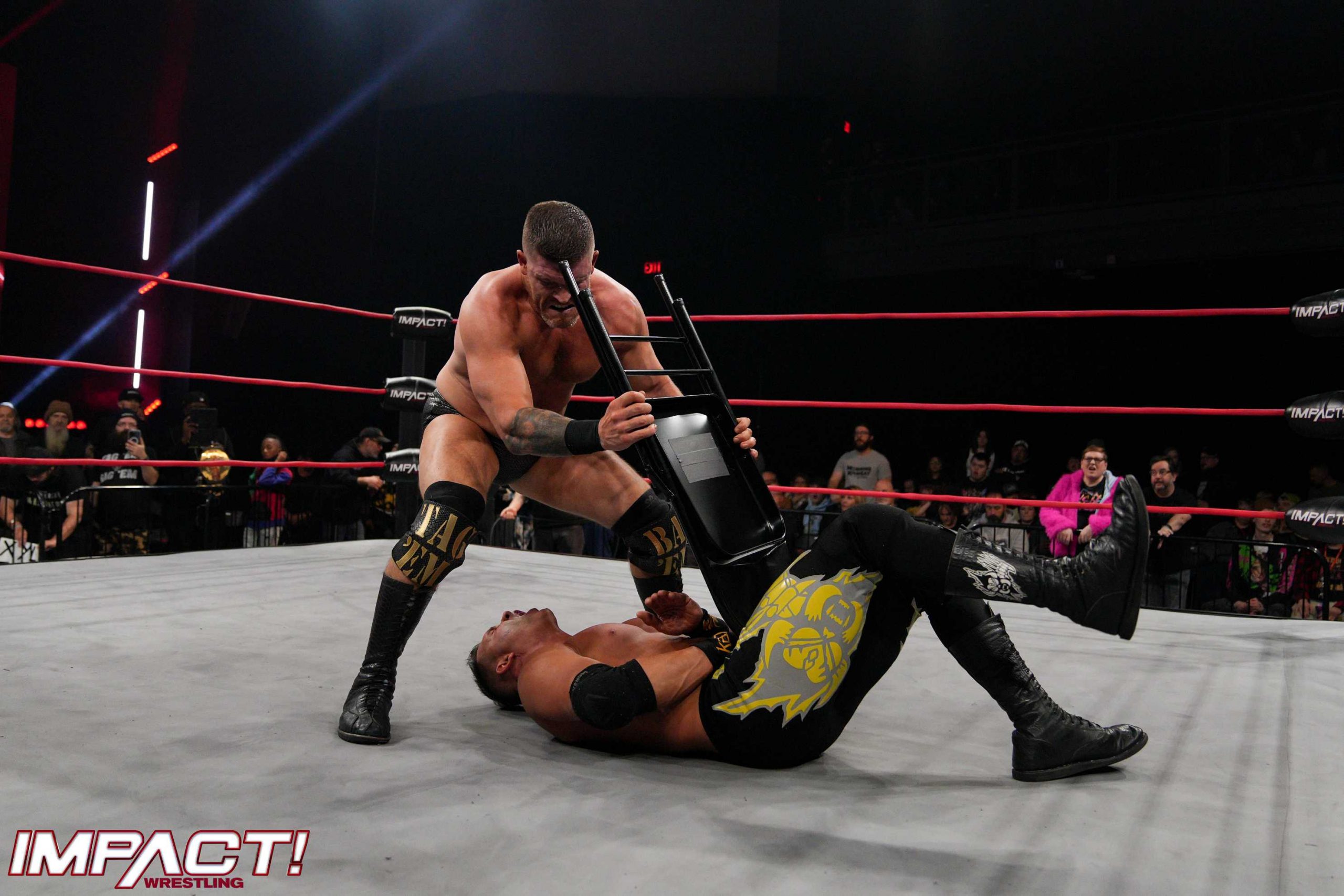 Maclin continued to attack Kaz with the steel chair in the ring. Maclin yelled about not getting a World Title match. He nailed Kaz with the KIA DDT onto the steel chair. Maclin's music hit to end the segment.
They showed highlights of the Knockouts' Tag Team Championship match at Over Drive where the Death Dollz defeated Tasha Steelz and Savannah Evans, much to my disappointment. Evans and Steelz were backstage, apparently only discussing this for the first time in two weeks. Steelz blamed Evans for the loss and then said that if she's got it all worked out then she can face Taya Valkyrie next week and Steelz will step back.
Analysis: There's a little tension in the group. There are very few Knockouts' stables so hopefully they don't split these two up.
Gia Miller was backstage with Eddie Edwards. Edwards said that PCO has paid for what he did to him. Edwards said the past year has taken a toll on his personal life and he wants to put it in the past. Miller reminds him that there was footage of PCO's hand emerging from the desert after being 'buried'. Edwards fired up and said he doesn't regret anything and now he is solely focused on the future. Edwards turned around and ran into Delirious. Delirious started Eddie down so Eddie backed away.
Analysis: PCO vs Edwards doesn't look done yet, but Delirious might be a match for Eddie until Hard to Kill.
Rhino and Heath were backstage admiring their Tag Team Championships after successfully defending them against the Major Players at Over Drive. Alex Shelley and Chris Sabin approached them and said now that they're done with the Major Players, Heath and Rhino can give them a shot at their titles. Heath says he's going to talk to Scott D'Amore and set it up for next week. Rhino asks if that's all the Guns want. Rhino starts screaming that what they're going to get is their (f'n) heads ripped off, their (f'n) hearts ripped out and taken out by a gore, gore, gore!
Analysis: That was very intense from Rhino and uncharacteristic in his face role against two other faces. There has been a lot of swearing beeped out tonight on Impact.
Next week Josh Alexander will be in the house and Taya Valkyrie takes on Savannah Evans.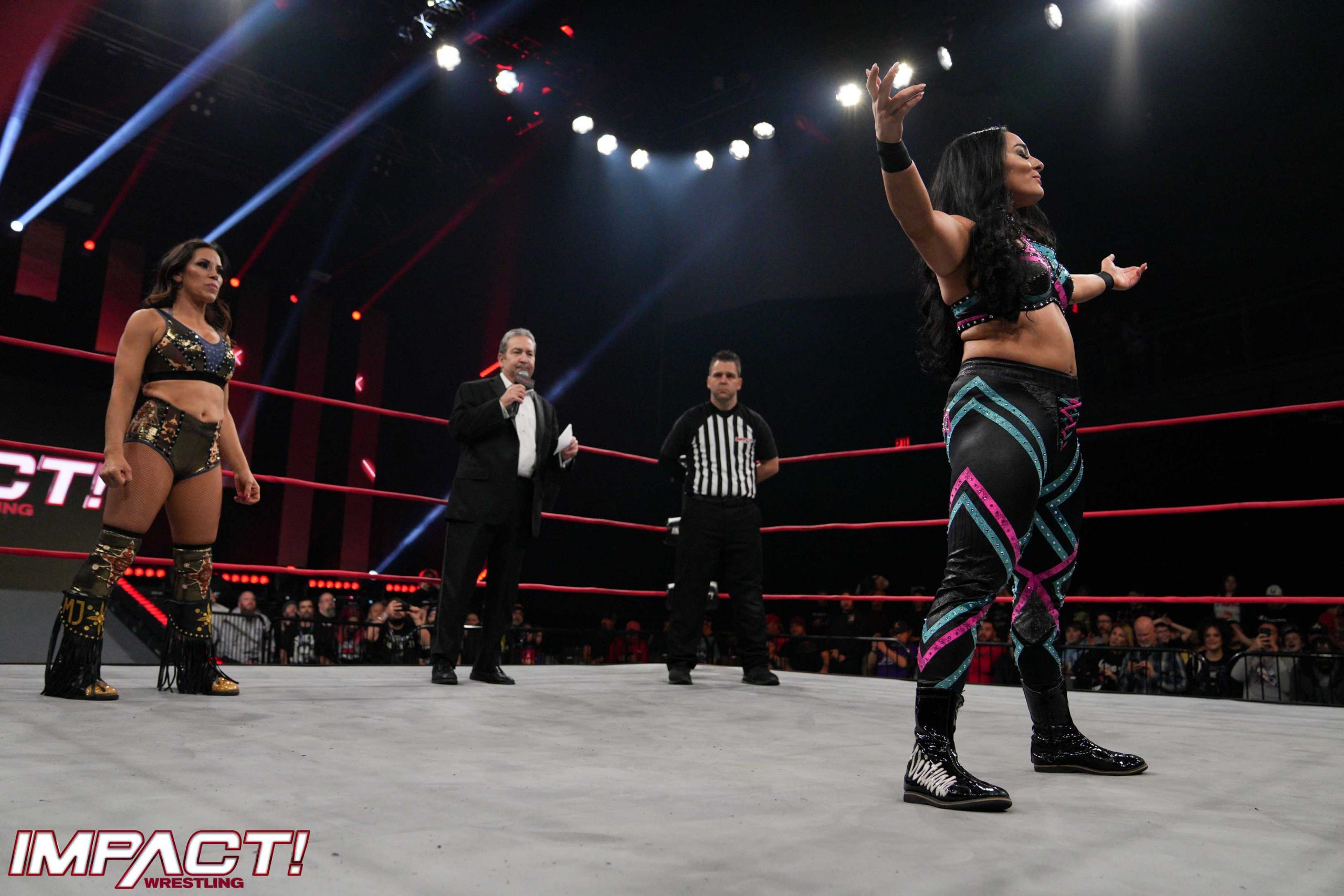 Match #4: Mickie James vs Deonna Purrazzo
This is another match in the 'Last Rodeo' of Mickie James where if James loses, her career is over. Purrazzo confronted James at Over Drive, after James beat Taylor Wilde and told her that if anyone deserves to end Mickie's career, it's Deonna. Purrazzo is out first, followed by James. They do the big-time introductions in the ring after the entrances of both women and we are set to go in our main event. They lock up and the referee breaks it up in the ropes. Purrazzo tries a wrist lock but James takes her over with a head scissors. Purrazzo rolls out and tries an armbar but James get to her feet. James wrenches at the left arm and takes Purrazzo down with a leg drop for a 1 count. James continues to focus on the left arm. Purrazzo misses a corner attack and James capitalises with two arm drags and a Legsweep for a 2 count. James tries a sunset flip pin and gets a 2 count. Mickie connects with a kick to the mid-section and goes for the Mick Kick but Purrazzo avoids it and they have a staredown.
(Commercial break)
Back from the break and Purrazzo bounces James' head off the corner turnbuckle. Purrazzo chops James in the ropes but Mickie fights back with chops of her own in the corner. James takes Purrazzo to the opposite corner and chokes out with her foot. James bounces Purrazzo's head off the top turnbuckle pad 10 times as the crowd counts along. James takes her down with a Lou Thesz Press. Purrazzo fights back with a stiff running elbow to the face. Purrazzo with a short-arm clothesline and then a series of elbows to the neck. Purrazzo pummels Mickie with blows across the chest for a 2 count. Purrazzo stands on Mickie's hair and wrenches at her arms. Purrazzo tries a pinfall but James kicks out at 2. Mickie backs into the corner but Purrazzo stomps away on her. James is down on the mat so Purrazzo slingshots her into the bottom rope for another 2 count. Purrazzo is now in full control and takes James over with a snap mare and locks a sleeper in. Mickie is fading on the mat and tries to get to her feet so Purrazzo tries to lock the sleeper in harder. James get to her feet but Purrazzo cuts her off with a kick to the stomach and a thrust to the throat. Purrazzo with two hard clotheslines in the corner and then tries a running attack in the opposite corner but James blocks it. James takes Purrazzo down with a head scissors and a big running kick for a close 2 count. James sets up for the MickDT but Purrazzo blocks it. James hits a flapjack and then climbs to the top looking for a Thesz Press. Purrazzo is quick to her feet and sends Mickie flying out of the ring, crashing to the floor.
(Commercial break)
Back in the ring and Purrazzo is stomping a mud hole in James on the mat. Purrazzo is looking very frustrated as the referee admonishers her for pulling at the hair of James. Purrazzo hits a Brainbuster but James kicks out right before 3. Purrazzo tries another pin to no avail. Purrazzo locks in the Camel Clutch in the centre of the ring. The referee checks Mickie's consciousness but she's up and takes Purrazzo down with a hip toss. James fights back with right arms but Purrazzo levels her with a big forearm. They lock up again but Mickie dropkicks Purrazzo out of the ring. She climbs to the top rope and nails some of a Thesz Press on the outside. Mickie didn't really jump so it was more of a fall. She tosses Purrazzo back into the ring but Purrazzo tries to cut her off in the ropes. James hits a knee and then a big missile dropkick from the top rope. Mickie with a neckbreaker for a 2 count. James tries the MickDT but Purrazzo backs her into the corner. Purrazzo with hard right hands that take James to the mat. Purrazzo blocks a Tornado DDT and hits a Pump Kick. She covers for another 2 count. Good nearfall there. Purrazzo signals for the end but James fights out of the Queen's Gambit and hits a kick to the face for 2. Purrazzo blocks the MickDT and turns it into the Fujiwara armbar with ease. James crawls to the ropes but Purrazzo locks in the right arm too and has James in the Venus de Milo. Mickie gets under the bottom rope so the hold must be broken. Purrazzo tries a roll through with the tights being held but James reverses it and holds Purrazzo's tights for the 3 count after 16 minutes of televised time.
Winner by pinfall: Mickie James
Analysis: ***1/2 The action was pretty good with the veteran Mickie James outsmarting her rival to prolong her career. It was a good way to book it, that doesn't hurt Purrazzo much. The two commercial breaks hurt the flow of the match from the viewpoint of a writer, but that's not the wrestlers' fault. I always enjoy when they step into the ring together.
After the match, Mickie was celebrating when the music of Knockouts' World Champion hit. Jordynne Grace said she knew Mickie wanted to work her way to the title and she has done exactly that. Grace said they've both taken care of their business so the time for their first match together is at Hard to Kill. They shake hands and Mickie goes to pull away but Grace pulls her back in and they stare eachother down.
Analysis: I thought that was where this was heading but I didn't expect it to be so soon. That will be a terrific match as Grace is on top of her game right now.
The final segment of the night focused on Eric Young and Violent by Design. It was shot in a cinematic way as the majority of their vignettes have been done lately. Young and Deaner were sitting in a room, across from each other at a table. It seems that they were at a prison and there was a knife in the middle of the table. Young asked Deaner why he turned his life over to VBD. Deaner answers to fight the sickness. There were clips of some of his actions in VBD over the past 2 years. Young asks what Deaner would say if the sickness was in the room right now. Deaner asks what Young meant. Young asks him what lengths he would go to eliminate the sickness. He asks if he would do anything, which Deaner says he would. They both begin brawling and try to reach the knife. Young gouges at the eyes of Deaner but Deaner fought back with right hands. Young was choking Deaner out and then smashed his head against the wall. Young had Deaner on the ground and was gouging his eyes. Deaner fought back with an eye gouge of his own and repeatedly punched Young in the face. Young was bleeding and Deaner screamed at him, asking Young why he made him do this. Deaner screamed that they could still fix this. Young said only Deaner could fix this. He says that Deaner should kill the sickness so Deaner takes the knife. Young tells him to embrace the violence so Deaner stabs him with the knife, although you don't see Young on the ground. Deaner calmly sits back at the table and Young's voice plays over the top: "I was the designer, but you are the design", as Impact goes off the air.
Analysis: That was an interesting way to write Young out of Impact as he is likely heading back to WWE soon. The Violent by Design group was unique, but I don't think they reached the heights that they could have. It didn't help when Joe Doering was forced out for surgery on his brain cancer. They tried bringing in two new members in Big Kon and Angels, so we will see where they end up with Deaner seemingly in charge now. They showed the segment after the main event, similarly to PCO getting buried in the desert, to play it off as a big moment. It was well done.
Final Rating: 7/10
I enjoyed this week's episode, after the Thanksgiving special last week. There were only 4 matches and minimal backstage segments, but I'm happy with that as the show didn't feel that it was too packed or that they were rushing segments. The show actually seemed to go rather quickly. Even though I didn't rate any of the matches too highly (thanks to DQs!), they were effective in continuing storylines or putting over the heels in Bully Ray and Steve Maclin. Bully continued his dastardly ways and the use of Scott D'Amore is effective in showing how Bully is really wreaking havoc in Impact presently. The main event between Deonna Purrazzo and Mickie James was strong, with a clever ending and led to Jordynne Grace setting up a big PPV match with James in January. That will be great. The two main matches for Hard to Kill are set now, so it's all about building them up and making people want to watch them, then shaping the rest of the card around that. It should be a fun few weeks.
The next PPV, Hard to Kill, looks like this so far:
Impact World Championship: Josh Alexander (c) vs Bully Ray
Knockouts World Championship: Jordynne Grace (c) vs Mickie James (if Mickie loses she must retire)
Any feedback or comments are welcome. My email address is kristian.l.thompson@gmail.com in case anybody wants to get in touch with me and my Twitter handle is @thomok6 as well. Thanks for reading!