IMPACT Wrestling Review – April 6, 2023
On this week's edition of Impact Wrestling, PCO and Eddie Edwards finally faced off in the ring and Josh Alexander handed his title back in the main event segment.
Impact Wrestling 6/4/23 from St. Clair College, Windsor, Ontario, Canada
With no regular episode of Impact last week due to the Multiverse United PPV, there was a video package reminding us that Impact World Champion Josh Alexander is injured and will relinquish the title. It's Kushida vs Steve Maclin for the vacant championship at the Rebellion PPV in just over a week.
We are straight into the action tonight with a tag team match.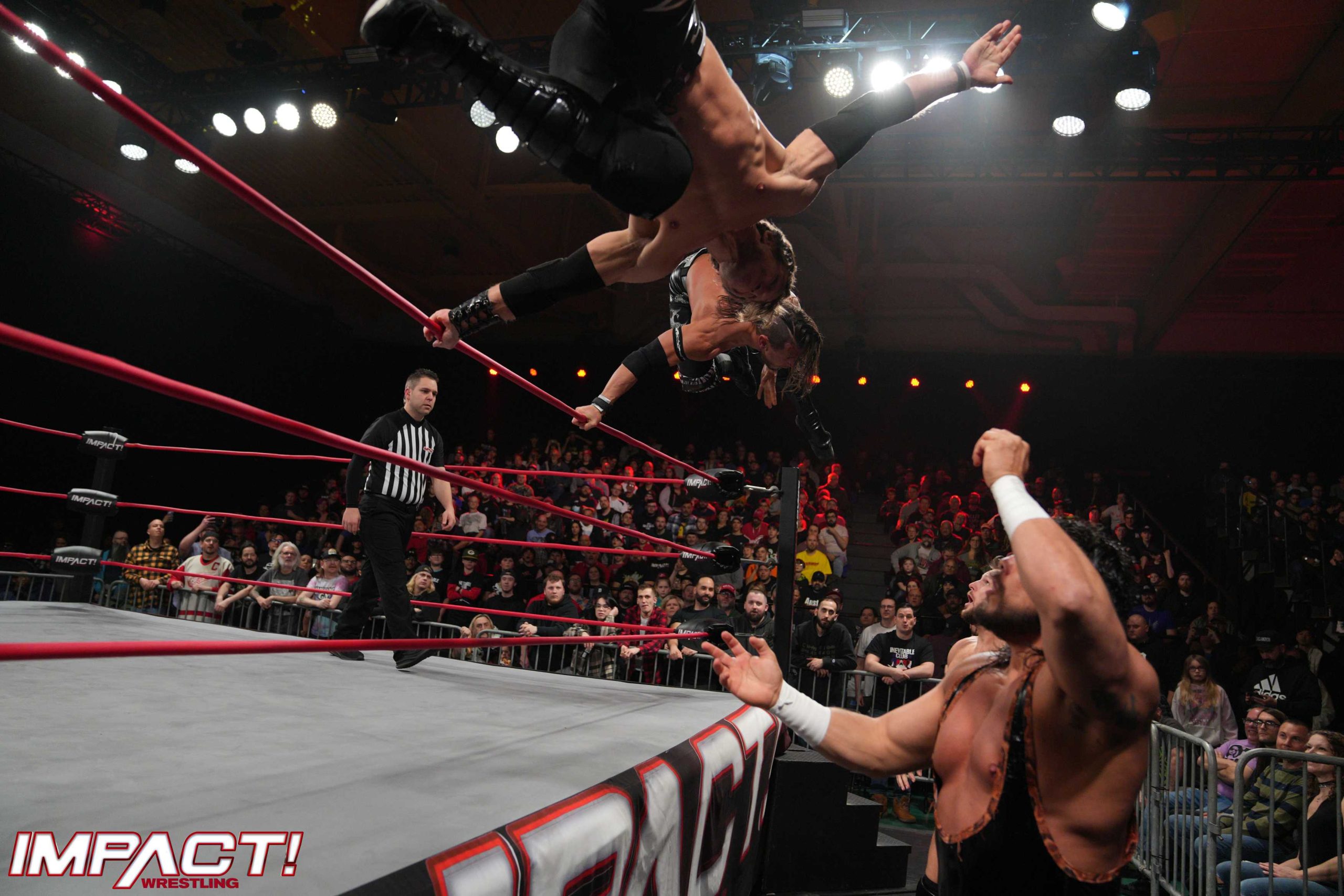 Match #1: The Motor City Machine Guns vs TMDK
The Guns and Kushida were successful in the main event at Sacrifice, beating Frankie Kazarian, Steve Maclin and Rich Swann. Both of these teams were unsuccessful in capturing the Impact World Tag Team Championships at Multiverse United in a Fatal-4-Way. Sabin and Shelley are out first, followed by their opponents in Bad Dude Tito and Shane Haste. Shelley and Haste start the match off and this is a first-time ever match as we are reminded by Tom Hannifan. Bad Dude Tito quickly comes in and cheap shots Sabin. However, the Guns recover and easily send TMDK to the outside and perform a double baseball-slide. Shelley and Sabin springboard over the top rope with synchronised crossbody attacks. They roll Haste back into the ring and hit a double-team kick in the corner. Haste then sends Shelley crashing into Sabin, and Tito comes in to hit a powerful spinning sitout powerbomb on Sabin. Haste rams Shelley into the corner and Tito nails a running uppercut, then Haste hits an athletic cannonball. Haste delivers some stiff kicks to Shelley who is down on the mat. He tags in Tito who hits a slingshot senton to Shelley. Tito overpowers Shelley in the corner with chops and then a big clothesline for the first 2-count of the match. Haste tags back in and stomps away on Shelley. Haste wrenches at the neck of Shelley, who tries to get to one knee. Haste takes him back down with a jumping kick and tags Tito in. Tito hits a nice T-Bone suplex and takes Sabin off the ring with a clothesline. Shelley avoids a splash and then hits Tito with a Flatliner into the middle turnbuckle. Tito tags in Haste, who can't stop Shelley finally making the tag to Sabin. Sabin takes Tito off the apron with a dropkick. He gives one to Haste too, and then punts Tito from the ring apron. The Guns hit a nice combination strike, Shelley to the front and Sabin to Haste's back, and Sabin hits an impressive springboard Tornado DDT for a close 2 count. Awesome selling by Haste there. Haste fights back and hits a back suplex that spikes Sabin on his head for another 2 count. He tries for a suplex but Sabin reverses it into an inside cradle for 2. Shelley takes Tito down off the apron in the meantime. Haste with an uppercut to Sabin and as he's running the ropes, Shelley pulls him to the outside and nails a superkick. Shelley opens the middle rope and Sabin takes both members of TMDK out with a suicide dive. The Guns roll Haste back in the ring but Tito is back in with a rolling elbow strike on Shelley. Haste takes down Sabin with a stiff clothesline. Haste hoists Sabin up for a double-team powerbomb but Sabin hits Tito with a hurricanrana. Shelley helps Sabin escape a back suplex and Sabin hits a cutter on Haste. Tito with strikes to both Guns but runs into a double dropkick. The referee is now being very lenient, as we have seen in many MCMG matches of late. Haste puts Shelley up on his shoulders but Shelley slips off into a crucifix position. Sabin hits a sunset flip over the top of Haste to trap him in the pin and the referee counts the 3 as Shelley blocks Tito from interfering. Great finish! The match went 8 minutes.
Winners by pinfall: The Motor City Machine Guns
Analysis: ***3/4 That was about as good a tag team match that you could imagine in 8 minutes. It was fast-paced with both teams showing their excellent offensive chemistry. I was hoping that TMDK might get the win, but they went the safe route with the Guns more established Impact regulars. Tito had some very impressive moments as a big man who can move around with great agility. I really enjoyed this match, probably because it was 20 minutes of Shelley and Sabin trolling us with double-team cheating moves. I have been very clear with what I've thought of their wrestling style this year so it was good for them to get back to being an athletic, impressive duo this week.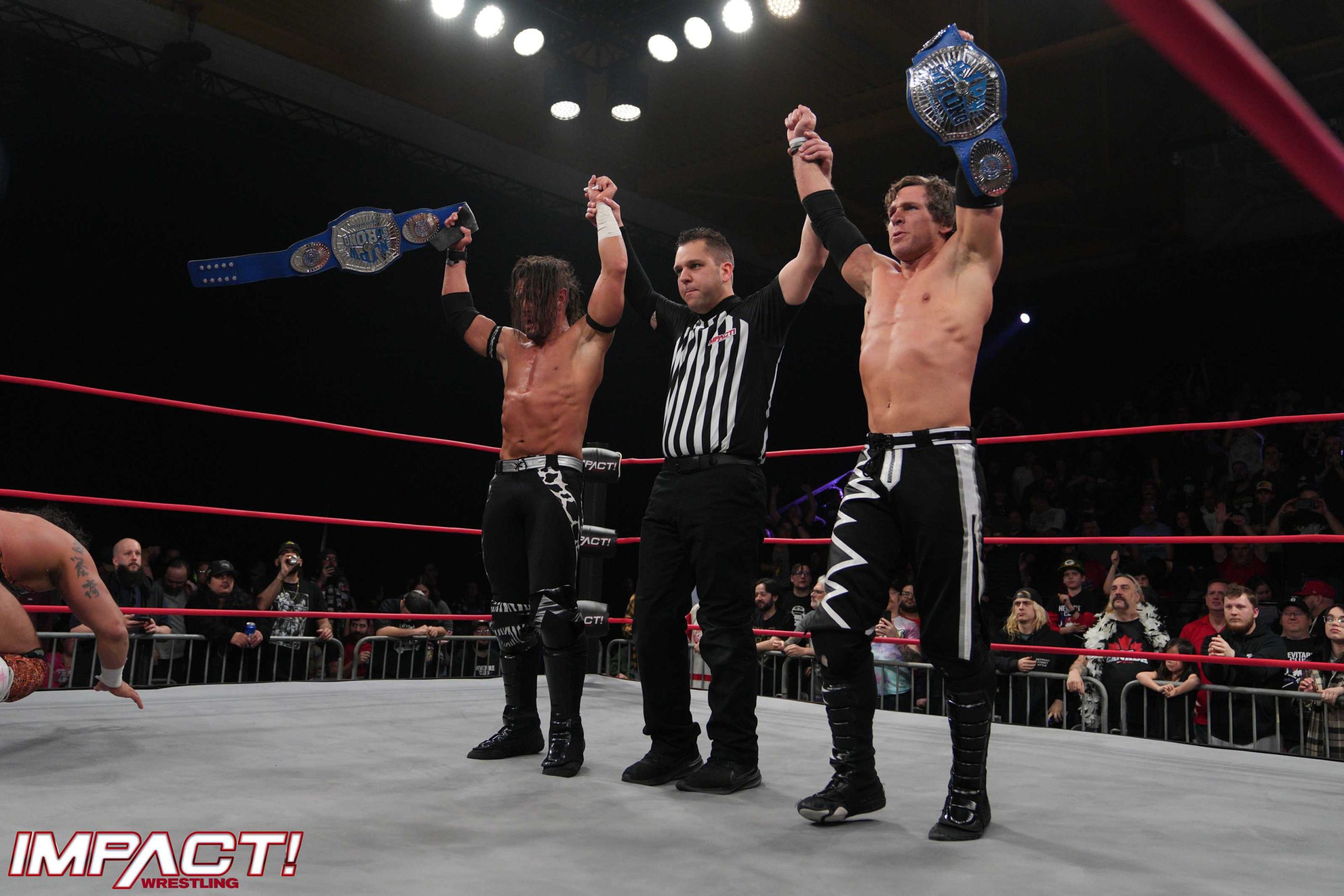 The Impact World Tag Team Champions, Chris Bey and Ace Austin of Bullet Club, were waiting backstage to congratulate the Guns on their victory. Austin sarcastically told the Guns to keep working at it and they might get another title shot. Sabin mocked Austin for his lack of humility. Sabin told Austin that they have a rematch at Rebellion and challenged them to an Ultimate X match. Austin said if they can make it happen, let's do it. He didn't look too confident, though.
Analysis: Wow. That will be a spectacle. There hasn't been an Ultimate X tag team match for 7 years so these teams will put on a show, no doubt.
Kenny King was sitting alone in the locker room when Eddie Edwards walked in. Edwards checked that King had his back against PCO in their match tonight. King wasn't impressed that Edwards didn't help him in his match against PCO at Sacrifice. King told Edwards that if he wanted someone to have his back, he should call whoever ran PCO over.
Analysis: After all these months, we are getting PCO vs Edwards on a random episode of Impact that's only a week away from a PPV. The mind boggles. Maybe Vince is writing Impact this week, as well as Raw. It also seems like King wasn't the driver who ran over PCO, so that adds some intrigue.
Scott D'Amore is backstage with Tommy Dreamer. Last week on the live episode of Impact, Dreamer asked D'Amore to join his team for the Hardcore War against Bully Ray's team at Rebellion. D'Amore declined then and he reiterates his stance now. Dreamer tries convincing D'Amore again and he even discusses the fact that D'Amore didn't have a last match before stopping his wrestling career. Dreamer said D'Amore breathed Impact Wrestling and would be honoured to have him on his team. D'Amore said he had his moment but his job is backstage now. D'Amore says he has full faith in Dreamer's team at Rebellion.
Analysis: Let's give full-time wrestlers the spots on PPV, please. Thank you.
X-Division Champion Trey Miguel has joined the commentary booth for the next match.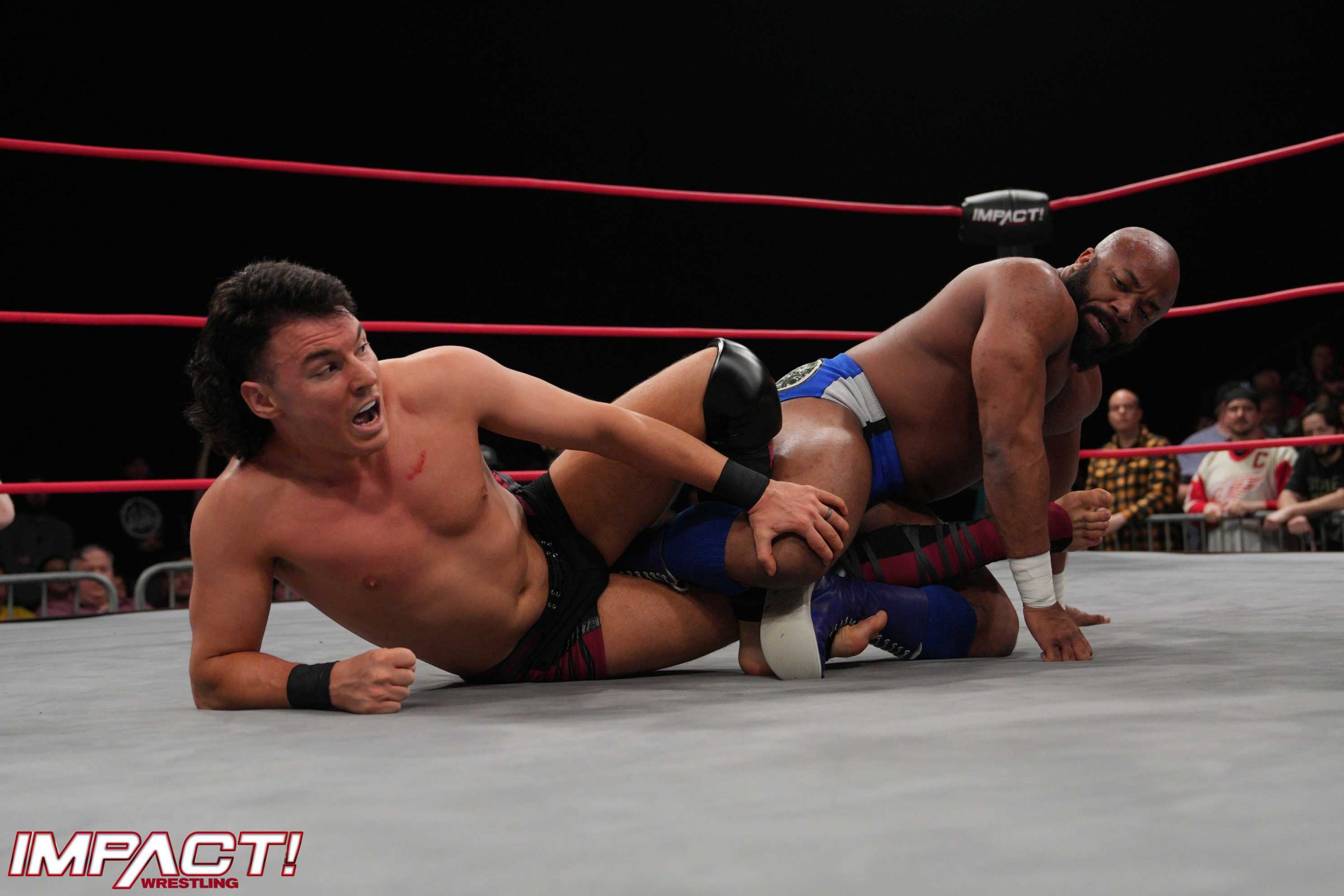 Match #2: #1 Contender match for the X-Division Championship: Mike Bailey vs Jonathan Gresham
The winner of this match will face Miguel at Rebellion. This is the third match in the series and they had a fantastic 20-minute match at Sacrifice, which Bailey won. Bailey lost in the main event of Multiverse United, going down to Hiroshi Tanahashi. They shake hands to kick it off. There's a lot of counter wrestling to begin the match, as they try to outwrestle each other. Neither man can get an advantage so they get into a shoving match and Gresham gets the first real shot with a dropkick. Bailey kips up and nails a set of kicks which send Gresham out of the ring. He slingshots to the outside but Gresham is waiting on the apron. They both get back into the ring, staring each other down and shake hands again. There's a sequence where they avoided a lot of attacks and ended up both going for a crossbody and crashed into each other.
(Commercial break)
Back to the action and Bailey misses a running shooting star press. They exchange pin attempts to no avail. Both men are getting frustrated that they can't get the upper hand in the match. There's an exchange of hard chops and Bailey starts kicking Gresham in the chest. Gresham hits a springboard moonsault and then a dive through the middle rope to the outside. Gresham hits a springboard arm drag back into the ring and holds the arm so he can roll Bailey up for a 2 count. Bailey nails a running shooting star press and the referee counts to 2 and then stops well before Gresham kicked out. That was really bad. Gresham locks in a Figure-4 but Bailey isn't too far from the ropes. Bailey lies down in pain and the referee counts hi shoulders down for 2. He slowly reverses the pressure but Gresham overpowers him and Bailey is on his back again. They roll across the ring, continuing to reverse the move until they fall out of the ring together and the move is broken up. Gresham avoids a Bailey kick and moves right in front of Miguel on commentary. Bailey goes for another kick and Gresham ducks, but Bailey pulls up before he takes out Miguel. Gresham goes for a chop but Bailey ducks and Gresham is centimetres away from taking out Miguel. Bailey then hits a springboard moonsault to Gresham on the floor. Bailey rolls Gresham into the ring and then Miguel climbs the top rope and delivers a double dropkick, so the referee calls for the bell due to the interference.
Match Result: No contest
Analysis: ***1/2 Another really great match between these two with a predictable finish as soon as they started almost connecting with shots to Miguel at ringside. This should set up a triple threat match which would be excellent. This match felt like they were just building some steam and then there was the interference which was alright with me, if it leads to an advance in the storyline. The stamina of these two is impressive- it feels like they just had the beginning of the match, but we were 10 minutes in. That might frustrate some fans, as the build-up and the first few minutes are slow, but it shows how evenly matched these two really are.
Post-match, Miguel stomped away on both wrestlers and taunted the crowd. Miguel boasted about how smart he was. He rolled into the ring with his spray can, but Gresham and Bailey had made it to their feet so Miguel rolled out of the ring and went up the ramp.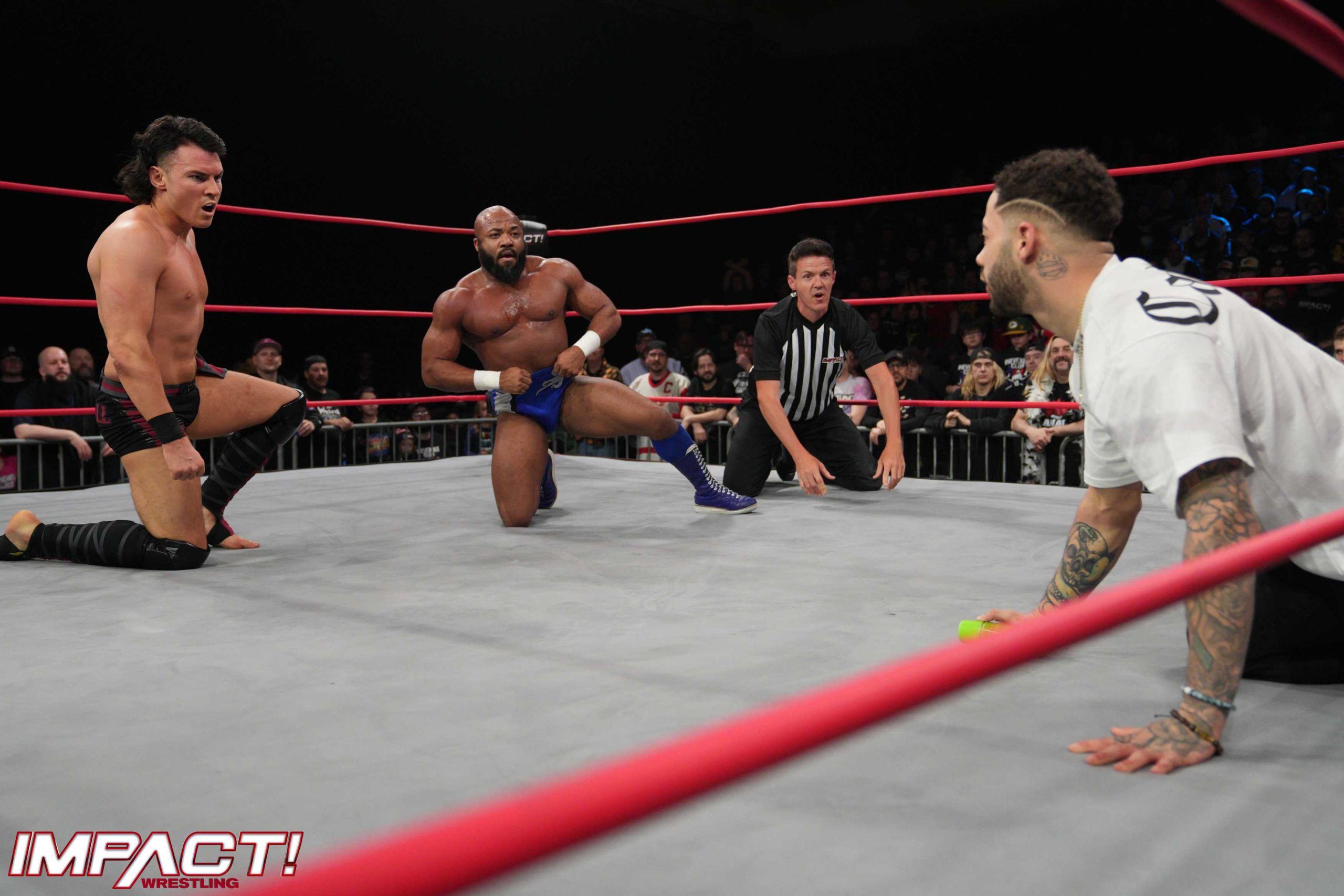 The Design were having a meeting backstage. Deaner reiterated that Callihan cost Kon his match against Kazarian at No Surrender and that he hasn't always made the right choice on this path he is on. Deaner said Callihan taking his punishment was the right choice. Deaner accused Callihan of costing the Design their match against Time Machine two weeks ago. Callihan took exception to this, but Callihan said he sacrificed himself for the cause. Angels said Callihan has been a liability from day one and doesn't trust him. Callihan said he has done everything they've asked from the start and they can either kick him out now or move onto step 7. Deaner asked if he was ready for that, which means eliminating all authority but the Design. Callihan walked off to figure it out.
Analysis: It looks like the Design might be feuding with an authority figure soon or being pushed higher up the card. This storyline is losing some steam lately.
Backstage, Trey Miguel was boasting about how he has no opponent now that Bailey vs Gresham ended without a clear winner. Director of Authority, Santino Marella, was there and wasn't impressed with Miguel's tactics. Marella makes the triple threat match for the X-Division Championship at Rebellion. It will be an elimination match.
Analysis: There's the big match and I like the elimination element to it.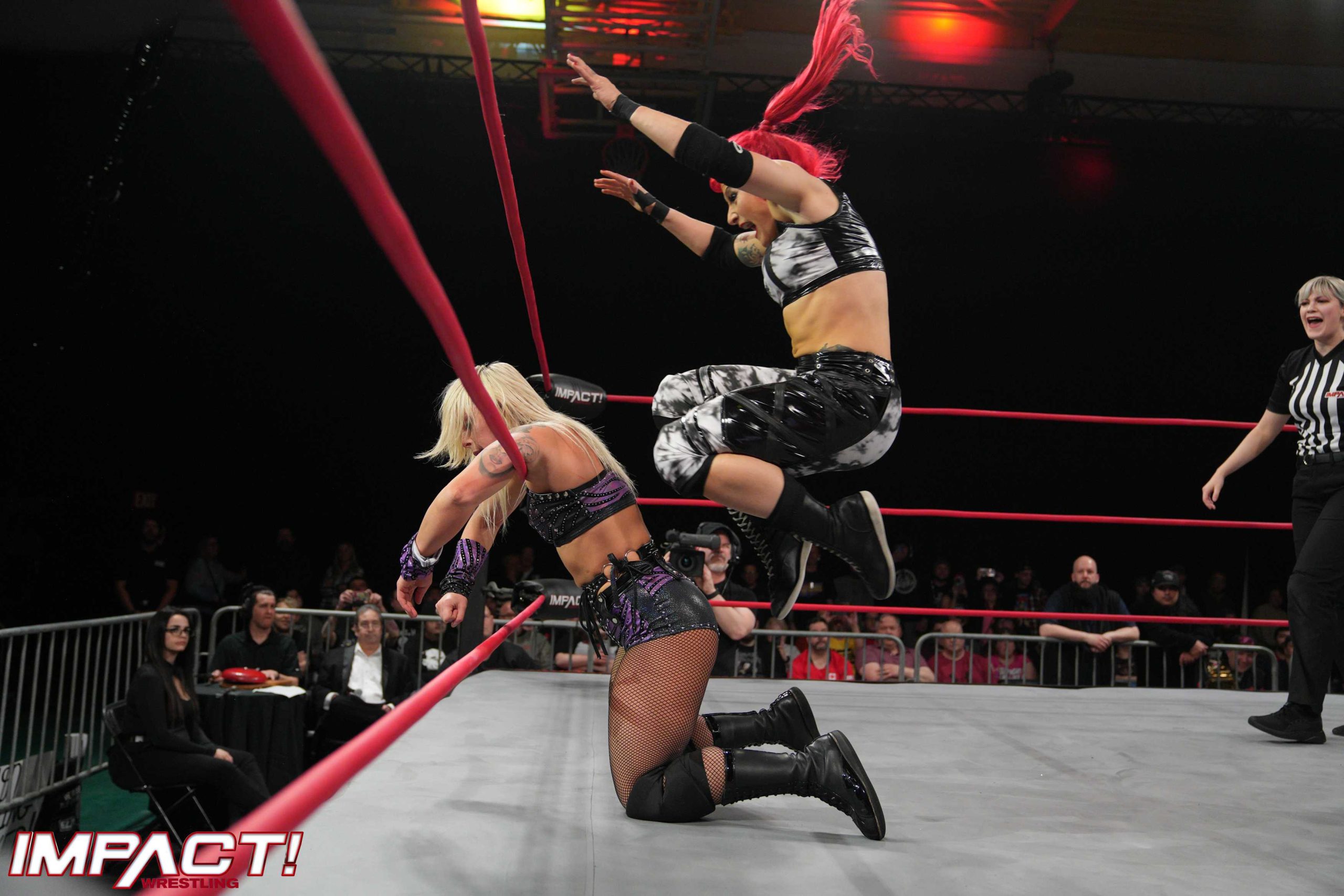 Match #3: Jody Threat vs Tara Rising
This is Threat's Impact debut. I don't know much about her. Tara Rising sounds like HHH's early character, Terra Rizing. That's not a great wrestling name and unfortunate if it's indeed her real name. Matt Rehwoldt said "Are you ready?" like HHH does in his DX promos. I laughed. Threat overpowers Rising early with an armbar. She had her knee pressed against Rising's head on the mat. Threat with a side headlock, but there was a picture-in-picture video showing Santino Marella laid out backstage. Interesting. Threat with a shoulder tackle and a clothesline in the corner. She hit a running uppercut in the corner and a splash on the opposite side. Threat hit a number of hard clotheslines in the corner but missed a spear. Rising slid out of a suplex attempt and hit a right hand. It didn't faze Threat who fought back with a number of clotheslines. Threat threw Rising against the middle rope and hit a double knee attack. She hit a release German suplex that wasn't 100% smooth. Threat hit her finisher the F-4106 and pinned Rising to win the match after 4 minutes.
Winner by pinfall: Jody Threat
Analysis: ** It was an okay match that was about putting Threat over on her debut. She had lots of energy and the crowd was behind her as she's Canadian. Rising got 1 punch in and that was it.
Backstage, Scott D'Amore and Dirty Dango were checking on Marella. Dango said he had let Marella down as Assistant DOA. D'Amore reminded him that that's not a real position. D'Amore thought it might have been the Design, who just mentioned the need to become their own authority. Dango tried to assume the DOA position now that Marella was injured. Dango then wanted to fight the Design. Marella said his pride was more hurt than his body. He said he had to educate his son, Marco, who was going to be in attendance at Rebellion that you have to stand up for yourself. Marella fired up and yelled that it was time to remind the people who he was. Marella announced that he would fight alongside Dango and Joe Hendry against the Design at Rebellion.
Analysis: I wasn't clambering for a Santino return to the ring but at least it gives Hendry something new to focus on.
Gia Miller interviewed Tasha Steelz, who returned at Sacrifice. Steelz some time off to 'get her me back'. She was interrupted by Gisele Shaw and friends. That included Savannah Evans, who is Steelz' formed tag partner. Shaw didn't appreciate Steelz messing in her match with Deonna Purrazzo at Sacrifice. Steelz said she had no problems putting Shaw in her place next week.
Analysis: They didn't announce if it was a singles match or tag match but they'll face off next week. Great to see Steelz back.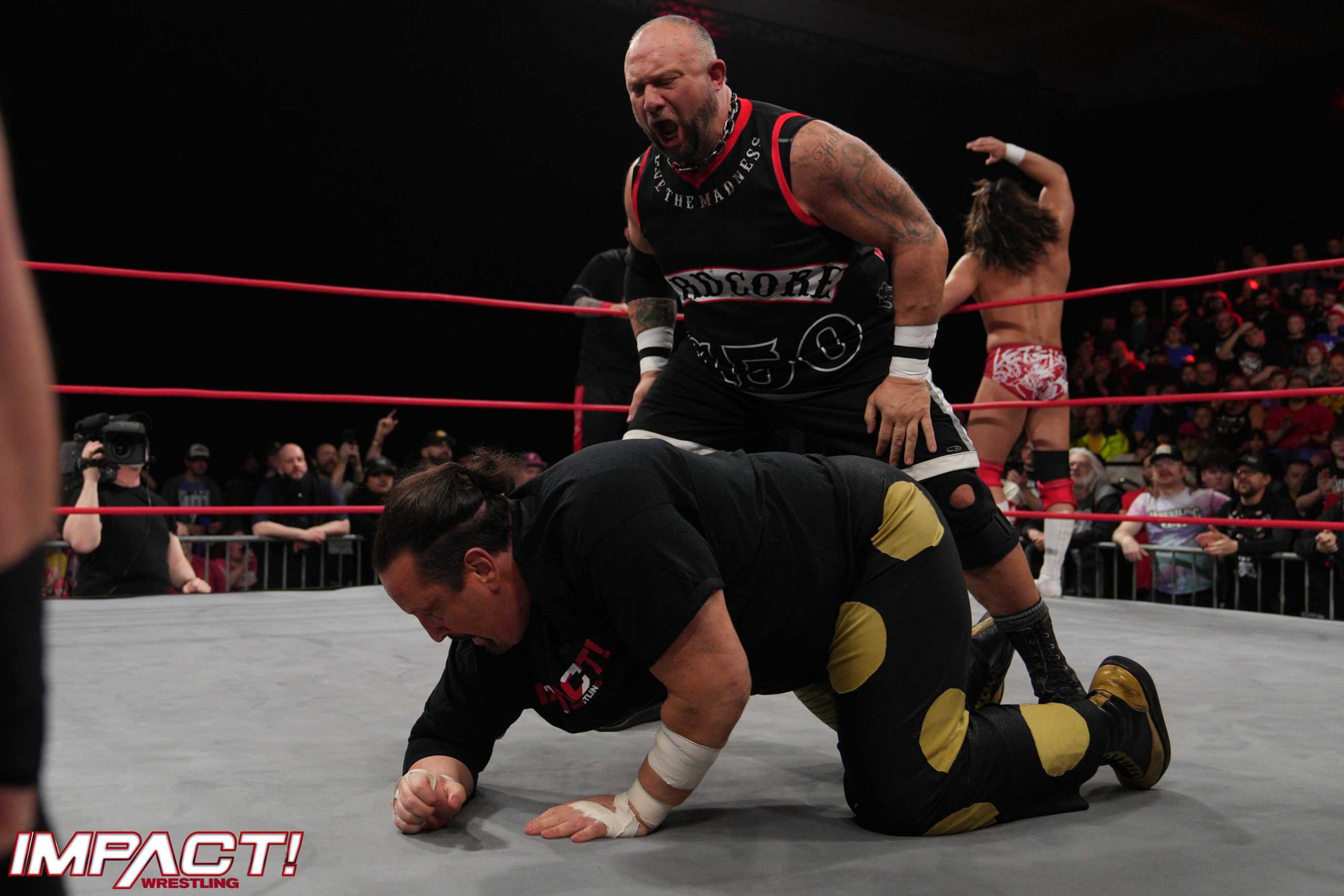 Match #3: Bully Ray & The Good Hands vs Tommy Dreamer, Yuya Uemura & Darren McCarty
It's Team Bully vs Team Dreamer in a 10-man Hardcore War at Rebellion. Bully beat Dreamer in a Busted Open (First Blood) match at Sacrifice, even though Bully was bleeding first. McCarty is an NHL legend who I had never heard of until he got involved at Sacrifice. Dreamer and John Skyler kick off the match, but Skyler makes the quick tag to Jason Hotch. Dreamer hits his combination punches and a bionic elbow, then tags in Uemura. Uemura and Dreamer hit a double hip toss. Uemura with a running elbow drop for a 1 count. Hotch with a cheap knee strike and tags in Skyler. Skyler runs at Uemura but gets an arm drag for his troubles. Dreamer tags back in, hits a quick slam and tags Uemura again. He hits a double-axe handle from the top and in comes Dreamer again. Dreamer ran against the ropes but Bully interfered with a knee to the back and this allowed Hotch to take advantage. Skyler tagged in and then Bully enters only when Dreamer is down on the mat. Bully mocks Dreamer and hits a series of jabs to the face. Bully mouths off about Dreamer's family so Dreamer nails him with a DDT. McCarty makes the tag and hits a double clothesline on the Good Hands. McCarty nails Skyler with a left hand that Skyler sold like HBK vs Hulk Hogan at SummerSlam 2005. McCarty hits Thesz Press on Hotch and a flurry of strikes. McCarty launched Hotch over the top rope. He sent Skyler to the outside too and Uemura took them both out with a springboard crossbody. The crowd was pumped up. McCarty challenged Bully to get into the ring and fight. Bully reluctantly stepped into the ring but then retreated. Skyler clotheslined McCarty from behind. McCarty came back with a stunner on Skyler for the 3 count after about 7 minutes.
Winners by pinfall: Tommy Dreamer, Yuya Uemura & Darren McCarty
Analysis: *** That was a fun little fight and gave us a bit of a preview for Rebellion. The crowd loved McCarty being in there and obviously wanted Bully Ray to get his just desserts but he bailed from the match as soon as it was a fair fight. We can assume McCarty will be at Rebellion so both teams need to find two more partners.
Post-match Dreamer's team was celebrating when Kenny King attacked Dreamer from behind. Frankie Kazarian ran down to make the save and battled King. Then Masha Slamovich and Killer Kelly ran down to join the chaos. Kazarian and Kelly tossed King and Slamovich to the outside, as the heel team retreated.
Analysis: It only took 30 seconds to find two more partners each, so that match might be set now. Kazarian is hopping between multi-man matches now it seems.
There was a video highlights package showing Josh Alexander's achievements as Impact World Champion. Then there was a video of Jordynne Grace's body-building victory and another highlights package from Multiverse United where Deonna Purrazzo won a Fatal-4-Way match to be added to the Knockouts' Title match at Rebellion. The lighting at that Multiverse PPV was shocking and totally put me off watching the show. It literally looked like they were wrestling in the dark.
Deonna Purrazzo cut a pre-taped promo. She talked about the fact that she is limitless. She didn't expect a Knockouts' Championship opportunity at Rebellion but she is prepared for either a singles match or a triple threat.
Analysis: Hopefully Mickie James is cleared and that triple threat match is on.
Match #4: Eddie Edwards vs PCO
I'm not sure why they are doing this match tonight after so many months of build-up. There might be a screwy finish and they fight again at Rebellion, but the timing is really disappointing. Edwards made his entrance with a kendo stick as he looked confident. There's a flurry of strikes as the bell rings. PCO backs Edwards into the corner with a clothesline, but Edwards rakes his eyes. PCO puts Edwards on the top turnbuckle and chops him several times. PCO hits a hurricanrana off the top rope.
(Commercial break)
The fight has broken to the ringside area. PCO reverses a Tiger Driver attempt and back body drops Edwards on the floor. Edwards turns PCO inside-out with a clothesline, but PCO bounces straight up and nails a vicious clothesline of his own. PCO rolls Edwards back in the ring and climbs to the top rope. Edwards cuts him off with an enziguiri. Edwards hits a superplex. Edwards hits a running knee strike and then backs PCO into the corner. He hits a number of elbow strikes, kicks and chops. PCO fires up and exposes his chest so Edwards can chop him harder. They have a chop-fest for about 60 seconds. Edwards starts slapping PCO so PCO launches him over the top rope and to the floor. PCO riles up the crowd and nails a running cannonball through the middle ropes. PCO nails a chokeslam on the ring apron.
(Commercial break)
PCO nails a clothesline in the corner and a DDT as we return to the action. PCO positions Edwards body on the ring apron and nails the Deanimator senton. He is crazy. PCO runs at Edwards in the corner but Edwards puts the referee in the way and PCO takes him out. PCO hits a reverse DDT. He climbs back to the top and calls for the PCO Sault but Edwards' wife Alisha runs down to the ring. She pleads with PCO to stop. Alisha nails PCO with a kendo stick shot to the head. Edwards hits a buckle bomb and the Boston Knee Party for the win after 8 minutes.
Winner by pinfall: Eddie Edwards
Analysis: ***1/2 While I'm really disappointed that this was an unannounced match that should've been on a PPV after so many months of build-up, I'm consoled by the fact that the match was probably as good as it could have been on a bigger show. Alisha might be revealed as the driver and we can have PCO gunning for his rematch.
After the match, Alisha and Eddie celebrated but PCO sat up and stalked them up the entrance ramp. The cameras followed them backstage as PCO screamed 'Eddie' as he chased the Edwards' out to the car park. PCO caught up to the car but it sped off before he could get in.
Analysis: The feud will continue and I'm fine with that.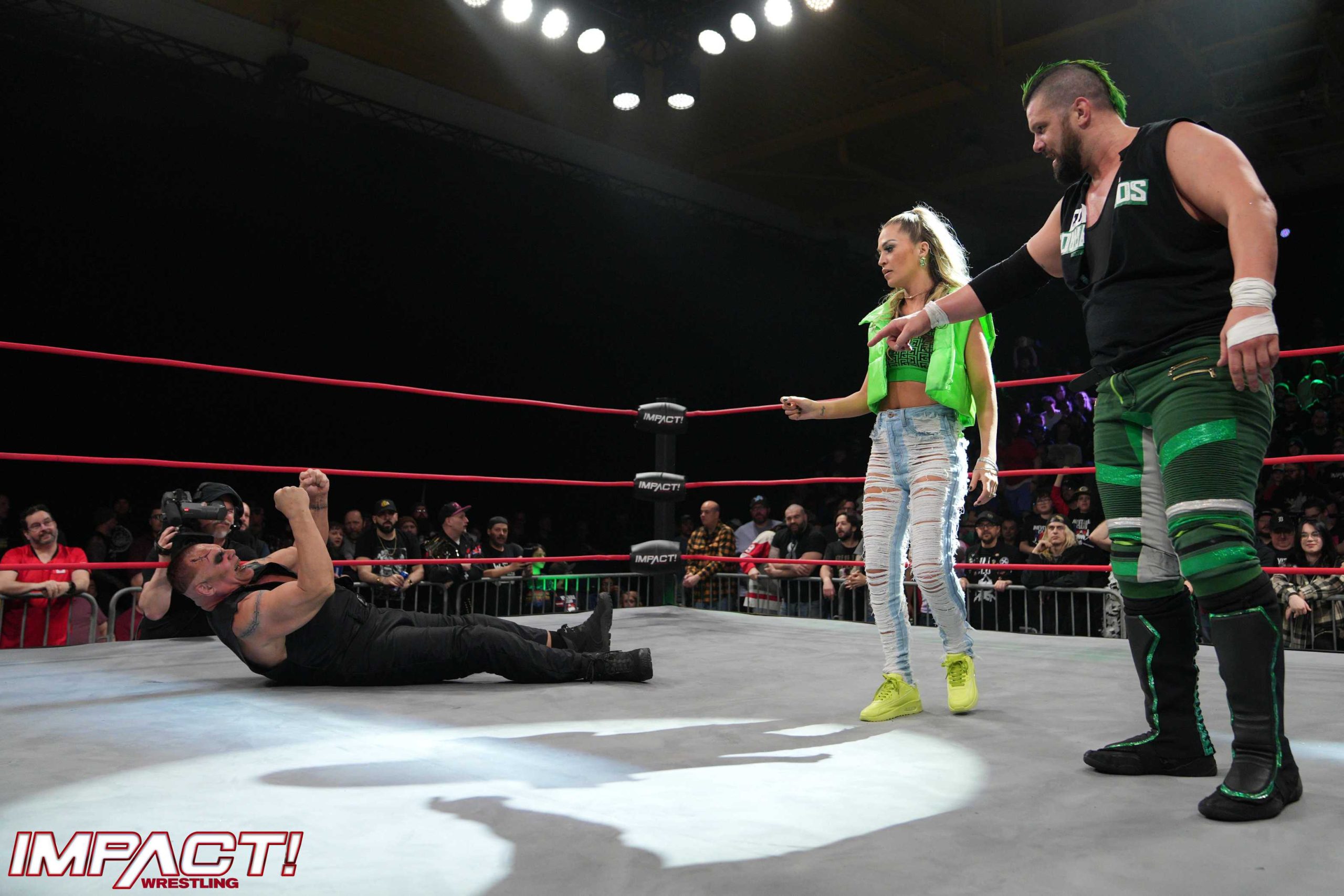 There was a rundown of next week's show:
– Gisele Shaw vs Tasha Steelz
– Taylor Wilde vs Jessicka
– Callihan & Angels vs Joe Hendry & Dirty Dango
– Kenny King vs Frankie Kazarian: whoever wins will unlock the advantage for their team at Rebellion
– The final decision on Mickie James for Rebellion
Analysis: Not as good as tonight's lineup but it should be a solid show.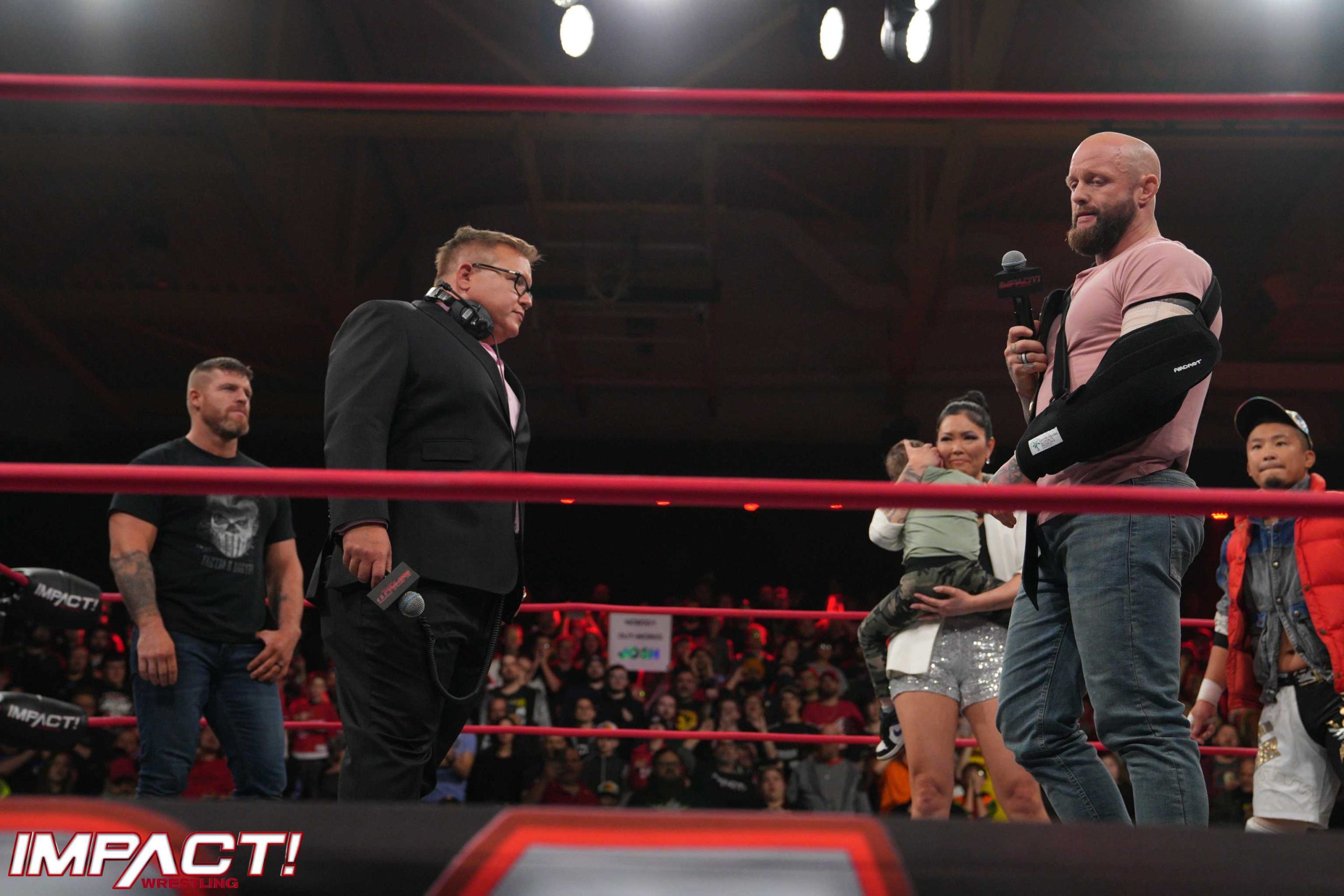 Josh Alexander Relinquishes His Title
It seems strange that we are ending the show with the title being given back but Alexander has been given time to address the fans, plus we need to plus Kushida vs Steve Maclin with time running out until Rebellion. Impact President, Scott D'Amore, along with the challengers at Rebellion, Kushida & Steve Maclin, are all in the ring. D'Amore says we have all had a lot of time to digest Alexander's title reign and all of his achievements. D'Amore says sometimes reigns end unexpectedly. Every ending brings us a new beginning and at Rebellion we will crown a new World Champion. D'Amore invites Josh Alexander down to the ring. Alexander's left arm was in a sling. He was joined by his wife, Jade, and his son, Jett. Jett was already upset. Maybe he didn't know who Bully Ray was. Alexander took the microphone and D'Amore said this was his least enjoyable moment with Alexander in Impact Wrestling. Alexander started by telling the fans how much he loved them. He said that all he wanted was an opportunity and he got one after 14 years on the Canadian independent scene. Alexander said 4 years ago he was given an Impact contract and has never looked back. Alexander said that because of his work ethic and his mindset, he stands here as one of the most decorated champions in Impact history- the longest reigning champion in company history, ahead of names such as Kurt Angle, Samoa Joe, AJ Styles and Sting. Alexander said when Impact announced their return to Canada, he had the date circled on his calendar and was going to make sure he was the champion. Alexander was fired up now and the broadcast had to bleep out his swearing. He said he now had to go back to being an Impact fan. His wife was crying at this point. Alexander addressed Kushida and Maclin. He said we have to crown a new champion at Rebellion. Alexander put over Kushida as being a ruthless, technical wrestler. He said he knows he can make Maclin tap out, just like at Sacrifice. Alexander said he doesn't agree with Maclin's methods but he earnt his shot and wishes they were facing each other. He wondered whether Maclin had what it took to become champion at Rebellion. Alexander warned them both that he would take the title back when he was cleared. He said because of his respect for D'Amore and the locker room, he was handing back his championship now. Alexander was about to hand back the title when his son, Jett, took it away! Heart-breaking (or heel turn!). Jade and Josh explained that it was time to hand the title back. The kid was utterly devastated. Maclin then took the mic and said now that the formalities are done, it's time to focus on Rebellion. He tells D'Amore that he should hand Maclin the title, because he was going to beat Alexander for it anyway. The fans chant "You tapped out!" at Maclin. Maclin says this is Alexander's way out, so he doesn't have to face him. Maclin tells Jett that his dad isn't a hero and D'Amore gets in his face and tells him he's a disgrace. D'Amore unloads on Maclin for picking a fight with an injured man and intimidated a 4-year old. D'Amore reminded Maclin that two weeks ago Alexander called him out and Maclin was too much of a coward to fight him. There were other bleeped out words in there. D'Amore said he wasn't handing him the title tonight and hopes it doesn't happen at Rebellion. He reminds Maclin that Kushida made him tap out at Sacrifice. Maclin said he tapped out because the 6-man tag meant nothing and he had to be 100% for the World Title match. Kushida and Maclin went face-to-face now. Maclin says Kushida is lucky to be even in the title match at Rebellion. He got in Kushida's face and shoved him, so Kushida locked him in the Hoverboard lock. Maclin struggled but broke free and had the World Title in hand. Kushida bounced off the ropes and took out Maclin with a dive to the outside. Kushida went back into the ring and handed the title to Scott D'Amore, but first he held it up to the fans.
Analysis: That was a terrific closing segment and exactly what this feud needed. Obviously, it was unfortunate what happened to Alexander and the timing also hurt, but they had to move on and they're putting this match together as best as they can on short notice. Alexander's promo was great. You could feel the emotion there and even though I'm sure the moment with his son taking the title was scripted, it made the segment all the more engaging. Maclin vs Kushida probably isn't everyone's first choice for crowning a new champion but now it has some bones and should be a solid main event.
Final Rating: 8/10
That was a great show from start to finish- one of the best that I've reviewed over the last 10 months. We had two matches over the 3 ½ star mark, some good storyline development and 4 matches added to the PPV which is only a week away. My only negative, and it's hard when you only have one show per week, is hopefully we get to see some stars next week who weren't on this week's show, like Moose, Joe Hendry, Heath and most of the Knockouts' Division. There are already two women's matches booked for next week, after only 1 short squash tonight. The last few weeks have been tough for Impact with their World Champion out for 6 months and uncertainty around the Knockouts Champion, but they bounced back with a terrific show tonight and I'm excited for Rebellion.
The next Impact PPV is Rebellion, on April 16th. Here is the card so far and it looks great: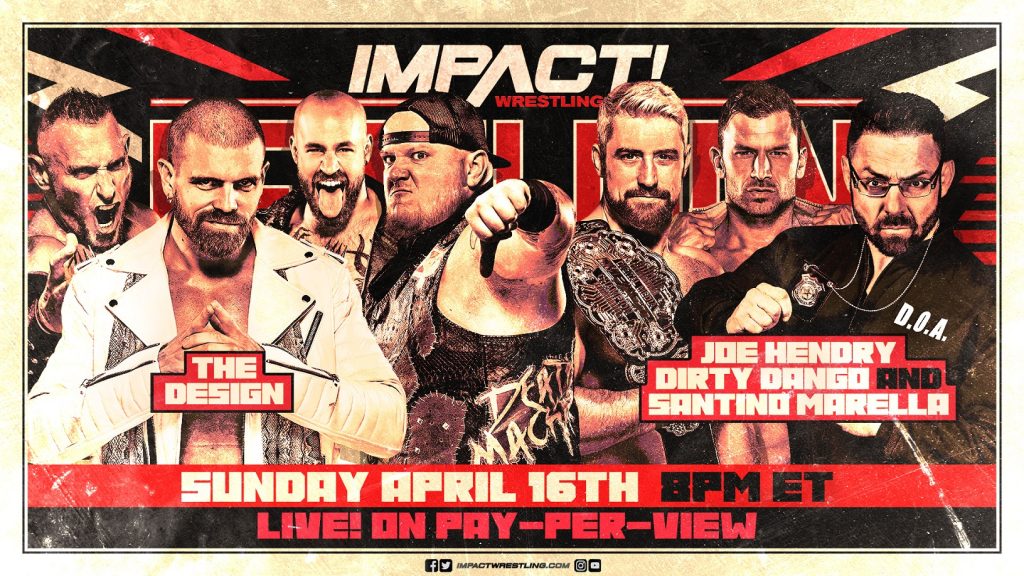 * (Vacant) Impact World Championship: Steve Maclin vs Kushida
* Impact Knockouts' Championship: (possibly) Mickie James (c) vs Jordynne Grace vs Deonna Purrazzo
* Ultimate X for the Impact World Tag Team Championships: Bullet Club (c) vs The Motor City Machine Guns
* X-Division Championship: Elimination match: Trey Miguel (c) vs Mike Bailey vs Jonathan Gresham
* Hardcore War: (Teams to be finalised but it looks like…)
Team Bully (Bully Ray, The Good Hands, Kenny King & Masha Slamovich) vs Team Dreamer (Tommy Dreamer, Yuya Uemura, Darren McCarty, Frankie Kazarian & Killer Kelly)
* Santino Marella, Dirty Dango & Joe Hendry vs The Design
Any feedback or comments are welcome. My email address is kristian.l.thompson@gmail.com in case anybody wants to get in touch with me and my Twitter handle is @thomok6 as well. Thanks for reading!