TJR: Reviewing Brock Lesnar's 10 Best WWE SummerSlam Moments (VIDEO)
The WWE Youtube channel team came up with a Brock Lesnar-themed list ahead of this year's SummerSlam.
Lesnar's first SummerSlam appearance took place 20 years ago in 2002 when he defeated The Rock to become the youngest WWE Champion of all time (Lesnar was 25, and Randy Orton won the World Title at 24 in 2004).
This list is about Lesnar's 10 best SummerSlam moments.
What I'll do is go over the list of ten while proving some insight along the way. Just a reminder that this is not my list. It is in order that WWE posted on the Youtube clip, which I'll post at the bottom.
10. Returns in 2021
Roman Reigns just defeated John Cena to retain the Universal Title in the main event of SummerSlam 2021. Reigns was celebrating the win when some familiar music hit. It was Brock Lesnar with a unique hairstlyle, a black tank top and jeans looking like he was ready for a fight. The pop for Lesnar's return was enormous in part because it wasn't advertised or rumored. It was a case of WWE making a deal with Brock to bring him back to feud with the heel Universal Champion Roman Reigns. It was also Lesnar's first appearance on WWE TV since WrestleMania 36 in 2020 when he lost the WWE Title to Drew McIntyre in front of no fans at the WWE Performance Center. A great return for Lesnar.
9. Stops A Money in the Bank Cash-In in 2018
Brock Lesnar defended WWE Universal Championship against Roman Reigns at SummerSlam 2018. Braun Strowman was the Money in the Bank briefcase holder, so he tried to cash in during the match. Lesnar stopped Strowman from cashing in by hitting Braun in the back with the briefcase repeatedly. Lesnar also tossed the briefcase to the stage as well.
What the video doesn't show is that Lesnar would lose the Universal Title to Reigns moments later. I don't see how you can rank this ahead of his 2021 return. I wouldn't even include this.
8. One-Legged F5 in 2003
Brock Lesnar was challenging Kurt Angle for the WWE Title at SummerSlam 2003. Lesnar was a terrific seller for a lot of his career and in this match, he was selling the left leg. During the match against Angle, Lesnar picked Angle up and gave him an F5 with Lesnar's left leg in the air, so it was a one-legged F5. It looked impressive.
7. Retains Universal Title in 2017
Brock Lesnar defended the Universal Title in 2017 against who? Roman Reigns. There was also Braun Strowman and Samoa Joe in the match. In this clip, they only showed Lesnar hitting Reigns with the F5. What they didn't show is Lesnar took a lot of punishment in the match including a big table bump among other things. Lesnar was able to overcome all of it and walk away still the champion. It was one of Lesnar's best matches. I liked this one a lot.
6. Spins Seth "Freakin" Rollins 2019
This is a unique choice on the list, but here we are. Rollins had his ribs taped, so Lesnar grabbed him by the tape and spun Rollins around the ring a bit. Despite the tape spinning, Rollins would come back to win the match and become the Universal Champion.
5. F-5's The Undertaker Through a Table in 2015
The main event of SummerSlam 2015 was a non-title match with The Undertaker seeking revenge against Lesnar for ending the undefeated streak at WrestleMania at WM30 in 2014. The Undertaker was going for a Powerbomb through a commentary table, but Lesnar got out of that and hit an F5 through the table. The Undertaker would go on to win the match in a bit of a controversial fashion.
4. Beats Randy Orton in 2016
This was utter destruction. Brock Lesnar faced Randy Orton in the main event without a title on the line. It was just a fresh match between two big names in WWE history. Lesnar unleashed a beating on Orton with repeated punches, forearms and elbow strikes to the head. Lesnar won by TKO when Orton wouldn't fight back. Orton was a bloody mess and missed a few weeks of action because of it.
Lesnar beat up Orton so bad in that match that Chris Jericho thought it may have been more of a shoot and Jericho got in Lesnar's face to try to fight him until people told Jericho that Orton agreed to do that kind of match with Lesnar. That's how believable it was by Lesnar.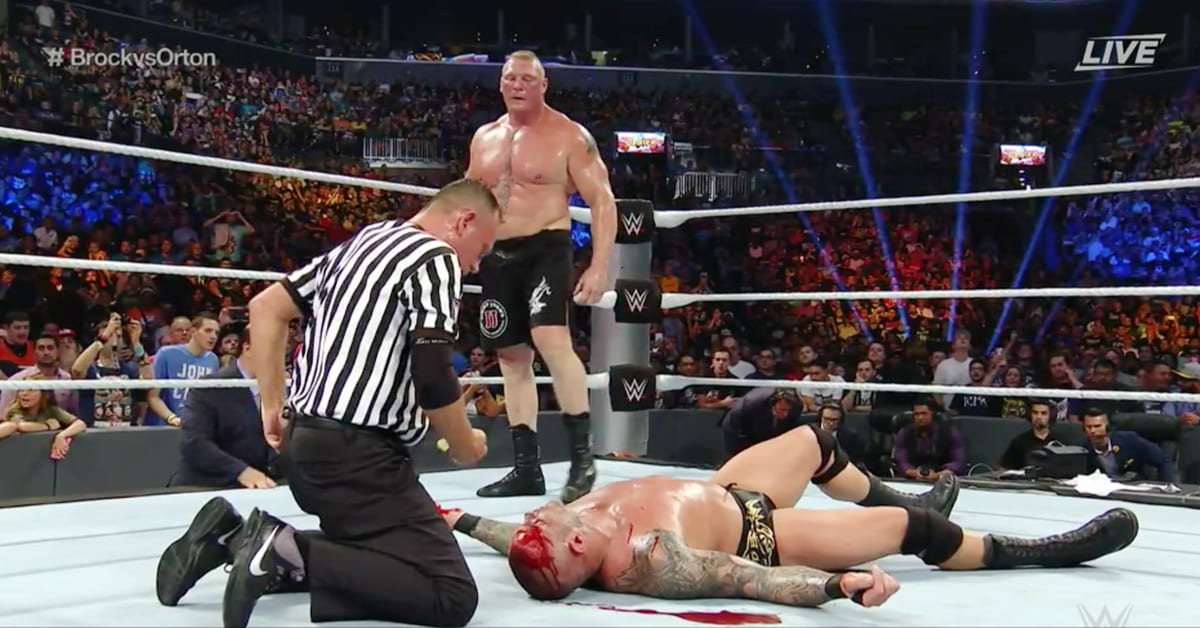 3. Snaps Triple H's Arm in 2012
Brock Lesnar made his return to WWE in 2012 after walking away in 2004. Lesnar lost to John Cena at Extreme Rules, which to this day is a peculiar booking decision in my opinion. Lesnar's next feud was against Triple H. That led to this match at SummerSlam 2012 with Lesnar getting the win using the Kimura Lock on the left arm. The story was that Triple H wouldn't give up, but then Lesnar "broke" the arm and Hunter was forced to give up at that point.
2. Captures Undisputed WWE Title in 2002
It was the Undisputed WWE Champion The Rock headlining SummerSlam against the King of the Ring winner Brock Lesnar. Even though Lesnar was a heel, the Long Island crowd loved him and were strongly behind him in this match. Rock went for a Rock Bottom, Lesnar did a sweet counter and hit the F5 for the pinfall win to become the Undisputed WWE Champion at 25 years of age. It's amazing how much the crowd loved Lesnar at that moment even though he was clearly the heel and Rock was the face. The fans wanted something new and they got it with Brock.
I would seriously consider putting this in the #1 spot, but I get why they put it in the second spot.
1. Dominates John Cena in 2014
The WWE Title was on the line with Cena defending against Lesnar. This was a few months after Lesnar ended The Undertaker's undefeated streak at WrestleMania. I remember the reports being out there that WWE wanted to push Lesnar more than ever since he beat the streak. This was an absolute ass kicking. Cena had a few moments where it looked like he might win, but Lesnar dominated this match. Lesnar hit Cena with about a dozen German Suplexes. Cena fought back, had Lesnar in the STF and then Brock countered it leading to the F5 for the pinfall win. A dominant win by Lesnar to become the WWE Champion again.
I assume they put this at #1 just because of the manner in which Lesnar dominated Cena and because it was Lesnar's first time winning the WWE Title since he came back in 2012. It was one of the most dominant performances in a championship match ever.
Here is the full video counting down from 10 to 1.
I think they made a lot of good choices. I don't know about the order, though. I'd put Lesnar's return in 2021 in the top five and I'd put things like spinning around Rollins much lower or even leave it off the list.
They didn't include anything from 2013 when Lesnar had a great SummerSlam match with CM Punk. It's probably because they don't want to put over anything involving CM Punk. I get it. I'm just saying it was a great match.
The top spot could have gone to Lesnar-Rock or Lesnar-Cena. I think they went with Lesnar-Cena just because of how dominant Lesnar was even though Lesnar-Rock was historically big for Lesnar since it was his first WWE Title. Since the Lesnar win over Cena was so significant, I can understand why they went with that.
===
My contact info is below.
John Canton
Email mrjohncanton@gmail.com
Twitter @johnreport