WWE Roman Reigns-Logan Paul Press Conference Review
This is a review of the WWE press conference announcing the match between Roman Reigns and Logan Paul at Crown Jewel.
This is a review of the WWE press conference announcing the match between Roman Reigns and Logan Paul at Crown Jewel.
The press conference aired on WWE's Youtube channel and social media outlets. It was supposed to start at 3:30pm ET. It had a Crown Jewel logo on it with the words "starting soon" on the screen. It started about 16 minutes after originally announced. This event took place at the Dawg House Saloon and Sports Book in Resorts World in Las Vegas, Nevada.
Michael Cole hosted the press conference saying that he was calling Crown Jewel on November 5th from Riyadh, Saudi Arabia. Cole recapped what happened on Smackdown with Logan Paul calling out Roman Reigns. Cole introduced The Bloodline group supporting Roman Reigns. Cole mentioned 747 days for the Universal Championship reign of Roman Reigns, which also includes the WWE TItle that he won at WrestleMania 38 earlier this year.
Roman Reigns made his entrance as the Undisputed WWE Universal Champion followed by Paul Heyman, The Usos (Jimmy & Jey), Solo Sikoa and Sami Zayn was there. Reigns sat down in one of the two chairs with Heyman while the four wrestlers stood behind Reigns.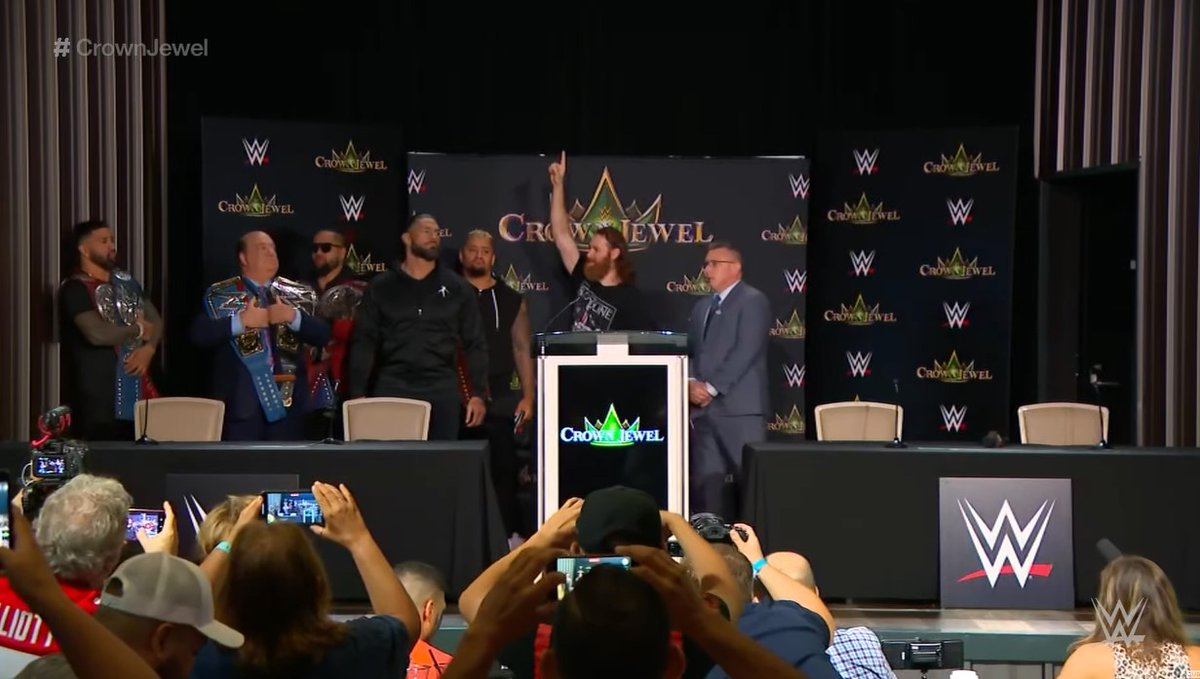 Logan Paul was introduced next with Cole calling him "The Maverick" as if that's a nickname for Logan now. Logan made his entrance alone.
The WWE Chief Content Officer Paul "Triple H" Levesque was also announced and he shook hands with all of the individuals that were out there. There were some "Triple H" chants.
Triple H talked about how it was a big fight weekend with Canelo and GGG going to war tonight in boxing. Hunter said that WWE is all about spectacle, being larger than life and putting on events like no one else can put on. Hunter talked about WrestleMania in Dallas for two nights and Clash at the Castle in Cardiff with 60,000+ fans and they put on an event like no one else can. Hunter mentioned next year's WrestleMania in Los Angeles. Some fans were chanting "Logan Paul" as Hunter tried to speak.
Hunter spoke about Crown Jewel on November 5th in Saudi Arabia when Roman Reigns will take on Logan Paul for the Undisputed WWE Universal Championship. Hunter said it will be a match like no other and a spectacle like no other.
Hunter talked about Paul's success on social media and the number one podcast in the world. Logan said that is verified and it's a fact. Hunter said that Logan represents the youth movement in the world and when it comes to reaching the youth in the world, Logan is on a God-tier level. Hunter said that everything that Logan has done in WWE, he has earned Hunter's respect. Hunter said that Logan has blown people away enough to make Hunter want to see this event take place. Hunter said that's why he took on Floyd Mayweather and went the distance with him. Hunter said that there's no bigger challenge than what's in front of Logan now because this is totally different.
Hunter said that this is about Roman Reigns – God-tier in this business at a whole different level. Hunter said that nobody in this business can touch the level that Roman is on right now and perform on a stratosphere with nobody else. Hunter talked about Roman's two-year run of dominance. Hunter said that he can't wait for this event to see if Roman can do what he has continued to do or will Logan Pual will get in one shot to beat Roman Reigns. That led to Hunter giving the floor to Roman Reigns.
Reigns: "Las Vegas, acknowledge me!" That led to some cheers. Reigns told a fan that he was the greatest of all time. Reigns said he's been given stats from the Wise Man (Heyman), but it's very simple that Logan has had two matches while Reigns has been champion for over two years. Reigns said when Logan came to WWE, he thought it was a great idea because Logan has 30 million followers and now he's bringing them to The Tribal Chief. Reigns said that Logan can be on any card that Roman is on, but the fact that he wants to be in the main event is a lesson that you have to crawl before you run. Reigns said that he's going to smash Logan at Crown Jewel. Reigns said he's not going to treat Logan like he's in his third match because he's in the deep end now. Reigns said he'll show Logan what God-mode looks like.
"You are in the deep end now. You are in the water with the biggest shark to ever live in the WWE."

Undisputed WWE Universal Champion @WWERomanReigns issues a warning to @LoganPaul at the #WWECrownJewel Press Conference. pic.twitter.com/sAitAXzYrV

— WWE (@WWE) September 17, 2022
Logan was up next saying there were a lot of Samoans there. Logan thanked WWE and Triple H for trusting him. Logan said it's an absolute honor that in his third match he gets to face Roman Reigns, who is one of the greatest superstars of all time. Logan said that he'll deliver a performance that you'll always remember. Logan said that this is what he and his brother do, they are disruptors. Logan said he didn't want anybody to tell him anything is impossible. Logan said that his brother is fighting Anderson Silva a week before Logan is fighting Roman Reigns in Saudi Arabia. Logan said that his second boxing opponent was Floyd Mayweather and Floyd didn't beat him in Logan's second fight. Logan said he's been wrestling his whole life, it's what he does. Logan said that Crown Jewel on November 5th is his match. Logan said that Reigns is the Head of the Table, but Logan said "I am the table" (what?) and Roman will acknowledge him on November 5th. A fan could be heard yelling "what the f**k" after Logan said that "I am the table" line.
"I found my home in the WWE and I called out the GOAT immediately. It's what I do."@LoganPaul is READY for @WWERomanReigns at #WWECrownJewel! pic.twitter.com/EAJjjoxvON

— WWE (@WWE) September 17, 2022
Logan was asked by a member of the media how he's accomplished this. Logan said it's because of how hard his brother and him work to attract eyeballs. Logan said that his brother nad him will always put asses in seats. Logan said that he knows Reigns will underestimate him. Logan said that Reigns brought five guys with him while Logan brought his girlfriend and manager.
Logan was asked if Reigns was in for a rude awakening. Logan said that he's been wrestling his whole life. Logan asked Reigns if he wrestled, then said that he's more familiar with this than Roman is. Heyman shut down Logan calling him "Jake Paul's little brother" among other things.
Reigns was asked about why he should give Logan Paul a chance. Reigns said it's because he's a good Tribal Chief and as the face of WWE, that's his obligation to the company and if they need him to smash Logan Paul then that's what he'll do.
Triple H was asked about the Paul Brothers and what made Hunter think that Logan was a natural fit in WWE. Hunter said that when it was brought to his attention that Logan was a fan, he admitted he chuckled to himself. Hunter said that Logan was totally different and that's when Logan was in the gym learning about how to do this, which led to Hunter being impressed by him. Hunter said that watching Logan blew his mind and Logan earned Hunter's respect, so that's why he is here. Hunter said maybe Logan is biting off more than he can chew, so we'll find out in Saudi Arabia.
.@TripleH recognizes something special in @LoganPaul.#WWECrownJewelpic.twitter.com/jmCXa7J2TI

— WWE (@WWE) September 17, 2022
Logan was asked a question that was hard to hear. Logan said he was always confident. Logan said that people who buy this fight will see history be made as Logan beats Reigns or you'll see Logan get his ass kicked. Logan said that either way, this has been a performance that you have never seen before. Logan said that if Roman underestimates Logan then he'll pay for it.
Paul Heyman stood up to deliver a speech. Heyman called for a close to the press conference. Heyman talked about how Reigns dedicated his life to this and Logan is a stunt fighter that built his reputation on Youtube and fought Floyd Mayweather, who was past his prime. Heyman told somebody in the crowd to STFU and told Logan the same thing. Logan got up asking why ROman is letting his mouthpiece is talking for him. Heyman said that Reigns is the Greatest Of All Time and he's there to save Logan's ass. Heyman told Logan to leave because the beating Roman puts on him won't be the easy time that Floyd gave him. Roman got up and shoved Logan, so Triple H got in between them. Hunter spoke to Logan.
Reigns had both of his titles on his shoulders as he had a staredown with Logan while Triple H stood between them. That was the photo opportunity moment. Logan said some words to Reigns, but it was hard to hear them. Reigns and The Bloodline left at that moment. Cole signed off to end it. Logan said that you don't want to miss it on November 5th, he's going to smash this guy and that was it.
There was just a physical altercation between @WWERomanReigns and @LoganPaul at the #WWECrownJewel Press Conference!!! pic.twitter.com/Z6nq5CghQ0

— WWE (@WWE) September 17, 2022
The event had a runtime of about 30 minutes.
The full press conference can be viewed below.